Photography by Mike Crawat
Buying a car sight unseen is always a bit of a gamble. An inability to look a car over and scout for those hiding problems like rust, shoddy bodywork, or driving issues that are impossible to identify through photos can often lead to unpleasant surprises upon a car's arrival. To add to that, a seller's honesty and integrity can only go so far; their definition of "clean" or "perfect" may simply be different from your own. For many of us, it's simply part of the car-buying experience, and the hiccups come with the territory. Andy Nierinck, on the other hand, is a bit more brave, having upped the ante considerably when he purchased his '79 Ferrari 308 GTB sight-uneen. This was in 2003, no less, just after the advent of the camera phone, before high-quality digital photos were much of a "thing."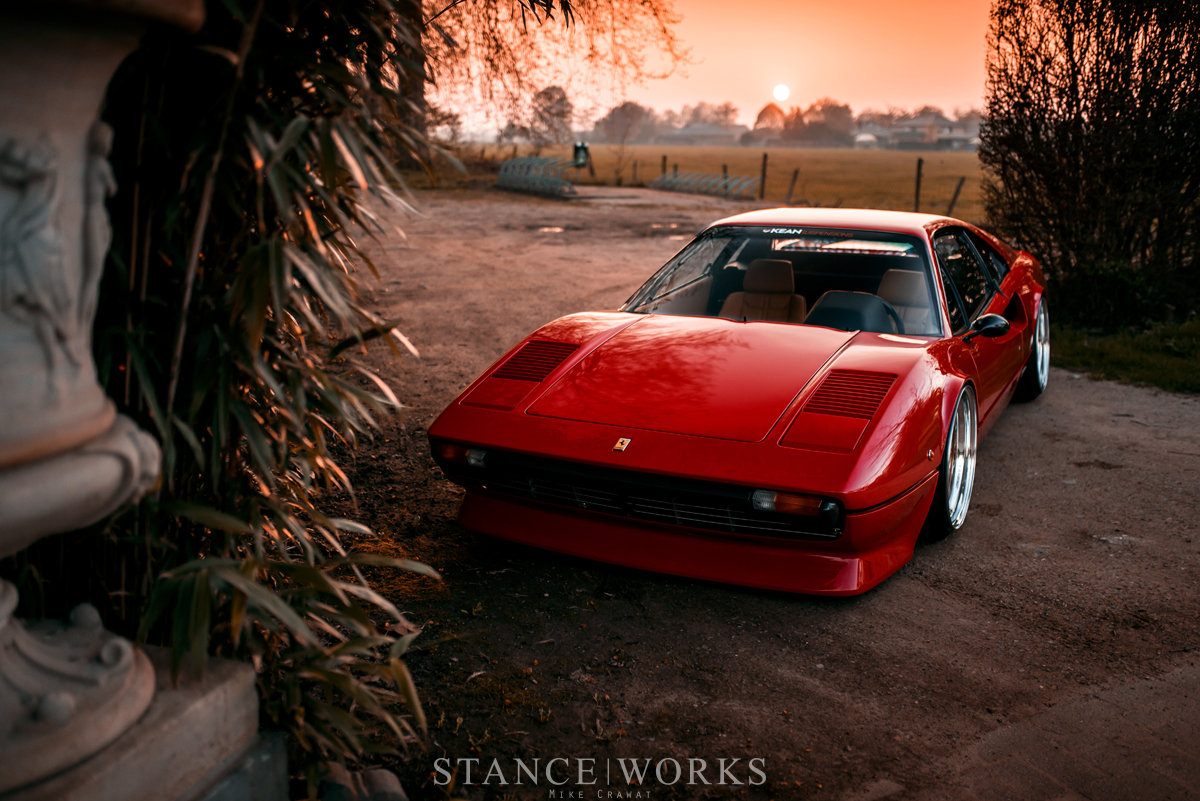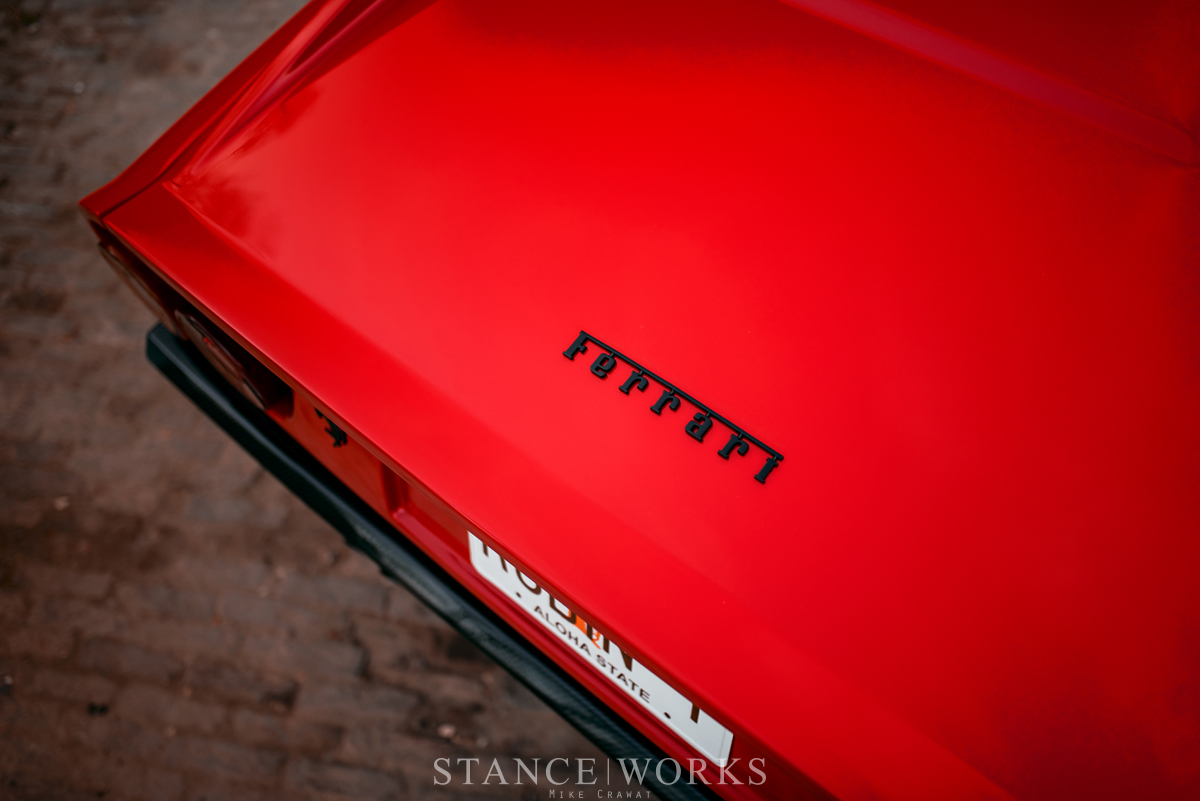 As one might expect, the car that was advertised as a "good, but not perfect low-mileage car" fell a bit short of expectations. While it is a euro-spec, carbureted steel-body car with a factory dry-sump setup, making it a rather desirable example, its terrible paint, mismatched body panels, oil leaks, and sticking valve springs meant it wasn't long before Andy dove into the project head first.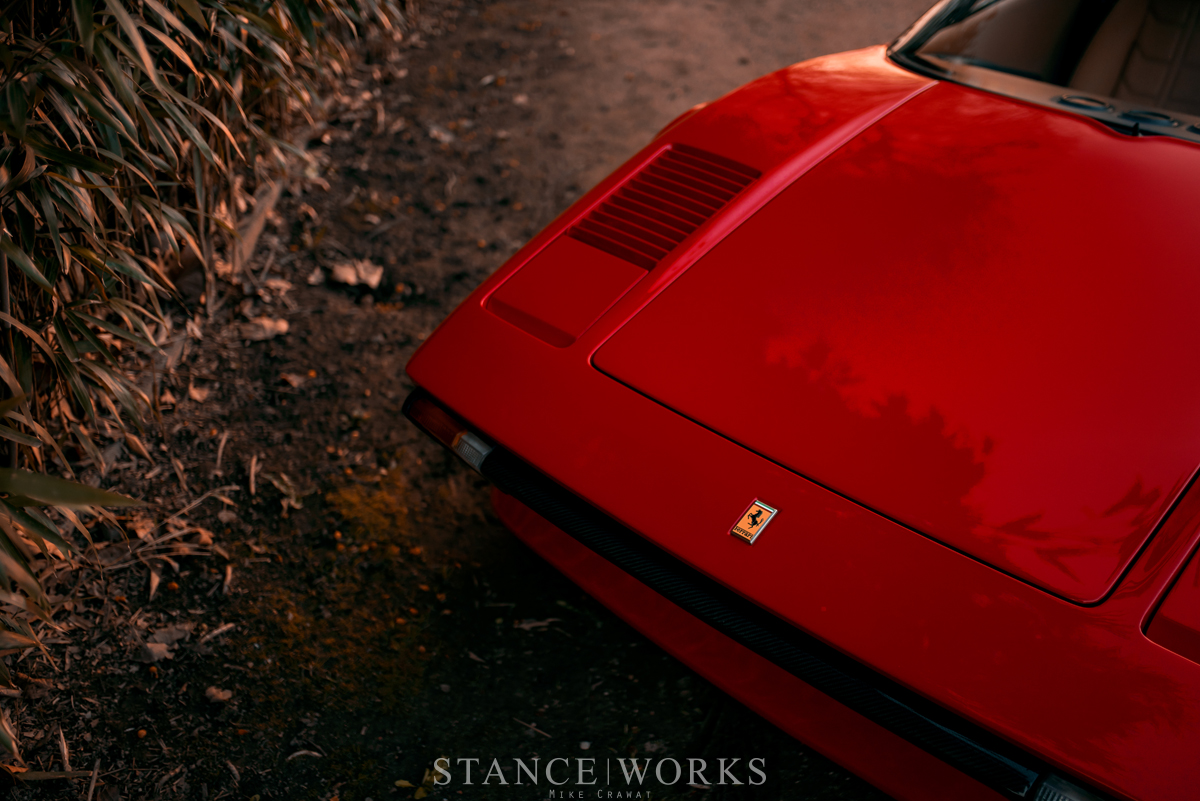 The car was almost entirely disassembled and treated to a complete restoration over the course of 5 years. The project began with the bodywork, where a slew of both subtle and obvious changes were made. Things like the original roof spoiler, fog lights, windshield wipers, and passenger mirror were shaved from the car, and the driver's mirror was replaced with an early-model manual counterpart. The front and rear bumpers were replaced with carbon fiber units, and of course, the little bit of rust buried within the car was completely repaired. New trimmings like door and window gaskets, the front windshield, the sidemarkers, hinges, nuts, bolts, and the front grille were all replaced or restored as needed. To cap things off, the entire car was repainted in "Rosso Corsa" red.
The engine was pulled and completely rebuilt. New valve springs and valves were an obvious place to start, and with them, new bearings, gaskets, cylinder liners, timing components, were fitted. Lines, hoses, and rubber components were all replaced, as were the consumables, too. The factory carburetors were rebuilt and tuned, and paired with a new ignition system, the Ferrari purrs better than ever.
The restoration continued inside the car, where the seats, door panels, headliner, visors, dash, and center console were reupholstered with new leather. The fusebox was updated, a period-correct cassette radio was installed, and the outdated '70s alarm system was painstakingly removed. Other small touches throughout really update the interior to blend the vintage aesthetic with modern comfort.
The excitement kicks up a notch when it comes to the suspension. As the owner of Kean Suspensions, Andy went full-tilt setting the Ferrari up right. It's immediately clear that the F-car doesn't sit quite where Enzo and co ever intended. Custom Kean airride struts with NOS Koni shocks provide the basis for an air ride suspension system, allowing the car to nearly lay out on the tarmac. Powerflex bushings have been installed throughout, along with new sway bars and wishbones, and while performing the installation, all new brake lines and calipers were fitted too. The factory oil cooler had to be relocated to make room for the new struts, and the inner fenders had to be adjusted for clearance as well. In all, this makes room for the AL13 Heritage Collection S20 18×10 and 18×10.5″ wheels. They've been finished with brushed gold centers, polished lips, and gloss black hardware, and lastly wrapped in Toyo rubber.
The result of Andy's hard work is a restoration that exhibits both quality and style. It's hard to deny that there's few things cooler than a vintage Ferrari planted atop a nice set of gold mesh wheels. It's a match made in heaven, you might say. It may have taken 15 years to arrive to this point, but Andy, we'd say it was well worth the wait. Bravo!