While some of us build cars in our spare time, and others do it for a living, there's one thing all car builders strive for with each consecutive build: improvement. Improvement manifests itself in many ways; improvement of an idea, improvement in execution, and improvement of the car itself can all stand on their own. Sometimes, we're given the opportunity to revise, and for Jeff Tighe's latest build, he suggests he'd done just that, improving upon one of his most successful builds in order to refine and perfect, yielding this truly unique S52-powered E9 3.0 CSi.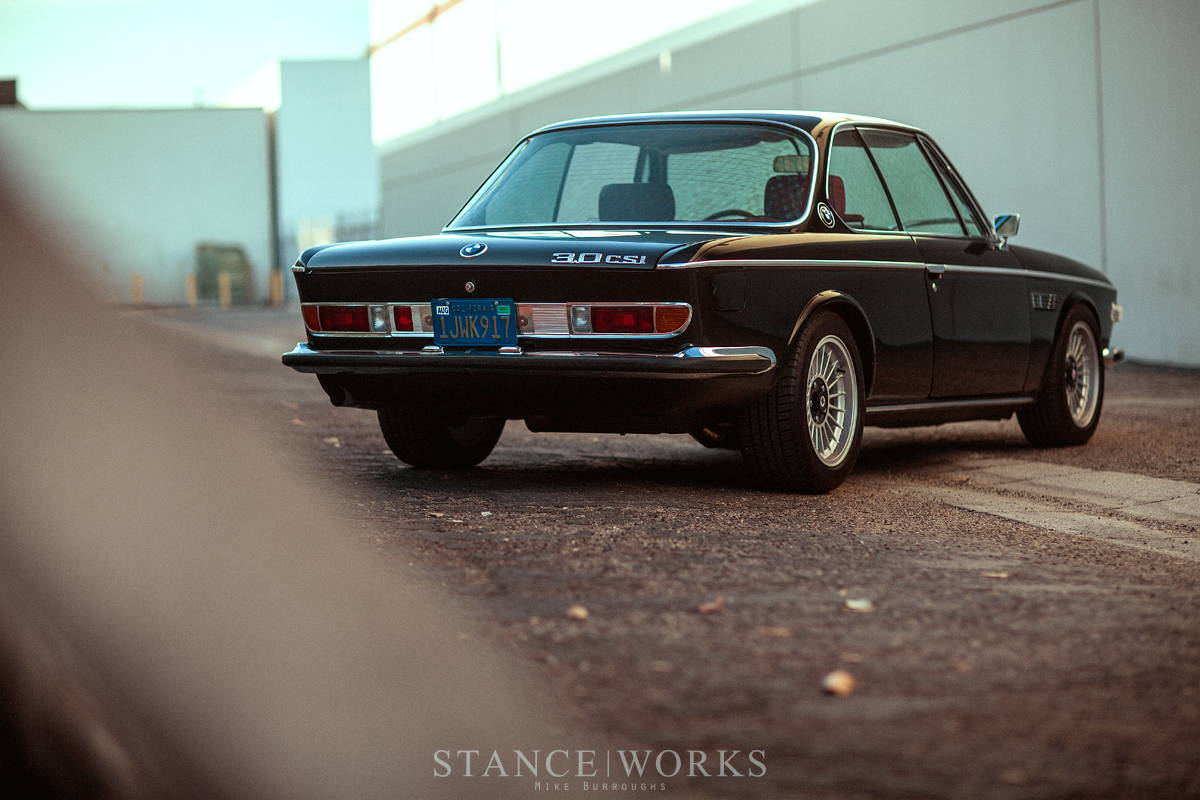 Keen minds may recognize Tighe's name, as the builder behind not one but two previous StanceWorks feature cars. With a penchant for building the kinds of BMWs all enthusiasts dream of, his most recent feature was this gorgeous S14-powered 2002, restored to what some might say is – myself included – perfection. Along side it is the S54-powered E9 he built two years ago: a CSL-inspired take on building one hell of a 3.0.
Jeff will be quick to admit, however, that the 300-WHP of the E9 is a bit too much for the chassis. Designed and built back in the 1960s, a 300 horsepower inline six was a bit beyond what the minds at BMW ever intended for it. Sure, the race cars had a good bit more grunt behind them, but then again, they were also race cars. As a road car, the chassis is debatably up for the task, notorious for twisting and giving in places folks would rather their E9s not. It was this that prompted Jeff's revised take: the E9 you see before you.
Despite it's incredible beauty, it's what's underneath the skin of this E9 that counts most. Under the hood, an S52 sits, tucked into the engine bay just as BMW would have done themselves if tasked with the swap. The custom intake housing mimics the sheet meal intake systems of the E9 era, helping to give the swap a more "at home" aesthetic, while the '90s plastics have been left traditional BMW black and silver for the sake of OEM styling. Built to pass emissions, and to be BAR legal if the buyer wishes, it's a swap for the books, with no chassis modification or changes needed, preserving the essence of the big coupe in case, decades from now, it is returned to its factory state.
The power output is, of course, a step down from its S54-powered counterpart, but that's absolutely intentional. The balance of the E9 paired with the output of an E36 M3 is a far more neutral, manageable pairing, geared towards a weekend driver capable of tackling winding roads, open stretches of highway, and even traffic, all with usability that even a mother could love. It's also not as stressful on the car itself, making for a build that's sure to last for decades to come.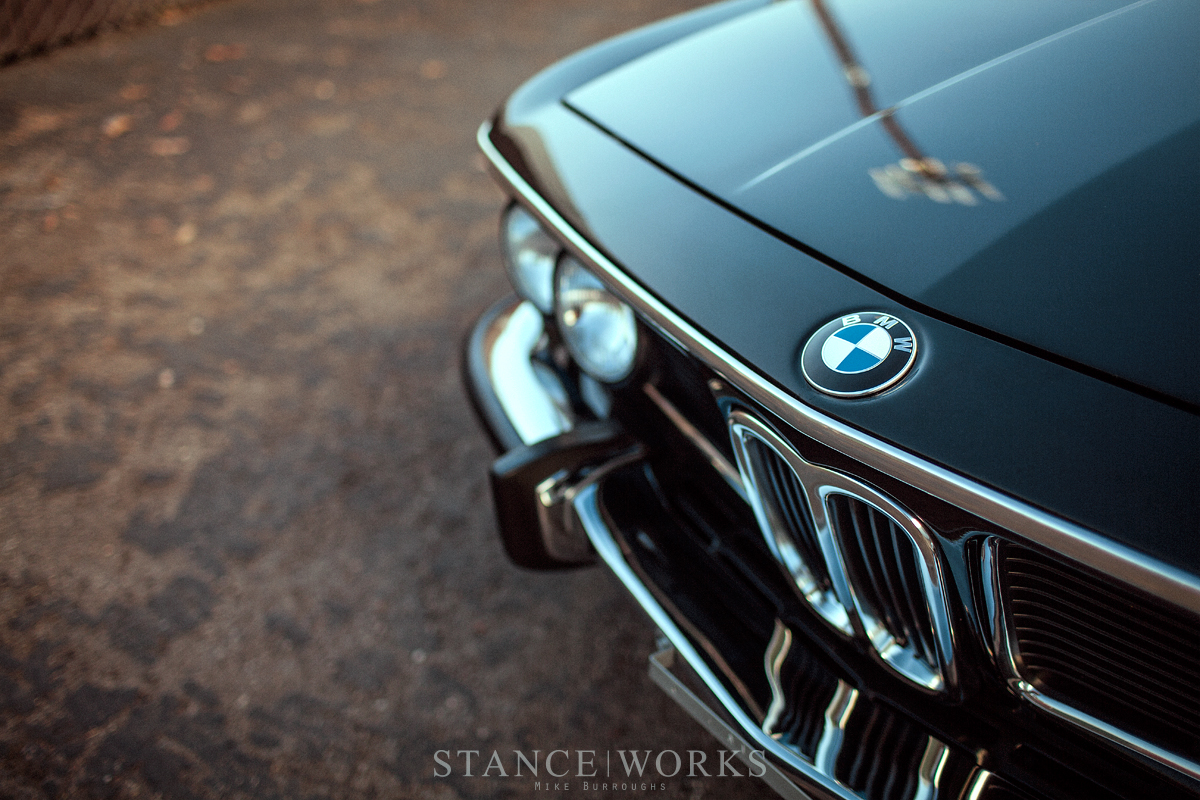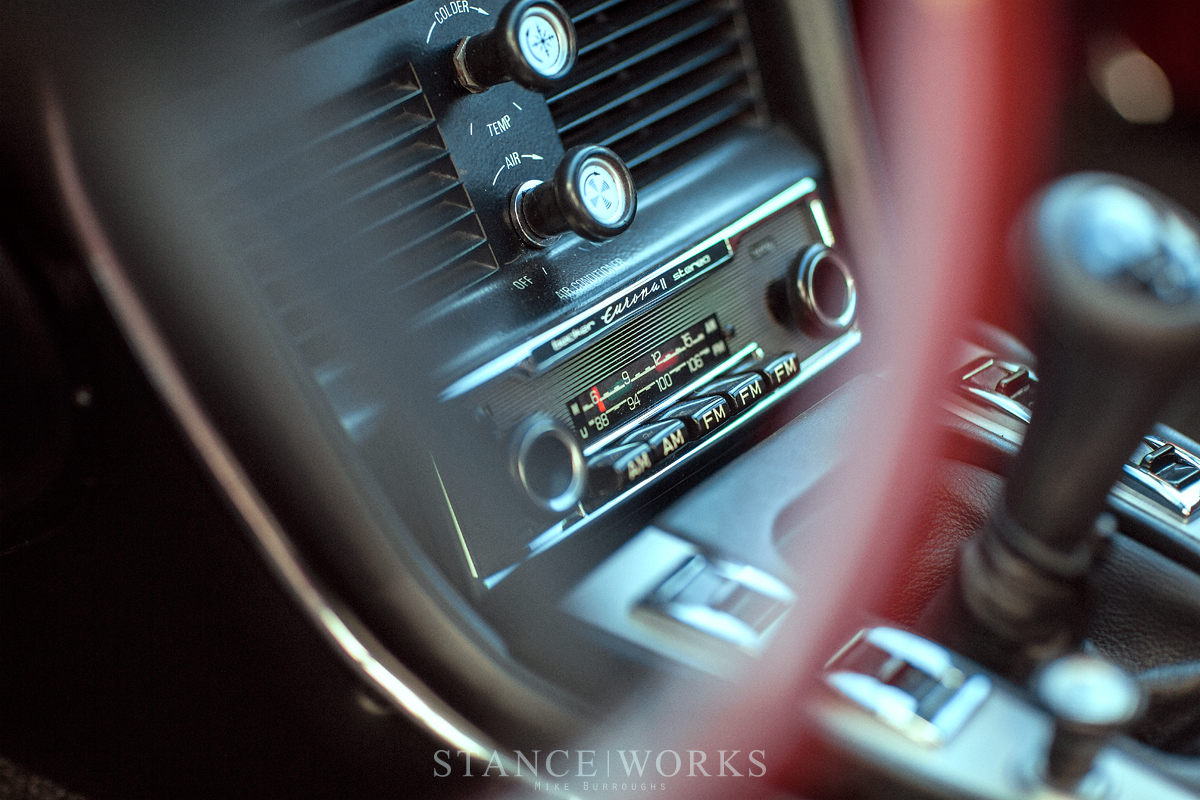 That is, of course, not meant to skip over the rest of the car too. Many would agree – there's something special about a black E9, and when lit by the falling evening sun, the curved, elongated lines of the coupe shine best. The paintwork of this car is incredible, with black paint that seems endlessly deep, and accenting chrome brightwork that is, simply put, incredible. The car's styling cues and modifications are all present to preserve the incredible factory aesthetics, save for the Alpina wheels. The suspension matches the Jeff Tighe ethos as well, appearing stock at first glance, but masking a set of adjustable coilovers within the factory housings to allow fine-tuning of the car's balance and handling characteristics.
And then there's the red interior, which offers a splash of color agains the otherwise monochromatic exterior. The red leather plays off the red wood Nardi, and of course red burlwood trim, creating an interior that's been restored and reimagined to a level most can only dream of. As the place where a driver spends most of his or her time, it's important the interior is catered to them, explicitly, and in this case, it's clear that this E9 is meant to be the ultimate '70s grand tourer.
Not a lot has changed, for the most part, in comparison to Jeff's last build. That is to say, Jeff got a whole lot right the first time. This time around though, he's proud to make revisions, and we're happy to say the he nailed it. We're sure soon though he'll invite us over for more, and we're eager to see what's next.