It should come as no surprise that both fashions and trends come and go – whether its apparel, design, art, or even automotive, styles emerge and retreat with a nuanced flow. With the advent of social media, trends move faster than ever. However; a constant remains: as automotive crazes evolve and carry forth, originality, preservation, and a nod to heritage remain, and BMW builder Jeff Tighe knows this well. With his recent completion of Joshua Stern's E9 (Featured Sept 2015), we paired it along side the S14-powered 2002 built by Jeff more than 15 years ago. Together, the cars glow in Chamonix white, with powerhouses lurking under the hood. To passers by, it's all but impossible to tell just how long Jeff has been building such creations – the 2002 is a testament to his unwavering, timeless style that's sure to stand proud for another 50 years.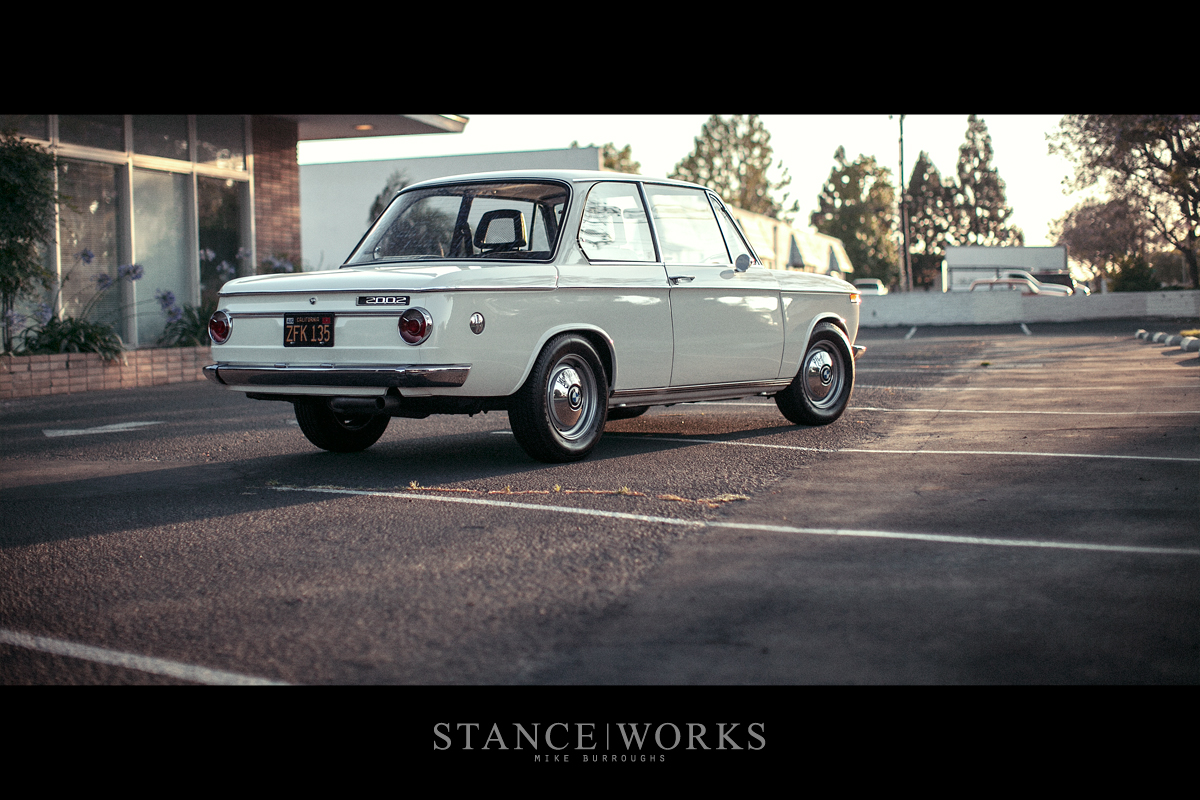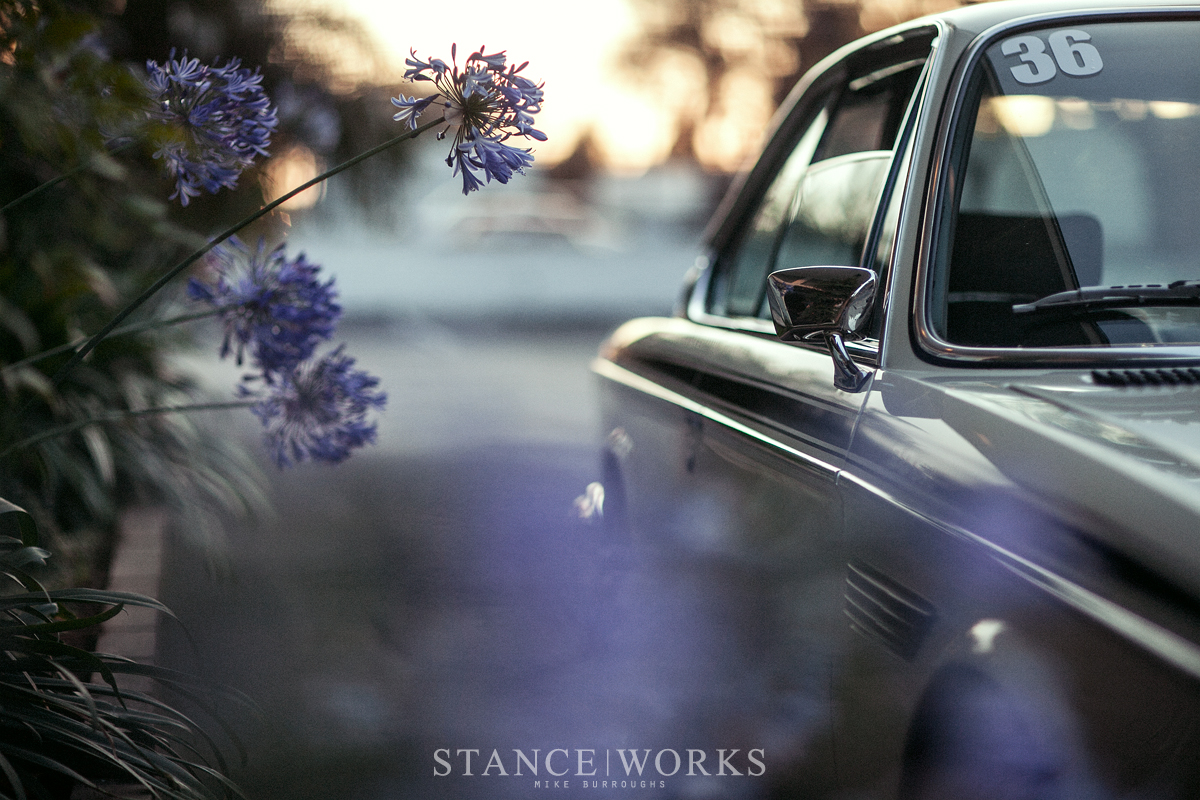 Once a month, Jeff and his neighbors at AutoKennel host an open-house of sorts – a Saturday morning get-together to celebrate classic cars and those of us who put in the time and effort to keep them on the road. With the shop doors open for all, and hot coffee ready to pour, Porsches and BMWs arrive early to the fenced-in lot for a morning of shop talk amongst friends, clients, and newcomers too. It was there that I met Jeff Tighe for the first time.
As I entered his shop, his head remained buried under the hood of an M52-powered E9, freshly painted, with a fresh red leather interior halfway in. He was busy explaining coolant system components to the car's owner, one of Jeff's many clients whom look for the best in BMW restorations. Meanwhile, I looked around – a number of cars sat tucked away, crammed into the remaining available space of his modestly-sized shop. A slew of parts, pieces, and classic wheels lined the shelves, and engine components covered the workbench.
Poking around Jeff's shop, two things are abundantly clear: first, he has a passion for classic BMWs. Second, it's a passion that is clearly respected, as clients' cars wait for their turn under the hands of the man himself. You won't find any oil changes or wheel bearing jobs at Tighe Productions – instead, you'll find E9s and 2002s stripped to the shell, prepped for paint, interiors, and drivelines that are sure to liven them up to modern-day expectations. Jeff admits his restoration process is far from fast. He takes his time, focusing on the details that yield the results his reputation is built upon.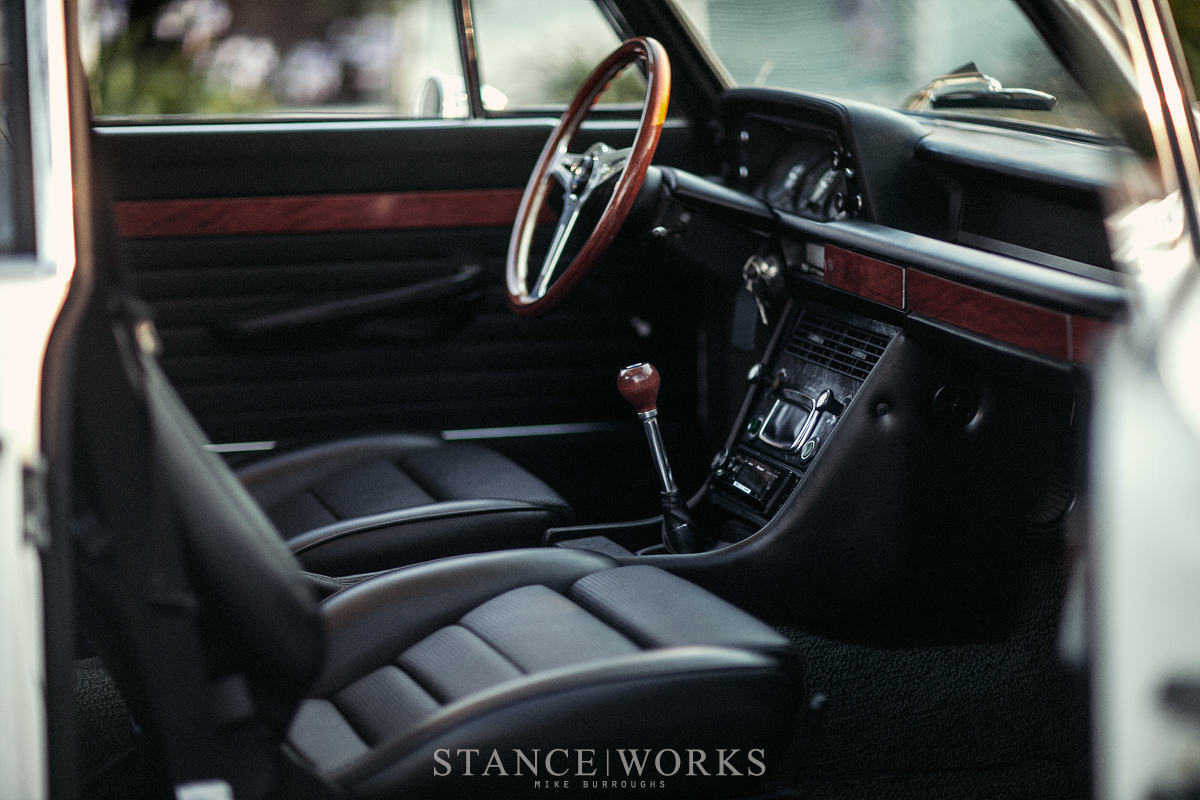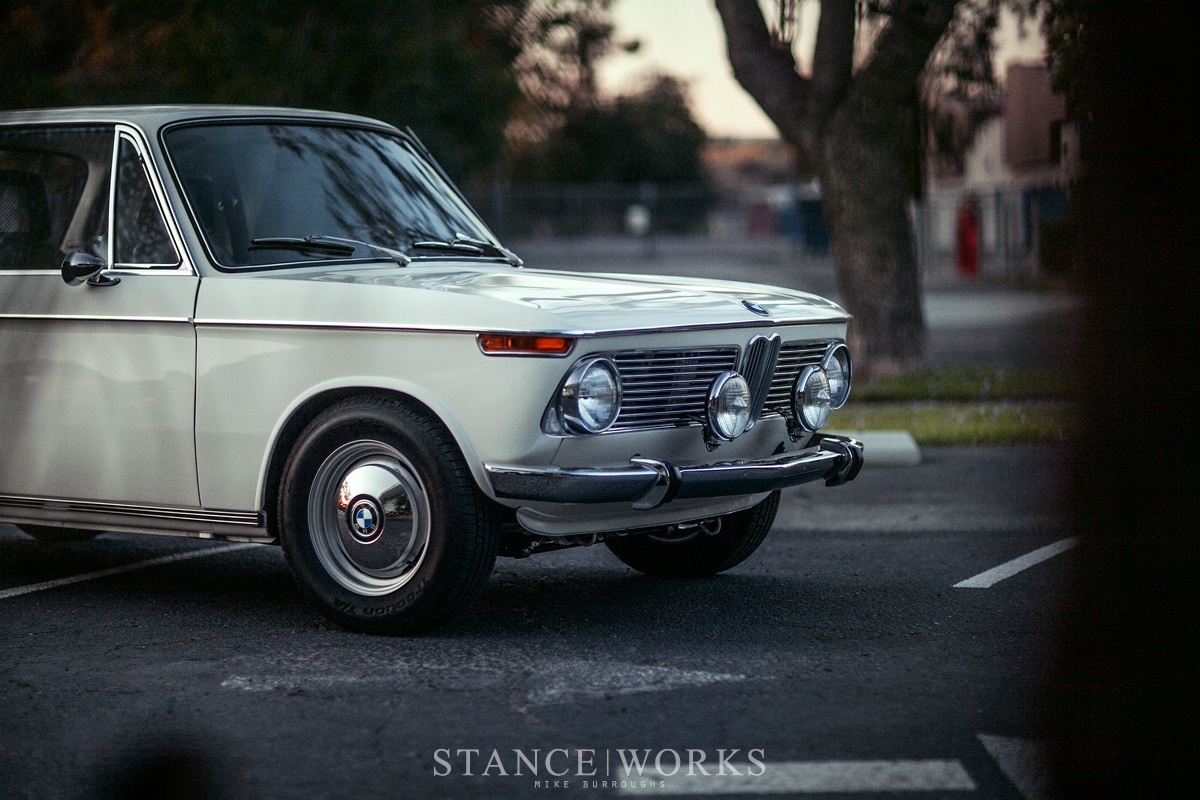 A few weeks later, I received a phone call from Joshua Stern – he was eager to tell me about a unique opportunity. His jaw-dropping E9 had just received a round of touch-ups by Jeff after a run in the Targa California. In perfect timing, Jeff was in possession of a 2002 he had built more than a decade ago: a 2002 with the heart of an E30 M3. Both cars are clad in Chamonix white, with a ton of bite to go with a subtle bark. To shoot both together would be both a celebration of Jeff's accomplishments and work, as well as a celebration of two truly endearing automobiles.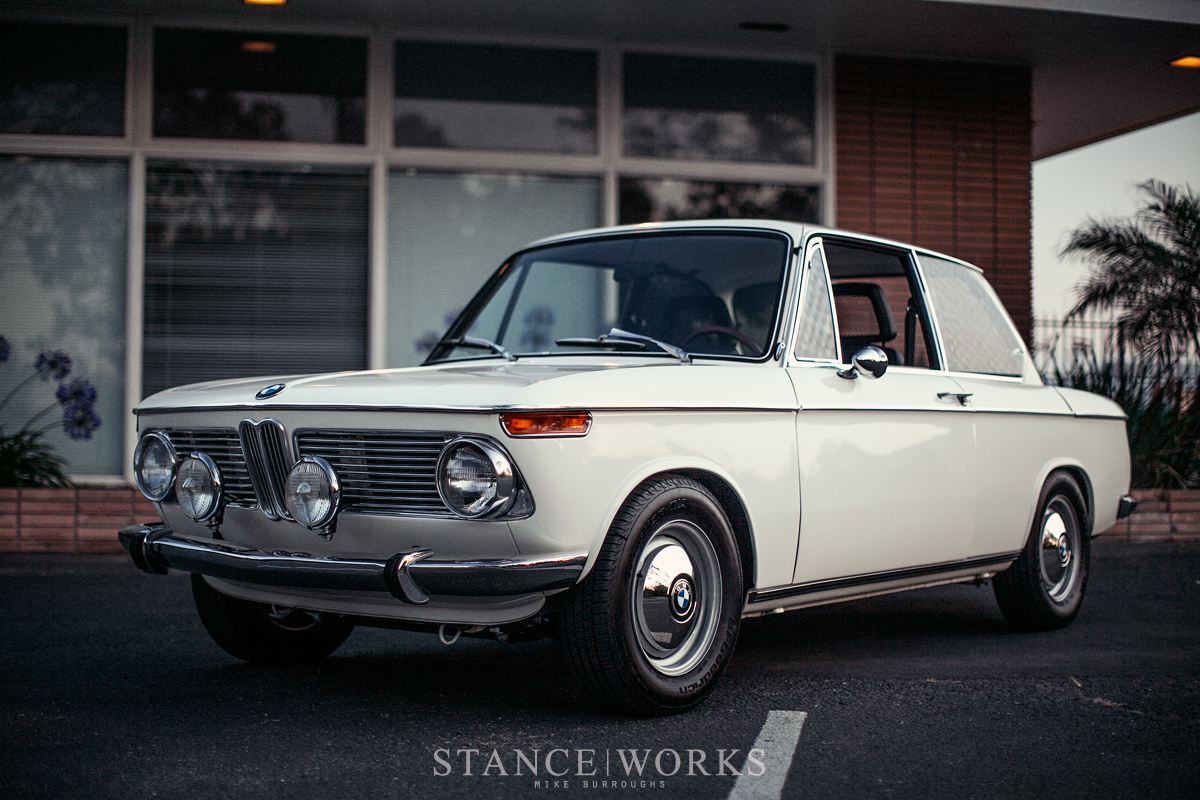 Posed in a lot not far from the shop, the two cars stood in contrast and in unison. Both the differences and the similarities were highlighted, in character and in aesthetics. As a grand tourer and a small sports coupe, both serve similar purposes, but embrace their differences in full force. Having spent time shooting and behind the wheel of Stern's E9, the evening quickly became about the '02 – as I snapped away, Jeff Tighe stood by, telling me the ins and outs of its history.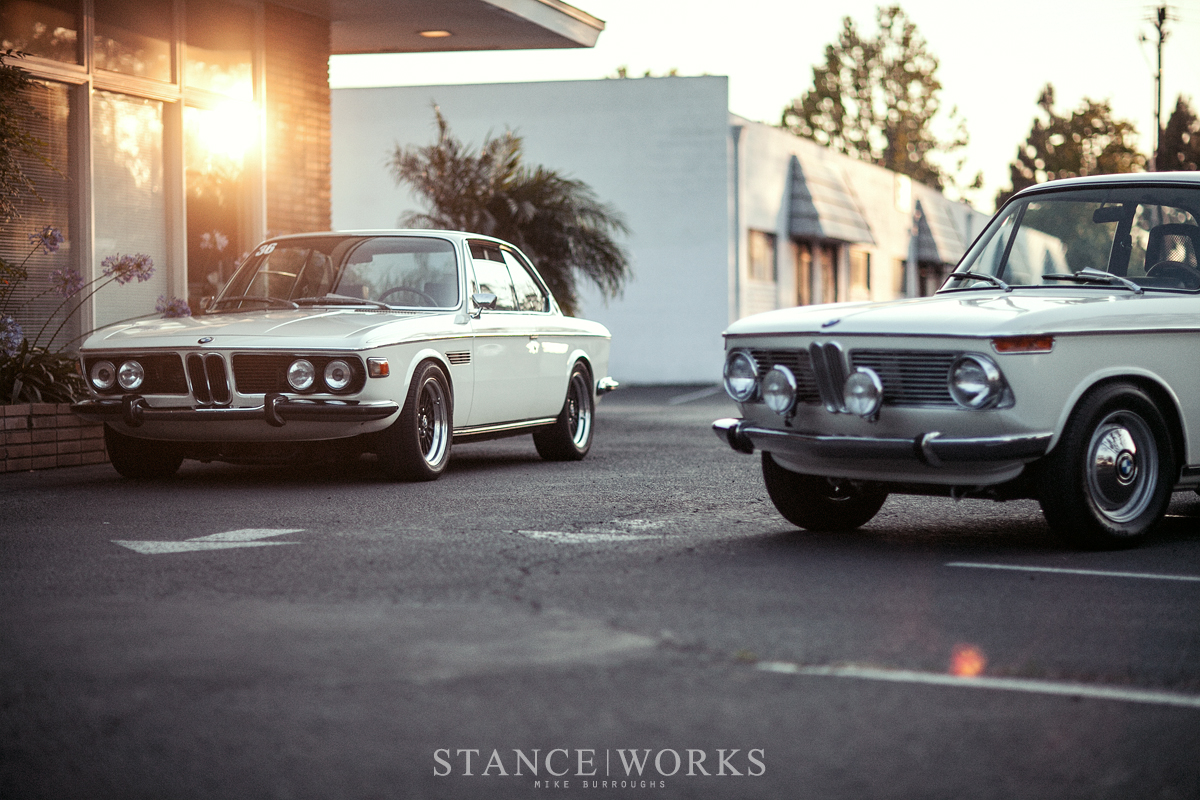 The 02 remains unchanged from the day Jeff built it years and years ago. It's clearly been well preserved, which its $55,000-sale price has to thank. That, of course, and Jeff's incredible work.
The exterior of the '02 has been restored to factory spec. The Chamonix white shines without flaw, casting a perfect reflection of the E9 that sits beside it. The car's brightwork does so to an even further extent, casting highlights from the fading sun on the black asphalt of the parking lot. A pair of fog lamps perched on the front bumper give weight to the car's nose,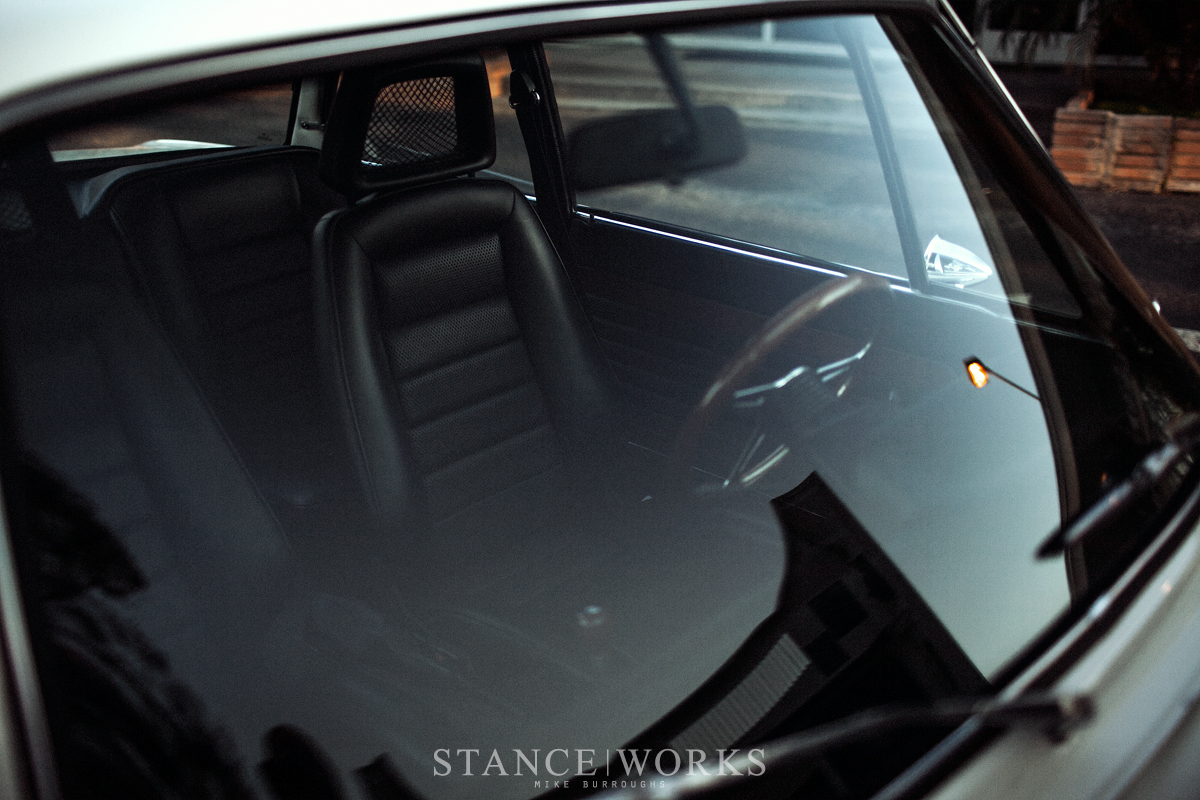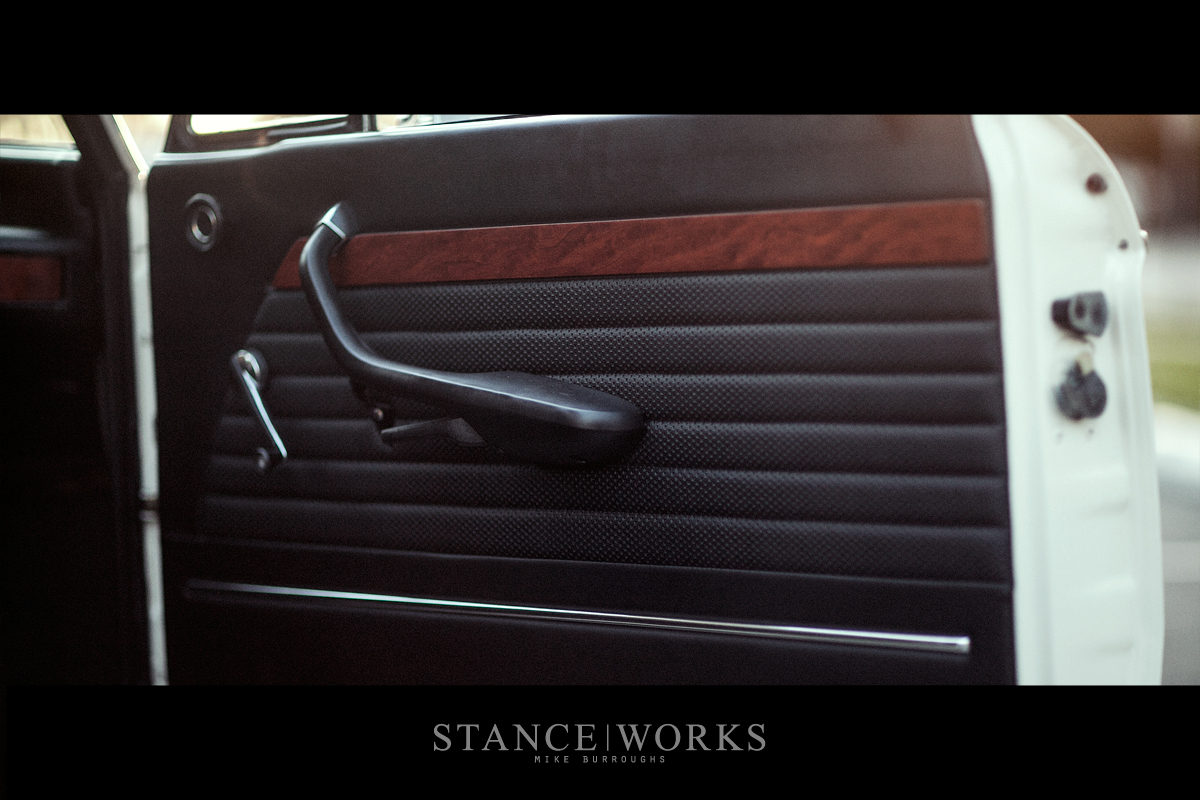 Looking from the outside, the first hint of performance stems from the netted headrests from the Recaro bucket seats. Upon opening the doors, it's clear the same level of quality shown outside carries to the car's interior. At first glance, things appear to be just as they were new in the '60s and '70s, but it's the subtle touches that allude to the car's improved driving characteristics. Black perforated leather covers the door cards and carries over to the seats – Recaro sport seats meant to hold the driver firmly in place. Wood trim separates the black leather from the shadows of the dark interior, and the theme moves throughout, from the steering wheel, to the shift knob.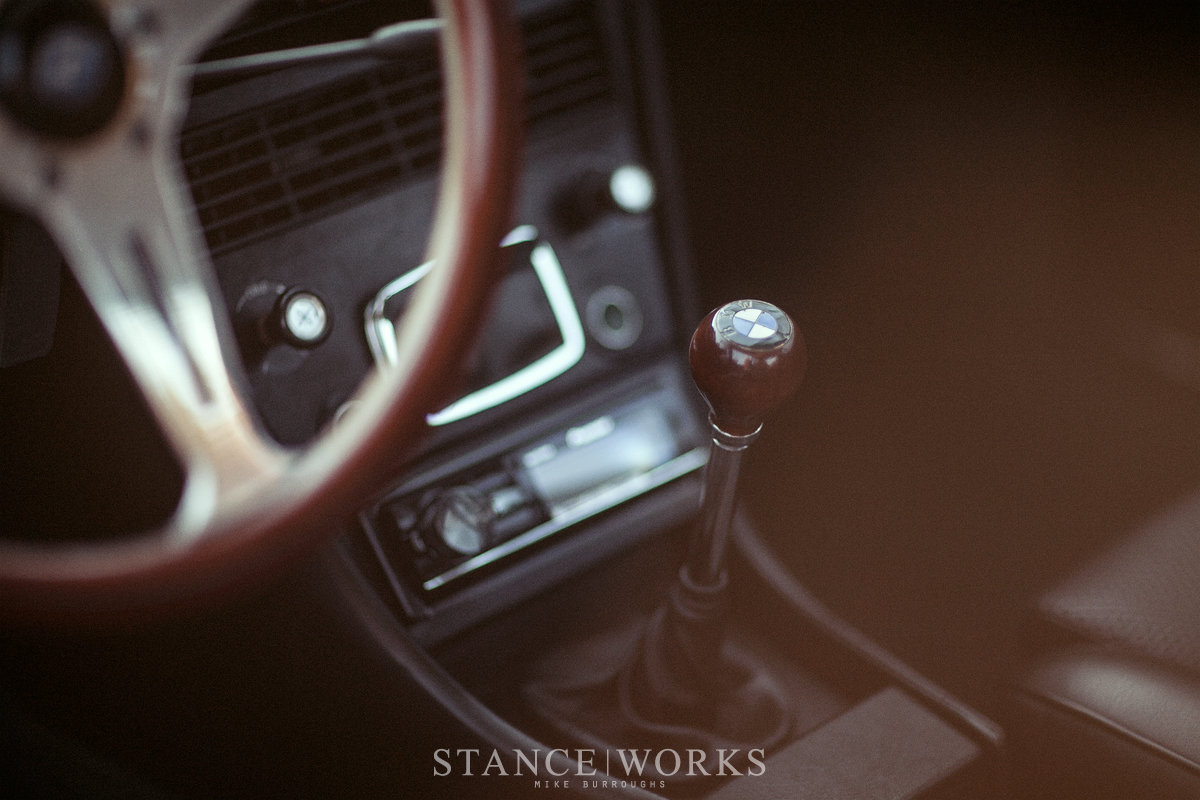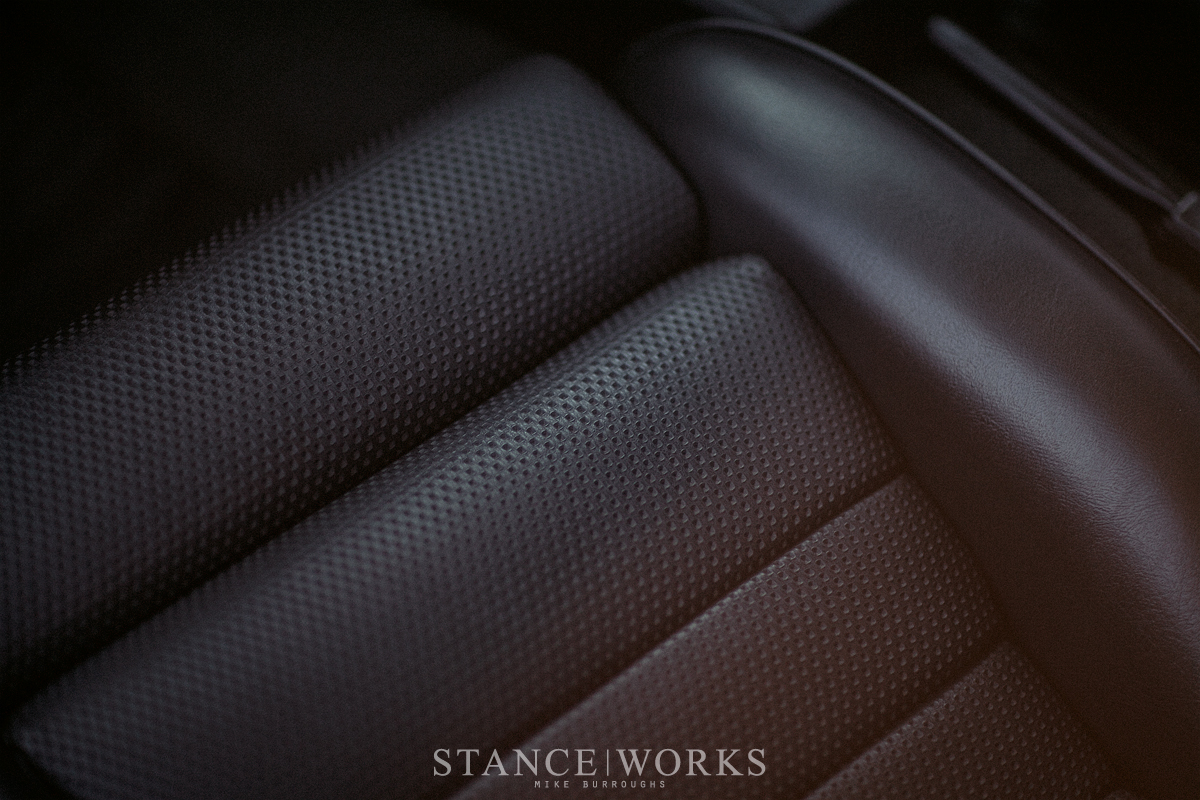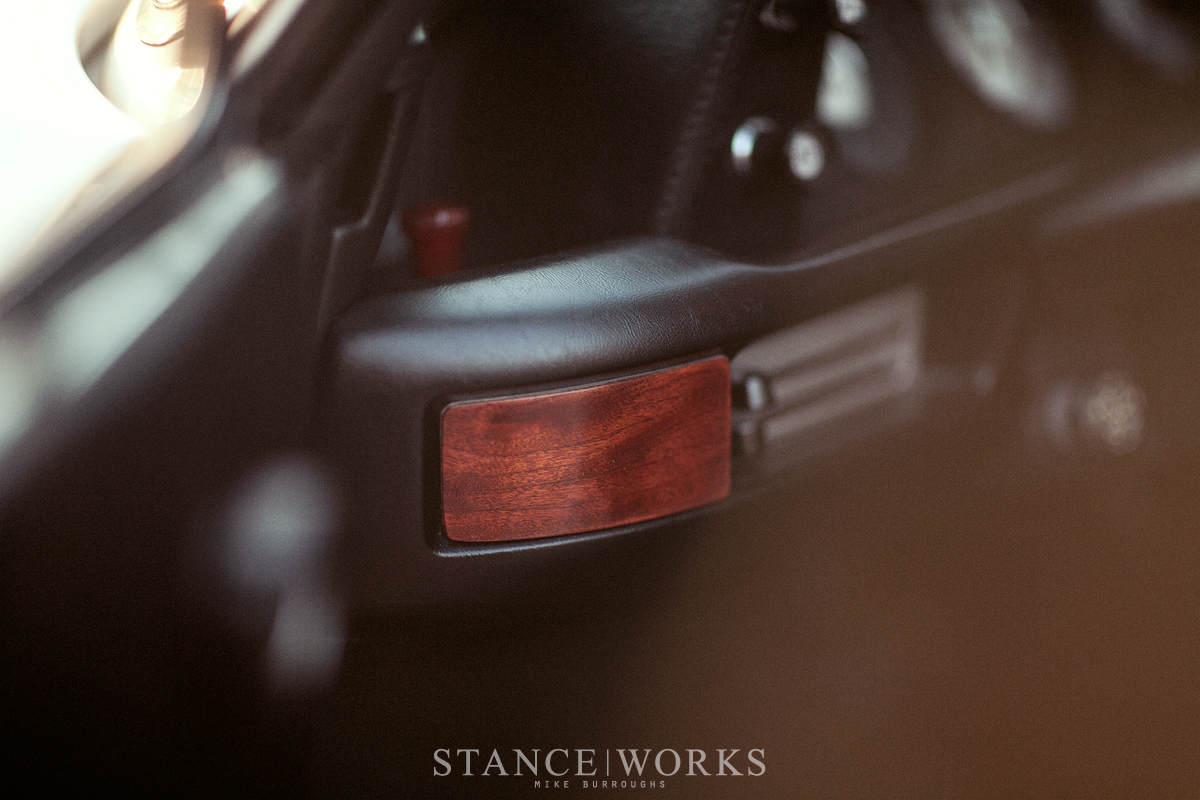 Under the 2002's hood is likely the only place you'll flat-out notice a difference.  There's no hiding the S14 power plant, despite the black-painted valve cover. The carbon fiber throws subtlety out the window in favor of performance and sound. The choice of engine pairs perfectly with the chassis, creating a car that demands to be driven hard in order to yield its full potential… the S14 isn't known for its low-end torque, instead favoring high RPMs and a lead foot. The light weight '02 begs to be thrown into turns, and its tendency to oversteer, combined with a high-revving inline-4 makes for the ultimate driver's car.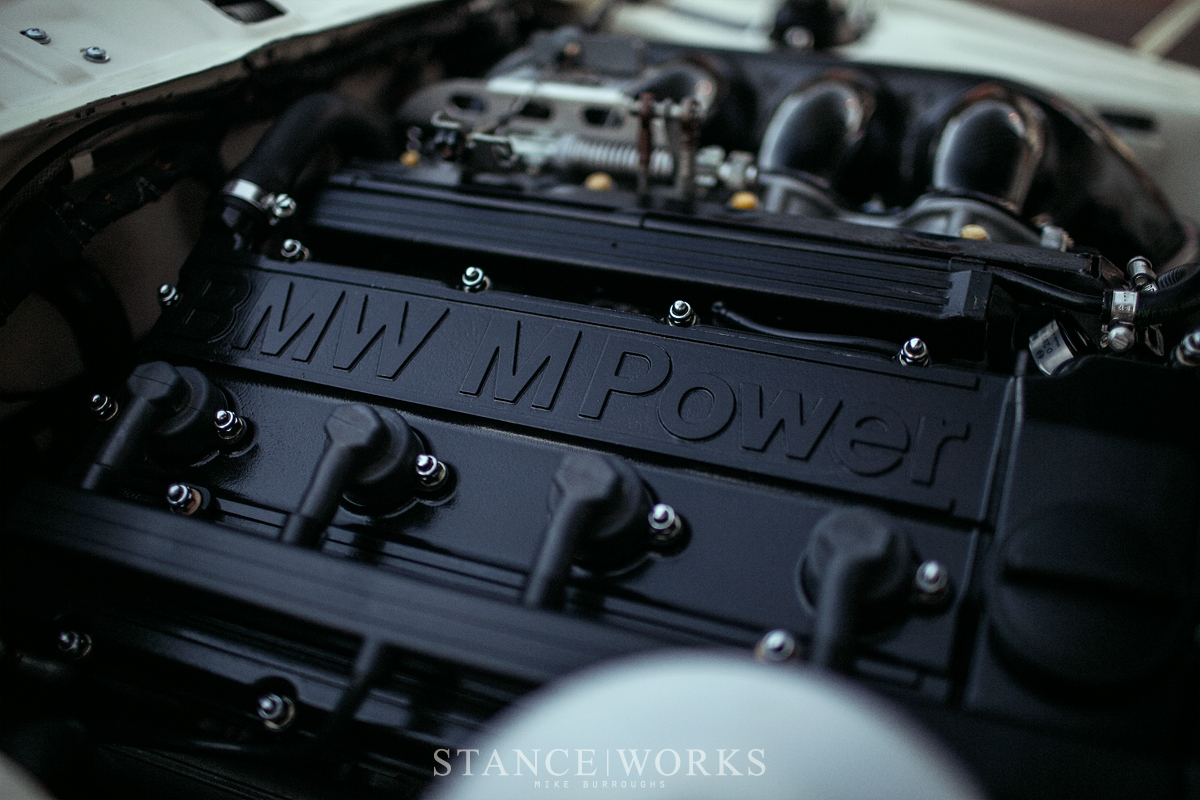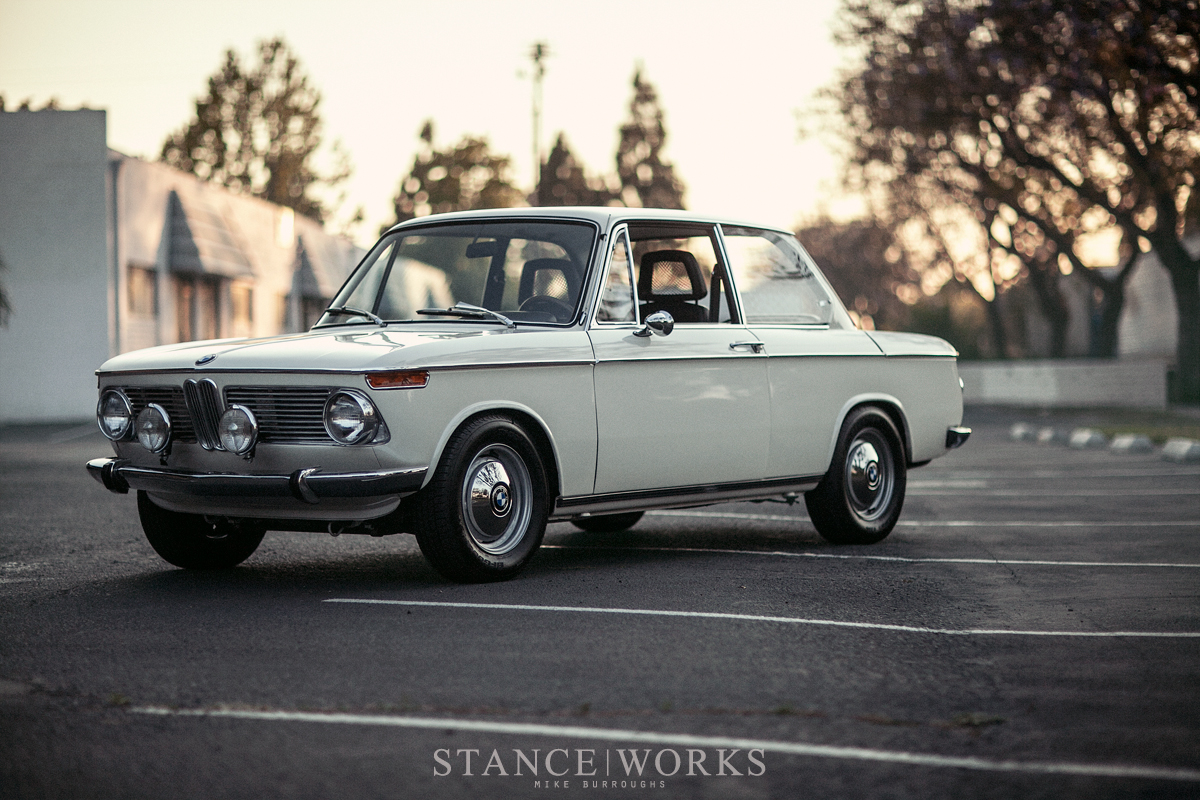 It's there that the overlap between the '02 and E9 is clearest – Jeff Tighe makes cars for drivers. He's not shy about his proclivities – M10s and M30s are tossed by the wayside to make room for better, more modern engines, which some may find heretical by nature. However, it's safe to say Jeff clearly knows what works. 15 years ago, Jeff Tighe built a car that has undoubtedly withstood the test of time. Today, it sits along side his latest work, built with an ethos that remains. One can only hope, 15 years from now, we'll be given the chance to see yet another generation of Jeff Tighe's work.