In 2009, Andrew Sylvia and I set out on a cross-country road trip to end the summer with a grand finale: 7,000 miles of driving  spent with friends, car lovers, and family throughout the USA. With Rusty, the now-famous E28 as our chariot, we had planned on a trip that would "redefine epic," as we put it. We were on a quest to create a journey for everyone that wanted to follow our progress, and more importantly, we were on a journey to make life-long friends along the way. Now, nearly five years later, with StanceWorks having grown far beyond our expectations, it seems only fair to take a look back at the journey that, in many ways, brought StanceWorks into the spotlight.
Chapter One: Two Takes to Get it Right
Our original plans had been to leave late Thursday evening – July 30th, 2009. However, Mother Nature had alternate plans in store for us. Storms and a threatening tornado watch kept us inside for the night, waiting for the foul weather to pass. Eager to be on the road, Andrew and I woke up at 5:00 am, and after showers, packing, and some breakfast, we left at 7:30, Friday morning, the 31st.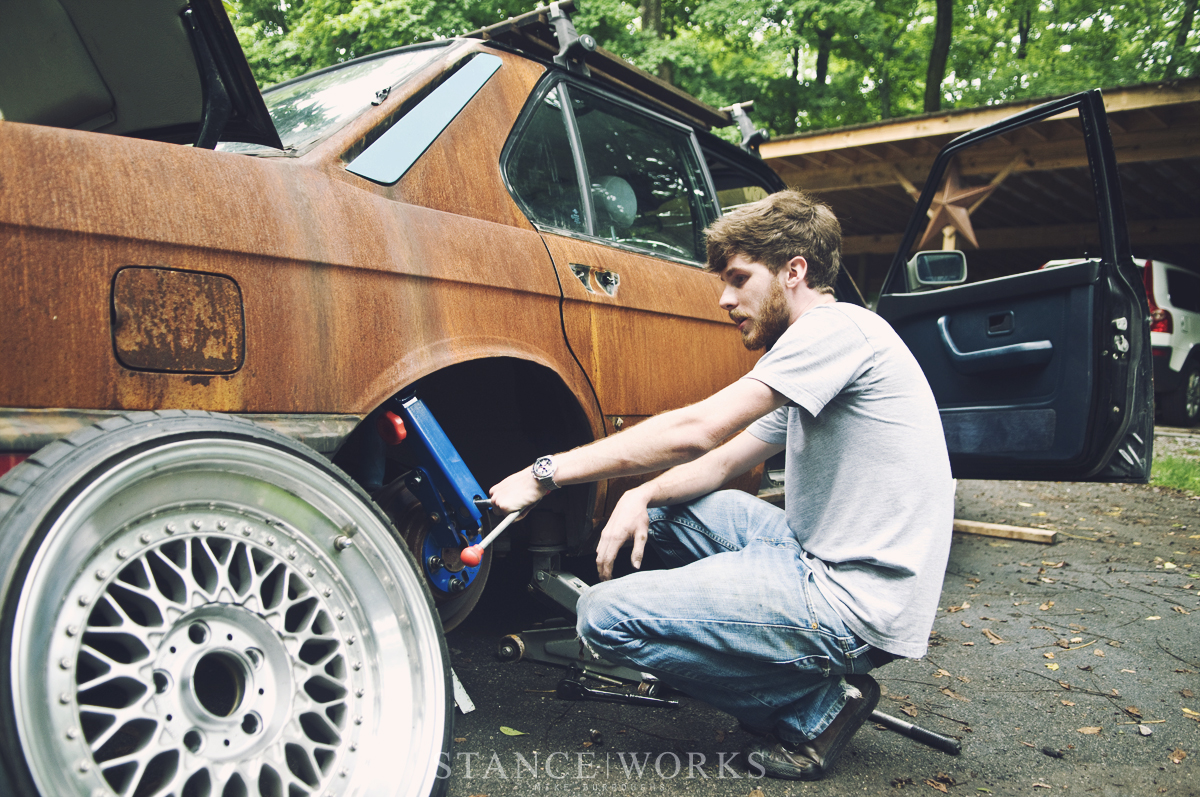 After a big sendoff, with my parents waving goodbye from the front porch as their son and his friend set off in a true piece-of-junk car, we made it an astounding 4 miles before our first need to stop. With the car weighed down by all of our spare parts, tools, clothes, and supplies, the rear wheels were rubbing on the arches. We attempted a road-side fix using a hammer, but the effort was short-lived. We took the car back home for a quick fender-rolling session, and soon after, we set off on our journey once more.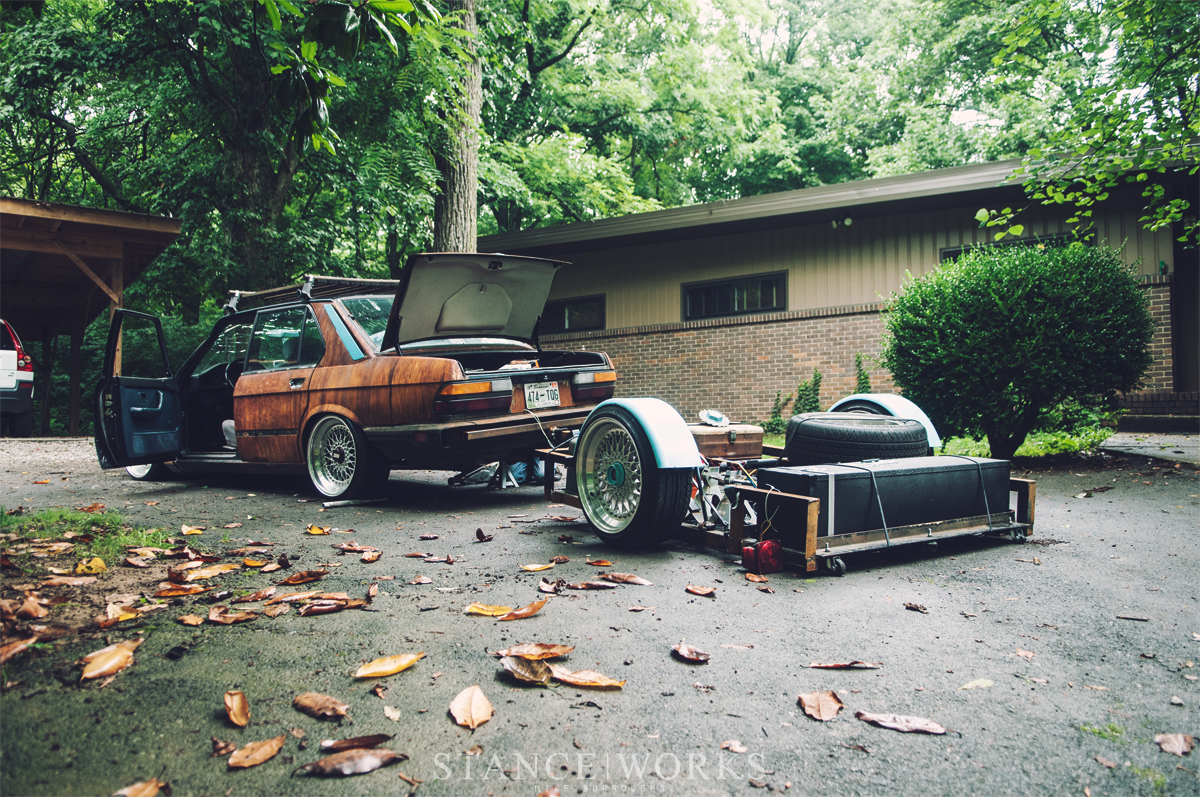 We clearanced both sides by a good half-inch or so to ensure we'd face no issues on our travels. We re-hung the exhaust for some extra ground-clearance using a coat-hanger, and everything seemed ready for action. In retrospect, there's no question we could have fit everything we truly needed into the car, but a week prior we had built a "custom" trailer for the trip with the help of a friend. The idea was to load up the trailer, which if distributed well, would keep weight off the back of the car, meaning less ground-clearance and rubbing issues. We were obviously a bit off. Nonetheless, part of what made the trip special was the inclusion of what may still be the lowest trailer ever.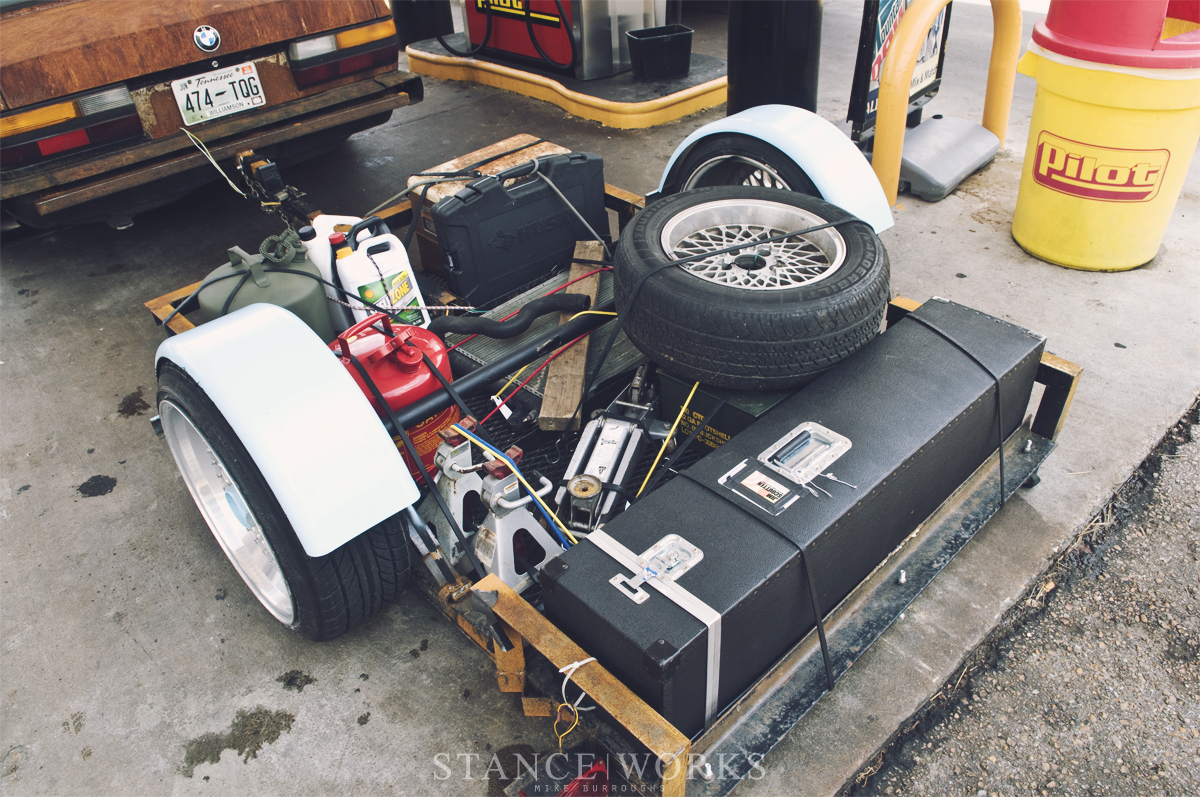 The trailer was stocked with spare parts we may need. A 5-gallon tank of water provided coolant-on-the go, while a gallon of oil, ATF, and actual coolant allowed us to keep the fluids topped off. A cooler held our ice-cold cokes for the trip, and behind it sat our basic-yet-capable Husky tool set. A spare 5-gallon gas can rode behind the water, in case we pushed our luck. Jack stands and a jack were crucial to the car-repair process, as was the 2×4 needed to get on top of the jack. 4 water-tight ammo cans held a slew of spare parts, ranging from an AFM and coil, to plugs, wires, hoses, and sensors. We even brought a spare radiator. We were prepared for anything, or so it seemed. Lastly, the long black box held light stands, which we hoped to utilize for photography with friends along the way.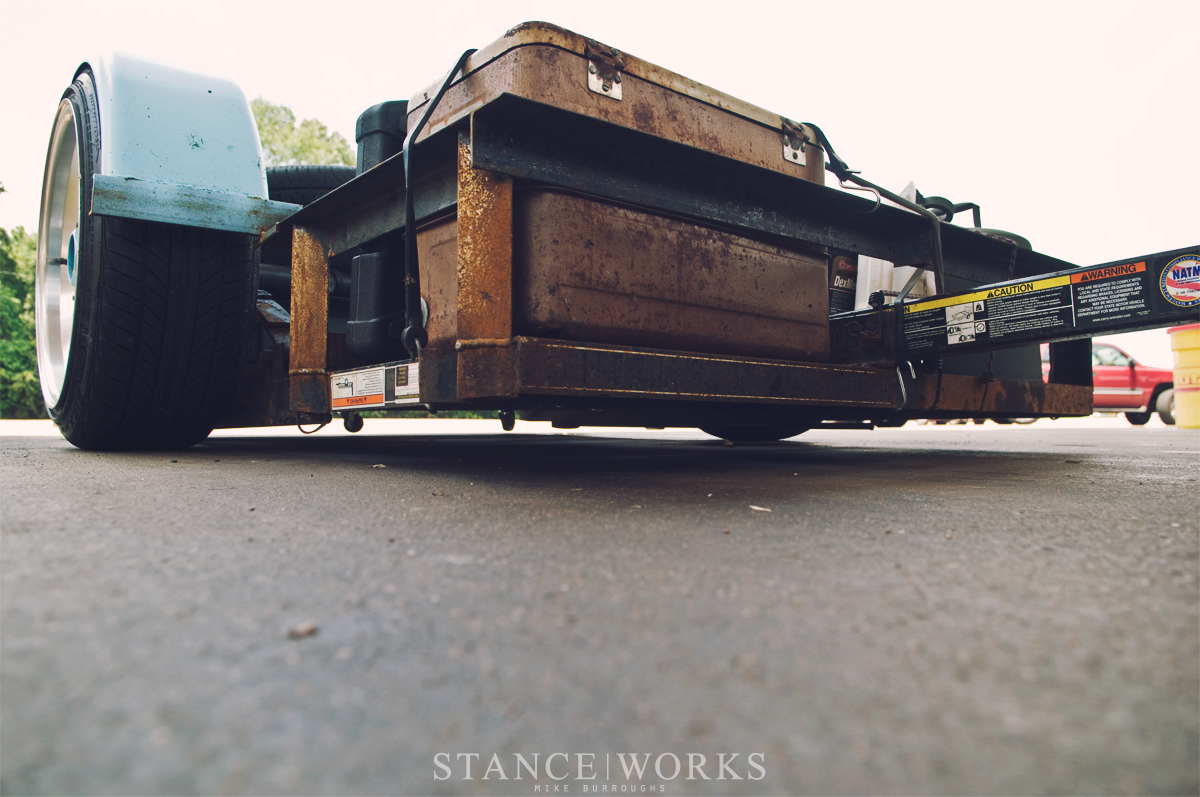 The trailer itself was simple – we accomplished the ride height by flipping it upside-down, and welding the railings back on, which essentially hung the trailer underneath the rear axle. Far from ideal, but it sure looked good. With enough ground clearance to lean a quarter against the sides, it's astounding it did so well. Complete with re-drilled and matching BBS RSs, and custom fenders mounted to give a matching "stance," it was the perfect companion for the E28.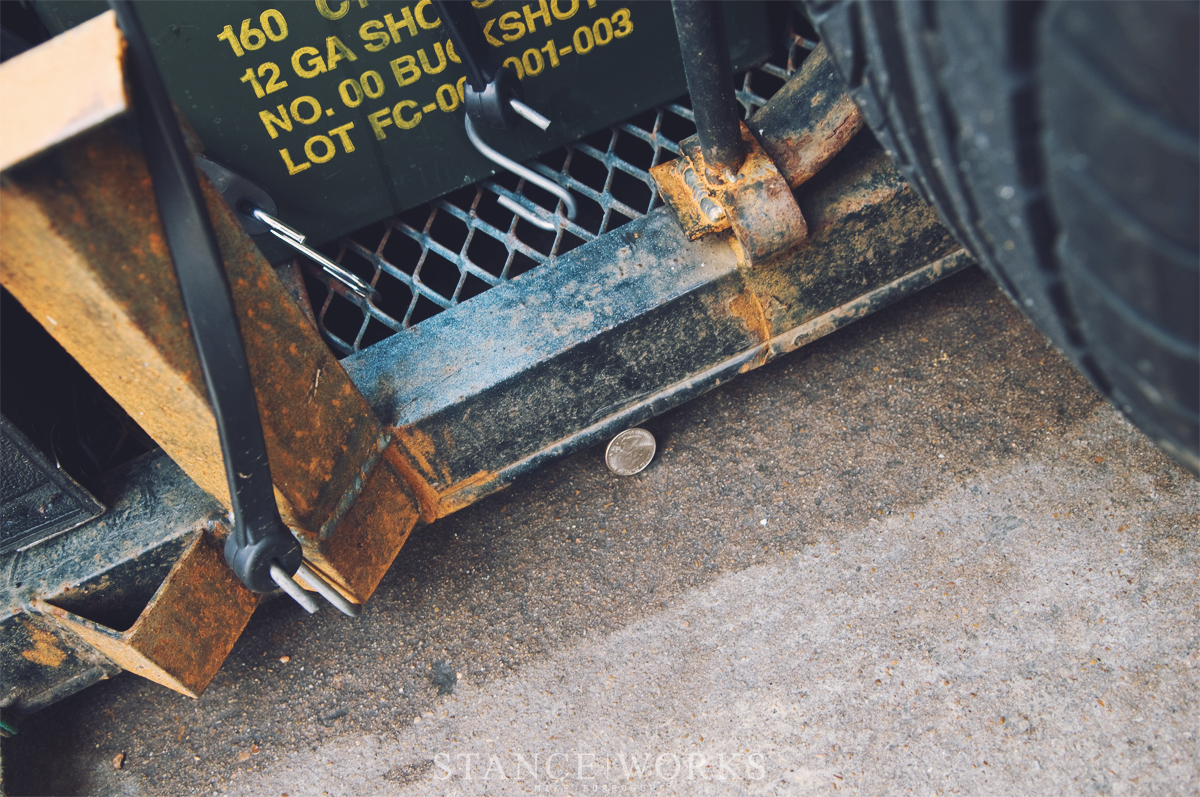 It was only a few hours on the road – actually on the road – before we encountered our first issues. We took it in stride, posting "Of course it would happen, it was inevitable. It was only a case of "when" it would happen…" The car began to overheat just outside of Memphis, Tennessee, just over two hours from home. Feeling that our best option was to remove the hood for better airflow, that's just what we did. After strapping the hood to the roof rack, we were back on our way, spirits in full-force, ready to take on America.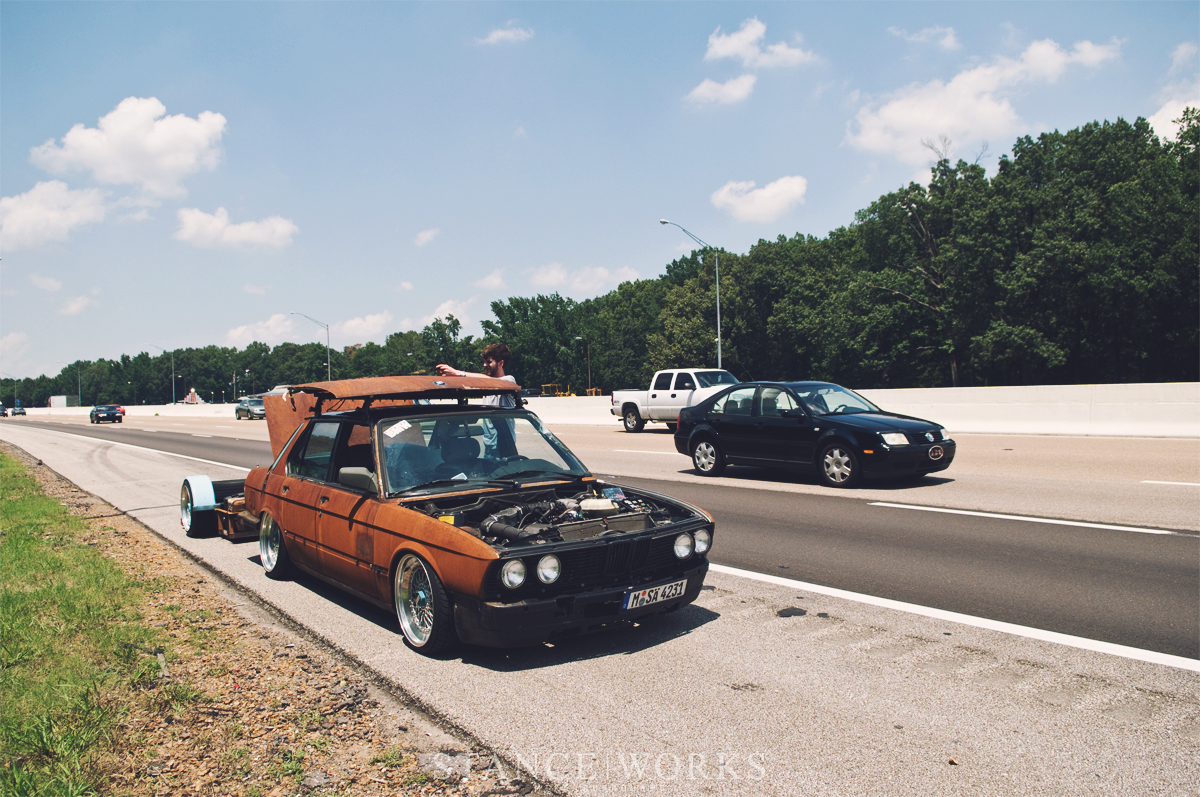 The car ran cool the rest of the day – all seemed well. Rusty's fuel economy has never been worth writing home about, meaning our trip was full of pit-stops for fuel and grub. With each stop came a new round of inquisitive families, wondering what on earth we were driving, where we were headed, and "when are you gonna paint the car?"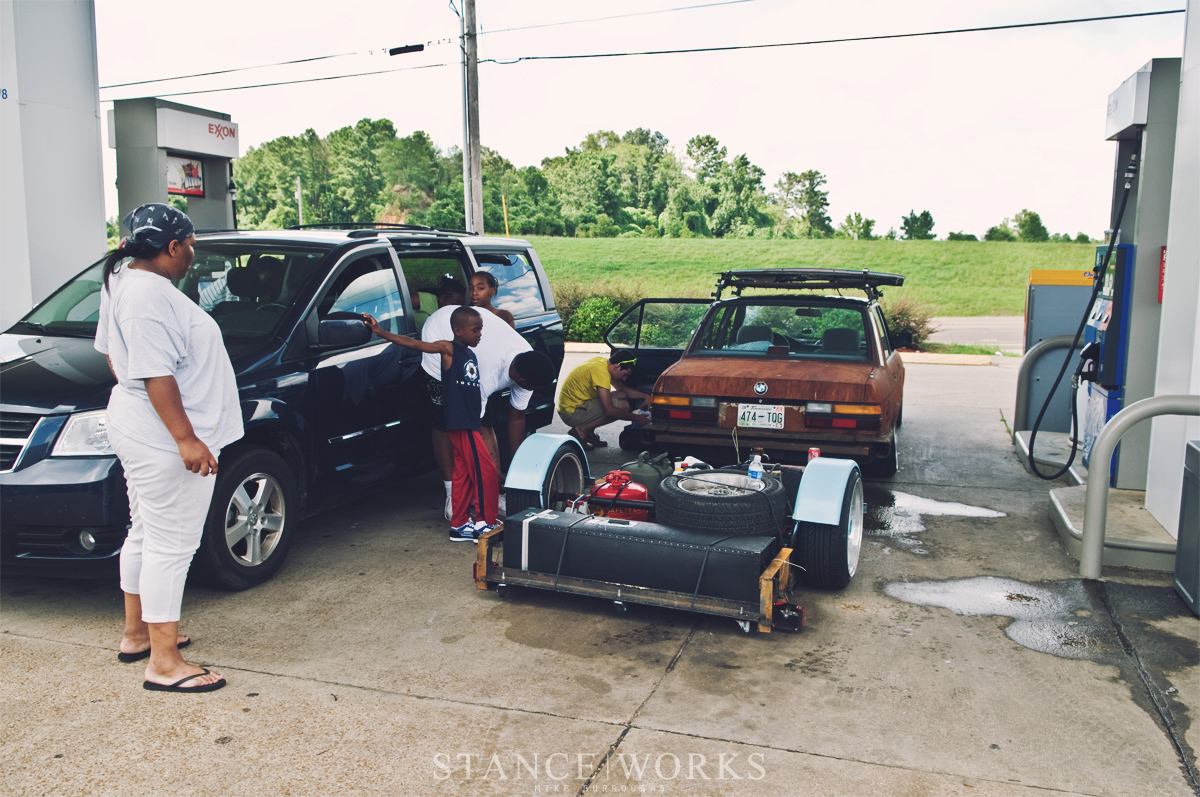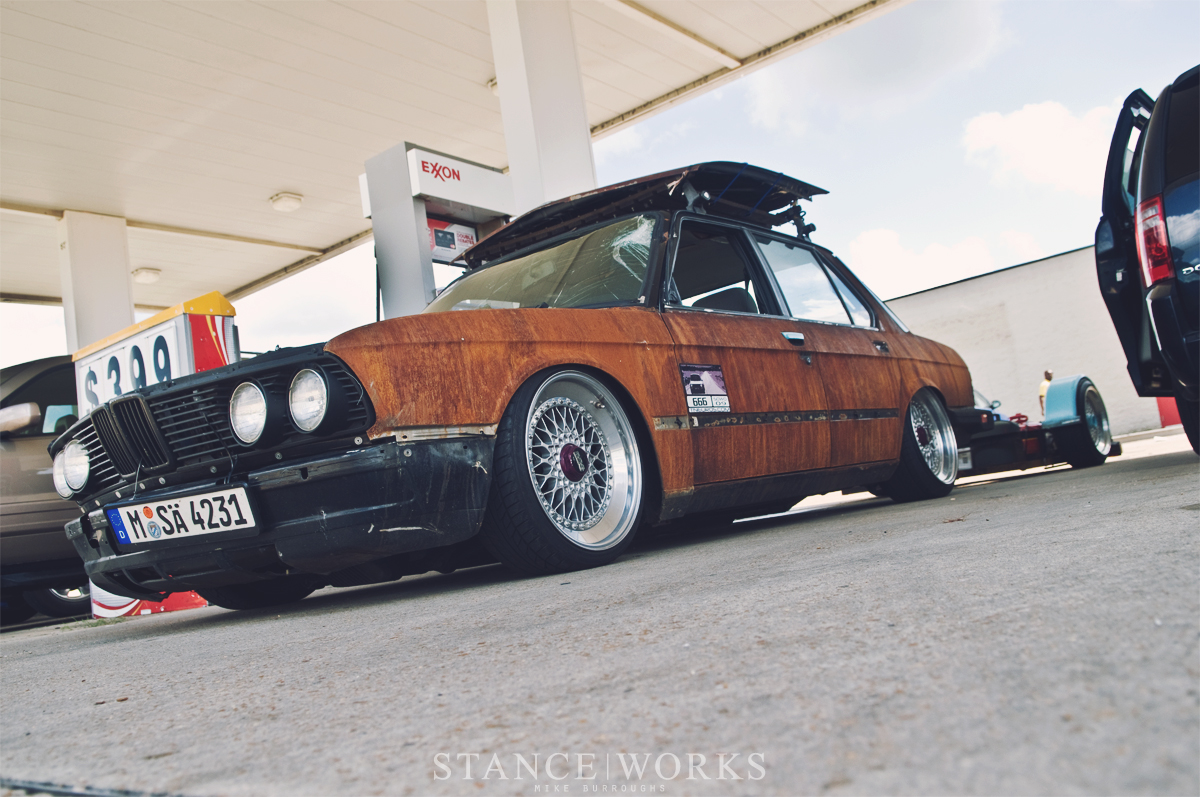 By today's standards, Rusty is hardly pushing the limits; however, at the time, we felt as though we couldn't be lower. The car skipped and hopped over bumps, yet that was far from the end of the list of issues ol' Rusty threw at us. Without a radio, we brought along a boom box as our sole source of music. Even at full volume, the music had trouble drowning out the loud, home-built exhaust, meaning at most times, the music could only be enjoyed if you truly knew the song being played, and were able to play it along in your head.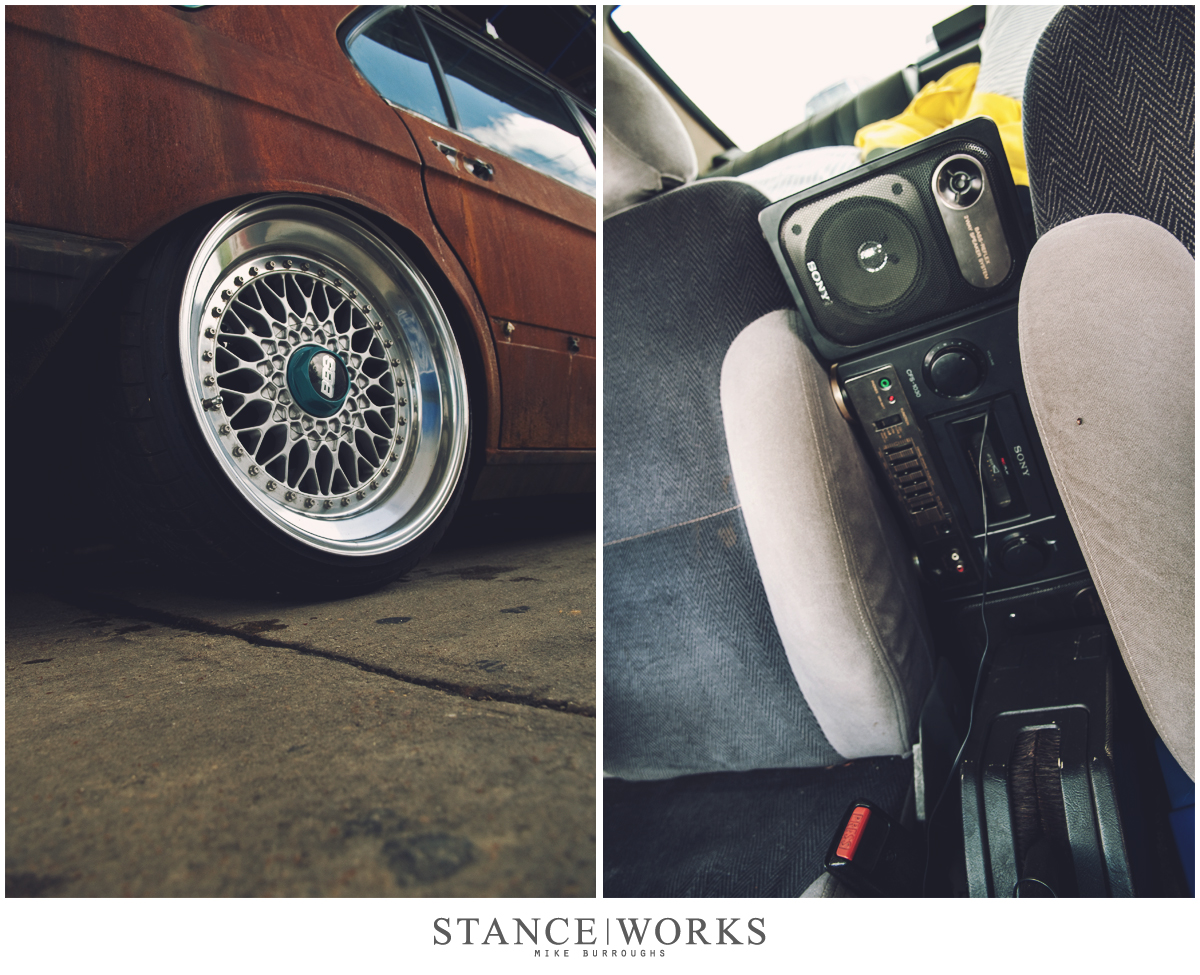 But worse than a lack of tunes was the constant-yet-mysterious source of heat that came in through the footwells. Hotter than any heater could possibly produce, we were met with a rush of super-heated air, pouring in over our legs and feet. Non-stop. In the dead of summer. In the South. Miserable hardly begins to describe it. However, it all seemed worth the trouble. It was, as we say to this day, "the worst fun ever."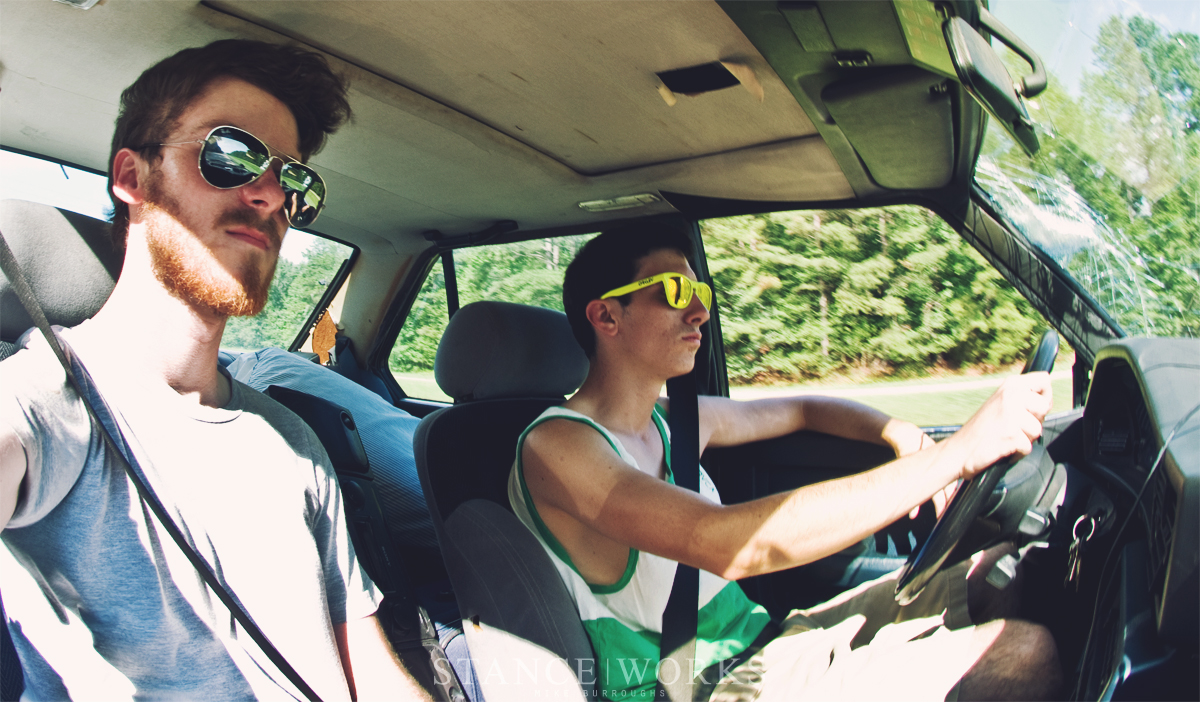 Our original plan was to take Interstate 40 through Arkansas, but bad roads made the journey a very rough one. Worried about cracking the oil pan, we turned around, back towards Memphis. We had to take the long way, down through Jackson, Mississippi, and through Louisiana. We were 450 miles in, and had hoped to make it to Dallas before calling it a night. We stopped for gas once again at the MS/LA border.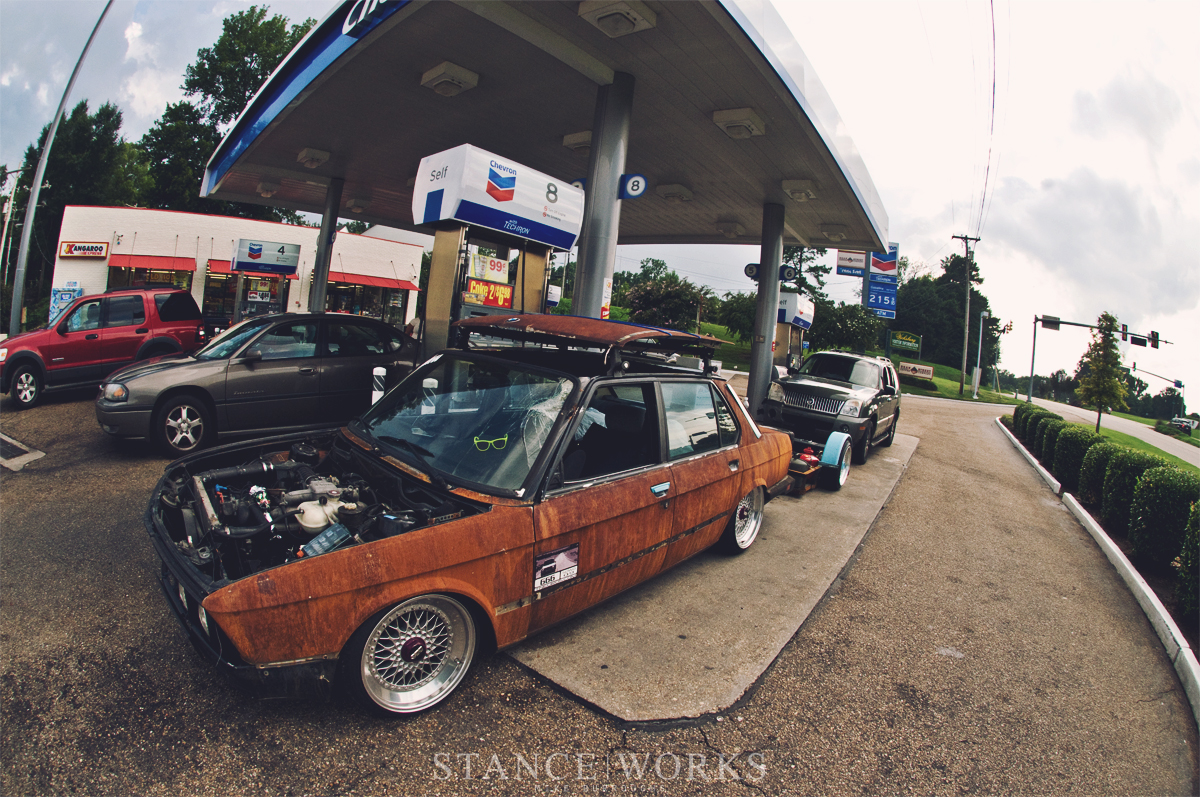 Once we crossed the border, we hit what we were most worried about: rain. Lots and lots of rain. The car leaked in every way – bad door seals and a broken windshield meant intruding water was a constant issue. Moreover, the intense heat from the car made it all but impossible to keep the windows from fogging up. Oh, and the windshield wiper motor had bit the dust.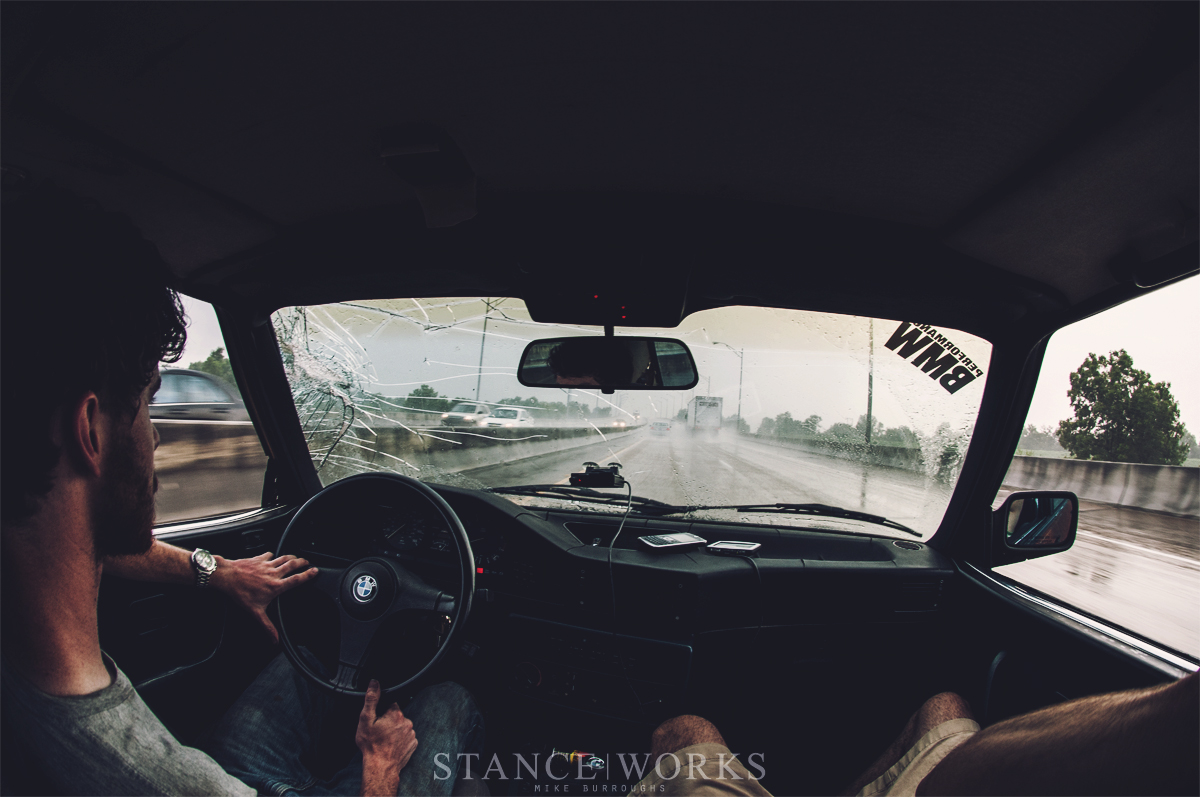 As the rain got worse, we pulled over, underneath an overpass, to reinstall the hood in hopes of keeping more issues from arising. We had hoped that the cool, wet air would keep the car running at a reasonable temp. We also crossed our fingers, hoping that all of our important supplies, both inside the car and on the trailer, would stay dry.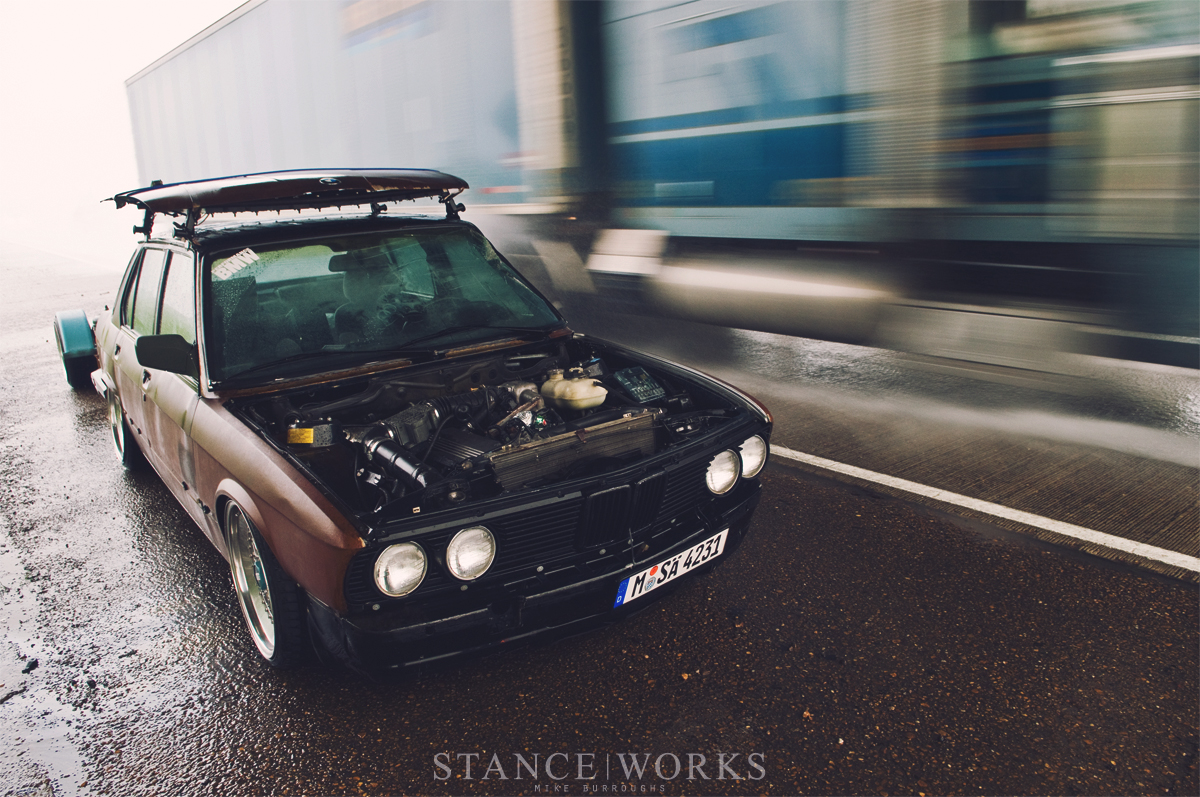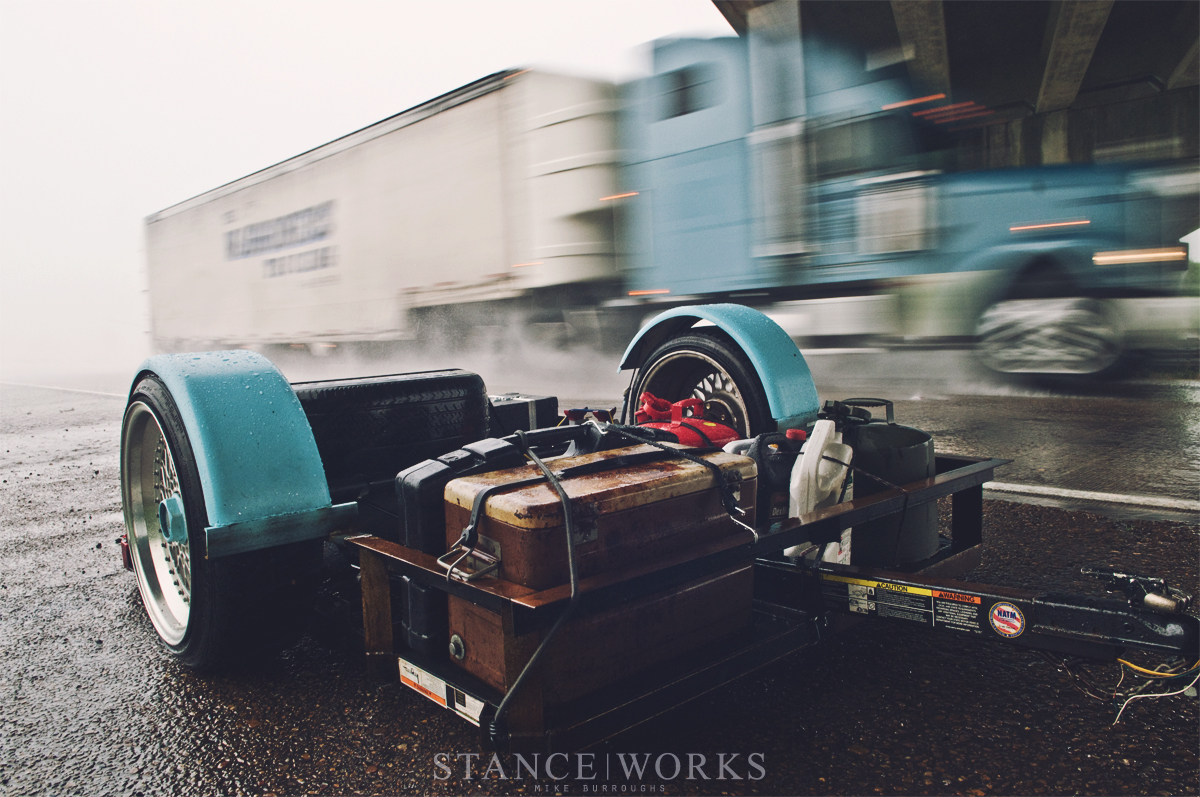 After a few more miles,  we were forced to call it quits – the rain was too heavy to see the road ahead. We pulled over at a rest stop and decided to wait it out – a decision that cost us several hours of progress.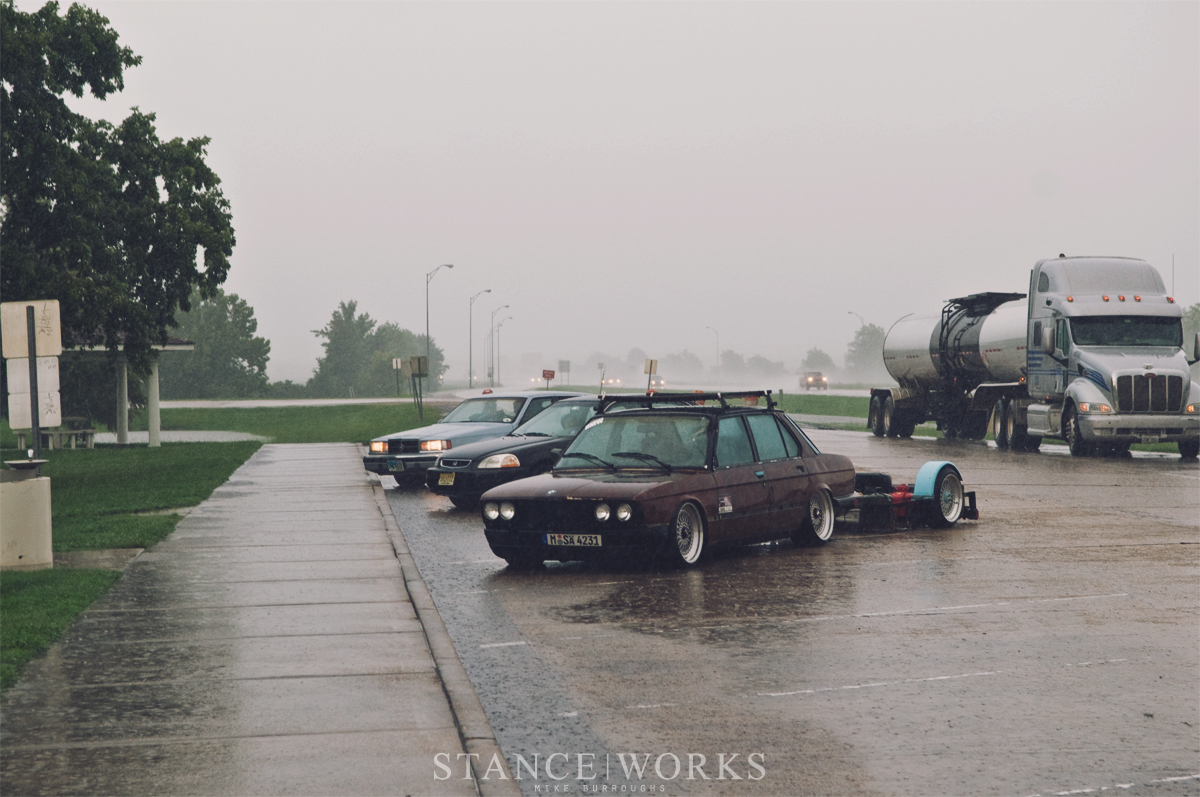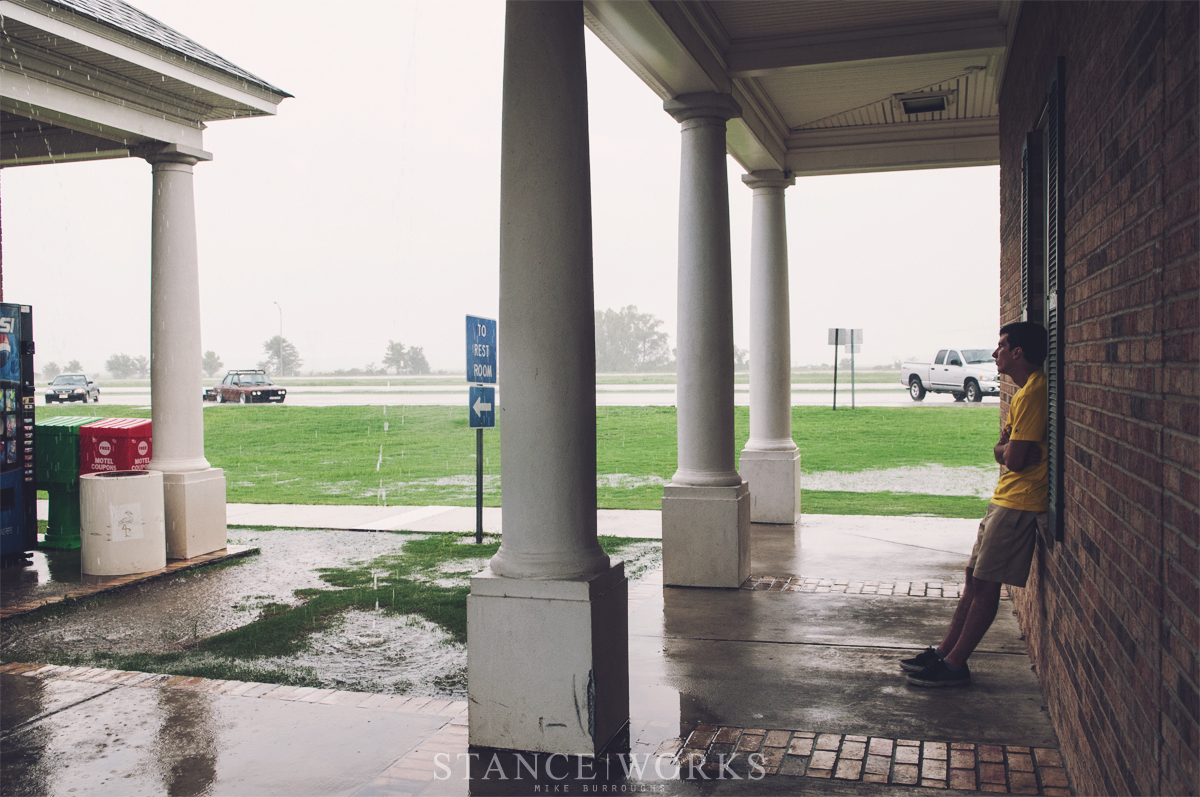 Roughly two hours outside of dallas, we called it a night. We grabbed some much needed Waffle House, which became a recurring part of the trip as a whole. We hadn't made it quite as far as we had initially hoped, but our progress felt solid.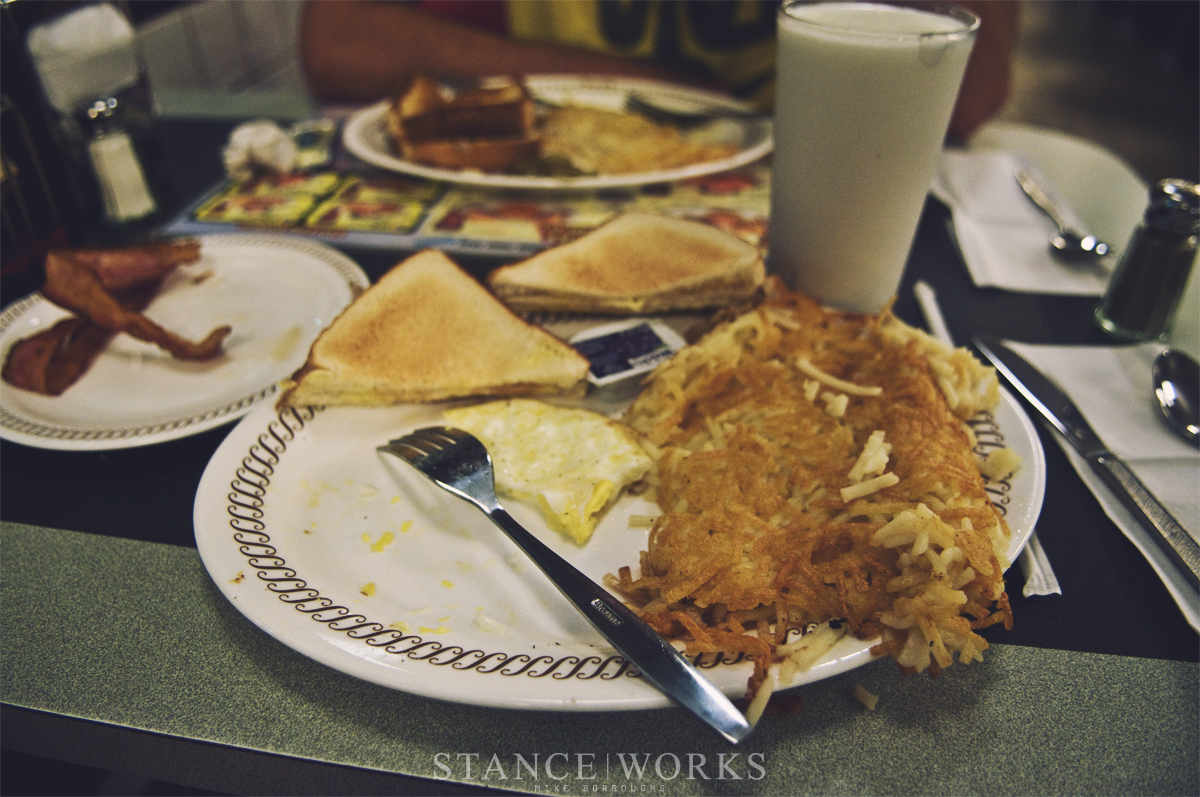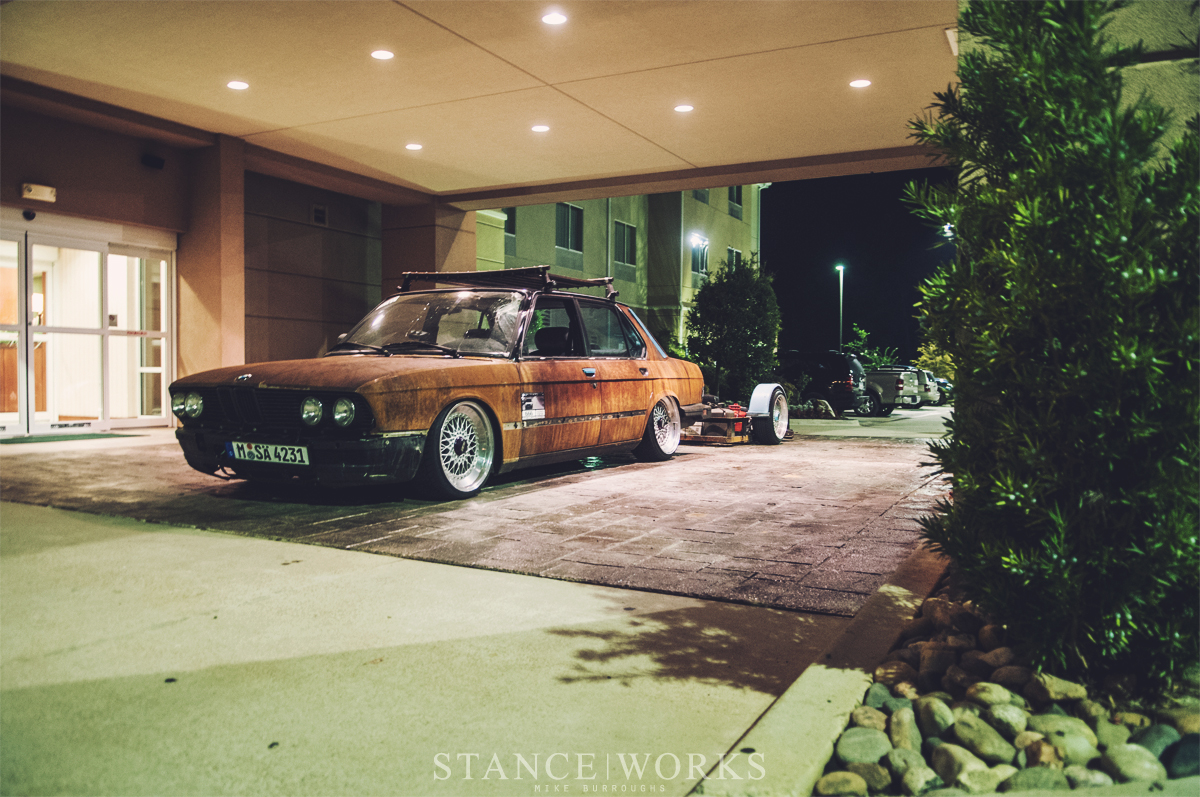 We checked in at the Marriott, where we were able to score a cheap room for the night. The hotel check-in manager got a hearty chuckle from our story thus far. Our hopes were to make up our lost time the following day, by making the drive all the way to Tucson, AZ, where we'd meet up with Nic and Steph Foster.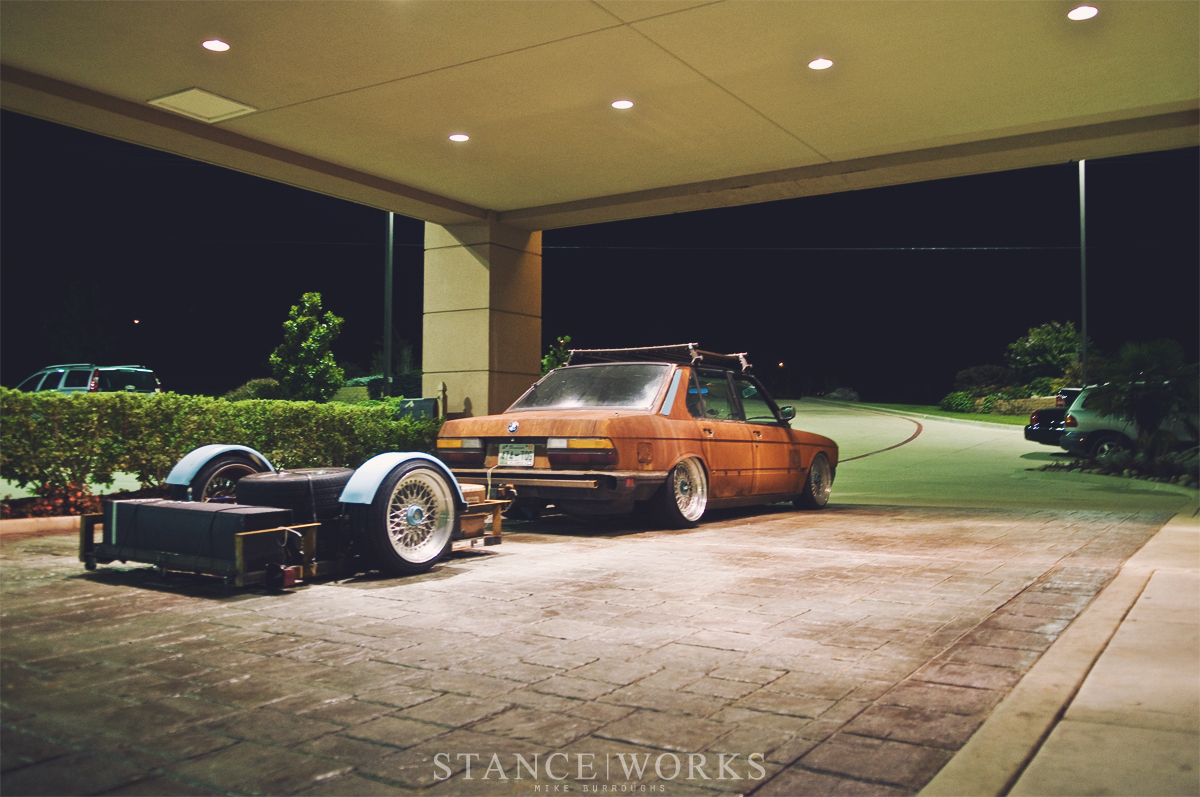 Chapter Two: Don't Ever, Under Any Circumstance, Mess With Texas
We didn't get on the road until around 10:30 am, on the 1st of August. We were two hours outside of Dallas, more or less on the Texas border. It wasn't 20 minutes on the road before we were hit with more rain. We saw it approaching in the distance, and there was little we could do to fight it. It was like watching impending doom in slow motion.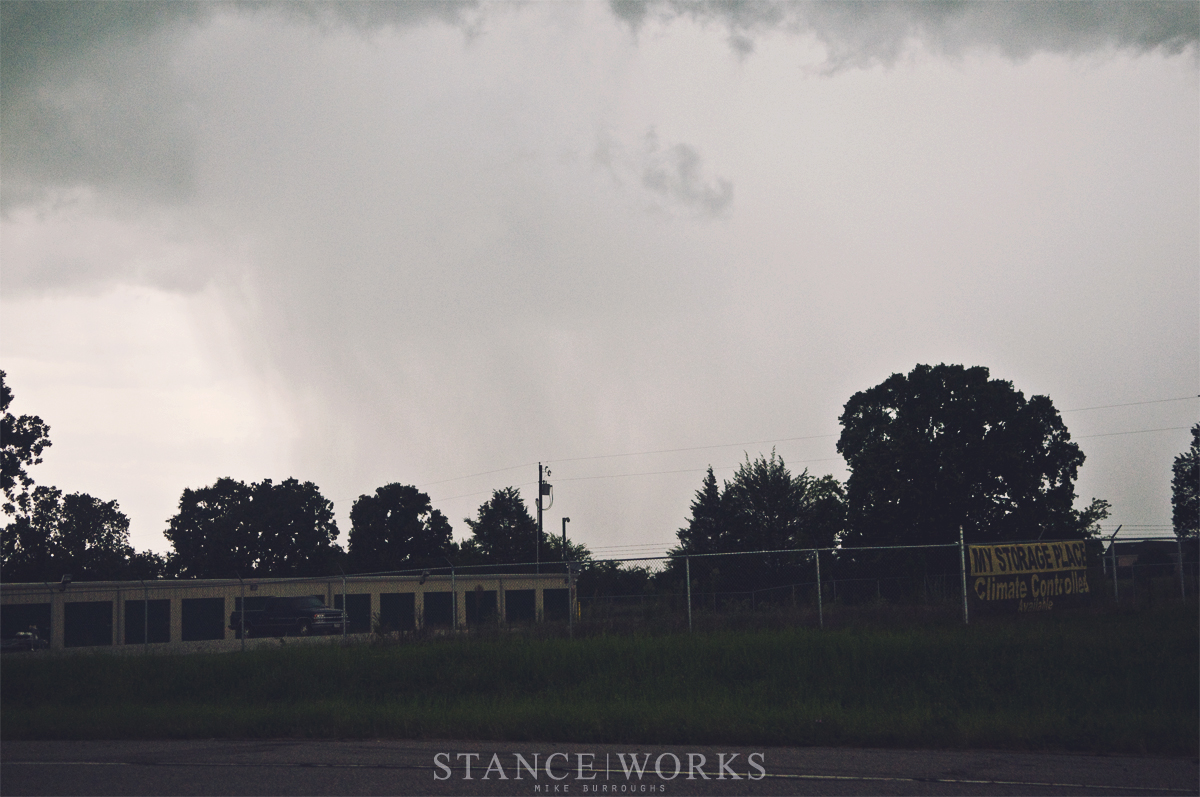 Luckily, the rain front was small. We made it through without much trouble, and our progress was hardly slowed. Once we were back under the summer Texas sun, the car began to run hot, as we feared it might. Once again, we strapped the hood down to the car's roof rack, which kept engine temps down. When we pulled over to make the change, we noticed one of our trailer's fenders had gone missing. Perhaps it met the front end of a car somewhere behind us on I20, or perhaps there's a baby blue fender lying roadside. Either way, in the name of style, we had to make the trailer match. After some brute-forcing, we were rolling open-wheel.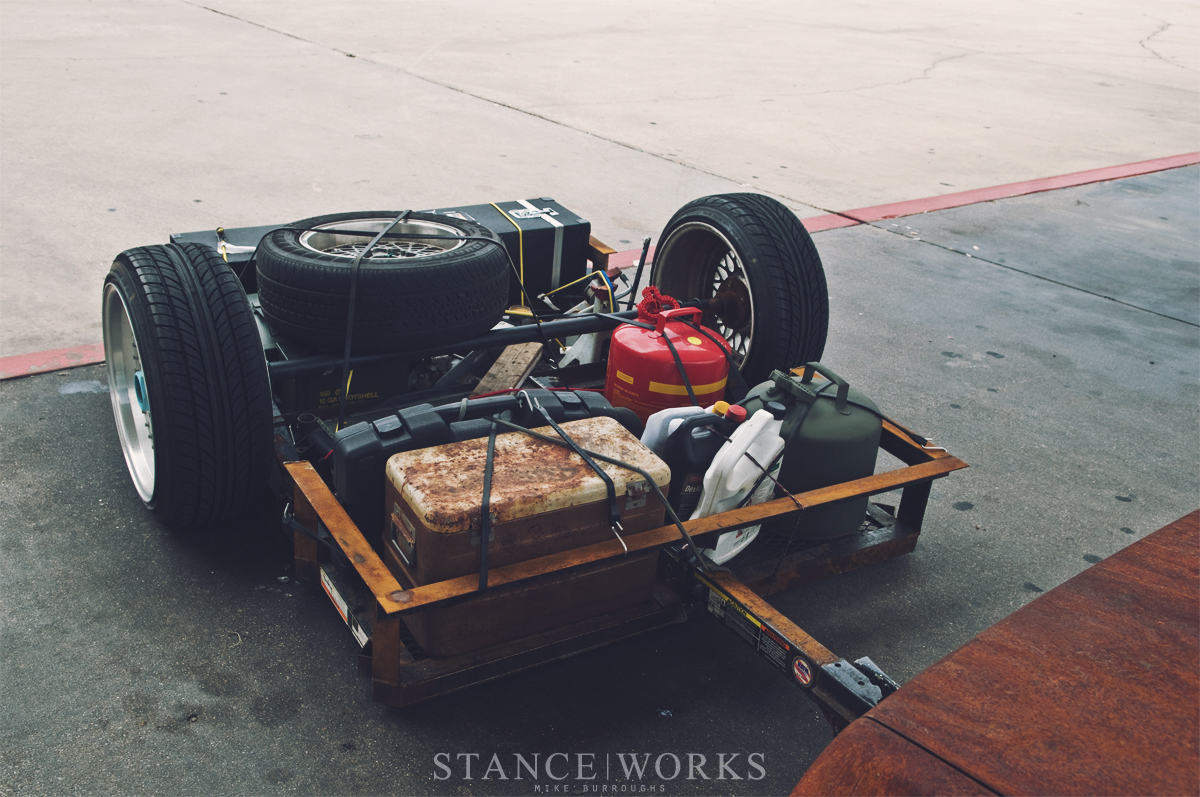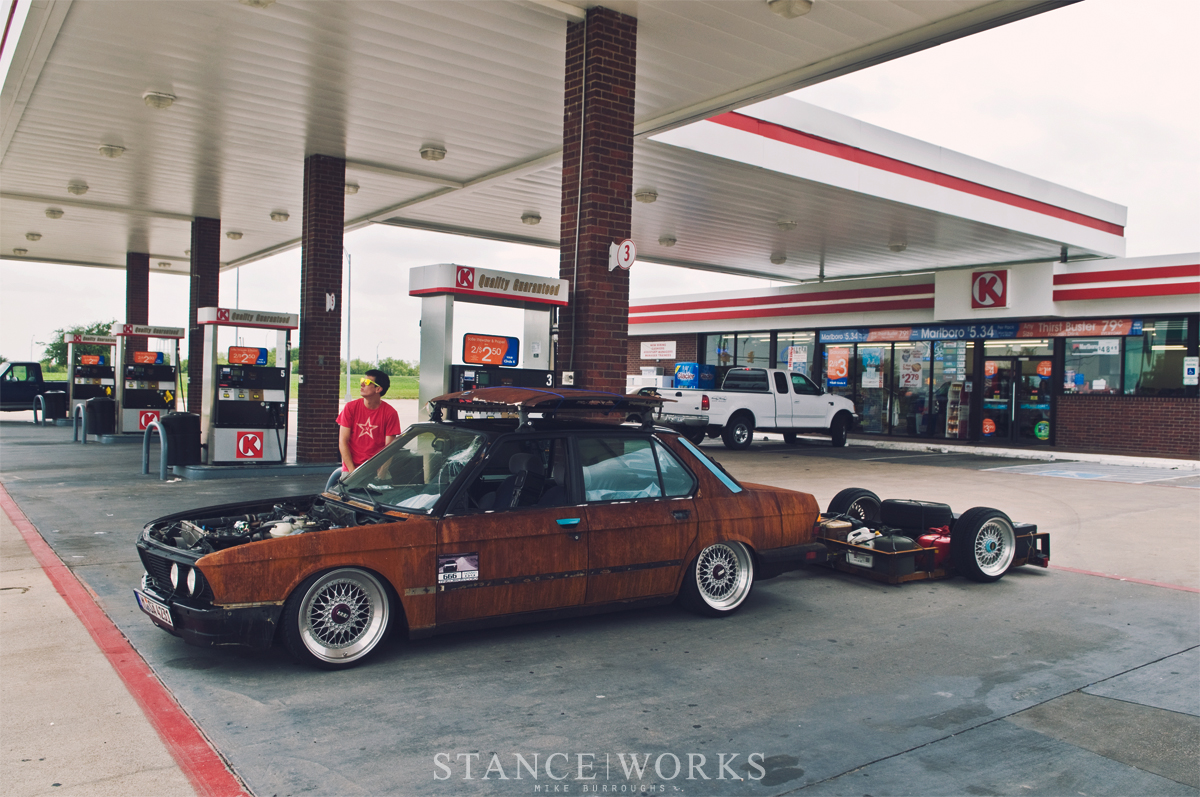 It came as no surprise – as soon as the clouds parted, they re-appeared, with a summer torrential downpour. We put the hood back on the car as the rain fell, soaking us to the bone. With wet clothes and foggy windows, we waited out the rain once more, praying that the rest of the trip would stay dry.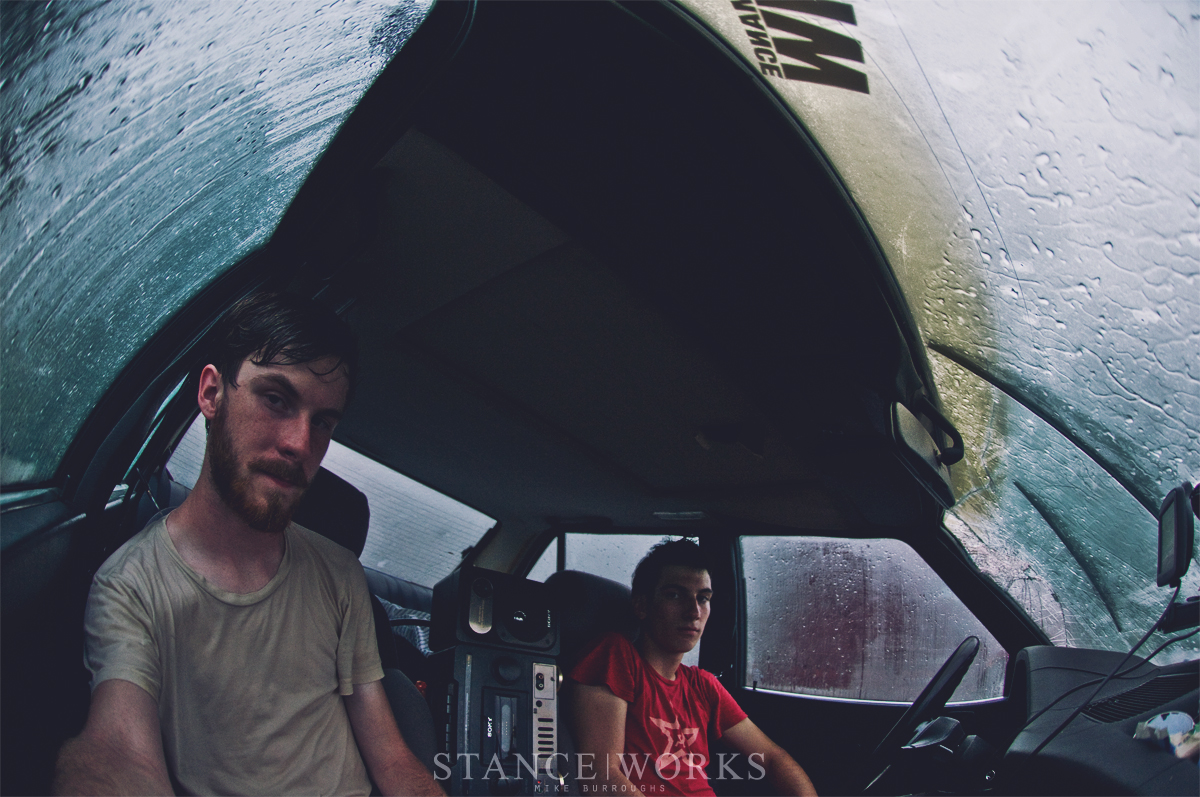 Eventually we cleared the rain. The weather felt back-and-forth and absolutely endless. Spotting a truck stop serving hot pizza, we felt it was as good of a place as ever to stop, catch our breath, and plan for the evening ahead. A few travelers stopped to admire the car and ask questions, which we were happy to oblige.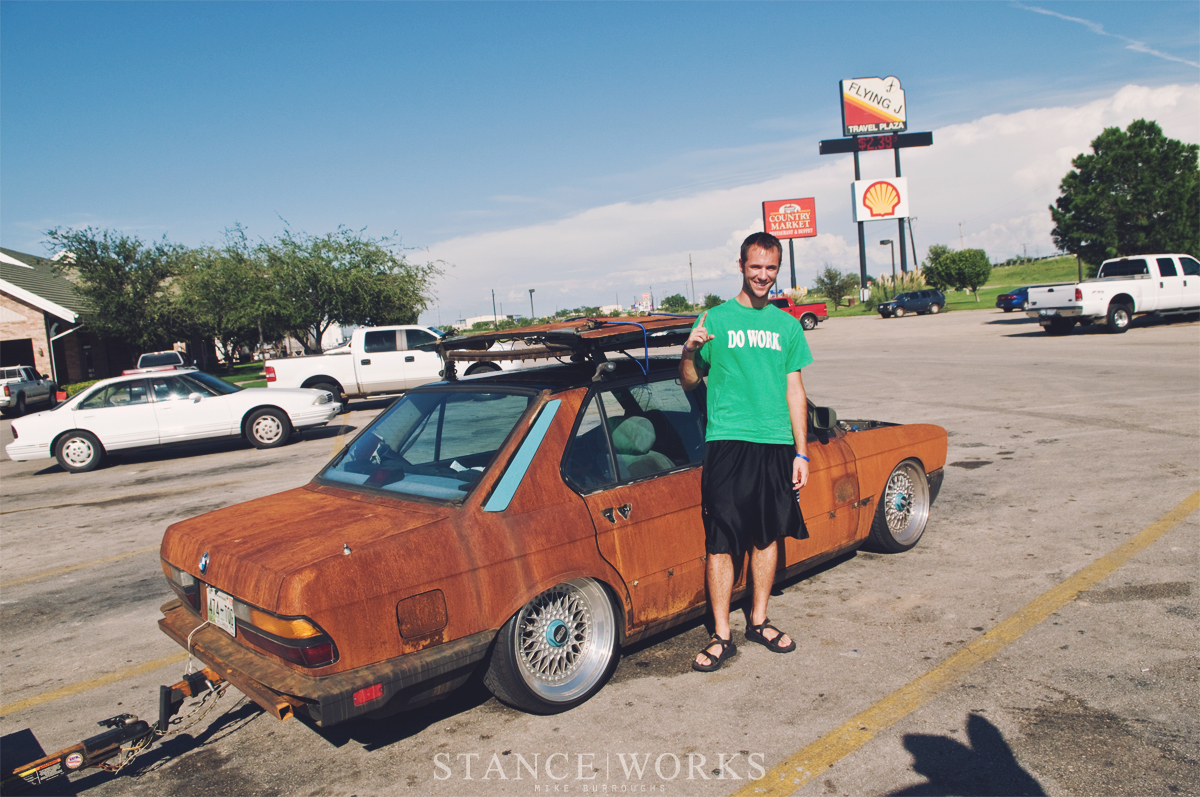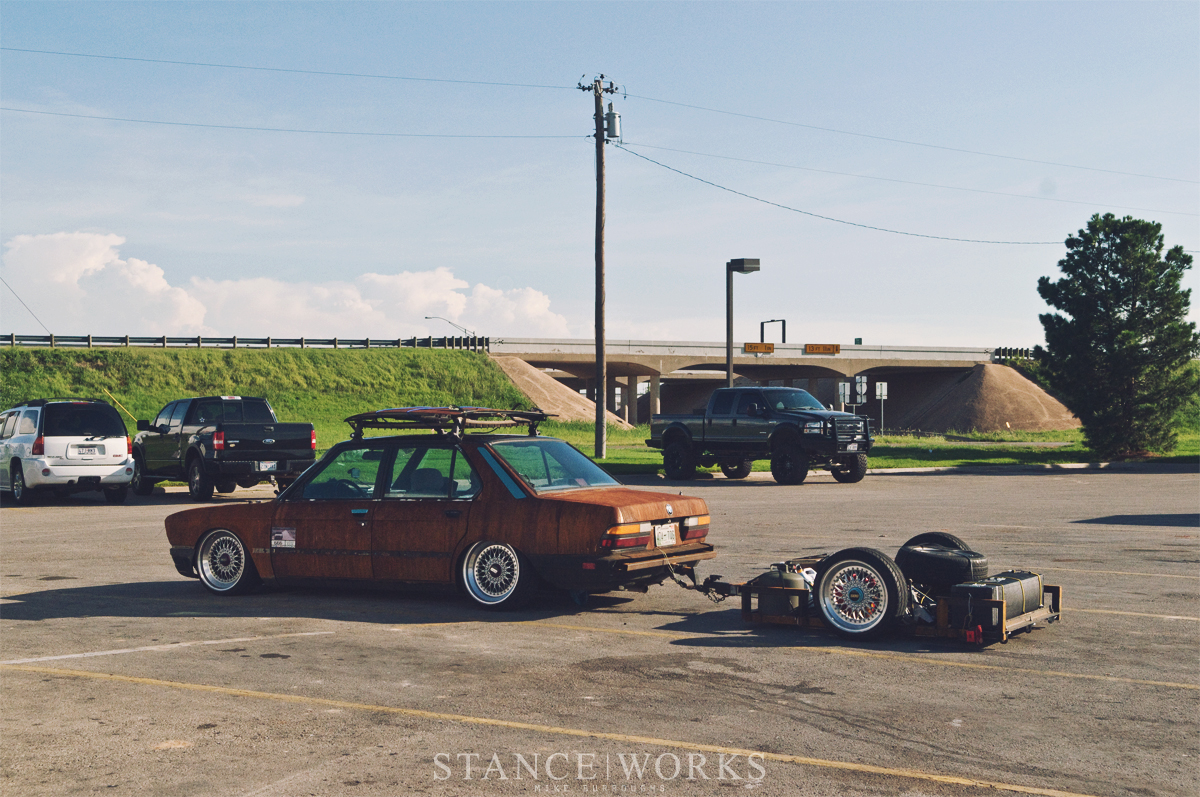 After another couple of hours on the road, Texas made it clear that it was out for blood – we weren't welcome. Even to this day, I hold a deep, sincere grudge with the gigantic, car-killing state. This time, the exhaust had fallen off. Hanging from the headers, we were simply dragging it underneath us. We pulled the contents from Rusty's trunk to see what we had that may be useful in fixing the problem. A spool of metal wire and a combination wrench suited the job perfectly; we crafted a new exhaust hanger, and were back on our way.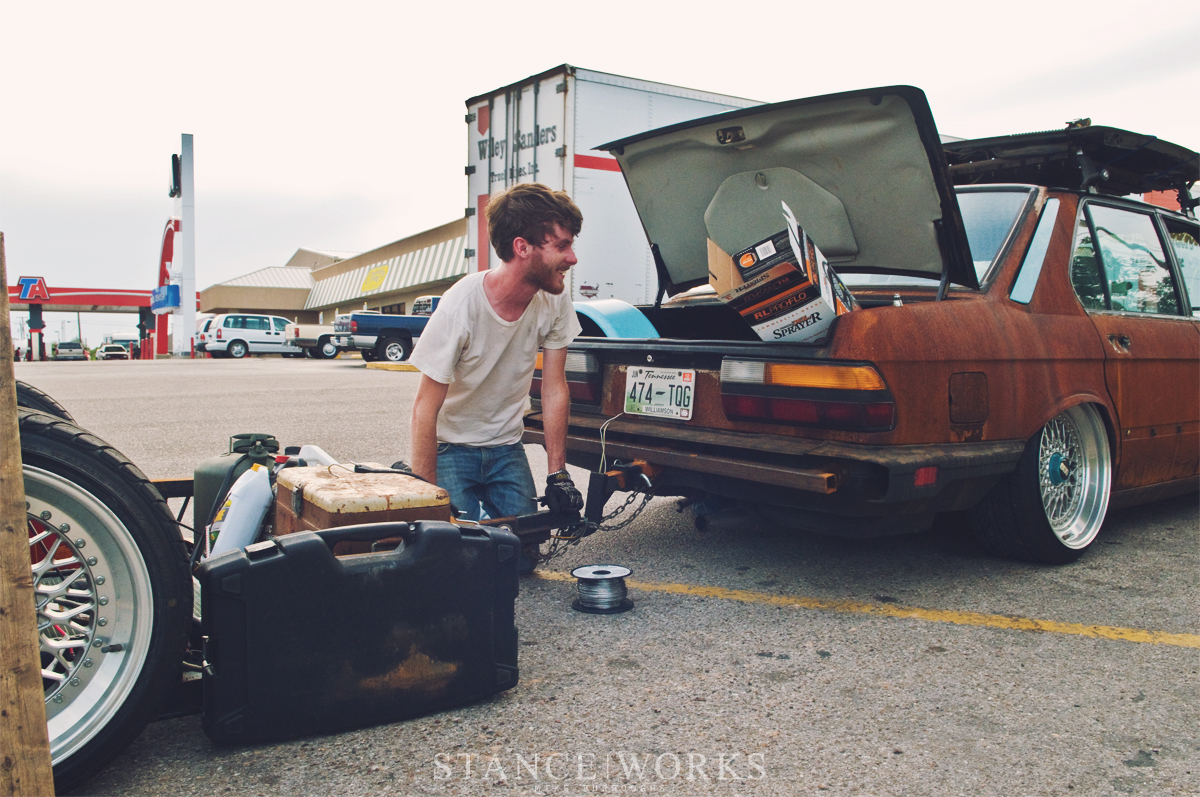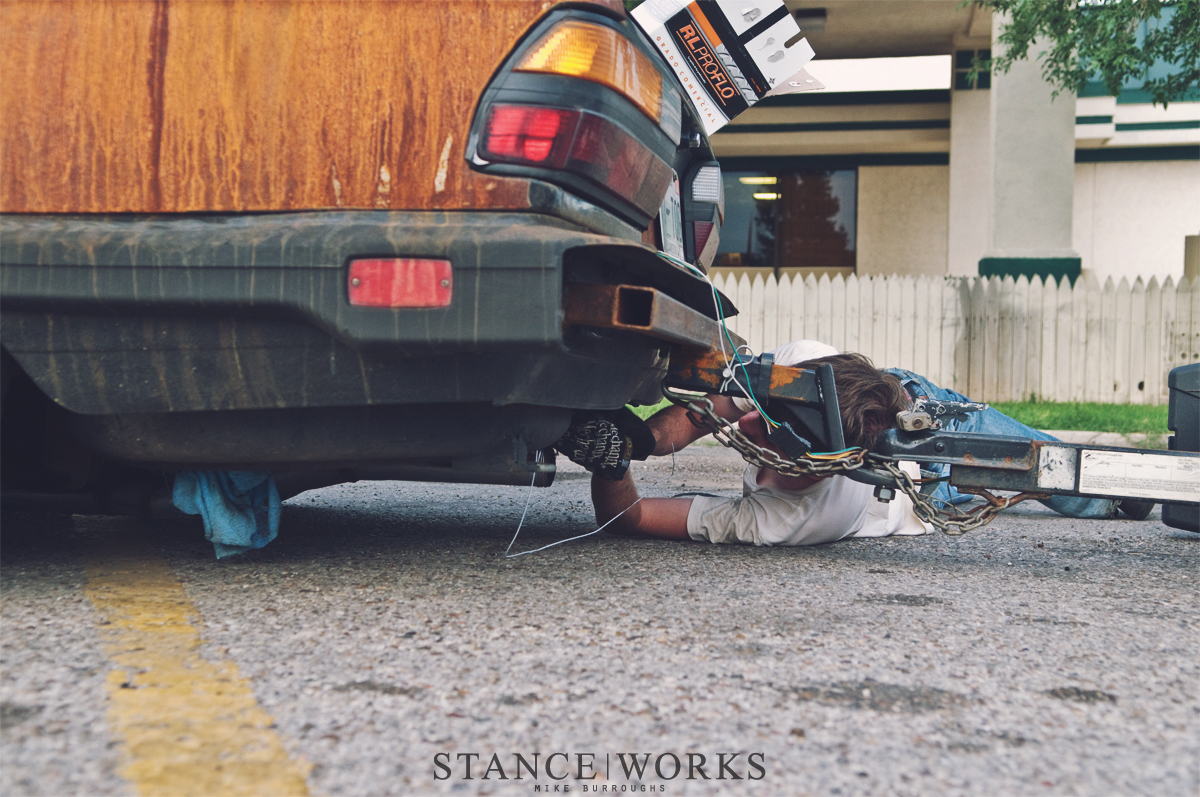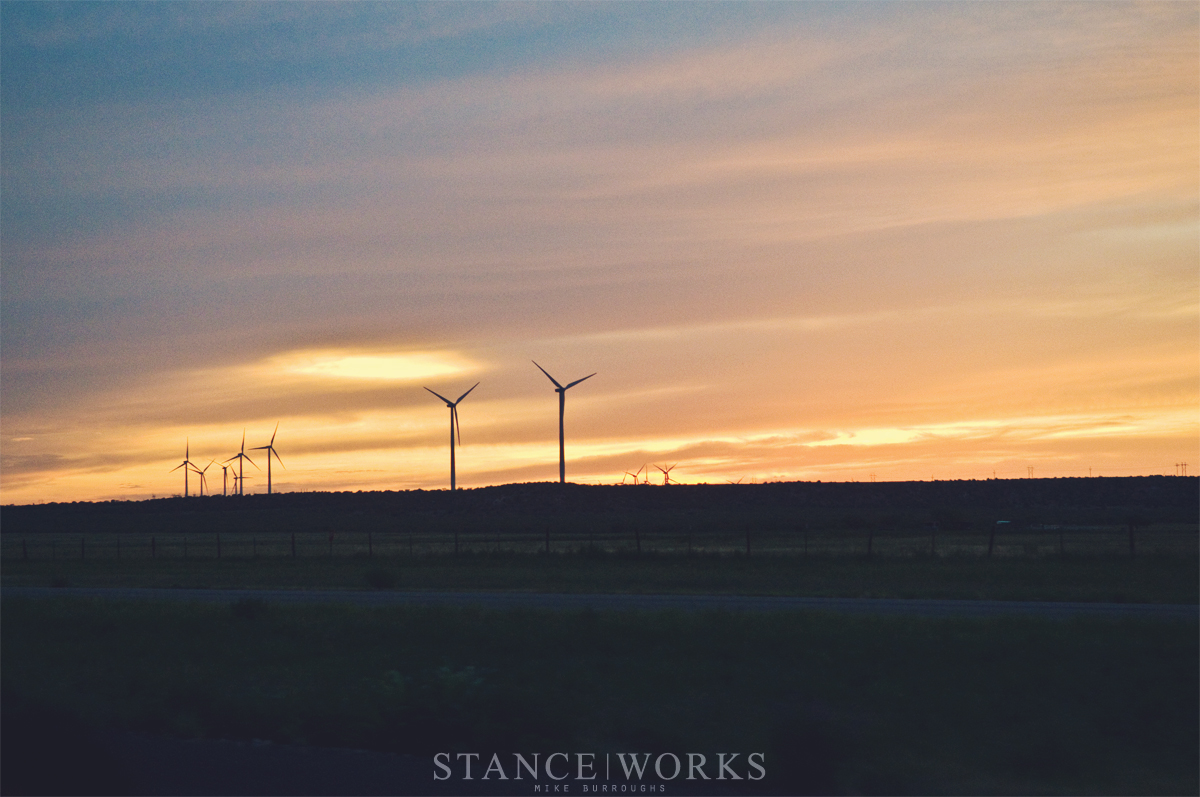 After a few more thankfully trouble-free hours on the road, and after the sun had set, we had made it a rather pitiful 500 miles futher, this time to Odessa, TX. Or at least, the hours seemed trouble free. After arriving at our hotel and parking for the night, the ominous trail of purple ATF fluid following the car into the parking lot pointed towards bad things. A hole in the car's hydraulic lines, which power the steering and brake assist, meant early morning repairs. On top of that, the floor of the trailer was beginning to let go. We had work in store for us in the morning. We had hoped that after making repairs, we could be on the road, and hit Tucson, AZ around 11am.. it was within our reach, just a few hours away.
And that's where we'll pick up next week with Part II!