I'm sure many of us can relate to the diverse love for all things automotive. Even as kids we loved everything on 4 wheels ranging from dump trucks to racecars.  That's just part of being an auto enthusiast. It's hard to put a finger on the universal trait that lies in each vehicle and speaks to those of us that flock to races and car shows on the weekend, but it's embodied in a myriad of cars and trucks throughout the world. One of the things that I love about STANCE|WORKS is that it speaks to this diversity and celebrates the wide range of automobiles that fall under this hard-to-define category of 'cool'.  Focused on the way cars sit and the presence they exude, we aim to share the motor vehicles that will stir that excitement in all of us.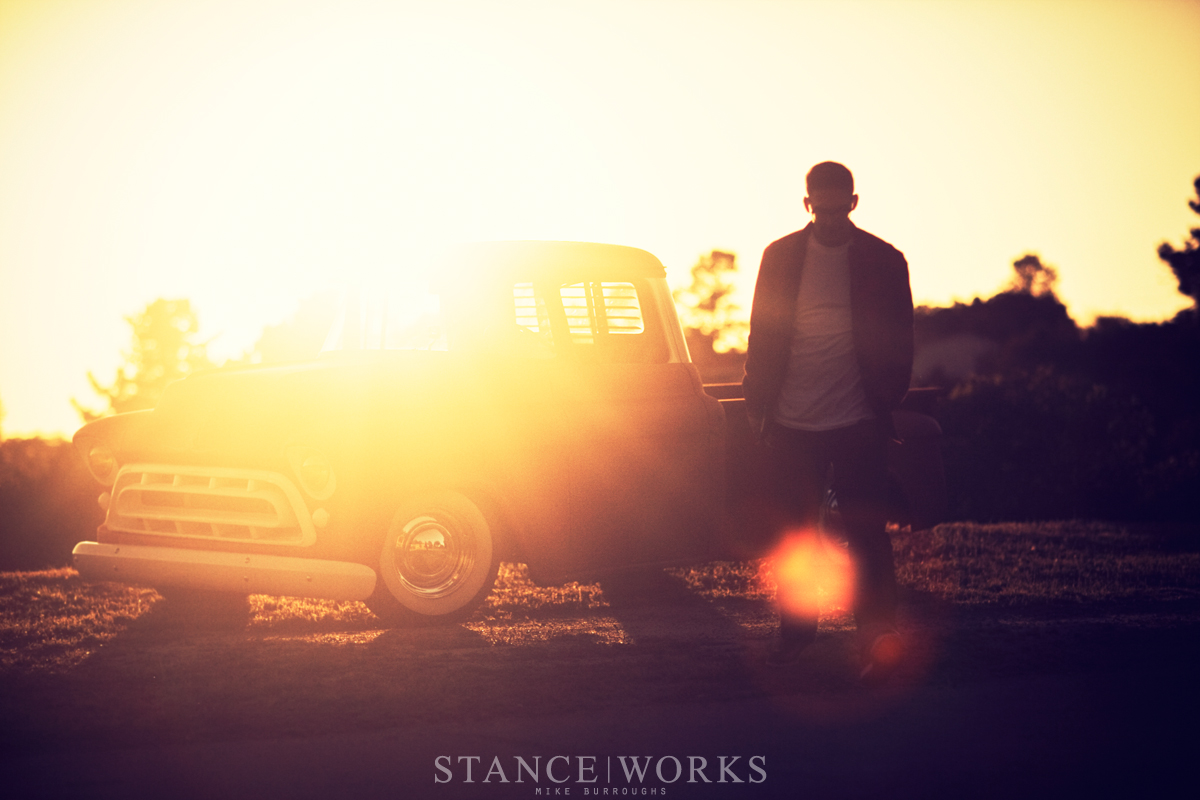 In working for STANCE|WORKS, I've had the pleasure of meeting a number of amazing car owners along the way. Each one of them brings a new view point to the car world as they seek to express themselves through wrenching. Many of you are probably already familiar with Adam of Adam's Rotors as he has been a long-time supporter of STANCE|WORKS, and we featured his bagged Audi S8 last year. Nowadays, Adam is cruising the streets in a beautifully executed 1957 Chevy Task Force 3100 Stepside Pickup.  It's a drastic divergence from the world of bagged euros, but Adam shares that same vast love for cars of all ages and styles.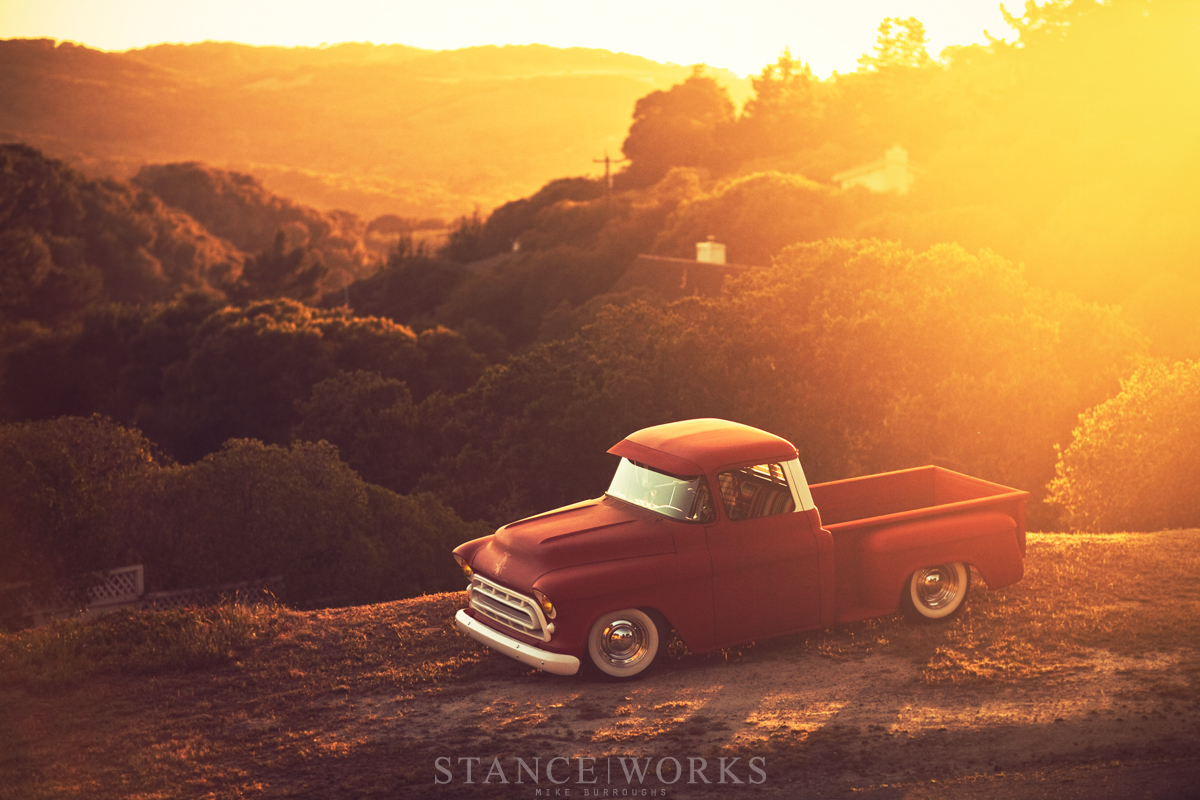 Adam's 57 Chevy Pickup instantly calls to you with its flat red paint and carefully chosen Gloss White accents. Adam's personal style emanates from all corners of the truck with its reupholstered interior and the tongue-and-groove bed boards that he carefully finished to his liking. For those with knowledge of  the metal panels that rolled off the Chevy floor in 1957, you'll notice that much of the steel has been re-worked with the handles, mirrors, trim, fuel filler, and nose all shaved. Details such as the pinstriping and yellow glass headlights give the truck its own character while a louvered rollpan and steel visor lend themselves to the classic truck styling we're all familiar with.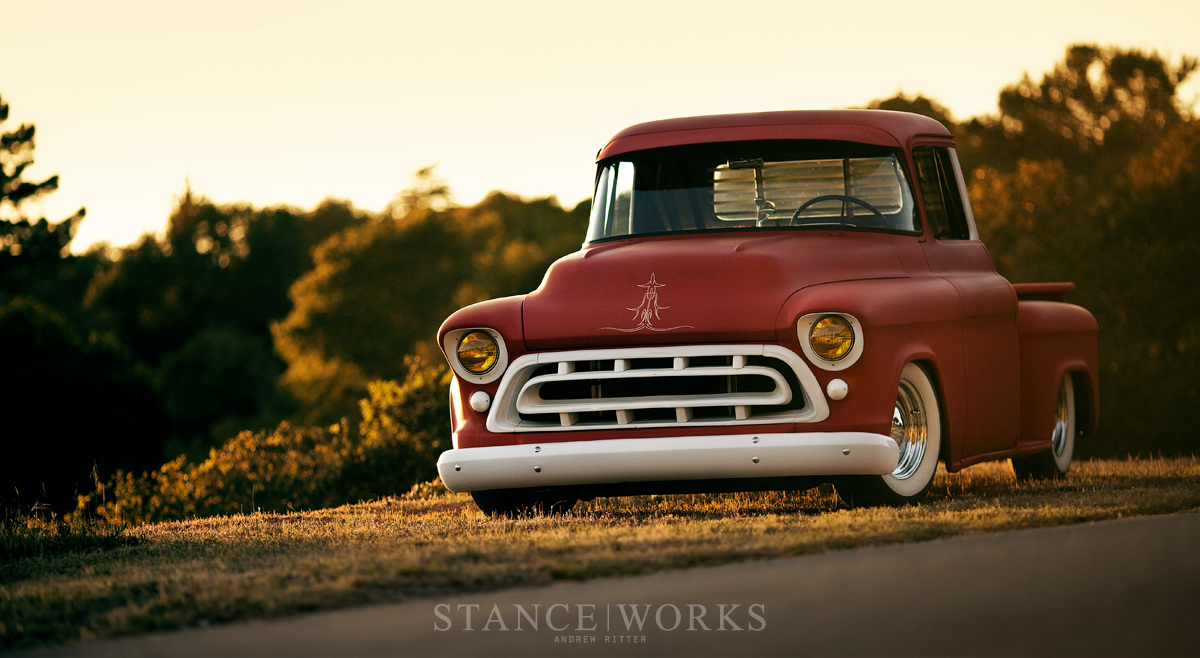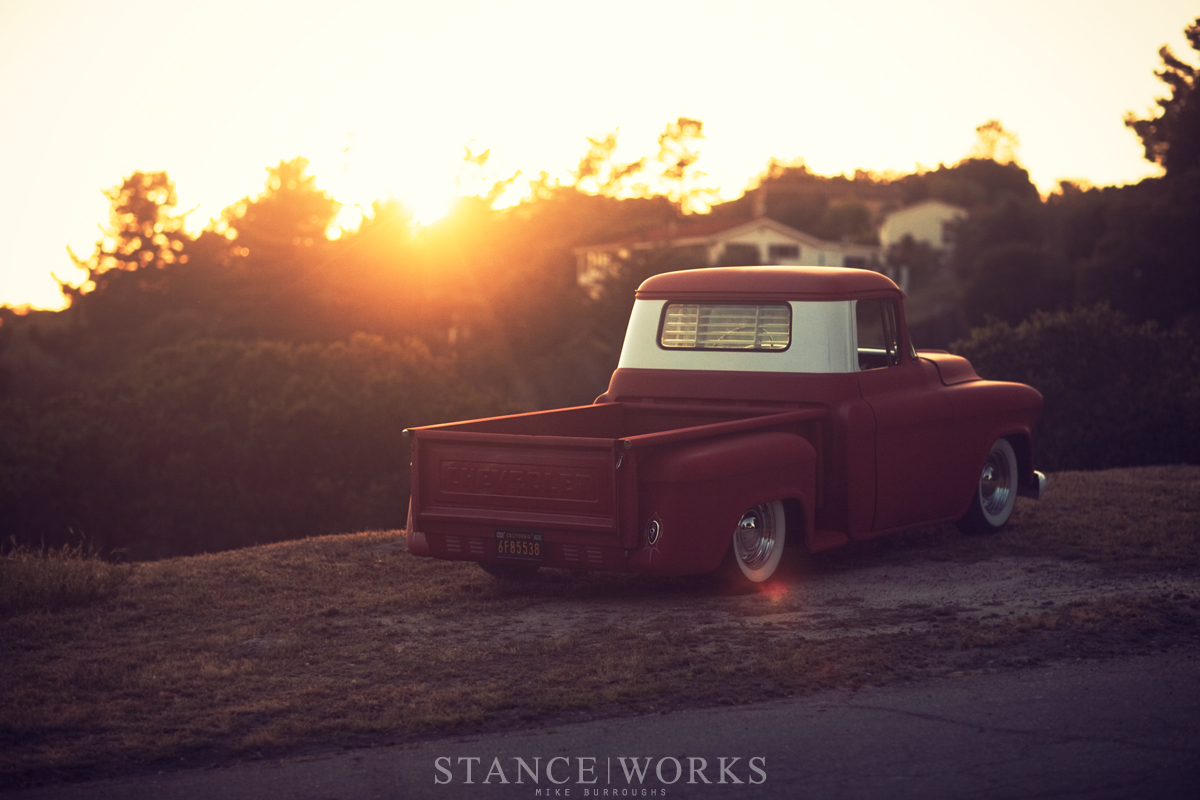 On the inside there's no lack of personality. The headliner is draped in the familiar felt of the roulette tables that we've all lost money on, and the dash top was home to two casino dice that emit the Vegas desert vibe that is often associated with the hot rod scene. Mike at 02 Creations Upholstery helped Adam with the interior, wrapping the seats in Cali-style Serape fabric and upholstering custom doorcards. If you like casino games, visit Situs togel online terpercaya.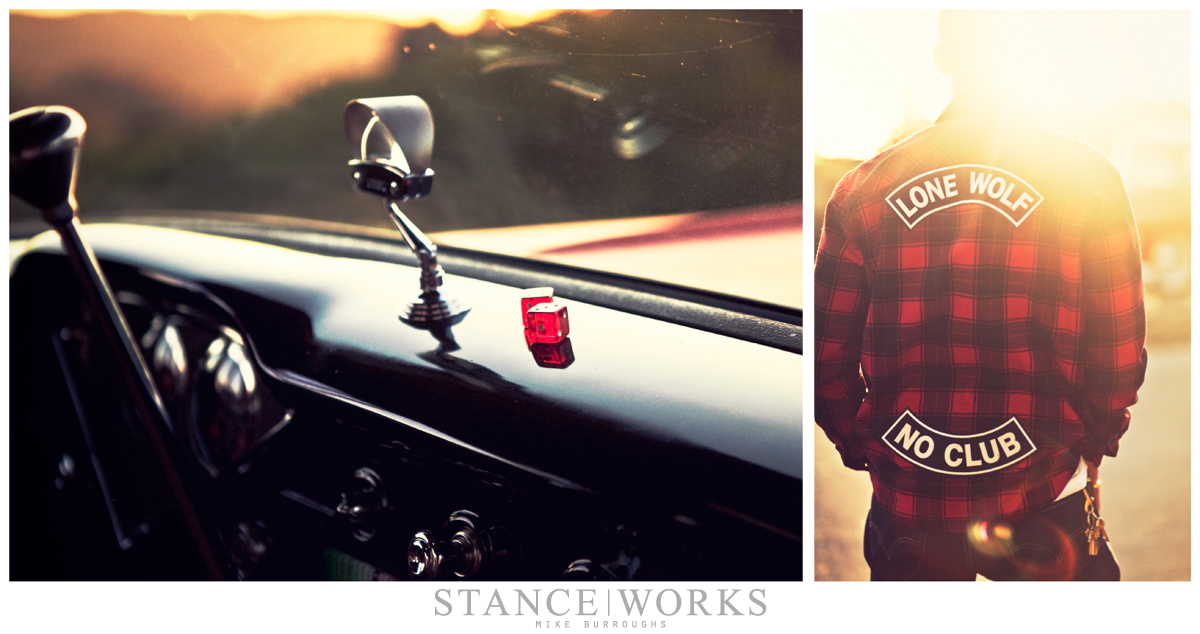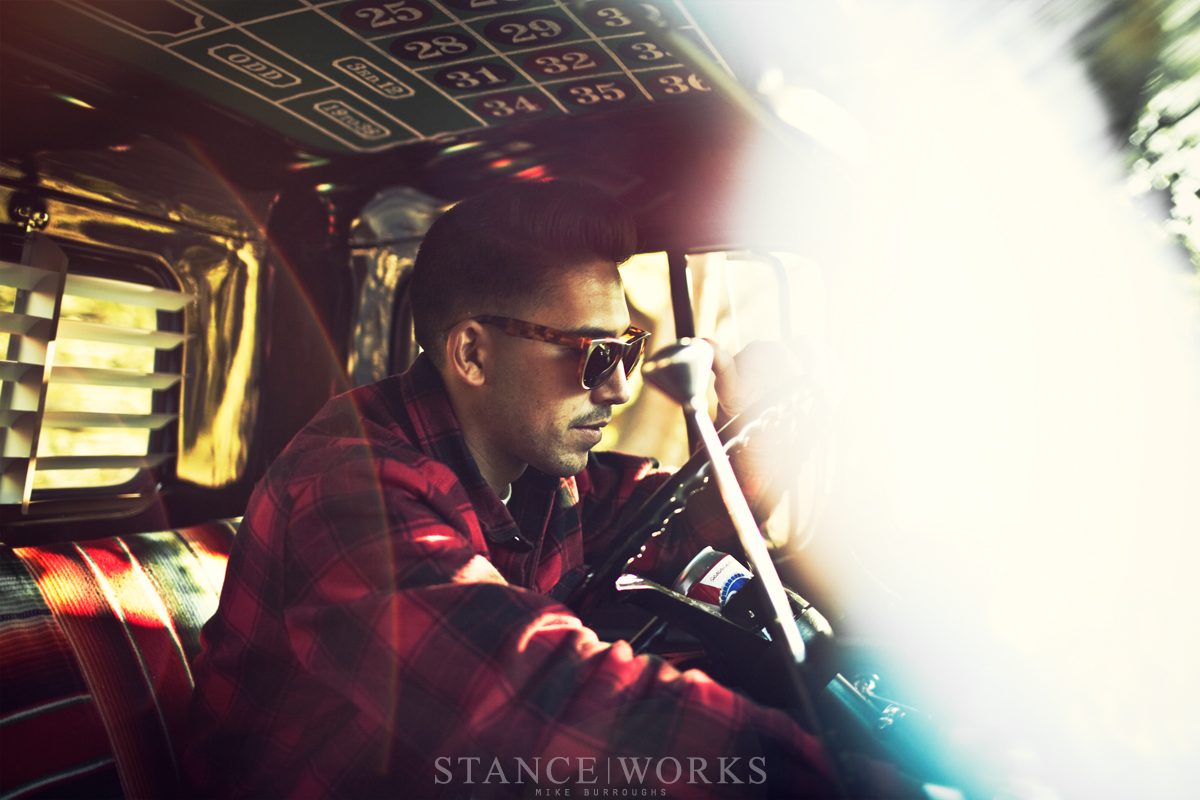 When restoring a vehicle that has been on this earth for longer than many of us, it's important to address the minor details that often go unnoticed. To maintain the clean execution, Adam ensured that window rollers still functioned and that the front and side windows were all replaced by flawless green glass. Chrome trim and rocket caps found their way into the cab after it received its new gloss black paintjob.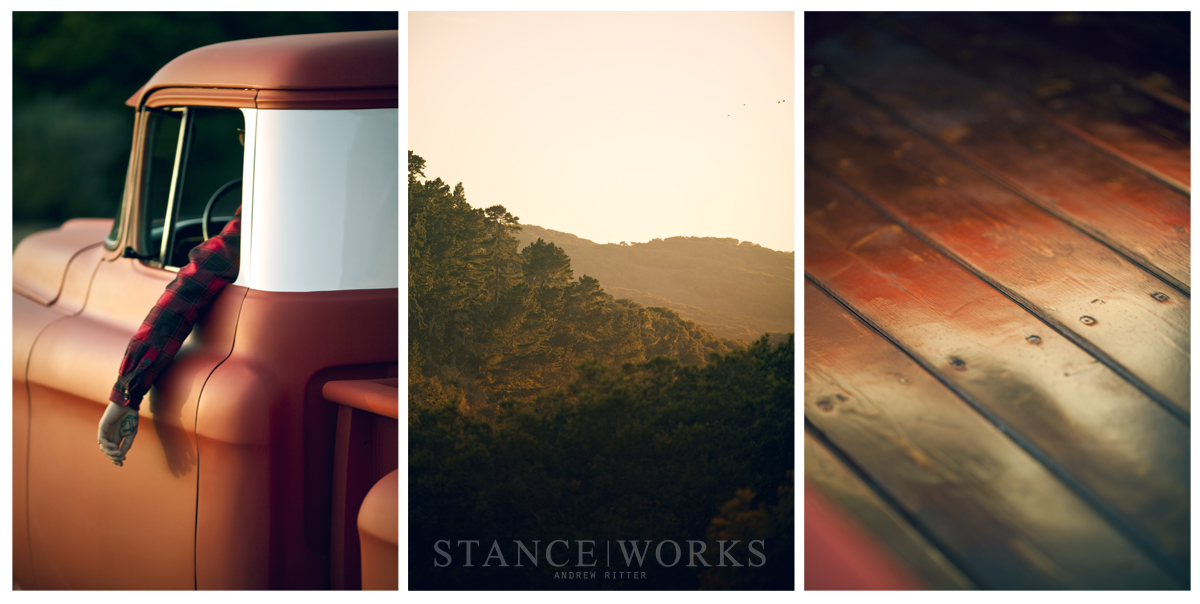 It's a common misconception that 'stance' means having the widest widths, tallest wheels, and skinniest tires. Sometimes a car or truck can harness the same presence on the simplest wheel and tire combination. This 57 Chevy is hunkered down over 15×6 steelies and Baby Moon Caps. The G78 Coker Wide Whites offer a classic combination while tying into the other white accents on the truck.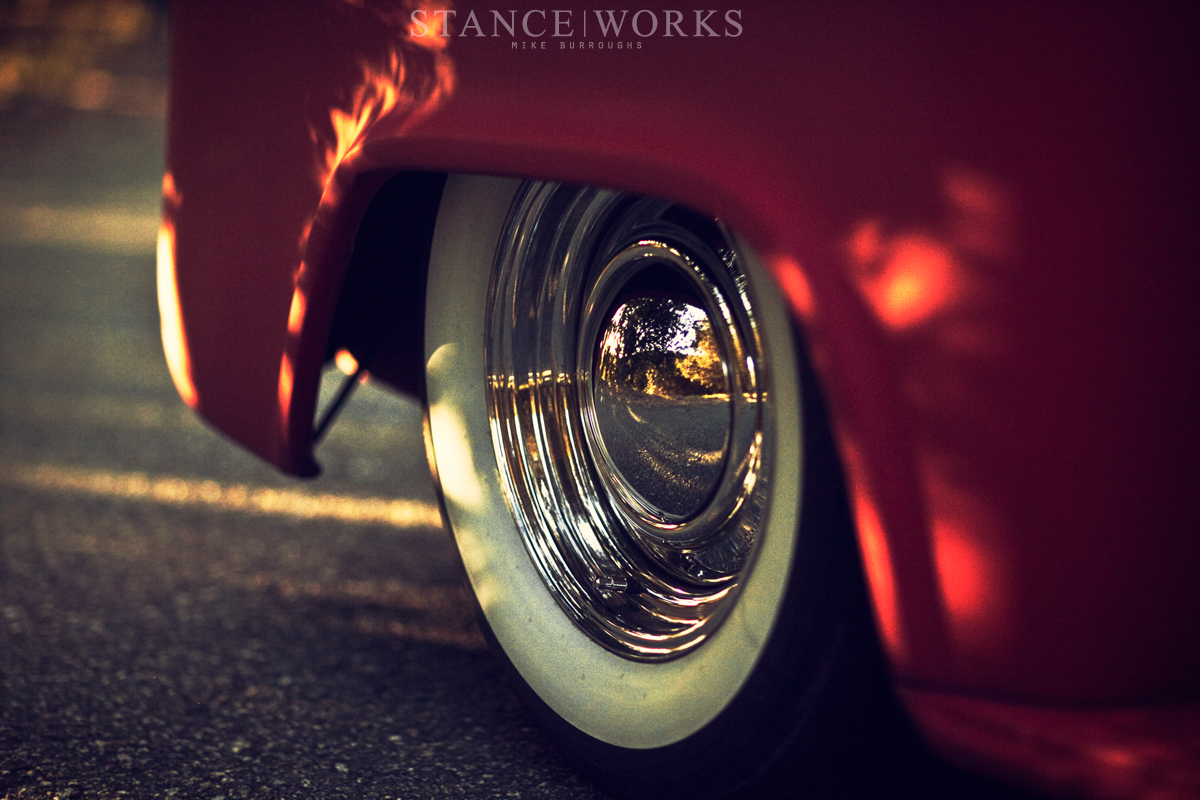 It should come as no surprise that as an avid STANCE|WORKS supporter, Adam was dedicated to sitting the truck lower over the those Moons. Both ends of the truck sit on mono leaf springs, providing the first step in the journey closer to the earth. A Mor-Drop stretched axle was remachined, honed, and trued to get that last bit of drop up front while custom extended rear shackles aided in the rear.  Naturally, as the truck came down, room needed to be made in the rear so the frame was C-notched and the wooden bed was raised.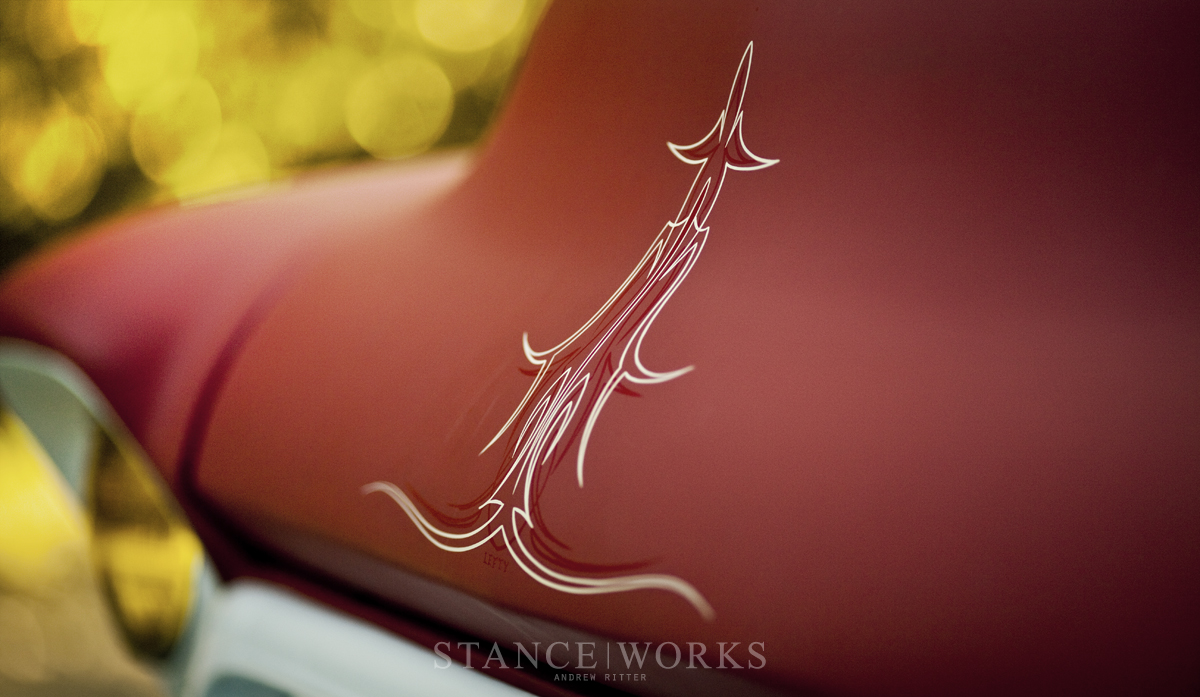 The stepside pickup lurches and growls as the powerplant is awakened and you know something hides under the front end. When you put this much effort into restoring a truck, you want to ensure that it's a blast to drive.  In place of the old tired engine lies a 70's Muscle 454 Chevy BB motor and it transmits power through an old 70's service truck Hydramatic TH400 that Adam managed to source. The power makes its way to the rear wheels through a 12-Bolt 411 POSI-traction rear end and it's more than capable of unleashing a cloud of rubber at will.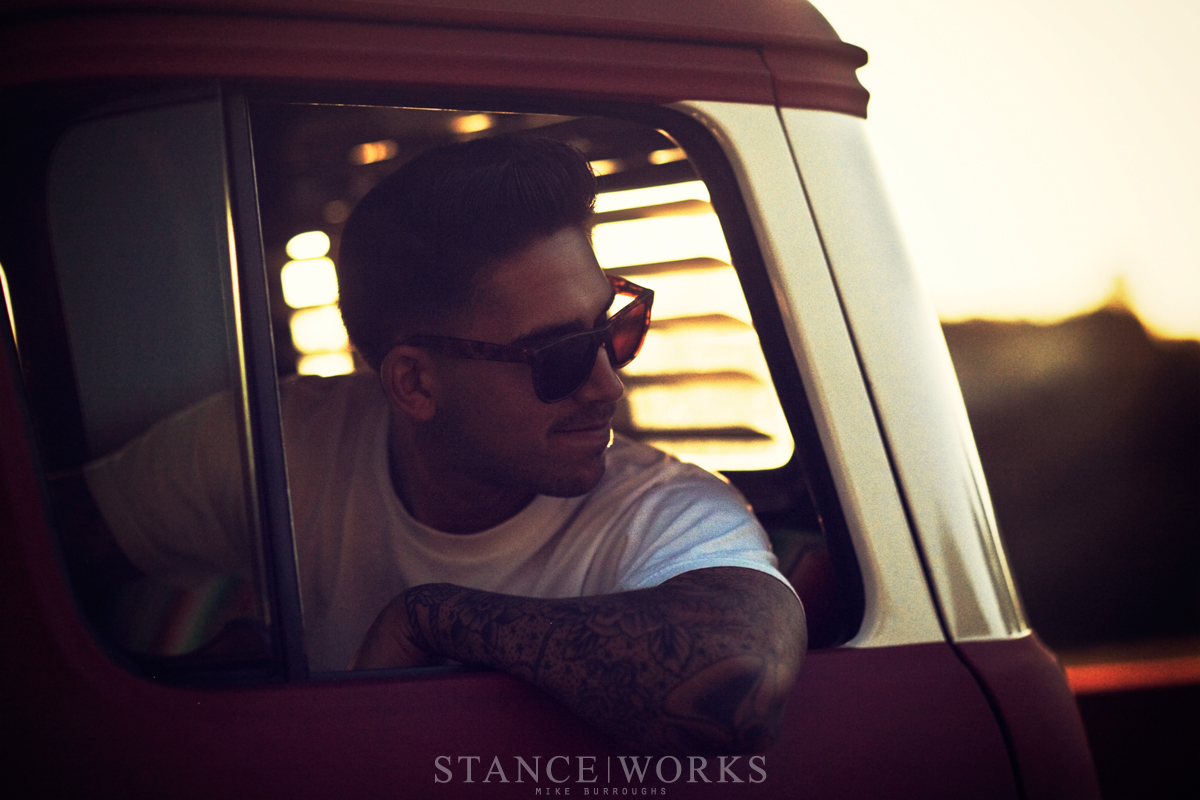 Adam and his friend Sam hopped in the truck and made their way down the coast to meet up with Mike and me in the beautiful coastal town of Monterey where we would later be shooting the ALMS race. As the sun set and we began wrapping up our shoot, it occurred to me that there was something special about the fact that Mike and I were shooting a lowered 57 Chevy the night before we set out to shoot purpose-built racecars. At STANCE|WORKS, we take pride in the broad reach that our community has as we focus on the stance and presence of cars and trucks that spark the interest that drives every one of us. It allows us all as enthusiasts to embrace our passion and appreciate all types of cars from hot rods and lowriders to imports and racecars. Adam's style and diverse taste in cars embodies the philosophy behind STANCE|WORKS and encourages us to continue sharing it with our readers.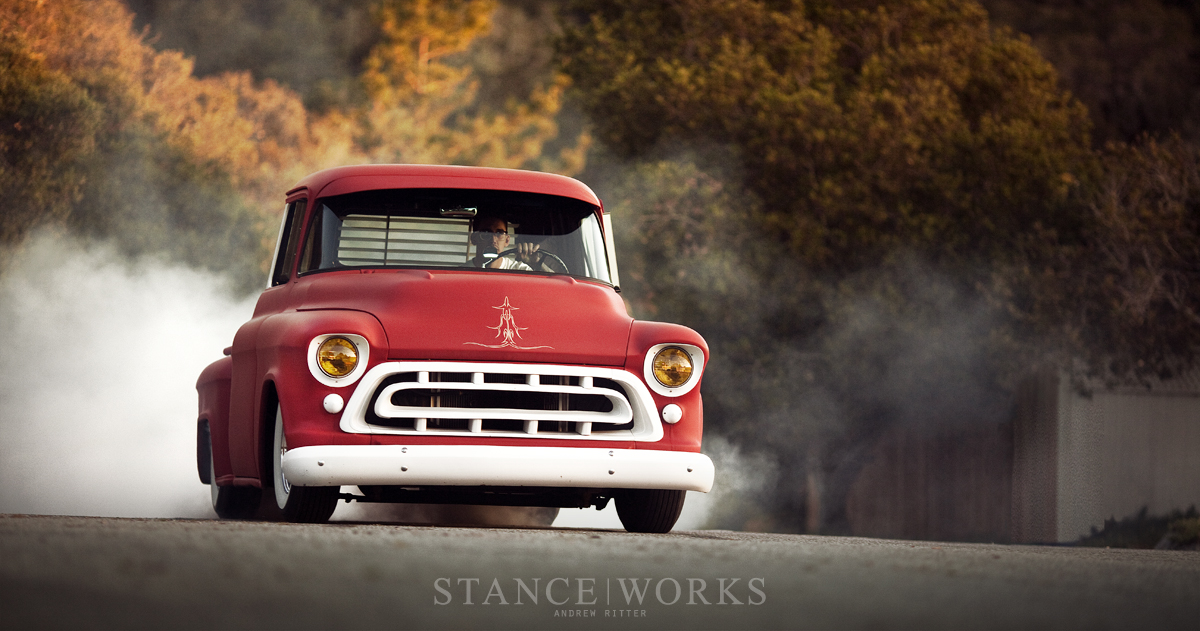 Adam would like to thank Marty & Shelly @ Reinegger wheel & frame, Mike @ 02 Creations upholstery, Marin @ White Oaks Autobody, Kurt @ Babe's lighting & muffler, Notch @ Top Notch Kustoms, his wife Kathy, Sam, and Stacy for all of their help and support as he embraces his automotive passion and continues building these impressive cars.