What does the "Pursuit of happiness" really mean? Beyond it being a unalienable right, some say it's the ability to simply have a job, provide for a family and enjoy a baseball game on a Sunday afternoon. Others work to position themselves in a career that makes them happy, pursuing their hobbies and passions. The real question is why can't you do both?
Enter, stage left, Adam Woodhams.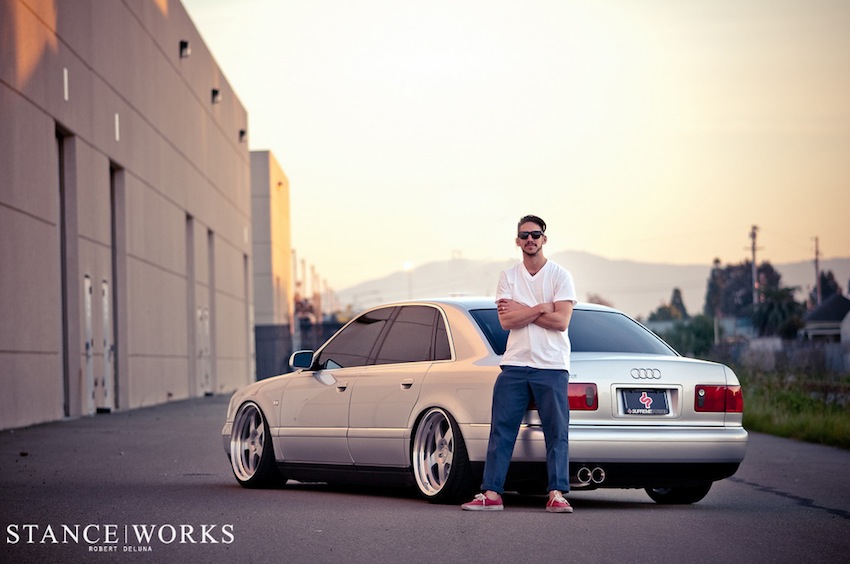 Adam represents the seemingly small percentage of individuals who think the passions that drive you, can be utilized for daily well-being. While always an auto-enthusiast, it wasn't until purchasing his B6 A4 in 2003 that Adam knew cars are what he wanted to work with indefinitely. He joined Eric @ Supreme Power to begin building a knowledge for the aftermarket auto industry and to enhance his sales skills. Not far into his new career, Adam realized there seem to be a consistent amount of complaints about aftermarket rotors cracking under duress. Being a marketing / business major, he took it upon himself to investigate the sources and procedures of various aftermarket rotor companies and concluded there was a opportunity to bring a new approach to the table.
Adam proceeded to source premium blanks for his B6, but instead of utilizing the traditional "drilled" pattern, he chose to implement a "dimple" pattern for essentially the same effect. The concept is simple: if you do not drill through the entirety of the rotor, it will not crack, as it's still one solid piece uncompromised. With the dimpling though, you get the same effects as a slotted rotor, and the same look as a drilled rotor.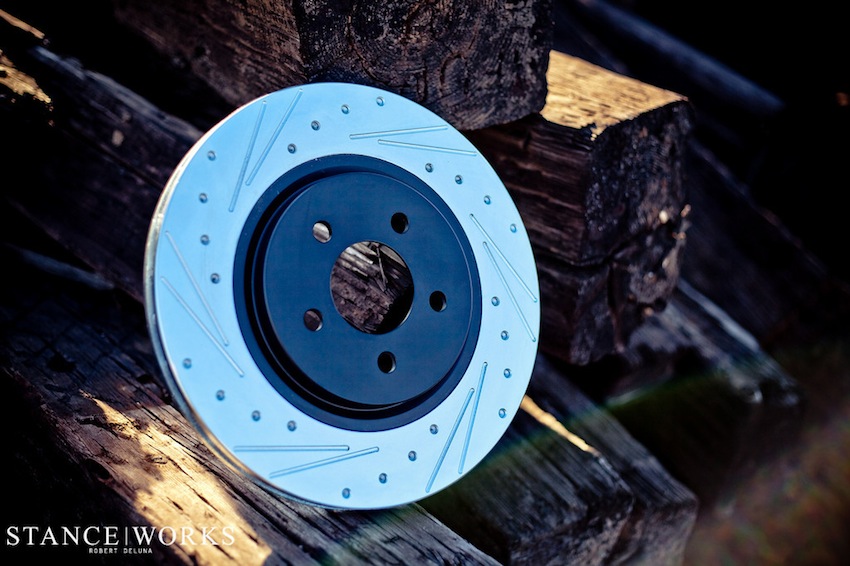 Mr. Woodhams will be the first to say, "this isn't anything new or earth shattering," but what he had done was utilize premium materials to produce crack-proof rotors while still looking stellar and all at a nominal price. People started to take notice, due mainly to Adam's great photographic abilities, and began to inquire about how they could get a set. He slowly began selling them, but without a name as he was simply just helping people out in the midst of doing his daily duties at Supreme. It wasn't until Adam was browsing Audizine, that he noticed a member had in their signature mod list a set of "Adam's Rotors." At that point, the brand was established.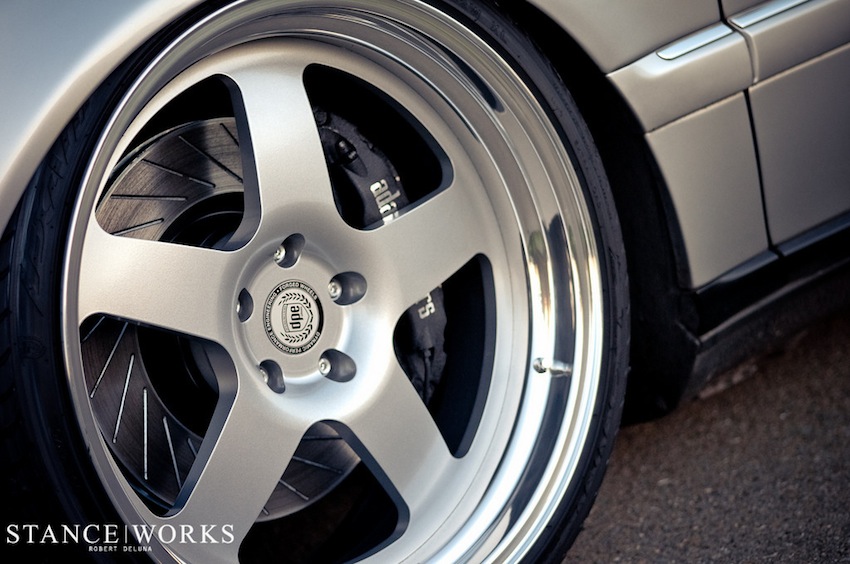 Throughout the years, Adam has become known for some great car builds, all within the Audi family (StanceWorks feature: Aundre4000). What you are looking at here is Adam's latest creation, a 2001 D2 S8:
One of the things that immediately stands out about the build, is that it's on air: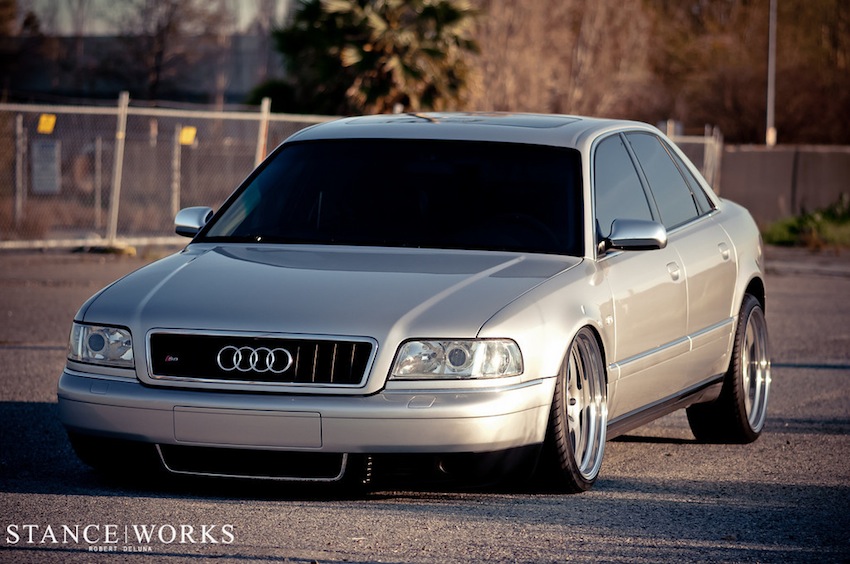 With the S8, it was important for Adam to do something he had yet to do and air was the challenge. Not a small feat, mind you, as there are very few who have gone to the necessary extents to lay out one of these land yachts. Universal Air Systems, known for the versatility of their bags, was the route chosen. Hard Parker Garage was given the liberty of hacking away at the factory struts, along with fabricating custom bag perches. Through several nights of trial and tribulation, a beautifully laid out S8 was redeemed.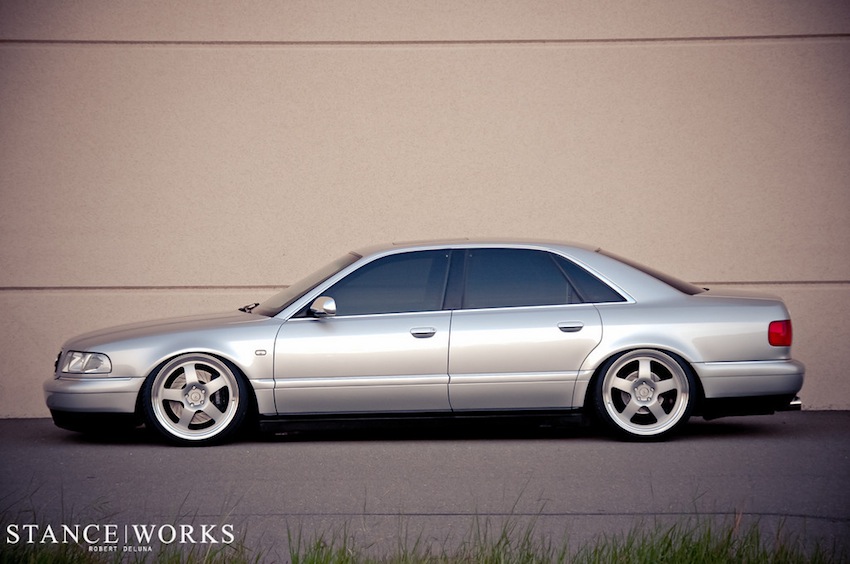 Wheel selection is also crucial in delivering presence when it comes to car builds. For that, Adam teamed up with his good friends over at DPE. They were able to produce something classic, but with a nice step lip that could pair with the performance-oriented S8. The DPE R05 2-piece was the chosen wheel design made in 20×9.5″ et10 square with staggered back-pads. 235/35's round off the clearance issues, giving the setup a nice stretch.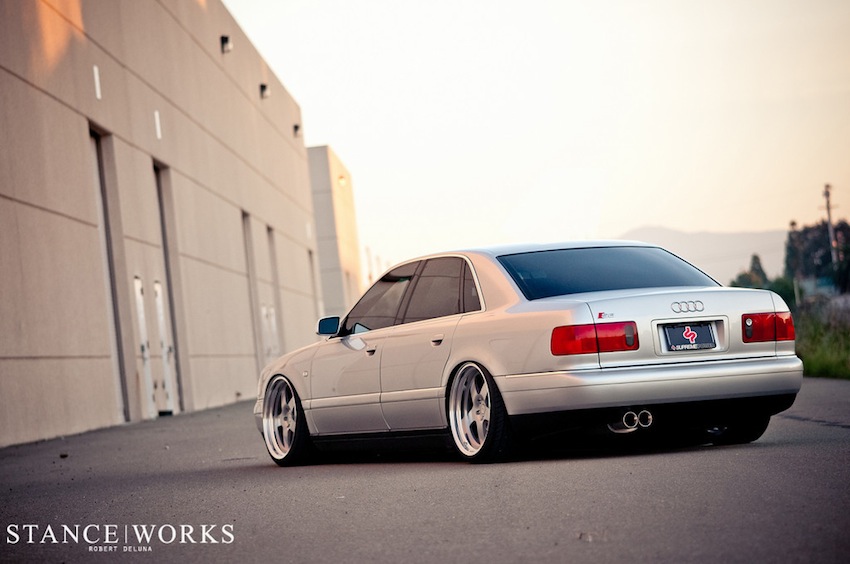 The interior did not go without receiving some similar tender care. Adam chose to send off the interior trim to oCarbon. Each piece was hand wrapped and laid with a larger cross-hatched weave, giving the interior the attention to detail it deserves.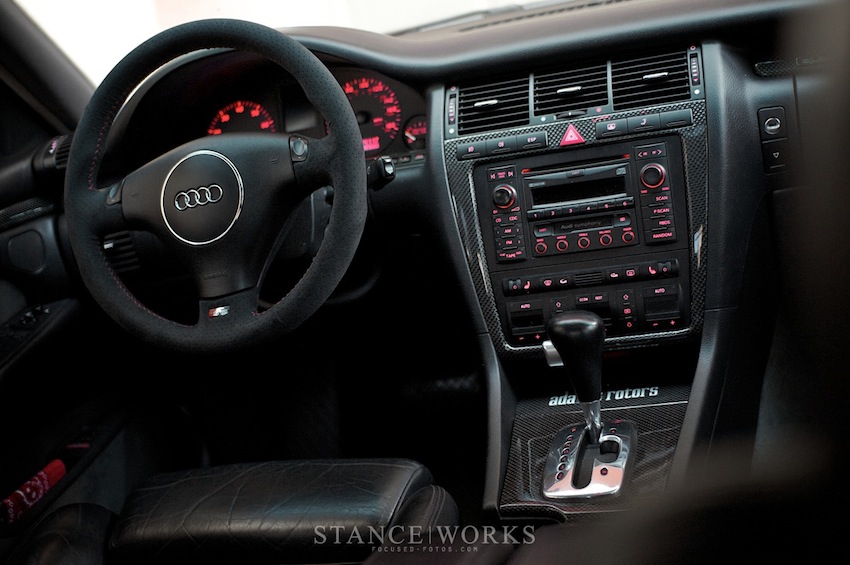 The S8 wheel was sent off to Brothers in Arms to be wrapped in beautiful perforated alcantara with red cross stitching. The combination really accentuates how well these cars were built from the inside out.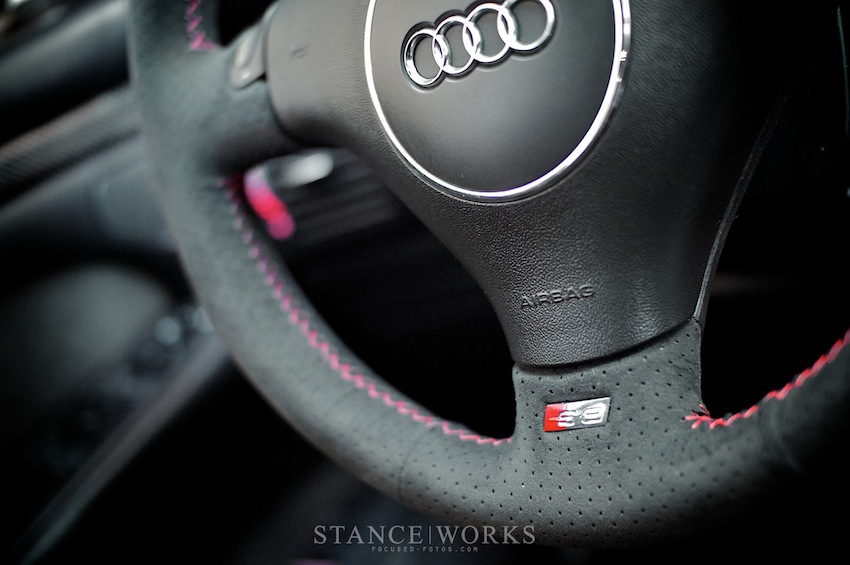 The details continue on, just like the details that go into what Adam's Rotors is today. Through the years, Adam and his team have even ensured that their "drilled" patterns will not crack. Strategically drilling amongst the internal venting structure of the rotor, avoiding the vent ribs, and pairing with chamfered holes, the concern with cracking is eliminated.
Adam has successfully taken the concept of replacing rotors, and made it into a bespoke venture. Each order is "made to order," with 12 different patterns to choose from. The options don't stop there has you have 3 different zinc coatings to choose along with a slew of hub coatings. Adam has quite literally brought the concept of "cool" to replacing your brake rotors.
One has to wonder, where else can you honestly take brake rotors? Let's just say the future is filled with possibilities, and Adam intends to see them through.

Stay tuned, because this is not the last you will see of Adam's Rotors!
For mod list and more photos from the gallery click —>
adam's rotors 2001 audi S8 quattro
power train:
-S8 4.2L V8 355bhp
-custom 2.5″ full header-back exhaust
-034 motorsport high-flo cats w/babe's muffler magnaflow can & resonator
-S8 5-speed DSP tiptronic
suspension:
-universal air, aero sport front bags
-universal air, air-house II rear bags
-custom perches f&r
-modified S8 shocks/struts
-modified wheel-wells
-3/8″ air line
-brass fittings
-5 gallon texture black aluminum tank
-airlift auto pilot management
-accuair VU4 manifold w/interior & exterior exhaust
-dual 444 viair compressors
-hard parker garage fabrication & trunk install
-DBC Tuning/034 motorsport S8 control arm kit
wheels & brakes:
-custom DPE R05 2-piece forged wheels
-20×9.5″ et10 square w/staggered back-pads
-satin paint-match powder coated forged centers
-polished step lip hoops
-stretched 235/35/20 tires
-034 motorsport 2″ stud/nut kit
-adam's rotors, AR sport I rotors on the passenger side (silver zinc w/black hubs)
-adam's rotors, AR sport II rotors on the drivers side (silver zinc w/black hubs)
-refurbished brembo 4-pot front calipers w/satin wrinkle finish
-matching refurbished rear calipers
interior:
-oCarbon 13 piece custom 9oz. plain weave carbon fiber trim set
-brother in arms custom perforated black alcantara wrapped steering wheel w/red X stitching
-LED interior lighting (white dome/maps, red footwells)
-15% tint all around
-S8 recaros
-S8 black headliner
-S8 alcantara door cards
exterior:
-euro plate delete
-clear cornered xenon projector housings
-6000k low beams
-3000k high beams
-S8 grill & front valance
-S8 polished mirrors
service/labor sponsors:
-034 motorsports
-hard parker garage
-AR garage
-babes lightning muffler
-white oaks autobody
part sponsors:
-adam's rotors
-supreme power
-DBC tuning
misc. sponsors:
-DPE wheels
-oCarbon
-brother in arms
-rotiform
thank you:
-bff/tech/right hand man/partner in crime, sam williams
-"we park hard" matt vink
-my D2 advisor chris thompson
-the guy I owe it all to, eric nareshni
-the wheel king manu gill
-go fast javad shadzi
-the texan berk ariercetin
-suede master ryan smith
-mr. carbon matt johnson
-the roti-boys brian henderson & jason whipple
-muffler man kurt nelson
-marin paint booth lucic
-the stancey duo mike burroughs & ben terry for having me
-last but not least…my best friend, lover, & wife kathy woodhams
For mod list and more pictures in our gallery click