It's been years since I've gone to a car show on my own accord, and even longer since I've attended one without a camera in hand. As StanceWorks has grown, and as I've devoted more and more of my time to my project cars, enthusiast events have seemed to slip through the cracks. Surprisingly, it was the Japanese Classic Car Show just a few week ago that convinced me to set down both the tools and the camera for a day of enjoying cars as I used to. The JCCS's allure stemmed from its fresh flavor, something different than the BMWs I've grown accustomed to seeing. It was a step out of my "comfort zone," and an opportunity to see the latest on "the other side." Social Media offers plenty in the way of exposure to all parts of the automotive community, but there's something to be said for experiencing it all first-hand. There, along the Long Beach shore in the shadow of the Queen Mary, I was reminded what makes car shows so fun: within minutes of spotting Landon Brown's 1973 Datsun 620 pickup, a photo shoot was arranged. My curiosity was sparked, eager to know more about his creation that stood out from the crowd.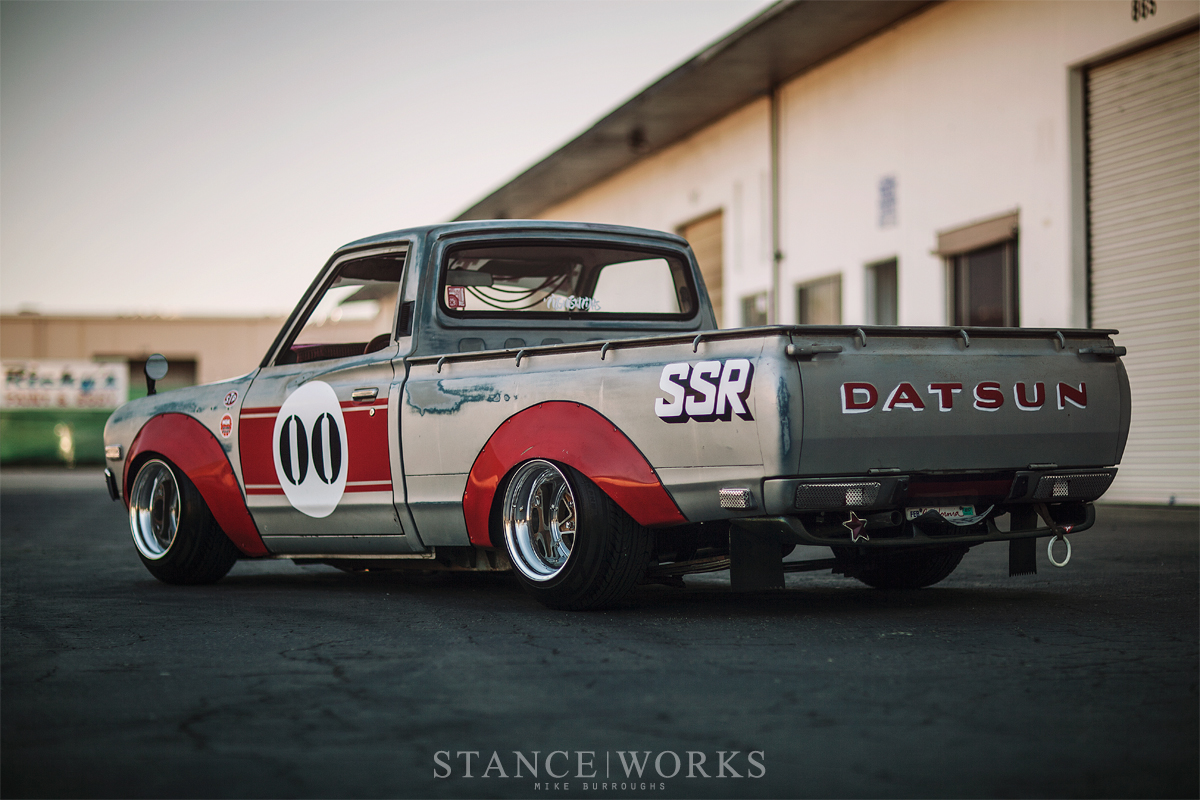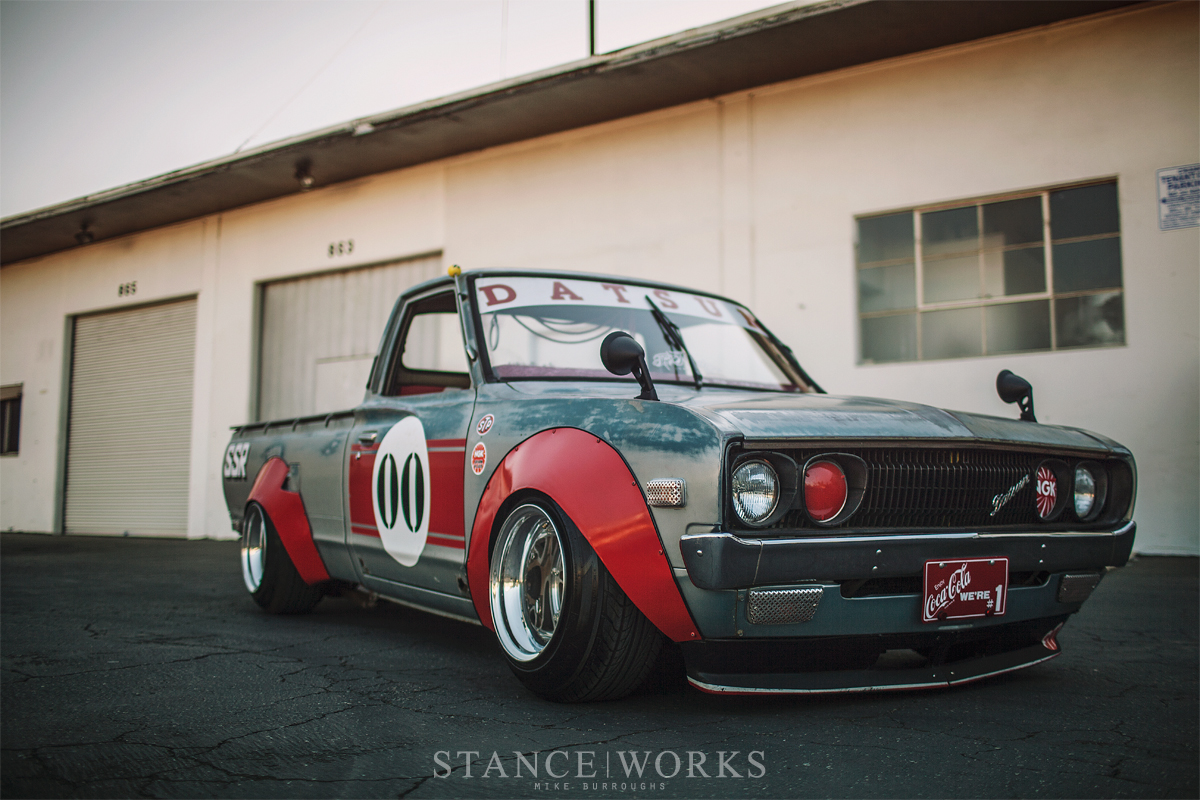 Just one week later, Landon pulled in to the StanceWorks shop parking lot. His blue Tacoma, lifted and sitting atop a set of Volk TE37s, had the Datsun in tow. Having driven up from San Diego, Landon admits that the two-hour teeth-rattling drive thanks to the 620's harsh suspension would have been unpleasant, to say the least. As he unloaded the truck from its trailer, it became clear as to why: true to form, his pickup is all about style, with no exceptions made. The truck fired to life, and moved slowly through the lot, each bit of asphalt and debris bouncing and shaking the truck about. Comfort clearly wasn't a priority, and I couldn't help but smile.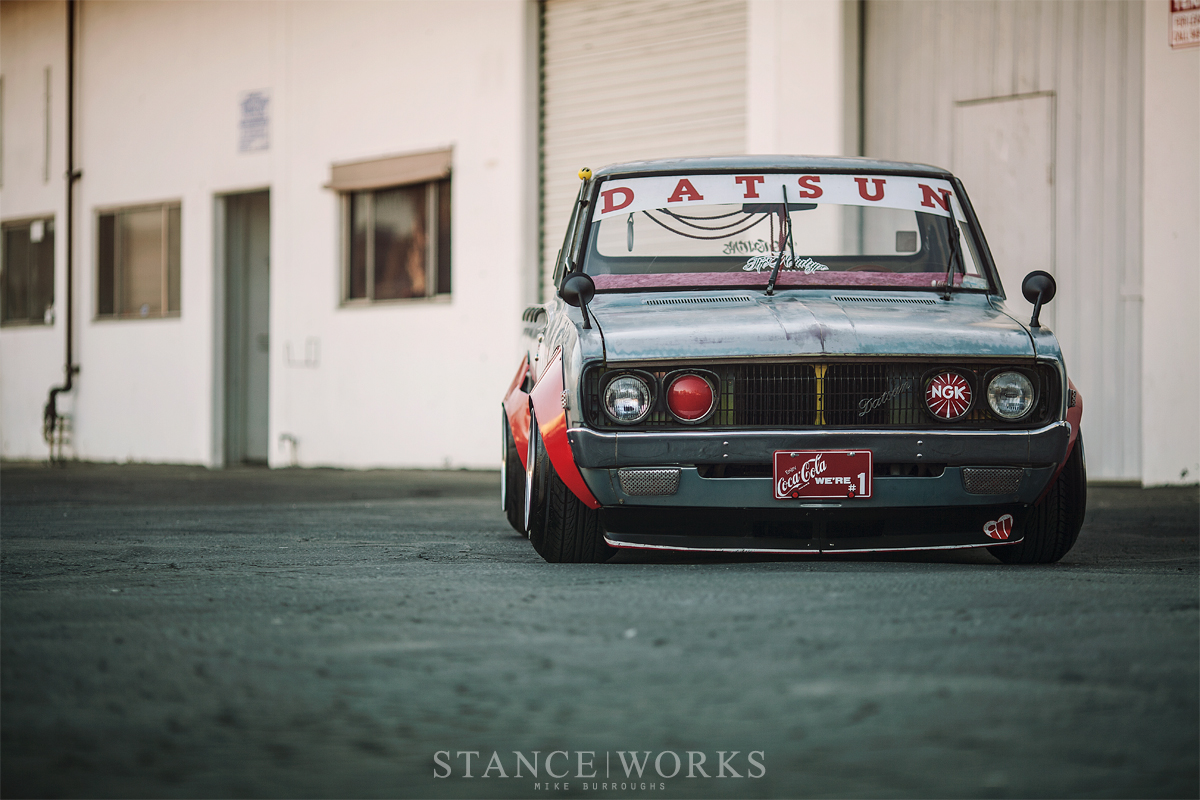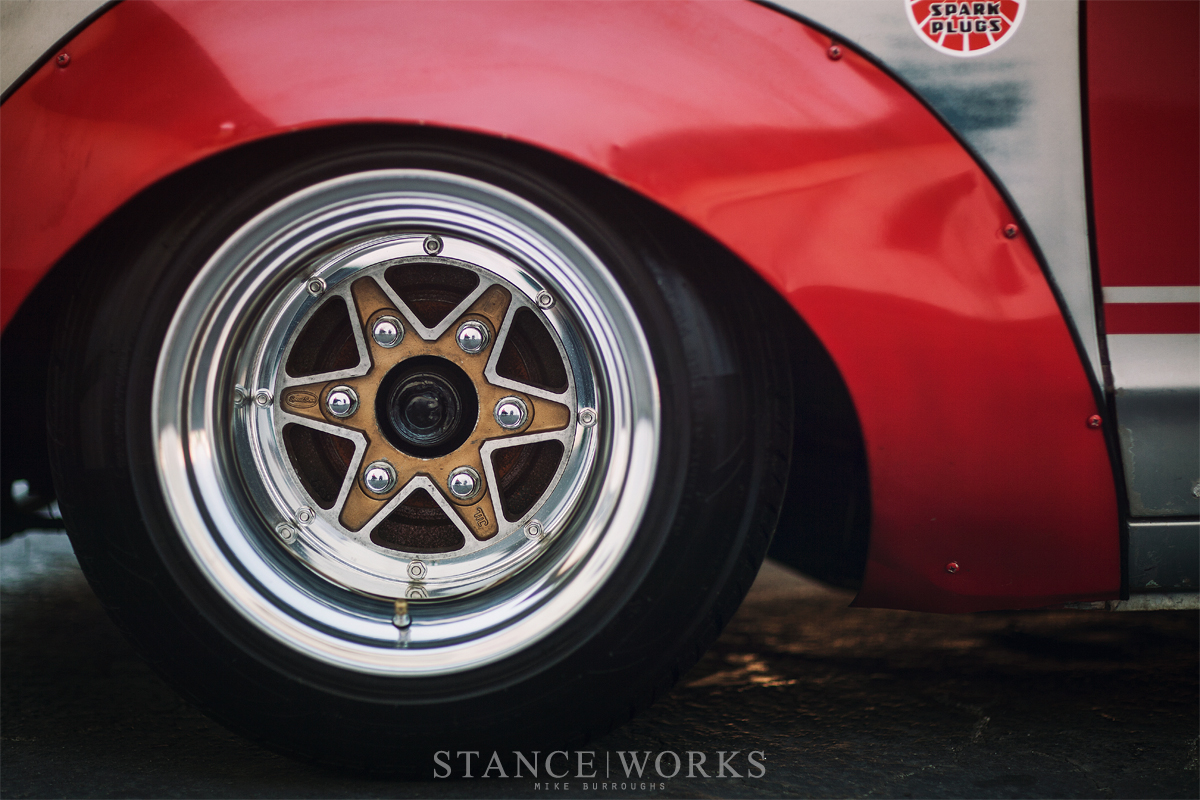 From there, we dove in quickly, balancing time between photos and my continuous prodding of Landon about his build. The suspension piqued my interest, and unsurprising was his reply to the obvious: "it's static." But unlike most, Landon means it in a literal sense. He pulls out his phone, and upon it, a photo of his custom front struts – solid steel rods with bushings on each end – quickly cleared things up. In the rear, the axle sits upon a rubber bump stop, giving him roughly one inch of downward travel in the event of any harsh bumps.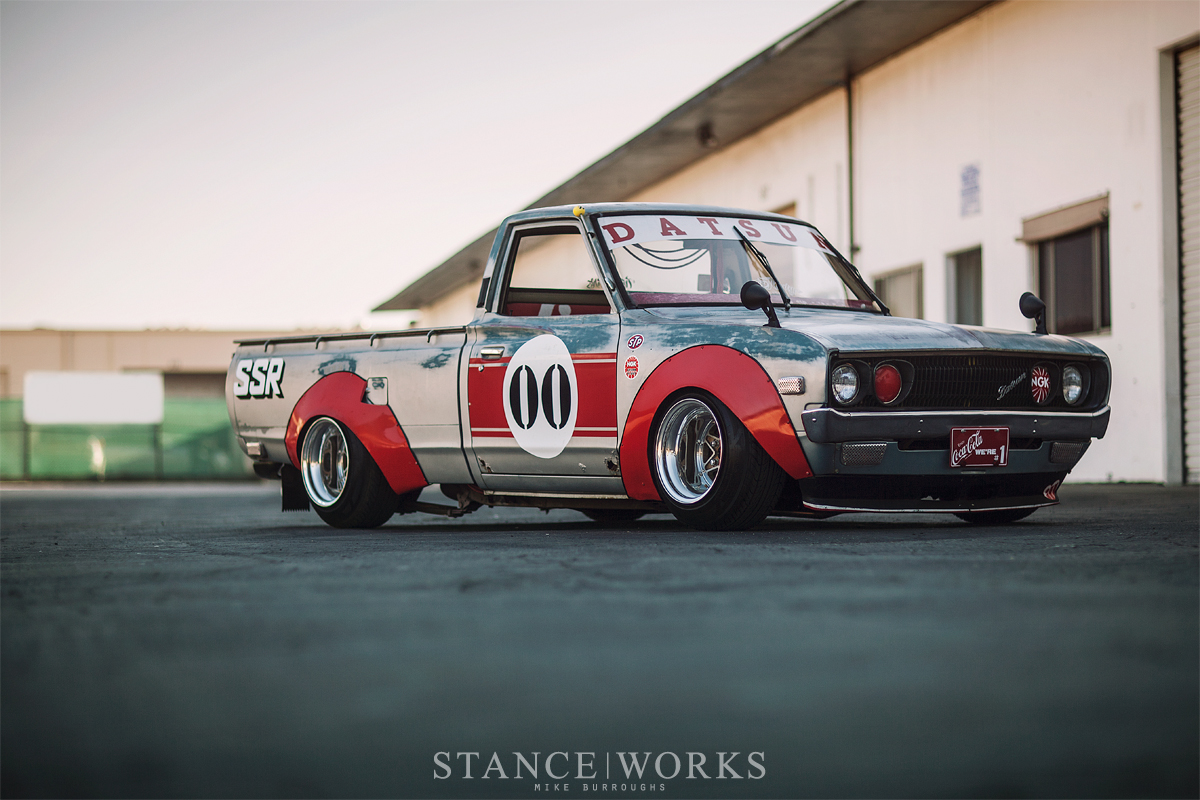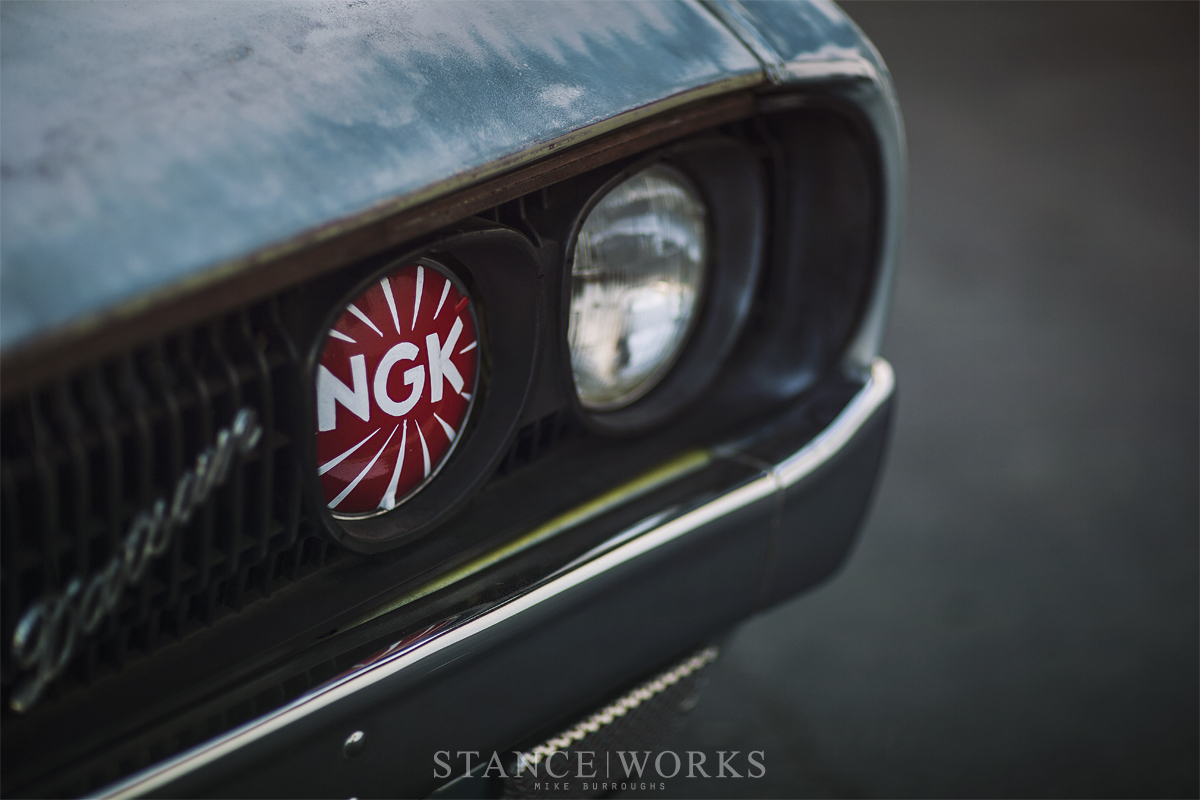 While it's guaranteed that such a brutish suspension setup isn't necessary, it leaves no room for error. His handmade stainless steel fender flares leave just enough room for the wheels to turn and roll. Their style pulls directly from Japan's "Works" flavor – similar to shakotan – and its clear from our end where exactly Landon Brown is coming from. The incredibly deep custom-barreled SSR wheels fill the arches completely, and at first glance, offer the only bit of "shine" on the truck's exterior.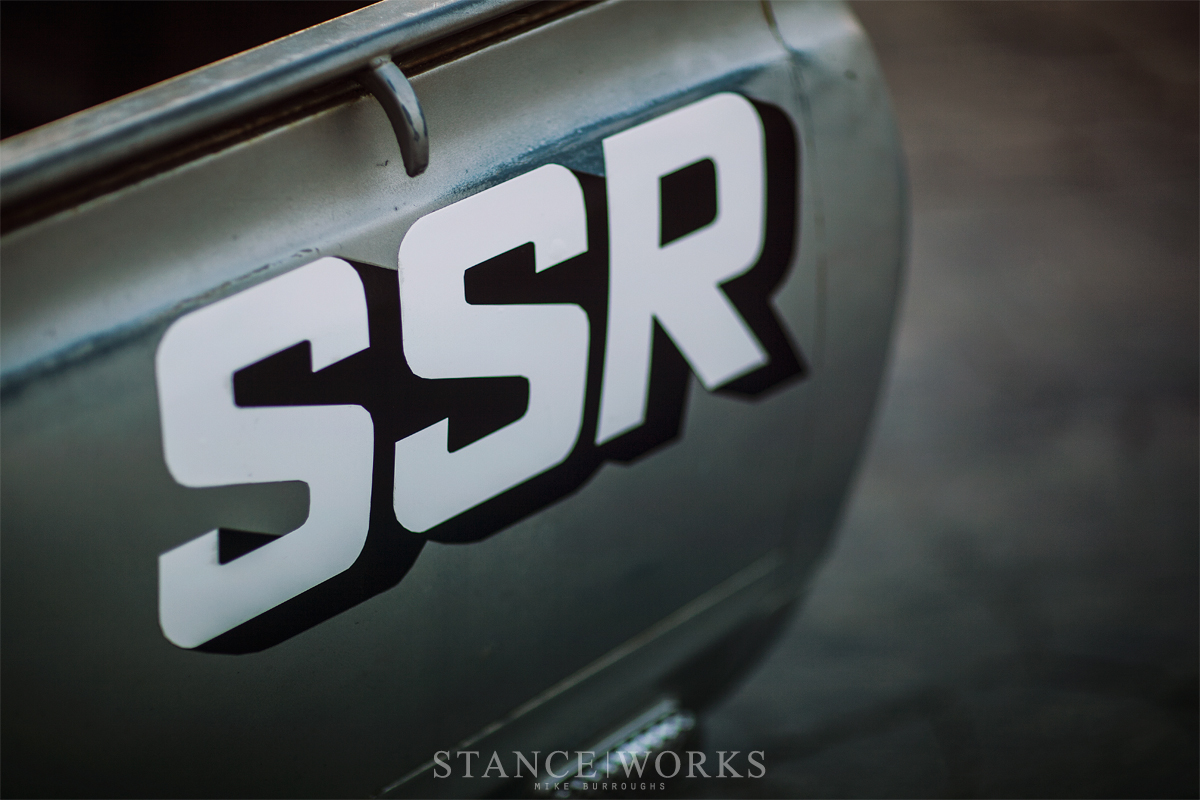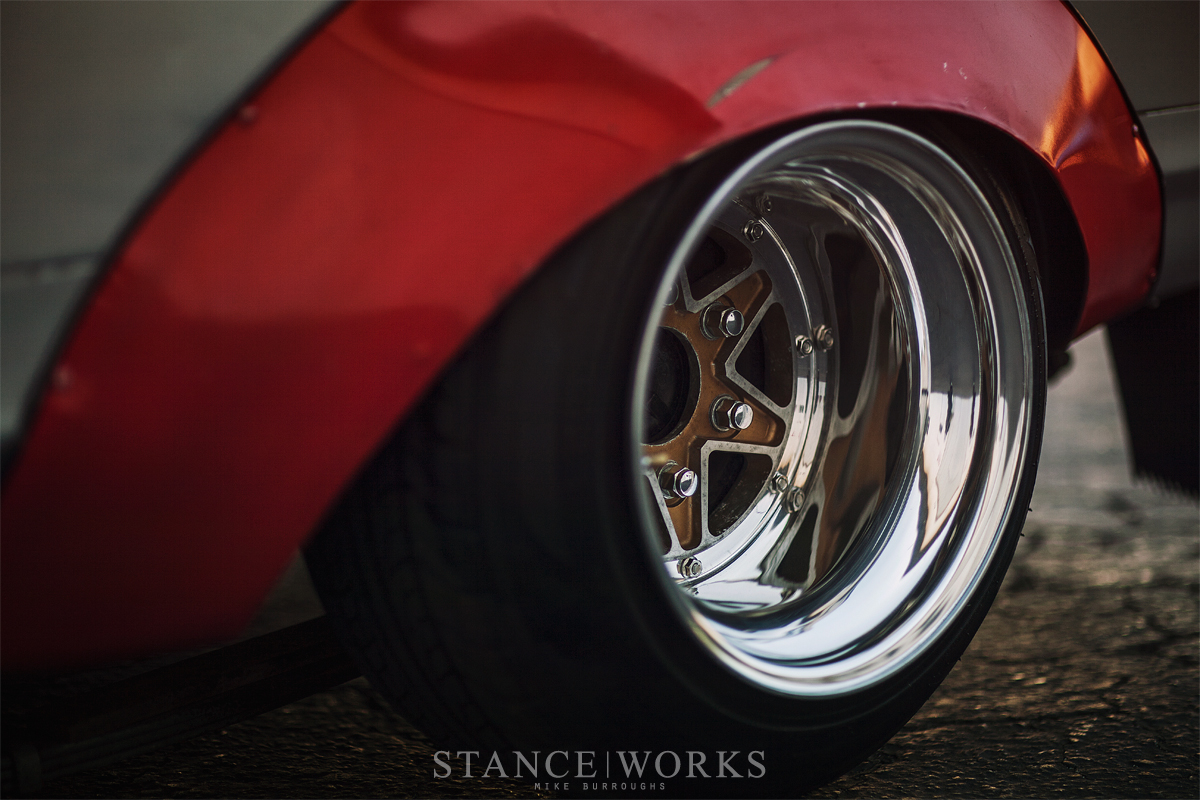 For the patina the truck sports, Landon owes some credit to the truck's previous owners. Four, five, or maybe six paint jobs in the Datsun's past have given it more than just a few layers of color. With some sand paper and a few helping hands, Landon and friends removed swaths of paint, revealing bits and pieces of the 620's past, and giving it a finish that's tough to replicate. Red, Landon's obvious accent color of choice, is carried throughout the truck, inside and out. Coca-Cola paraphernalia is scattered throughout, while some stickers, parts, and pieces offer more subtle touches. The fenders and doors, of course, sport the color loudly, bringing it to the forefront of the car's stylistic character.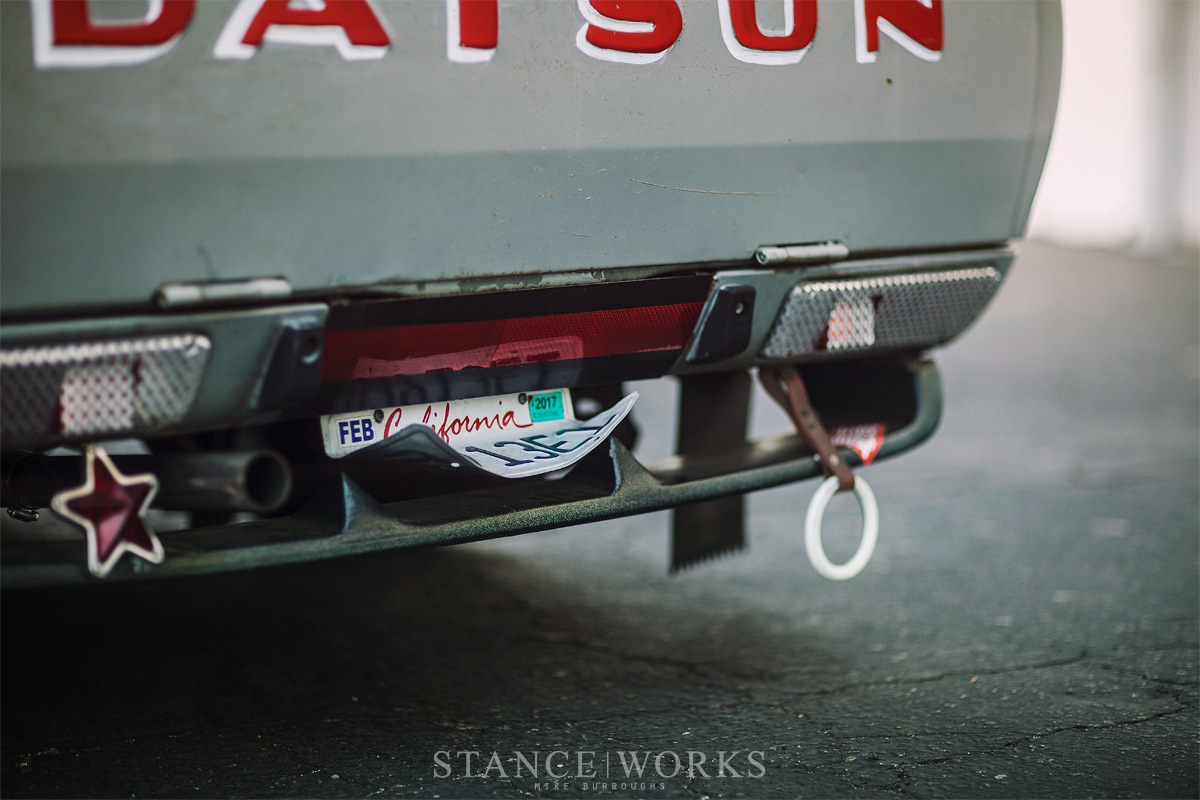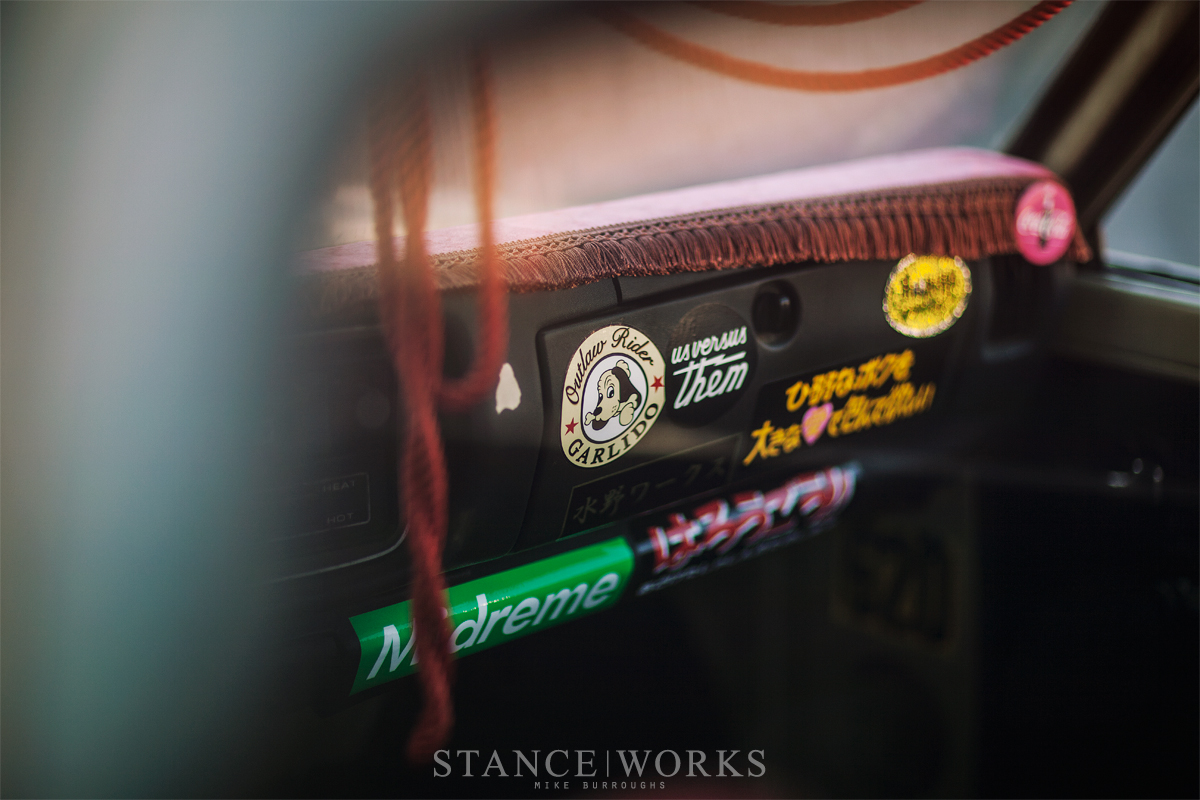 It's the smaller, lesser-visible details that make Landon's truck really shine. From the punching that covers the car's corner and tail lights, to the custom slit spoiler and hand-painted lettering, there's a lot to admire. The chopped up Volvo front lip fits perfectly, and is resourceful, too. The tasseled dash cover oozes style, as does seemingly every part of the build.
There is, of course, under the hood, too. Landon kept the factory L16 four-cylinder engine, but has renovated its home. The shaved bay is coated in a deep yellow paint, contrasting the outside's colorway and level of cleanliness. Weber carbs hang off the side of the SOHC motor, and the valve cover sports a fresh polish. Little else remains in the bay itself. In terms of power, the truck won't be winning any races, but its barky, high-pitched tone matches its aesthetic perfectly.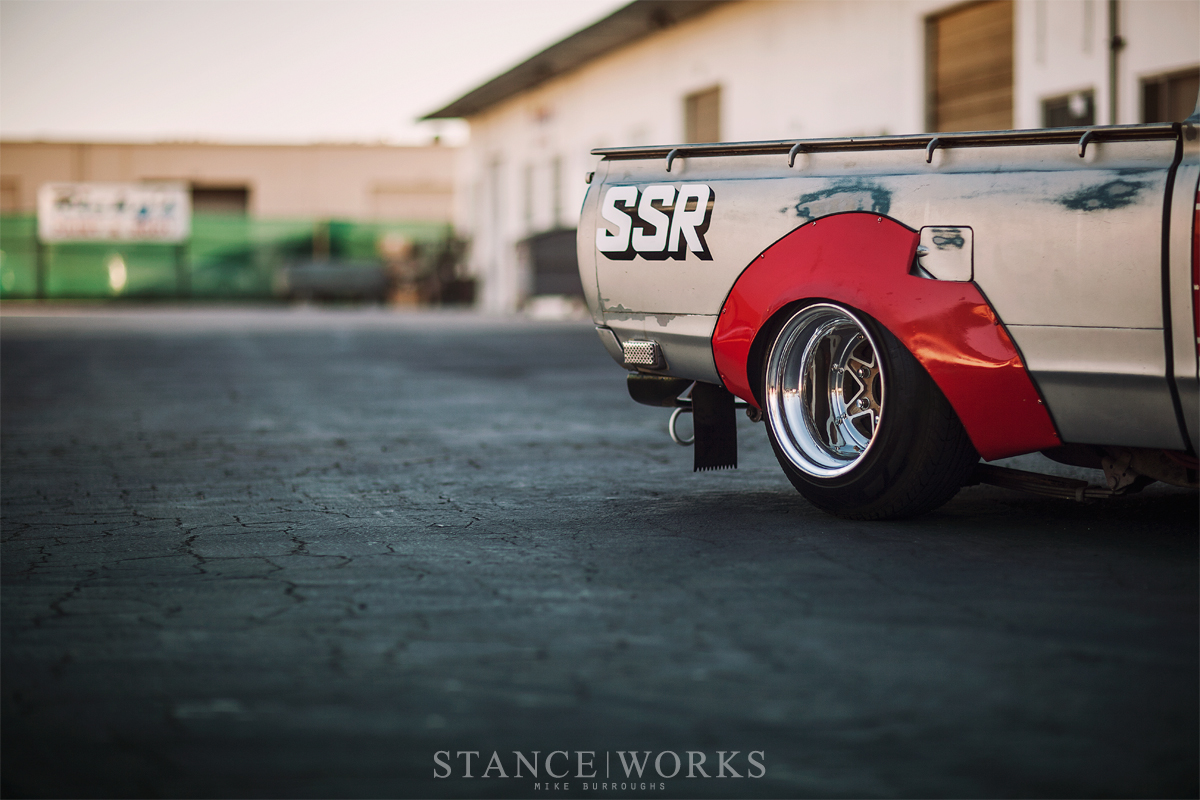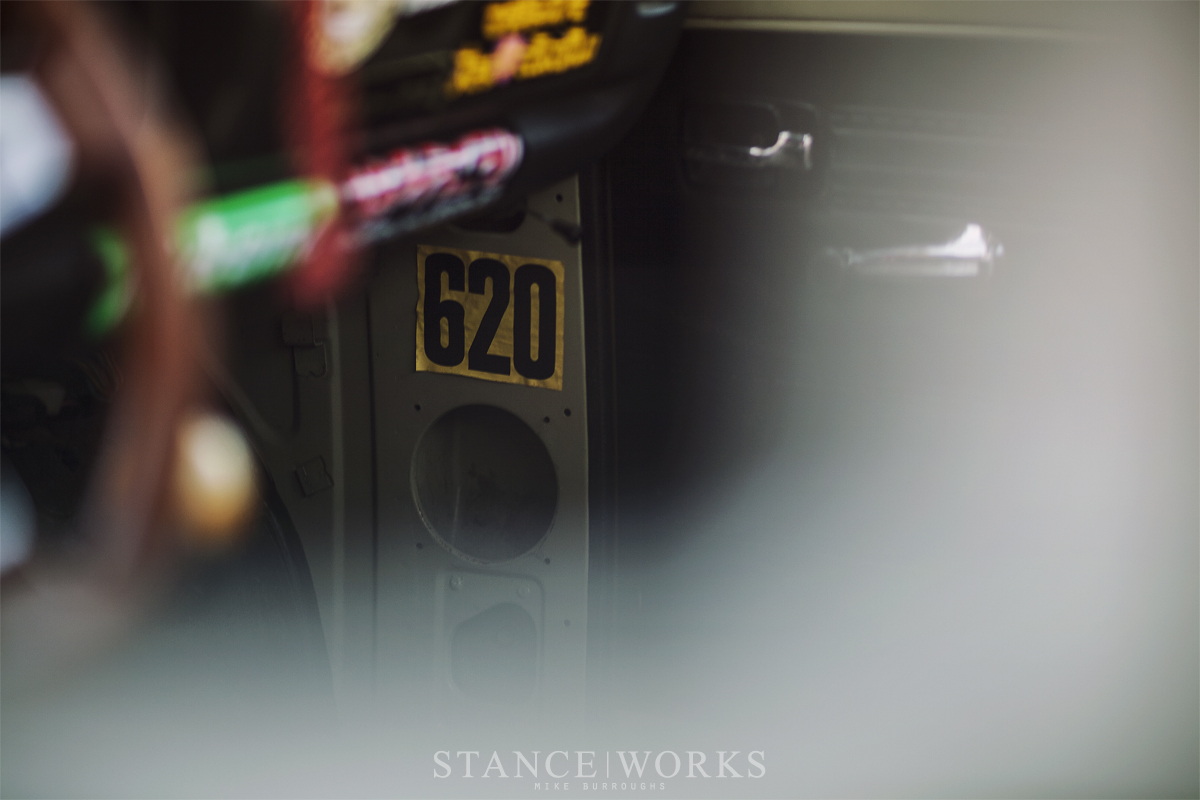 From front to back, Landon Brown's Datsun 620 pickup embraces and executes a style all his own – a perfect blend of Japanese influence with a handful of touches that make the truck uniquely his and uniquely whole. From its unrelenting dedication to style and form, to its humble beginnings and humble owner, this Datsun reminds us that perhaps we should make an effort to attend our local shows. After all, its important for all of us to see what our community is creating.