Cars that you own early on in your life typically have a special place in your heart, even a decade after you have sold the vehicle. Plans to modify it in ways your budget would not allow still remain fresh in your memory; some modifications still in line with your current tastes, others not so much. Clay's first Volkswagen was a 1987 Alpine White Jetta GLI, owned over 10 years ago when he was just 18 years old. He had dreams of swapping a VR6 into it, but budget restrictions as well as a lack of time prevented him from ever following through. The car ended up being sold but Clay owned quite a few Volkswagens afterwards, ranging from Corrados to other MK2s, and even a few MK4s. However, the desire to build that Alpine White MK2 Jetta with a VR6 never faded.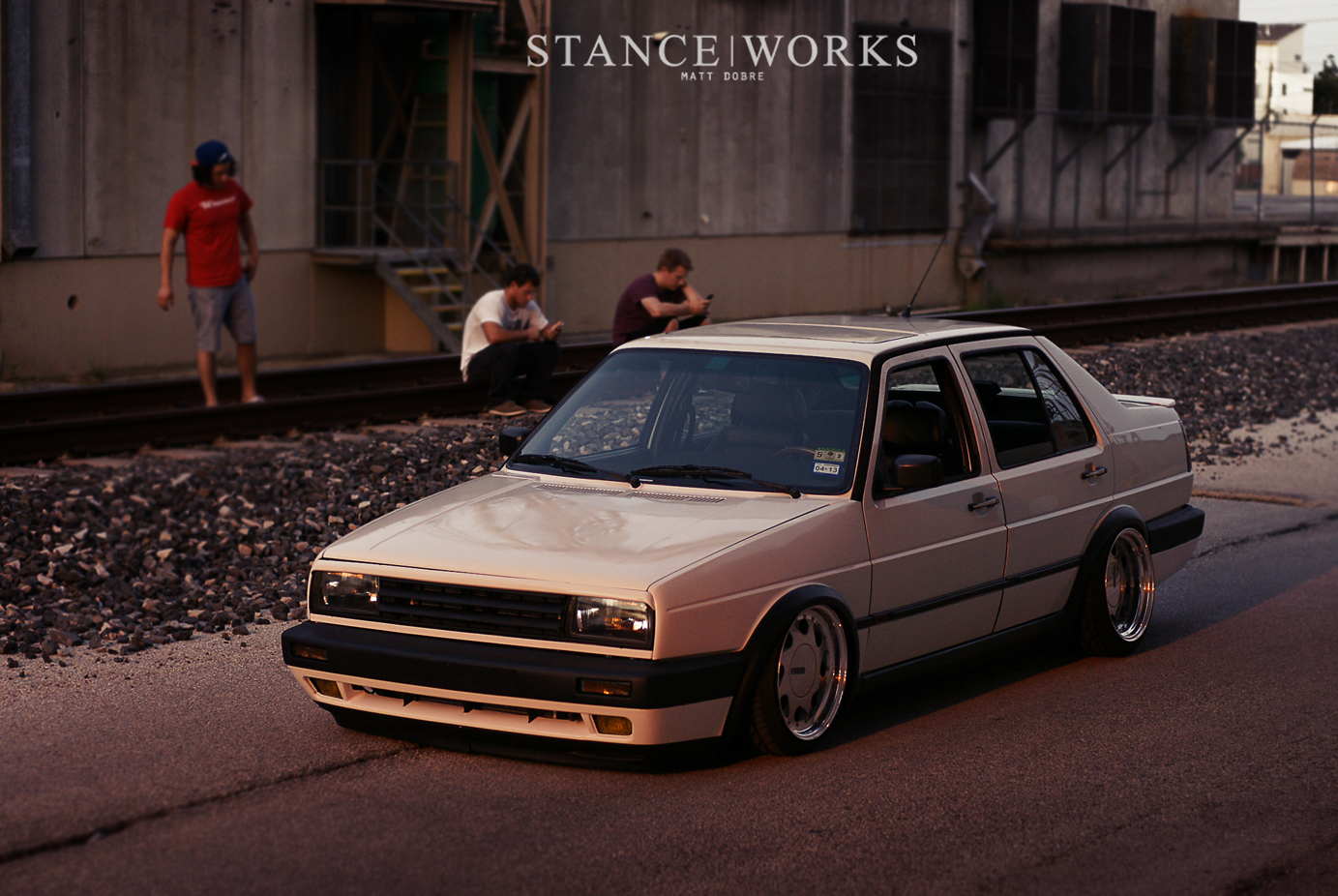 In 2010 Clay made the decision to part out his 1999.5 MK4 GTI, which just happened to have a VR6 for a power plant. The prospect of picking up another MK2 Jetta was thrown around, but at that moment in time it was far from ideal. However, Clay did decide to hold onto the motor and transmission, as well as the associated accessories and harnesses to allow it to drop into a MK2 Jetta. You know… just in case. Over the next two years the other little odds and ends that would be needed to complete the swap were collected, and Clay finally found himself at the point where quite literally everything was there except the Alpine White chassis. In April of 2012, Clay got a call from a friend offering him a mint 1989 Alpine White Jetta shell, with the term shell being used literally. It was sans engine and transmission, suspension, and interior. The timing wasn't right for Clay, but the price certainly was: $400 delivered to his door. Logic and reason were pushed aside, a common theme amongst those of us in the car community, and Clay was finally the proud owner of another Alpine White MK2 Jetta, as well as every part needed to make his childhood dream come true.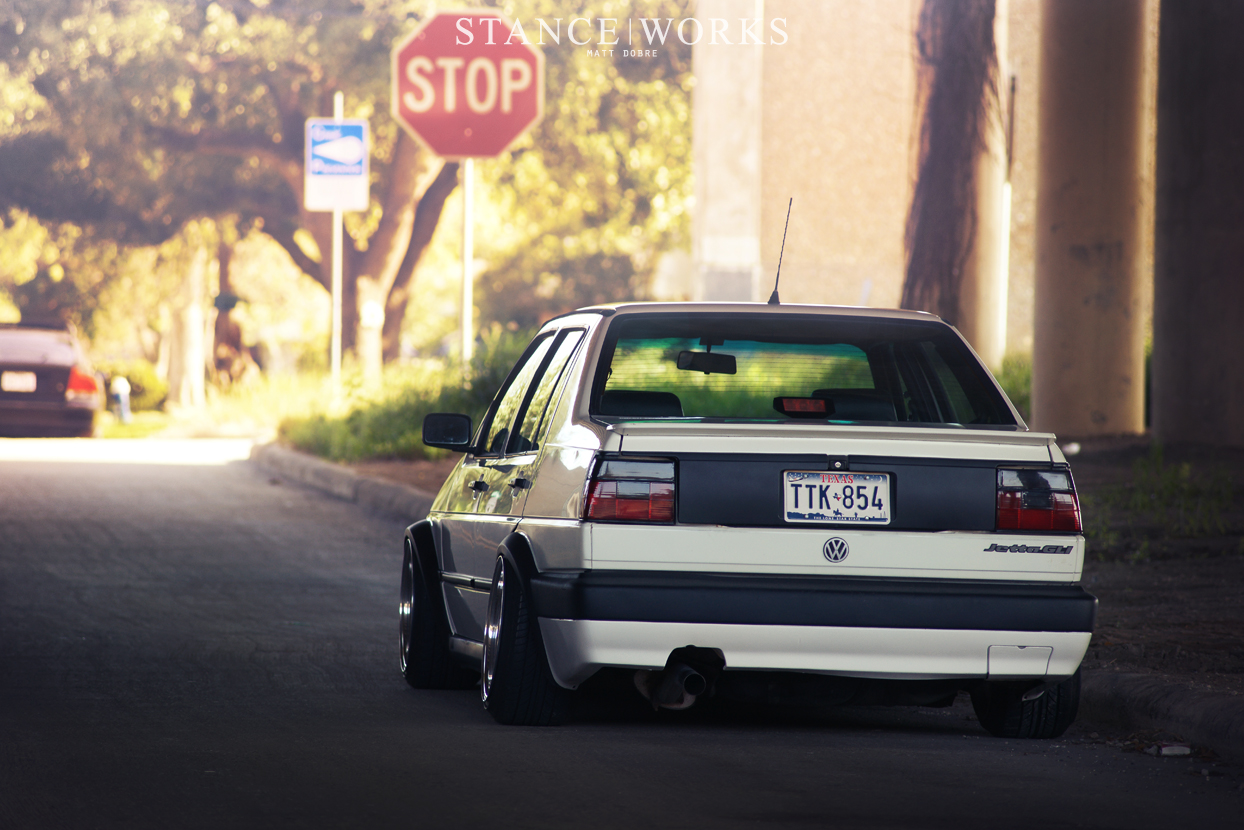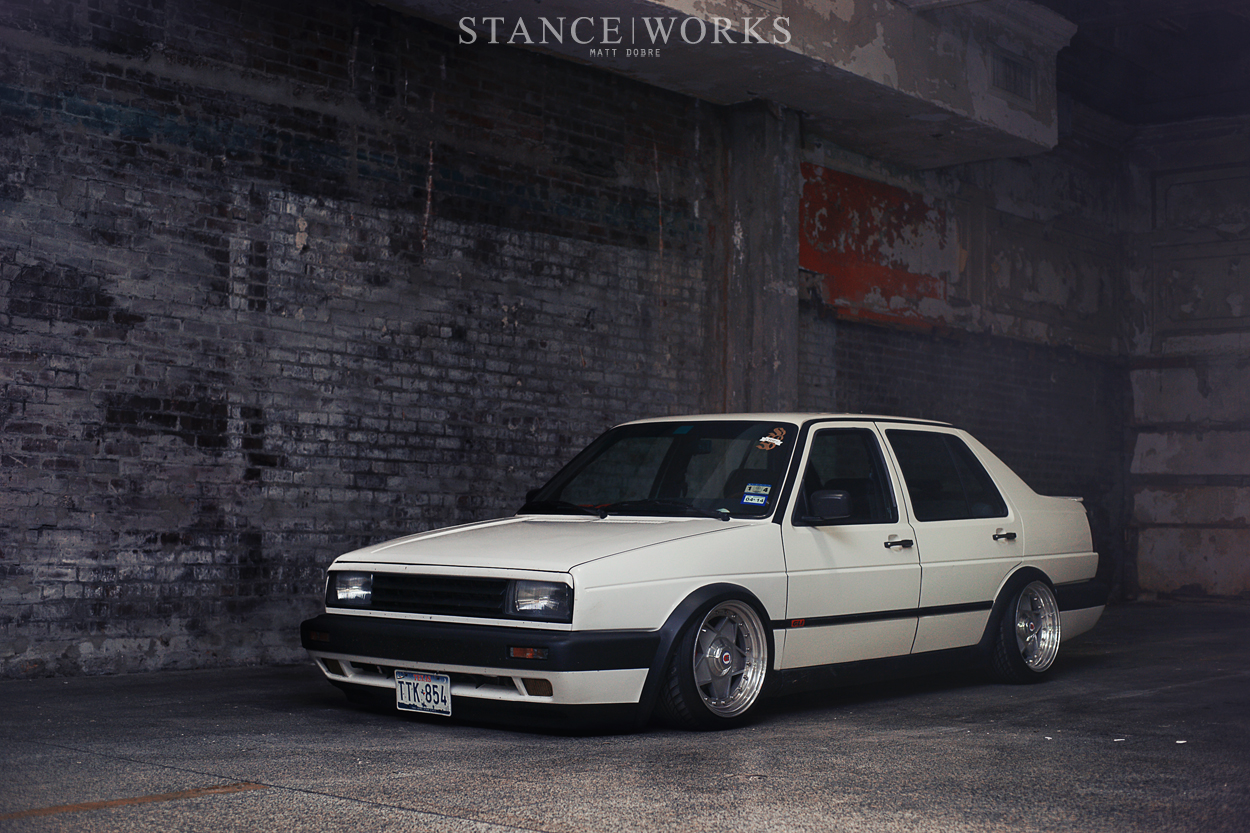 Clay had every intention of building the car to be a conservative and simple daily driver, but not being one to stop at "good enough," the plans for the build rapidly turned more towards something a bit more in-depth. The decision to shave and wire tuck the bay was made, and a full suspension setup from Airlift was sourced, along with Porsche brakes. G60 flares intended for his Golf project were reassigned to the Jetta. All the parts were there to produce one seriously impressive daily driver, and mating the collection of parts began, missing only one major component: the wheels.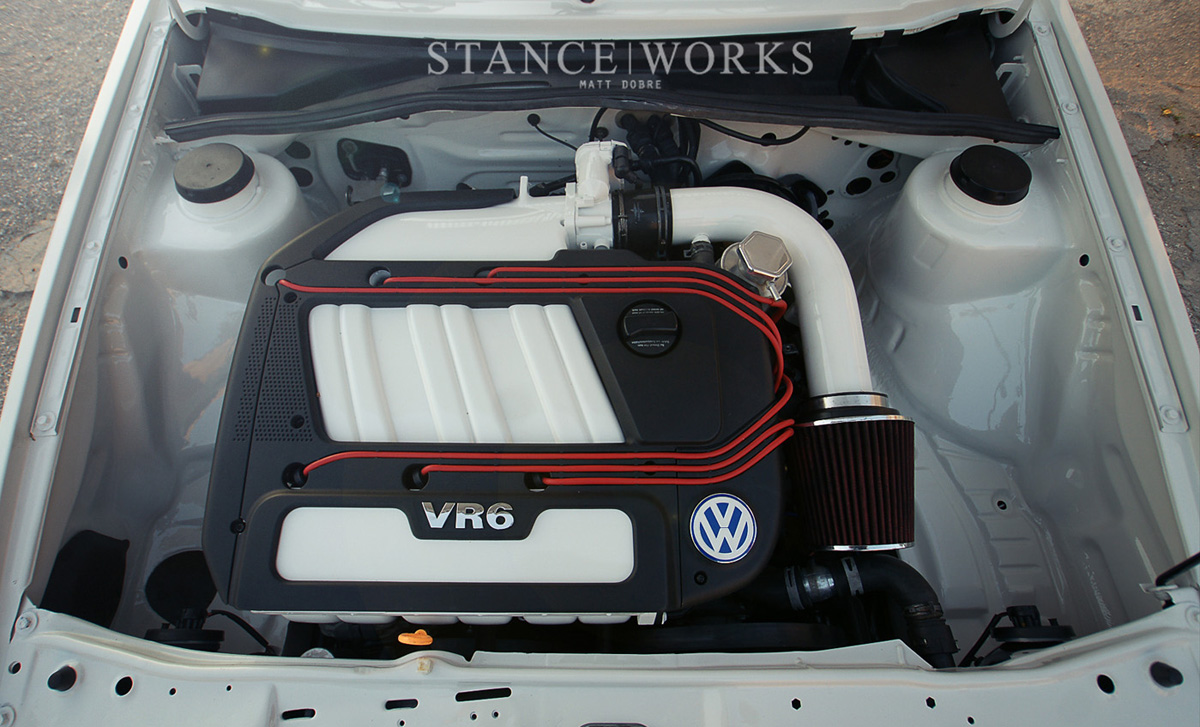 Clay is a self-proclaimed wheel addict, and knew he wanted to do something special for this build. The extent of his self-diagnosed ailment is pretty severe, and he has been known to buy wheels for cars he may own in the future, just in case. Much like the dream of owning a VR6 MK2, Clay had dreamed of building a set of 3-piece teardrops, built with machined centers from the OEM volkswagen wheels. A set was sourced, but where exactly to get lips and barrels, as well as who would machine it was a bit of a mystery. Coming back to Clay's "issue", and not knowing when he had bitten off a bit more than he  could chew, he also picked up a set of Hayashi Racing 505s. He widened these with Rotiform lips and barrels, in turn making a stunning set of wheels which fit the car quite well. Ever so conveniently, the Hayashi's original 16″ lips and barrels were left over from the rebuild, just begging for another attractive set of centers. He consulted his machinist friend Peer Strogies, and after some thought, Peer determined that the best solution would be turning down the Teardrops to accept 13" ID lips and barrels; any smaller would be less Aesthetically pleasing, and more importantly, less safe. This created a small issue in the fact that the  Hayashi lips/barrels were a 12.75" ID, however opening them up to a 13" ID allowed them to mate to the Teardrops and create an absolutely gorgeous set of wheels. This could be referred to as  "recycling" the Hayashi's lips and barrels, but I feel that reincarnation is far more fitting.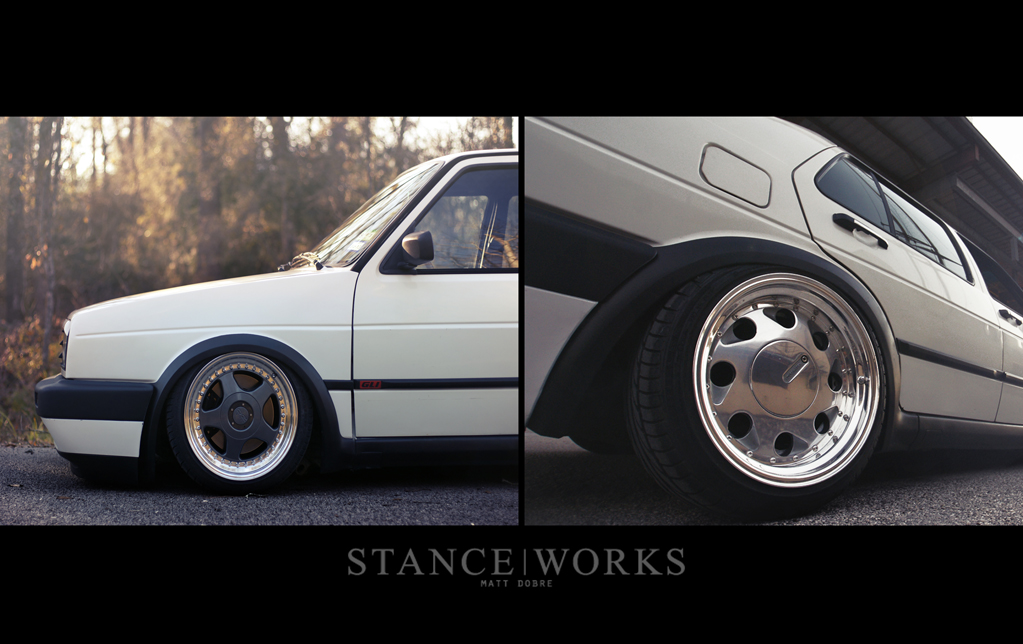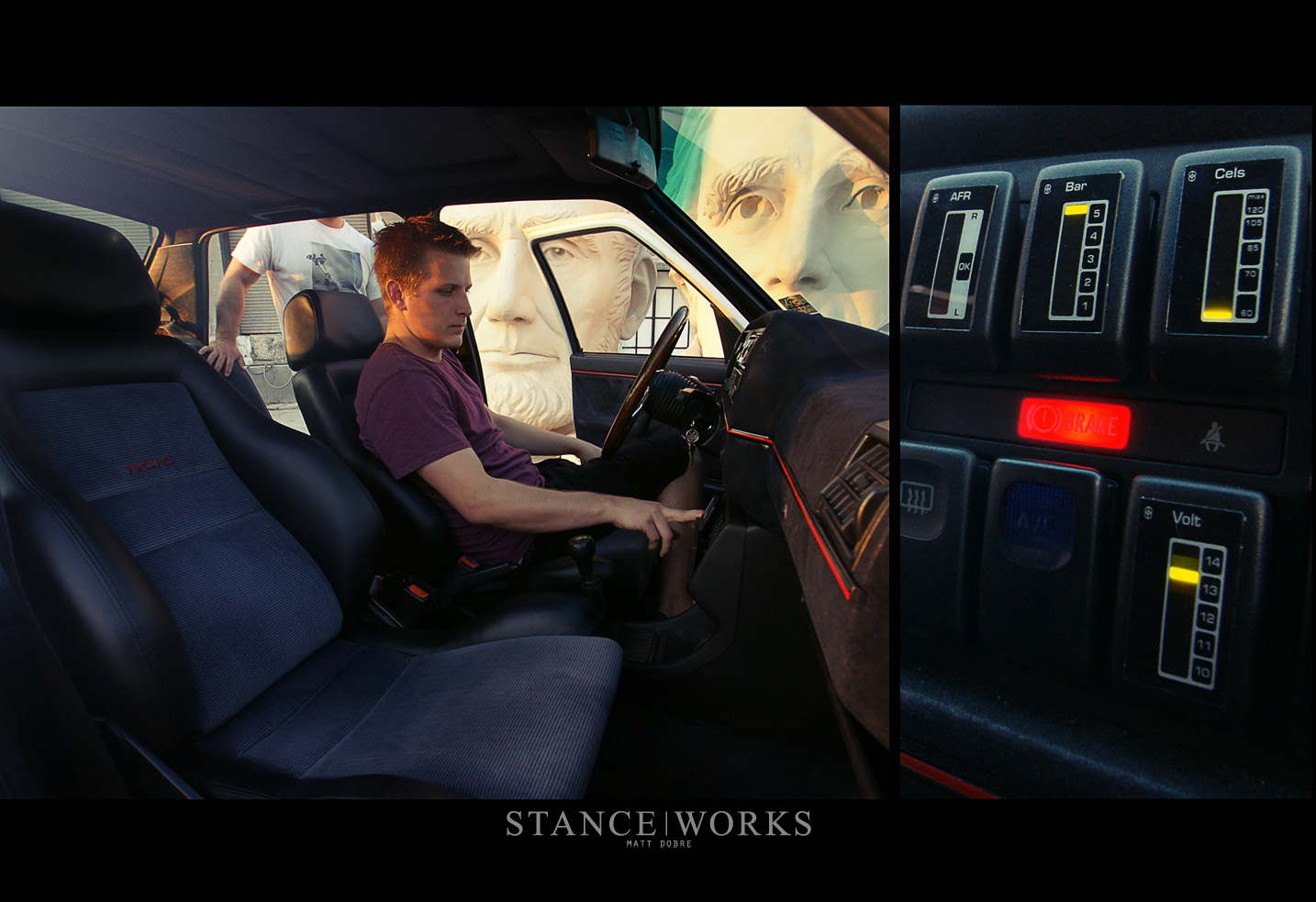 With all of the pieces in place, it was time for assembly, which Clay said was done with the help of his group of friends, all of whom refer to themselves lightheartedly as 025Garage. Years of collecting parts meant the assembly went very quickly, all things considered, with the engine bay coming out as stunning as the custom sets of wheels. The helping hands of friends allowed the build to happen smoothly, and the help itself gave the build purpose for Clay. He loves automobiles as much as any of us, but says what he truly enjoys is the time spent with friends, and couldn't imagine spending his weekends any other way – under cars in friends' driveways. They are obviously doing something right, as is evidenced by the results of Clay's MK2, as well as the three other 025Garage cars that received top-50 honors at Southern Worthersee this year.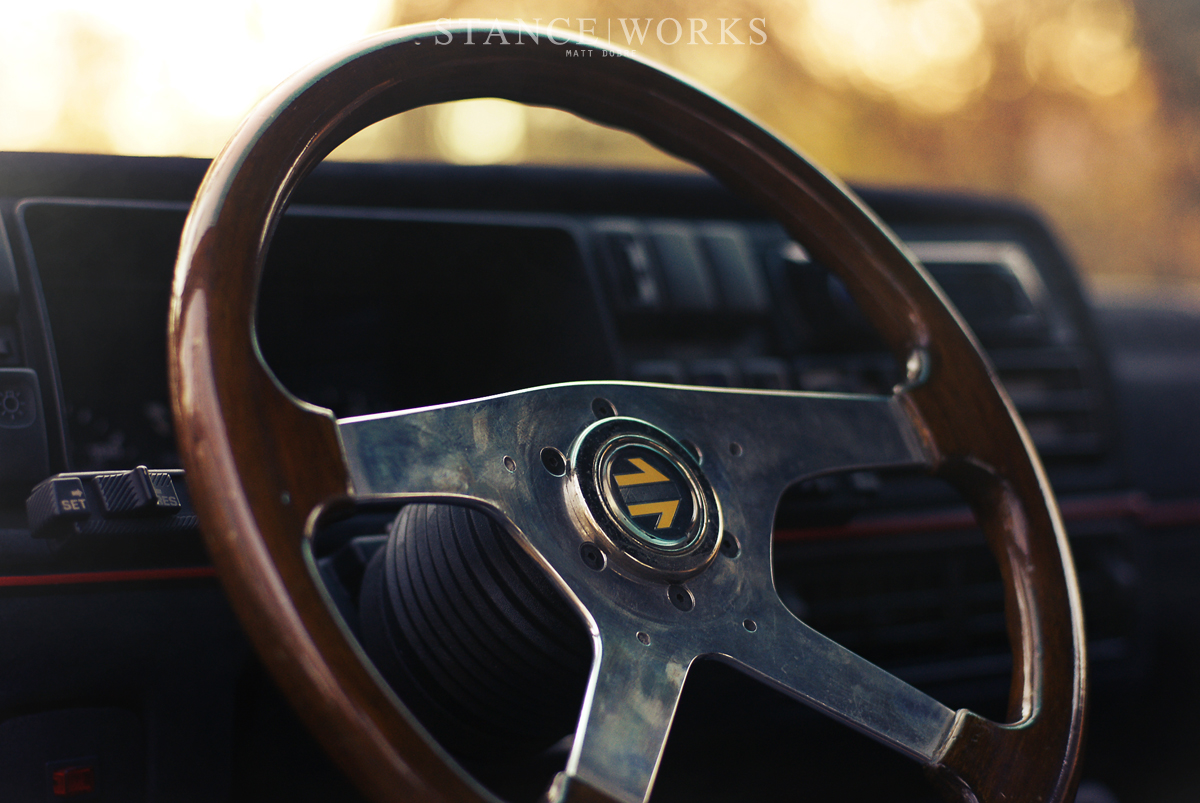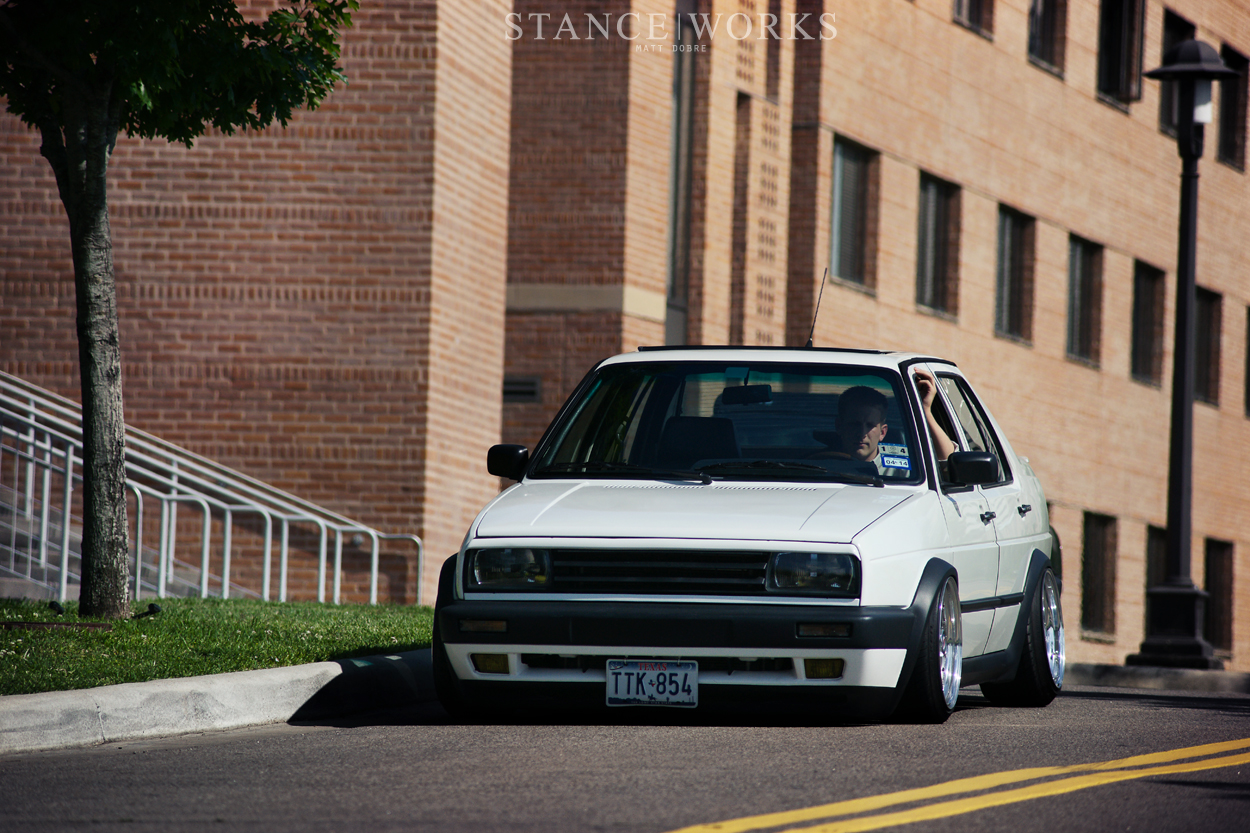 Clay has now completed his dream build of over a decade, and has quite the car to show for it. Of course, that should mean he is content, correct? Not quite. Clay, like most of us have at one point or another, has already considered parting the car out and moving on to a new project, despite having some plans he would have liked to have carried out. Unfortunately in this case, this particular project has come to an end and the car is sitting in stock form as you read this article. It has, however, been parted to be able to purchase one of his other long-term dream cars from none other than his own father. The car is a big step for Clay, and a bit different to what he has owned in the past. The engine hangs behind the rear axle and powers the rear wheels, for starters. Clay was able to scratch the itch that many of us have, and in fulfilling a long term dream-build, ended up with quite the impressive MK2 Jetta to show for it. At the end of the day however, it's not truly about the cars. You can't just stop at "good enough," or even "great." Otherwise you and your friends will run out of reasons to convene, get dirty, and swear at inanimate objects together, chasing an ever-moving target as progress is created.