Undoubtedly, the emergence of older BMW platforms has been on the rise for the past couple of years, and in particular the E28 5 Series. It's a timeless design that doesn't take much to garner extra attention from the average onlooker and full blown enthusiasts. Mr. Burroughs is to thank for a lot of that attention, particularly with his E28 (see: Rusty Slammington for reference), and it has been great to see the various offerings from around the world, particularly in Europe. Well, after this past weekend, there is a new player being introduced in the form of  a 1988 528e from the U.S.of.A.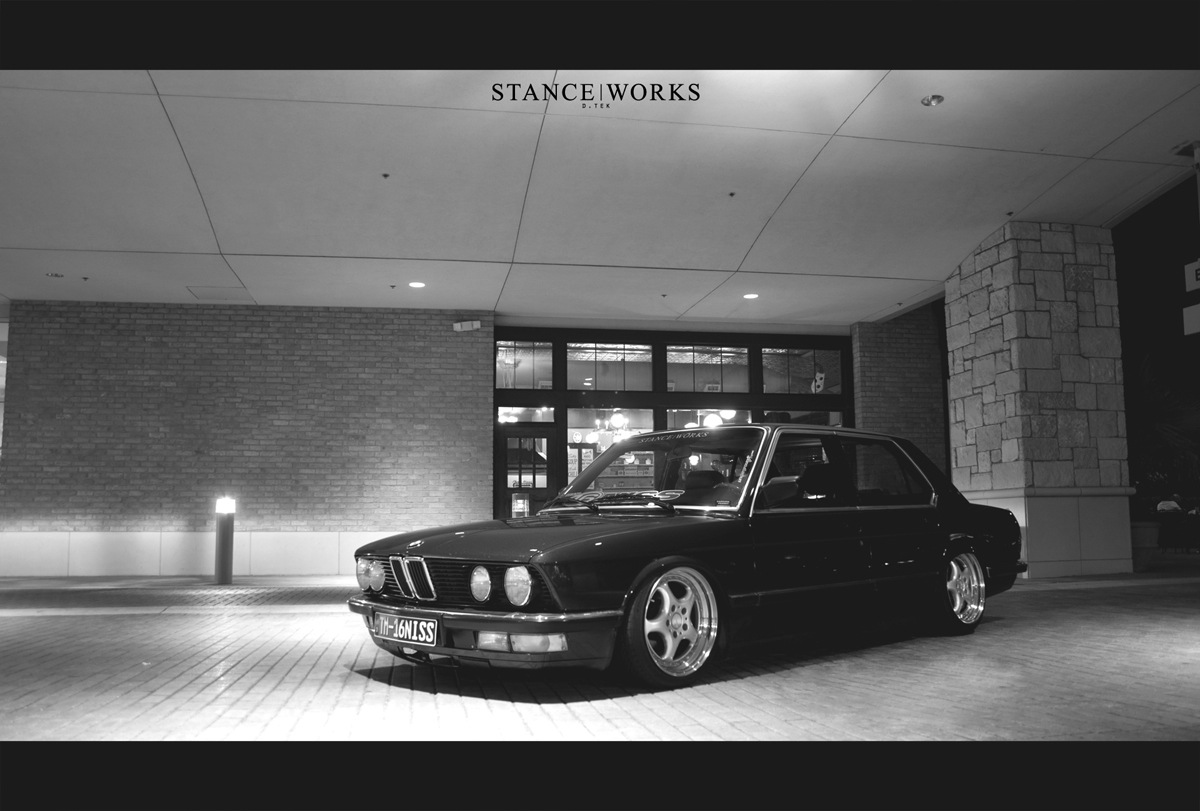 The owner of this particular E28 is "The" Rob Amason, out of the great Republic of Texas (can you tell I'm a Texan?). Rob and I met leading up to the first event we threw in 2009 called "Stance of the Union." While it was wildly successful, the majority of its success was due to people like Rob running around making sure it went off without a hitch. He is the type of guy who will give you the shirt off his back to polish your wheels if it means making your car look the best it possibly can. He is always down for a good time and, like many of us, has a passion for cars like Chuck Norris has for facial hair. So, it was with little surprise that when Rob said he was going to be debuting "something" at Wek'Fest it would make the masses gawk.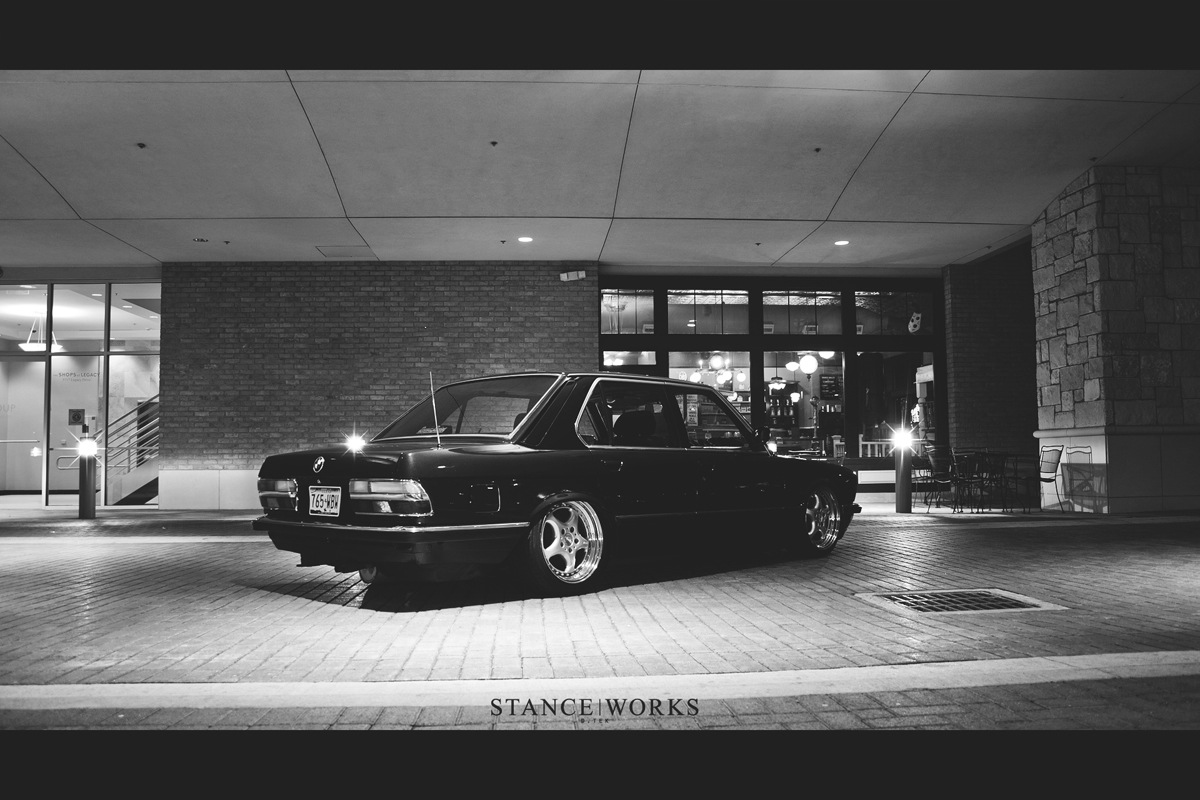 The car was purchased with an M20B27 with an "e" to "i" conversion. If it sounds like I'm about to break out in nerd-speak..  I am. The M20 was rebuilt utilizing "i" heads with an 885 casting and dual valve springs. The conversion went on with an "i" camshaft, intake manifold and throttle body, with the intake and exhaust valves ported for extra breathing capacity. Finally, a Motronic ECU was utilized to get this motor-collaboration working harmoniously and a performance chip implemented to maximize HP output.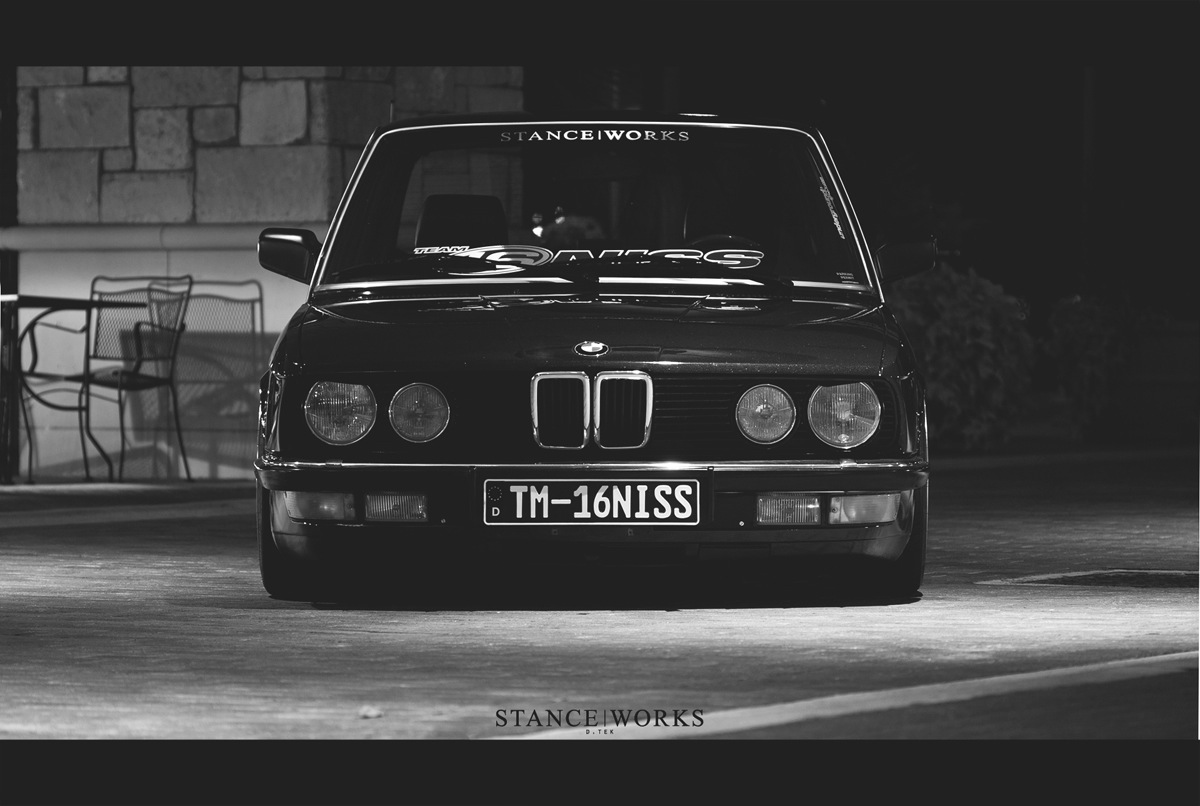 So now that we have satisfied inquiring-horsepower minds, let us move on to the aesthetic portion of our rundown. A natural observation for avid BMW enthusiasts is the use of Euro bumpers and headlamps. These are small details that are incredibly effective when comparing to US spec E28 bumpers, which double for diving boards on a hot summer day. The car has had a full respray in the original color known as Royal Blau; a deep, rich metallic blue that positively sparkles under direct light.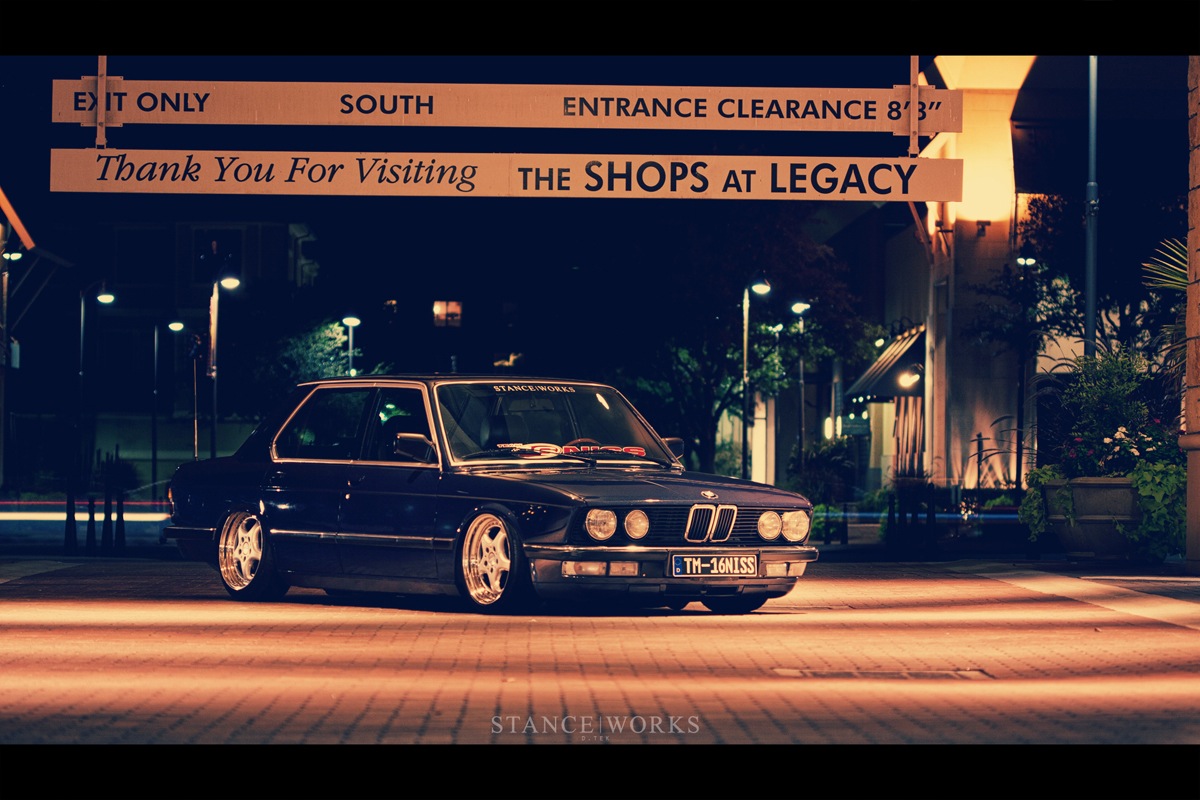 The interior was what you would expect out of a 23 year old car, with "haggard" being a pleasant descriptive term. The car came with black and tan interior, which didn't jive with Rob's color palette. He enlisted the help of fellow enthusiast Will Villegas, and together they began toiling away dying the carpets, trim pieces, and door cards in navy and red accents. The interior was an arduous process, piecing together seat rails from an 85 Volvo to fit a set of B5 Audi S4 seats right up to the early hours of the E28's debut. Not only did these gentlemen get it all done, Rob was able to finish it off with a wood-grain Nardi Steering wheel. Classy indeed.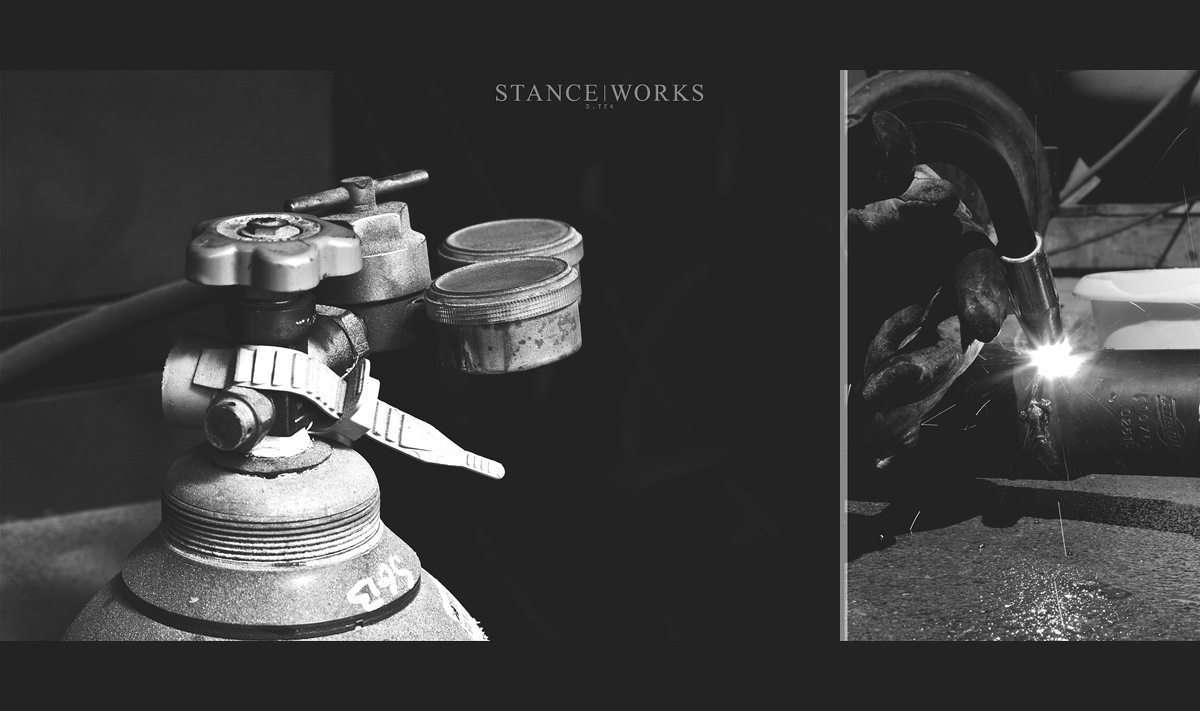 I know, you are going "yeah, yeah, yeah.. euro bumpers, paint, interior.. blah blah blah.. what about the wheels and suspension?!" Well, wouldn't you save the best for last? When Rob had seen Rusty bagged, he knew there was no other option. However, with the bags on Rusty being a one-off set, he would have to bring in some help to pull it off. Fortunately, Dorbritz Designs was just around the corner, and Drew has a bad tendency of making enthusiasts dreams become reality on a regular basis.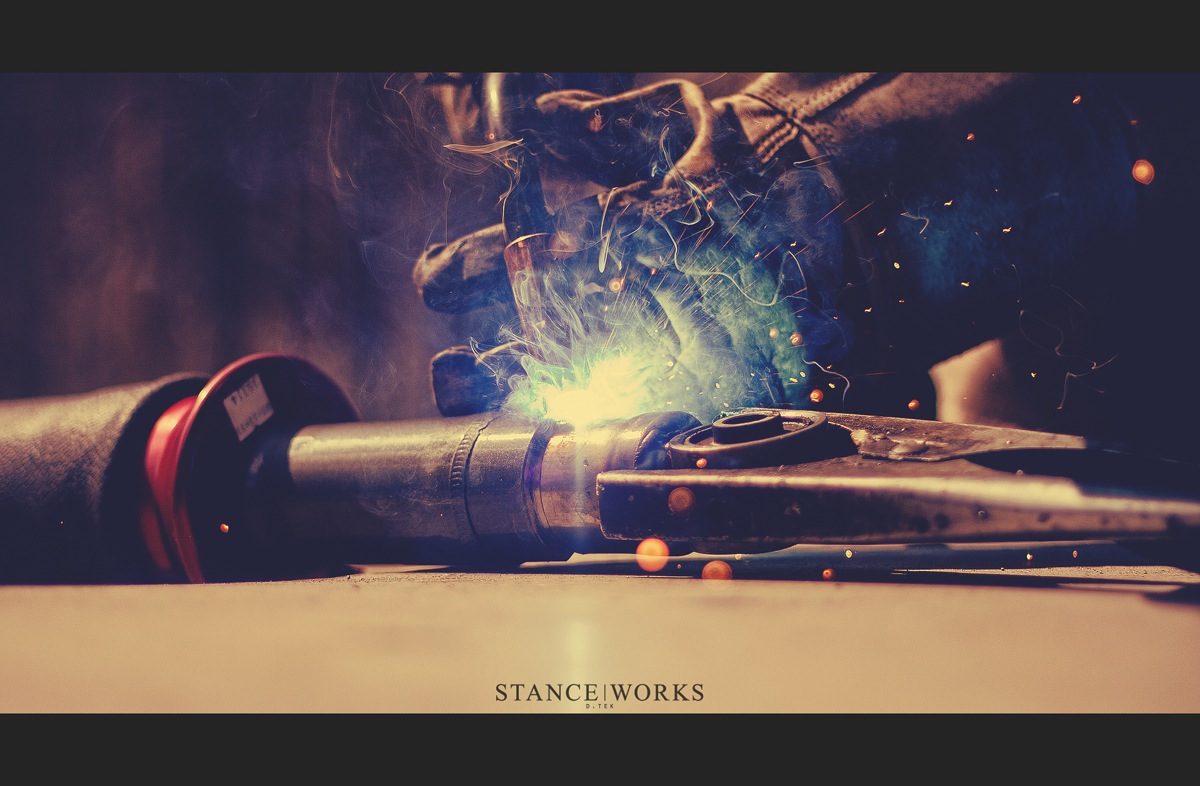 Rob proposed the concept to Drew, and without hesitation the build was afoot. Drew utilized AirLift's Universal air-struts, modifying them to fit precisely with the E28. Paddle Valves, Dual Viar 444c compressors, and a 5 Gallon Tank was chosen to create the "whoosh" sound and give the entire system functionality. This is the 3rd older BMW chassis that has used AirLift's Universal air-struts in the past 3 months, including Mike's E9 and the Fosters' Bavaria. Methinks we might be seeing a trend developing?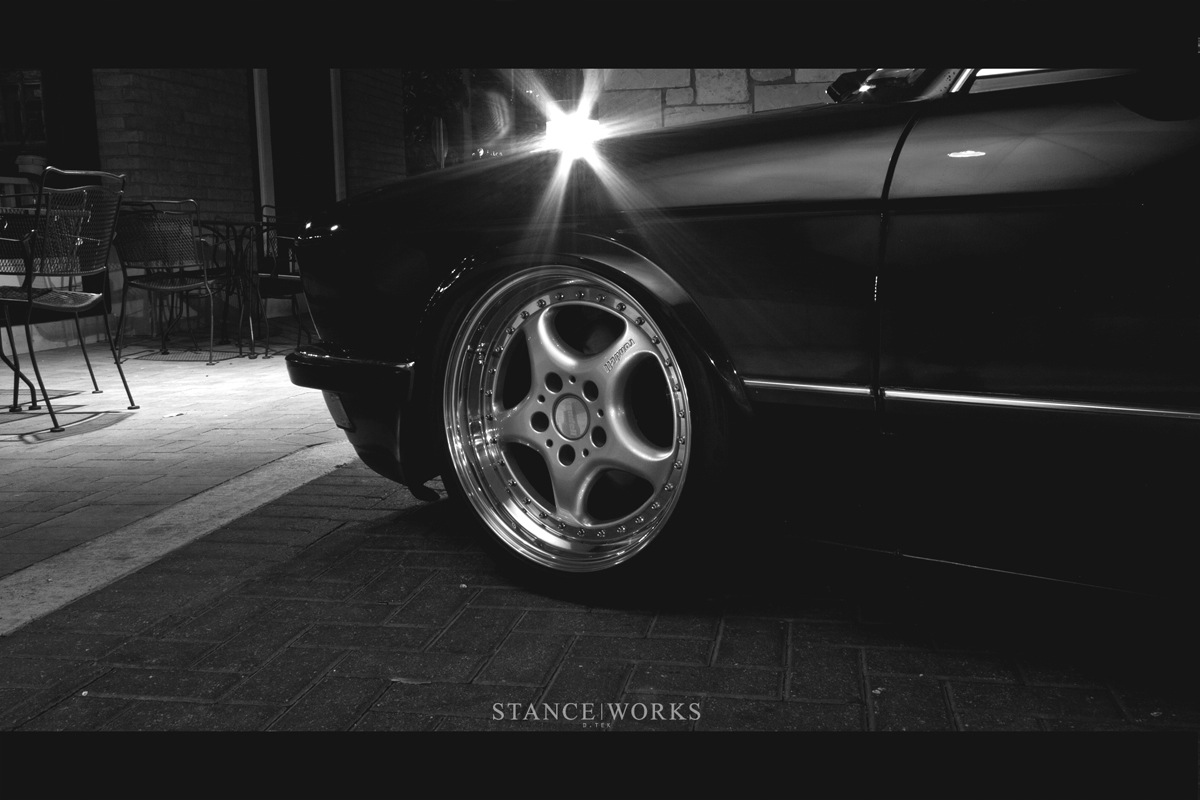 Of course I save the "plat du jour" for the end in the form of Rob's wheel selection. Unfortunately, the wheels Rob had scoured the interwebs to find didn't make it stateside in time (and I promise you they will blow minds when he receives them.) So the Macgyver-persona he midnights as took over and he was able to quickly negotiate a deal on some choice Rondell Style 67 Splitties with stainless steel lips. 17×8.5 in low offsets all the way around, filled out the fender wells nicely and certainly brings the E28 together for it's debut to the world.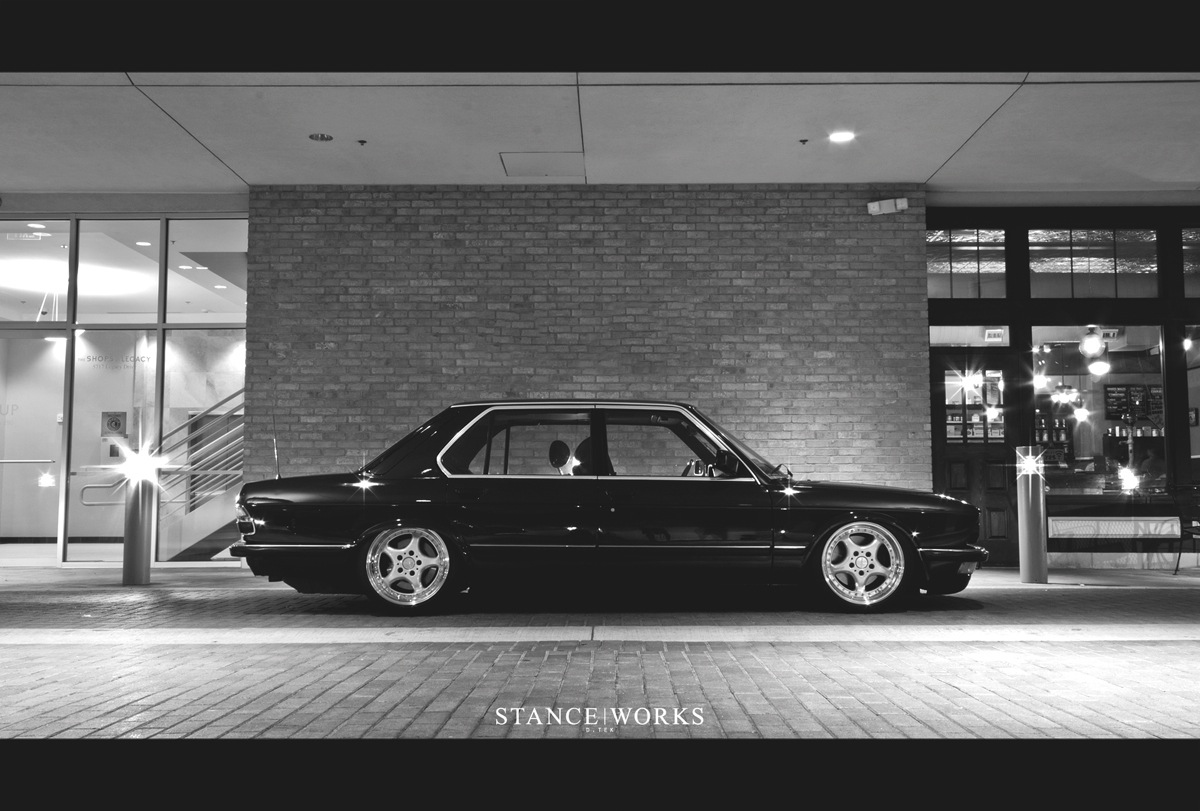 So that's the long and the short of it. Great guy and great car.. two things we love featuring here on Stance|Works. A final word from Rob: "If I haven't said it enough times, thank you Drew, Tek, Joel, Will & Jon. You guys all made sacrifices for this project & this moment is just as much yours as it is Arials."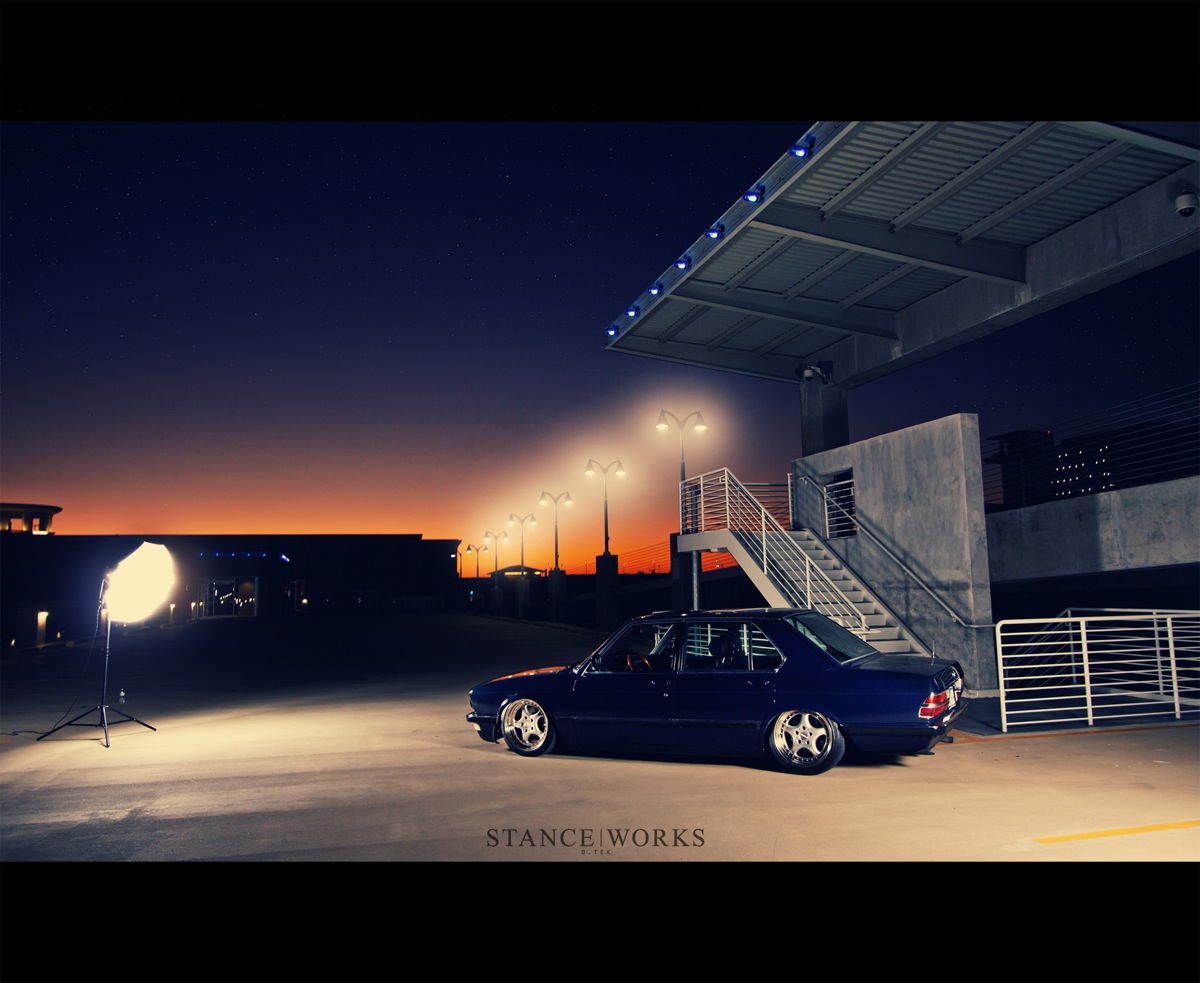 Big thanks goes out to D.Tek as well who made this shoot happen. Please check out his website at DTekPhoto.