To be honest, it's hard not to love any classic ford Escort: the MK1 and MK2 variants have earned a place in motoring history as one of the greatest vehicles to ever stem from Europe. With rich motorsports history, stunning lines, and a devout following, they've been elevated to the tier of "cult classic," meaning even the examples that are worse for wear are often worth bringing home. That's the case for Sebastian Sundfor's car, at least: a largely forgotten and left-for-dead example that has been given a new lease on life, and then some. One glance inside reveals that this ain't no ordinary MK2 Ford Escort. When the body panels are lifted away, reality sets in… Sebastian Sundfor has built an Escort to rival the best of them, but it didn't come without a few bumps in the road.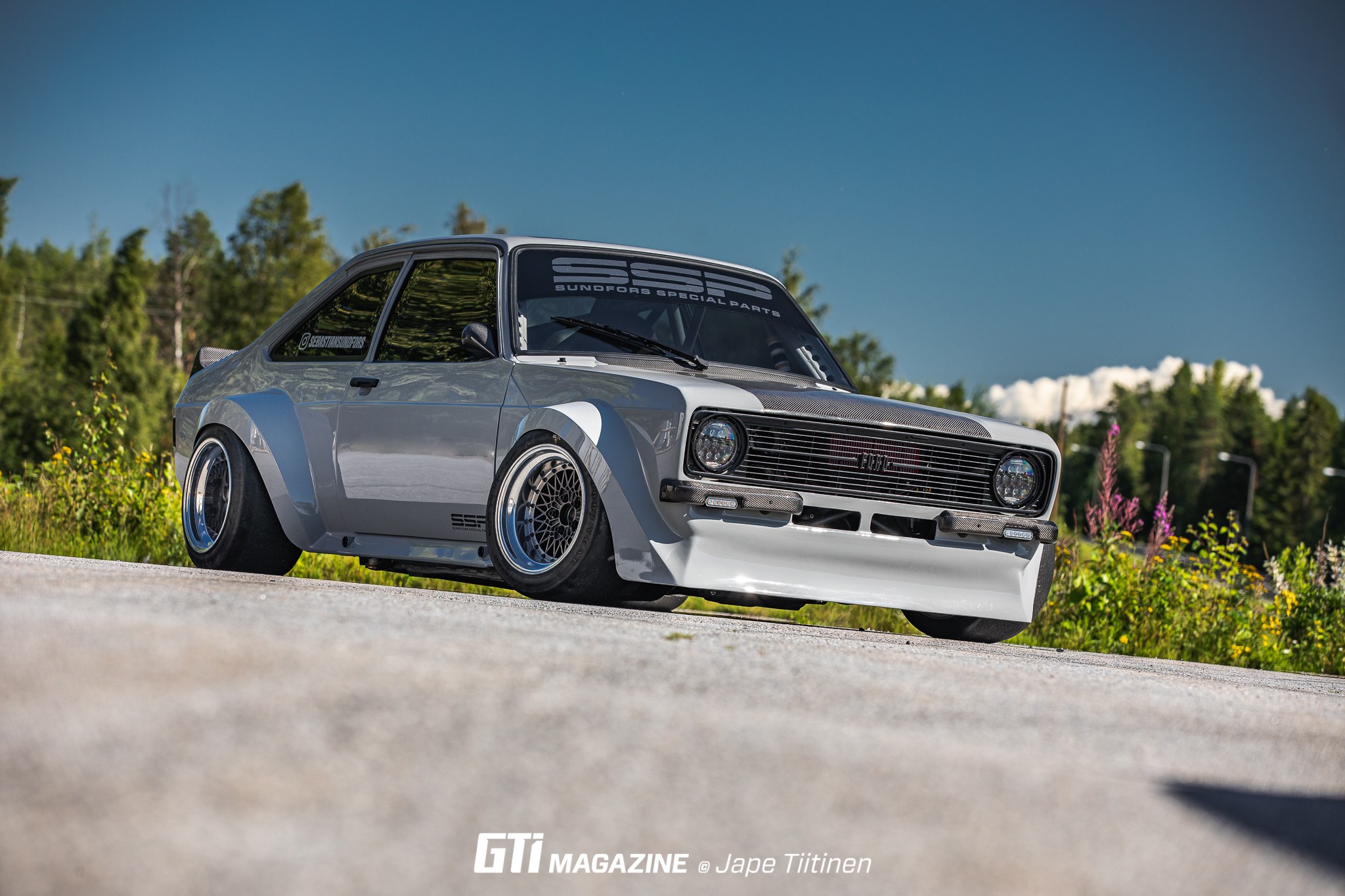 Sebastian comes from a Ford-loving Finnish family, thanks to a father that always had a Ford Escort. Naturally, Sebastian would follow in his old man's footsteps, but by the time he was old enough to drive in the mid-2000s, the MK1 Escorts he had come to fall in love with had grown in value well beyond his price range. Although he yearned for a bubble-arched MK1 RS, he had to settle for a rotten MK2 he saw regularly on his travels in and out of town. Abandoned for more than a decade in the backyard of a house near his home village, he knew it would fit the bill for his goals: a fixer-upper "winter" car he could drive without worries. Make sure you visit mobile car wash dublin website to get informed on all the maintenance services they offer for your vehicles at home.
That's how it always begins though, isn't it? Getting carried away…. it's a tenet of building a car to call your own, and it's something we've all inevitably come face to face with. It always seems to come unknowingly, though. Initially, Sebastian's impression of his Escort was that he had found a great example. The 1.3-liter engine had been swapped out for a 1.6 sport variant, and the car had been repainted in a metallic blue, mainly just in need of a replacement gearbox, which was the culprit for its 10-year stint of sitting, otherwise untouched.
Wanting to improve the car and make it his own, Sebastian began disassembly, with goals of repainting the car in white. As parts came out though, the rust that had buried itself deep within the channels and floor pans of the car began to reveal itself, warranting further and further disassembly. With the project growing in score before him, it was a friend's recent Escort rally car purchase that pushed him over the edge. "That was definitely something I wanted," he says.
The project began rather simply… following rust repair, Sebastian built out a roll cage, added BDA fender flares, and built out a 2-liter OHC engine with SK Racing carburetors. For suspension, he used Tarmac Racing shocks, and the rear end received a four-link Volvo axle swap with a panhard rod. It was nearly a complete rally car by the time it was finished; however, school played a key role in slowing things down near the finish line.
Upon borrowing the 15×11″ and 15×13″ Compomotive CX wheels that are now fitted to the car, plans changed again. A turbo SR20 was purchased, the car was lowered, and goals of a track car began to form. Sebastian cut the body panels off the car once again, this time to build a body kit of his own. This time around though, no holds were barred.
Slowly, the build evolved, yielding what could now be considered a tube chassis escort. During the build, a 2.5-liter S14 pulled from an E30 M3 Evolution surfaced for an incredible price, and made for a phenomenal 4-cylinder heart. When Sebastian decided to test-fit the engine in the chassis of the Escort, it was a perfect fit: a match made in heaven. From that point, Sebastian went all-in. Now, the engine sports a Kohler Racing dry sump system, Schrick cams, upgraded pistons, custom throttle bodies, and Motec electronics, just to name a few. With an output of 300 horsepower, it's a wildly potent little engine.
The suspension choices for the tube chassis Escort are as wild as the engine choice. Up front, Nissan S-chassis components comprise most of the basics, although Sebastian has extensively customized things to yield better geometry for the project at hand. Out back, the Escort sports a custom 6-link setup, largely based on an old Volvo 740. It's been fully integrated into the the roll cage and chassis, of course. 2-way Adjustable competition coilovers, adjustable swap bars, and more help to flesh out the suspension setup and make for one absolutely absurd Escort.
Little of the original bodywork of the Escort remains. Sebastian jokes that the A, B, and C pillars are stock, as is the front of the floor pan. The rest, however, is not. Custom carbon fiber panels were built for the car, including a custom carbon roof, quarter panels, the trunk, and then entire front clip. The doors themselves are fiberglass.
It's impossible to touch upon everything that comprises the little Escort, meaning at times, we must rely on the old adage: pictures are worth a thousand words. Sebastian Sundfor's MK2 Escort certainly doesn't help the Escort Envy that introduced this article. If anything, it's only made it worse, at least for this writer. I can, however, rest assured knowing Sebastian has set the bar for what a home-build Escort can truly be. Here's to that, and to Sebastian Sundfor.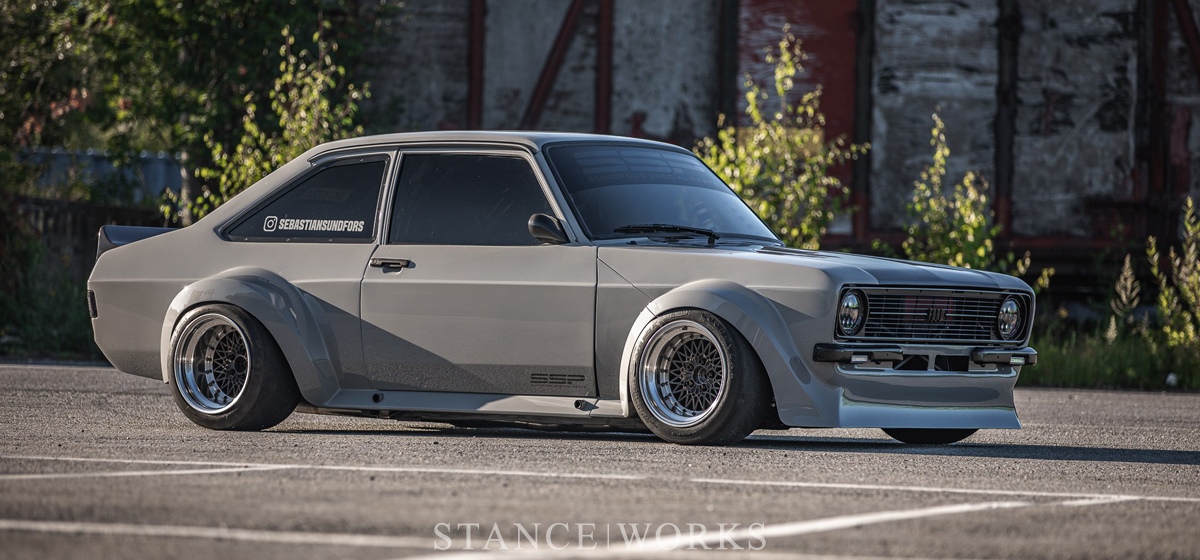 A special thanks to Jape Tiitinen and GTI Magazine for providing the photos. Be sure to check out more of their work!