It's often said that wheels can make or break a car. As one of the most important stylistic choices when it comes to a build, wheels are an aesthetic decision that can completely define an overall direction. Wheels can tell a story, illustrate a style, or provide balance. A choice of wheel, more often than not, is the most defining part of how a car looks, and how the owner wants their pride and joy to be perceived… after all, wheels are almost always the first thing we notice about a car, and first impressions matter.  They mean it when they say wheels can make a car, but on the other hand, they rarely ever mean it literally. In Kevin Siemering's case, it's his set of Fikse FM10s that yielded the project as a whole.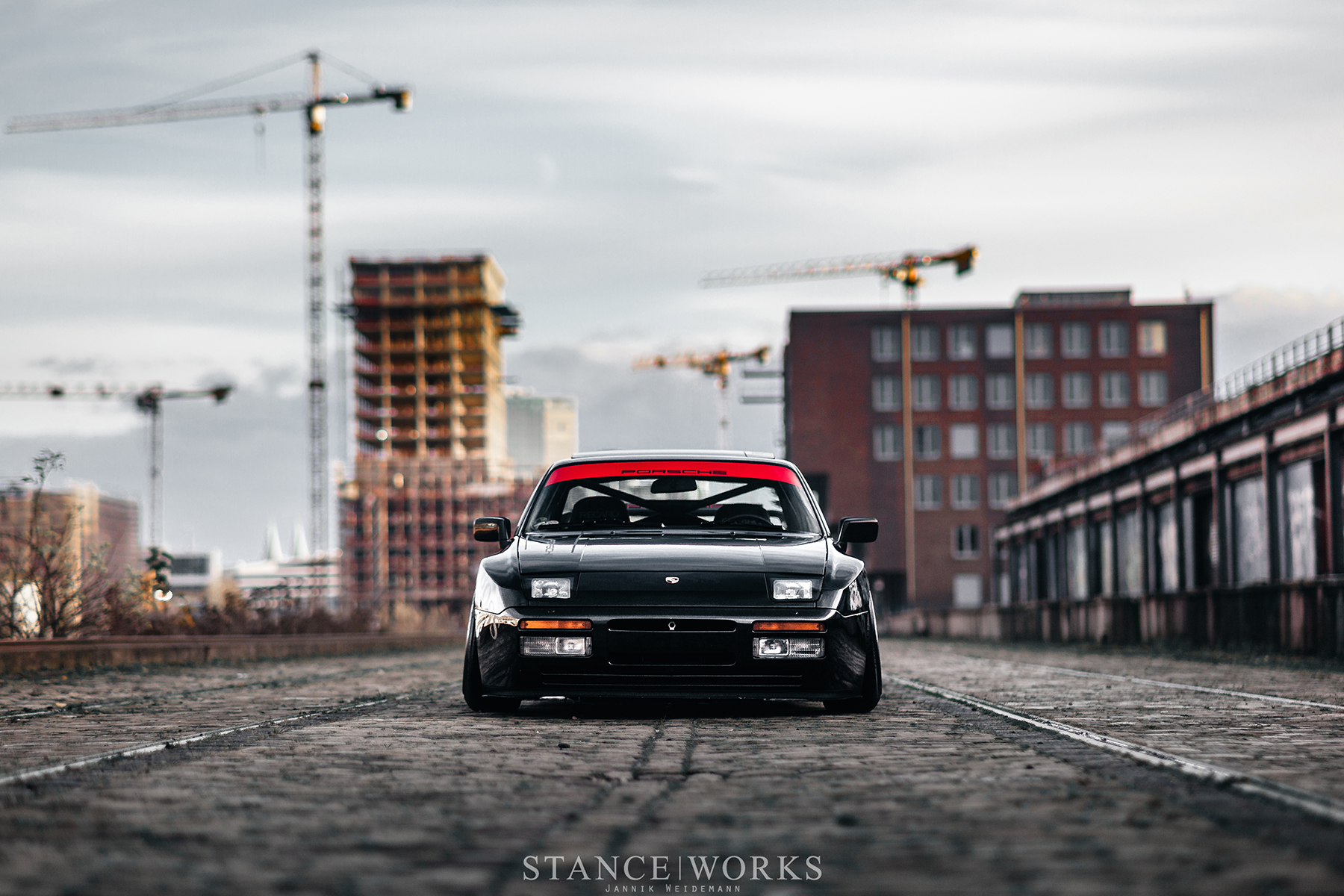 Kevin has long been a fan of the 944's bodylines. So much so, in fact, that this isn't his first example. A stint spent with a 2.5-liter 8-valve car cemented his fondness for the model, but its anemic powerband left a bit to be desired. Earlier this year, though, a 3.0-liter 16-valve S2 variant surfaced on the famed eBay Kleinanzeigen — a German eBay variant of Craigslist, so to speak — for just the right price. After haggling back and forth, Kevin bought the car, this time with just enough pep beneath the go-pedal, thanks to 40 or so more horsepower from the factory.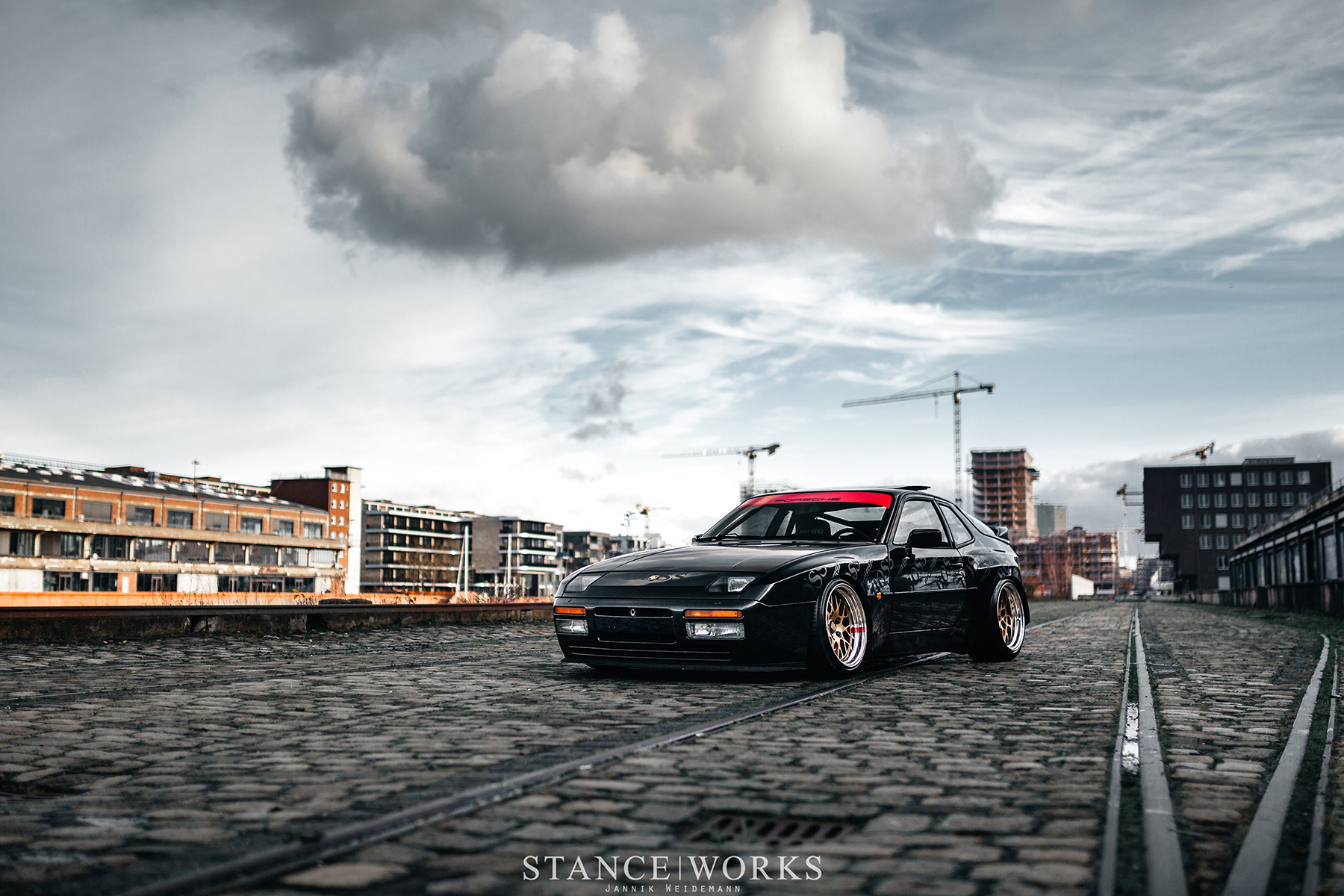 The transformation began modestly, of course: torsion bars were swapped out in favor of double-adjustable coilovers, and then Kevin made his own custom front lip of sorts, in an effort to help bring the nose of the car closer to planet Earth. He updated the car's lighting for a bit of a refresh, and then turned his attention to a set of wheels: Fikse FM10s to be exact.
Kevin knew he wanted 17s, and when a cheap set of FM10s surfaced, he wasted no time getting in contact with the seller. The seller confirmed what was needed: 17″ diameter, and a usable offset of +49 for the 11″ rear wheels… Easy, doable, and perfect.
At least, that was the idea. The seller was not informed though, and the wheels, as it turns out, were pulled from a 911 RSR. The FM10s sported wildly deep offsets: 9″ wide in the front with +29mm, and 11″ wide in the rear, wit -9mm. Oops. While most would chalk this up to an unfortunately hard lesson learned, Kevin changed gears and put the pedal to the floor: he went full-on widebody in order to fit the wheels to the car.
Kevin turned to the 924 Carrera GT for an answer, thanks to its much larger fenders and body lines. Unveiled in the late '70s as Group 4 homologation special, the Carrera GT is a racing variant of the 944's predecessor. While the body lines of the two cars are remarkably similar, they are not quite the same, yielding some real legwork to get a Carrera GT body kit to fit Kevin's car.
Once installed though, the car was transformed: the 944 now sports wide hips and an incredible set of rollers, both of which pair together wonderfully to poise the 944 at hand as a borderline race car of sorts. It's an aesthetic Kevin has leaned into, with the ghosted Boss livery, which was also famously run on the original 924 Carrera GTR. The car transitions from subtle to not-so, depending on the light, giving this 944 a split personality. A 968 Turbo S adjustable rear wing and a 944 Turbo rear diffuser add even more aggression to the overall look of the car, helping it to sport its newfound wide hips with a bit more confidence.
Inside the car, the split personality continues: a Luisi wood steering wheel and leather Recaros keep a level of comfort most of us expect to find inside of a 944, but the welded in roll bar keeps the balance, reminding us of the racing roots that Kevin is paying homage to.
Under the hood, Kevin has kept things simple and legal, preferring to drive a "slow car fast" versus the other way around. The molded bodywork helps to keep the car looking like a machine built for the street, too, which Kevin's undeniably is. Having fallen in love with the 944's driving dynamics years ago, it's a machine he can't help but love to get behind the wheel of. Now, with plenty of rubber under each corner and a suspension to match, it's the kind of car even we would love to spend a weekend in. All that remains on his list of to-dos is a final around of paint and wrap work, to transform the car into its final form. We'll be watching from afar, Kevin.