Classic car prices are exploding… and us classic '80s and '90s BMW fans are watching in terror as cars that were once disposable and cheap have reached new heights in value. The icons of the era, like the E30 M3, are well more than double their cost when new, while poorly kept examples headed for the junkyard have moved from a "few hundred" dollars to a "few thousand." As these classics age, it makes finding worthwhile examples exceedingly tough, too. Rust, maintenance costs, and age itself have removed plenty from the streets, expelling them to the giant junkyard in the sky and further reducing the number of examples left to be saved. Supply and demand… it's a son of a b!#$h.
While the E34 has yet to hit its true prime with respect to values, I firmly believe its only a matter of time. The lines, penned by Ercole Spada under the guidance of BMW head of design Claus Luthe, represent an important transition period in BMW's design language from past to future, and in my ways, I think it's safe to say the E34 is quintessentially BMW at heart: it's a GT sedan body with both simplicity and elegance at its core. It looks like a classic BMW, and it always will. The M5 has earned its place in the garages of collectors, and the 540i six-speed examples are not far behind. The platform as a whole, though, will inevitably have its day, and when a car is kept as nicely as Conor Auld's, there's no doubt any eyes it catches are sure to return for a second look.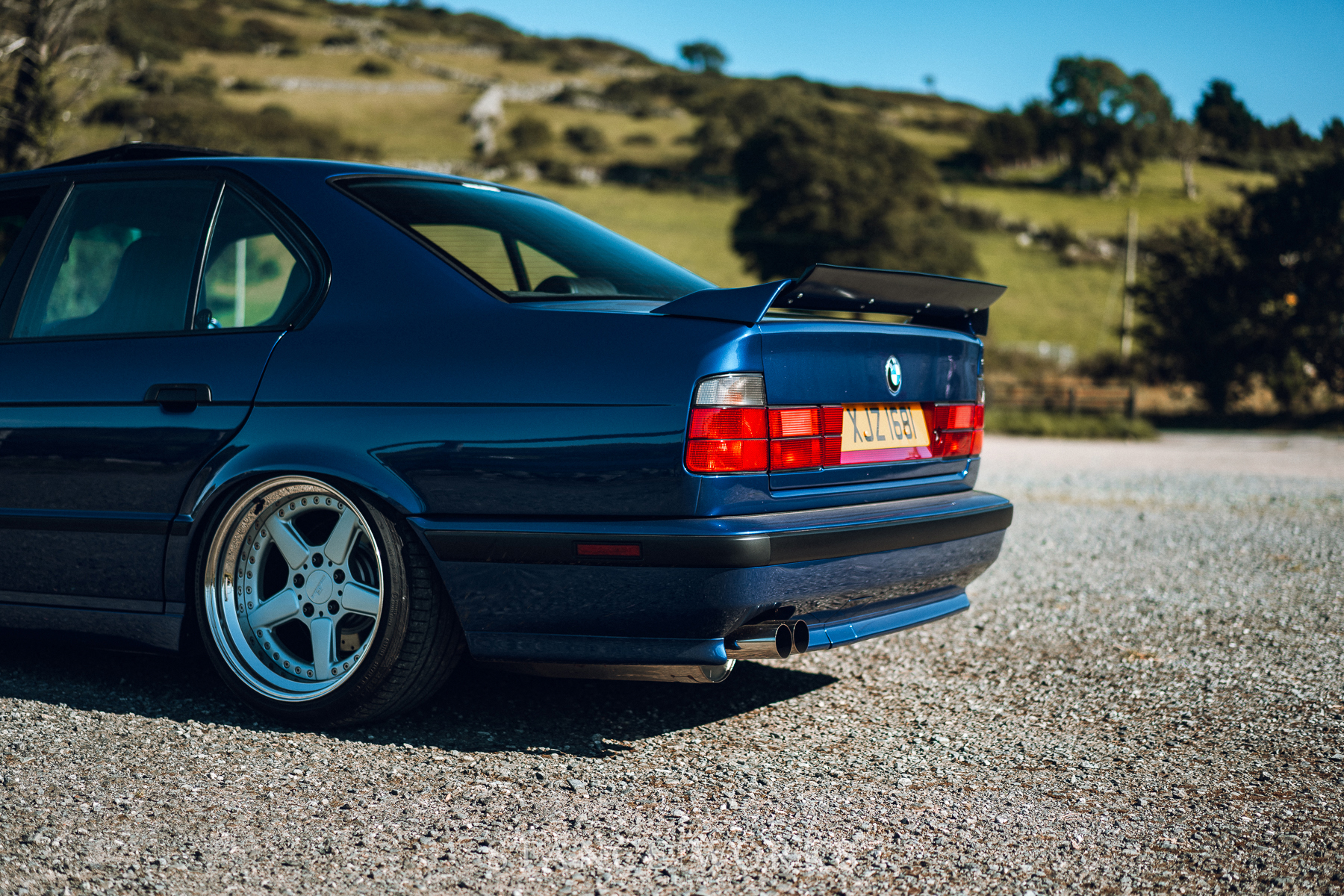 The story of Conor's car begins with Avus Blue: one of the era's most revered BMW hues, usually found for the E36 M3 and E34 M5 platform. Its deep, dark, metallic tone has earned a place in the ranks amongst BMW's best of the generation, alongside Dakar Yellow, Techno Violet, and depending on who you ask, Evergreen, to name a few. As the original color of Conor's 525i, it's a bit of a rare find, but unquestionably makes for a visually thrilling car.
The 525i's M50 6-cylinder engine remains under the hood, although it finds itself tucked in an engine bay that's received the entire shaved bay treatment, a rarity when it comes to the BMW world. Not one to shy away from effort for a job well done, Conor pulled the engine for the bay project, and with the help of some friends, transformed the engine bay into a show piece worthy of both attention and respect. That's not all she wrote, though: with the ancillaries removed, there's considerable room for a top-mount turbo setup, currently in the works for the next stage of the car thanks to Covid.
Inside the car, Conor has kept things simple, if not classic in nature. Custom buckets have been trimmed in black leather with houndstooth centers, both of which straddle a leather-wrapped console and dashboard. A coolerworx shifter sits proud of the black Alcantara shift surround, bringing a sporty feel to things. Last but not least, a matching Nardi wheel looks both OEM and aftermarket: hidden in plain sight.
Clearly, cleanliness is a tenet of the build, and the exterior is no different: Conor aims for subtle touches to speak volumes. From the beltline down, the car sports a lip kit which hug the ground nicely. Smoked Hella headlamps, corners, and fogs, along with a shadowlined grille, help to sleeken up the nose of the car a bit. Shadowlined trim removes any remaining brightwork, leaving the eyes to focus on the real star of the show: a set of custom-built AC Schnitzer Type IIs, measuring out to 18×9.75″ in the front and 18×10.75″ in the rear. The centers have been finished in BMW Steel Grey and are surrounded by beautifully polished lips which hug the Avus blue arches with no room to spare. To accomplish this, Conor turned to Air Lift Performance for suspension. Utilizing their air struts along with V2 management, Conor has complete control of the system and adjustment. The system allows Conor to drive at a manageable height while dropping the car down to the tarmac at the numerous shows he attends (and wins) regularly.
Conor has focused on cleanliness, choosing to embrace the lines that have helped to make the E34 what it is today, in contrast to modifying them extensively. His E34 looks as an E34 should, but leaves no room for interpretation about how he thinks it can be improved. As a complete package, Conor's E34 will no doubt leave both classic BMW fans and laymen impressed alike. While E34s may not quite be in their prime, Conor is helping them along… they're well on their way.