Volkswagen: "the people's car," it says, if you were to translate the name to English. What began as both a name and a mantra 83 years ago still rings true today… It's undeniable that somehow, it's the Volkswagen community that seems the tightest, and the most group-oriented, inexplicably bonded together by machines that began life as nothing more than economic forms of transportation. Volkswagen fanatics love these cars, and in a sense, each other too, organizing what are without question the best automotive events throughout the world. The people's' car, they call it, is only fitting: a bond that holds what may be millions together in what ultimately becomes a lifestyle. Once a VW fan, always a VW fan, it seems, and its VW fans that bring us cars like Mike Esposito's Mk2 VR Turbo GTi.
Bringing this car to its current state has been a long road for Mike, beginning all the way back in 2012, more than 8 years ago. Enamored with the concept of building his ideal MK2, he purchased a Montana Green VR6-swapped example with a slew of issues… Someone's trash project is someone else's treasure, or something to that effect. As it turns out, though, most of what was present may have been trash to Mr. Esposito too, as 8 years later, little of what he purchased remains, and in its place is an incredible amalgam of parts that makes this MK2 stand out from its peers.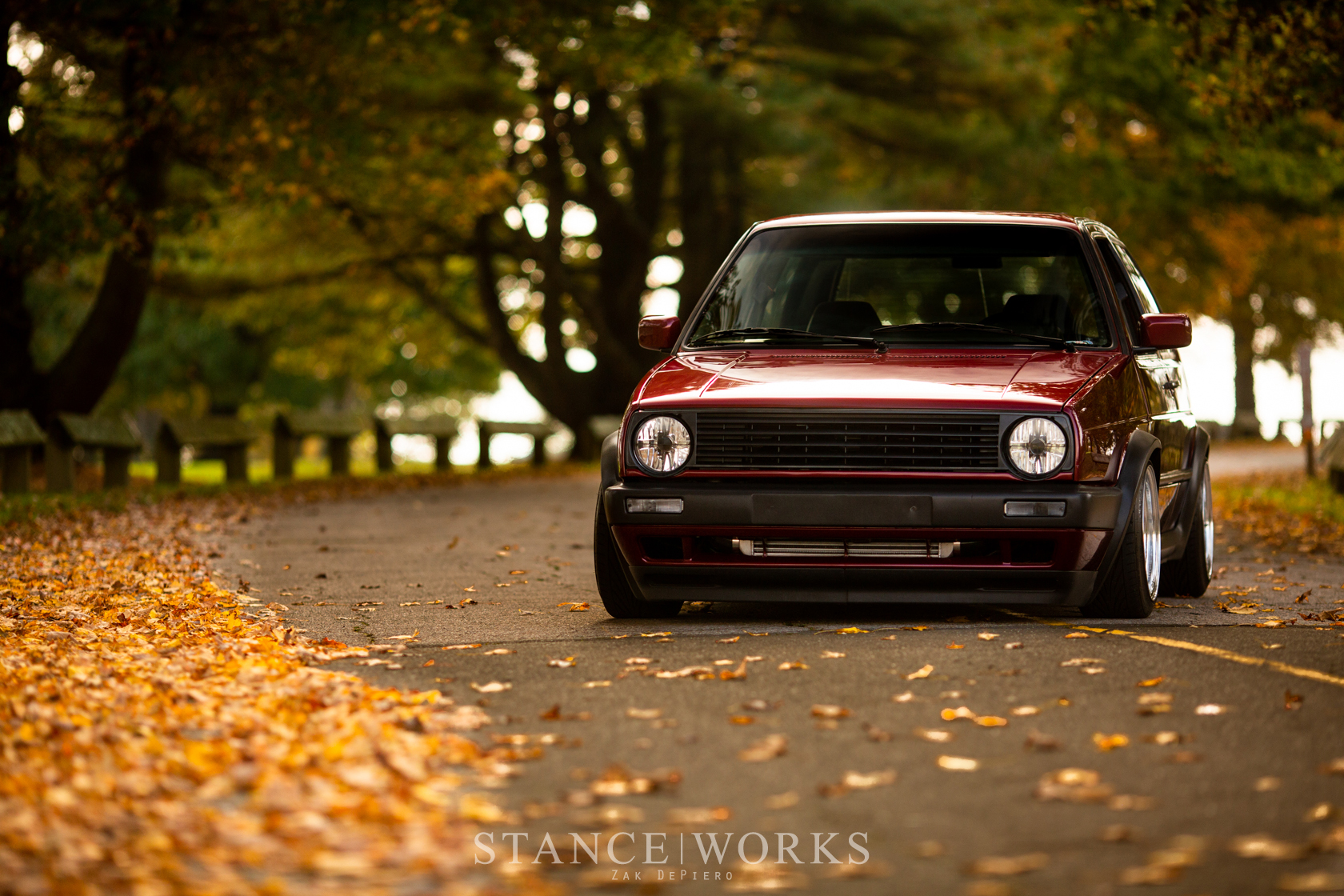 Its hard to ignore what stands at the heart of the build: a VR6 that has been overhauled, and converted to OB2 for starters. A rebuilt head sits atop the uniquely laid-out engine, paired with ARP studs and a 9:1 head spacer for an improved, more turbo-friendly compression ratio. A Garrett 60 trim turbo has been mated to a CTS manifold and paired with a CTS downpipe and TIAL MVS 38mm wastegate to boost the performance of the VR6 significantly. Bosch green-top 440 injectors and a United Motorsports 440 tune allow the car produce the power, and a huge range of supporting mods and a completely modified cooling system keep everything in check. Together, it's a setup that works in unison to get the little MK2 hatch moving, and quickly at that. Power is sent to the front wheels through a VR6 O2A transmission equipped with a lightweight flywheel and a limited slip differential.
Power delivery brings us to the wheel and tire package: OEM BBS RMs spec'd in 15×8 with 2″ lips on all four corners have the car looking phenomenal, without relying on odd taste or complexity for attention. Toyo T1Rs in 195/45/15 wrap the wheels and deliver the horsepower to the pavement, while JOM coilovers paired with H&R front camber bolts give the car it's stance and stature. Last but not least, G60 calipers and drilled rotors lurk behind the RM's tight mesh weave to provide the necessary stopping power.
Wheels fit the car thanks to a NOS set of G60 flares, which would be an external focal point if it weren't for the full respray in Porsche Arena Red. Shaved side markers and a shaved antenna help to "sleeken" up the exterior without taking away from the factory lines of the car.
That brings us to the interior of the build, where Mike has gone to great lengths to preserve an OEM aesthetic while making it his own. OEM Recaros sit front and center, and have been paired with a Momo Mod 7 for driver feedback. Subtleties like a relocated radio, an OBD2 VR6 cluster, a custom auxiliary gauge setup, and a rear seat delete add to the overall look and feel.
While Mike didn't lay the paint himself, it's a build he can otherwise take complete credit for, the most important aspect of which is bringing this MK2 back to life. Sure, there's no shortage, but as these machines continue to age, it's up to Volkswagen fanatics… the people, if you will, to keep the love alive. Guys like Mike Esposito.