It's admittedly an abstract concept here on StanceWorks: celebrating an almost completely stock car, rather than a counterpart built to be something wholly individual; however, it's not quite what you'd expect. Cameron Smith's "preservation piece" isn't the story of an untouched example, nor is it a statement about the capabilities of the restoration process. Instead, it's somewhere in between: in a world that continues to snatch up every remaining RX-7, and more often than not modifies it to within a vague realm of recognizability, Cameron aims to honor and commemorate the RX-7's intrinsic and inherent uniqueness that seemingly can't be found anywhere else.
It's clear why the RX-7 lineup has a cult following. Although the rotary engine and platform ultimately failed to reach global success, it has left us with something truly unforgettable, if not slightly counter-culture, too. As a driver's car, the RX-7 brings more than just a unique driveline to the table, too — it offers a complete experience that, while not necessarily extraordinary in contrast to other options, simply can't be replicated anywhere else. Understandably, then, Cameron Smith was on the hunt for one to call his own in 2015.
His search finally concluded with the example seen here: almost stock down to the small details, save for a few obvious tickets like wheels, exhaust, and an aftermarket radio. It wasn't a shining example, though: it was undrivable thanks to a broken differential mount and arm on the rear cradle, and icing the cake was a series of dent and dings along the exterior with broken interior bits throughout the inside.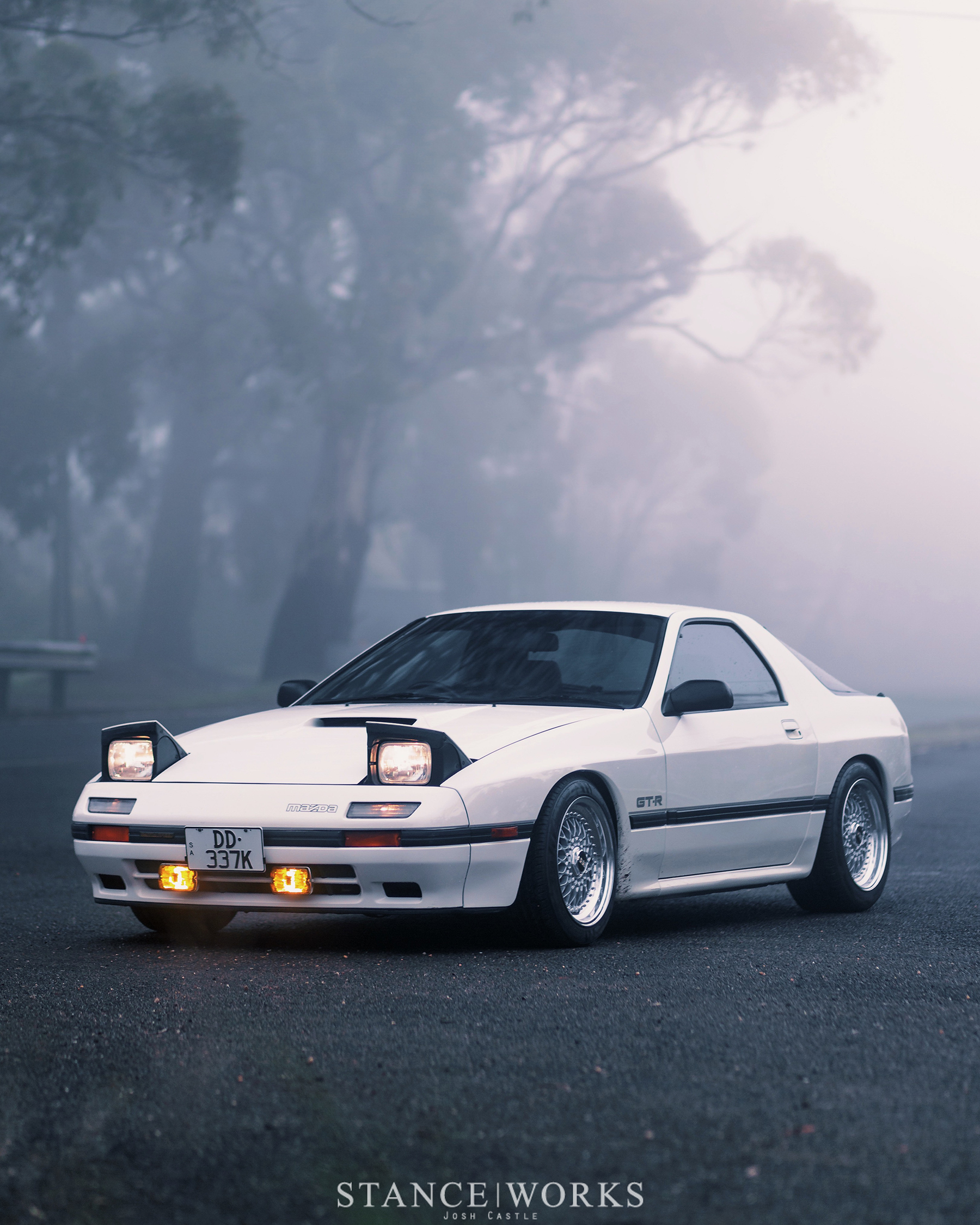 For Cameron, it was proving to be an ideal candidate; however, in a painful twist of fate, partway through showing the car, the owner decided he was no longer interested in selling it. Seeing his plans go up in smoke, Cameron put his best foot forward, and after some serious haggling, the owner changed his mind once more. The car was Camerons, for just $4,000AUD (just shy of $3,000USD). Straight away, Cameron sourced a truck and trailer, and hauled the car home.
By the following weekend, Cameron had already sourced a replacement rear cradle, had it cleaned and painted, and managed to fit it to the car, putting it back on the road with nearly no downtime. With the car roadworthy following a full service, he turned his focus to the minute details and set course towards building the nicest RX-7 — a true, authentic RX-7 — he could muster.
With most of the interior plastics either broken or missing, Cameron began sourcing replacements, with most being new-old stock pieces, thanks to his buddy Todd, who miraculously managed to source a considerable number of the components needed for the build. Cameron pulled the aftermarket CD player, and in its place went an original Clarion tape deck with a factory-optioned equalizer, which he had fully rebuilt before installation. He found an original set of Savanna floor mats, a factory-option Momo steering wheel from Japan, and sourced a replacement rear parcel shelf and speaker covers, for the tail end of the interior. Last, but not least, was reupholstering the torn vinyl seats. Each successive modification sought to bring the car closer and closer to factory form.
On the car's exterior, Cameron enlisted the help of Glynde Garage, who fixed the car's series of dents and dings, as well as some bubbling rust around the rear hatch seal. Following some minor paintwork, the rear end was re-sealed with, you guessed it, NOS gaskets. At the front of the car, that same theme continues: Cameron removed the front end and replaced every aging component with NOS counterparts. He found a set of NOS factory-optioned Cibi fog lights stateside, still new in the box with covers, and upon arrival, installed them to the factory fog light switch. At the car's tail end, Cameron removed the S5 tail lights and re-fitted a set of correct S4 units.
The car's original decals had weathered and flaked away, so Cameron turned to Infinity Signs to help recreate the original graphics, which he insists was executed to perfection. With that, Cameron pivoted his attention to two of his only custom touches, the first being a set of custom BC Adjustable coilovers for dialing the ride and height of the car. The more prominent, of course, is the set of 16″ BBS RSs, which were found sitting for three years and much worse for wear. JL Design & Fab completely rebuilt the wheels out to 8.5″ fronts and 9.5″ rears, which fill the arches for a perfect OEM+ look. The weave design of the wheels themselves plays perfectly off of the original options for the RX-7, giving the car a modified look without taking away from the great lengths Cameron has gone to to preserve the car itself.
Ultimately, Cameron's '87 RX-7 is about as close to perfect as one can expect to come, and best of all, despite first impressions, it's something he can claim is something of his own. From the work to the idea itself, Cameron's decision to preserve and celebrate a unique piece of automotive culture is one we can likely all appreciate, and one we'll be undoubtedly better off for, given the chance to see it in person for ourselves.