Thorough. It's an adjective I believe most folks imagine describes their build, and in ways, it often does. From wheels, tires, suspension, and brakes, to engines, drivelines, interiors, and more, it's not uncommon to find a car that has "checked the boxes" and seemingly leaves no bolt left unturned; more often than not, it's how to describe the cars on this very site. On the other hand, however, it's only occasionally that one comes across a car that truly feels thorough: built with complete regard to every detail, top to bottom, inside and out. Jason Grace's 1995 E34 540i exudes a sense of completion and execution that rivals BMW's own, and with a sense of cleanliness that is, without a doubt, unmatched as one of the single most well-kept cars in StanceWorks history.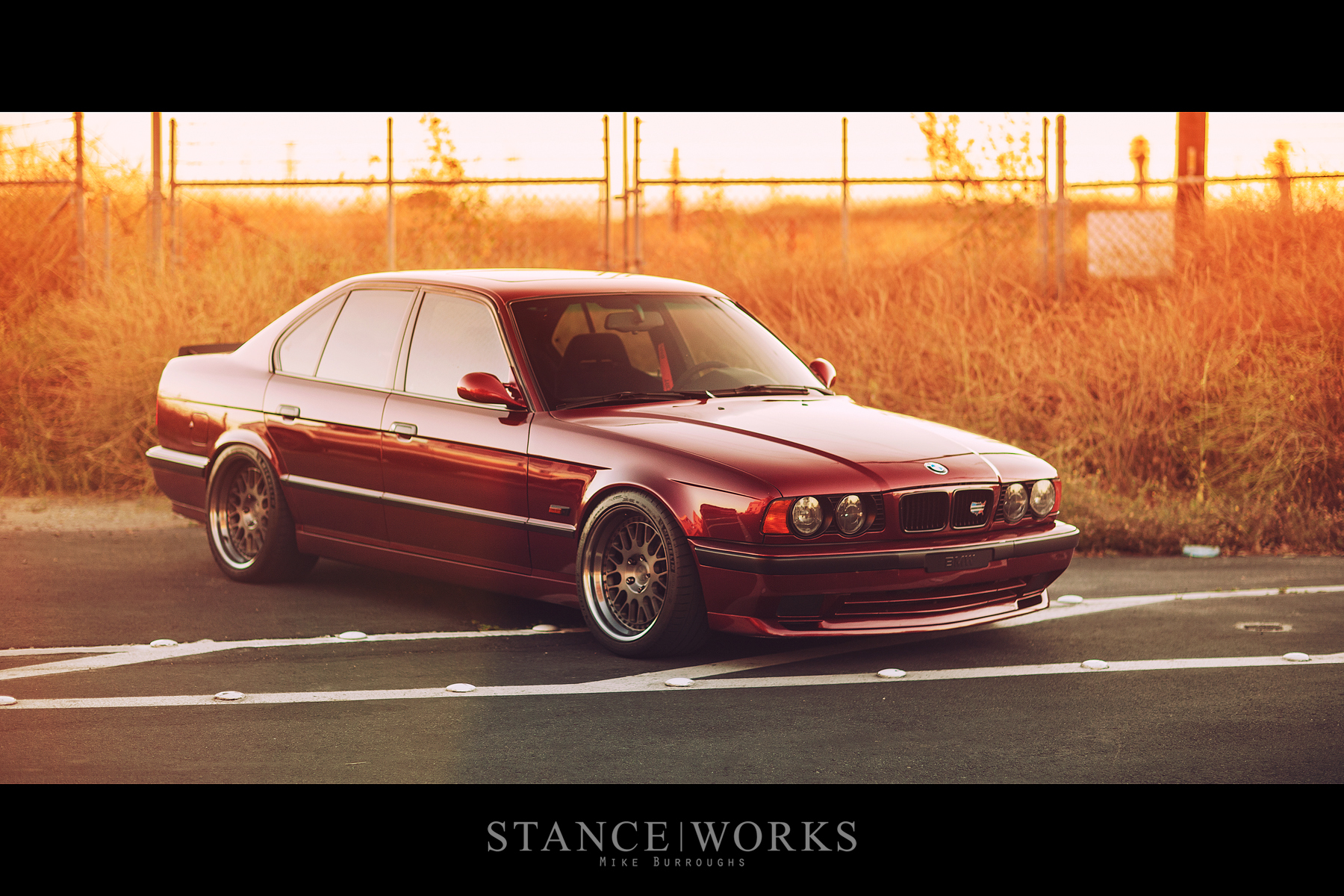 Upon first impression, Jason's 540i fits the E34 bill to a T. With roots as a family sedan built by a marque that specializes in grand tourers, the E34, in many ways, is the very identity of a '90s BMW, and Jason's example wears that crown proudly. While the Calypso Red paint and Rotiform LVS wheels command a bit of attention, the car hardly begs for it, instead allowing its relatively understated nature to be emboldened upon a second glance. It's the fine details — the ones that make the car whole — that aren't seen until at least a third look, and it's the complete package that'll have you back for a fourth.
The E34 at hand isn't Jason's first foray into the world of E34s: his BMW roots began with a 1994 525i, which eventually came to a crossroads with regard to performance. In favor of a V8 over turbocharging the M50 inline-six, Jason sold the car and sought out the famed "540i/6," eventually landing on a Calypso example in Sacramento, sporting an astounding 286,000 miles.
It's hard to imagine, with such mileage, that the car has lived anything but a hard life, and to a degree, there's no doubt it has. Restoring the car to such an incredible level of cleanliness has been no small task; however, the juice has clearly been worth the squeeze. Seemingly every time I spend more than a moment with Jason and his car, it's inevitable that someone asks who did the paintwork on it, and it's with great pride that Jason replies: "it's all original." Countless hours of paint correction, detail work, and ceramic coating have left the E34 looking better than the day it left the showroom floor, save for the few rock chips and beauty marks the car has earned over the more than quarter million miles of use.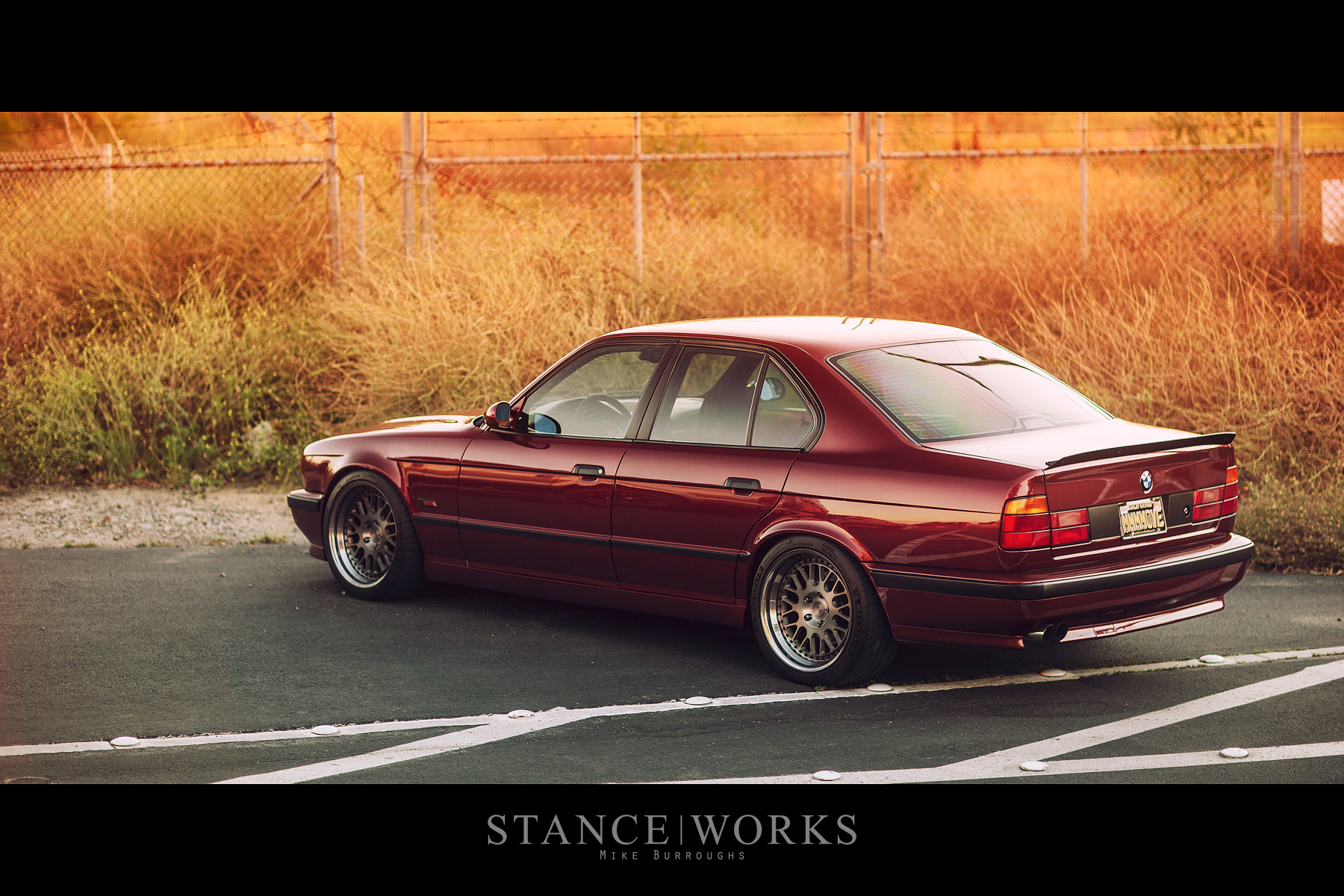 Inside, the car was originally optioned with a tan interior: an undoubtedly pretty combination when paired with the dark metallic red paint. Although Jason wanted to retain factory styling cues, he was eager for something a bit different than stock, so he turned to AP Upholstery for a heap of custom interior work, which uses a set of Recaro SRD seats trimmed in BMW M8 prototype seat fabric from ASC Fabrics for an "M-Technic" type aesthetic throughout the car. A rare "two seat" rear seat, complete with the factory "breadbox" has been installed in the back, trimmed in fabric that matches the front. Black Alcantara lines the interior elsewhere, including the door cards, pillars, and headliner, which completes an overall look that could have been offered from the factory.
Thorough, though. That's the key word. Details like factory Graphite Birds-Eye Maple trim, an M5 shift boot, and a 370-mm M-Tech II steering wheel bring the interior full-circle, and offer just a taste of how deep the details go. Vibrant contrast is offered by red BMW Motorsport seatbelts, but what really commands attention is the Haltech RacePak digital dash: it's the only part that begins to give way to what hides under the hood of the 540i.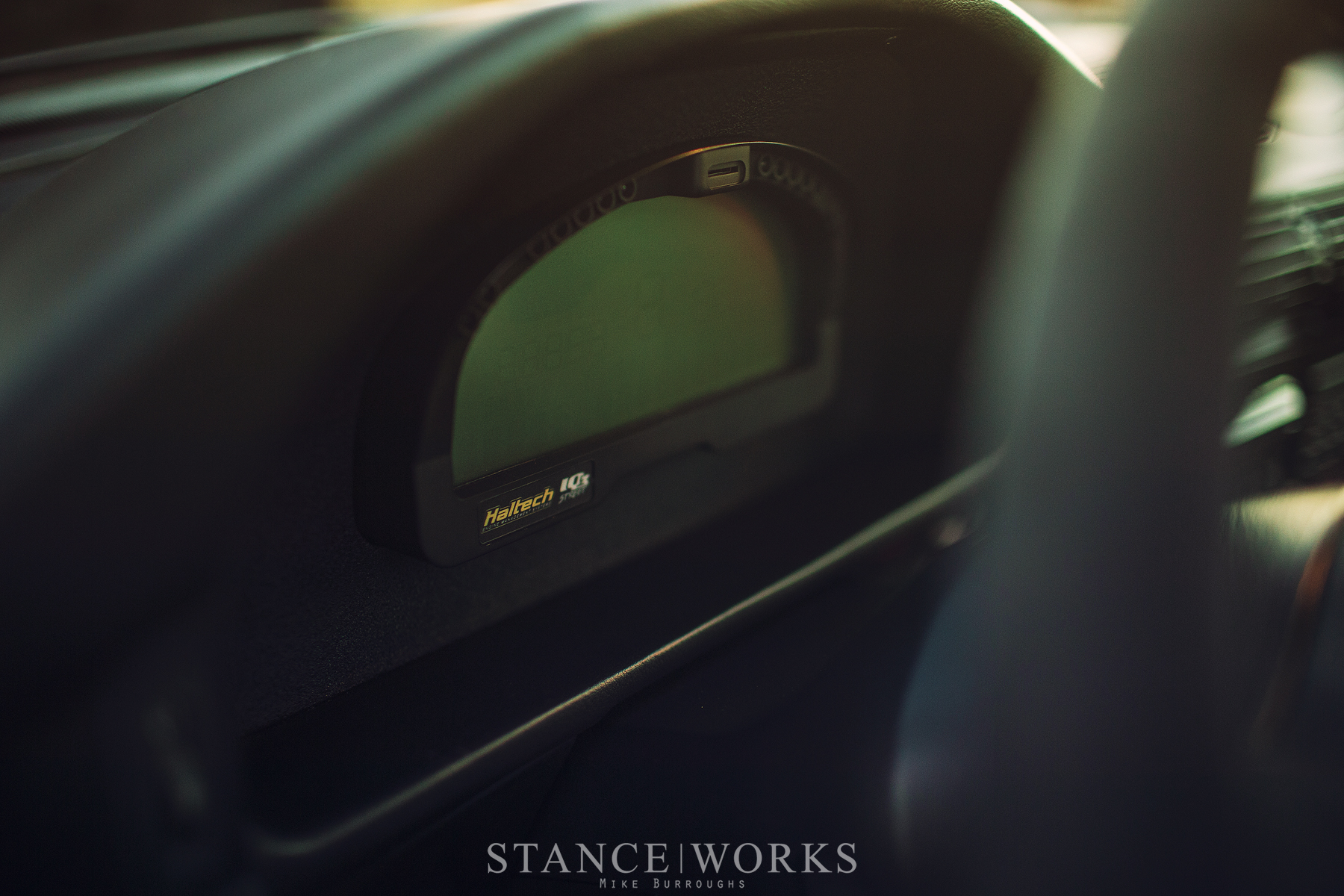 Initially, Jason assumed the "oomph" of the 540's 4-liter M60 would be more than enough, but as many readers know, there's something inherently intoxicating about torque. Following the trail blazed by a brave few before him, Jason sourced an M62 short block and paired it with M60 heads and timing components. A balanced and blueprinted rotating assembly, headwork, Dinan cams, lightweight lifters, and more, make for a fast-revving high-torque 4.4-liter that produces just shy of 350 horsepower at the rear wheels. On the intake side, an early-model velocity stack intake manifold paired with a Castro Motorsport 4″ Intake and a ported throttle body draw air in. A Haltech 2500 Elite ECU controls ignition, and the leftovers are pumped out through stock exhaust manifolds, through an X pipe, factory resonators, and a muffler delete. Power is routed out through a Spec Stage 3+ clutch and a lightweight flywheel, and through the factory Getrag 6-speed to the rear wheels.
For wheels, Jason turned to the team at Rotiform for something custom, which yielded a set of 18×9 and 18×10 LVSs, wrapped in 255 and 275 Michelin PS4Ss, respectively. Ground Control coilovers stand as the basis for the suspension system, with Racing Dynamics swaybars, AKG bump-steer correction spacers, and a custom-modified E31 X-brace all adding to the car's dynamic control. A set of E31 Brembo front brakes with Stoptech rotors give the car some extra stopping power. The power steering system was completely overhauled, too, with a complete -AN conversion, a huge CSF cooler, and a triple-baffled reservoir. A Red46 sump plate offers protection underneath, given that Jason does still drive the car.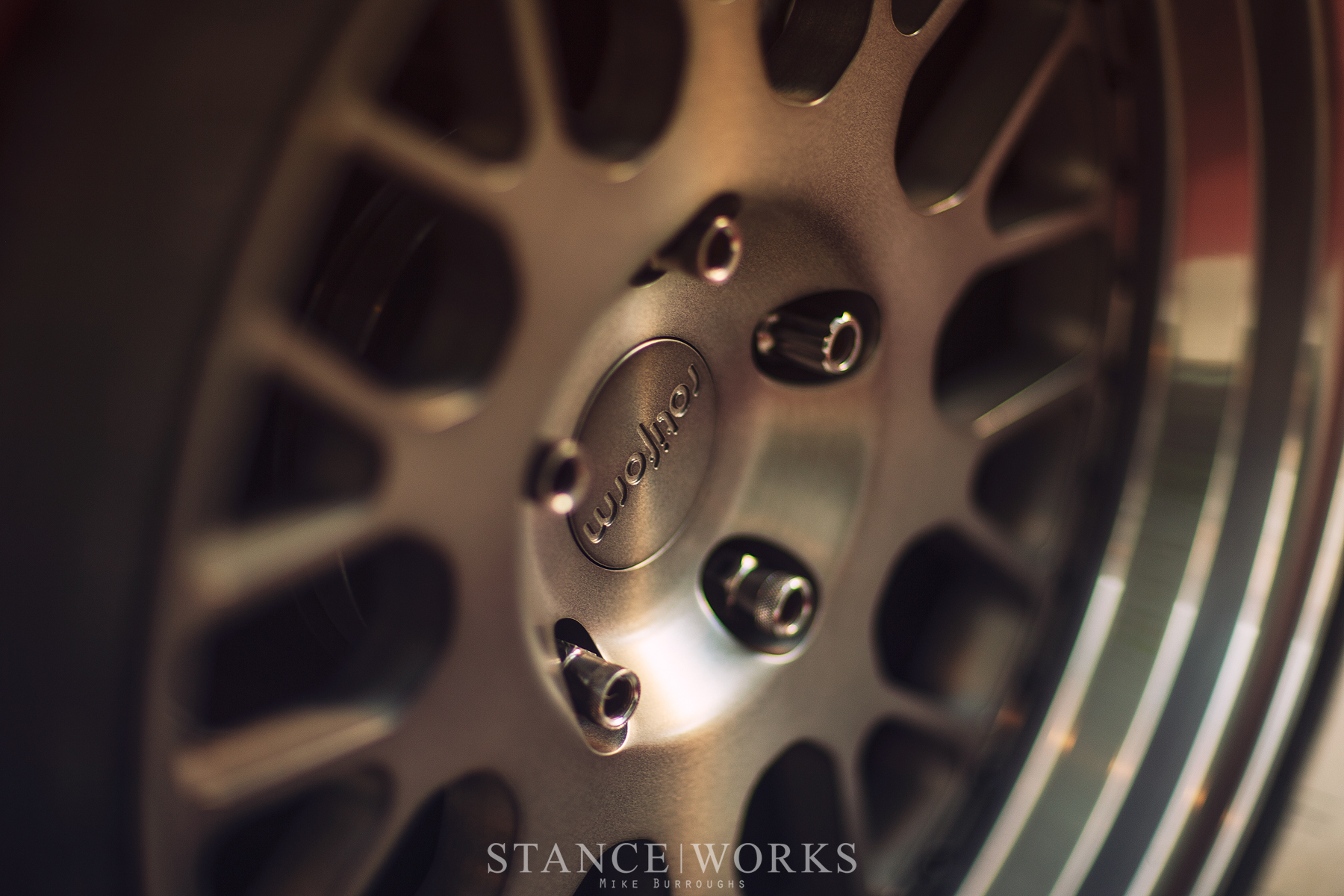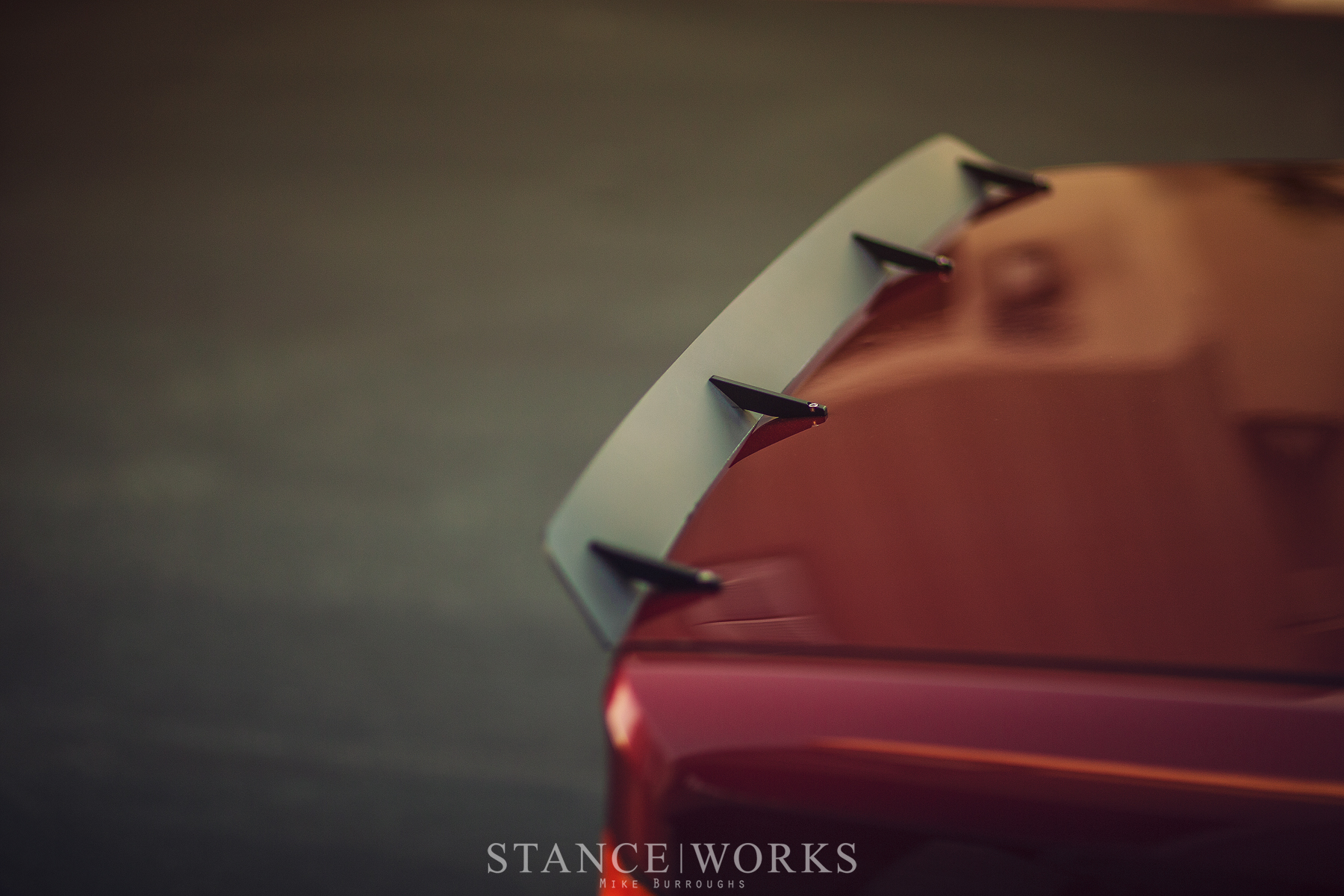 On the outside of the car, the changes have been reserved, with the most aggressive modification coming in the form of a rare one-of-three BMSpec rear spoiler. M-Sport front and rear bumpers were sourced to give the car some added aggression, with sport mirrors and am M5 rear filler plate finishing out the body changes. Hella smoked headlights with retrofitted Morimoto bi-xenon mini D2s projectors update the nose of the car, while a foglight delete keeps things sleek and simple.
And still, it's a list that hardly scratches the pristine surface of such a car. From the small bits and pieces to the grand components that comprise it, Jason Grace's E34 truly leaves no bolt left unturned. To that end, though, he's far from finished. That early idea of a turbocharged E34 has yet to wane: once again, it's in the works, with huge power figures standing as the goal. If he's not careful, Jason may just put together one of the most respected E34s of all time… that is, if he hasn't already.