"Dude, it's fine," he'll say with a shit-eating grin, every single time. There's something about the way Geoff Tumang seems to conduct his affairs with the world around him, seemingly lacking an ability to not flirt with the limit, wherever that limit may be. From track days to off roading, and from nights spent wrenching to nights out drinking, Geoff's approach to anything and everything is no-holds-barred, consequences be damned. Fun is paramount, always and forever, and any challenge, or every challenge, is met with a challenge in return. "What would Geoff do" is something I believe all of his peers have asked themselves at least once or twice, and there's something to be said for that. It's not only what makes Geoff who he is: it is, by every measure, something to be celebrated.
It was twelve years ago (yikes) that I first found myself in a car with Geoff Tumang behind the wheel. I had flown to Las Vegas to photograph M Fest 2008 for Performance BMW Magazine, and after a couple of years of back and forth on the Bimmerforums boards, it offered an opportunity to meet up during the event. The event itself peaked with a track day in the desert, and with free rein of the tarmac, it was my first glimpse into the way Geoff works. "Dude, it's fine," he said, ignoring whatever rules for passengers that may have been in place. "I'm an instructor. I'm allowed," he said with grinning confidence, although whether it was to convince us, or himself is still up for debate. Five of us climbed into his Technoviolet E36 sedan, three wide in the back seat with Geoff behind the wheel. Within moments, the E36 was at full lock, sliding sideways at, you guessed it, the limit, boiling the tires as he made laps. It was a first impression that's likely never to be topped, and in the decade that has followed, it's been a common theme, where regard for rules and responsibilities give way to speed, and more importantly, fun.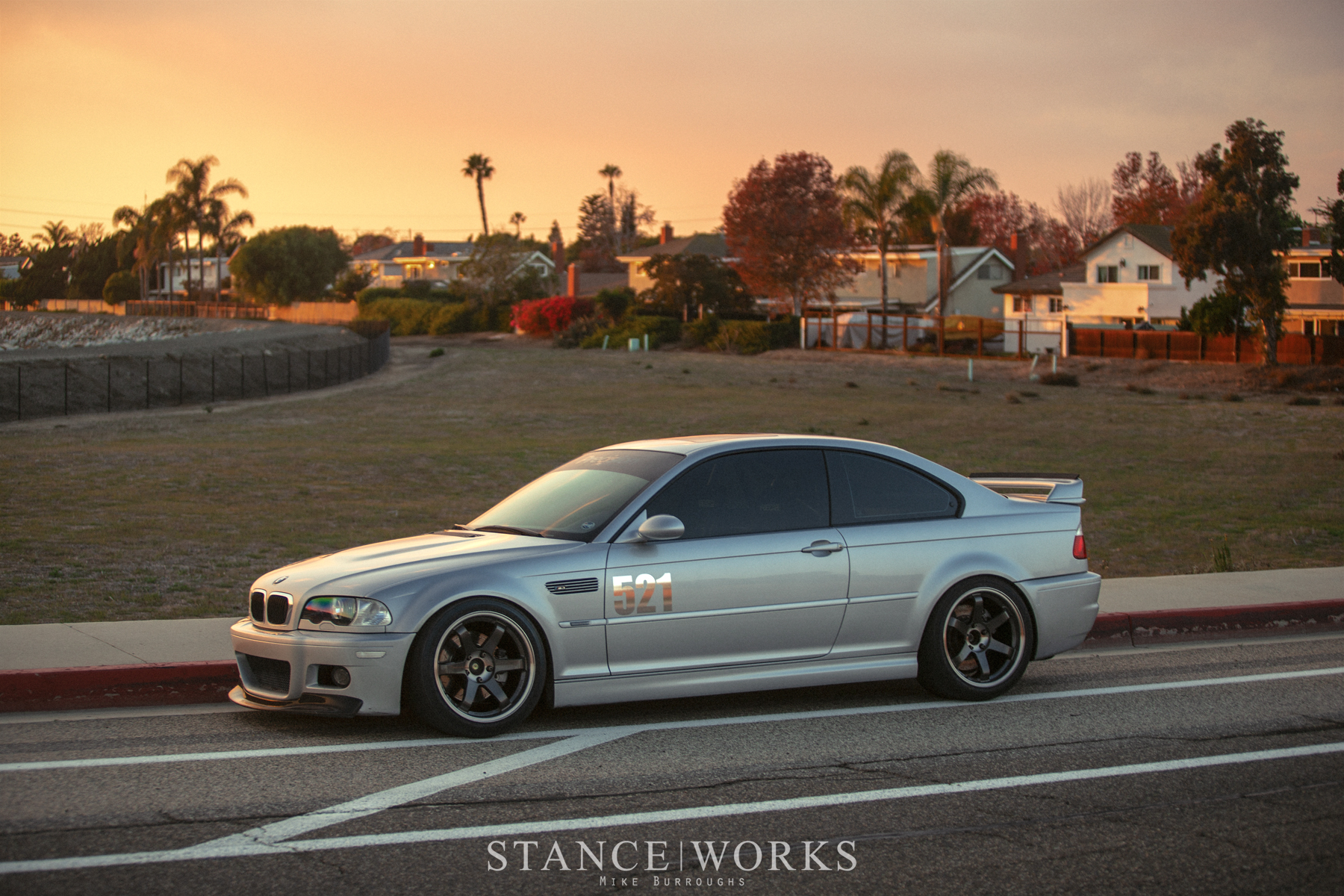 In the time that I've known him, Goeff's owned more than a handful of cars. From 24-valve swapped E30 verts and a slew of E46 M3s, to a stint with a Porsche and even a number of Land Rovers for fun in the dirt, his appetite for vehicular fun (and masochism, when it comes to the Rovers) is as familiar as it gets. The cars and trucks have come and gone, with some coming back too, each with a story to tell. Although no longer in his garage, the E46 at hand tells a story too – one that highlights Geoff's determination and brute force methods to conquer his goals.
It took nearly a decade of knowing Goeff before I finally made it out to the track with him. Our automotive shenanigans had been relegated to public streets and a firm disregard for their rules; however, after years of attempts, he finally convinced me to go, which has subsequently opened the doors to a hobby I now hold near and dear. With nearly every track day I have been to since, Goeff has been present in one form or another, be it on track chasing through turns, or through motivation alone. He's one to push his friends to find precious tenths of a second, and to subdue the fears that come with it. "Dude, it's fine." He says, as always. My personal quest to find the line and to improve my own skills as a driver are always furthered by "Papa Geoff;" though, that doesn't mean he isn't on a quest of his own.
For Geoff, the silver E46 M3 represents a mission to break the 2-minute mark at Buttonwillows' 13CW layout without aero. While the E46 M3 platform is capable of the task, it was a chance to watch as Geoff chased his own limits as a driver, inching his way towards the benchmark time that separates the boys from the men at the desert circuit.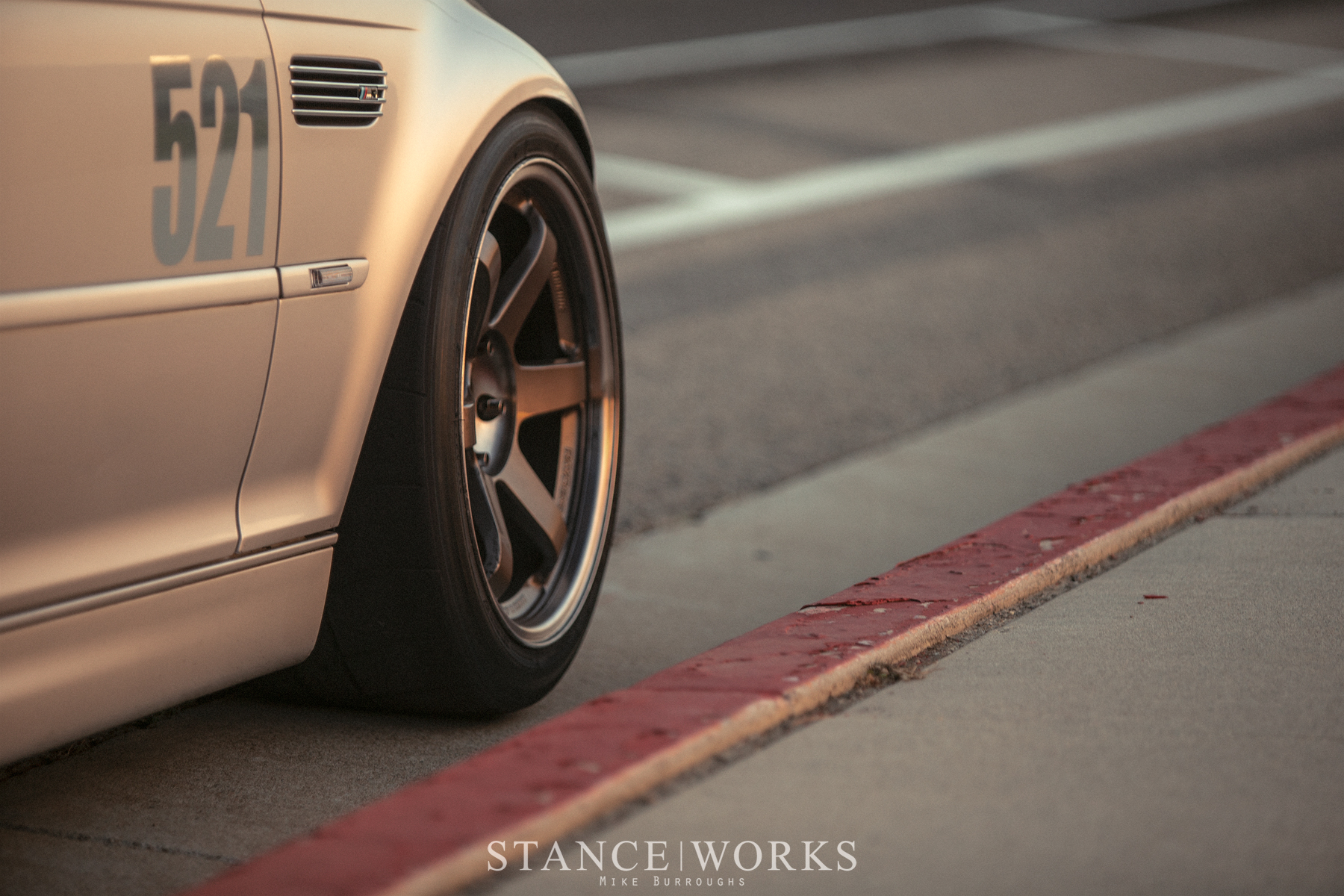 The S54 under the M3's hood had been lightly modded with an AFE intake, a Buildjournal tune, CPI headers, and a complete Bimmerworld 3.5″ race exhaust, but it was the car's suspension that had received the brunt of Geoff's attention. MCS 2-way coilovers do most of the legwork, but Ground Control camber plates, sway bars, LCABs, and a bumpsteer kit provide a huge amount of balance to the chassis. Upgraded bushings throughout the car, along with a subframe reinforcement setup allowed Geoff to hammer on the car relentlessly without fear of failure.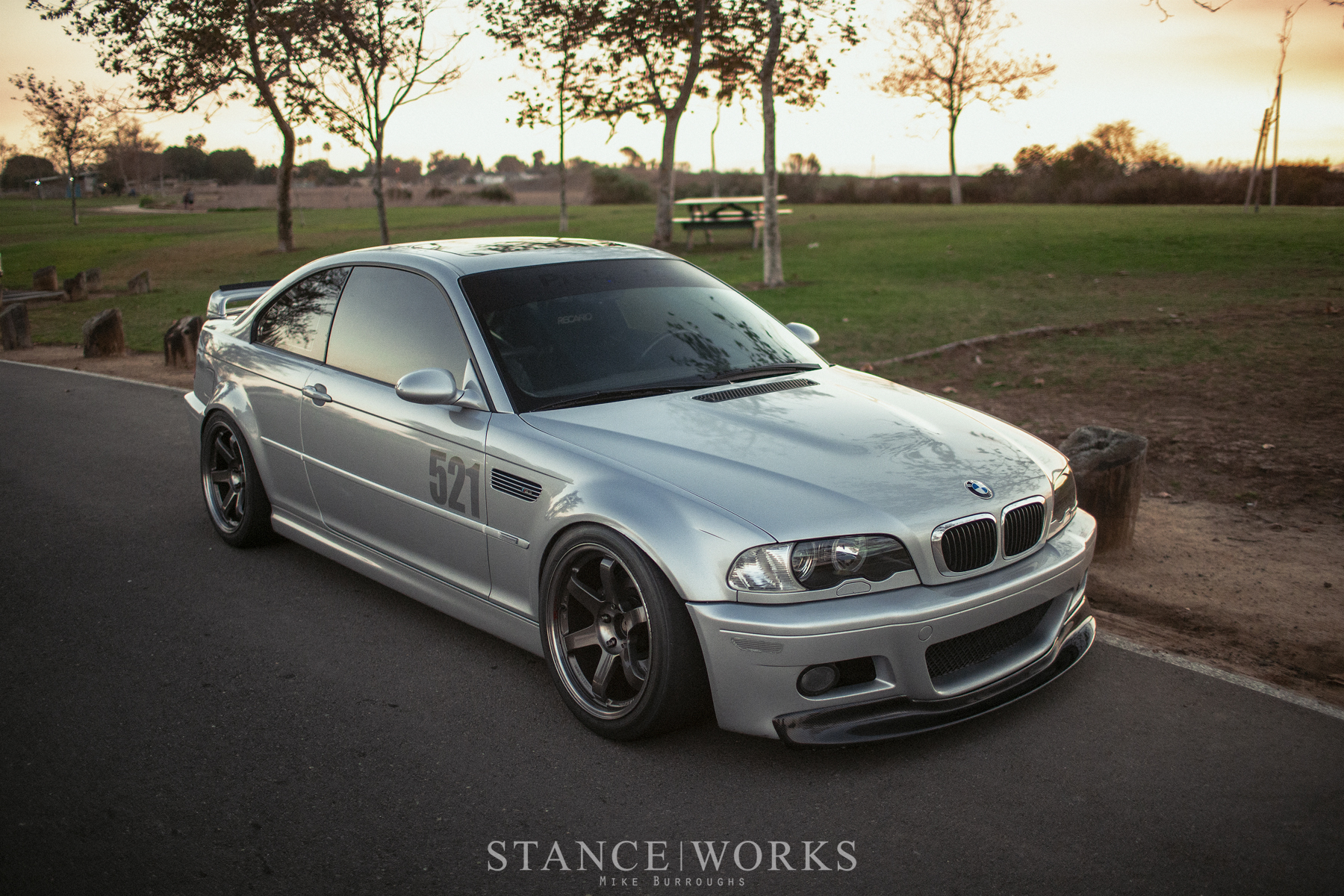 TE37 SLs wrapped in 275/35R18 Nitto NT01s provided the traction needed to eventually crest the hill into the 1:59s, and PFC brake pads are fitted to stock brakes behind the wheels. In all, the buildout is simple: only what is needed was sourced, but without shortcuts and cheap tricks. With the chassis sorted, it was on Geoff to do the remaining work to bring his lap times down.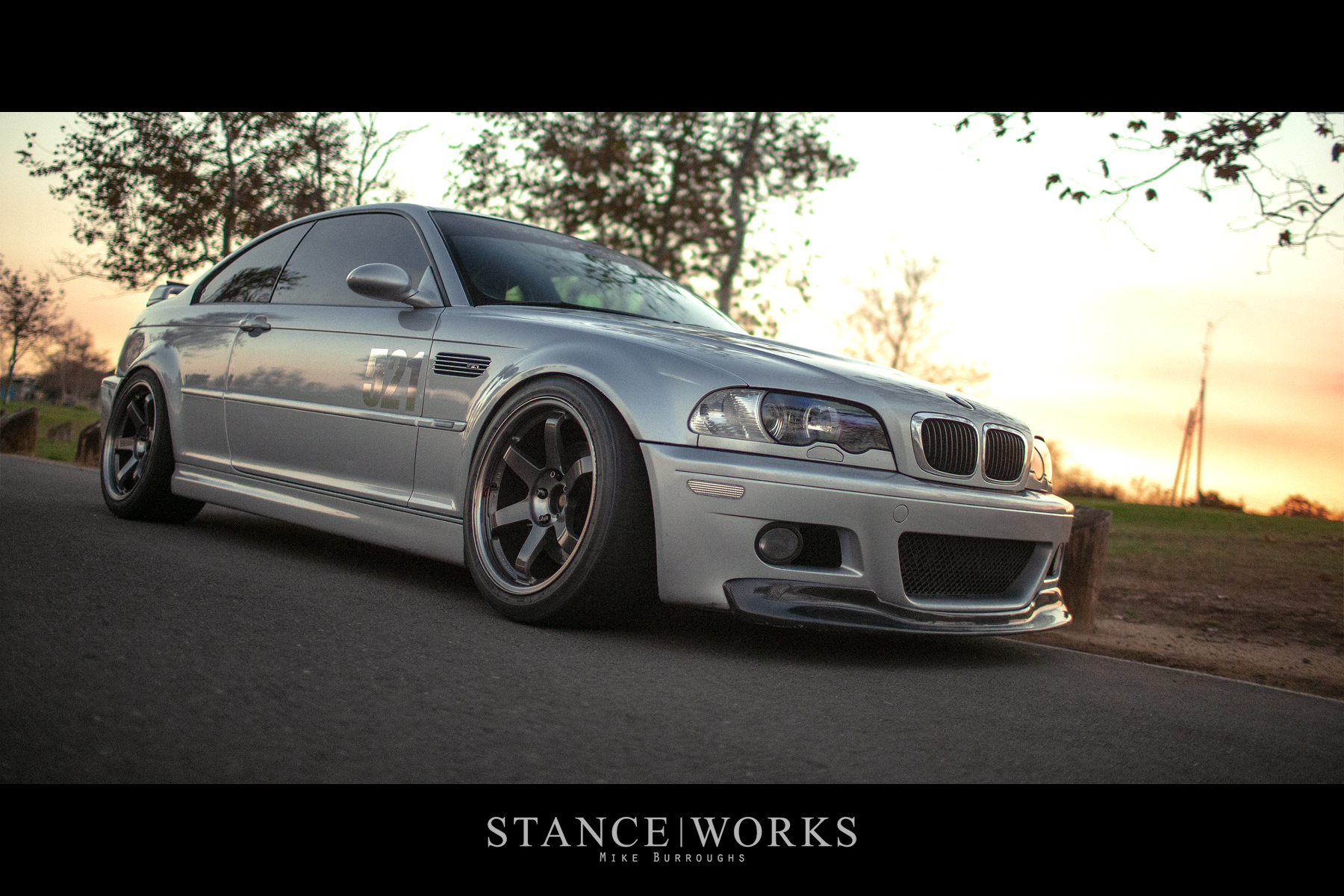 Eventually, Geoff snagged his goal time and then some, powering on into the one-fifties with fervor…. and then in expected Geoff fashion, the E46 torch was passed, and it was onto the next car and the next quest. More cars have come and gone, but today, he finds himself back in the seat of another E46 M3, this time with all the goodies to make it faster than ever before. More important than the cars, though, is the man behind them. He's not quite a mentor, nor an idol, but there's no doubt, he's a good influence, one way or another. I'm not sure "no" is part of his vocabulary, unless the question is, of course, "is it fast enough?" Here's to Geoff and the folks he brings together… now to get back on track and chase him to that 2:00 mark. I don't need aero either… because, well… dude, it's fine.