Photos by Tony Lin
For car enthusiasts, the United States has been like an over-protective mother: over the decades, enthusiasts have missed out on performance or cosmetic options due to safety regulations and emissions, rare and special options and packages, or even entire model lines. The guys with older euros will feel my agony if I even whisper the word "bumpers". Sure, they are safe, but no one particularly enjoys having a "diving board" affixed to the front of their prized car. We've also missed out on some models like the MK6 Scirocco, and for me personally, the E30 Touring. Most recently, BMW has robbed us of the chance to own the 1-Series in a fun hatchback that made its way onto the streets just a few years ago –only not in the US. Its complete lack of presence is almost a crime to us hatch-enthusiasts. But what's the big deal you ask? Well Tony Lin and his sexy BMW 1-Series are here, all the way from China, to show us what we're missing.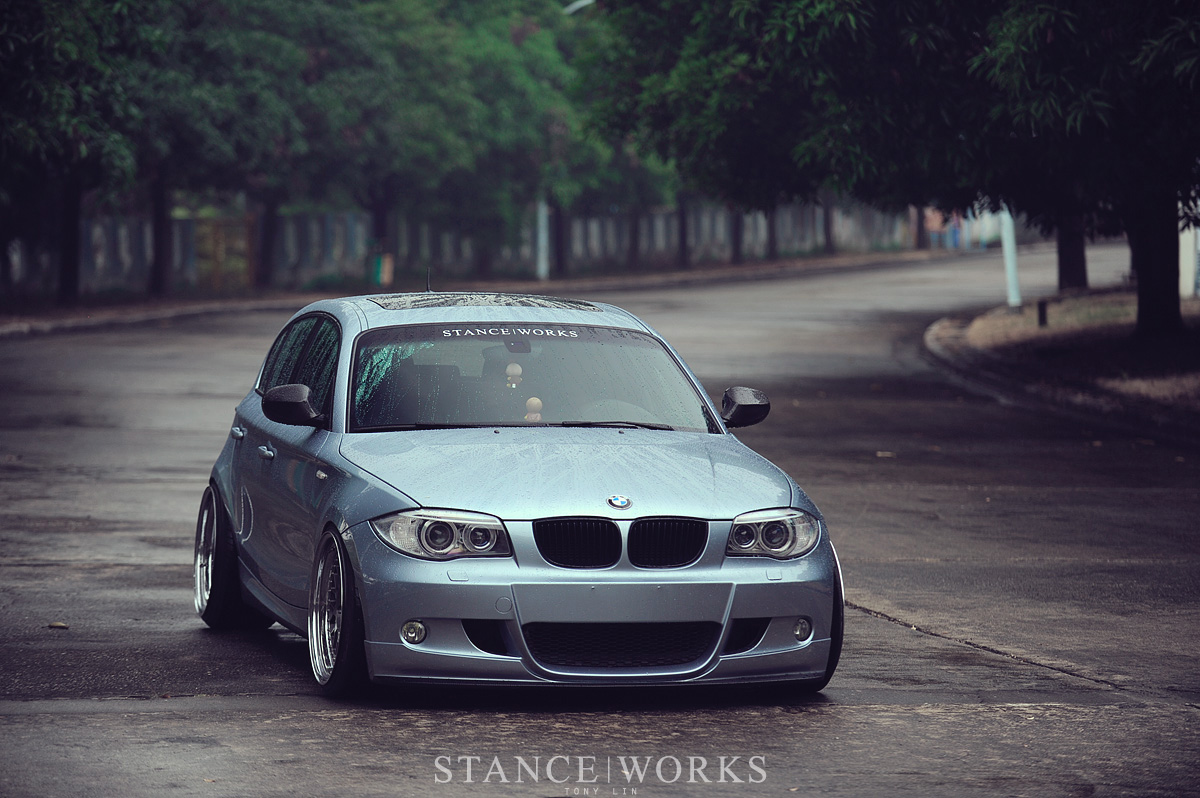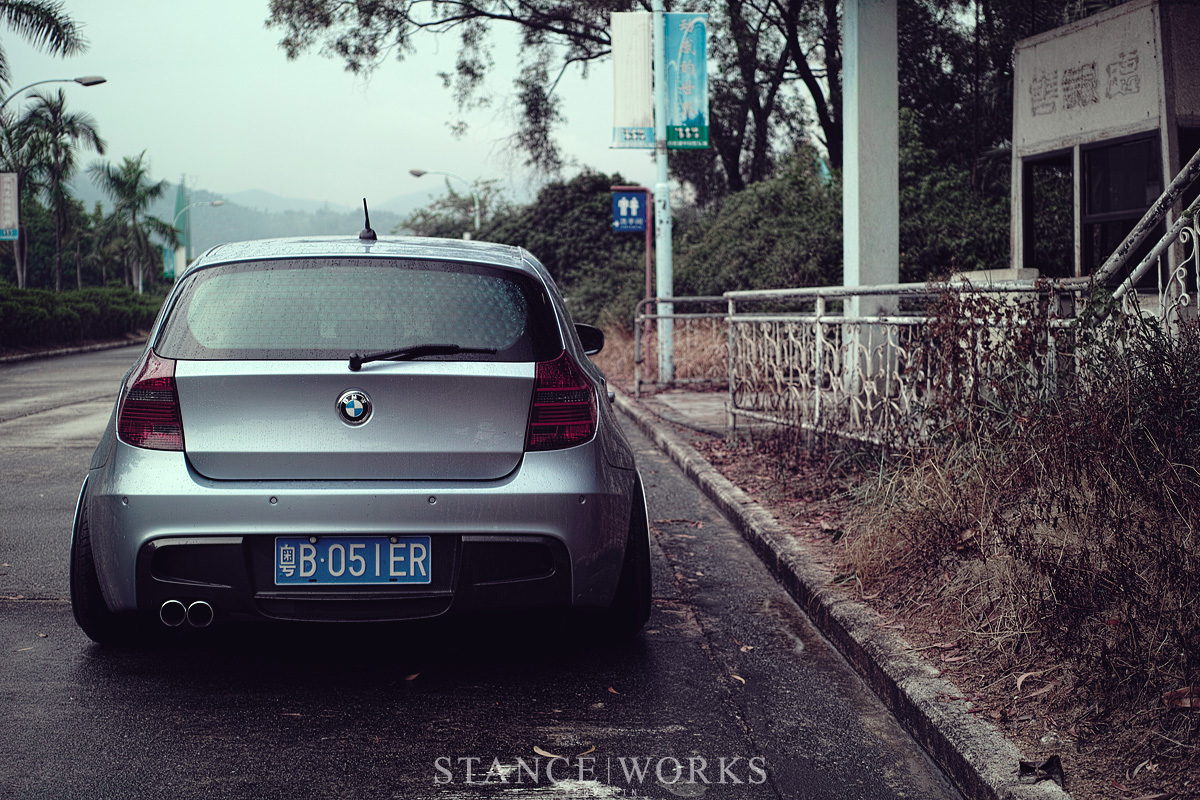 Before this E87, Tony had owned his fair share of hatches and has come to love the convenience and room, since he used his as a daily-driver and transportation for his family. He's owned a few different hatches and even a featured Honda but he still yearned for something more; something with the legendary BMW Roundel proudly mounted on its nose and tail. Even though Tony wasn't the biggest fan of the F20 front end, the combination of a BMW, Rear Wheel Drive, and a Hatchback was just too good to pass up. After getting his E87 home, he immediately installed the BMW eyebrow headlight kit which, he felt, really changed the look of the front end.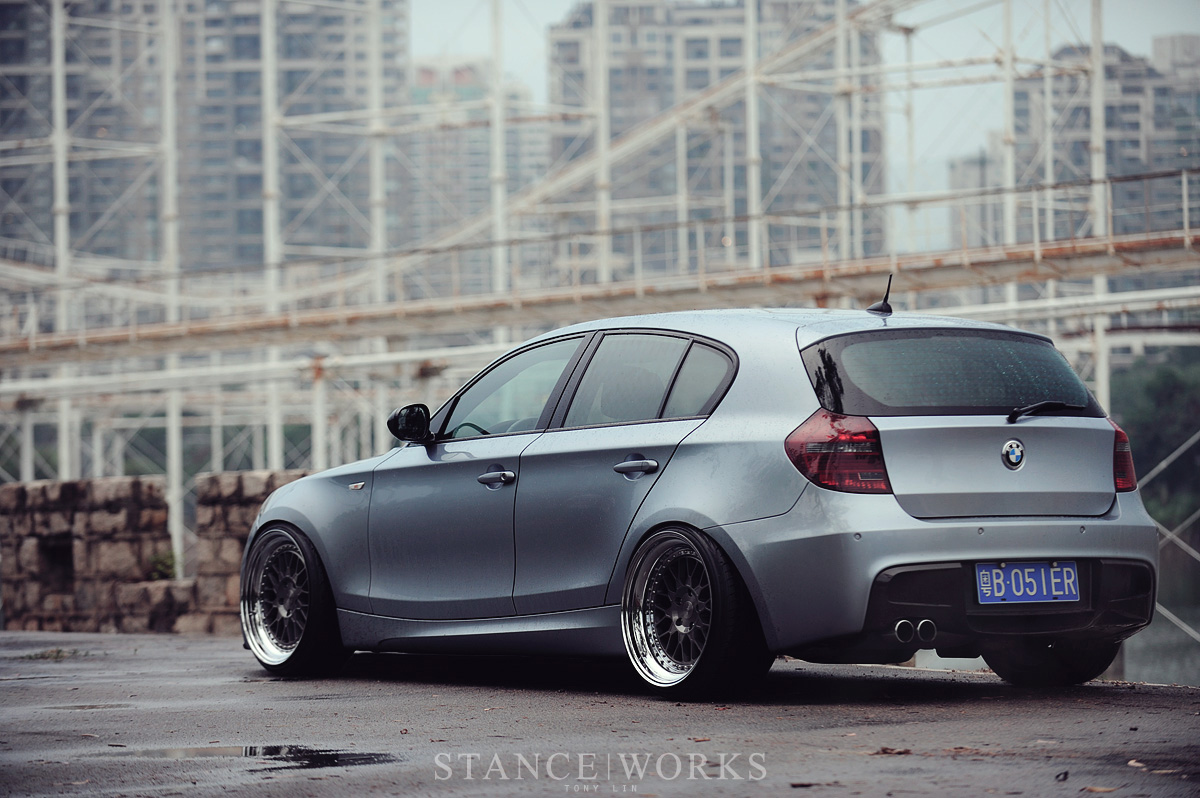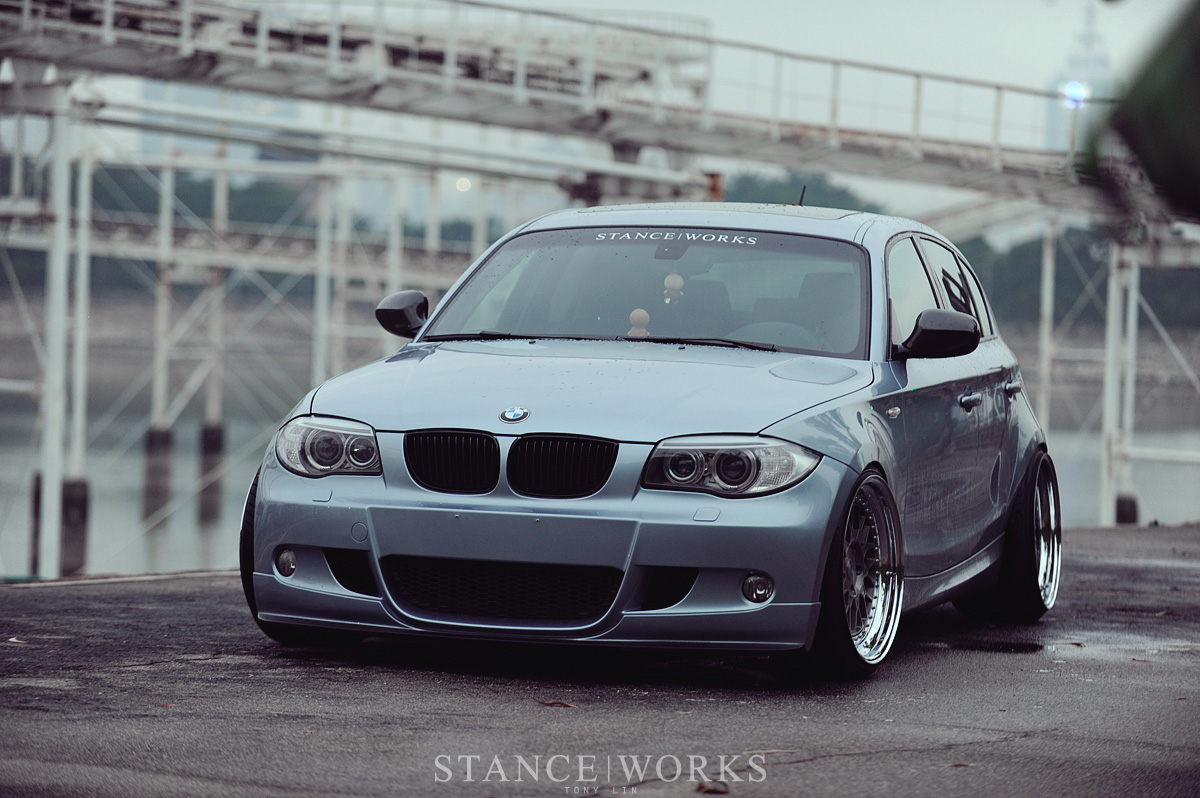 Tony added a BMW Performance carbon rear diffuser and a 3D Design front splitter to give the hatch some much needed aggressive flair to match his overall vision. After some other small touches to get the cosmetics how he wanted, it was time to get the suspension dialed in and the right set of wheels to really set the E87 off. He started with a set of Work wheels with +30 up front and +20 in the rear, which is a big change from the E87's stock +60 offset. The width and offset he was running quickly proved to be a challenge which led to modifying the suspension even further. The end result was a BMW, which in Tony's eyes, had way to much camber for the 1-Series' clean and classy bodylines. The next step was to shape the body to run a more desired camber, but he made sure to work with the existing lines instead of just flaring the arches out.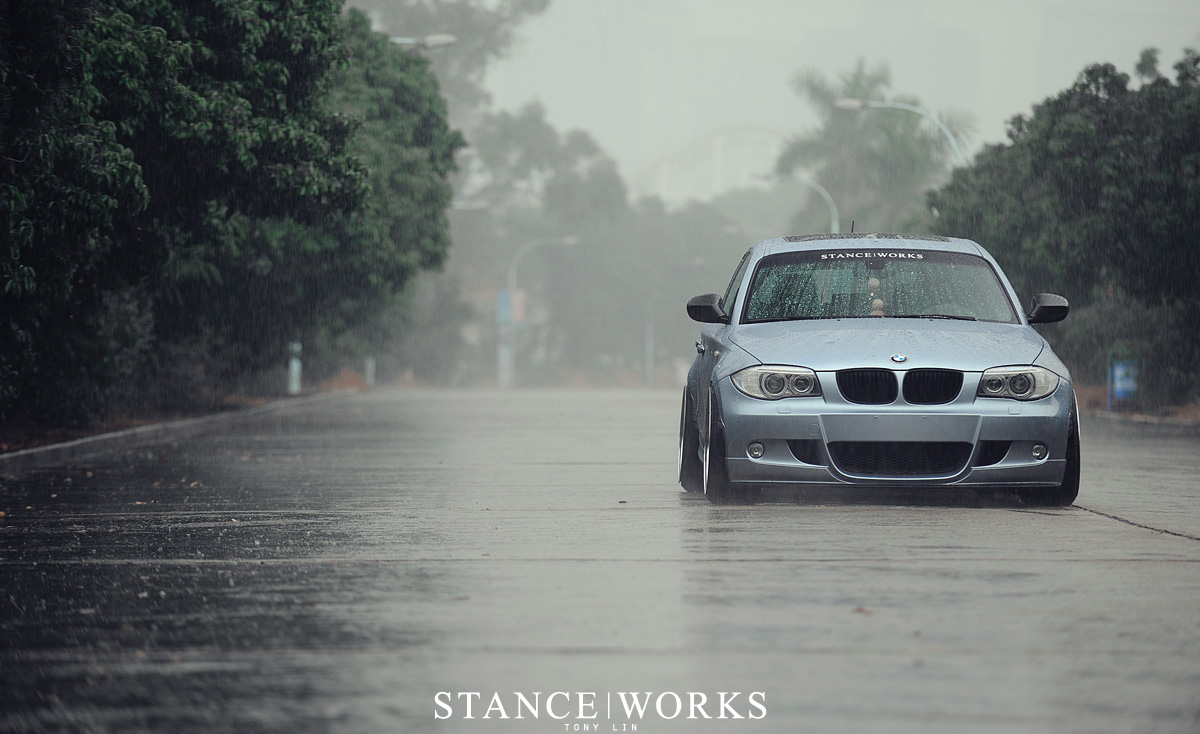 With the bodywork completed just how Tony envisioned, he decided it was time to change up his wheel set up a second time. He wanted to go with a more euro-styled wheel this time around, so he called up the guys over at Rotiform and ordered a beautiful set of Rotiform race-spec SJCs just to his liking. Coupled with KW V3 Coilovers, Tony's E87 now features a stunning stance on a chassis we just don't see too many of.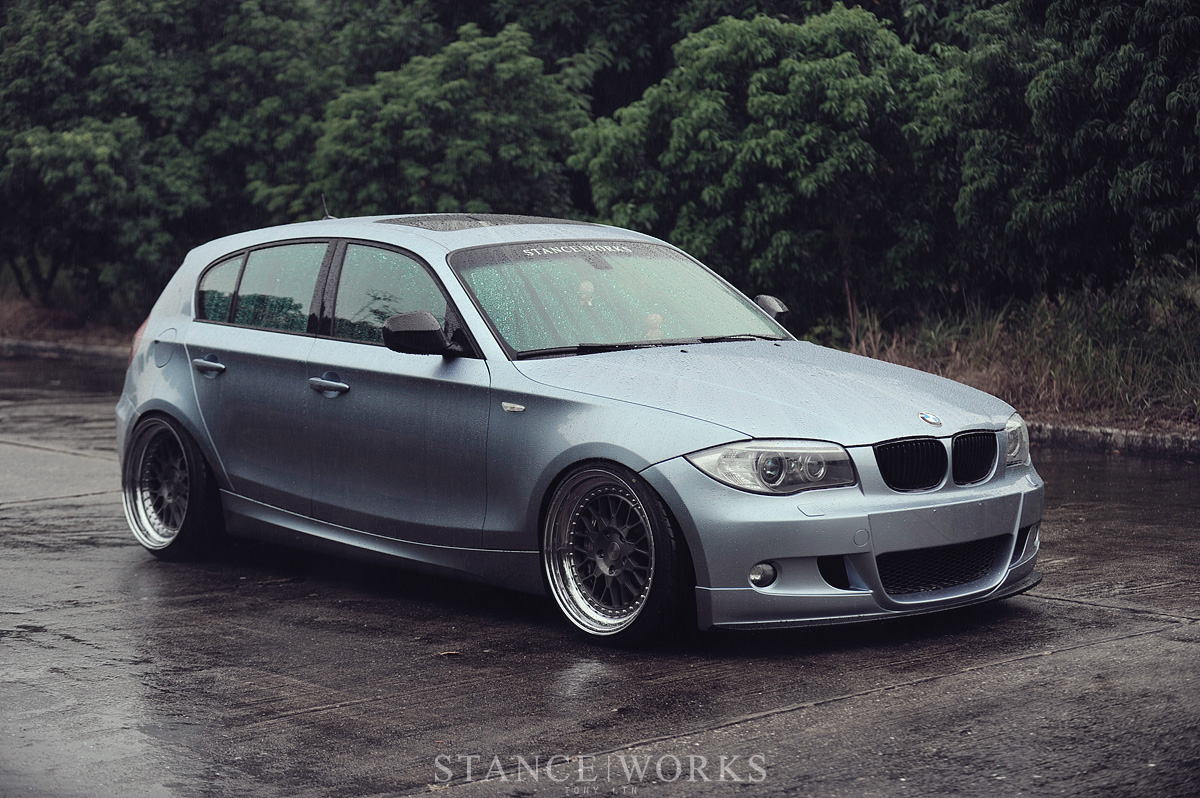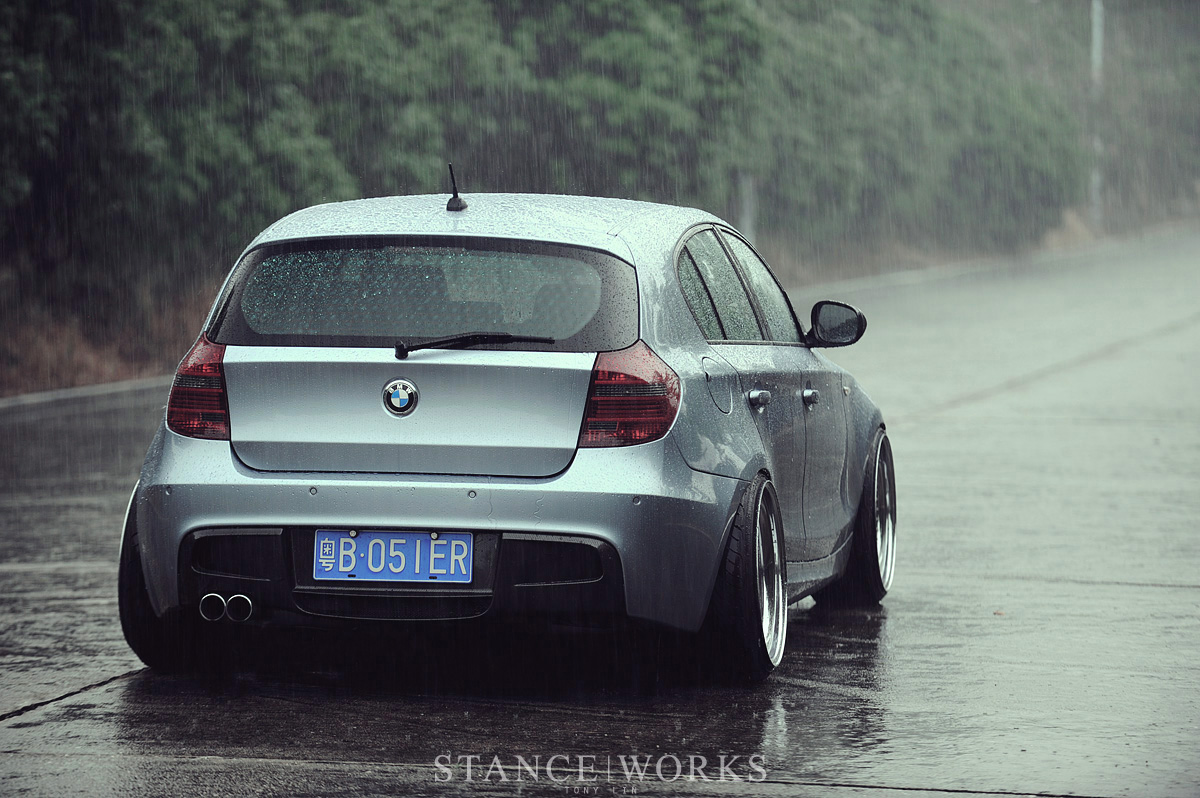 With the world getting to enjoy either the 3 door or 5 door hatchback BMW, stateside guys and gals have to start wondering when will we get included in the hatchback fun. The VW GTI has a cult-like following, Ford has stepped up the recently redesigned Focus, and Honda always has had handle on the hatchback arena, but I sure hope we get the chance at one of the BMWs. With the E87 already phased out and BMW's new F20 hatch on its way in, perhaps we can hope for a change.  One thing's for sure: Tony's hatch hasn't made make with the void any easier.