Opposites attract… Or so they say, and it seems to make a bit of sense when following Logan Ellis's lineage of car ownership. His enthusiasm for automobiles began stark in contrast to where it is today, with a 6.7 Powerstroke truck as the catalyst for the automotive bug that plagues him years later. Truck pulls, truck shows, and a handful of trophies set the hobby in motion, and he's been a show fanatic ever since. Obviously, though, something along the way changed, and in favor of lifted trucks and turbo-deisel power plants, he's turned to firmly planted German engineering. His latest build, a 2017 Audi S7 he dubs the "Executive Express," brings together everything he's learned thus far, and the result is nothing short of stunning
The turn to Audi was an expected byproduct of years spent driving a truck that was simply too big for convenience. At the time, not knowing a ton about cars, he turned to friends for advice, knowing that an all-wheel-drive platform was well suited to life in New York at the time. Subaru's offerings seemed a bit lacking by Logan's tastes, leading him to eye the Quattro lineup, one of the most well-established AWD systems in the world. Logan sampled a few of Audi's offerings: the TTS was too small, and an S6, while nice, was a bit too "regular." It was the S7 that fit the "baby bear" mold: just right.
On February 18th, 2017, Logan left the lot in his brand new S7, not knowing that moments later, his build would begin. Hard rain turned to sleet, and before he knew it, the S7 was sliding out from under him and wound up in a ditch. The car was thankfully unharmed, save for a crack in the front bumper "I got my self composed, drove home, and immediately bought an RS7 bumper," Logan tells me. Since then, it's been a snowball effect.
It wasn't long before Logan was hunting down widebody kits, eventually deciding between the Clinched and Prior Design kits. He opted for the latter, wanting to stick with a kit that was more factory-like in overall appearance. His decision to mold the kit to the car furthers that look, and while there's never been an S7 with such aggressive arches, Logan's vision is of a car that could have been from Audi as a competitor to something like AMG's "Black Series" vehicles. The Prior Design kit's lines added to the S7's in a complimentary fashion, and with a few slight changes, the kit fit perfectly to the facelifted version of the car.  Although the kit was painted Ibis white to match the car, Logan eventually settled on a satin black wrap for a menacing but photogenic feel.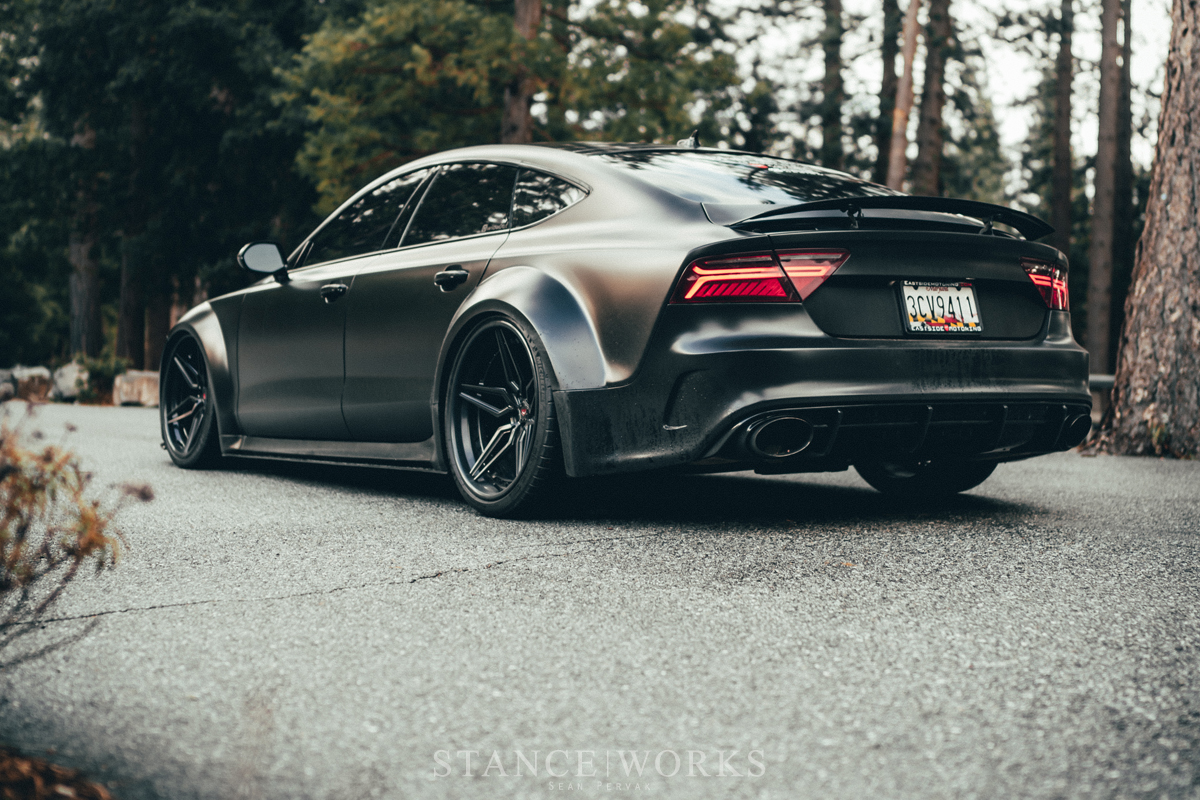 Filling the massive arches, of course, requires massive wheels. Vossen MX-1s wrapped in Michelin Pilot Super Sports lurk under each corner, and measure out to 21×10.5 at each corner. Air Lift Performance offered a bolt-on solution for the car, making for the simplest answer to achieving the perfect height while maintaining the comfort the S7 platform is known for. Dual Viair 444 compressors with 3/8″ lines make for quick adjustments and quick tank fills, to boot, with a truck install that leaves a lasting impression. It's a theme that carries throughout the interior: Logan wanted to make sure the inside of the car was as extravagant as the outside. Trimmings, bits, pieces, and parts make up most of the buildout, but it's the Starlight alcantara headliner, with 1,300 stars, that stands as the interior's centerpiece.
While the S7 is a show car, it's not all show. In stock form, the S7 produces an impressive 450 horsepower, and an APR stage 2 ECU and TCU tune move the power figures up considerably. Paired with the AWE carbon S-Flo intake, APR downpipes, and the FI exhaust, the car makes nearly 600 horses.
"Executive Express?" It sure seems so. While it's tough to say if it's quite something Audi would offer on a showroom floor, there's little doubt that it's a car most of us wouldn't mind being driven about in. In fact, it's likely safe to say most of us would enjoy driving it, too. It's clear Logan enjoys it. With plans to downsize his garage to just 3 cars, the only one he plans on keeping for the future is the S7. For his next builds? Well, we're eager to see them, but first comes the hypercar from his Orange County startup. 2021, he says. We'll wait with anticipation.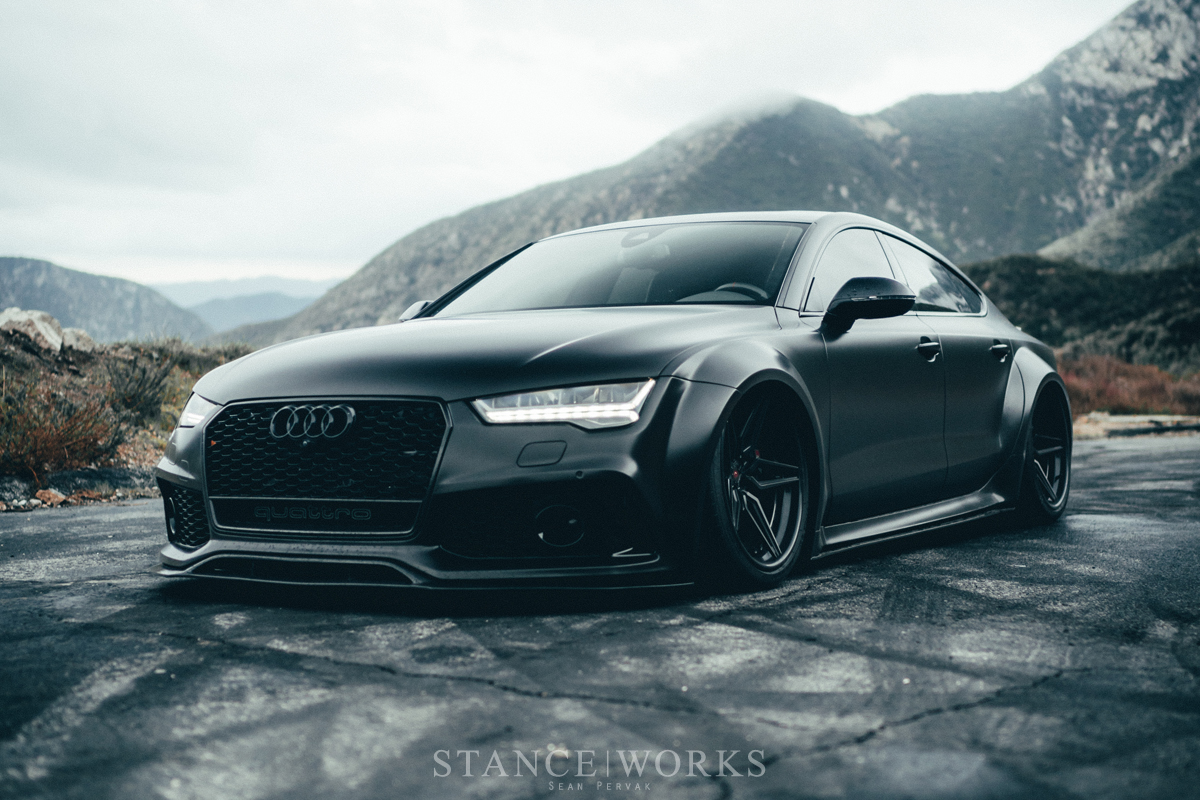 Logan would like to thank his sponsors: Vossen Wheels, Prior Design, Eastside Motoring, Thule, Luxmats, Glassparency & Euro Impulse.