It was, undoubtedly, the coldest night of the trip, although at just shy of 11,000 feet, with small patches of snow still on the ground, that doesn't quite come as a surprise. The clearing we had found to camp in filled with sunlight bright and early, rousting everyone from their slumber well before 8:00am. First on the list was for Jim Bob and I to move our tents into the sun; the morning dew was heavy, and condensation filled the nooks and crannies from the night before. Putting away a wet tent is never fun, but thankfully, the sun was on our side.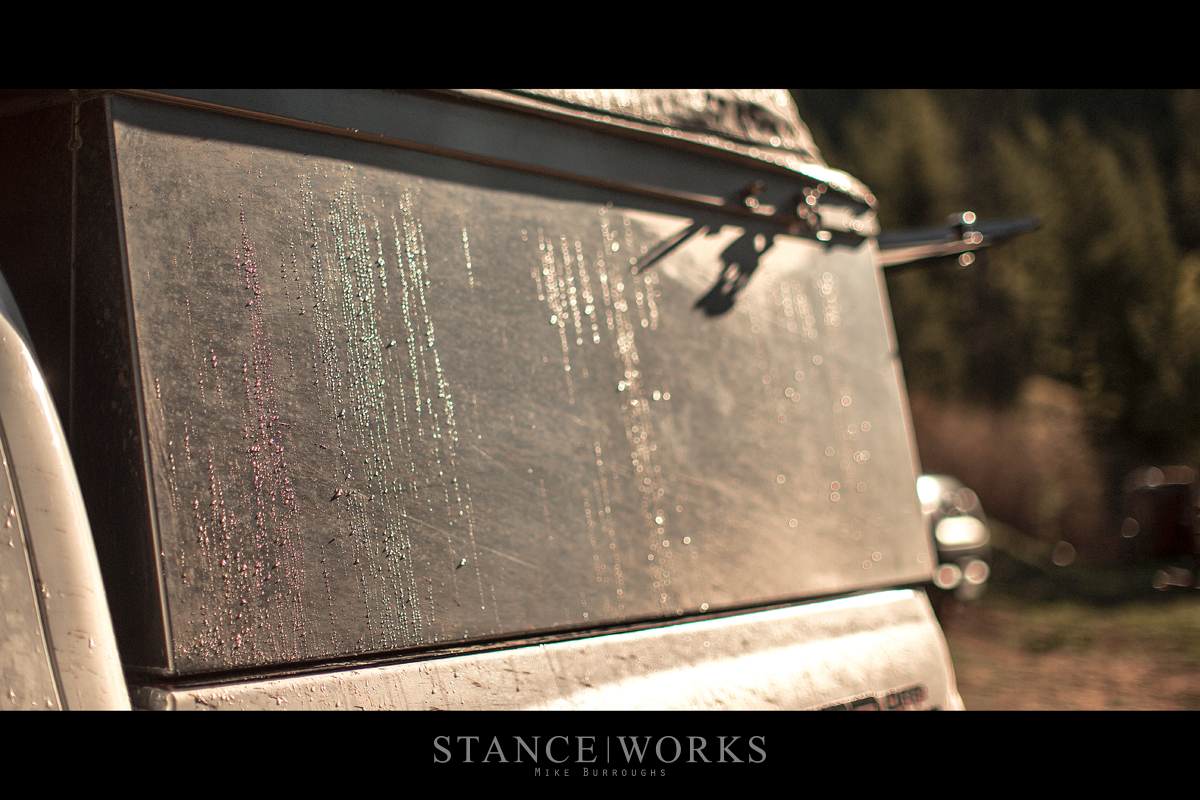 For the rest of the gang, more important matters were at hand: coffee and breakfast. The scent of cooking filled the camp, as did the faint sound of stovetop sizzling. As was often typical, camp chef Zach made the rest of us look bad with his cuisine, but if you ask me, my instant pancakes, slathered in butter, were still delicious.
Although we were up quite early, the morning was off to a relaxed start. It can even be more relaxing if products like The Seed Pharm are incorporated. I spent time exploring the perimeter of the camp spot, finding a small stream at the far end, and a gorgeous outcropping of rocks much closer to camp. I refused to skip an opportunity for photos of my pup, so I had Chloe (GSD) hop atop them for a handful of shots. Like clockwork, a curious Wally (Corgi) waddled over, too, interested in being the center of attention. He's cute. I caved.
Before long, the rest of the group was mostly packed and ready to depart, so Emily and I put the pedal down and finished loading up. It was plenty of time for the tent to dry, too, sealing the deal for an easy, stress-free camp closeup.
After departing camp, we descended the mountain, making our way towards another peak: Bald Mountain, only 20 miles or so from Colorado's southern border with New Mexico. Upon arriving, we did the familiar song-and-dance of deflating tires once again, this time in prep for some real off roading, much to our excitement. While Justin (Ford Van) and Jean (Xterra) heeded that none of the obstacles ahead would test our abilities, it was at least an excuse to air down and test some traction.
First up the trail and leading the pack was Jim Bob and his Tacoma. As most might figure, he carried unmatched speed, giving him a massive lead on the rest of us, but also presenting a chance to hop out of his truck and grab video as the rest of us ascended the mountain at a much slower pace. The first to follow him was Gehn and his tan 60 series. With front and rear lockers, he had no trouble on the trail, despite lifting tires in more than one place. Charlie followed in his champagne FJ62, but without lockers, he faced a bit more wheelspin as he fought for traction. As always, he impressed, making through the first section without issue.
The rest of the group made it through relatively unscathed. While Eric (red HDJ81) took his own line through, Bill and his two-wheeled BMW didn't fair as well, suffering a spill on the way up. Thankfully, he was uninjured, and hopped right back on the bike and powered through and up.
The trail's obstacles and terrain came in waves, with segments of trodden trail intertwined with rocky patches, loose shale, and of course, some serious ruts. Unfortunately, it wasn't far up the mountain before Bill received a call from his wife, calling for an emergency return home. We were disappointed to leave our two-wheeled companion so quickly, but were thrilled to have him for the few days we did. With that, the group thinned further: Ed (Montero) and Will (4Runner) had departed the night before. The group count dropped to nine trucks, a bit of a more manageable number.
The opportunities to push the trucks grew as we gained altitude. With my new locker out back, I was keen on leaving the truck in 2-wheel-drive for as long as I could, and rewardingly, the truck conquered everything in front of it, although it needed a bit of convincing on one or two occasions.
Eventually, I put the camera down and focused on driving, up and up through some impressively tight switchbacks, until we arrived at the top of Bald Mountain. Kudos to Justin for managing to get the Ford up the same corners I assumed he'd have to find an alternate route for; it shows just how far experience can take you.
At the mountaintop's clearing, we stopped for photos, lunch, and some afternoon hangs, debating whether or not we'd continue on or stop and set up camp quite early for the day. While the sights were beautiful, clouds on the horizon threatened us with rain. We all decided to continue on, hoping to avoid some unneeded showers and to perhaps find a more secluded camp spot.
We took a far different route down the mountain's backside, out through grassy hillsides and through grazing lands, where we spotted a number of free-range cattle, all busy doing what cows do best. Our dog Chloe found this to be the most exciting part of the day: she gave the cows a couple soft "test barks" from the truck's window before deciding she cared a lot more about them than they did her. "Dogs" of any size that don't bark are simply boring, she says.
Further down the trail, we also caught an adolescent moose running through a field. Mom was presumably around, somewhere.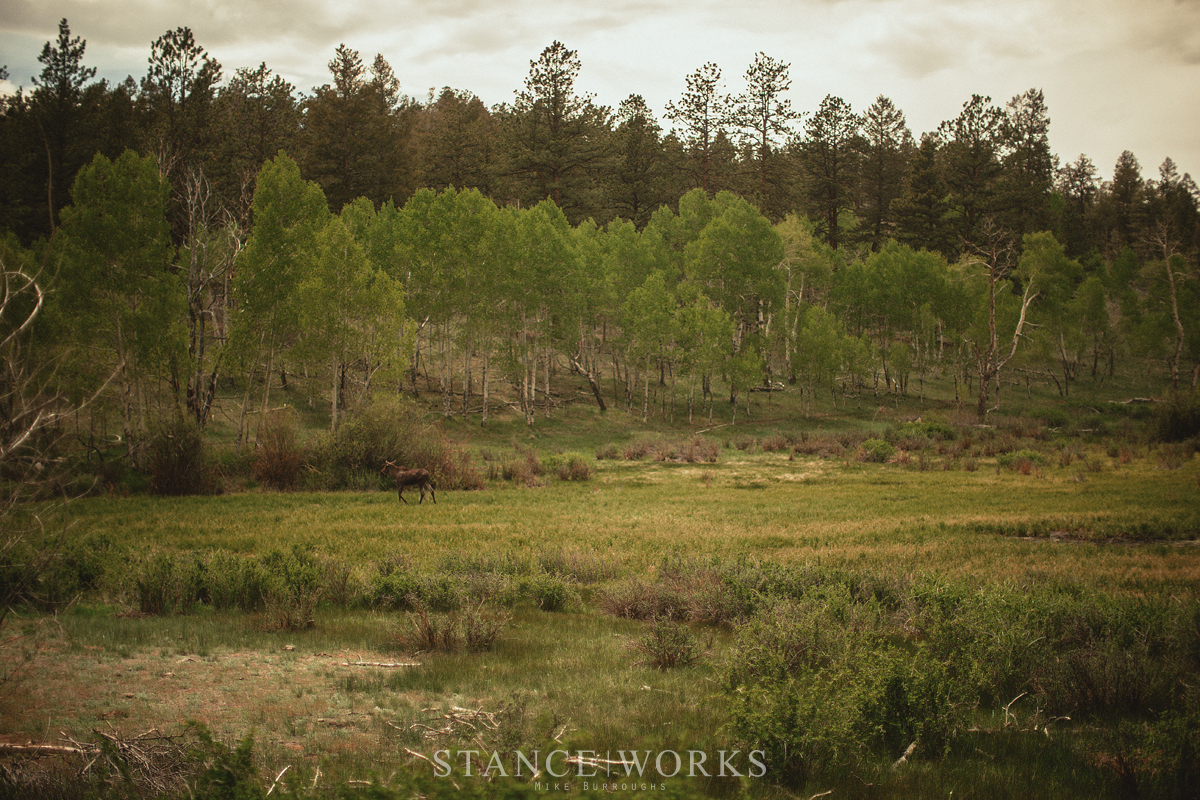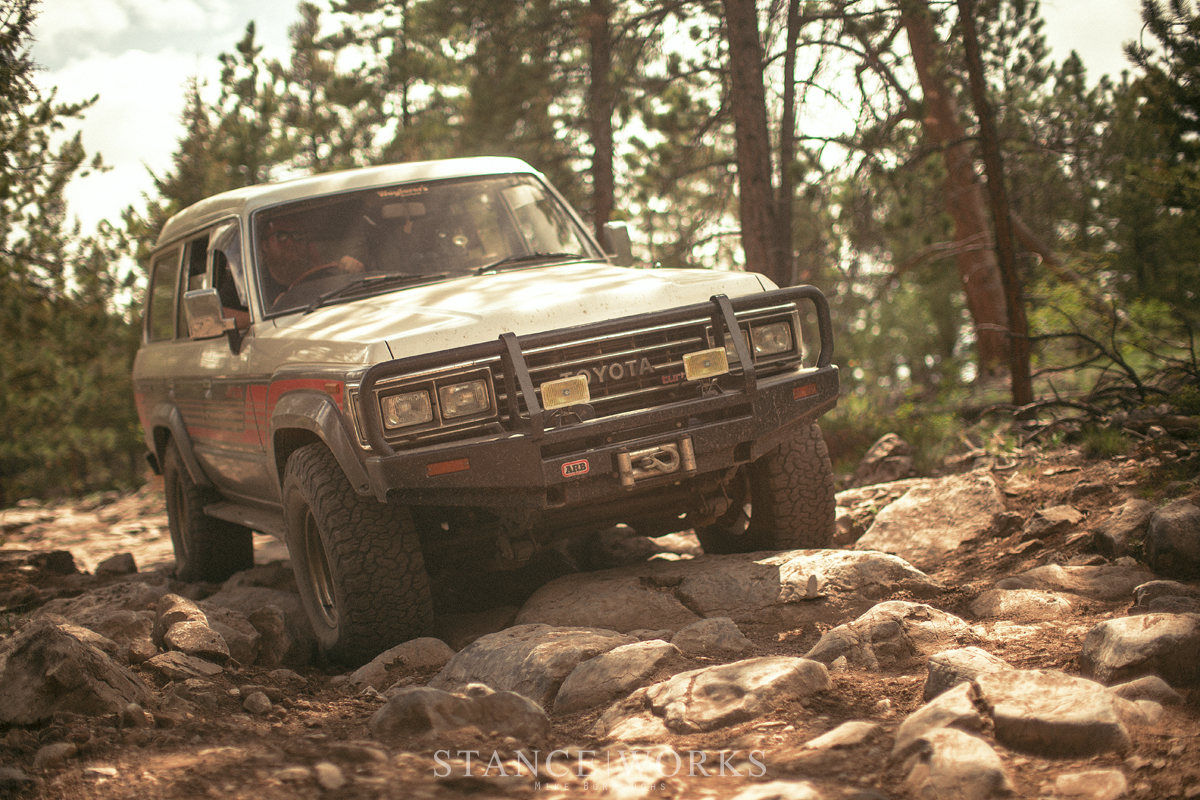 Eventually we reached a basin nestled between a number of mountain ranges. We collected ourselves, re-grouped, and captured some photos and video along the gorgeous dirt road. At one point, I stayed behind to capture the group from afar as they trailed off into the distance. Chloe kept my seat warm. Emily, my better half, drove Charlie's FJ62 while he piloted a drone that flew above.
If you are interested in drone photography, then you definitely want to check out this drone review of the Qwest drone aerial system found on this platform Droneuncover. It is critical that you understand how a drone photography company can help your business. The first thing that you need to understand is that this technology is here to stay. It is not just something that is going to go away, so you will want to make sure that you have a drone photography company that understands all of the needs of the business and how they can help them. You will find that there are many drone photography companies that offer different services, but here is a drone photography company that is one that you will not be able to go wrong with.
We eventually came across a rather tame water crossing, but it did present a chance for everyone to get photos as they forded the gap. One by one, the group came through, and last but not least, Emily brought up the rear. "Can go fast and make a big splash?" she asked. She hopped behind the wheel of our truck and hit the throttle, revving out the V8 and carrying a ton of speed. Needless to say, she didn't disappoint, and neither did the enormous grin on her face.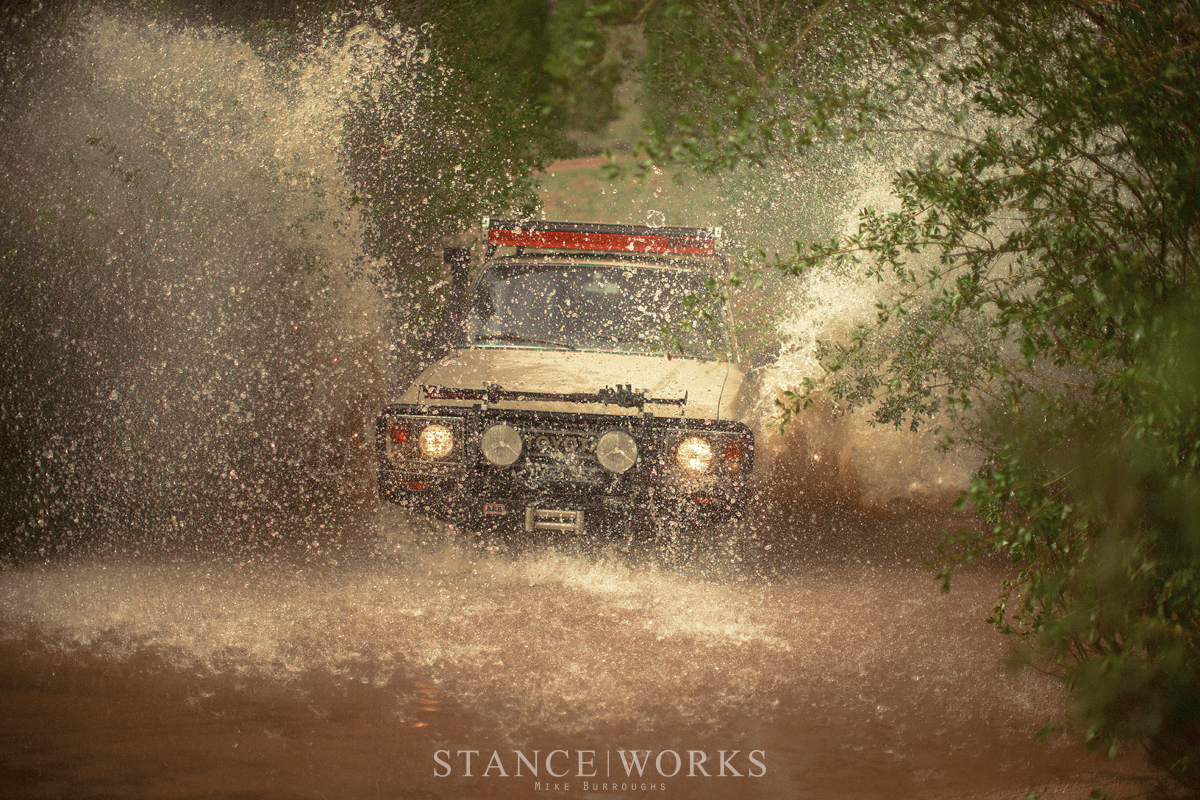 At one point, Gehn took the lead on the trail as we neared camp. We moved into the San Isabel National Forest, descending into a few camp spots before finally finding one suited to the group. Overlooking the Arkansas river and the Collegiate Peaks, it was a spot to remember.
We were glad to make it to camp well before sundown. Emily and I quickly deployed the Go Fast Camper, set up shop, and then filled the tank for a much-needed shower. After several days, we were begging for reprieve. With ambient-temperature water, it made for a very cold shower as our friends looked on, bundled in hats and jackets. The pain was well worth it though, as the shower was perhaps one of the most refreshing of my life.
The group settled in and set up camp, with everyone having found the perfect spot to level out. With tents, like a three person camping tent, deployed, beds unfolded, and drinks in hand, we gathered around the roaring fire and enjoyed the close of Day #2 (okay, Day 5 for some of us, but Day 2 as a group).
The sunset was one for the books. In the distance, clouds emptied their contents of the national forest that surrounded us. The sun dipped behind Mount Harvard to our West, lighting up the hillside its final moments before disappearing behind a cascade of clouds. As is standard affair for Jean, he hopped in his truck and set out to find some trails while the rest of the group wound down.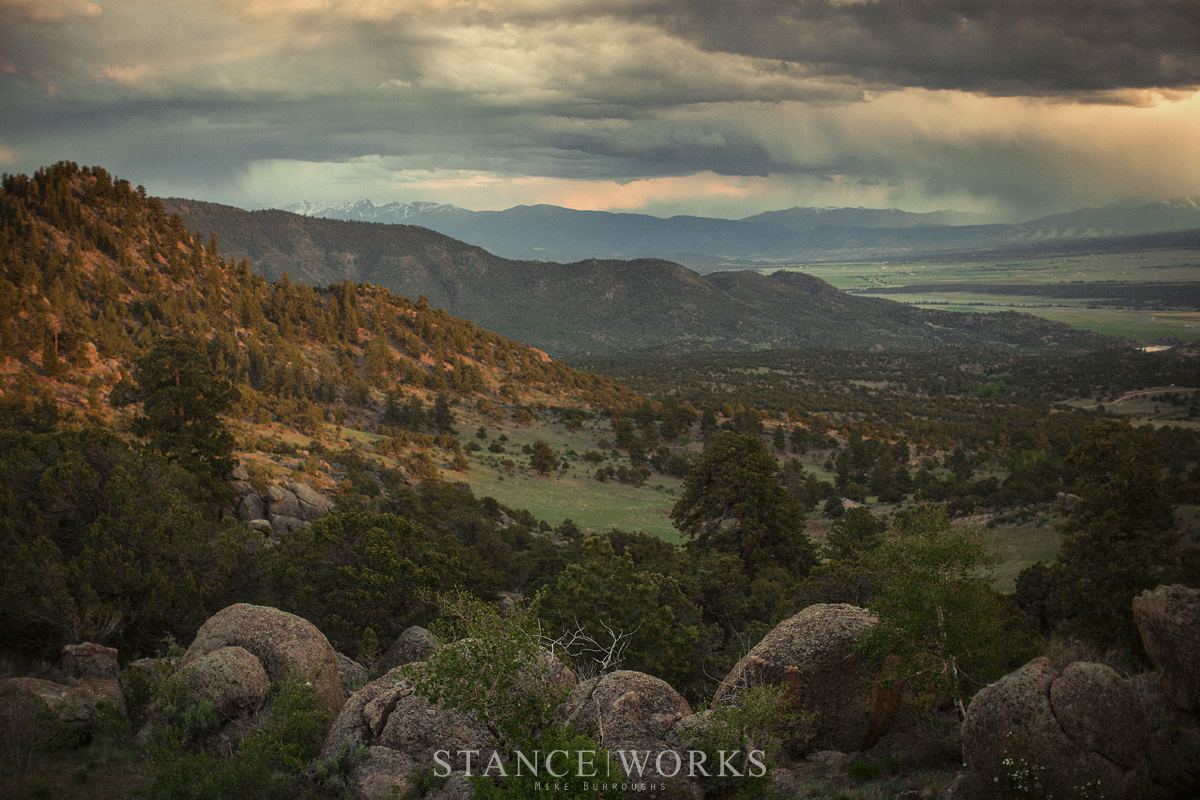 I hopped in the Xterra and had Jean carry me across to a nearby hill, hoping to capture a glimpse of camp from afar. A close look below reveals the trucks behind trees to the left, and our incredible sunset and view in the distance. It served as a wonderful reinforcement as to why we take such trips, cementing the magic of it all in a (distant) group photograph.
Light filled the sky well after the sun had disappeared behind the mountains, but the temps didn't hang around for long. Despite being mid-June, altitude rules all in the summer months. Into the 50s and 40s, we continued to enjoy the reprieve from the heat, settling in for yet another night on the trail. I put the camera way and joined my friends, relinquishing my final grasp on technology for the evening. Stay tuned for Part III.