The term "track car" is an ambiguous one. It denotes nothing more than a car dedicated to track usage, or at least built to split time between street and track duty; however, there's little doubt that it conjures specific imagery. "Track car." It's unlike you're imagining a four door sedan, or moreover, a 3,800 pound car, instead opting for something more expected, such as an M3, an FRS, or perhaps even a Civic. When Riley Stair began his foray into track time and chasing seconds, though, he didn't let the 3,800lb sedan at his disposal keep him from passing all of his friends around Buttonwillow.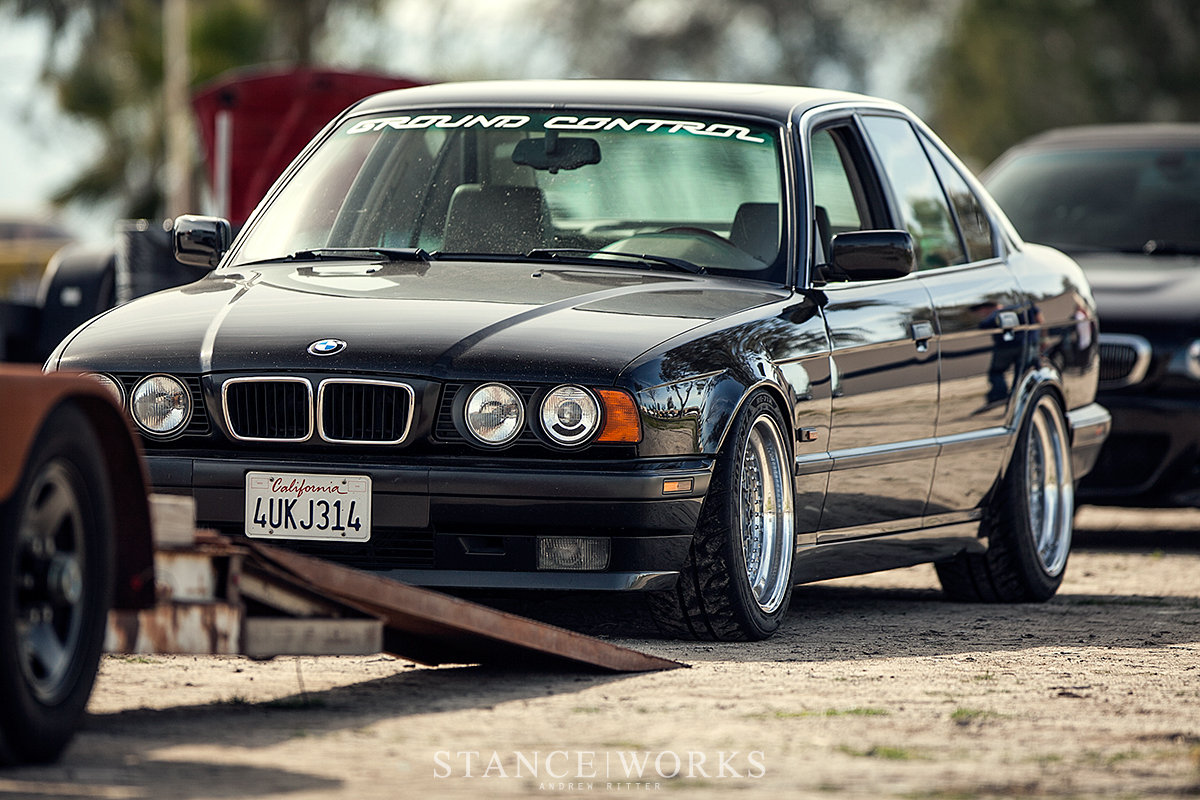 Riley isn't the first, nor will he be the last, to point an E34 towards a checkered flag. Even BMW helped Ed Arnold Racing and David Donohue pilot an E34 M5 to victory in the 1994 and 1995 IMSA Bridgestone Supercar Championships. Steve Dinan built one of his own, too — a turbocharged 540i built for the World Challenge — and although he never claimed a championship victory, that's not to say it wasn't a formidable opponent. To say Riley has similar expectations from his own E34 is an overstatement, but as a fan of the chassis itself and without fear of the unknown, he dove in head first towards building an E34 that could handle the abuse of countless track days while offer reasonable comfort to and from the track itself.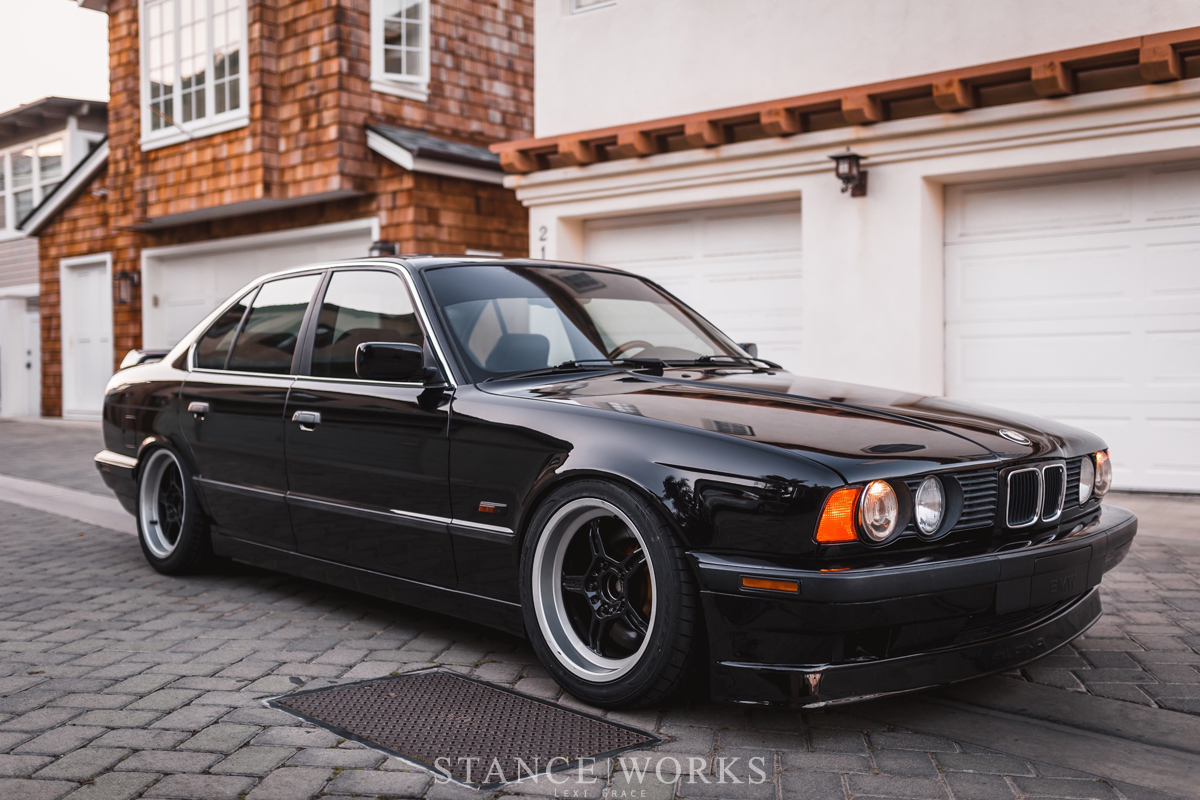 The hurdle for an E34 540i, of course, is its considerable weight, thanks to being a top-of-the-line model for the 5-series platform at the time, save for the M5. The V8 under the hood, the six speed transmission, and the extensive accoutrements in the interior all add poundage, which result in a car that tips the scales at nearly two tons: an easy thousand or so pounds heavier than your average track car, if not more. Working at Ground Control Suspension, though, Riley was able to build out the car to spec, choosing to focus on suspension and dynamics over power.
The car, as one might expect, boasts a complete Ground Control coilover kit, which utilizes Koni inserts and Eibach springs, spec'd by Riley for the car, of course. Race Hybrid GC camber plates top the struts in the front, while upgrade mounts top the rears. The coilover system is the basis for bringing the E34's handling up to snuff, but it relies on a slew of other parts working in unison to really make the car shine.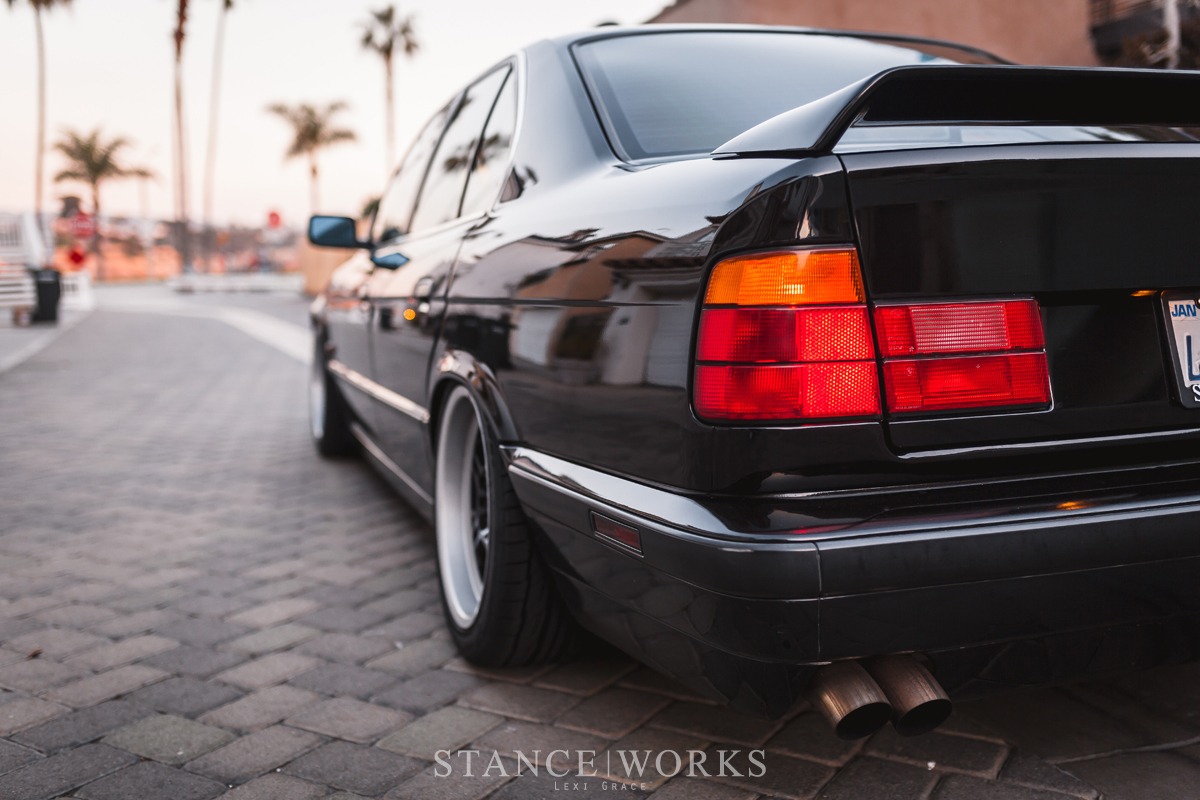 Riley opted for Racing Dynamics sway bars, front and rear, paired with Ground Control adjustable end links, to counter body roll. Custom spherical control arm bearings help remove unwanted flex and slop in the front suspension, and custom roll center spacers help keep the geometry in check, despite the car's low-slung height.
Keeping the car planted in the corners is, of course, pivotal in securing fast lap times. The 300 or so horsepower pumped out of the car's 4-liter V8 helps to get the car moving in the straights, meaning it was stopping that needed the most attention. Having sourced a set of massive AP Racing 6 and 4 piston calipers, Riley built custom adapters and rotor hats to fit them to the car. The result is a 355mm front brake package and a 335mm setup out back, and the combo fills the 17×9 square forged M-system wheels to the brim. Hawk track pads squeal a bit on the street, but provide a massive bite when the pedal is stood on. Wrapping the wheels and providing all of the stopping and  going is a set of 255/40/17 Nitto NT555G2 tires. With a 320 treadwear rating, it's a tire that finds balance in grip and practicality, offering superb performance both on street and on track: the perfect double-duty tire for a double-duty car.
The focus on the dynamics of the car doesn't mean that the driveline has been ignored entirely. A DUDMD chip livens up the M60 engine, and a custom catless straight-piped exhaust makes visceral sounds that are quite unexpected from a once-family sedan. A JB Racing lightweight flywheel and upgraded clutch package make for quick revs and snappy sounds, as well as quick shifts when paired with the E60 short shift kit.  Perhaps one of the most custom aspects of the car, though, is at its tail end: an E46 M3 LSD unit and 3.62 gears were modified and retrofitted into the E34 differential housing, which provides limited-slip traction and better gearing for on-track functionality.
Needless to say, Riley built quite a quick car when it comes to making laps around Southern California's famous road race circuits, where he managed to keep up with a fleet of lighter, more nimble cars every time he hit the tarmac. The car's confidence in the corners, as well as its overall demeanor, prove a bit intoxicating, thus it comes as no surprise that Riley's better half, Lexi Grace, fell in love with the car in short order when the two began dating more than a year ago. After poking and prodding, she even convinced him to sell her the car, and now, she focuses on righting the "wrongs" that track abuse is often responsible for.
Once acquiring the car and calling it her own, she was quick to fit a new Alpina-style air dam to the car's front end, which pairs well with an ACS rear spoiler, giving the car a bit of much-needed aggression. Hella Euro smiley headlamps and a narrow nose conversion take the car to peak E34 aesthetics on the outside: simple and understated, but perfectly suited in every regard. On the inside of the E34, a tan interior was painstakingly swapped out for an all-black counterpart, including sport seats and the headliner. A Nardi Woodline wheel, rumored to be a rare factory option in some European cars, completes the inside: not something one might expect from once-trackrat-turned-daily.
While Lexi has yet to get her own toes wet on track in the E34, it's something she's keen on giving a go, and with Riley working hard to coax her out there, it's only a matter of time. In any case, though, the E34 is in better hands than ever before, with each passing day bringing the car to a nicer and nicer state. In its entirety, it's a car that celebrates everything the E34 54oi/6 should be: a touring car with sports-car roots and an understated presence that's sure to leave anyone impressed. Even us.