– Photography by Romar Hiensch –
Born as a homologated touring car, the original BMW M3 has motorsports blood coursing through its veins. From its boxed flares to its high-strung S14 4-cylinder engine, it stands stark in contrast to its base-model brethren. It comes to a surprise to some, then, that there are indeed authentic E30 M3 convertibles, produced by BMW. 786 convertibles, to be specific. The M5 stood as the sedan counterpart, of course, filling in the gaps for the need for a high performance sedan. No one at the time, however, was thinking about high performance tourings. 
Touring, Estate, Avant, or Wagon… take your pick, because they all mean the same thing. The E30 Touring wagon was introduced as part of the "facelift" update in 1987, and production was carried through until the mid 1990s, which brings us to Julian Serna's example. As a 1994 model, it's one of the last E30s produced, well into E36 production which began in 1990. Known for the most part as a 5-door wagon, it's the most family-friendly version of the E30 lineup, build for handling passengers and cargo in a part of the world where trucks are far less common than the US of A. On the other hand, however, North America never received the E30 touring, leaving us green with envy even 30 years later.
While BMW never officially offered an E30 M3 Touring, it hasn't stopped folks from building their own. With more than 16,000 M3s built, and some of the sheet metal still available from the factory, conversions have taken place here and there for years. As a costly endeavor, though, it's a project reserved for the select few who really want a box-flared station wagon, thanks to its prohibitive barriers to entry. Spotting a car like Julian's is always a treat.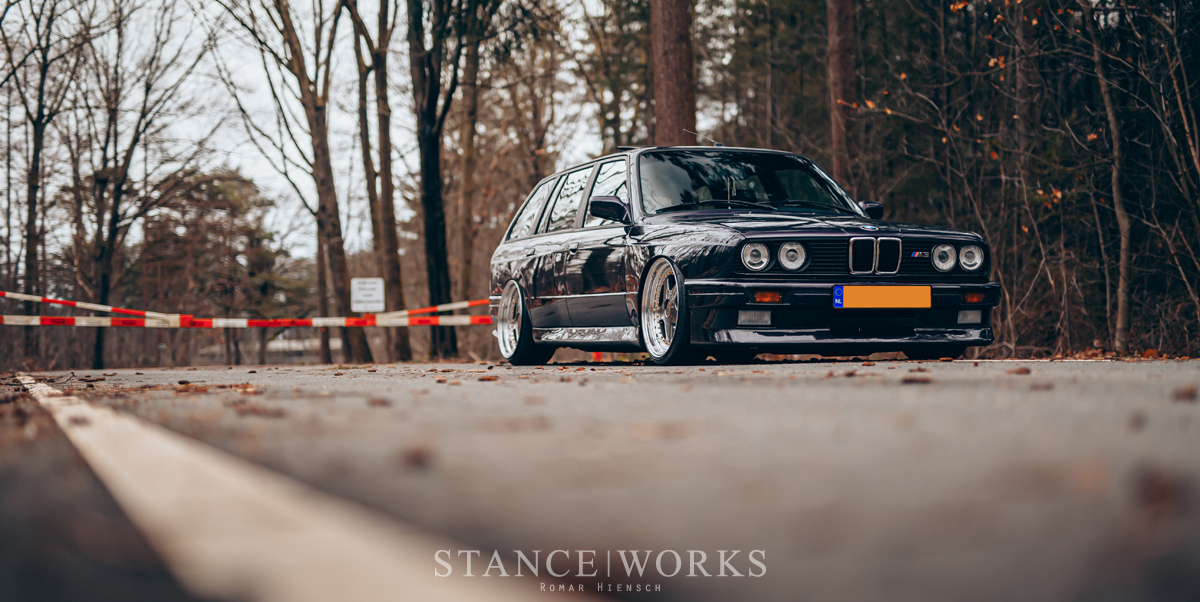 It's clear, though, that Julian's "328" is no ordinary M3 touring, if there were such a thing. The Daytona Violet paint, most known for its availability on the E36 M3, makes it immediately clear that this estate is packing some flavor. If that didn't make things clear, chances are the massive OZ Futura splits gave it away. Born as a 17″ set, Julian had them stepped to 18″ in diameter, and widened to 8.5s and 9.5s, front and rear respectively. The massive lips fill the boxed arches of the wagon perfectly, and the gold hardware paired with the graphite centers play wonderfully with the metallic purple paint.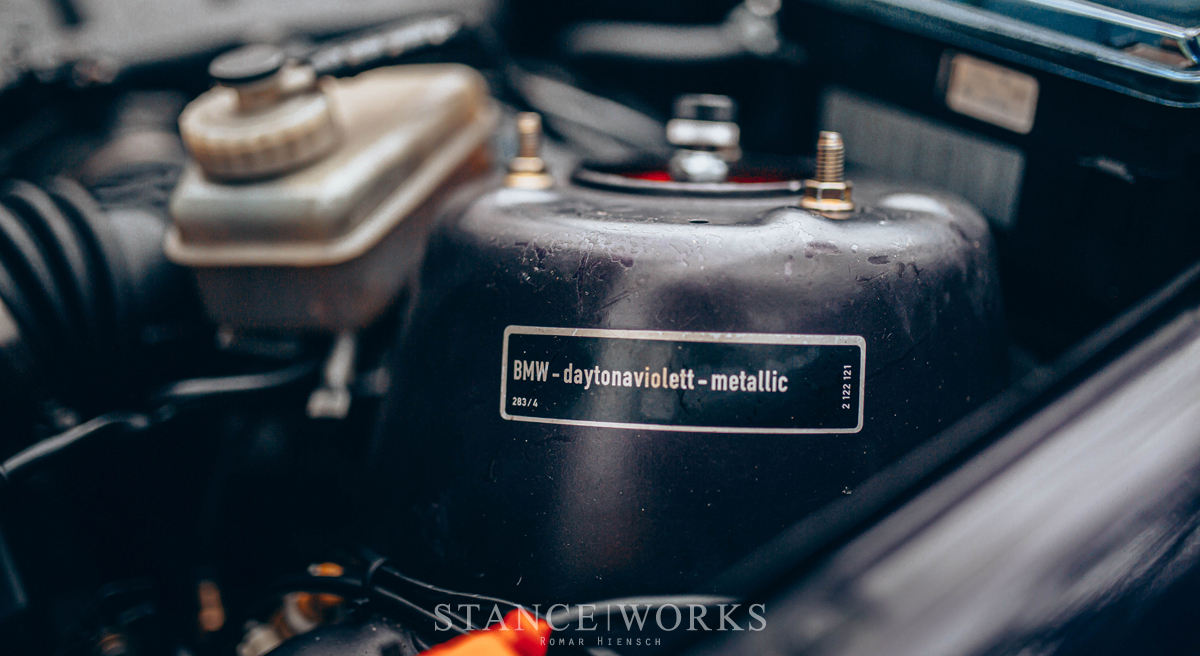 Helping the OZs fill the wheel wells is an entire Air Lift Performance air installation. Air Lift struts, bags, and shocks make for an easy-to-install kit with only a small need for some basic welding. For ride control, Julian opted for Air Lift Performance's "3H" management, the top of the line solution that utilizes ride height sensors at each corner of the car. The on board Air Lift computer allows Julian to precisely control the ride height, and it automatically compensates for additional passengers or cargo, keeping Julian worry free about running his gorgeous wheels into his beautiful fenders. Air Lift Performance camber plates have helped him dial in the fitment, making for a perfectly set-up "M3."
The inside of the car is as spectacular as the exterior, with M-Technic upholstery throughout. The front eats are a focal point, while trimmings such as the shift knob and boot, the steering wheel, and even the rear fold-down seats all sport matching flair. If BMW had indeed built an M3 Touring, chances are, it would look like this inside.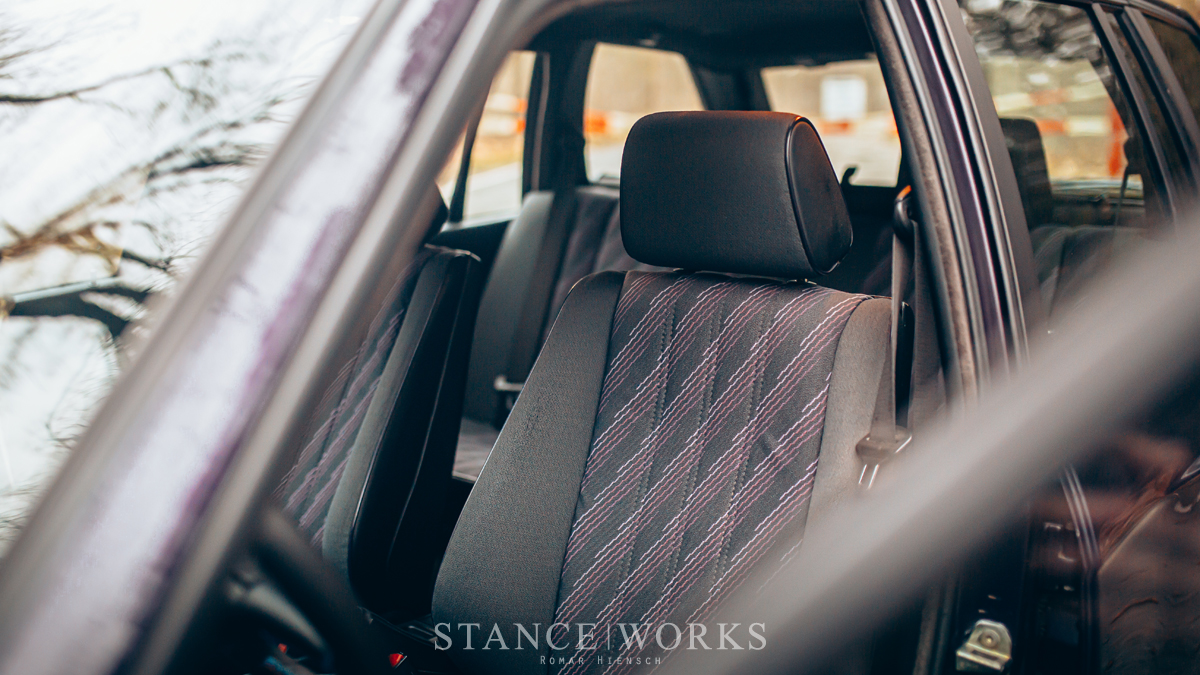 To be badged as an M3, though, is something else entirely. Under the hood of the car, the original lump has been nixed in favor of an E36 power plant. An M52B28 sourced from a late model E36 328 was swapped into the wagon, giving it a massive bump in power and torque, and enough "oomph" to back up its wild styling. Is it sacrilege to sport an M badge without an M3 engine? We'll let you make that call… but there's no doubt that Julian's car is incredible by nearly any measure.
Although BMW never officially built an M3 touring, we're glad folks like Julian Serna are out there, breathing life into otherwise-forgotten station-wagons. To date, BMW has yet to produce an M3 wagon in any regard, but this should serve as motivation. BMW, we're begging you. Let's make it happen.