Classic cars aren't for everyone. They can be picky, finicky, and costly to keep on the road. Parts can often be hard to find, service can be difficult to source, and the experience as a whole can be an endeavor, to say the least. For Kevin Zimmermann, however, there was only one clear and obvious choice after his 2001 VW Polo GTi left him stranded one too many times. Riddled with problems only a computer could fix, Kevin knew it was time to change things up, and it was the field of classic BMWs that called his name.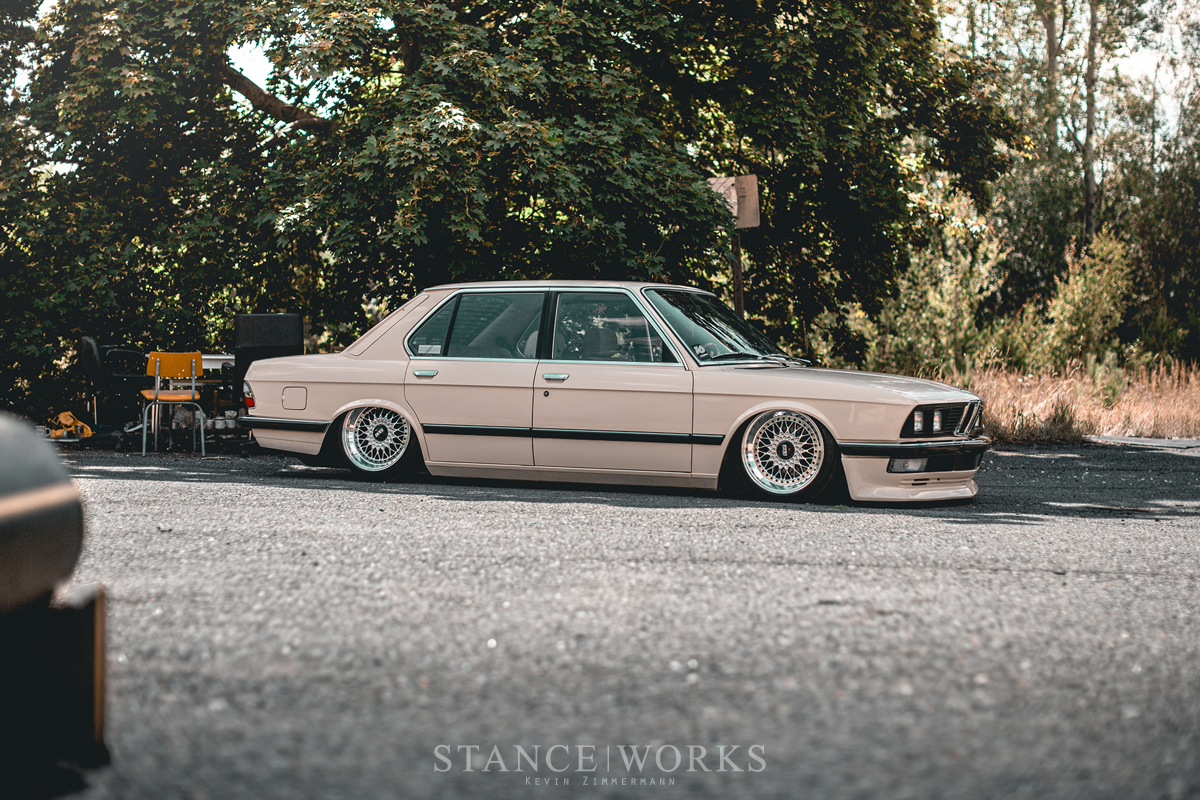 "StanceWorks played a big roll in that," Kevin admits. "Seeing those lowered BMWs pop up on the blog, and the incredible photographs of them, really made me want a classic bimmer." His criteria, overall, was relatively simple: all that mattered was that the car needed to be a manual, chrome-package car, and it needed to be in top-tier condition. Living in Berlin, attending college, and with no place to perform a restoration of his own, it meant whatever platform he began with needed to be free of major flaws, and ultimately ready for Kevin to make the car his own.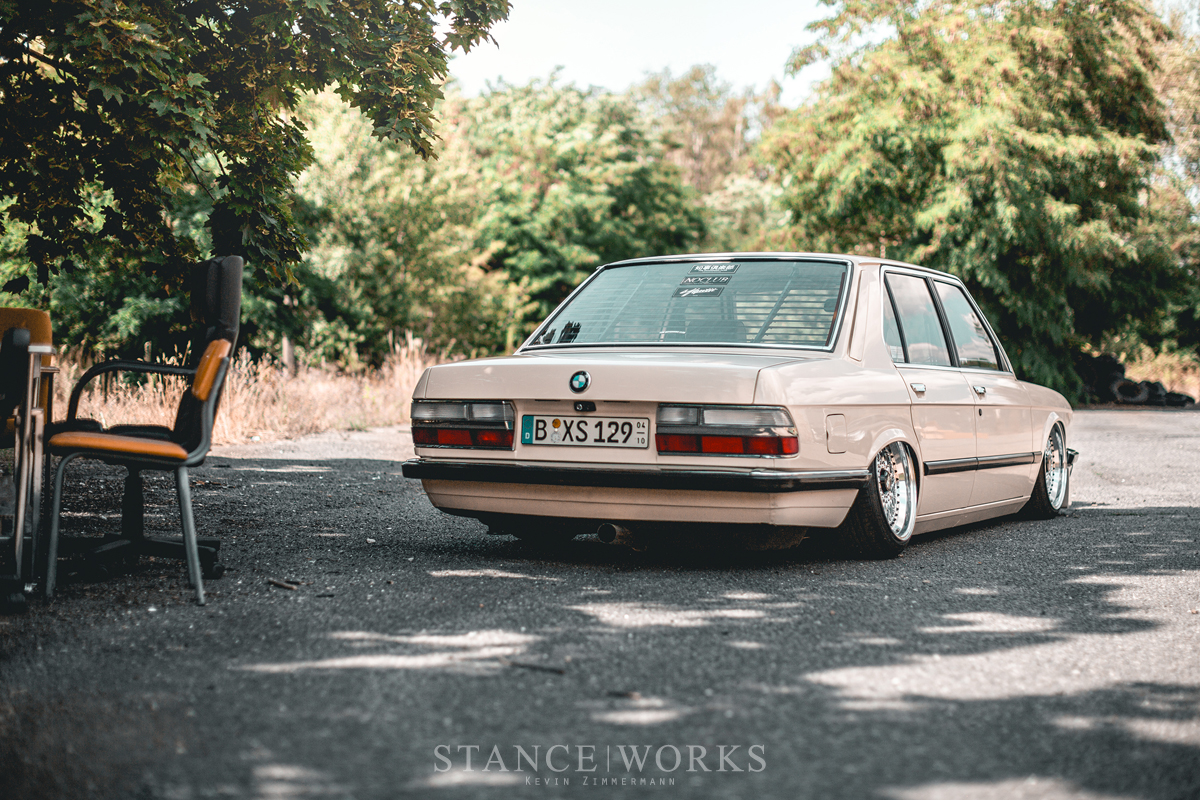 It took several months of searching, following the sale of his Polo, to find the right car. Upon crossing paths with this particular beige example, he wasted no time reaching out to the owner, and was met with promises of a car that wouldn't let him down: a premise often met with skepticism for anyone that's used a service like craigslist more than once.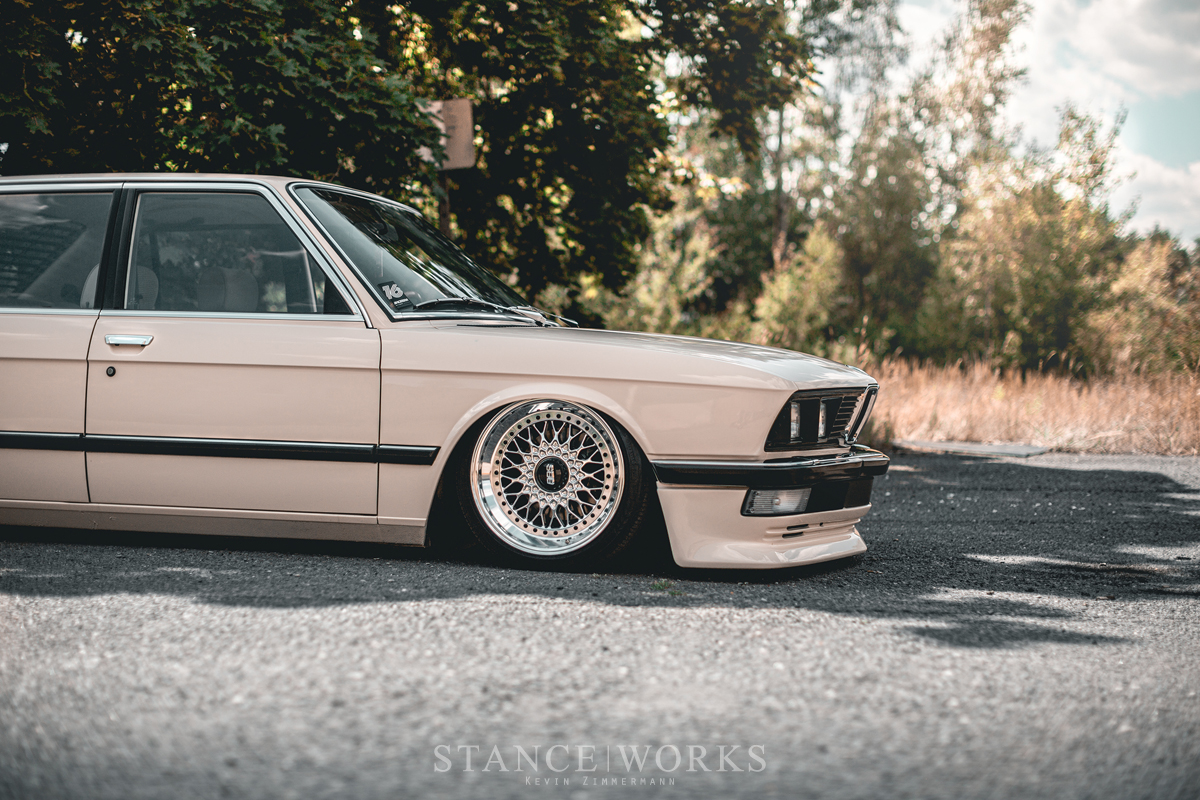 Upon arriving, Kevin was blown away. The condition surpassed any and all expectations: the car hid no rust what-so-ever, was a summer-only driver, had always been stored inside, and was still wearing its original coat of paint: Hellelfenbein, or Light Ivory for the curious. Hailing from Germany, Kevin did ask if the car was ever a taxi, with its paint color matching the traditional German taxi color to a T. Unsurprisingly, though, the owner replied that it had not, and instead the car had simply been custom-ordered with the color from the factory, which was never officially available on the E28 chassis otherwise.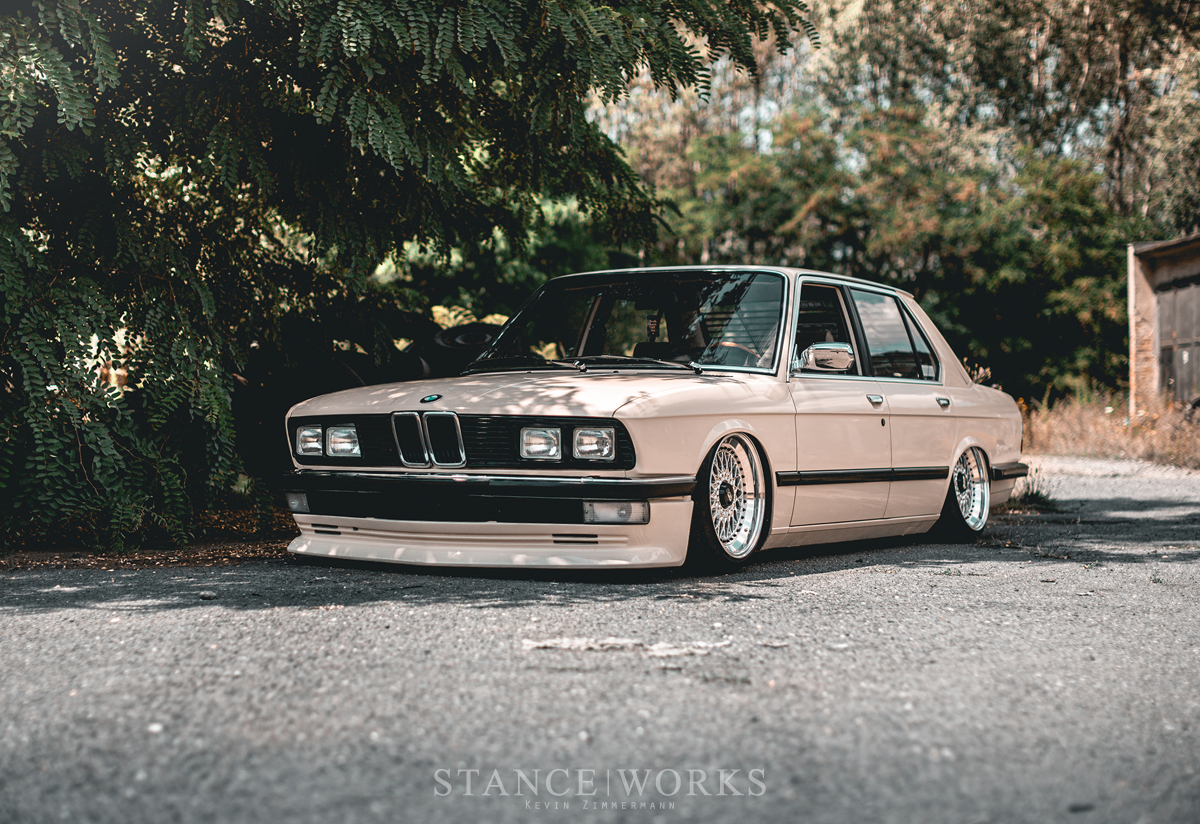 The car, of course, met all three of Kevin's requirements: it was in phenomenal shape, it was a manual transmission, and it was equipped with chrome brightwork. Otherwise, though, the car was as basic and stripped as they come. Under the hood is a 1.8-liter M10 4-cylinder engine, giving the car its "518i" title. While it does mean the car keeps up with a snail at best, it's as reliable as they come. The car came with no accessories to fail, either: no ABS, no traction control, no cruise control… no radio, even: not even speakers. Colloquially known as a "stripper" model in the States, Kevin's 518i is an E28 in its purest, most basic form, and luckily, that's exactly what he wanted.
When Kevin bought the car, it was already equipped with aftermarket sporty suspension bits and one-piece AC Schnitzers, but with StanceWorks on his mind, he knew radical changes were in store, and began carefully planning out the E28's build list. First things first: wheels. Kevin sourced a set of all-original BBS RS 212s in 17×8.5 ET13 square, and refinished them himself. The lips and centers have been polished, with the centers receiving a ceramic coat for protection, and the wheels were reassembled with black hardware and a custom set of conical center nuts. The sizing it spot-on for the E28 chassis, allowing for room to be tucked away under the arches without the need for modification of the body itself.
Following wheels was suspension. Vogtslamn was enlisted to help built a one-off system for the car, which utilizes custom shortened coilovers with air springs and manual management, keeping in line with the car's simple, no-frills theme in regards to accessories. No electronics, no sensors: just classic manual valve bodies and a few useful pneumatic switches.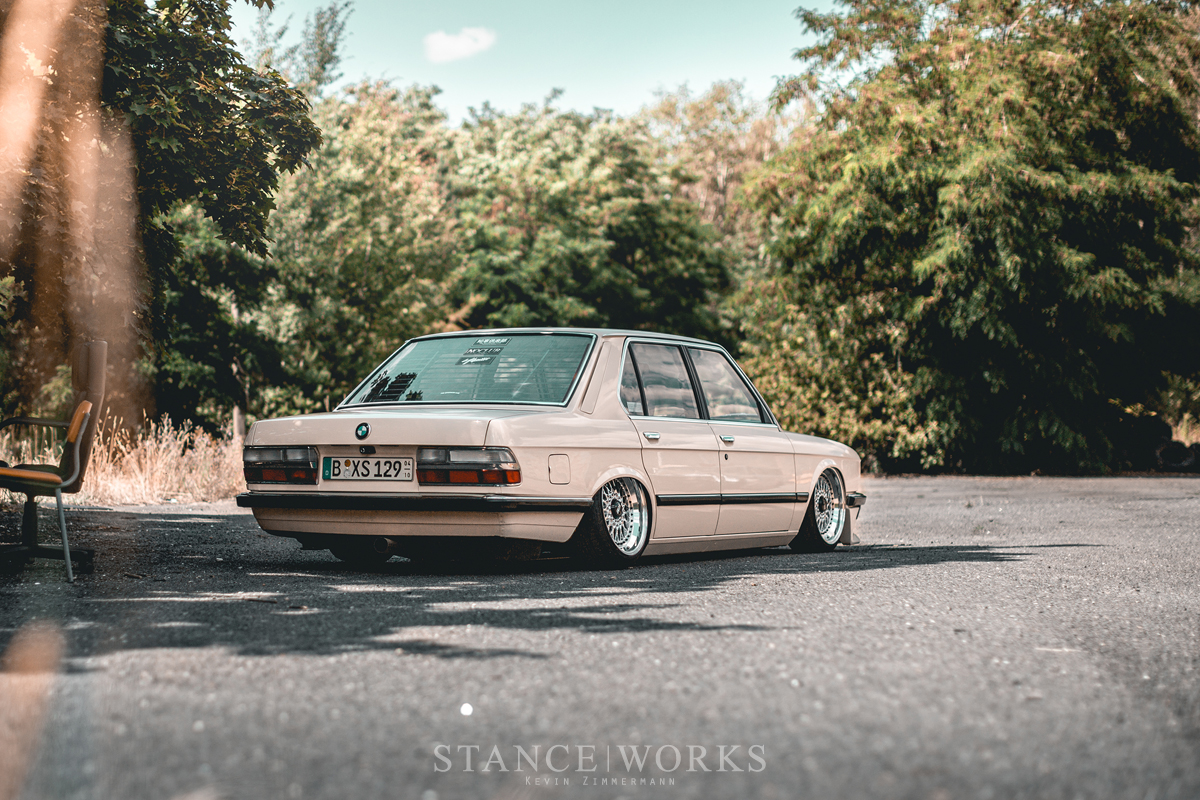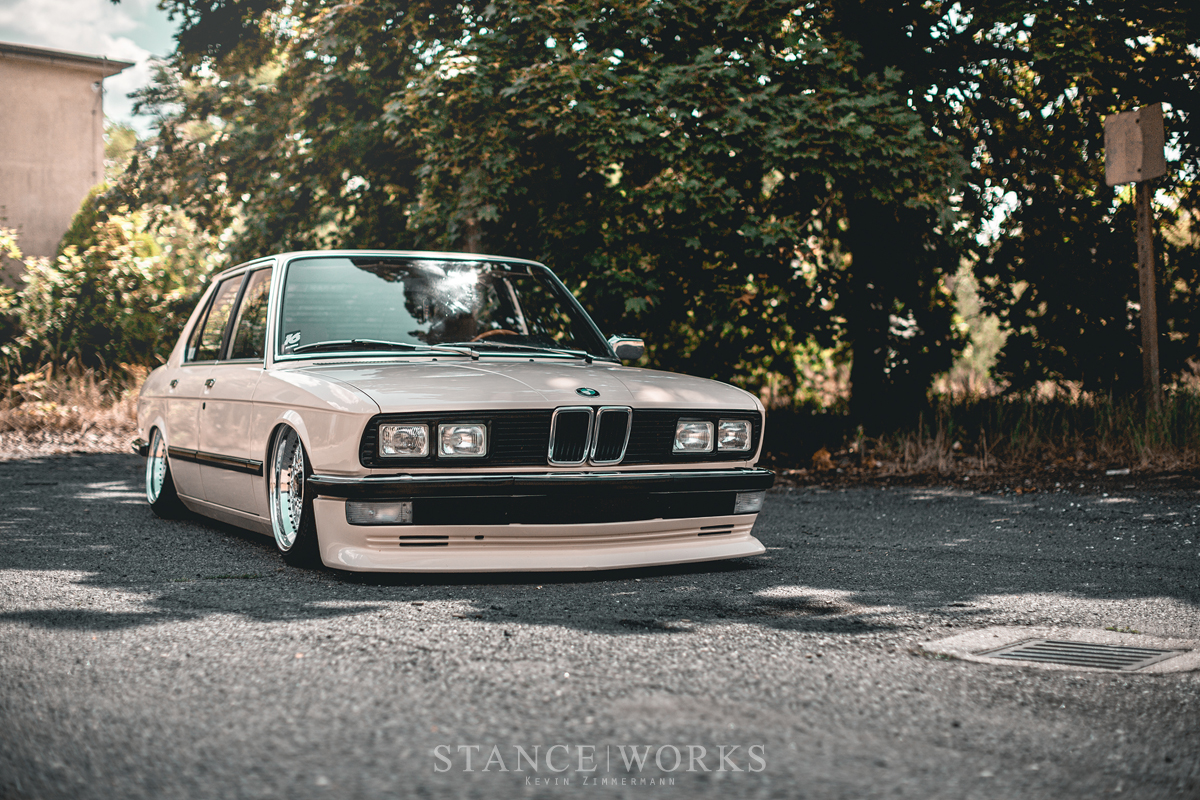 Kevin found true enjoyment in the smaller details of the build: "I'm always looking for rare and cool parts to add. This really is the fun for me in building the car," he says. With so many odd bits and pieces floating around from decades ago, there's a certain sense of fun found in customizing the car to make it different from the rest.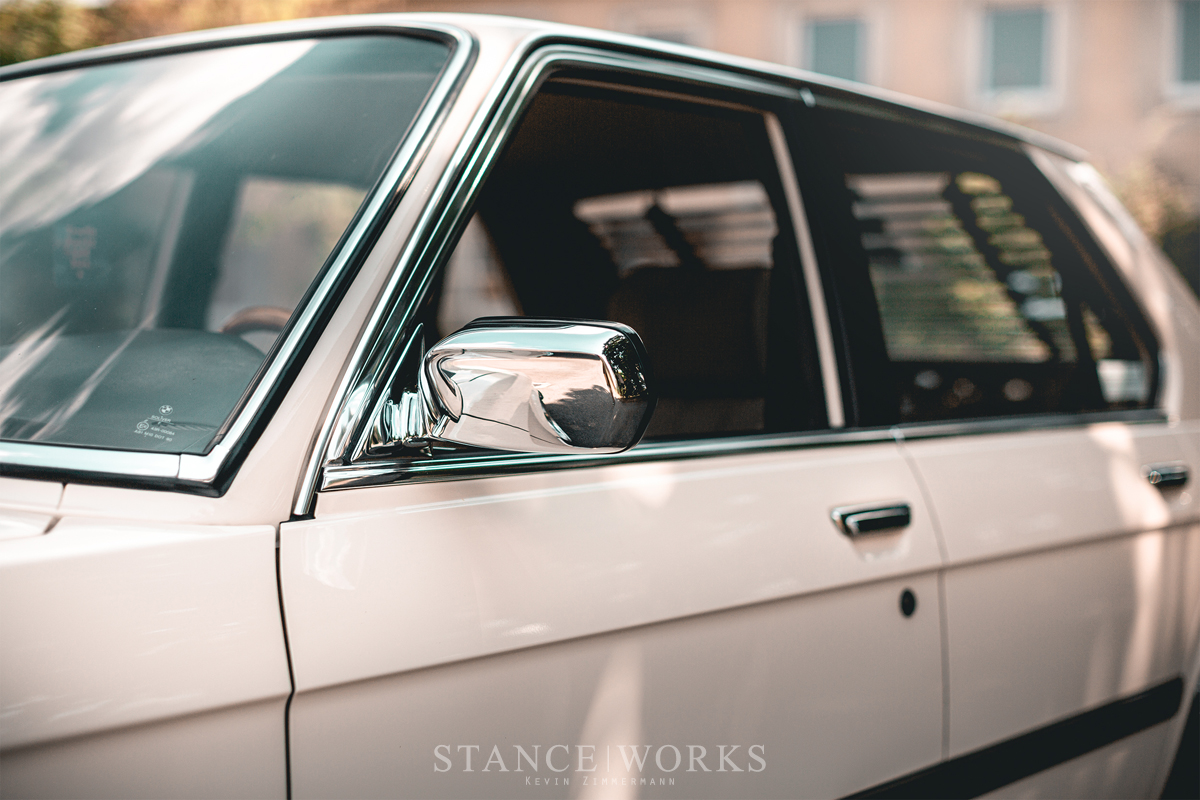 Kevin first sourced a Zender front lip, paint-matched to the car and given a bit of massaging to straighten the old fiberglass lines that run across the nose of the car from one side to the other. Kevin shaved the front license plate holder, and then sourced a set of clear indicator lenses for all four corners of the car, nixing the amber in favor of something a bit more unique and uncommon on such an old chassis. He plucked the door handles from the car and replaced them with chrome E12 counterparts to match the window trim and the optional factory chrome mirror. The final details: old chrome Mercedes S-Class wiper arms, and body-color matched rocker panels, which frame out the E28's classic lines and give this car its defining, all-euro all-style aesthetic.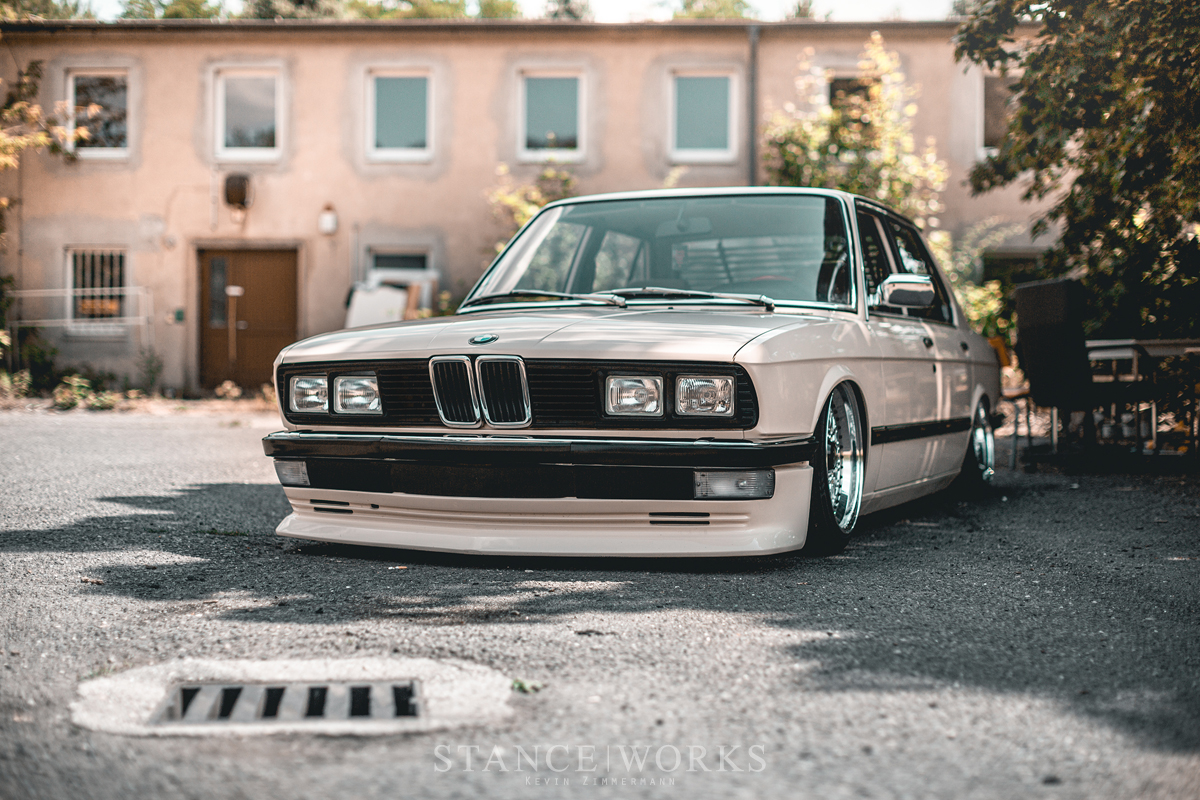 Inside the car, Kevin has fitted a Nardi steering wheel and shift knob, opting to leave everything else alone to preserve its condition. At the interior's back end, a set of rear window blinds were added, harking to the more-common but too-sporty Auto Plas rear louvers that often fetch hundreds upon hundreds of dollars per set.
This, of course, brings us to the final but most controversial detail on Kevin's build: the Hofele square headlights. After seeing a set on Scott Saier's E28, Kevin knew he needed a set for himself, and spent ages tracking down a set. What eventually arrived was what he jokingly refers to as what was the "remains of a set," and suggests most others likely would have tossed them in the trash. Instead, though, he spent considerable time restoring the parts for their on-car debut. The outcome is undoubtedly one of the most unique changes that can be made to the E28's overall aesthetic, and Kevin couldn't be happier.
Now though, 4 years into his project, he may be moving on. Germany is notorious for cracking down on modified cars, and Kevin failed to escape their wrath, having since returned the car to stock, as legally required. He's unsure of what's to come, whether or not the E28 will make a return or if he'll sell it and move on to something else to enjoy. In the end, the project served its ultimate purpose: Kevin enjoyed every aspect of building his car, surrendering everything in the name of style. Needless to say: good work, Kevin. Welcome to the StanceWorks homepage. We're eager to see it happen again.