For anyone at the age of 30, plus or minus a handful of years, there's a decent chance your love for cars began in the world of Japanese imports. For me, it was all thanks to the Honda Civic, and shortly after, it was the Nissan S chassis that became the object of my affection. Believe it or not, S13 coupes have held a special place in my heart ever since they were displayed in the local nissan auto dealership. Hatches were a neat counterpart, of course, as were S14s with their updated aesthetic. It was the S15, however, that always held a certain "unattainable" allure. With sleek, aggressive, and clearly-defined sports car lines, a turbocharged engine,  and one of the most thorough and impressive aftermarket support networks on planet earth, it's a clear champion-contender when it comes to late-90s Japanese sports coupes.
The downside, though, is that the S15 was never brought to the United States: emissions and crash-test standards deemed such a fate, and ever since, enthusiasts have been resentful (and don't even bring up the Nissan Skyline.) Granted, a handful of folks have managed to sneak S15s through customs, titling them as S13s and keeping their fingers crossed in most cases. Some go for broke in states like Florida, registering them as the real deal, and simply hope that the feds never catch on. In either case, it makes seeing one a real thrill: it's far more common to cross paths with an R32 or R33 stateside, and more often than not, what appears to be an authentic S15 at first glance is merely a face-lifted early S-chassis.
The story for Kim-David Merckens isn't all too different, either. The S15 is a rare sight in Germany, with only a handful having been imported over the years. It makes his build equally enthralling to encounter, and as one might have guessed, equally worth the StanceWorks spotlight.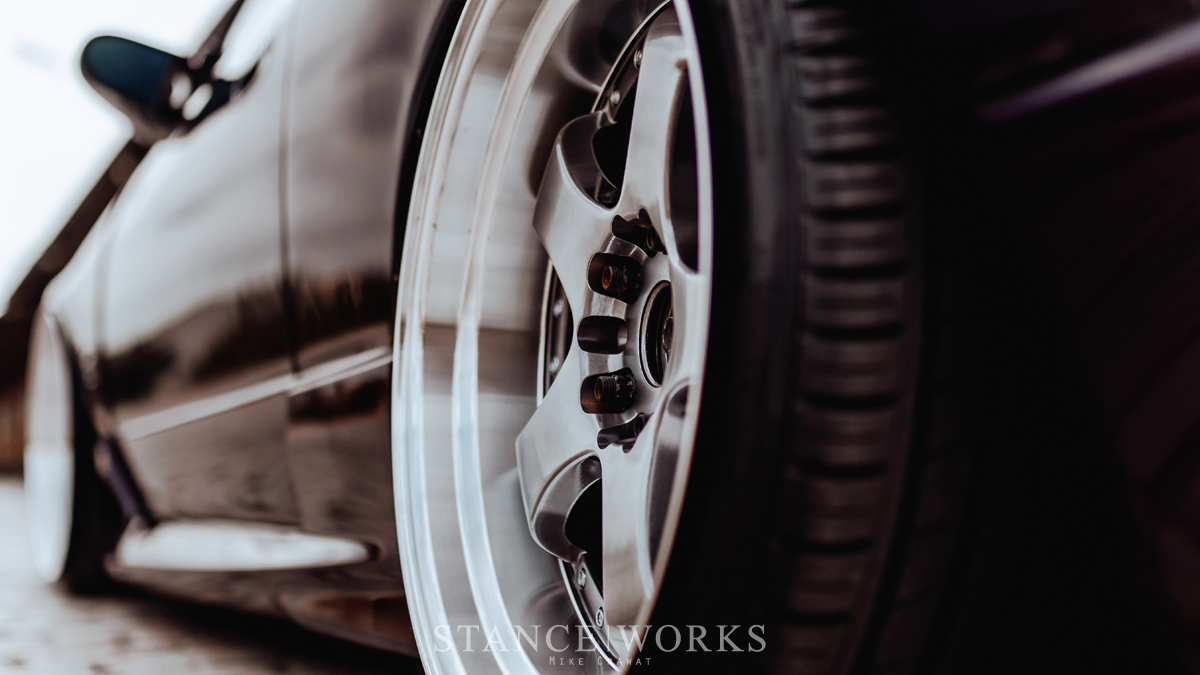 Over the years, Kim-David's Silvia has undergone quite the transformation, slowly but surely arriving to where it is today. First things first, it's all but impossible to ignore the sparkling purple paint, which stands high in contrast to the original dull and dreary silver the car wore from the factory. A handful of both factory and aftermarket aero parts are in place, embracing a bit of a "less is more" attitude in favor of the often more garish appearances that body kits can contribute to. The combination as a whole is hard to miss, without being over-the-top.
Underneath the car, air struts offer a bolt-on solution for the stance Kim-David was after. Finite up-and-down adjustment has allowed him to dial in both his normal drive heights and the perfect, anchored-and-planted aired-out stature for shoots like these. Air Lift Performance 3P management lurks behind the surface, with the digital controller mounted front-and-center on the dash for ease of use and practicality. Hunkered down over a set of perfectly-fitted SSR Professor SP1s, it proves to be a perfect match.
A front-mount intercooler and an Apexi exhaust, at the front and rear respectively, are all that hint to the car's level of performance, which pumps out nearly 400 horsepower: more than enough to back up the aggressive persona the car exudes.
As a whole, it's an S15 that is sure to leave all but the pickiest of S15 fans eager for more. For us in the States, we've got some time to go yet, before the S15 Silvia is legal for import. In the interim, it's cars like Kim-David's that'll have to hold us over.