SEMA 2018 has finally come to an end. We're back in SoCal, and for better or worse, we're catching up on more than a week's worth of missed emails, articles, and more. For many of us, wether we look forward to it or dread it, SEMA is an event that consumes the first week of November, year after year. It's the largest event in the automotive aftermarket, bar none, and rich with things to see, both incredible and laughable. World-class builds are unveiled left and right, and between them, a few gems surface as well. There are bluetooth driveshafts and cars sporting 4 fuel gauges too, but in all, it's much of what makes SEMA as fun as it is. Now that we're back in the office, we figured we'd share some highlights of 2018, from our friends' booths and cars, to a few machines we couldn't help but love. For those that missed it, here goes:
SEMA 2018 marked the unveiling of my own project: the '31 Model A I've been hard at work on since May of this year. There's a million and one details to cover, from the IMSA DPI wheels and rain slicks, to the VMP-supercharged Coyote V8 and the custom chassis. But worry not: a full feature is coming soon.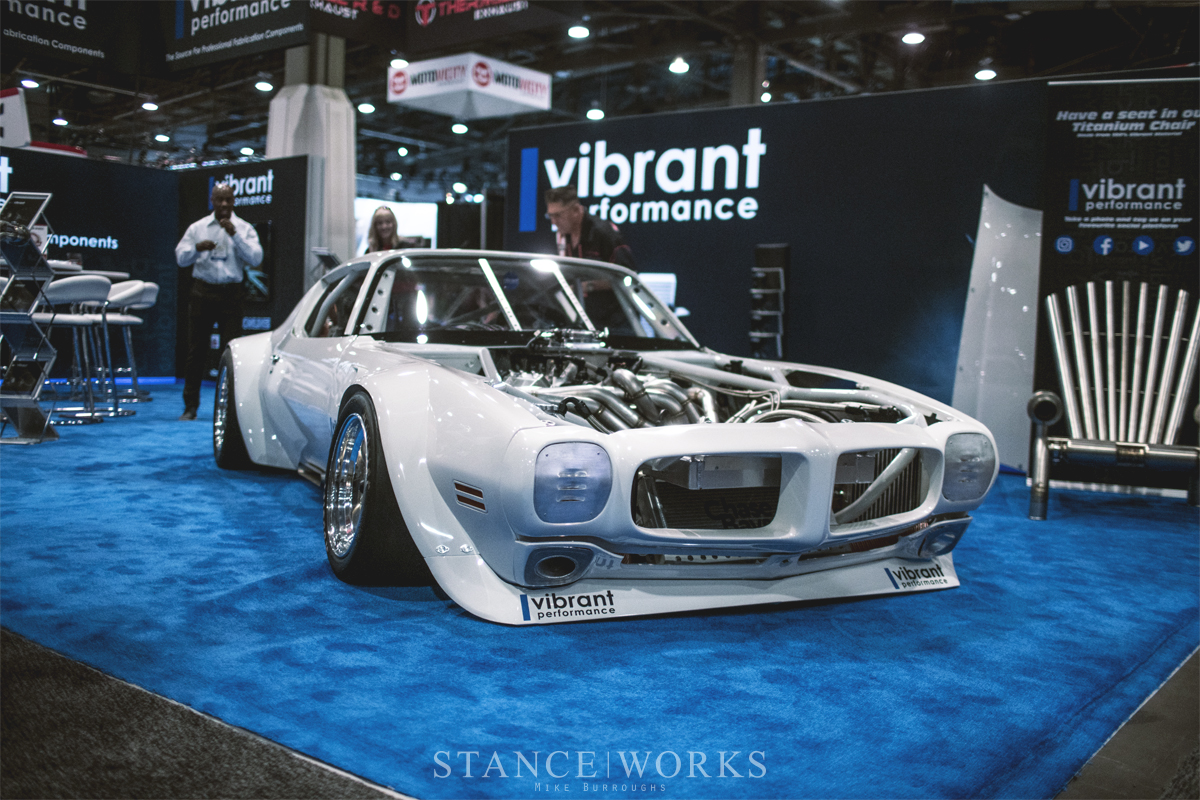 Also unveiled was Riley Stair's incredible '70 Trans Am. For more, be sure to check out our latest feature. We wrapped up a full photoshoot last night on the outskirts of Los Angeles, so check back soon for a full-fledged feature.
Our friends Khyzyl Saleem and Eric Penelow unveiled their brand, Live to Offend, with their new creation: a custom-kitted E30 brought to life from Khyzyl's famous renderings. With inspiration pulled from the E30 M3, and some neo-tokyo flavor thrown in, the car was a crowd-stopper, and we're excited to see where the duo takes their brand.
Also at the H&R Springs booth was Jason Whipple's "Million Dollar Scirocco", last featured on StanceWorks in 2014. It's now complete, and was recently unveiled with a wild, one-off hand painted livery, penned and painted by Ornamental Conifer. Each letter and shape sports hand-painted brush strokes. Blurring the line between race car and art car, it too was a sight to be seen, and only gets better the closer you get. It was exciting to share a booth with this machine, which will surely age well as an incredible piece of art.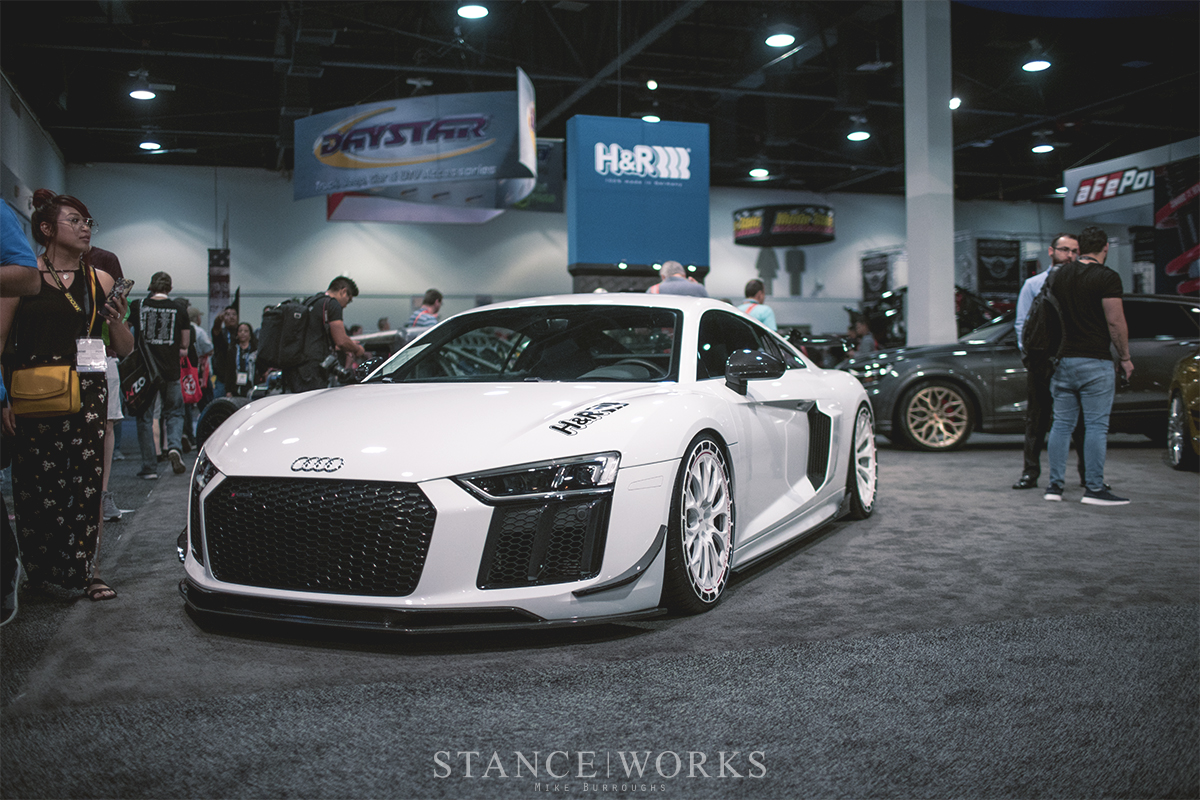 Rounding out the H&R booth is Brian Henderson's new Audi R8 RWS, sporting a Japanese BalanceIt kit and new Rotiform wheels. Sporting a VF Engineering supercharger, it pumps out 805hp at the crank. Hearing this machine roar to life as SEMA came to a close was an incredible highlight.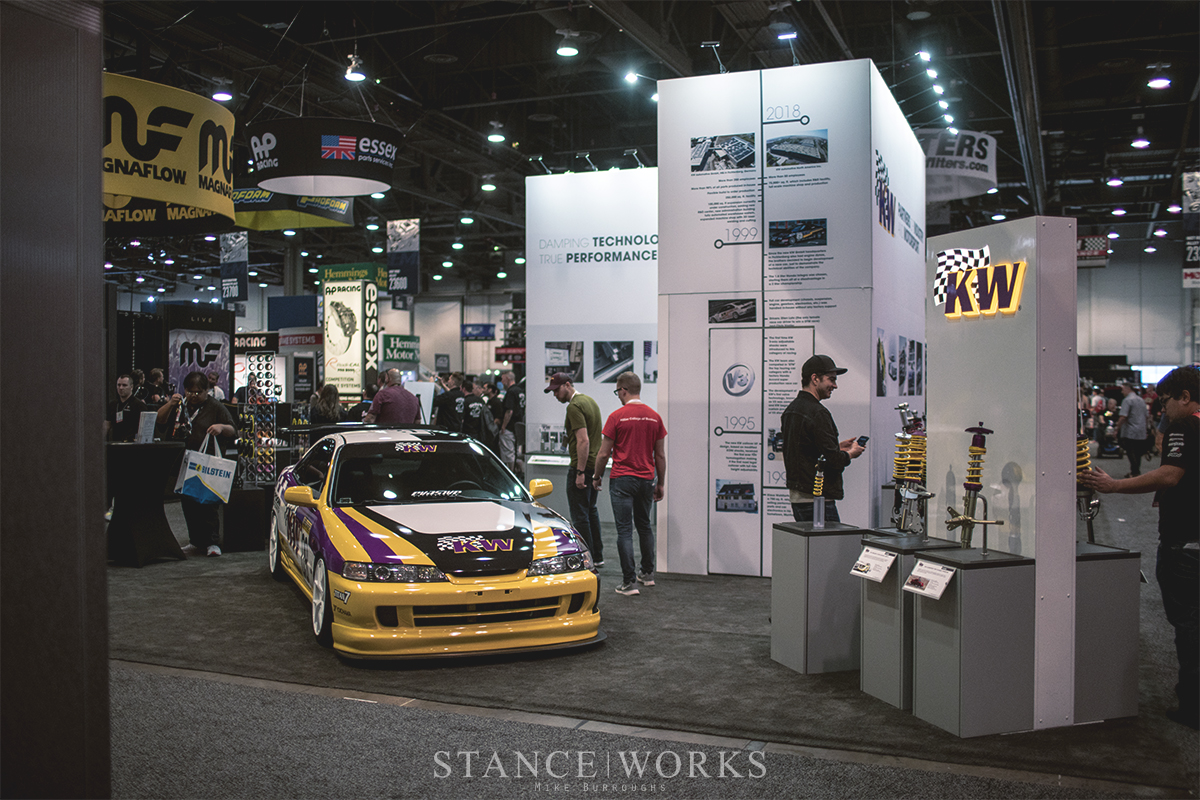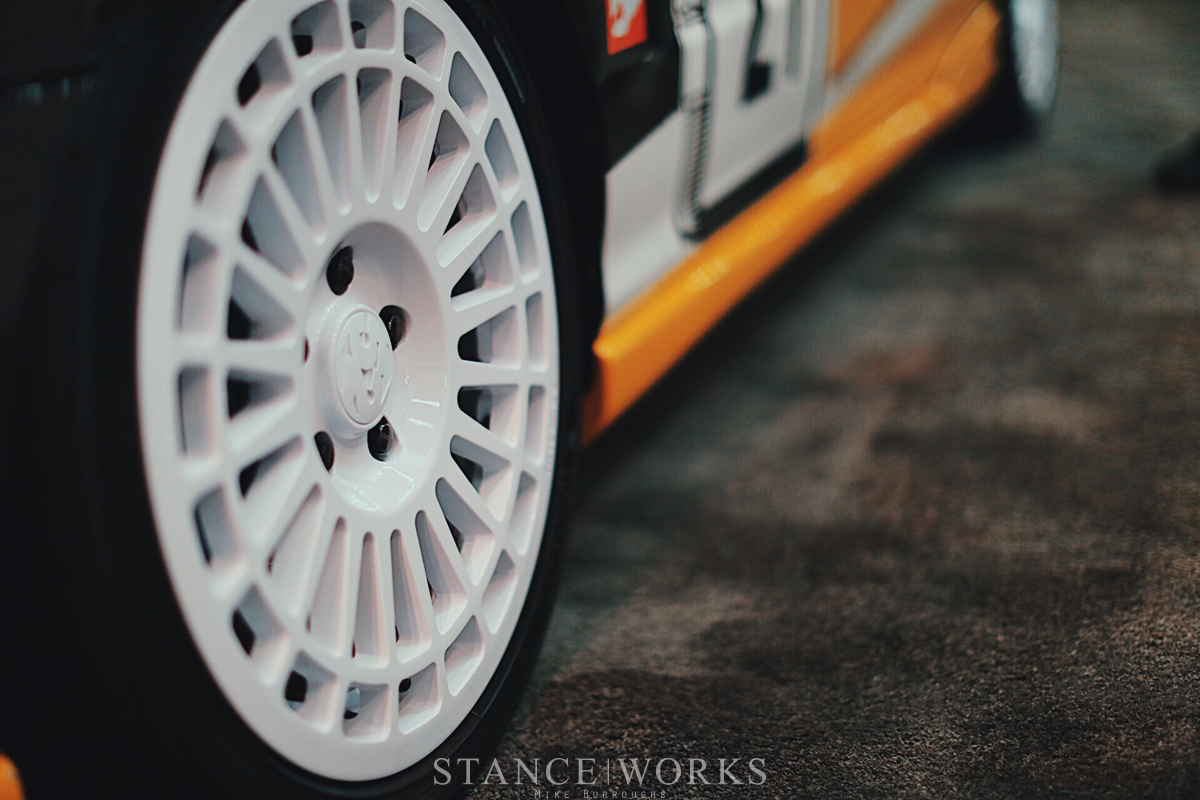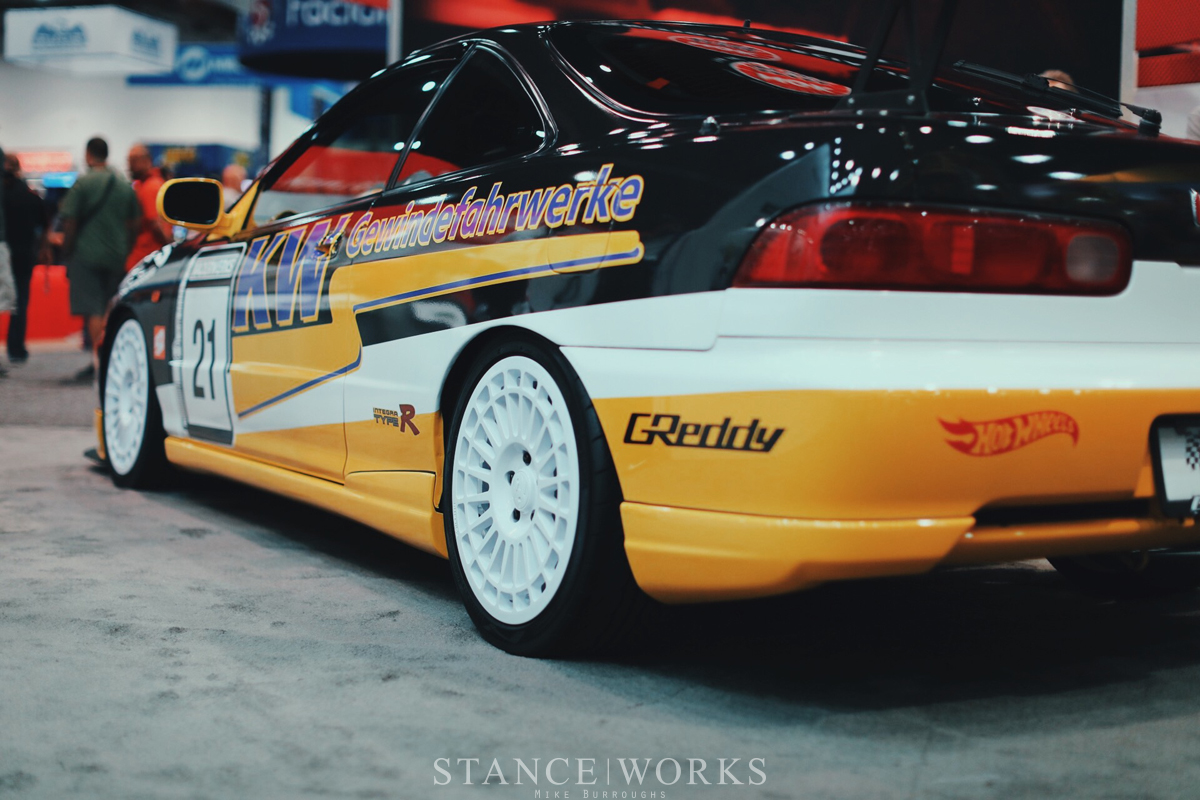 Jumping over to our friends at KW Automotive, it was a joy to see Chris Marion's Integra complete and on display. Sporting a different livery on each side of the car, one penned by Andrew Ritter, it was a unique take on graphic design. Coolest of all, it's about to be come a HotWheels model.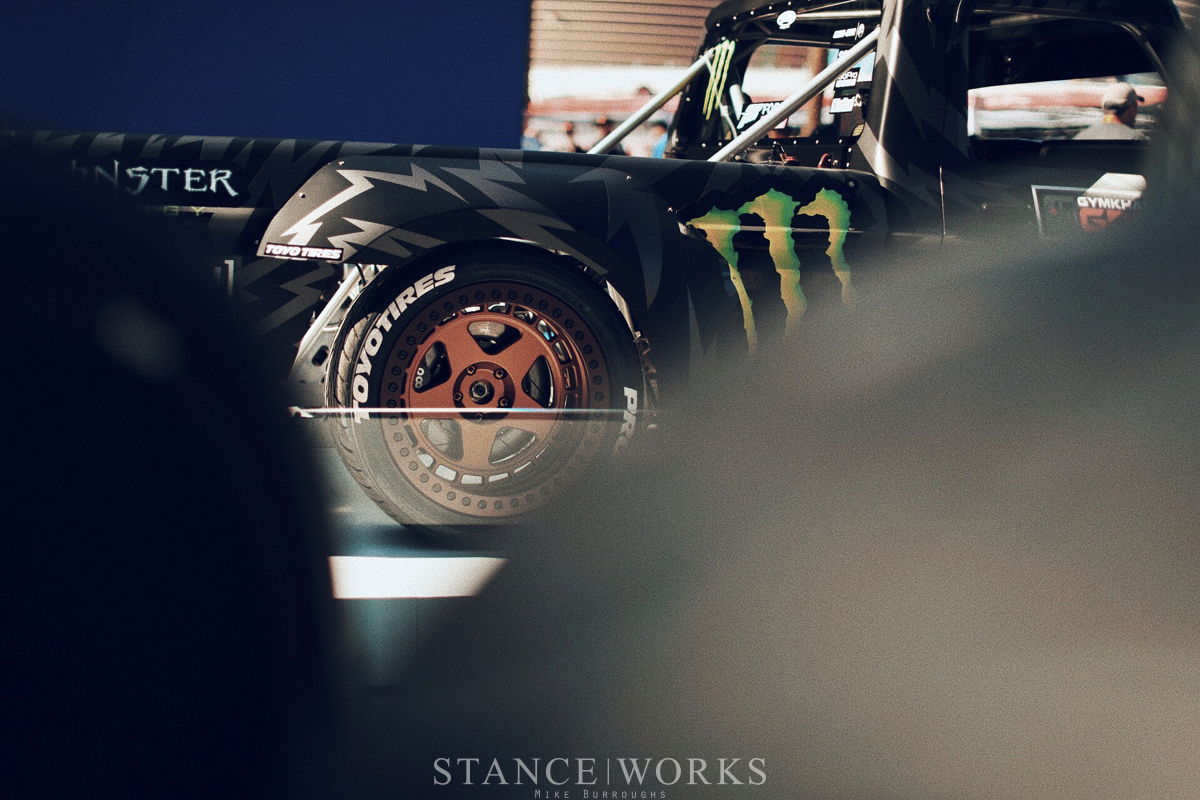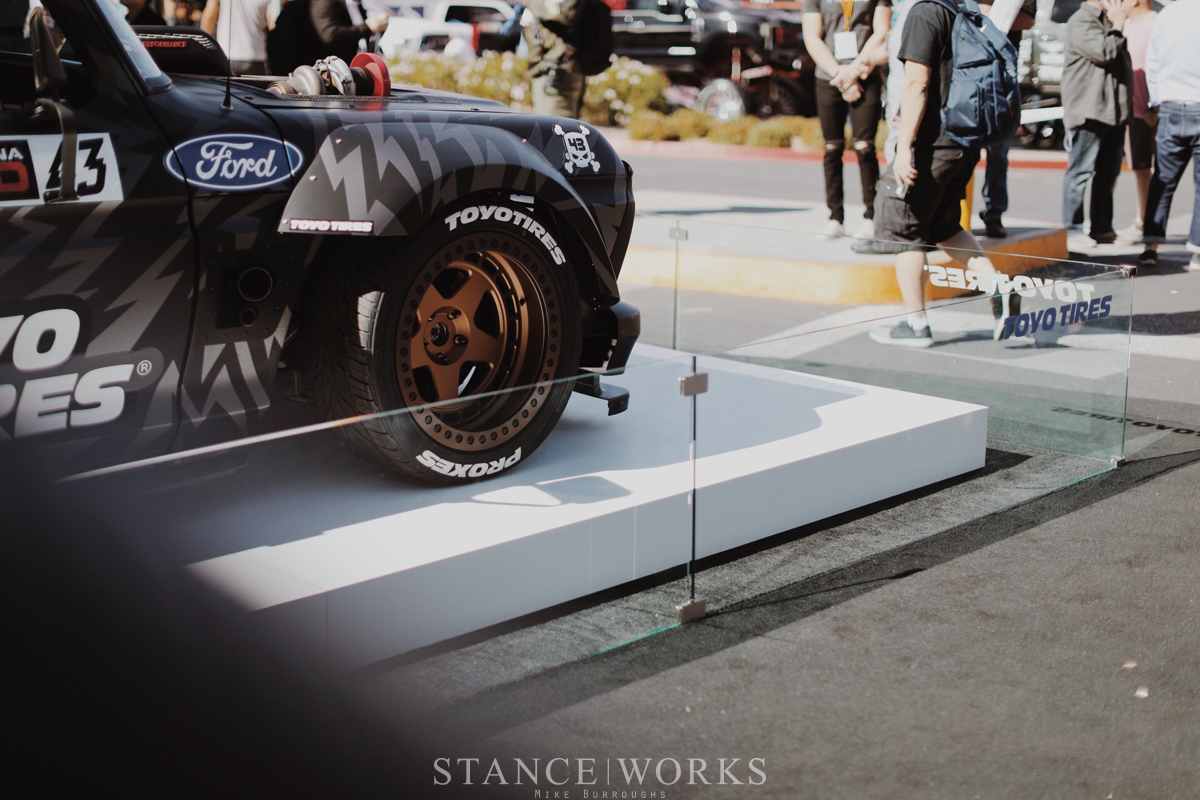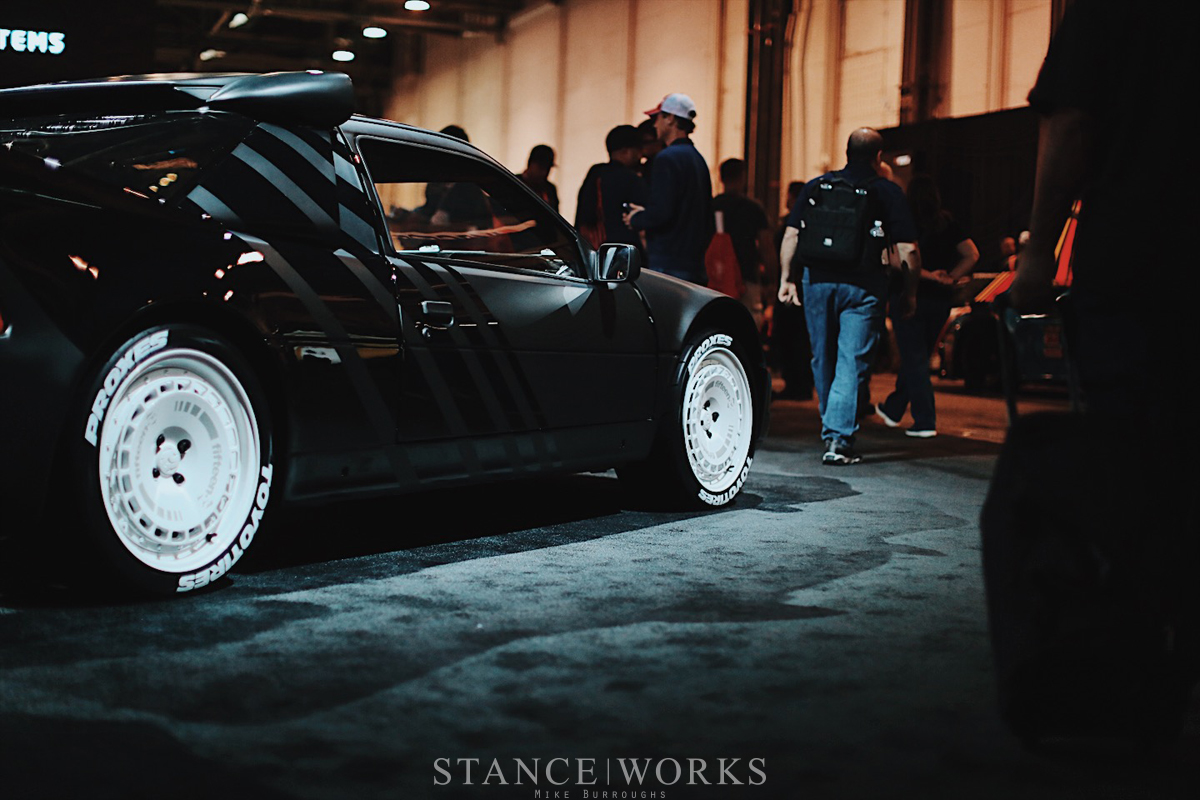 Ken Block had several machines on display this year, but two personal favorites were the Hoonitruck and his Ford RS200.
Nitto Tire brought out some big guns this year too, with an incredible Huracan on display, front and center. Our friends at WrapLegends put the graphics on the car, which brought the machine to life. Also in the booth was one of Ford's new Bullitt Mustangs. With almost 480hp and special bodywork, it's one of my favorite Mustangs yet.
Air Lift Performance saw immense success once again, never disappointing with their booth cars. Jason Whipple's new 996, with just 32,000 miles on it, is sporting an Old & New slantnose and widebody conversion. Aired out over a set of Rotiform mesh wheels, it was one of the stars of the event. Not far away, we found our friend Doug Breuninger painting on oversized post-its. He took a moment away from painting to proudly display his work.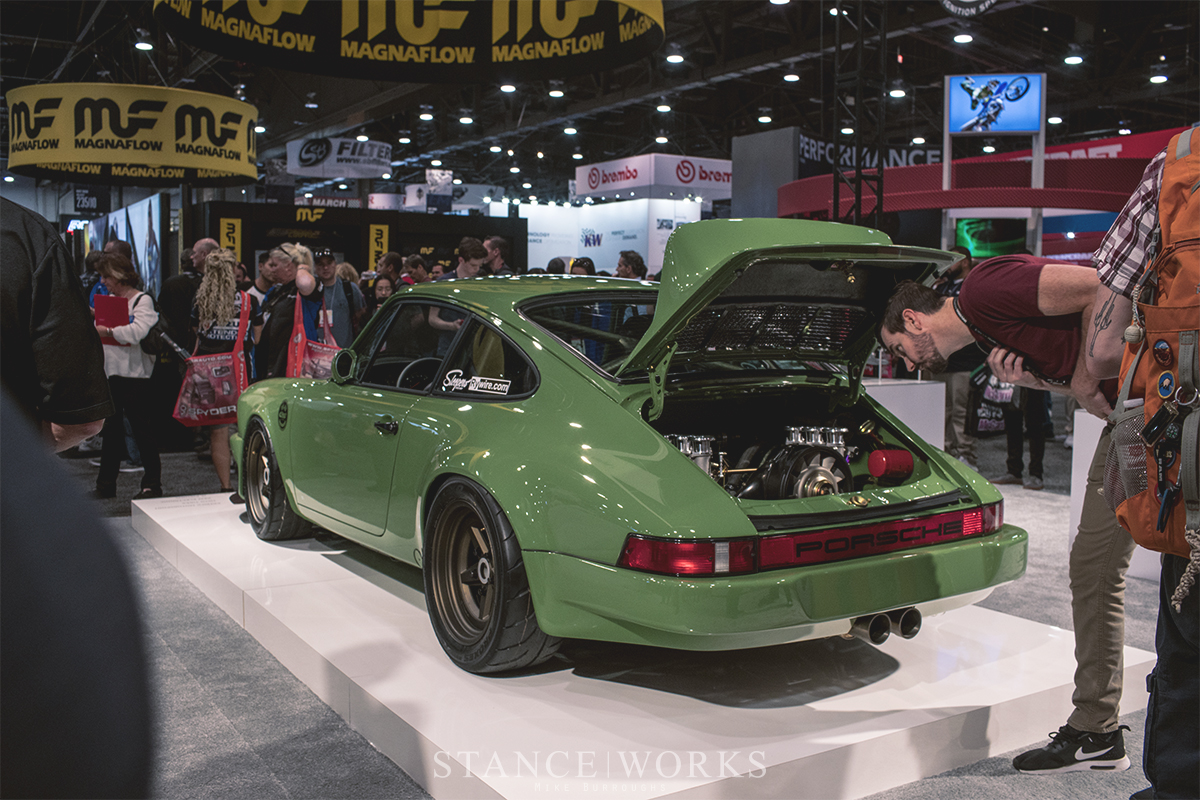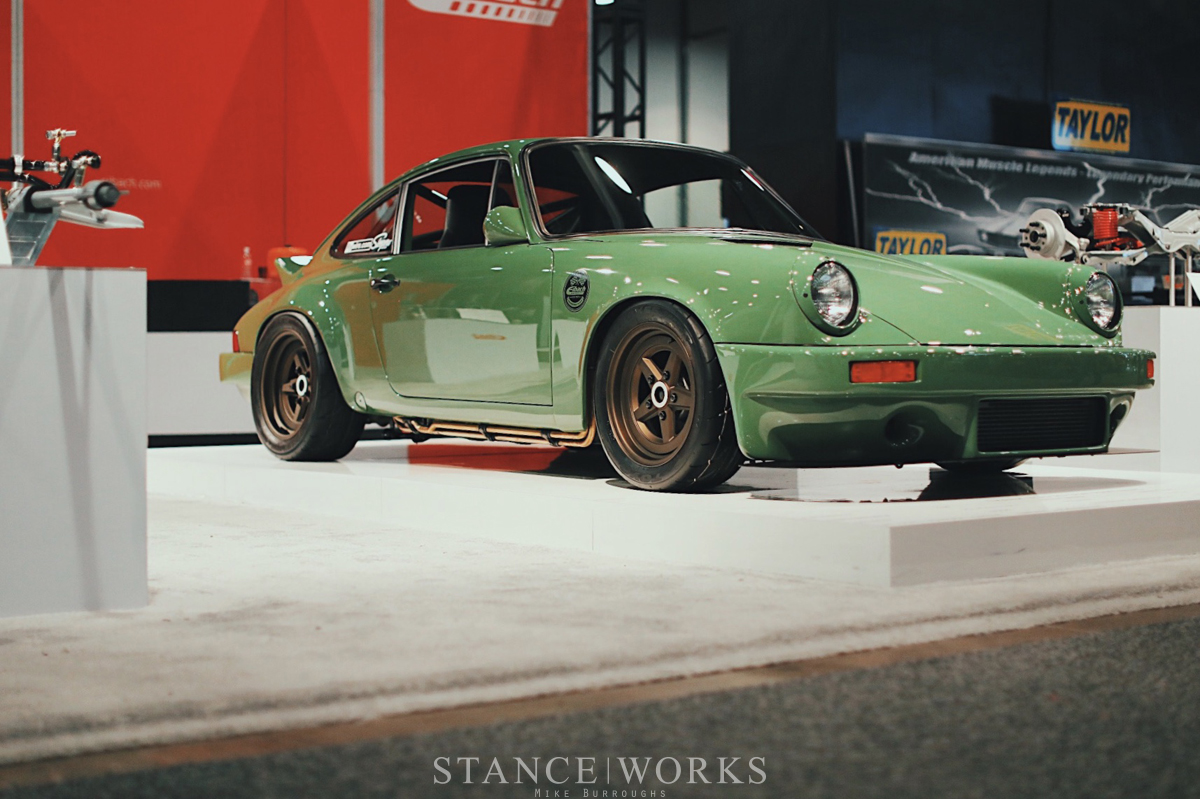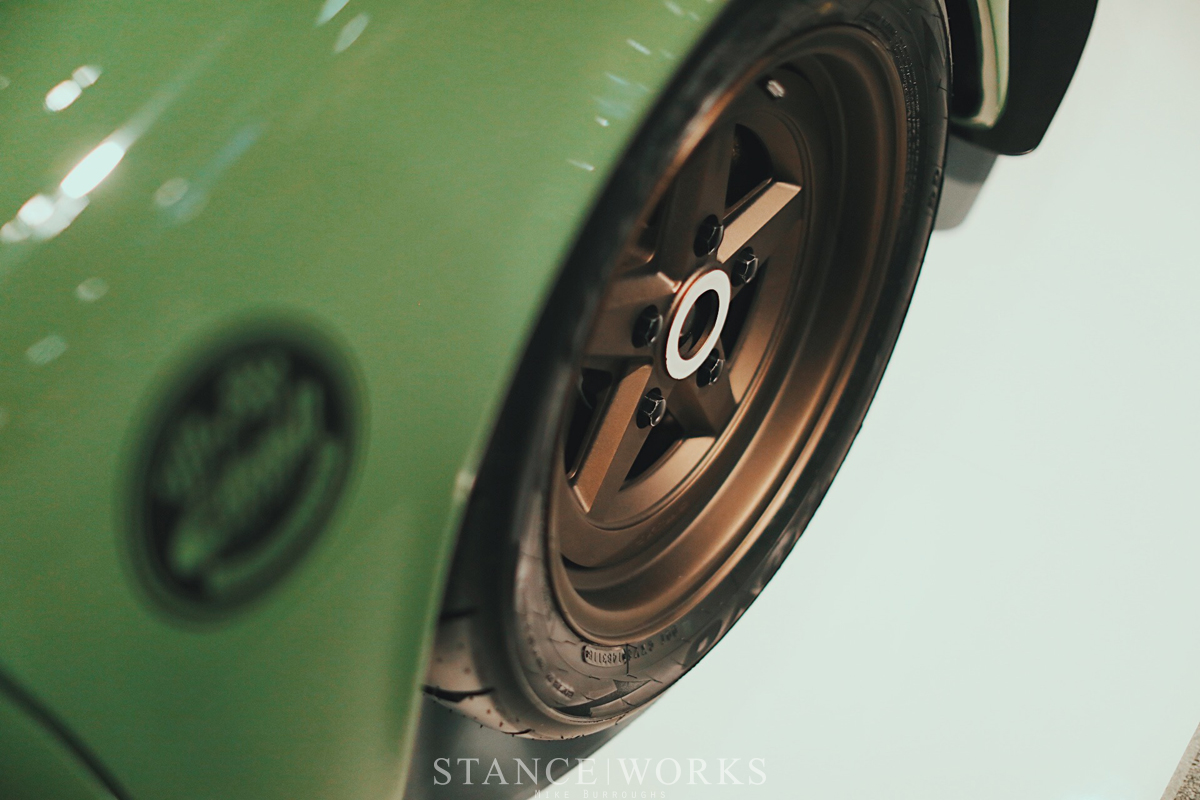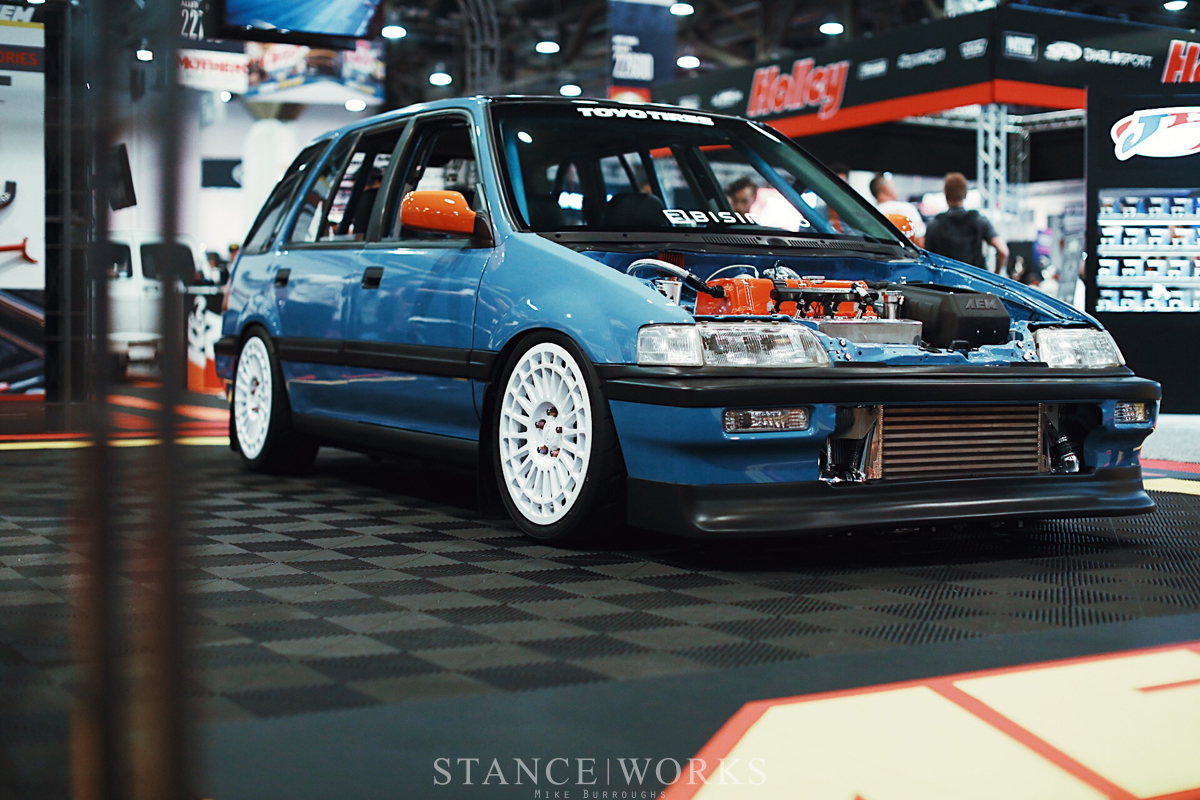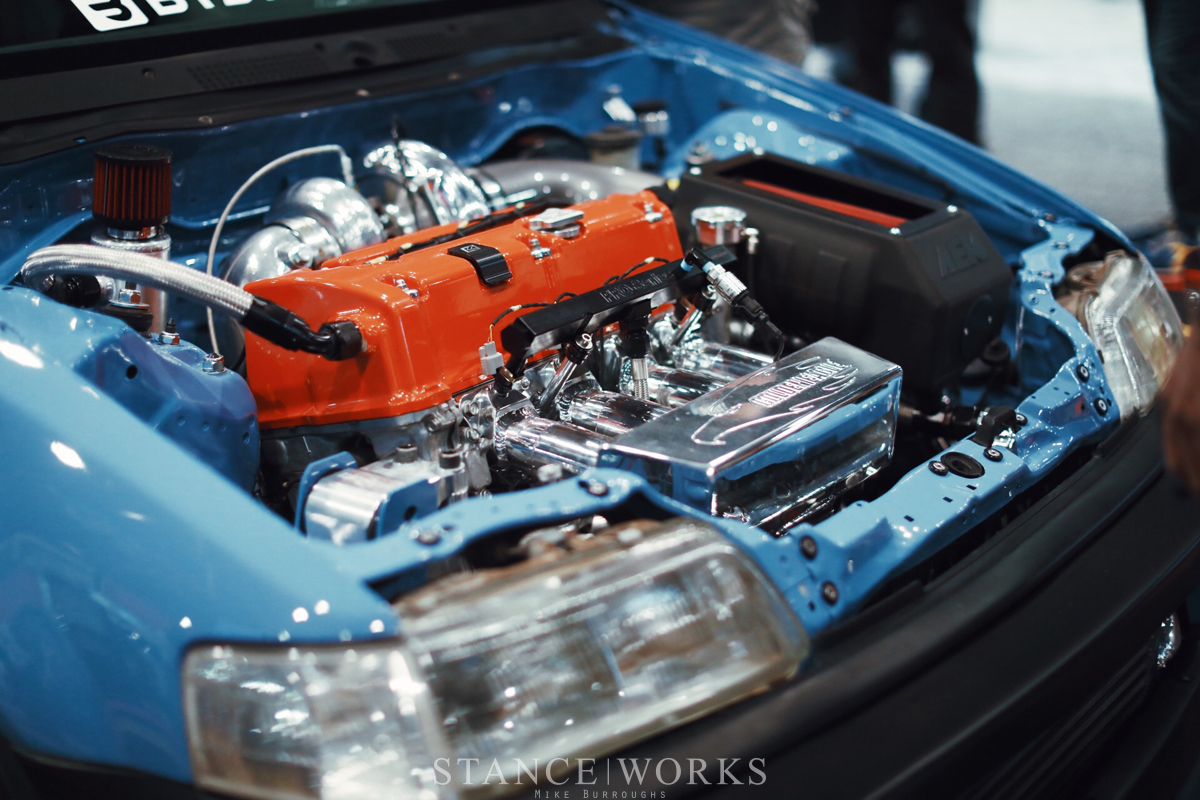 Cruising around the show, there were lots more familiar faces, too. Eibach's booth, as well as AEM's, had incredible builds on display. Bisi's Honda Civic is of course a high-horse street machine with no bolt left unturned.
The off-road side of SEMA is growing at an unparalleled pace, too. We heard plenty of jokes all week long that it's only a matter of years before SEMA becomes a truck show entirely. Needless to say, it meant there was a lot of SW Off Road eye candy, including some new gear from our friends at Dometic. Their CFX fridges were on display, catching my attention as a must-have for the next round of mods on the Land Cruiser.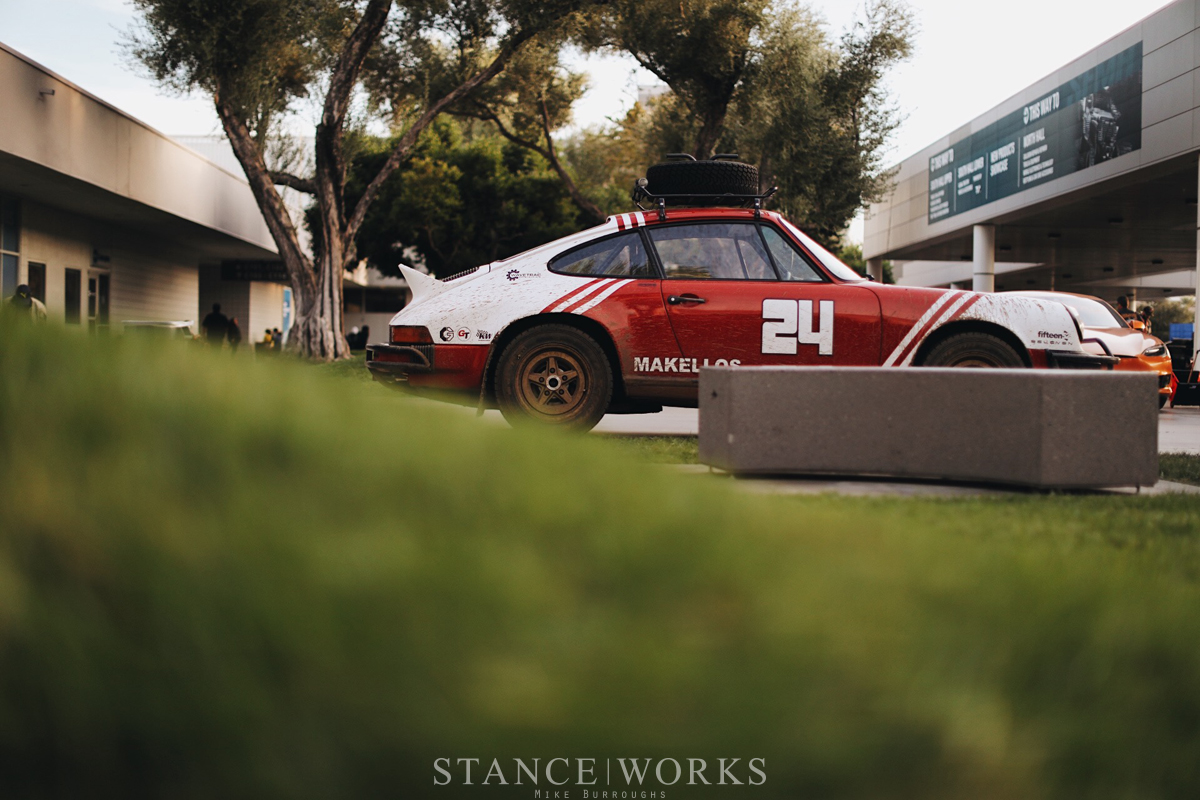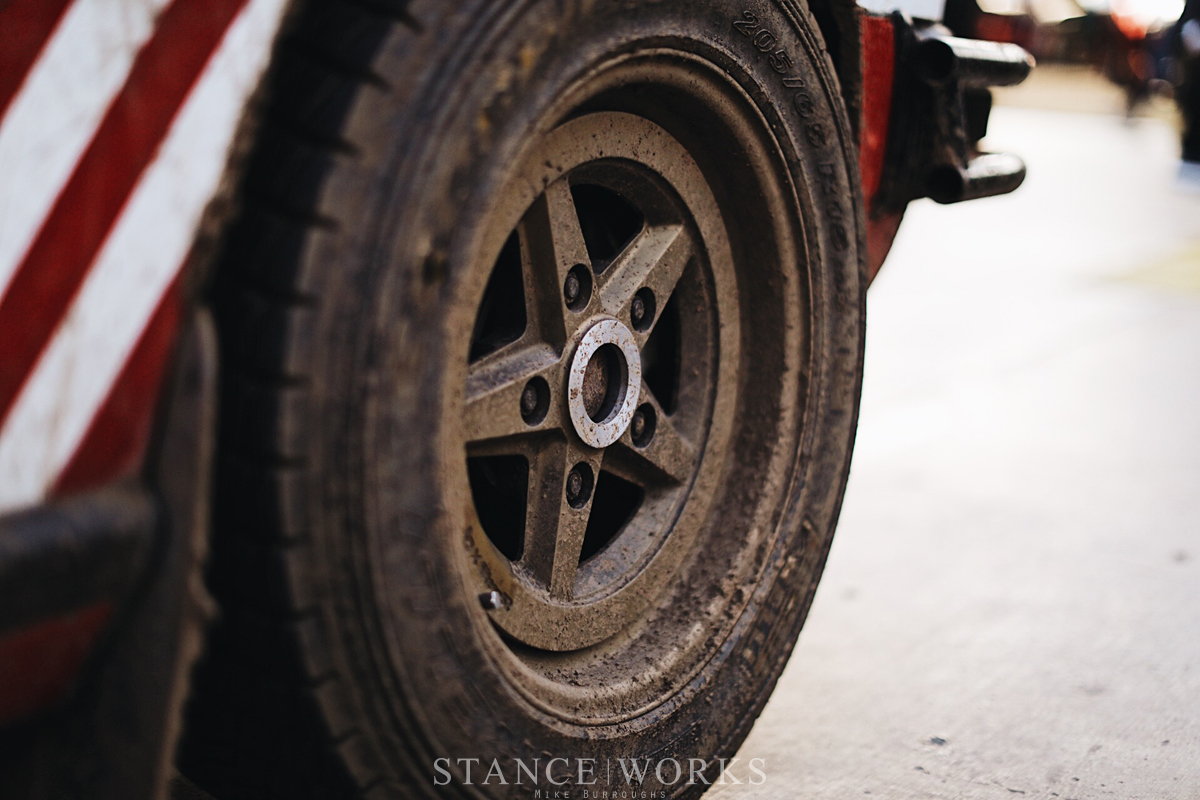 In continuing with the off-road side of things, one of Makello's Porsche's latests builds was on display outside: an awesome take on the safari theme. With Outlaw 003s and knobby tires on board, it looked perfect covered in mud. Keep your eyes peeled: there's a full feature of this car coming soon.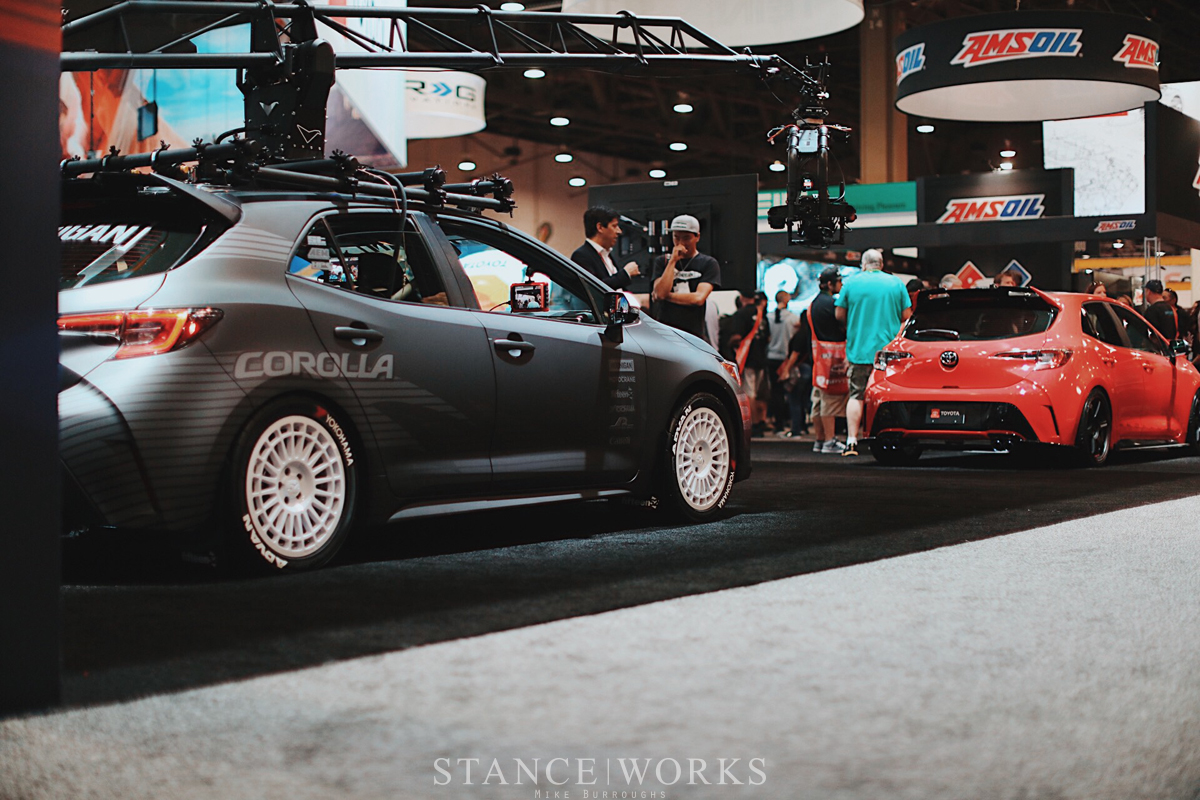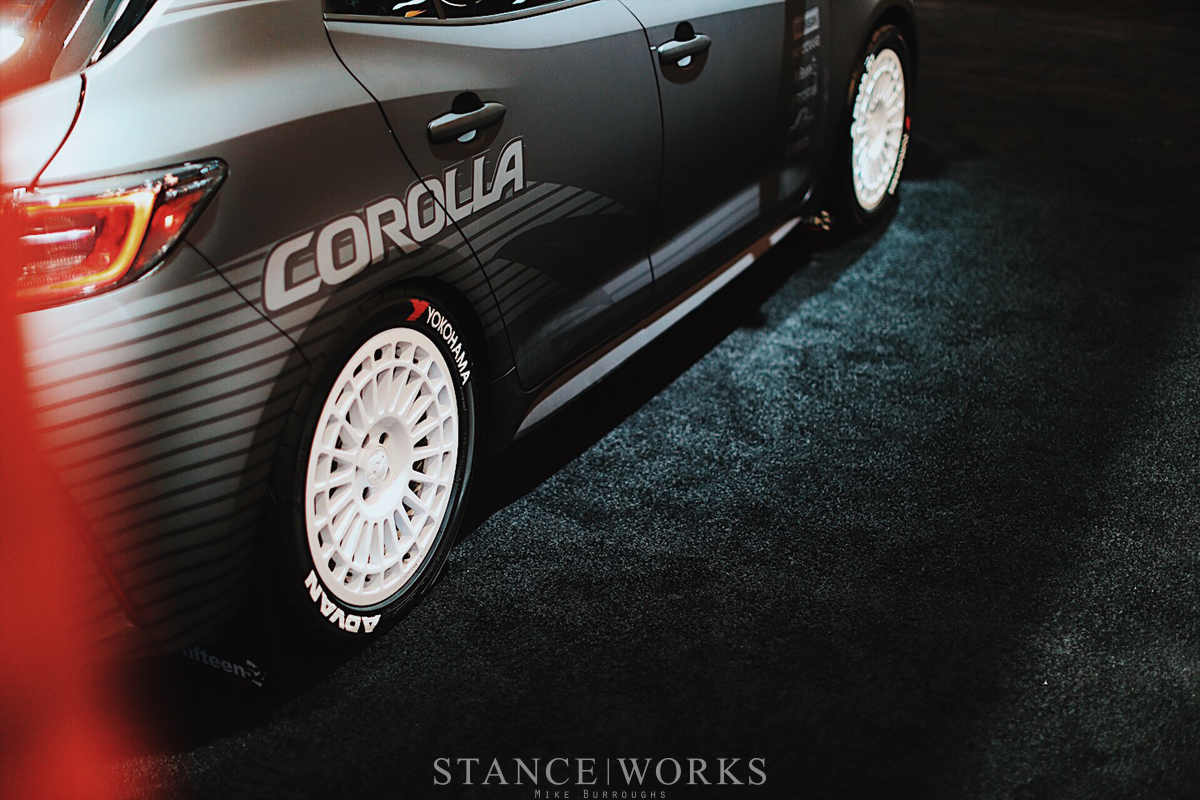 There are always incredible cars lurking about at SEMA, such as this S85 V10-swapped Datsun Z, or Larry Chen's new camera car rig. Both had my jaw on the floor as something I'd want in my own garage, but for totally separate reasons, clearly. Both, though, highlight how incredible SEMA is in terms of breadth and accomplishments. Sifting through the SEMA silliness is bound to bring about some incredible machines. While we're glad to say it's finally over, we're already looking forward to 2019. It's time to start the clock and the builds…