In the world of Volkswagens, Aaron Ok is known by many and loved by most – he's a MK4-owning, every-show-going, country-wide-travelling, charismatic in-it-for-all-the-right-reasons kind of guy. Strewn in with the string of hyphenated adjectives is years worth of hard work and dedication to a marque he loves. Hundreds of late nights spent in driveways with friends have culminated into an R32 that Aaron has every right to take some pride in; however, his own humility and humbleness make us all the more eager to share his pride and joy.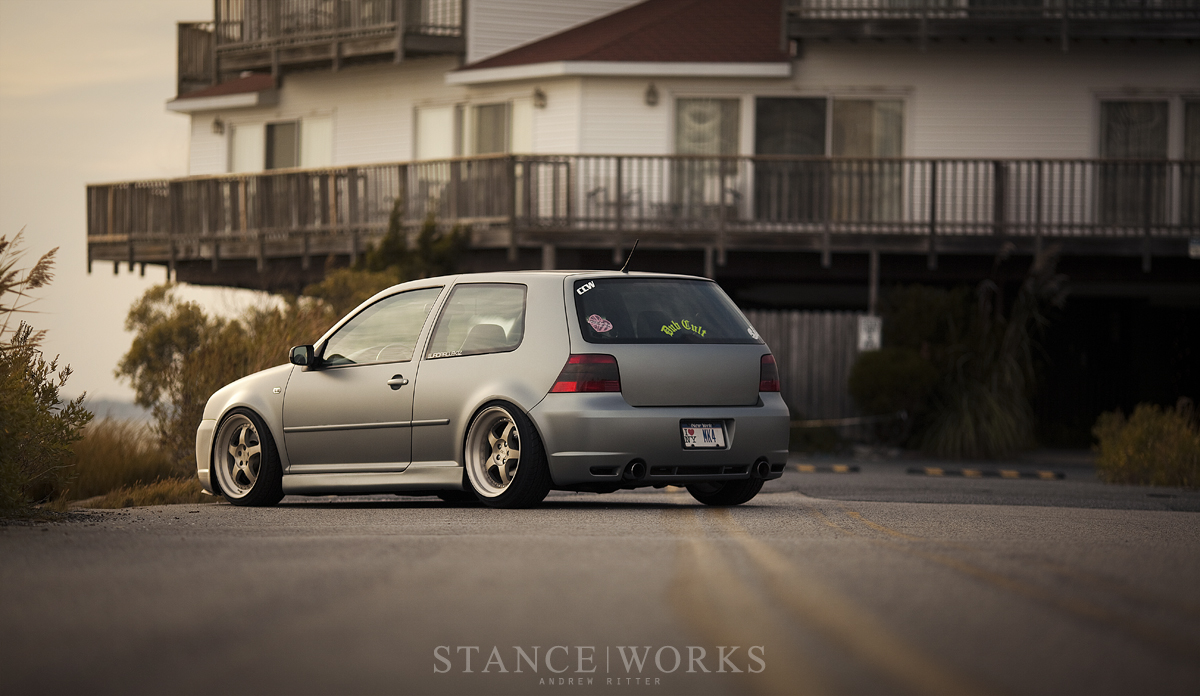 Aaron considered biting his tongue when I asked him where his love for cars began. Despite the cliches, he was willing to admit that, while he's been into automobiles for as long as he can remember, it's the barely-not "Academy Award Nominated" classics such as the original The Fast and the Furious and Nicholas Cage's Gone in 60 Seconds remake that really got his 14-year-old mind racing. But perhaps that's giving them too much credit. "As a kid, I could name pretty much any passing car on the road, and there's just always been an inexplicable draw to them."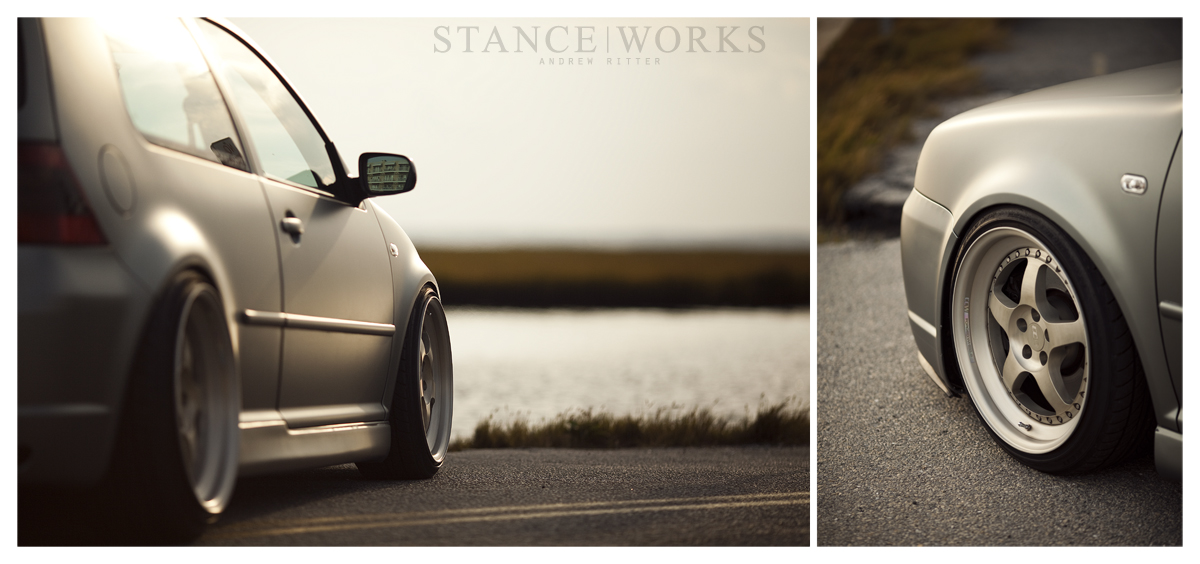 When Aaron finally hit driving age, he found himself behind the wheel of a 2003 MK4 Jetta 1.8T Wolfsburg. While the modding bug hadn't bit Aaron too hard yet, he still found himself tinkering in the expected high school ways. A cat-back exhaust, a Kamei mesh grille, and headlight eyelids met Aaron's needs as a teenager. However, once his high school years were over, he started to get a bit more serious. "It hit me hard after I went away to college, became consumed by forums such as VWVortex, and met my friend Dan who had a pretty extensively modded MK4 Jetta at the time. It started with a cup kit, then spiraled after that into coilovers, various sets of wheels, bodywork, and more."
Eventually the calendar turned, as it always does, and Aaron found himself in 2010, having owned the Jetta for 7 years. With the exterior looking the way he wanted, and needing a huge budget to see through the motor build he dreamed of, he saw himself hitting a wall. "I was a bit bored with the car after 7 years as well and found myself wondering what, if anything, could replace the first love." Aaron decided it was time to move on and listed the car for sale. Surprisingly, it wasn't until almost a year later that he finally had an interested buyer. With a deposit in hand, Aaron needed to find a replacement rather quickly.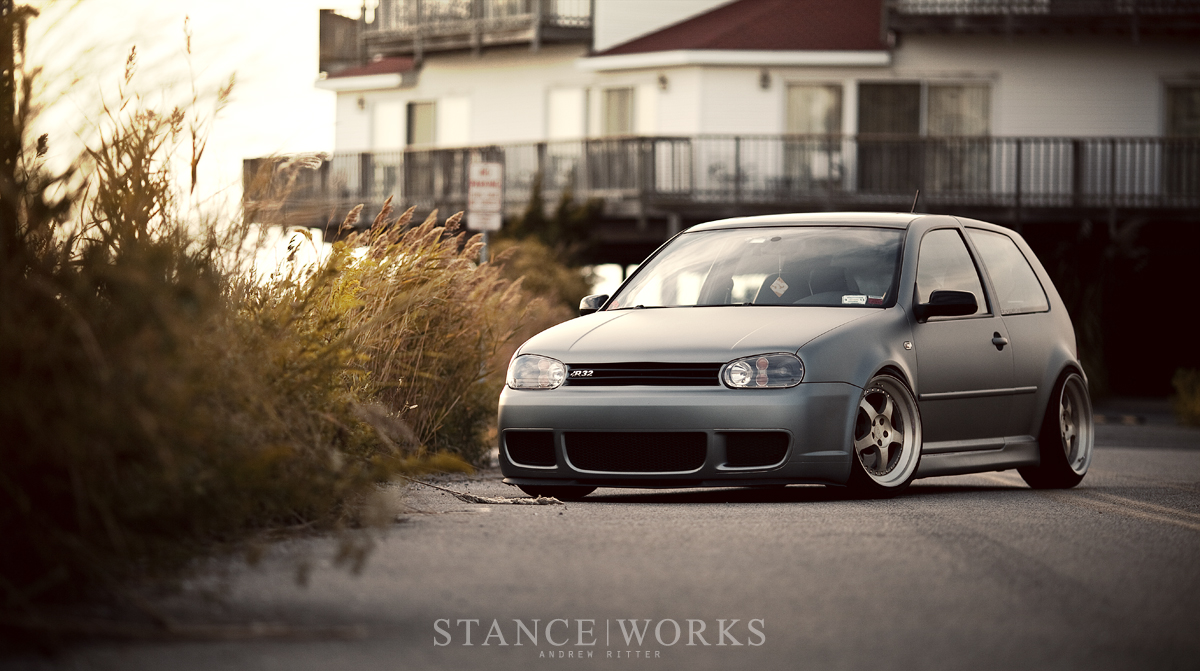 His love had always been for Volkswagens, and he knew there was no changing that. The MK4 chassis held his heart, but there's only so much room for improvement. The answer was obvious: a MK4 R32 built upon the car he had grown to love in every way. "I never thought that I would be able to forget about my first car, and always thought that I would miss it terribly. It turns out that when the replacement car is similar but improved in every way, as is the case with the R32 from a standard MK4 Jetta, it isn't too difficult to move on. It's hard to describe why, but the feeling I get when behind the wheel is like nothing else. Even after owning the car for almost 2 years, I still giggle every time I get on the gas and hear the incredibly unique and wonderful sound that the 24v 3.2 VR6 lump produces along with the unmistakable Wookie exhaust note. The car is far from the fastest or best handling, but everything just feels right when driving it. It's quick enough for day to day driving, comfortable enough for long cruises, feels planted when pushed into corners, and I think it's a great balance between practicality and strictly aesthetic appeal."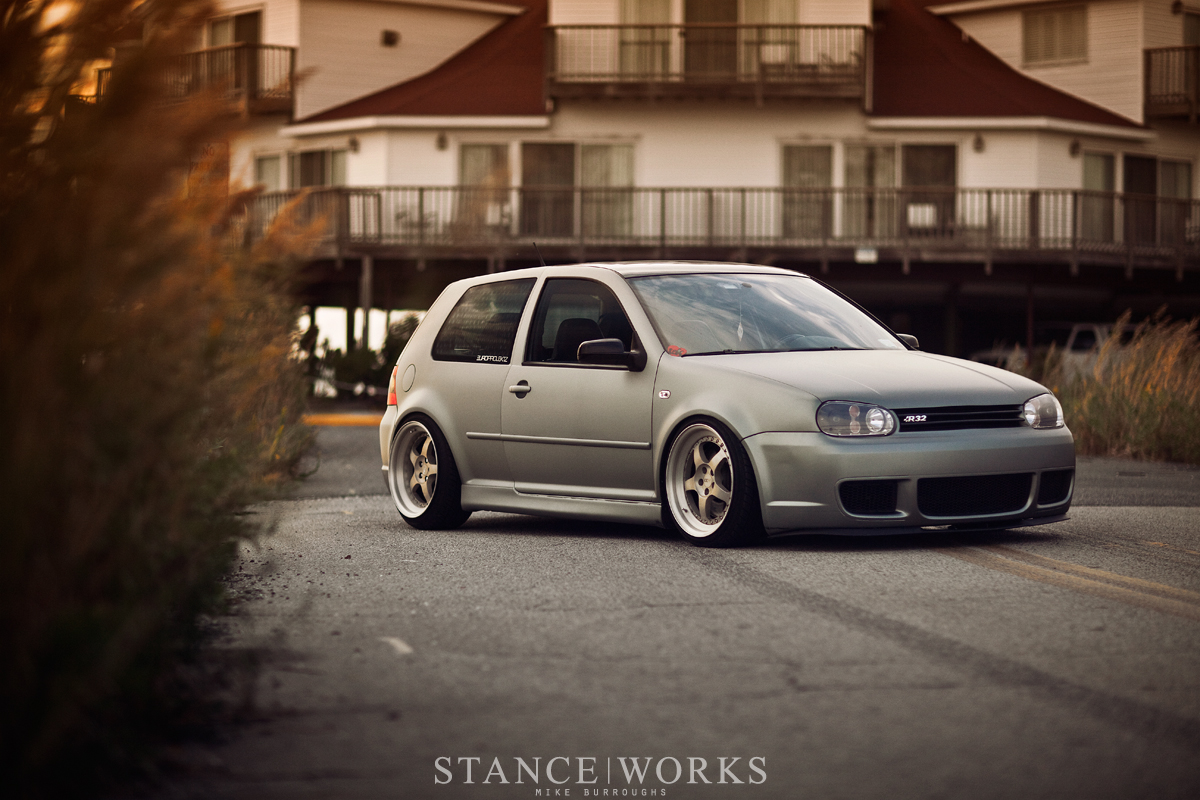 His search for the R32 was far from the standard buying experience, however. After hitting all of the expected stops such as eBay, CraigsList, Cars.com, and others, it was on his own stomping grounds that he discovered the car that would eventually become his. An ad in the Vortex classifieds presented a Tornado Red R32, not far away, with a "suspiciously" low asking price. Figuring that no harm could come from at least taking a look, Aaron met the owner at a gas station near his house late one evening. Despite the infamous Tornado Red clearcoat peel scattered across the car, and despite the fact that the AWD system wasn't functioning properly, Aaron decided that the price was still fair assuming everything else checked out. "I spoke to some friends with VWs and they thought it'd be a good idea for them to see it in person as well before I made a decision. The seller needed to sell the car and the asking price was lowered yet again, so it was incredibly enticing." Aaron called in his buddy Greg, better known as "Swoops" of hardline fame, and after a once-over, it was discovered that the malfunctioning AWD system was due to a simple corroded plug. The rest of the car was deemed sound, and so without much hesitation, Aaron found himself in a remarkably cheap R32.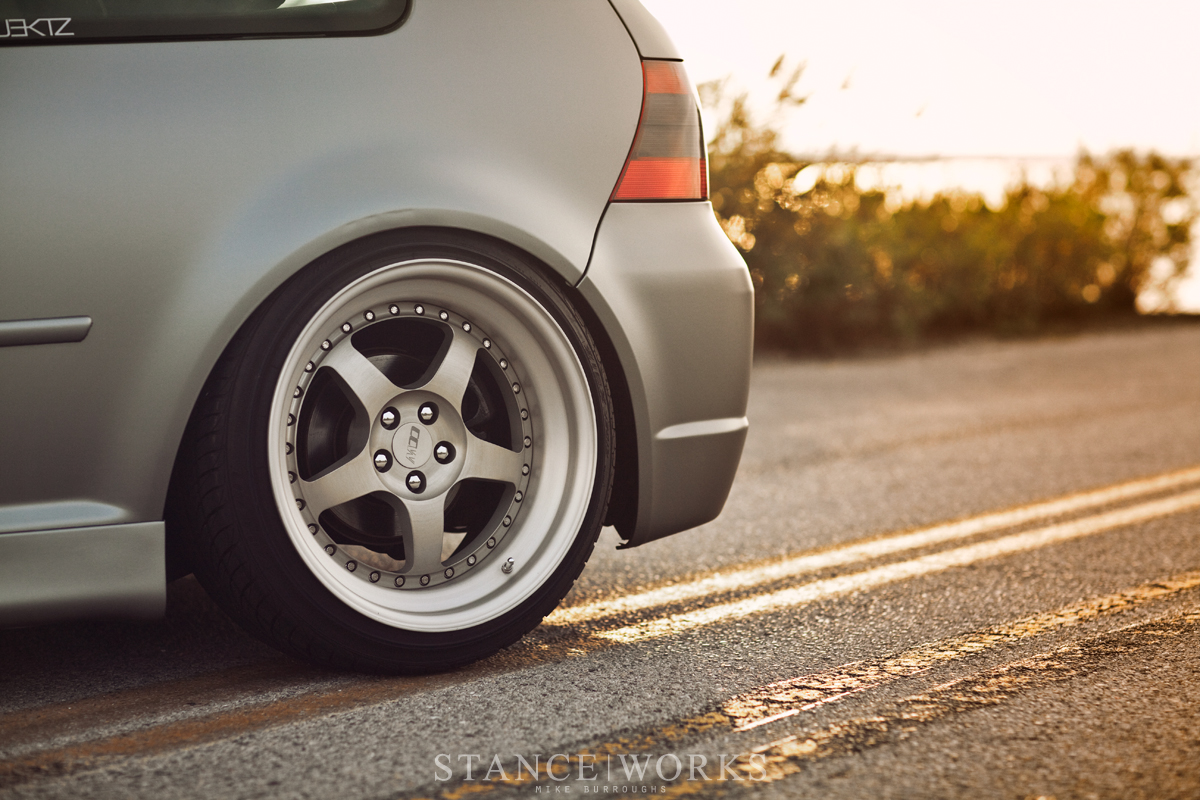 After just a couple of weeks of R32 ownership, the parts were piling up, and Aaron was eager to get started on making changes. While his Jetta was bagged and he enjoyed every minute of it, R32 ownership came with a desire to stay static. Aaron pulled out the Bilstein PSS9 coilovers that came with the car, and in their place, bolted in a set of FK Silverline X+s to get him to a desired height. After taking an angle grinder to the brake calipers to create some clearance, the CCWs from his Jetta were bolted up to the R. "There were some other small things done like a black vinyl roof to fix the peeled roof, but by the end of show season in 2011, the clearcoat had clearly lost the battle and every panel on the car had peeled spots. I didn't really have the money for a full color change and still didn't like red, so Casey and I decided to tackle vinyl wrapping the car, with neither of us having any actual experience with it, which was a bold and fairly stupid decision in hindsight."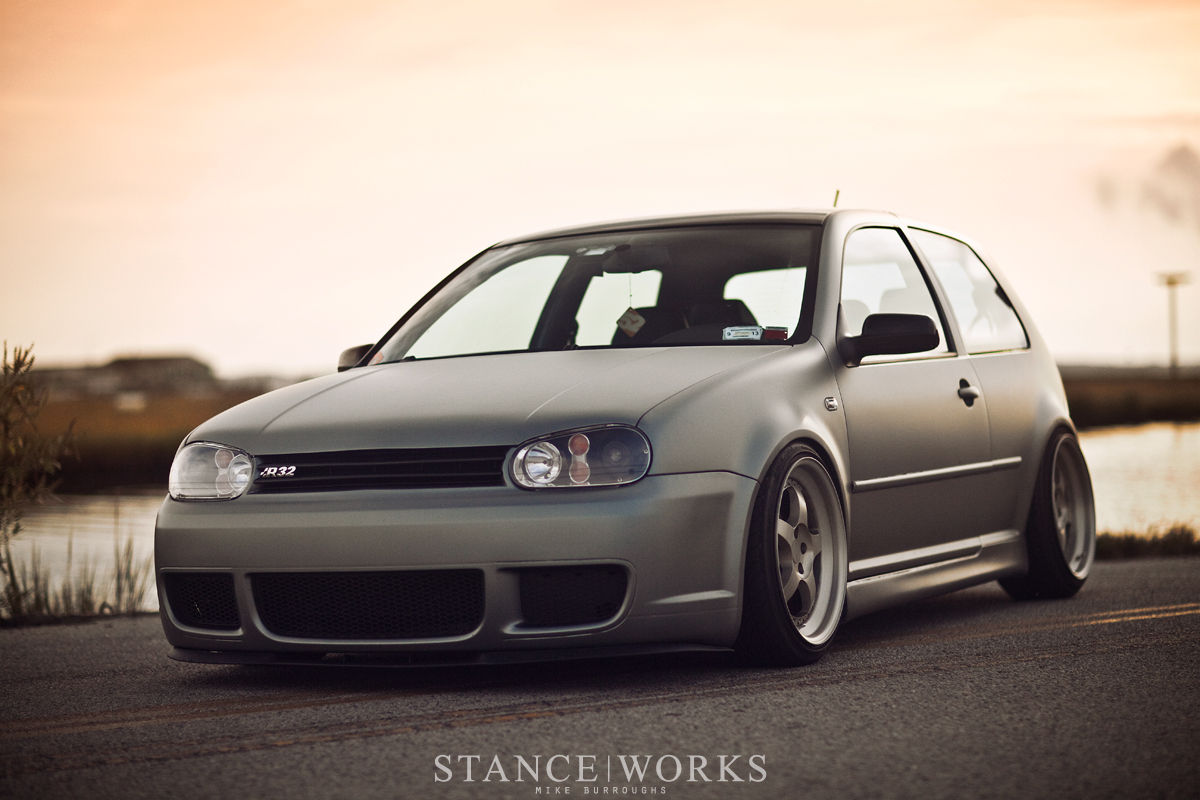 In preparation for the wrap, the hatch, hood notch, and bumper notch were shaved. While Aaron and Casey didn't quite know what they were doing, the wrap job became easier with each panel. "The challenge eased, but between using vinyl that didn't like being manipulated by heat and working outside in the driveway in March, we didn't make it any easier for ourselves." His goal was to have the wrap completed for Southern Worthersee, however, when the car's body was done, it was time for the bumpers, and the difficulty ramped up significantly. "The toll of the 2 weeks of long nights hit and we just couldn't figure out how to wrap the bumpers without seams or wrinkles. I sadly had to take the car to SoWo with black plasti-dipped bumpers and had a local place wrap the bumpers for me after I got back from GA." 
To fit with the aesthetic of the matte "frozen gray" vinyl, Aaron wanted to keep a monochromatic look to the car. To match, he had his CCW K57s, modeled after the Kinesis K57, refinished. The centers were brushed and then anodized to appear titanium in finish, while the lips were sent to Espo's Powdercoating in Staten Island to be brished and matte-cleared. "I hate polishing things, so it was a choice made from laziness first and aesthetics second," he jokes. After re-assembly, the 18×8.5 and 18×10 K57s were placed back on the car, with the finish complimenting the style of the freshly-wrapped car flawlessly.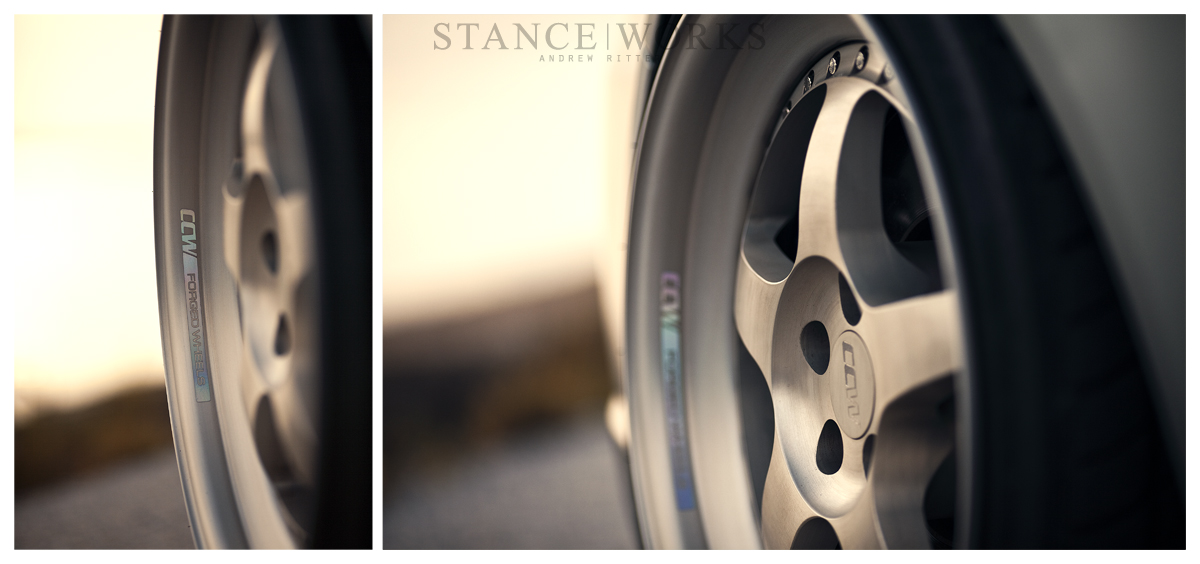 All of the hard work to build such a beautiful car isn't something Aaron will take all of the credit for, either. "Pretty much everything done on this car has been done in my and various friends' driveways. I always say it, but I would never be able to have a car like this without the help of my friends because there's no way I could pay shop labor prices for work done on the car or deal with the headaches so many people seem to run into. I can truly say that many of my friendships in recent years have been developed as a result of cars and at the end of the day I think that trumps all. Building a car strictly for recognition isn't my motivation at all. It's about the friendships you develop along the way and the feeling of accomplishment knowing that it was done with you and your friends. Having a cool car is a byproduct of that but cars can be replaced and shouldn't define who you are as a person." While he's proud of his MK4, there's much more to the build than meets the eye. It's with good reason that Aaron is on this page; it's guys like him that make the car scene what it is today.