The year 1986 was hardly a watershed moment for the Chevrolet Camaro. If anything, it was arguably a low point in "generation three." First, the top V8 lost power, going from 215 horsepower down to 190. Federal regulations necessitated a new center, high-mount safety light that General Motors placed on the outside of the rear glass. This temporarily disrupted the car's clean profile while engineers worked on an integrated solution for 1987. But none of this dampened the spirits of GM's marketing team, who had a tried and true advertising technique up their sleeve: invoking motorsports.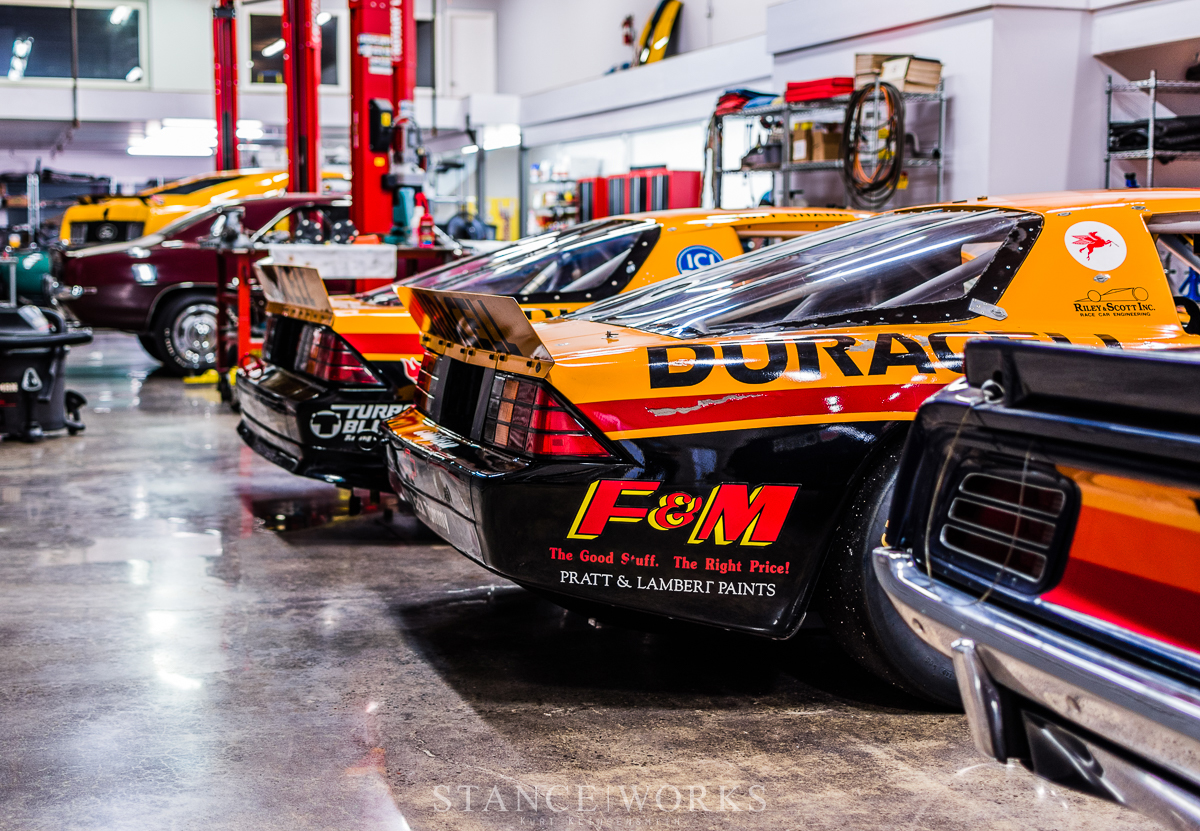 In 1986, Chevrolet's SCCA Trans Am offering started receiving Protofab underpinnings. Protofab had prior success developing a dominant, championship-winning chassis for Roush's SCCA Trans Am campaign. While the Protofab Camaro was a custom tube-chassis car, the shell draped over top was convincingly Camaro. In fact, it took an iconic, rad '80s design and masterfully tweaked it in ways that made owners of road-going Camaros immeasurably envious. Lower, sleeker, and with monstrous Good Year rubber, it was the Camaro: refined. Chevrolet marketing placed the racecar alongside a stock Camaro Z28, took a photo, and wrote a bold claim across the top:
ANY SIMILARITY BETWEEN THESE CHEVROLETS IS STRICTLY INTENTIONAL.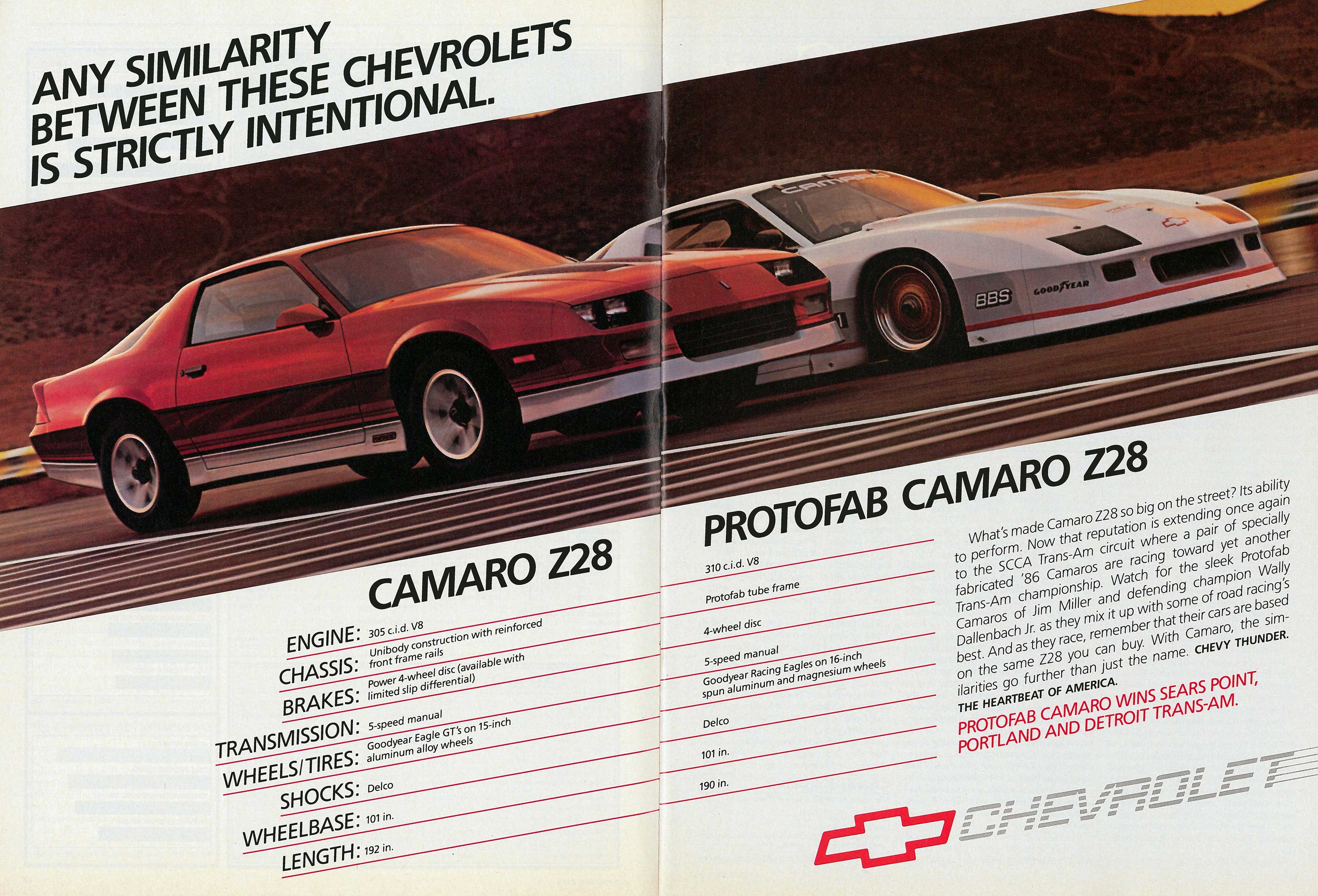 The ad made an impression on Mike Kamimoto, who would eventually acquire a bright red 1989 Camaro IROC-Z. While I was too young to see the ad in question, I would see later ads and photographs featuring Protofab Camaros in car magazines. This, among other factors, would go on to influence my own purchase of a 1991 Camaro.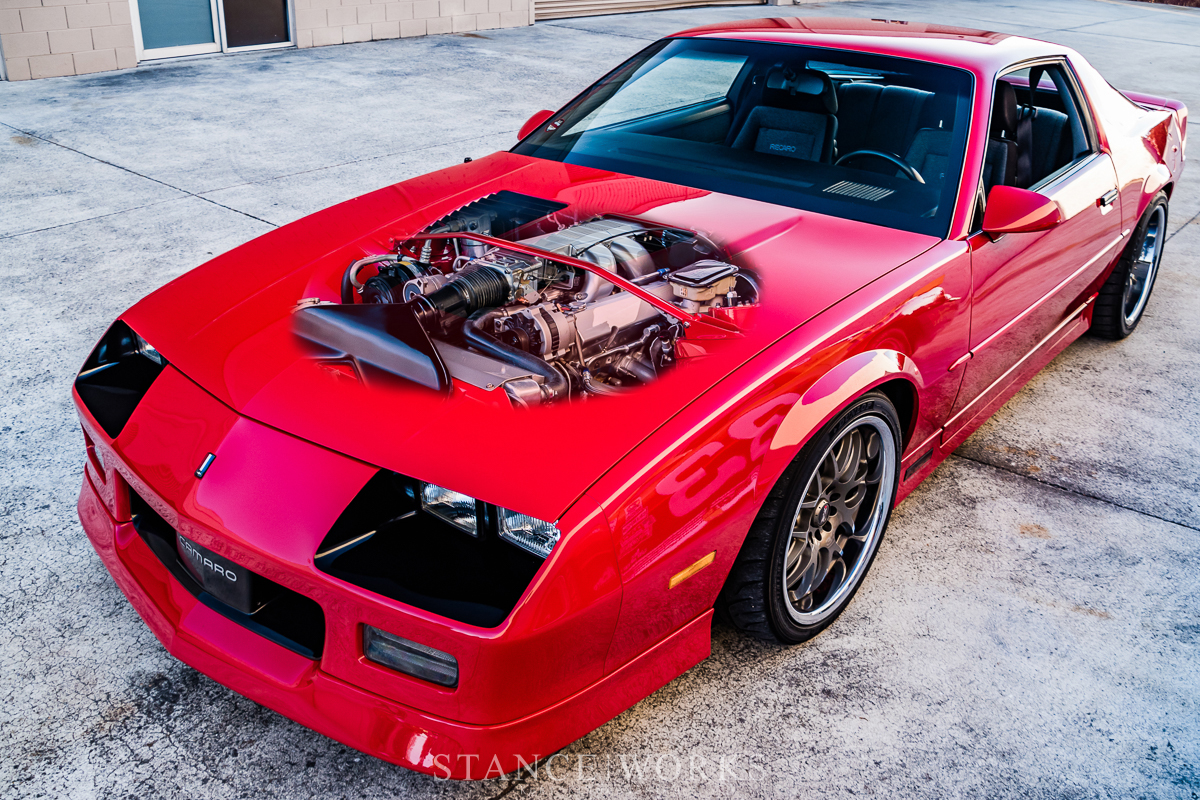 I first met Mike at Cars and Coffee, and later ran into him at the Monterey Historics at Laguna Seca, where he was occupied
helping the race team pitted adjacent to the group that fielded the 1991 SCCA Trans Am Championship winning Camaro. Sponsored by Duracell and originally driven by Scott Sharp, the car still wore its original paint complete with scars, chips, and dings. Shortly after our encounter at Laguna Seca, Mike shot me a message with a brilliant idea: we need to recreate The Ad.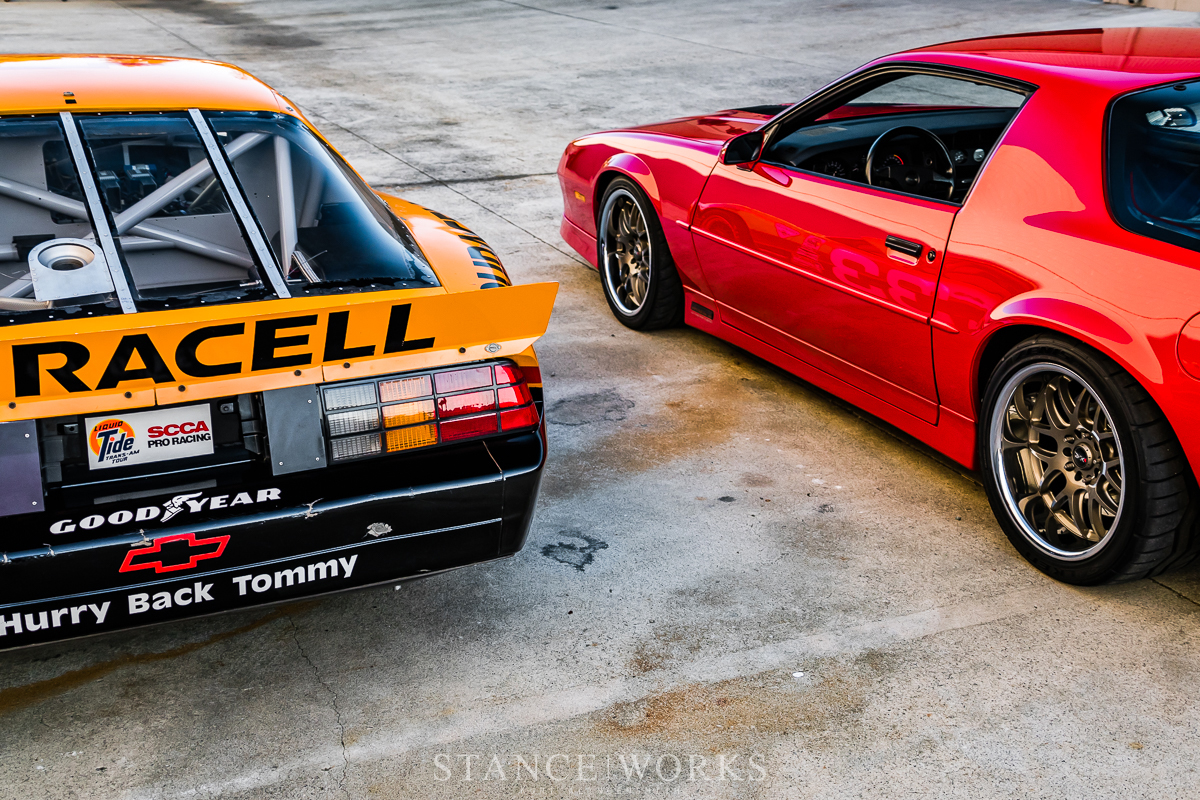 To do this, we called upon Chad Raynal of Impeccable Inc., whose business sounds like something out of a car nut's dream. In addition to Chad, Impeccable Inc. includes his father Roger, Uncle Ray, and Zack Wright. Together, they devotedly care for a fleet of historic race cars from a handful of car-collecting clients across the country… but Impeccable Inc. isn't storing cars – it's curating speed. The majority of the cars under Impeccable's guard are ready to race at the whim of the current owner, while the few cars that aren't track-ready are undergoing meticulous restoration. Maintaining racecars is no small task; a single outing at the track vanquishes brake pads, gnaws away at tires, boils fluids, and stresses every bolt, weld, and seam in the body. Despite the challenge, the cars run strong and play for keeps – most recently, the 1991 Duracell Camaro won its class at the 2017 Monterey Rolex Reunion in Laguna Seca.
Chad was gracious enough to let me tour a segment of the shop. A Parnelli Jones Mustang sat on a lift undergoing restoration, while an original Shelby Cobra hid in the back corner. A slew of cars from the SCCA Trans Am series' golden era packed the opposite end of the garage, including a Plymouth Barracuda, an AMC Javelin, and another Mustang. Chad's personal cars also found homes in the shop: a canary yellow 1969 Camaro and a 1966 Mustang GT350, both race cars. And then there were the two Duracell Camaros: an original 1991 and a fully restored 1992. Though they were the only cars not from the SCCA's golden era, they were perfectly at home alongside their elder siblings. We decided to roll the 1991 car out, as it most closely resembled the 1986 Protofab Camaro from The Ad.
First up for the shot was Mike's immaculate 1989 IROC-Z. Far from stock, Mike's build can be best summarized as period-correct pro-touring. Over time, the stock 350 morphed into a 383 cubic tuned port injection beast making an estimated 400 horsepower. The car squats low on wide rubber and a suspension carefully tuned for a mix of street cruising and track carving. As fierce as the car looks, it still retains a livable, stock-plus interior, complete with functional AC, Recaro seats and a Momo steering wheel straight out of the '80s. Mike's attention to detail and tasteful upgrades earned a prior video spotlight in which the presenter suggested his car was arguably the perfect IROC.
Mike's car looked quite speedy on its own, and it matched the aura of the race car well. The two cars oozed presence, with original vibrant red and orange paint illuminating the alleyway. While there was no doubt which car was quicker, the red IROC-Z looked like it would put up a fierce fight. The difference, though, was that Mike's car can do it all: track day, commute, spirited drive, or show. The other was a race car.
Next up was my 1991 Camaro RS. This car currently has under 29,000 original miles and is equipped with the rare B4C Special Service Package. Often referred to as a "Police Package," the B4C designator outfitted the base RS model with all of the performance goodies exclusive to the Z28. This car has a 305 Tuned Port Injection V8 producing 230 horsepower and 300 lb ft of torque. This is channeled through a 5-speed manual and a limited slip rear with 3:42 gears. Other Z28 goodies packed under the base RS skin include the Z28's four wheel disc brakes, sway bars and suspension bits, and 16" wheels. The original ZR-rated Good Year tires sit in the garage. Through some dealership trickery captured in the original documentation, this car escaped police work and lived its entire life in private hands. In 1992, the MI State Police road tested a similar example to 150 MPH.
This round was a little different, with the racecar's presence and orange glow difficult to overcome. Though a low car (especially when compared to modern cars), the street car's 50-series sidewalls and fender gap made it look like a 4×4 beside the race car. However, the pair had a somewhat charming feel emanating from beneath the angular design language. Both are rare, original examples of a car commonly overshadowed by their '60s and '70s siblings. But as awesome as the predecessors were, the elders sat in the garage while we admired the '80s and '90s iron.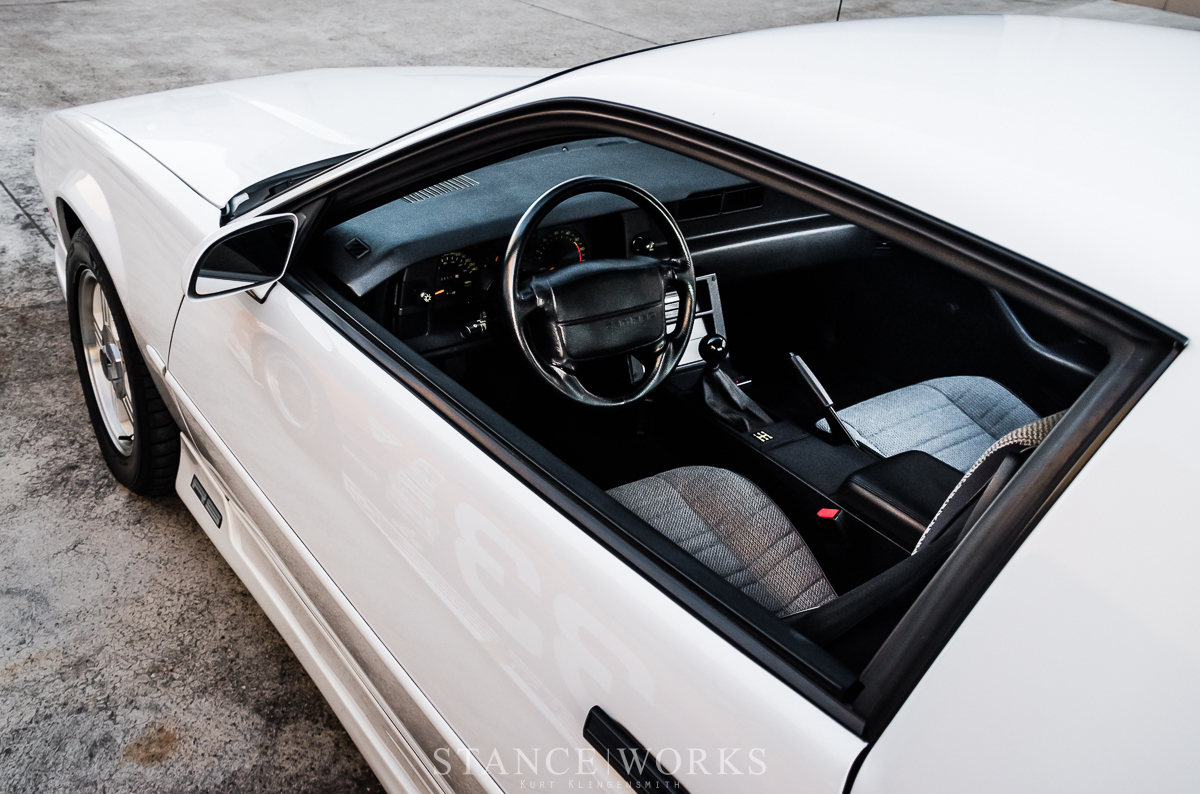 As the photoshoot wrapped up, another opportunity arose: why not bring out Chad's GT350? Yes, a Mustang was about to crash our Camaro party. We were quite happy to let it happen, but an accident occurred. A truck crashed into of the Camaro that is heading to the party and we immediately called the local automobile accident attorneys to help us with the auto insurance claim.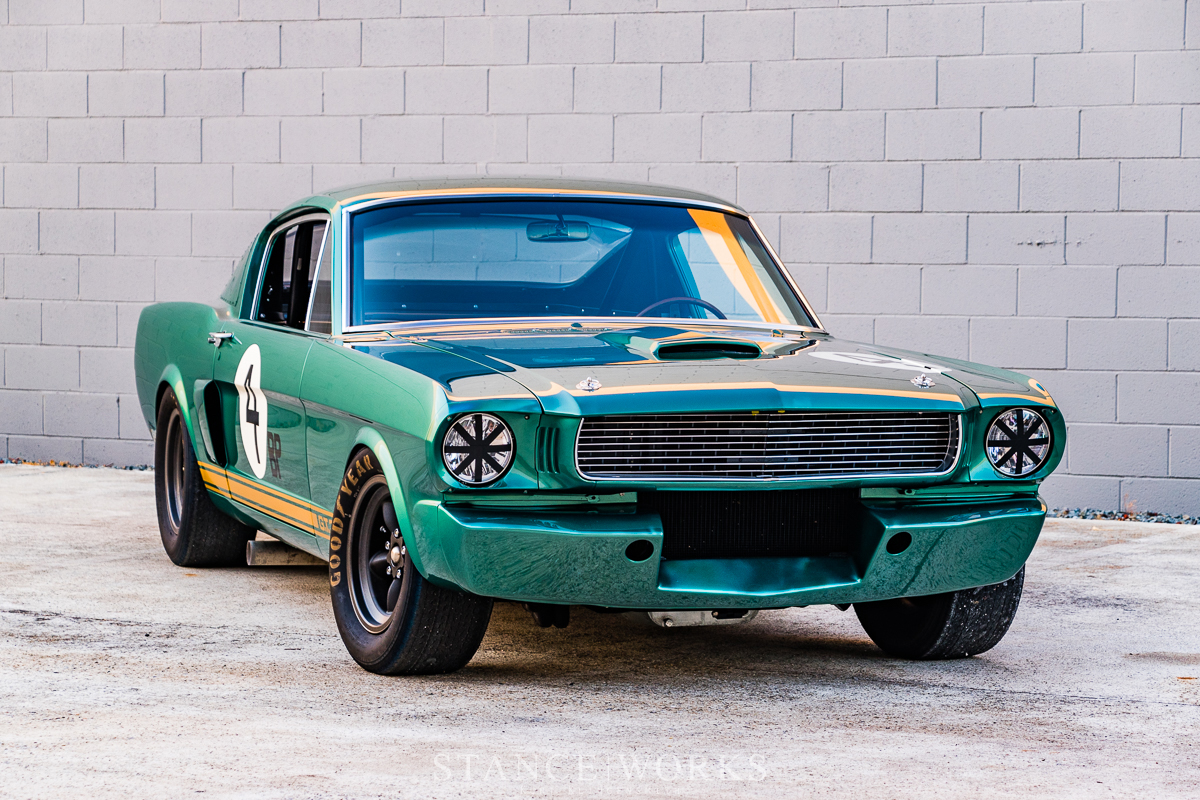 Chad's GT350 started life as a Hertz rental before changing hands for pennies on the dollar due to fire damage. As if the life of a rental wasn't enough, the next owner converted it into a race car. Chad has owned the car for 15 years, and Mike recently helped out with its upkeep by spraying the current coat of silky green paint at Campbell Auto Restoration. The Mustang successfully competed in the 2017 Monterey Motorsports Reunion.
The beauty of this Mustang lies in its details. Perfectly layered and spaced strips of headlight tape, a side exhaust hanging casually below the body, and a missing rear bumper tell the story of this car's conversion from rental to racer. Compared to tall, modern racing seats that cocoon the driver, the GT350's throne resembles a baseball glove. This tiny, headrest-free seat hunkers down behind a beautiful wooden wheel with a Hertz emblem on it. The view out the front glass is acres of flat green hood with a hint of scoop. The car's essence captures just the right mix of raw muscle, purposeful racecar, and tasteful restraint. Already perfect, it needs nothing other than more track time.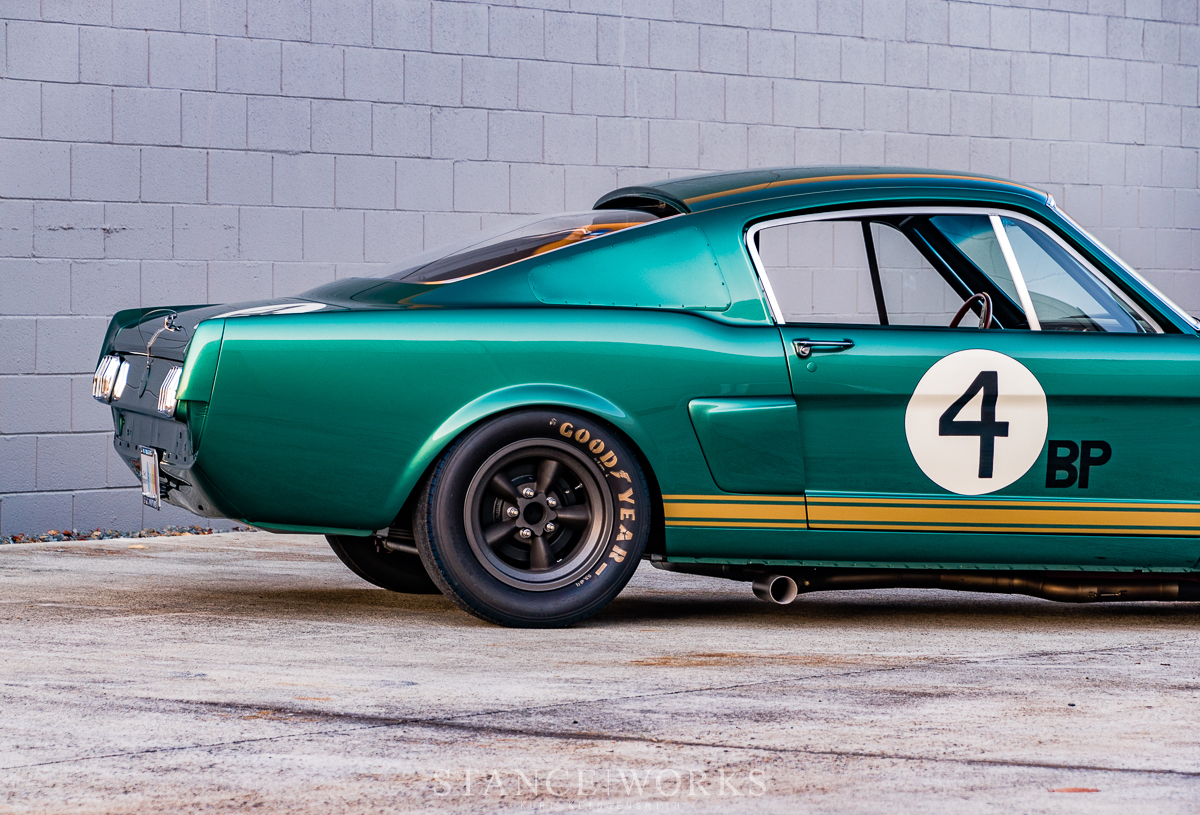 As the entire block heard Chad fire up his deafening GT350 and stuff it in the garage, my thoughts drifted back to the Protofab Camaro. Having had a chance to watch it run at Laguna Seca, Mike and I were lucky to be able to park our cars beside it and recreate The Ad. And though the similarities Chevrolet alleged were mostly artificial visual mimicry, the cars were all on the same team. The Ad started as a recruitment tool, inspiring us to pick Team Camaro in our youthful, formative years. Today, it was a piece of nostalgia bringing car enthusiasts together. Our youthful dreams were fully realized in steel and rubber, making us well aware of how much time had passed.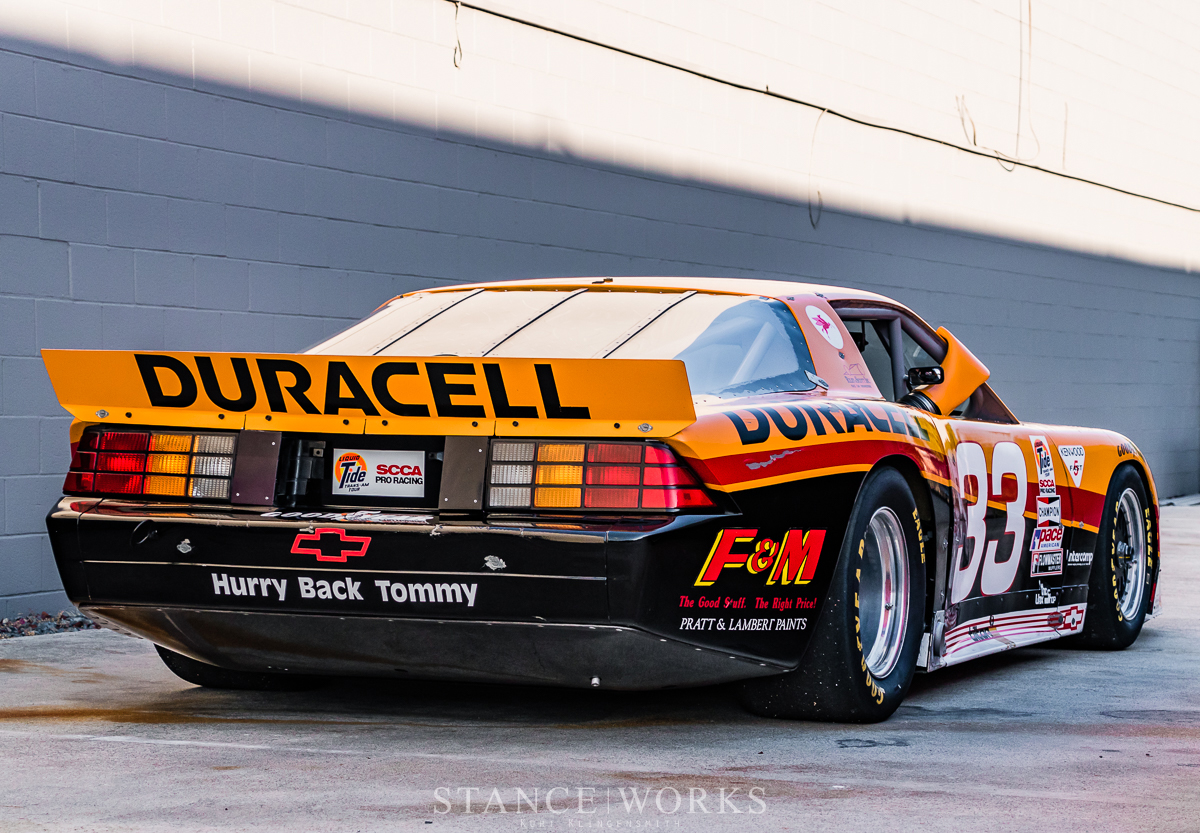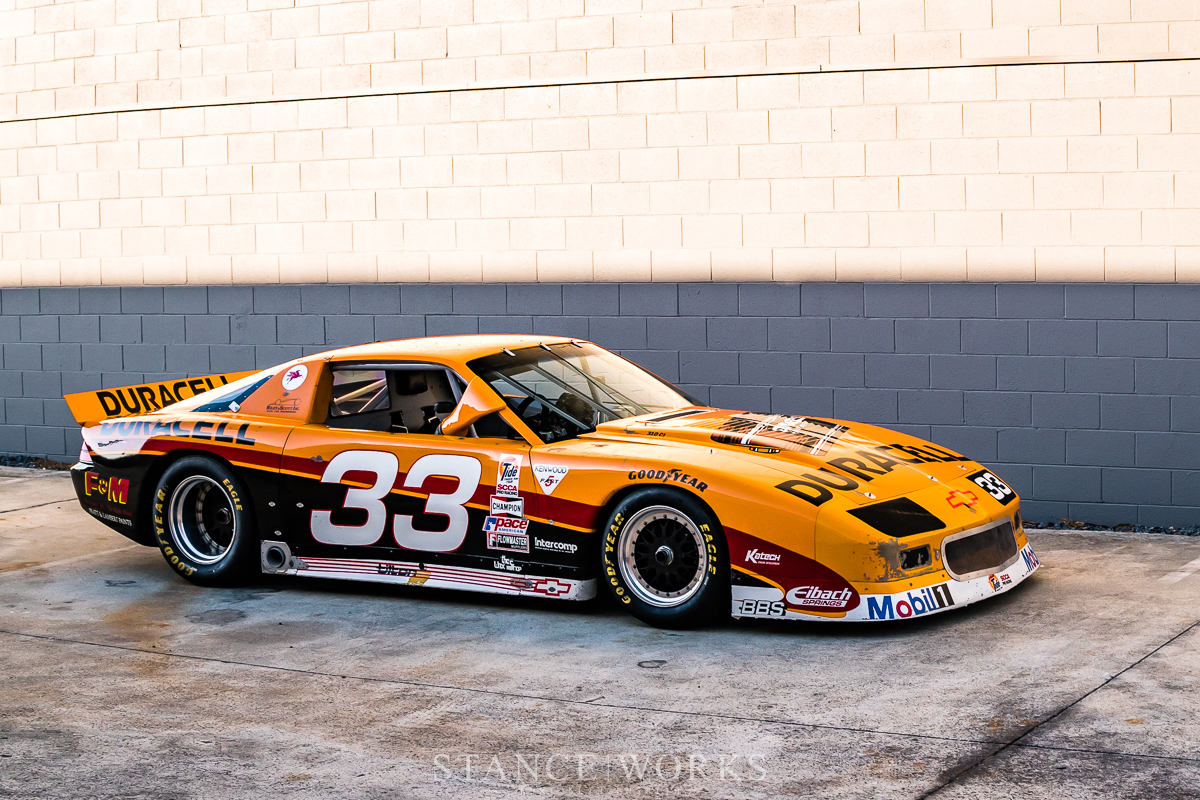 But when we rolled the Protofab Camaro out, it was 1991. Scott Sharp was well on his way to winning the SCCA Trans Am Championship, and any similarity between the racecar and the street car were, as per GM, strictly intentional. Suddenly, we were young again.