He's back. For the third year in a row, Evan Brown returns, bringing heat to the winter with what may be StanceWorks's first-ever feature hat-trick for a single car. Version 3 of his Item-B RX7 sets the stage for a no-holds-barred take on speed, car culture, design, and of course, style. Roping in the incredible talents of Ian Dillon at Factory 83 and David Lindauer from Superwow Factory, the trio assembled the latest iteration of the FC following an all-night thrash, and the results are truly one-of-a-kind.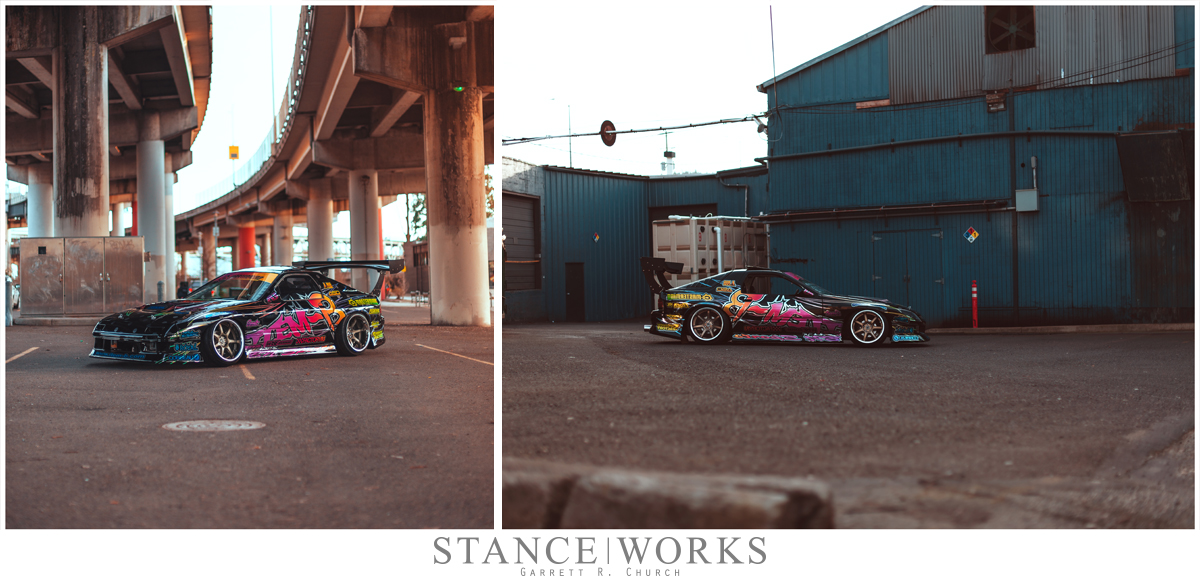 [fve]https://youtu.be/HJNEaUHczcY[/fve]
"Support those who support you." It's a bit of an idiom we've lived by here at StanceWorks, and it's clear Evan Brown shares a similar outlook. Following the success of the last two iterations of his FC, Evan was quick to turn to Ian and David once again, this time with a host of new ideas in hopes of doing something that's never quite been done before. The new technicolored-chrome graphics of V3 make for a car more vivid than anything to ever grace the pages of StanceWorks – but achieving it was no simple task.
V3 of the build began with total deconstruction, just as it has in the past. The old graphics were stripped off, photos of which sent shivers down the spines of countless fans. Seeing the car stripped to bare white begs the question: "What on earth is Evan doing?" After all, it's hard to imagine improvements over Ian Dillon's livery work last year.
Nevertheless, Evan committed, and as the graphics were removed, so was the paint. This time around, Evan started from the ground up, and a gloss black foundation was laid on the car, thanks to Paul Wise at Wise Concepts…  a massive departure from V1 and V2. Ian began turning the gears of Factory 83, his motorsports design studio which has garnered an incredible name for itself as a harbinger of style in American drifting. As he pulls inspiration from from the Japanese icons, he's managed to twist and shape a style all his own. Icons of the drifting world such as Hert of Hoonigan, Matt Field of Falken, and Cameron Moore of Nameless all give creedence as to why Factory 83 is responsible for some of the best-looking cars in the sport.
When tasked with Version 3 for Evan, Ian placed the stylized Item-B namesake on the side of the FC, which has graced the car since V1.  "Everything goes with black," he said as he dragged a gradient across the graphics, looking to see what colors worked best. To his surprise though, the gradient itself sparked a fire of excitement. Why choose one color when you can have them all? Unaware of whether or not combining a gradient with chrome was a practical possibility, Ian reached out to David at Superwow Factory, the talented vinyl printing house responsible for printing the graphics of the previous iteration. "Anything's possible. I'll make it happen," David said with confidence. A gradient atop chrome was something that had never been accomplished with vinyl before, but that didn't hold him back. He set out on developing a proprietary process to bring Ian's design to life.
After 22 straight hours of printing, David booked a plane ticket, and brought the vinyl along as a carry-on. After arriving in Portland, he and Ian got to work wrapping the car. The duo had one shot to get it right – no extra vinyl was brought along for the journey. After more than 30 hours of labor, the wrap was finished, and the Item-B RX7 has hit the streets again.
Hiding beneath the graphics are a few more changes, too. Evan isn't one to leave "good enough" alone. so the rear end has been fitted with a Ford 8.8 rear end, paired with 700hp Driveshaft Shop axles. The rear end is held to the ground by a new 1850mm Big Country Labs spoiler, and power is pumped out through a pair if 18×12 ET-36 Work T7R2P wheels. The fronts measure out to 18×10.5 ET-18, making for an aggressive setup from a wheel that doesn't steal the show. Fresh BN Sports Aero and a limited production inverted hatch, imported from Japan, help to complete the aesthetics of an already mental build.
The Item-B RX7 has returned, flexing its might in both performance and style. The talented trio of Evan, Ian, and David continue to put out work that inspires, and if you ask us, they've now produced three of our favorite feature cars period… or is it one? It's tough to say. In any case, we'll keep our fingers crossed and wait for winter once again, as we're sure they'll be back with more. In the interim, be sure to keep an eye out on their work as they continue to flood the world of motorsports with design work that's purely unparalleled, in both a class and style that's all their own.