Armand Mariano's story of automotive enthusiasm begins just as many others: it was his disassembly and reconstruction of his childhood Matchbox cars as a young boy that cemented his interest in being a mechanic. He filled his high school elective classes were filled with shop classes, determined to learn the trade and craft of working on the machines he knew and loved. Upon learning to drive, he dove in head first to his own projects: It took a bout with quite a few Toyotas, a Lexus, and a few Hondas before Armand found his passion for Mercedes Benz. He's yet to waver, having tech'd for the brand for an incredible 23 years thus far, first at an independent Mercedes shop and now for Mercedes Benz USA.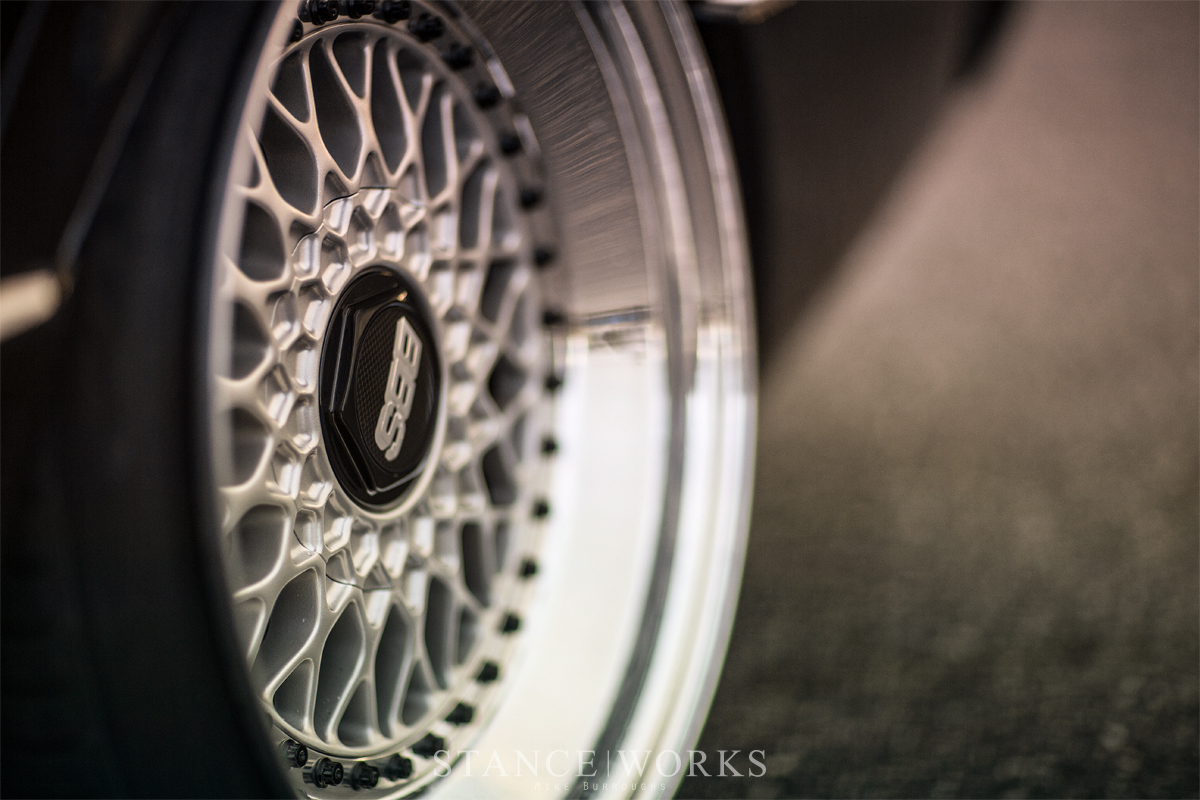 It should come as no surprise, then, that Armand has his own fleet of Mercedes cars, or so it seems from the outside. For months, we planned to get together for photos, often batting back and forth between which car he should bring. Perhaps his bagged vintage 1972 W114 250 sedan? O better yet, maybe his W201 190E 16v Cosworth, which happens to be the very first example imported to the US, and used as Car & Driver's original test car… Maybe one of his daily Benzes? None of the above; today's feature is his gorgeous 1995 S124 E320 wagon: a tough choice, but a worthy one.
Armand bought this car roughly three years ago, with the intention of keeping it as a daily commuter for work and errands. Unsurprisingly, Armand fell victim to the same sickness that consumes us all, and before he knew it, his daily driver had evolved into a much more thorough build. His reasoning is hard to blame: the wagons' rarity makes them a sight to be seen on the streets. After just one year of daily driving, Armand turned the page, and his build began.
Without hesitation, Armand began the project with a complete respray, wanting to bring the car's condition to a perfect starting platform. Michael's Body and Paint took on the task, repainting the car in its original rare factory 199 paint code – Black Pearl Metallic – typically found on the AMG Hammer cars.
While the car was in paint, Armand enlisted the help of CommonWealth Motoring, in Canada, to tackle a slew of custom suspension components. Knowing he wanted the car on air, and to lay quite low, the factory underpinnings simply weren't up to the task. Among the custom pieces were rear control arms, front and rear bracketry, and front and rear bag cups to house the new air springs. Silver Project adjustable rear camber arms were fitted too, yielding a system that allows the car to lay out as intended. Air Lift Performance's 3P management was used to straddle the perfect balance between ease of use and simplicity of the system, as well as reliability. The 3P gives Armand full control of the car's ride height and ride quality from the driver's seat, all without a second thought.
Armand commented about the challenges of bagging the car: without bolt-on solutions available, it proved to be a bit of an uphill battle. The juice was clearly worth the squeeze, though, as the wagon's usability has only increased, and it looks better than ever. To finish off the car's aesthetics, Armand turned to Jason Mendieta to build a custom set of BBS RSs. Measuring out to 17×8.5 and 17×9.5, the wheels fill the wells perfectly, and aid to the perfect 90s styling of the car. The car's final touches, such as the fully-tuned M104 inline 6, or the Nardi wheel inside, keep things simple but complete.  It's a wagon we can't help but love, and if the same goes for you… well, you'll love what we share of Armand's next.