In no way is Dirk Deppen's approach to building cars subtle. The idea of a "sleeper" is lost on him; the importance of aesthetics and the cohesion between style and performance are paramount in his list of build plans. Just one glance at his main project, an E30, gives it all away: a turbo 5.3 LS, enormous fenders, wild wheels, and everything in between make for a wonderfully ostentatious machine. His E28 on the other hand, is admittedly a bit more nuanced. That's not to say it's a wolf in sheep's clothing; however, Dirk's ingenuity goes far past the obvious.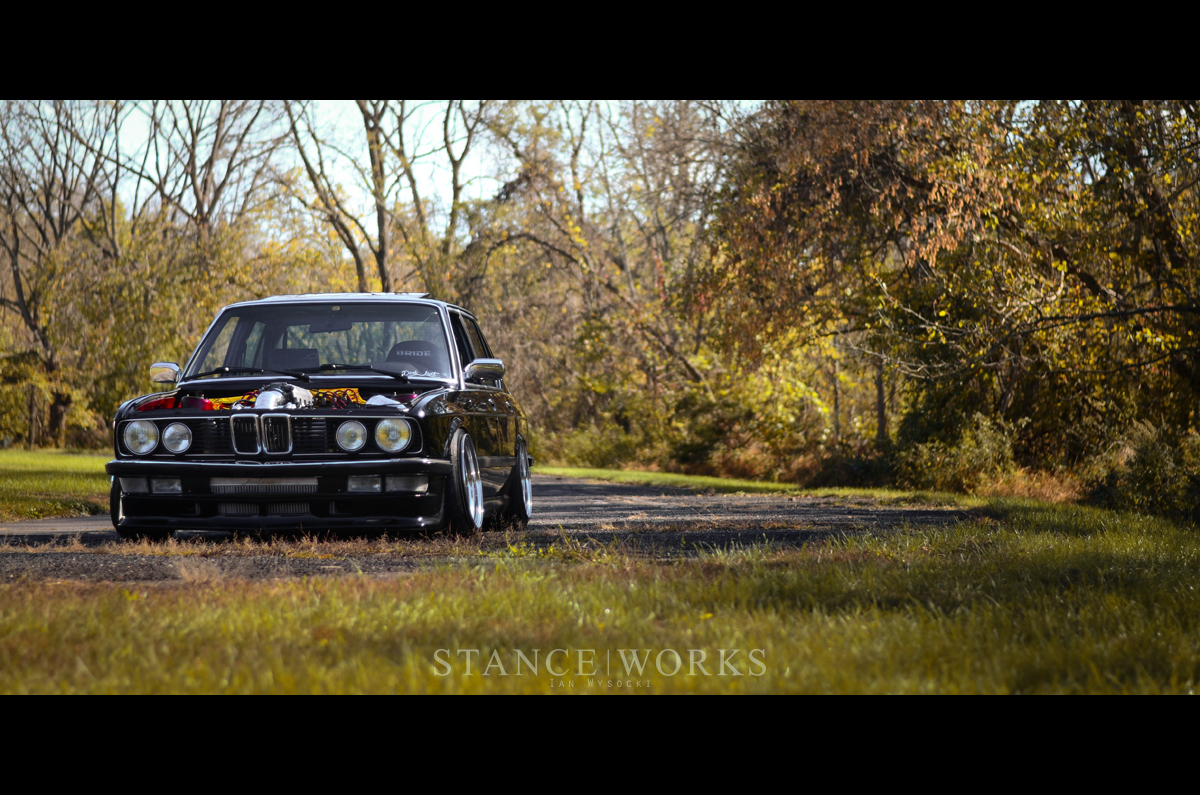 The story of Dirk's E28 begins rather familiarly. His E30 project was well underway, and fittingly, Dirk was in need of a daily driver. With excellent taste (if you ask me), he turned to the E28 535i, famed for its reliable, if not efficient, M30 powerplant. Somehow though, Dirk managed to pop the big six, and the downhill spiral began. An M106 – the turbocharged M30 variant from Europe's E23 745i – was sourced and installed along with a Megasquirt 2 system. The M106 too met its demise under Dirk's heavy right foot. With the mindset that enough was enough, he turned to the Chevy 5.3 that sat on an engine stand in his garage.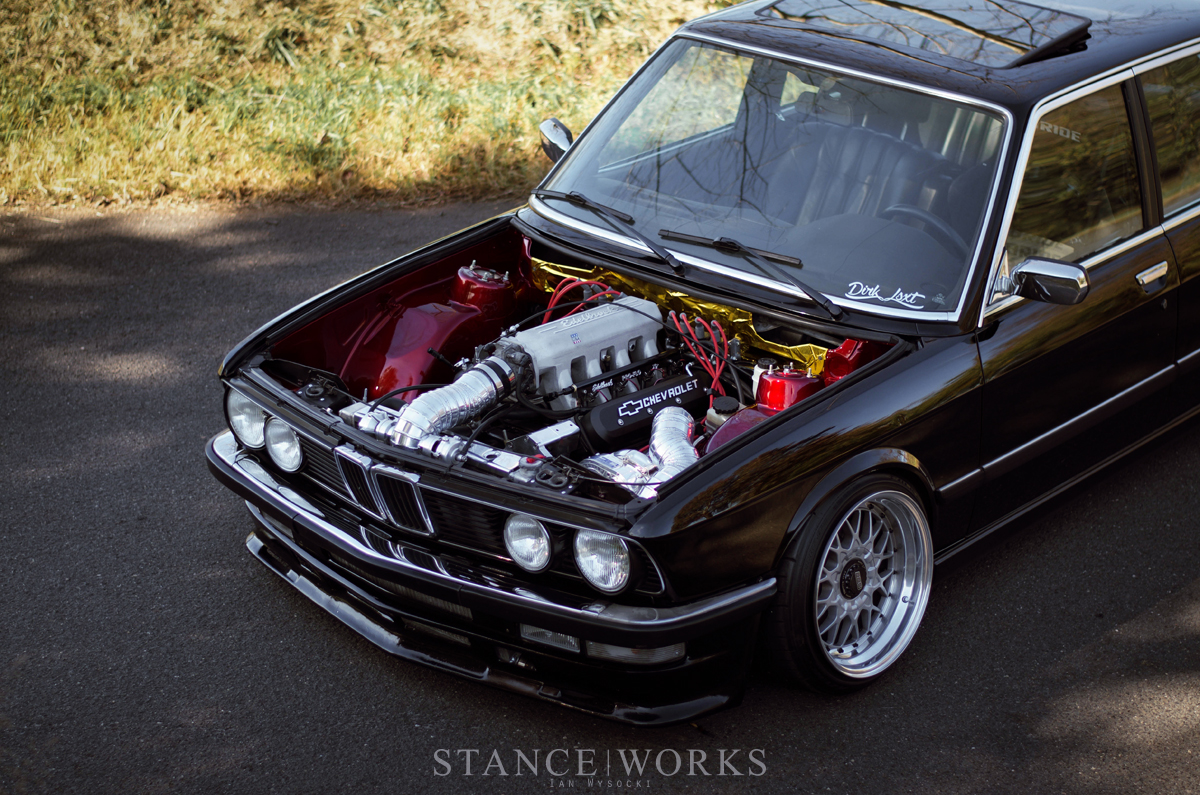 Pulled from his E30 to make room for an all-aluminum Gen IV 5.3, the iron-block 5.3 was in need of a new home. As a full time fabricator and welder at a sheet metal and machine shop, the task was nearly child's play, and would yield a powerful daily driver with some noteworthy reliability. Initially, it was a budget-minded build, utilizing an AR5 transmission sourced from a Chevy Colorado, paired with a bell housing adapter, and together, the duo worked well. For Dirk though, it simply wasn't enough.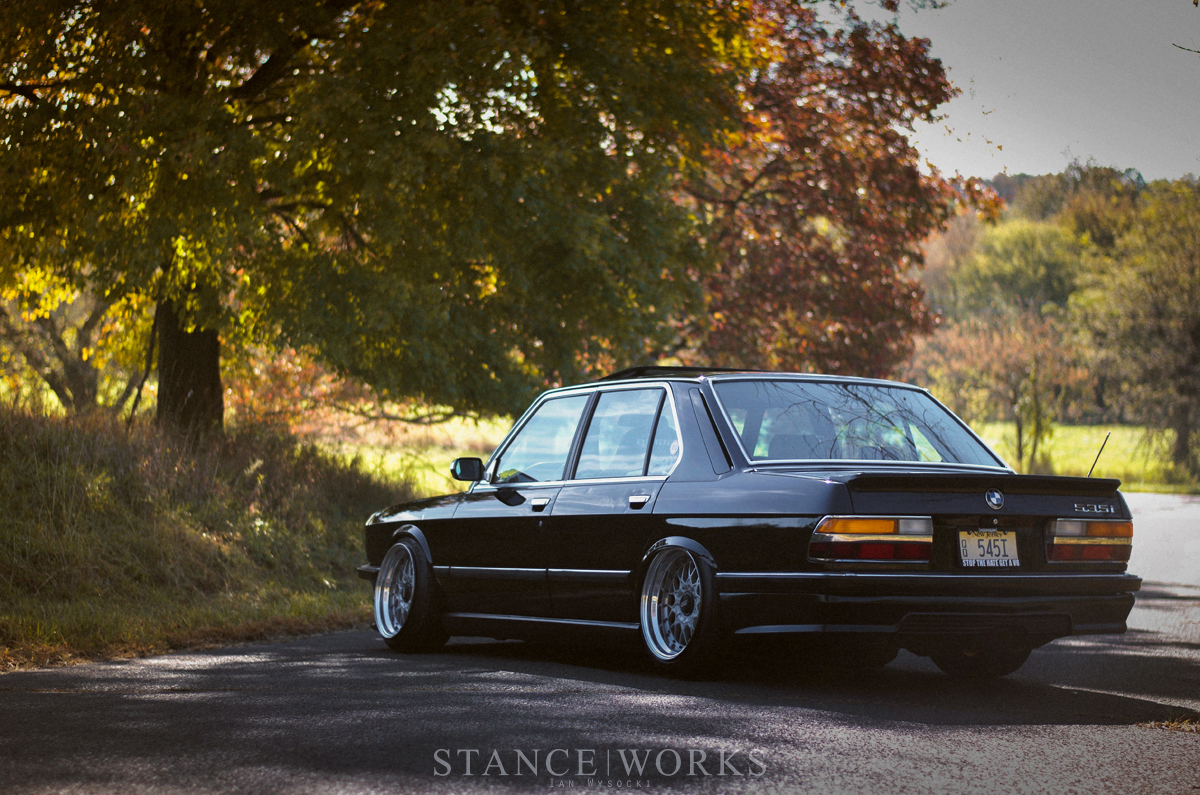 "It was fun, but I just wanted a little more," Dirk says. Just over a year ago, over the course of the winter months, Dirk turned to forced induction, enlisting the help of a ProCharger for some much-needed manifold pressure. Combined with a Comp Camps Torquer V2 cam, .660 Platinum dual springs, chromoly pushrods, and an enormous Edelbrock intake, he's making more power than ever. Dirk tells me, "one thing I enjoy as much as building cars is giving them hell. I figure if it can't take it, then there's still more to improve on." He guesstimates he's pushing out around 500 horsepower or so, meaning that it was no surprise that following the supercharger install, the destruction began.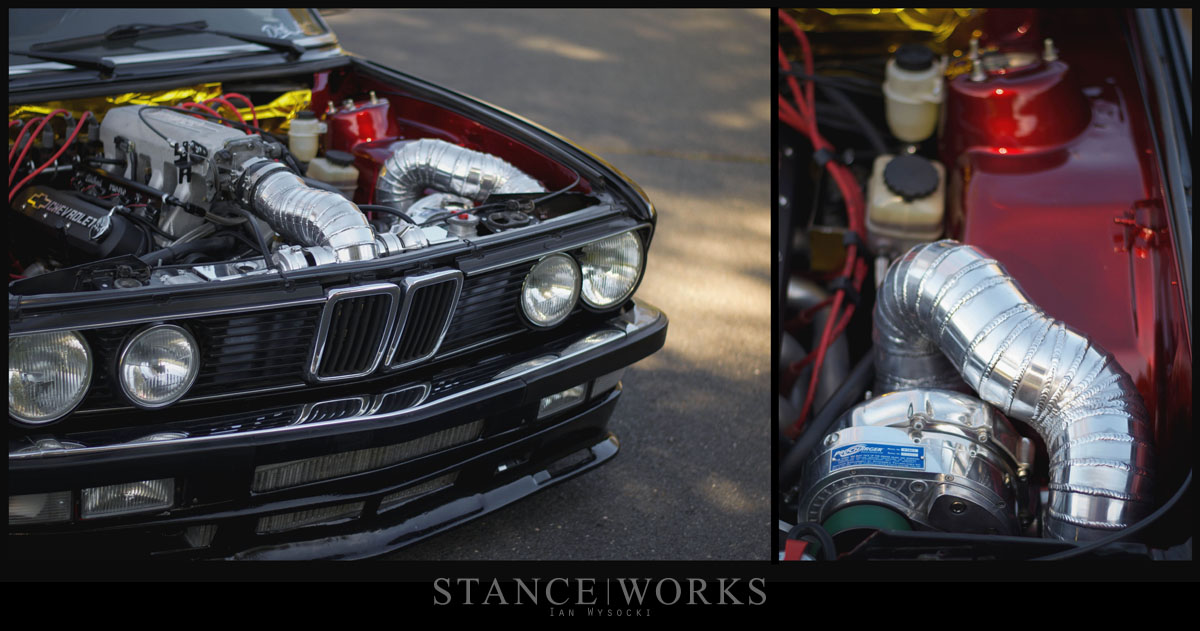 The AR5 just couldn't hold on, and third gear let go. Then the pressure plate mounting hardware failed, and the clutch was lost too. A T56 with a viper mainshaft was fitted, along with a Monster "stage 3" clutch and flywheel assembly to hold up to the power. The next weakest link was the differential mount layout: the mounting holes on the subframe tore clear through, so Dirk followed through with some much-needed reinforcements to prevent it in the future.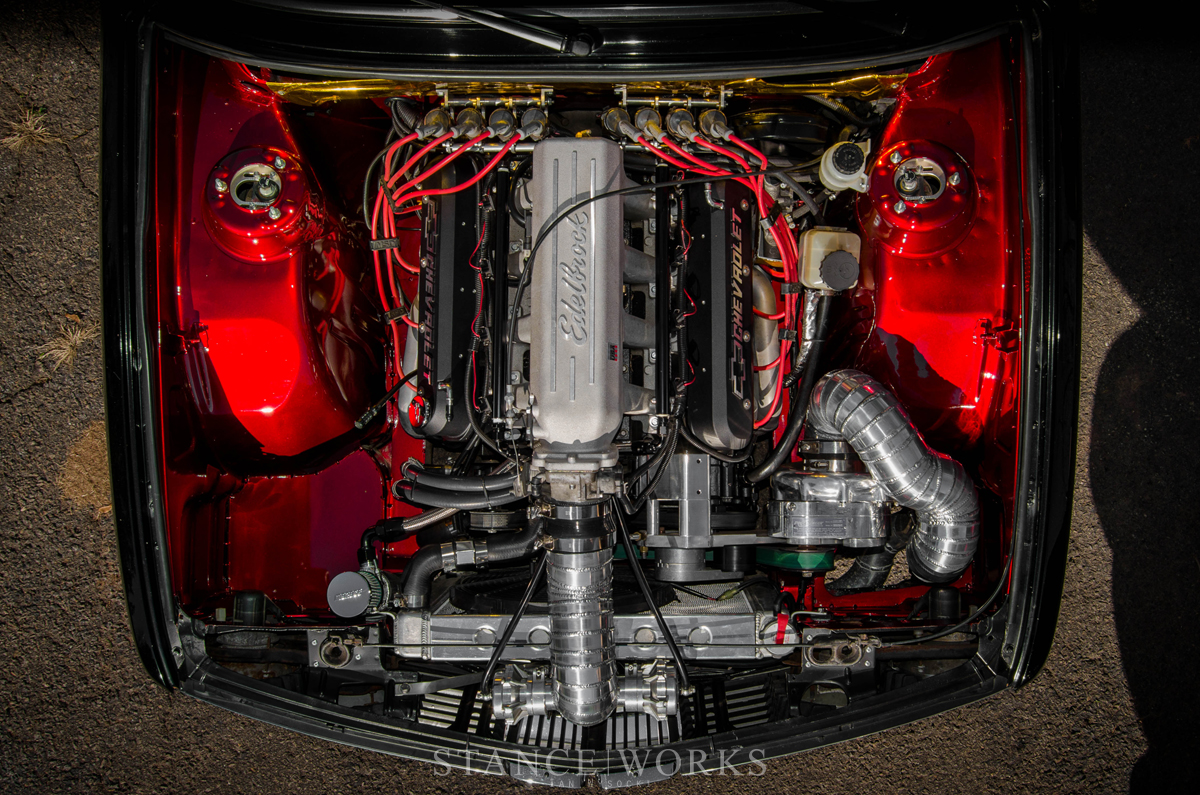 While an LS swap and forced induction are no easy task, they come second nature to Mr. Deppen. He tells me he's heard every variation of "how hard was the swap?" and he concedes all the same: "It all depends on what you're comfortable with." For Dirk, it was a learning experience, with the steering box and header clearance offering the only real hurdle in the operation. Although the swap is enough to carry this build above and beyond most E28s on the street, it's merely an element in Dirk's overall build; that steering box didn't remain in the way for long.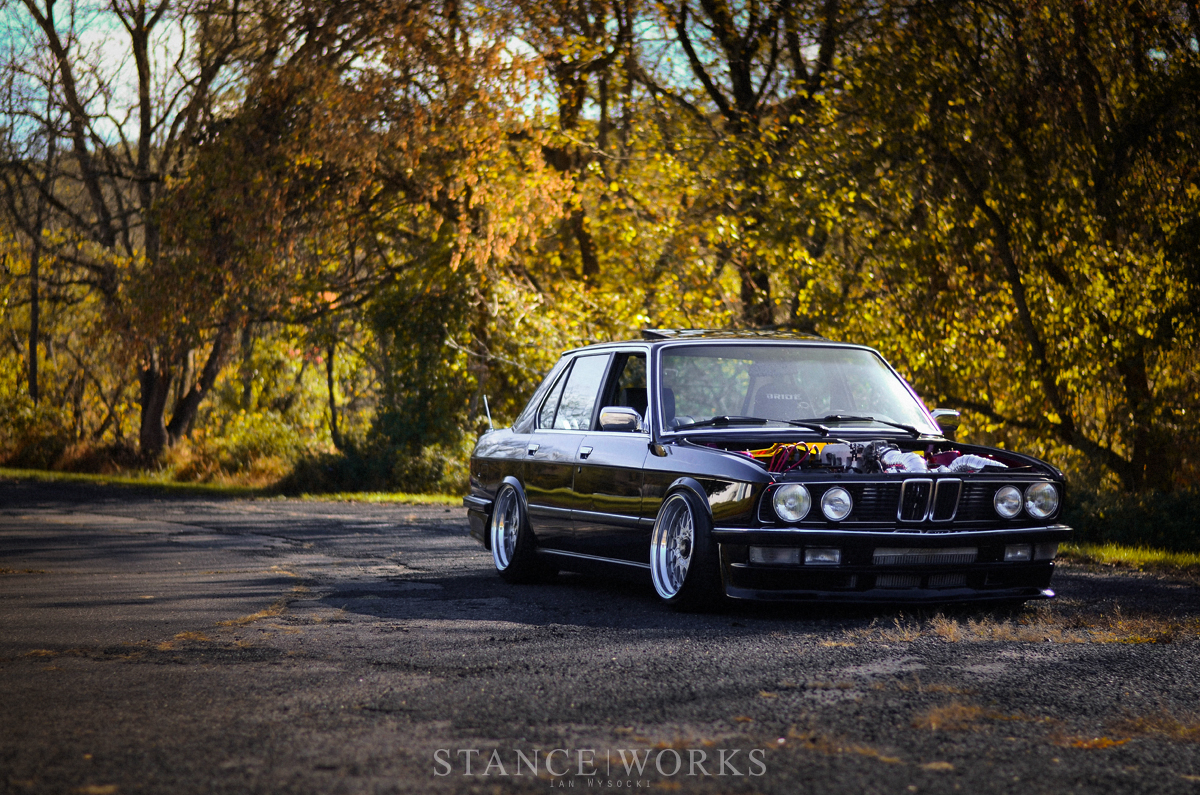 In the quest for improved suspension component options, better geometry, more steering angle, and if I were to guess, simply something to do, Dirk tore the car's front suspension and subframe out completely. In its place now sits a modified Z3 front subframe and steering rack, converting the car away from its original bus-style steering system. Aiding in the endeavor is an SLR Mini Angle kit, along with BC Racing coilovers, E46 control arms, and E46 330i brakes. Together, the setup makes for an E28 that boogies just a little bit harder than your run-of-the-mill example.
Clearly, Dirk isn't afraid to drive the car, and hard at that. Nevertheless, it's still a daily driver. Following the adage "What good is going fast if you don't look good doing it," his daily driver tightly hugs a gorgeous set of BBS RC041s – E36 M-technic wheels – that have been converted to 3-piece. Measuring out to 17×10 in the front and 17×10.5 out back, the car beautifully executes an OEM-plus-and-then-some style. Its further complimented by chrome euro bumpers, door handles, mirrors, and of course, Pfeba and BBS trimmings around the base of the car.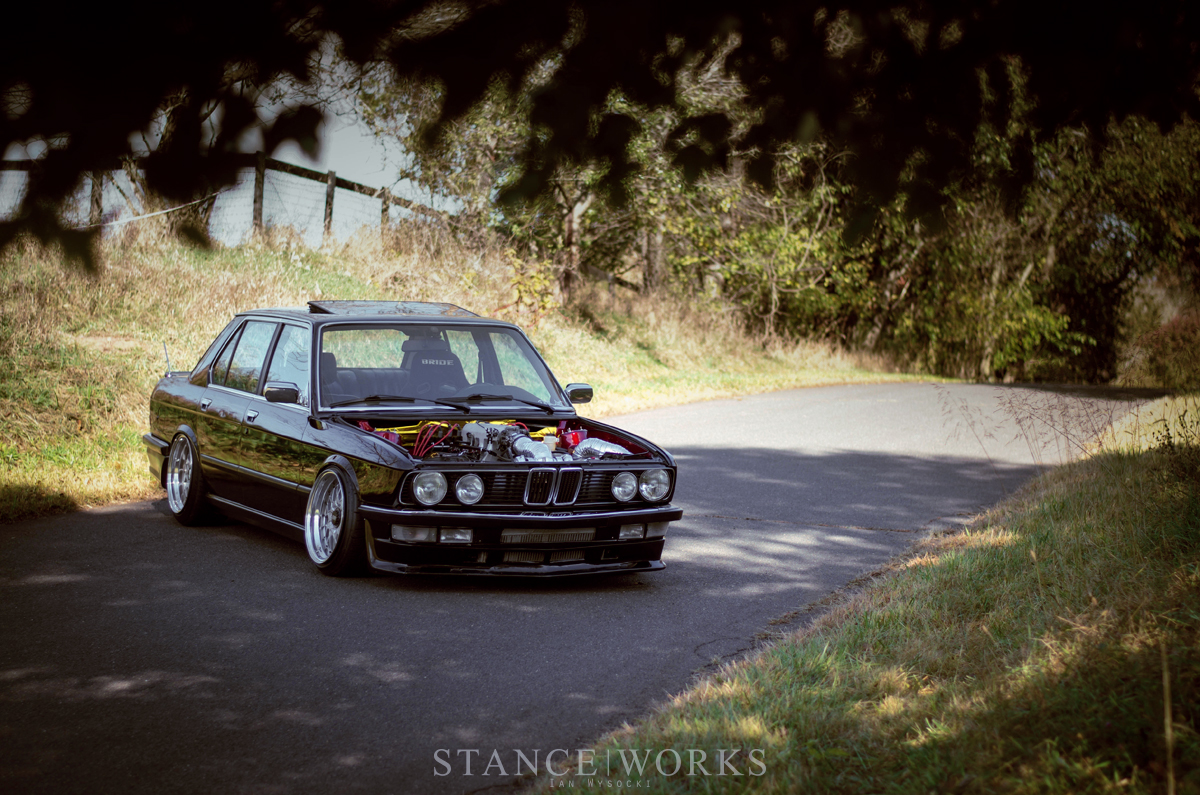 The outrageousness of a missing hood isn't beyond Dirk either. "I seem like a dick with the hood always off since, I still haven't gotten around to finding an undamaged one to modify. Oh well," he jokes. The complete lack of a hood makes for a bear-all peep show, and Dirk isn't afraid to show the gorgeous motor and candy-apple-red engine bay.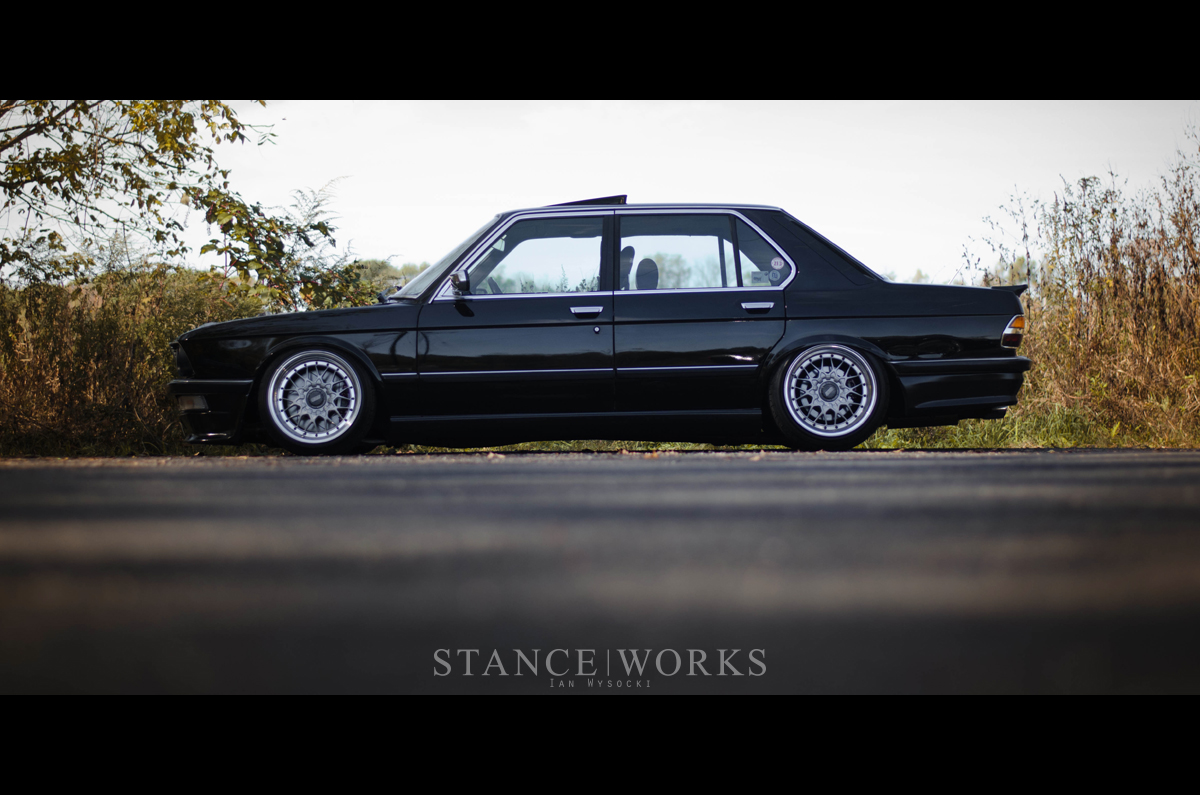 In due time, I'd guess, he'll sort it out. We're glad he's in no rush though. As wild of a car as it is, we're glad Dirk has approached his daily driver with a no-holds-barred attitude. As a result, his beater grabs far more attention than the average enthusiast's pride and joy. All that means for us though is that we'll be back, eager and excited to see Dirk's E30 upon completion.