It was nearly eight months ago that Project CARS reached its official launch for the Playstation 4, Xbox One, and PC. Upon its entry to the market, we gave our first impressions, praising the game for its no-holds-barred take on the challenges of racing. From its in-depth level of customization of weather, tracks, and time of day, to its unforgiving physics that demand precise car control, Project CARS left us excited to finally have a real simulator to play on the current-gen consoles. When the opportunity arose to work side-by-side with Project CARS to bring new content to the game, it was something we simply couldn't turn down. The result? Two incredible BMWs ready to tear up the world which the Slightly Mad Studios team has built, and in just ten days, the StanceWorks DLC car pack will hit the digital shelves.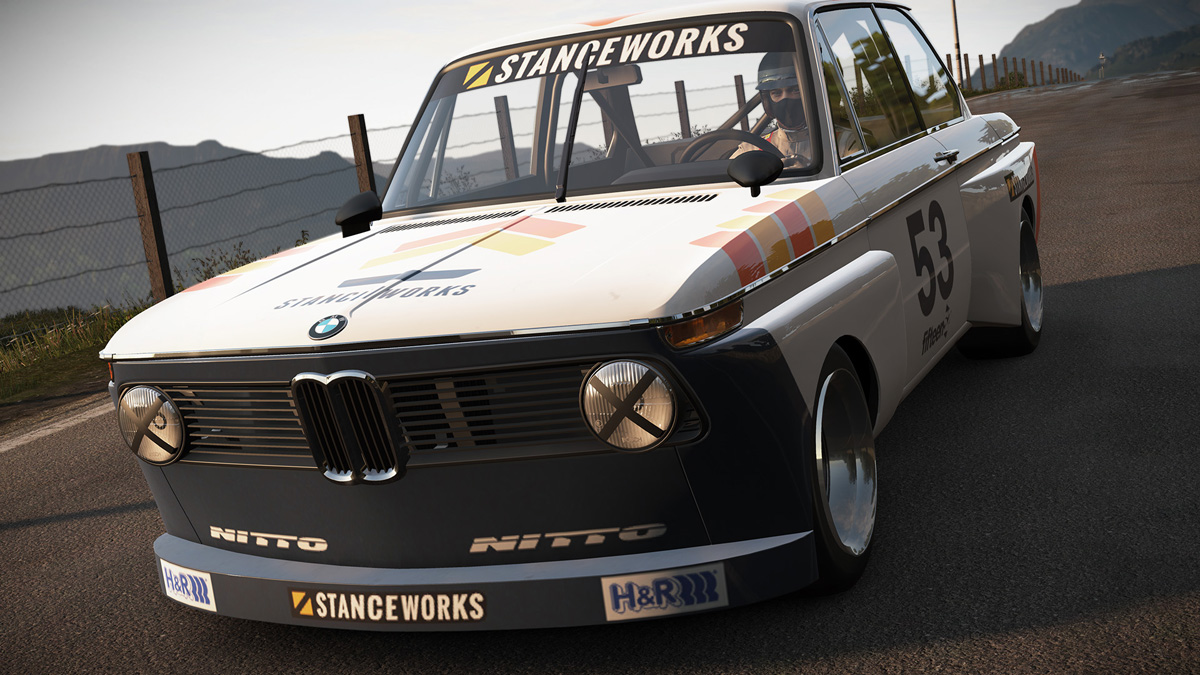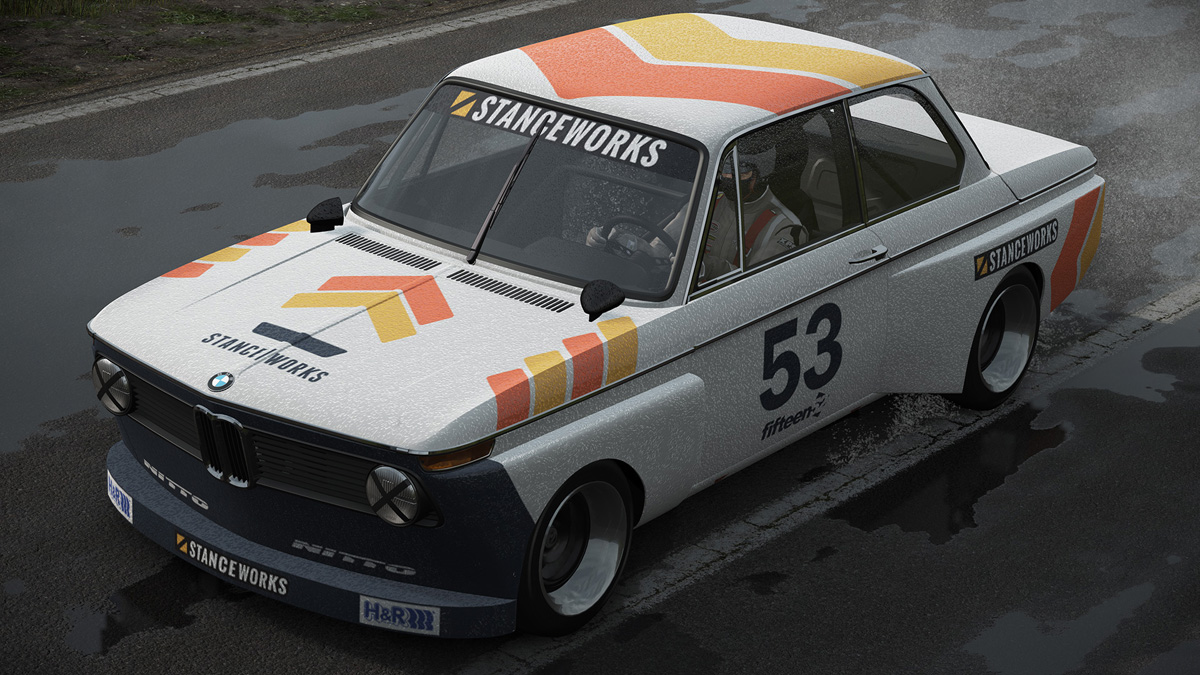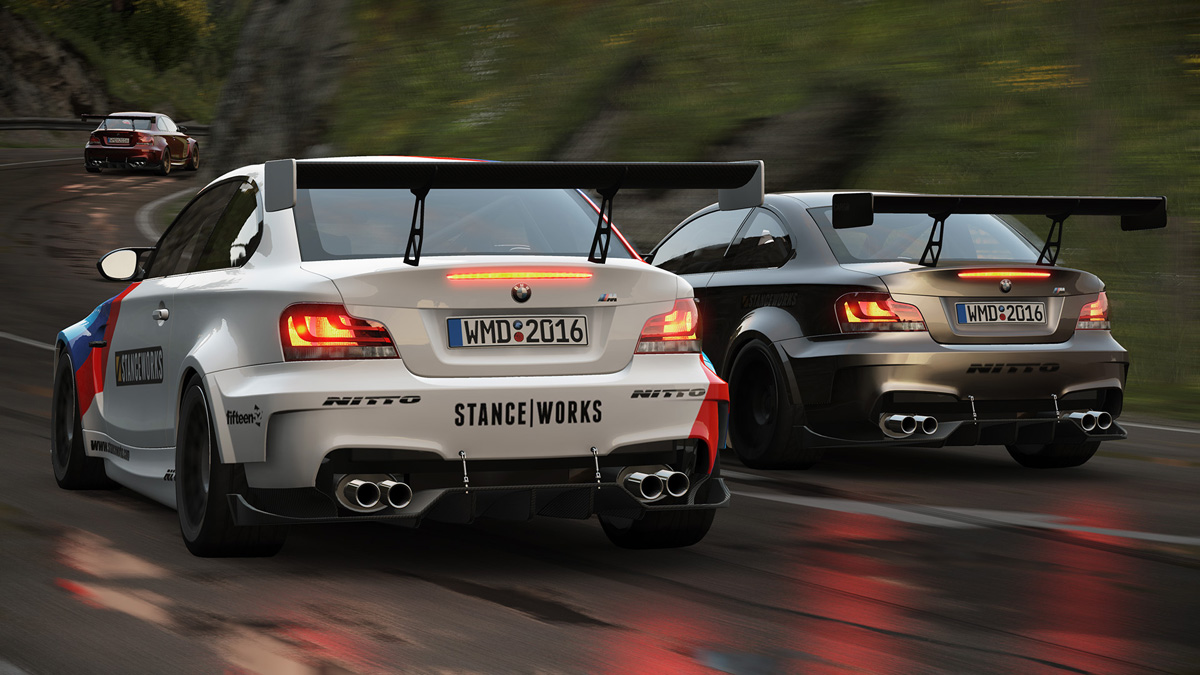 Over the past couple of months, we've worked closely with the Slightly Mad Studios team and Project CARS to bring something StanceWorks flavored to the world they've created. Tasked with creating two cars suited to a racing environment while maintaining a sense of familiarity, we unsurprisingly chose to begin with two BMW platforms: the iconic 2002, and its modern stablemate, 2011's BMW 1M. Our reasoning was simple – it was important that the digital builds represented something true-to-heart – something we'd build ourselves, given the time, money, and opportunity.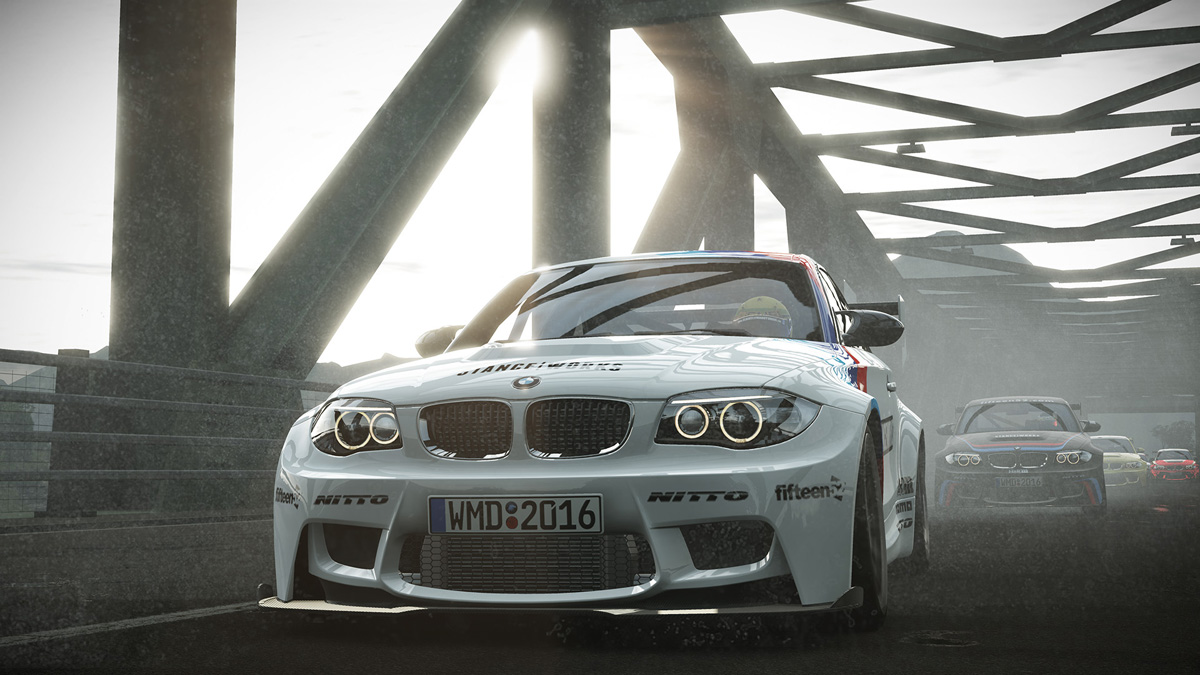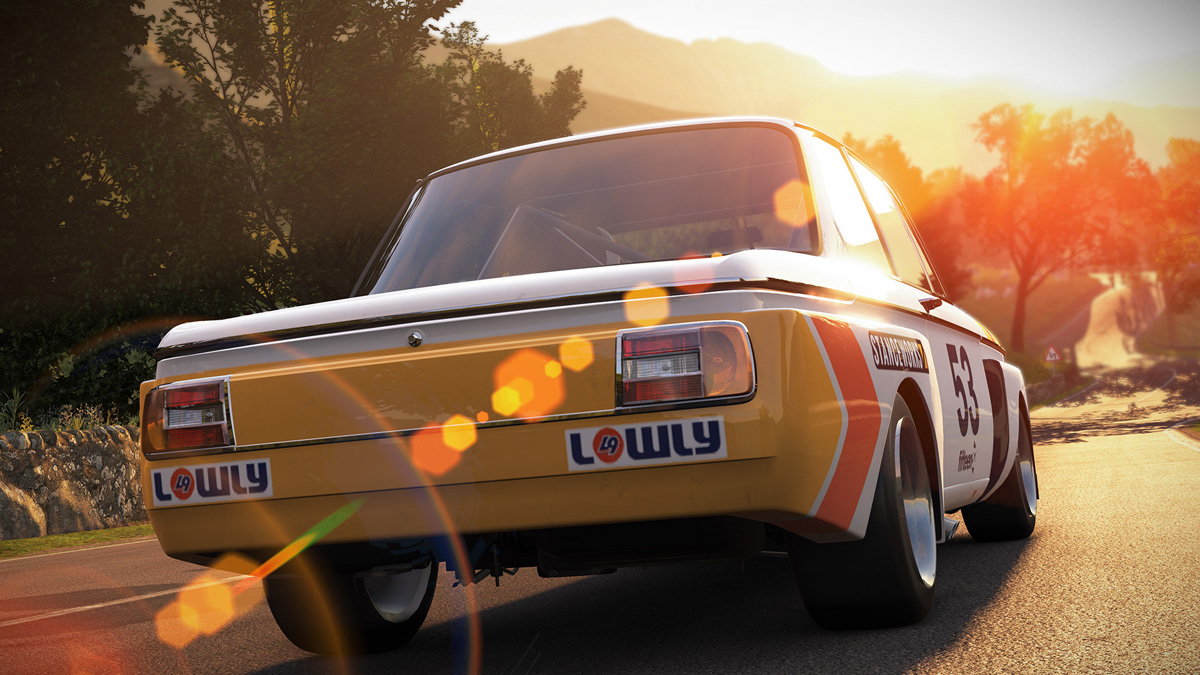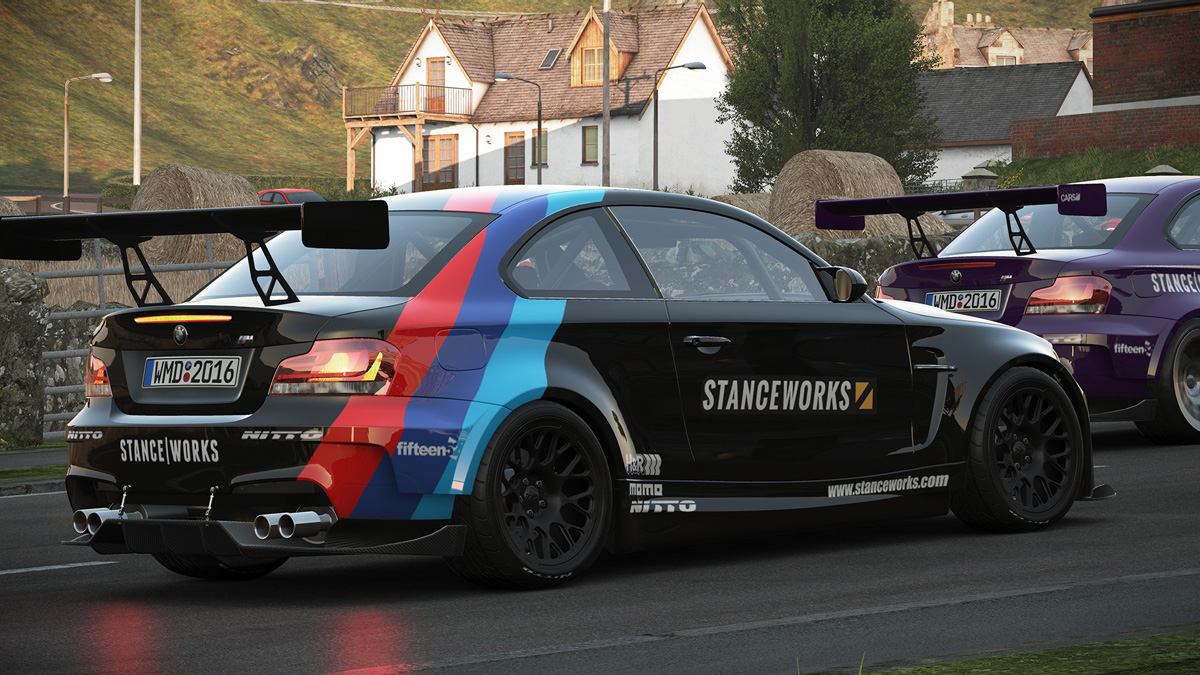 First and foremost was our iteration of the 2002 – a build we have done in our heads time and time again. Through our attendance of numerous classic and vintage races across the country, spotting the 2002s on track and in the paddock has always been a highlight of each event. With the chance to build our own, albeit digitally,  we took some liberties in building the 02 of our dreams. Pulling inspiration from some of our favorite FIA cars, we opted to give '02 Group 2 bodywork, complete with boxed fenders, nixed bumpers, and subtle trimmings, such as the M1 Procar-inspired mirrors. The choice between boxed flares and Alpina's iconic "pig cheeks" made for a tough choice, but when taking in the car as a whole, the decision became more simple. Complimenting both the aesthetics and the performance is the use of Fifteen 52's forged 3-piece Integrale SC wheels, and for paintwork, some of Andrew's own livery designs coincide with the upcoming Lowly Gentlemen line. From the outside, our 2002 fits its intended role, and from there, we moved inward.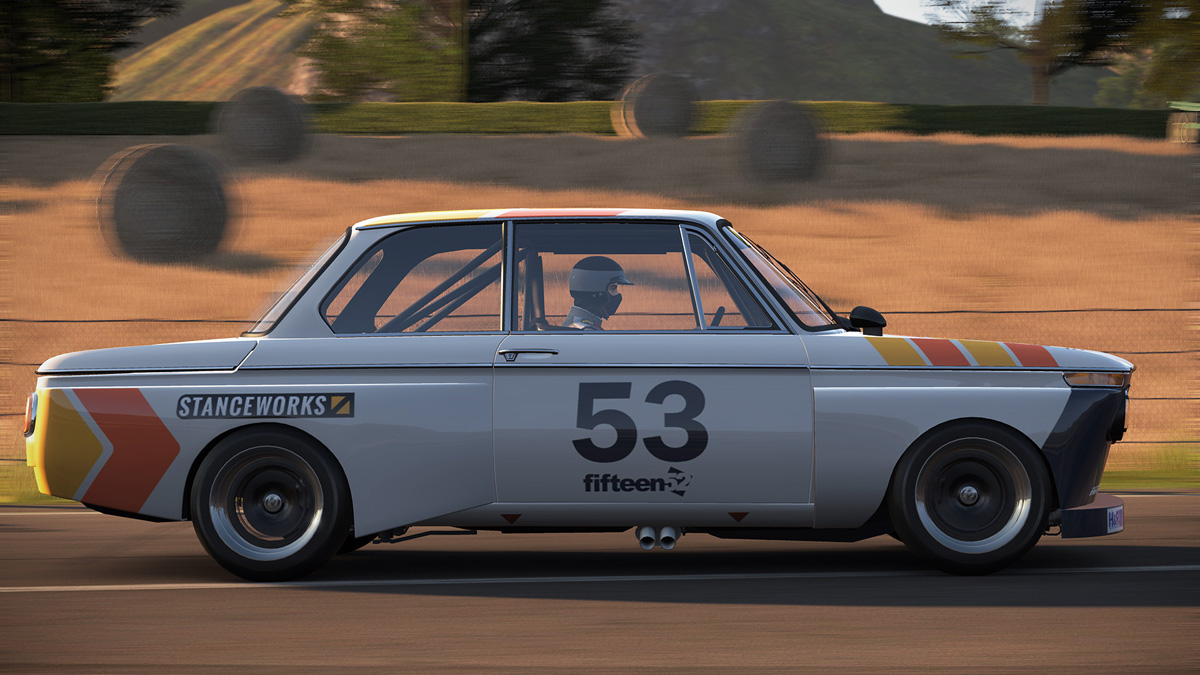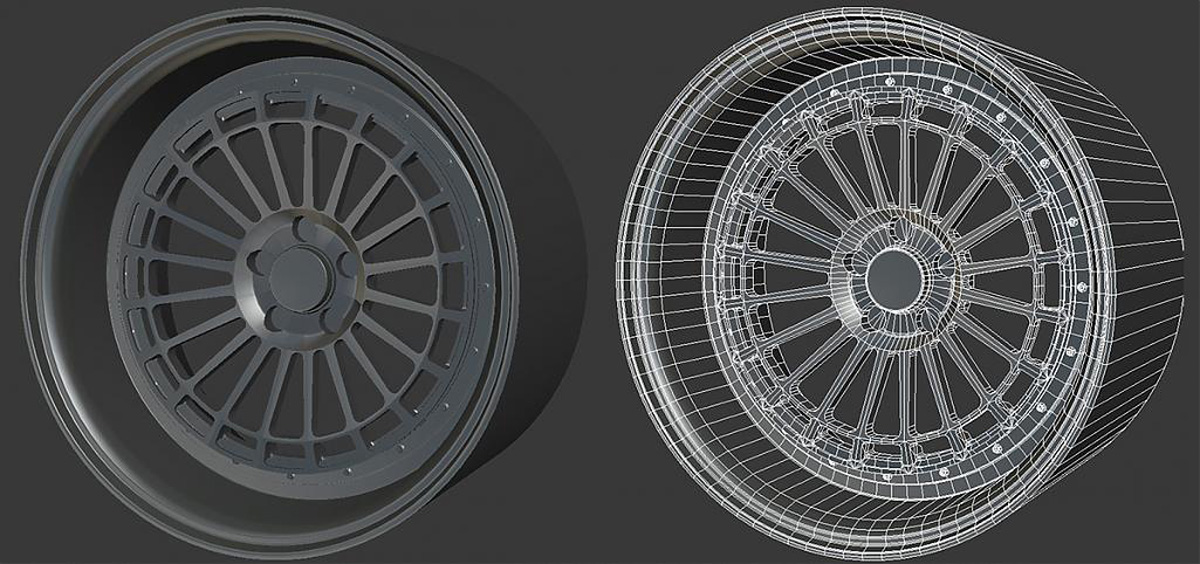 For the car's interior, the amenities have been stripped away, leaving the bare metal floor to be paired with a pair of vintage bucket seats. The cagework is simple and true to form, keeping in line with the kind of cage we'd fit ourselves – a single crossbar supports the main hoop, and only the necessary tubes are present: no frills needed. Custom touches like Alpina-style gauges and a MOMO steering wheel give a bit of character to an otherwise spartan interior; however, it's what is under the hood that truly counts. In our initial brainstorms for a suitable engine, a few options popped up. Perhaps a more modern power plant offered the perfect juxtaposition? Or maybe something more realistic and period correct was apt? Our final decision came down to a simple answer: "dream big." In place of the original M10 4-cylinder lump, we decided upon BMW's legendary M12, the ultimate M10 counterpart. With no better nor more suitable engine in BMW's classic arsenal, yet far out of our real-world price range, it was the obvious choice for our digital build. Configured for Formula 2 racing, the M12 pumps out 260 horsepower at an astounding 8,000RPM,  offering up a balance of power and weight that is refined yet frantic in the Project CARS universe.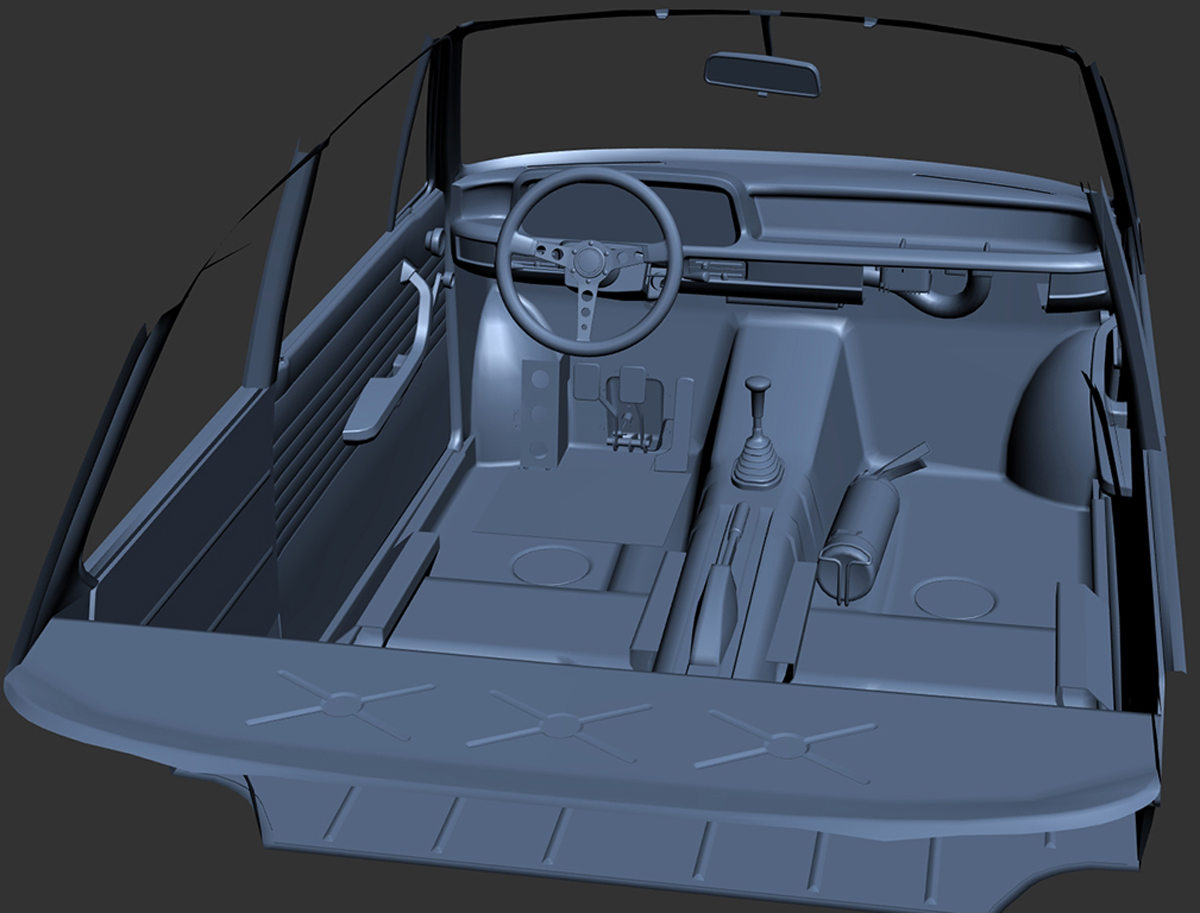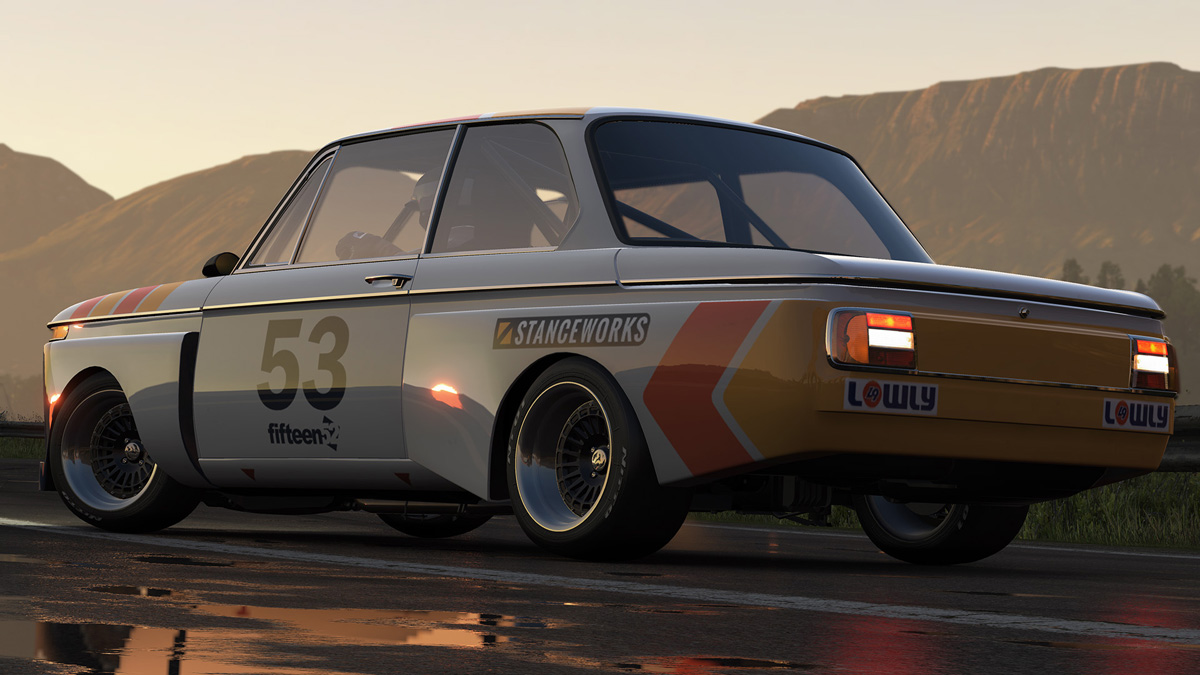 In wanting to balance old and new, we turned to the 2002 turbo's spiritual successor: the 1M. What began with "weekend track car" mentality quickly evolved, and before long, the Project CARS 1M project had evolved into a GT3-inspired purpose built racer. Much of the car's inspiration came from our extensive time spent around BMW Team RLL and their race cars from the last few years. The body work pulls influence from the 1M's bigger siblings, such as the E92 M3 GTR, the Z4 GT3, and even the new M6 GTLM. A massive front splitter, rear diffuser, and rear wing over a significant downforce improvement to the car, delivering a calculated 350lbs of downforce at 150mph.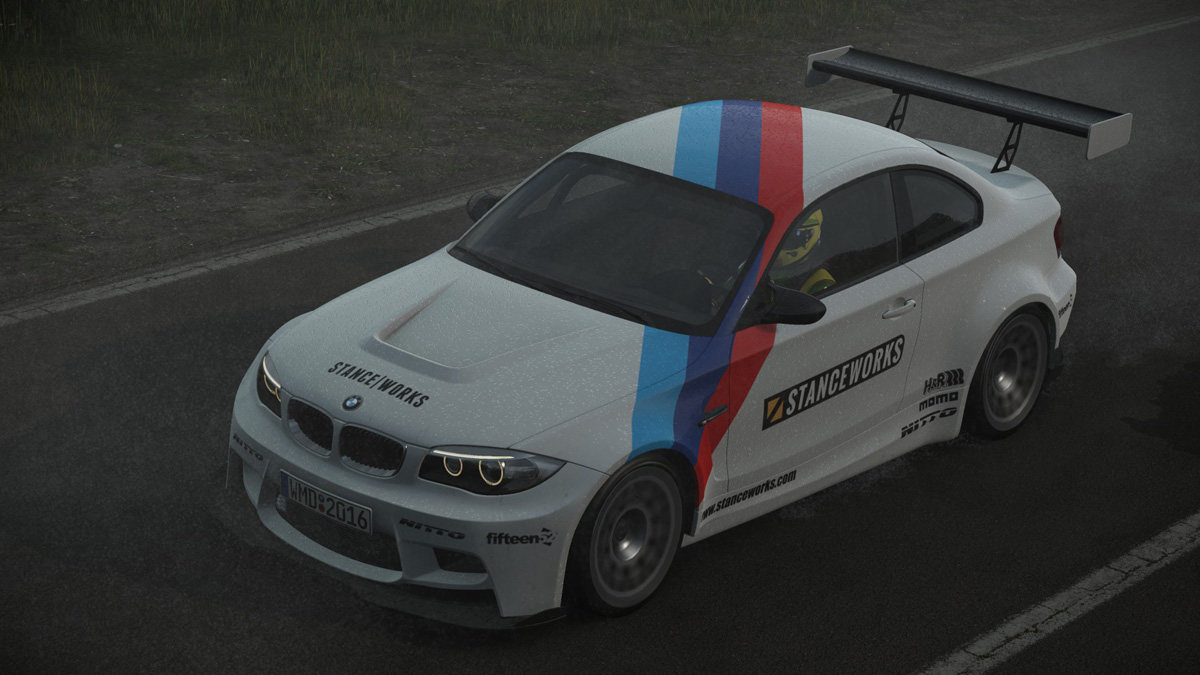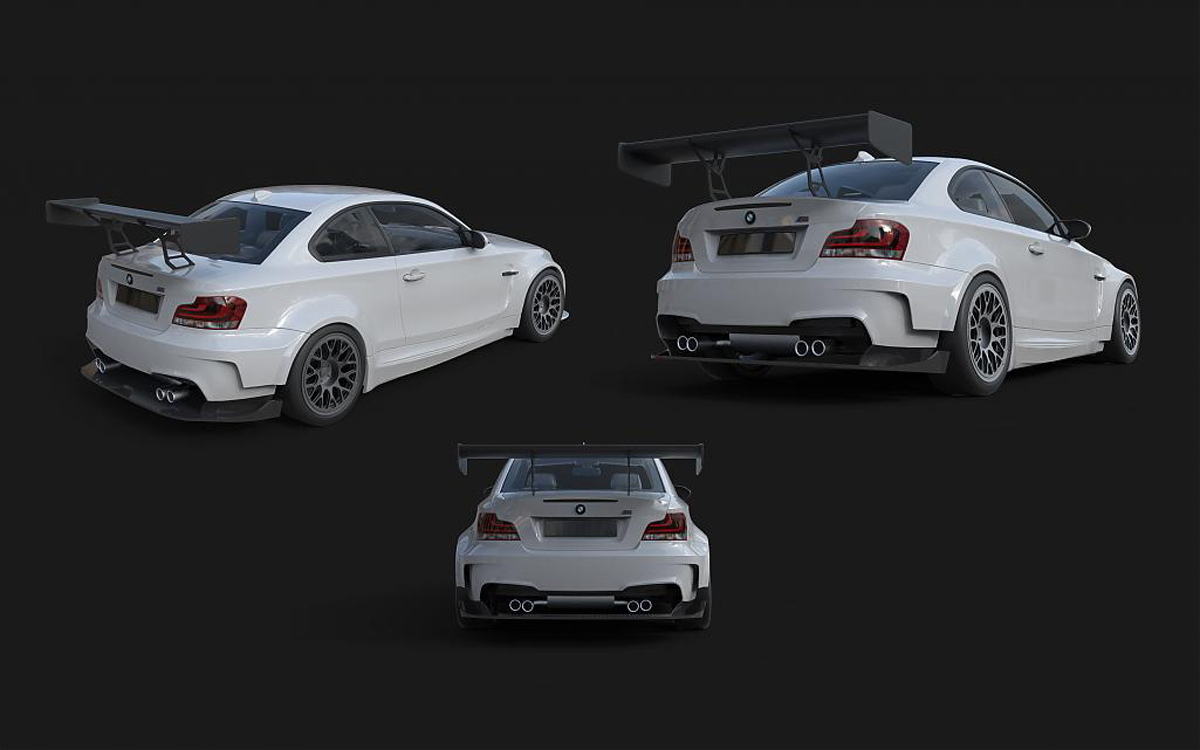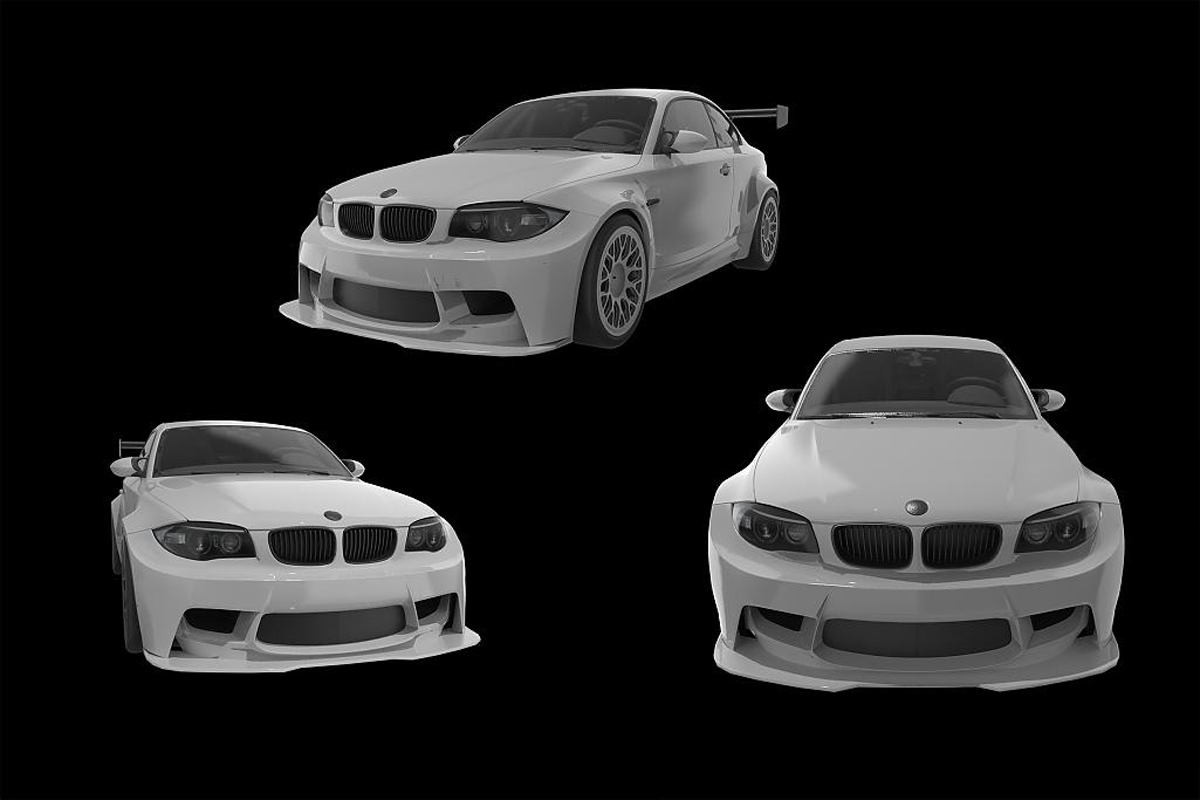 The interior of the StanceWorks 1M receives a similar treatment to the 2002. Totally stripped, with a complete cage, race seats, and a Motec display for driver awareness. The power output of the 1M has been bumped as well by utilizing a new intercooler, a changed exhaust, and bumped manifold pressure, allowing for 460 horsepower to make its way to the forged Fifteen52 Formula LTW wheels. Bigger brakes and H&R Coilovers offer improved feedback, making the 1M a force to be reckoned with. While we're unlikely to get our hands on one of the 6309 1M Coupes, we like to think that if we did, the end result would yield results just like this.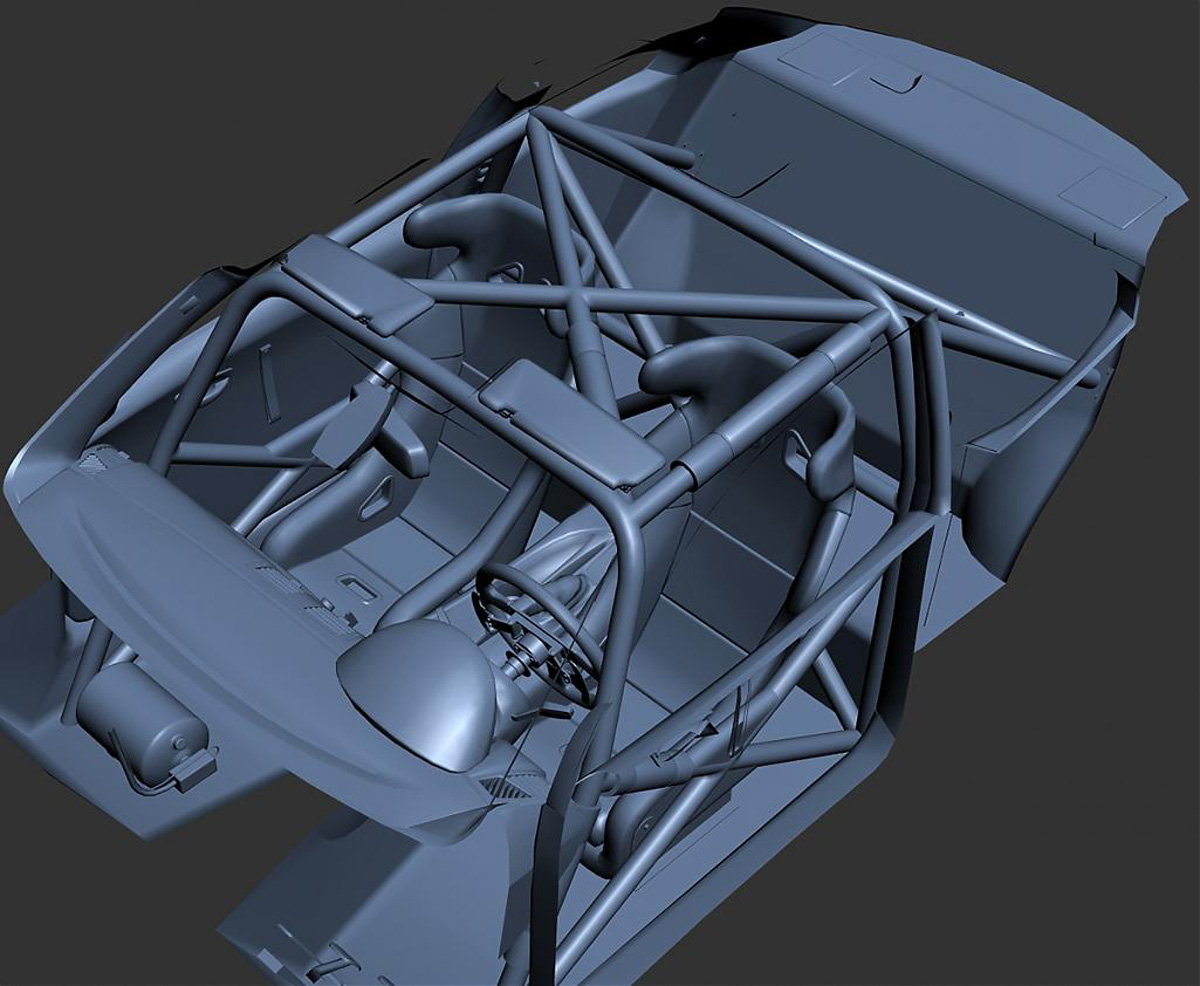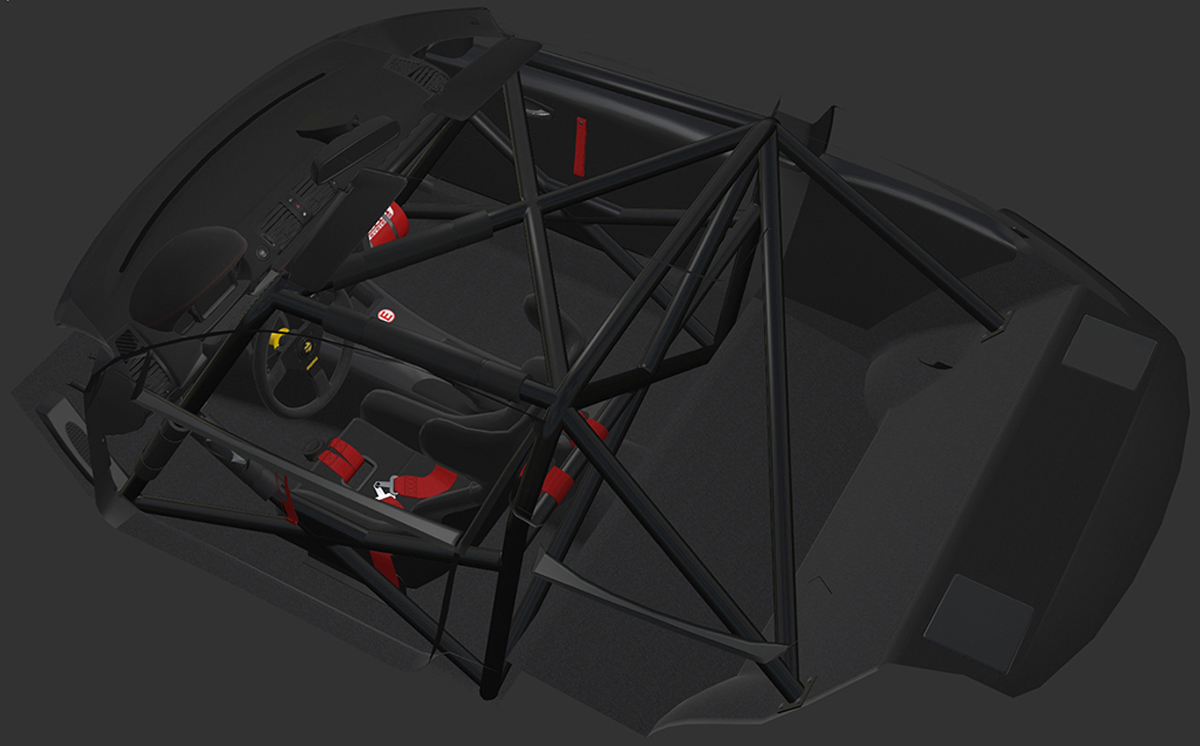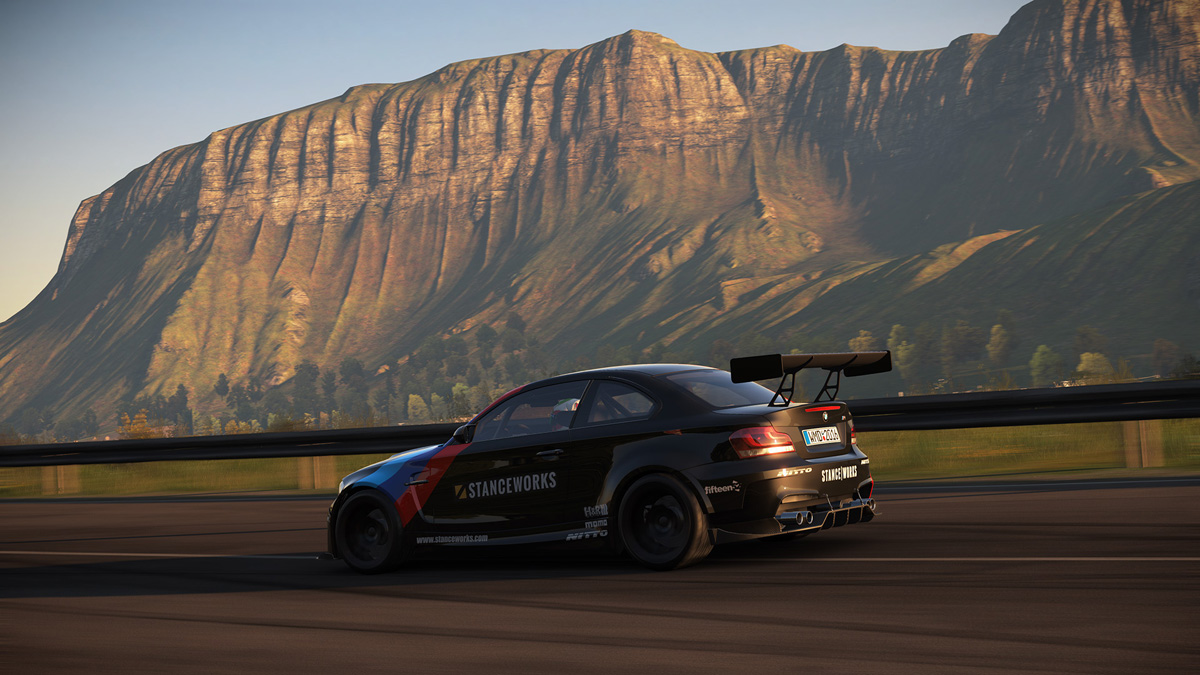 The StanceWorks BMWs make up only part of the exciting new update, with Mad Mike's RADBUL Formula Drift Miata making an entrance, along with a change to the tires' physics engine to allow for drifting around your favorite circuits. KTM's X-Bow R makes an appearance as well, and Ford's 2013 Falcon FG is the month's free car.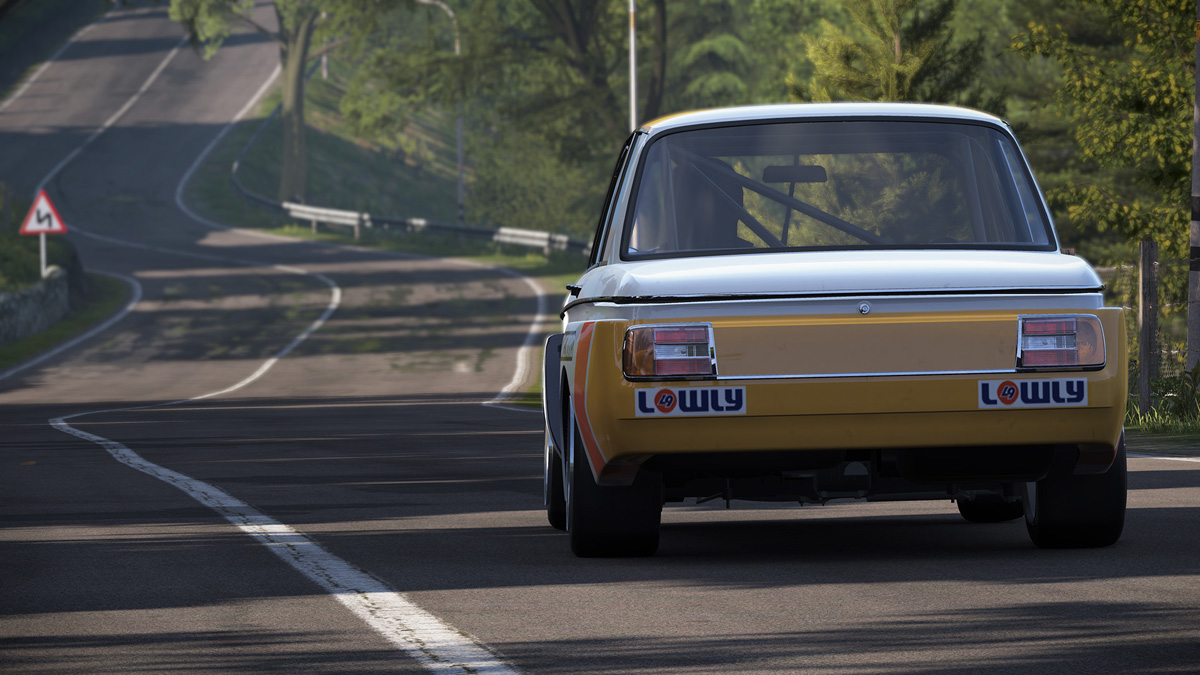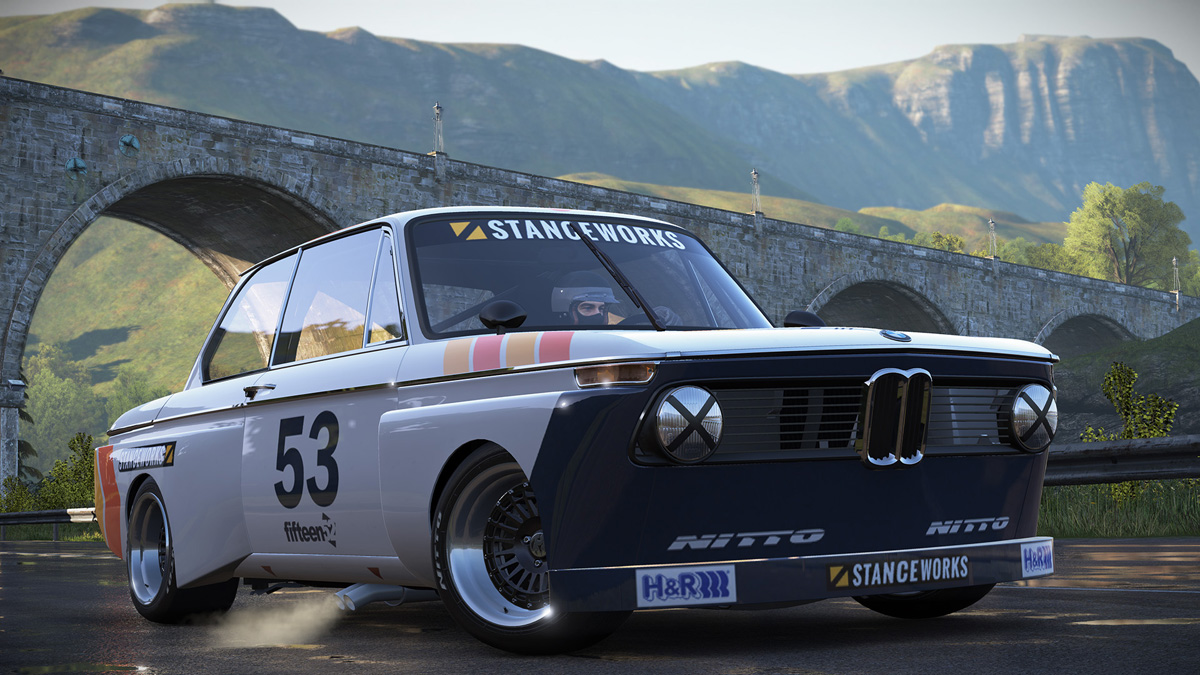 Be sure to grab the StanceWorks Car Pack for Project CARS upon its release, scheduled for Friday January 29th. Shortly following, we'll be announcing a Project CARS competition, inviting the best of the best to compete for a one-of-a-kind prize. Until then, it's probably best to brush up on your driving talents!