The econobox has been around for decades now. Volkswagen built the Rabbit. Honda gave us the Civic. Chevy lauded the Chevette. We even got things like a Dodge Omni and Shadow. All were purpose built to get great gas mileage and to haul as much random urban items (milk crates full of records, coolers full of beer, tents, surf boards) and people (read: clown car) as possible in the smallest chassis size that would be acceptable to the buyers. As time went on, the engineers at the top got bored, and the motorsport mindset seeped in: as a result, we ended up what is now known as the "hot hatch."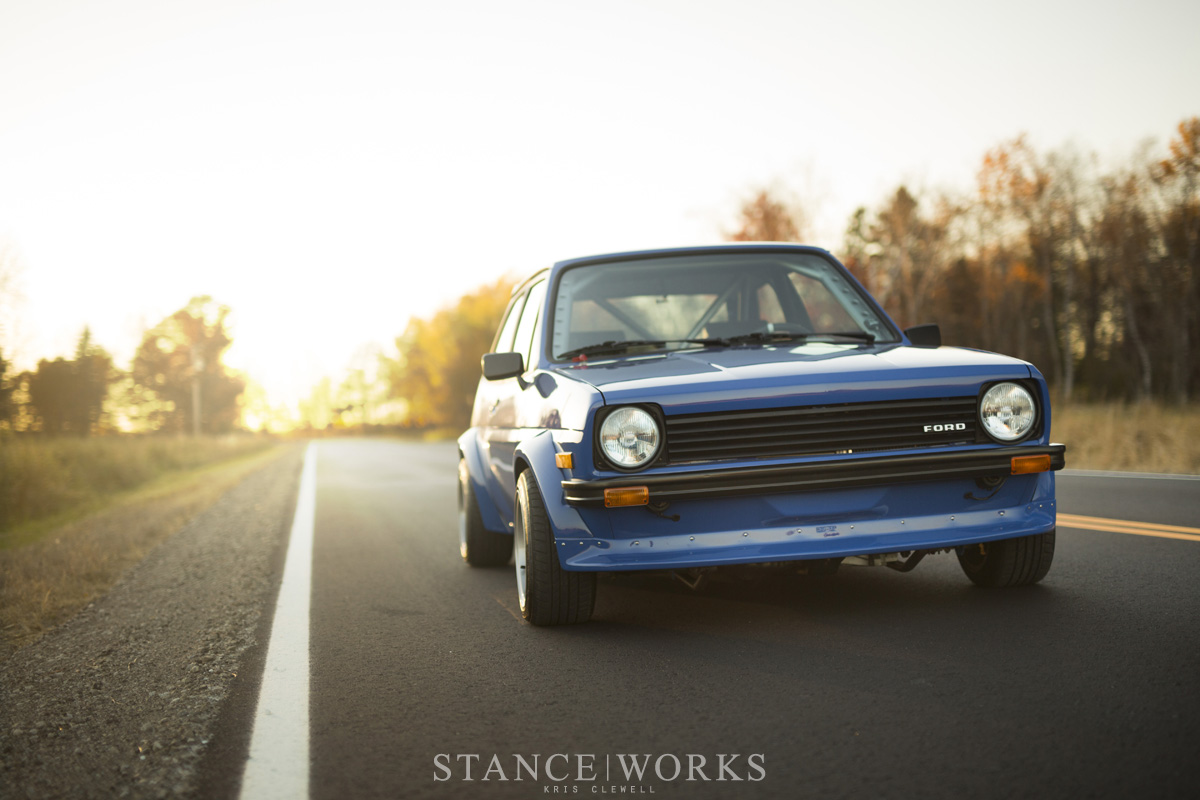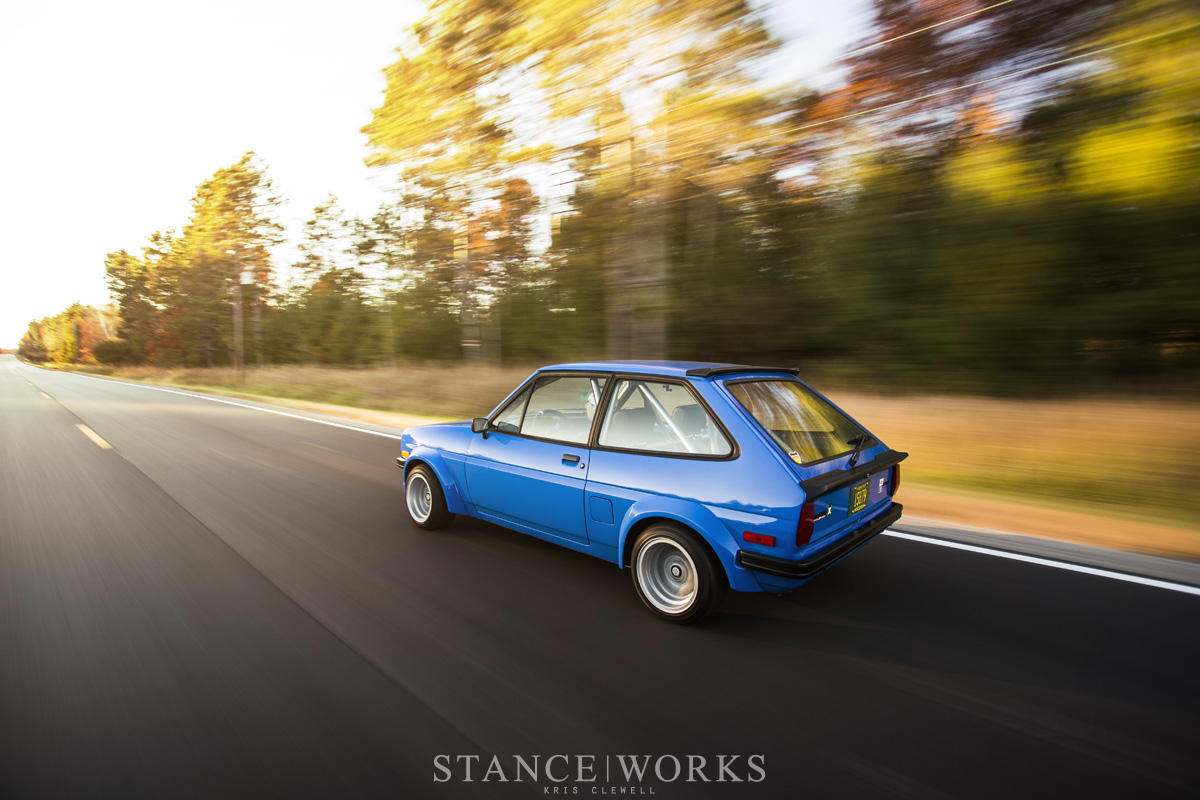 In the early and mid 80's, we saw the birth of the GTI, the CRX SI, Escort XR3, and of course, the Fiesta, which came in trim levels from "grandma", to the series X "RS" 1.6.   Not initially badged as an RS, the series X was given the moniker by enthusiasts, not Ford in an official capacity. Fiesta X parts, also only being available through an RS-capable dealership, sealed the X being called the  X-RS. Each Fiesta X-RS was unique. Series X parts ranged from springs, dampeners, exhaust, wheels, fender flares, sway bars, interior bits, brake kits, and even a "large" displacement engine at 1.6 Liters. It was called a "veritable powerhouse" by Ford, and boasted an increase of 30% over the stock powerplant. Ford, like many other manufacturers has stuck to its roots: the RS badge has lived on through the years in the Escort, Focus, and others, but what would happen if modern engine technology development and modern components made it into a vintage Fiesta? Karl Hacken asked himself the same question…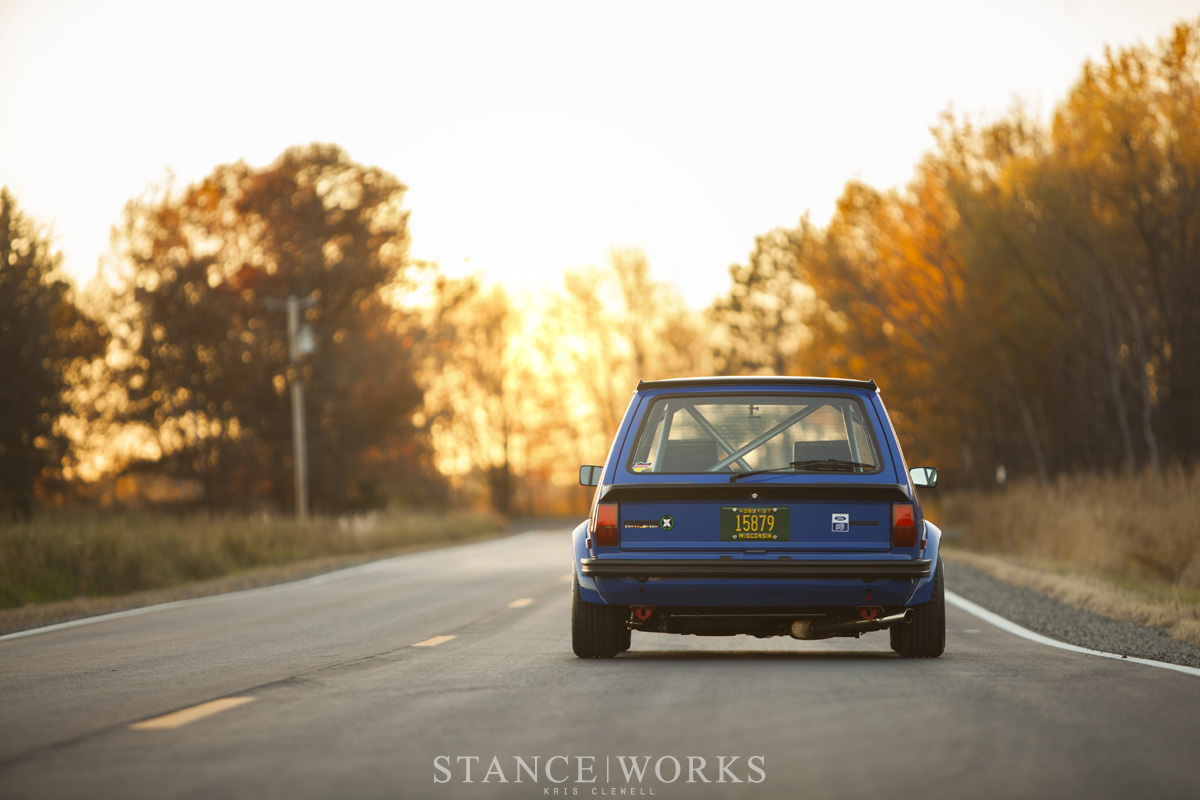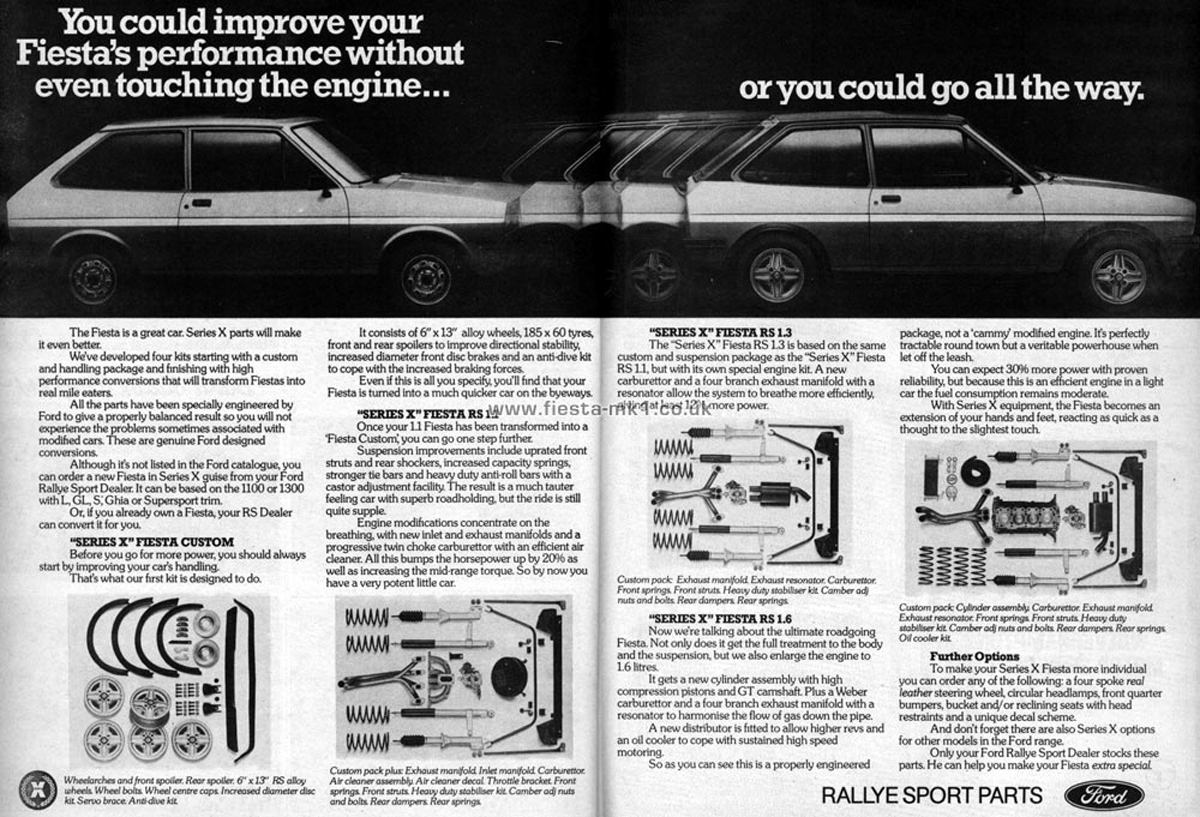 Like many enthusiasts, Karl was infused with his love for motoring by osmosis. His father drag raced Fords, so as a young boy, Karl watched his Dad's Torinos, Mustangs, Fairlanes and even a brand new Ranchero speed down the quarter mile. Later on, the drags would turn into circle track races. Karl's first venture behind the wheel would started out with a lot less displacement – in the mid 80's his father was working in a Ford repair garage. "People bought a lot of fiestas" Karl remembers. "Everyone could buy them, and then they were kind of a throw away car, and you couldn't get any parts." A customer brought a Fiesta in with a bad alternator, and unable to get parts, the customer traded up to an Escort. Karl snagged the Fiesta.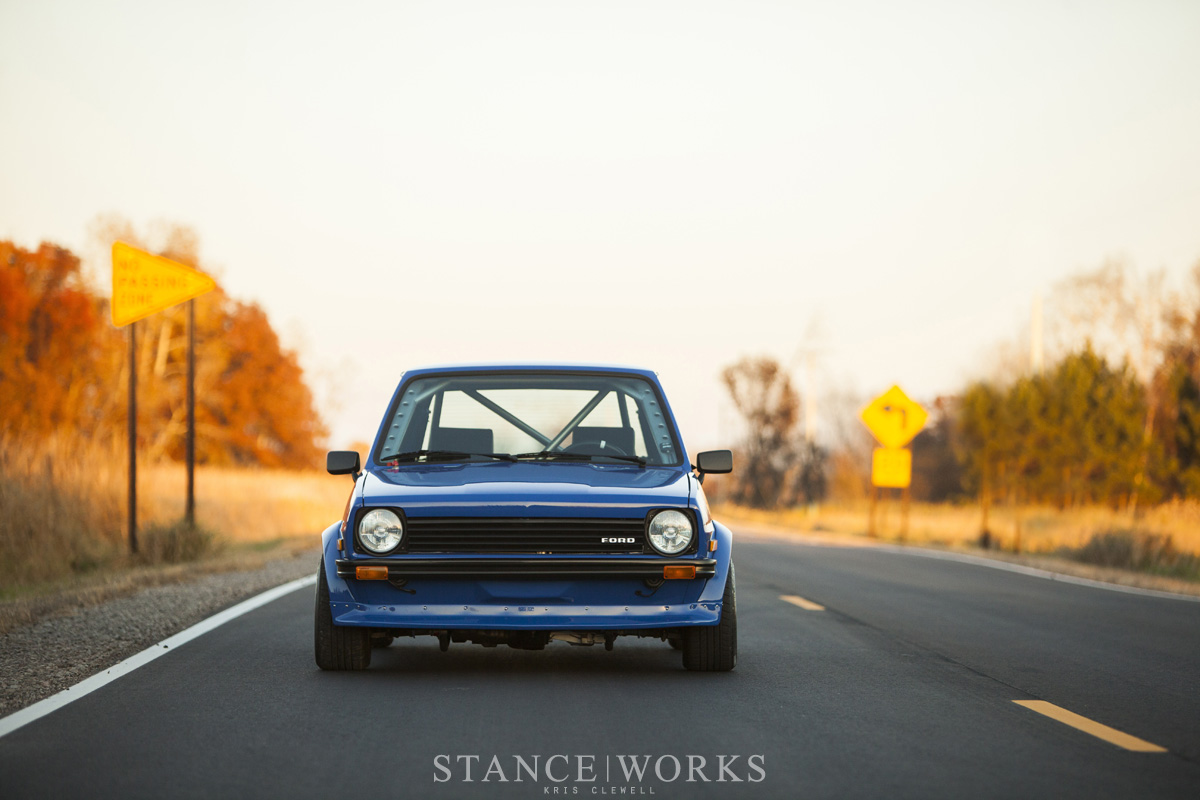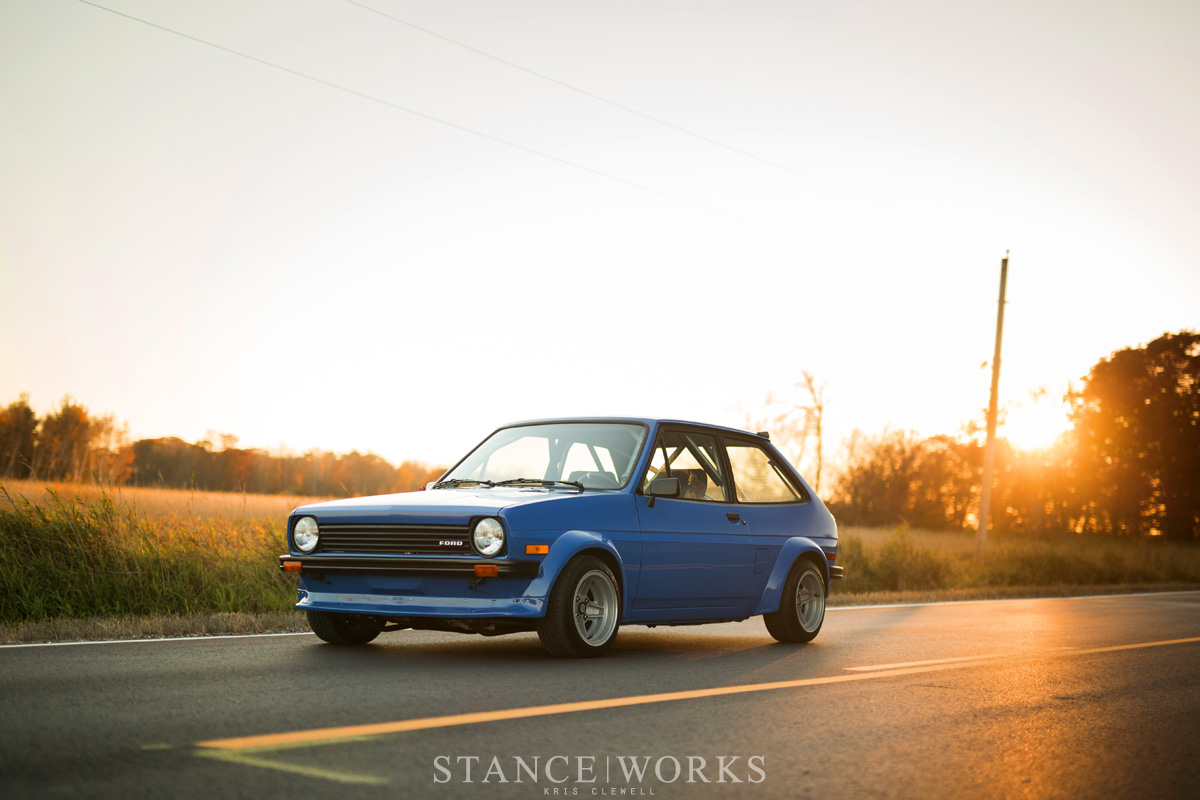 It doesn't take long before being known as the "Fiesta guy" takes hold, and the cars start finding you. Another came in for a head gasket, and another for engine work. Before too long, Karl and his father had 15 Fiestas. Some were rusty, some had blown up engines. Before he was even in high school, Karl was building drivers out of cast-offs. When he got his license, his first car was a Fiesta he had saved. It wasn't the chick magnet he had hoped it would be, but at 16, his future wife made an exception. Eventually adapting, she remarked "I thought you were crazy all these years, but it turns out there's these other crazy people, too."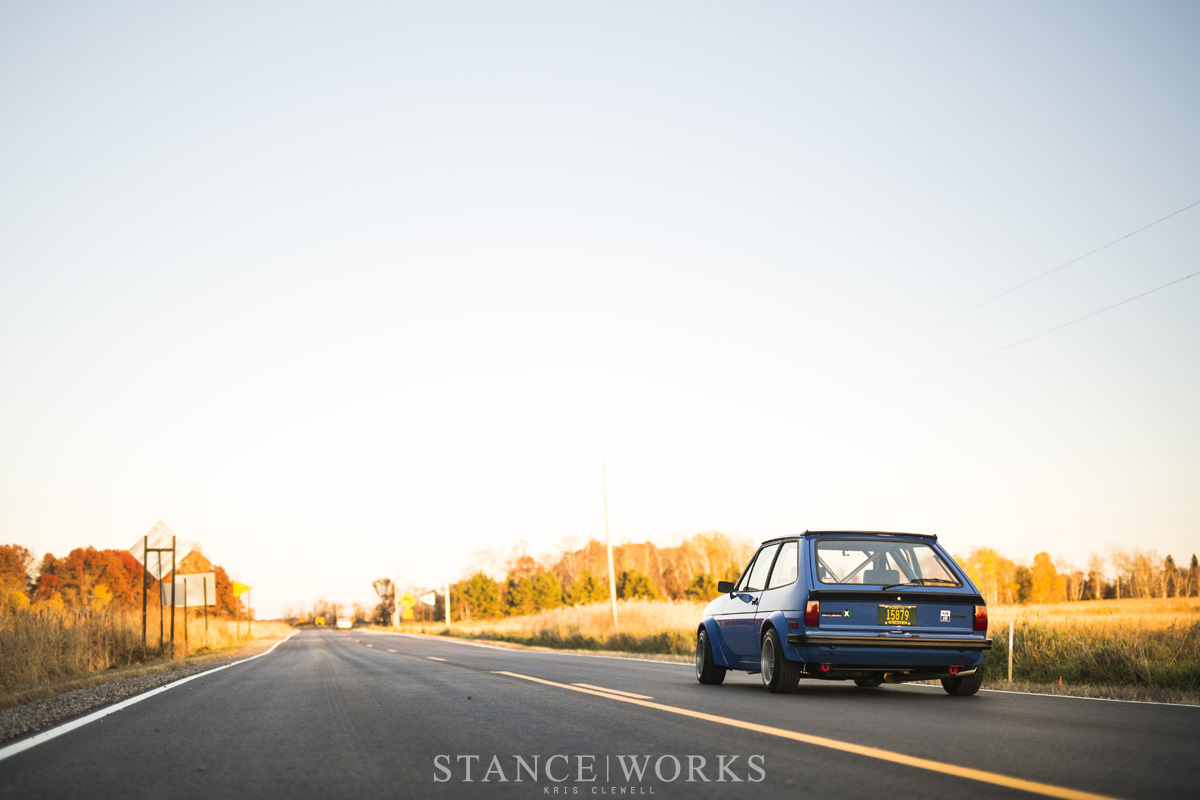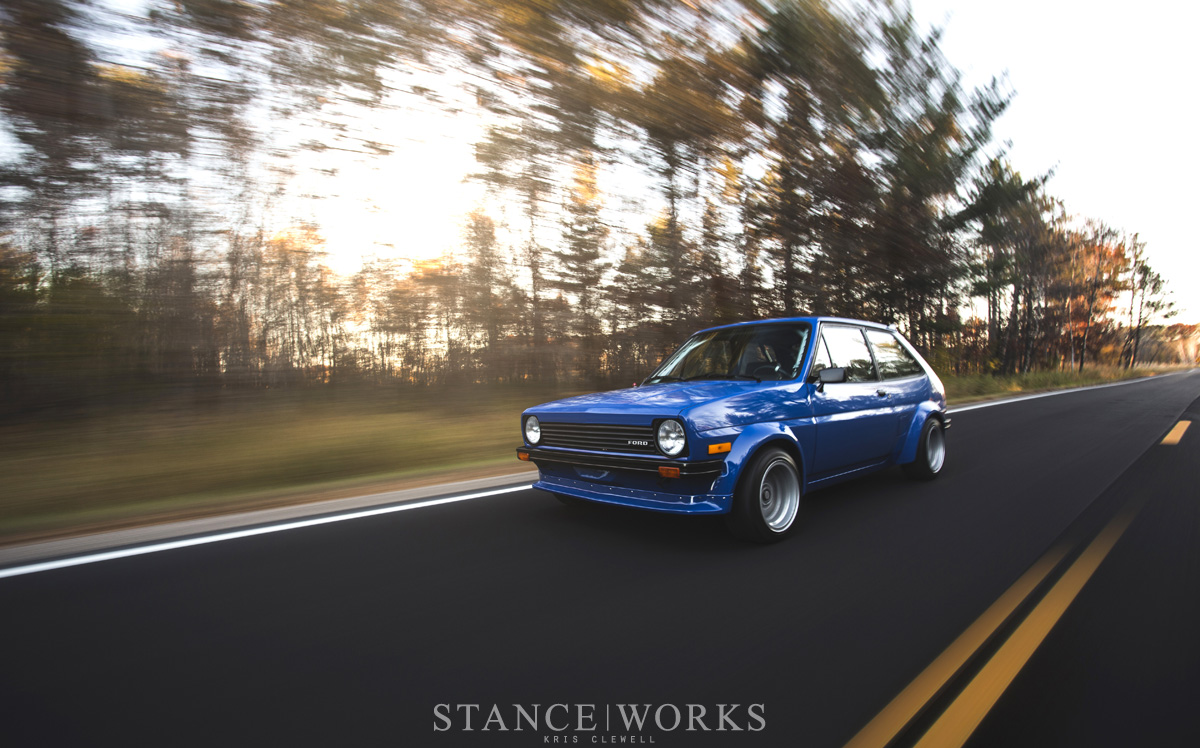 Karl's history with motorsports and as a lead engineer at QA1 (an OE and aftermarket suspension supplier) eventually pushed him to move past making Fiestas into pickup trucks, and basic runners. In 2001 Karl decided to build a car up for the Grassroots Motorsports challenge. Searching for cars 14 years ago was harder than it is today, and with only a phone number, and a phone conversation, Karl headed 6 hours east with his trailer to investigate 3 Fiestas. A rust free Fiesta, like many cars of the era, is a rare thing. Before manufacturers started Galvanizing cars, they easily turned to dust in the heavily salted north.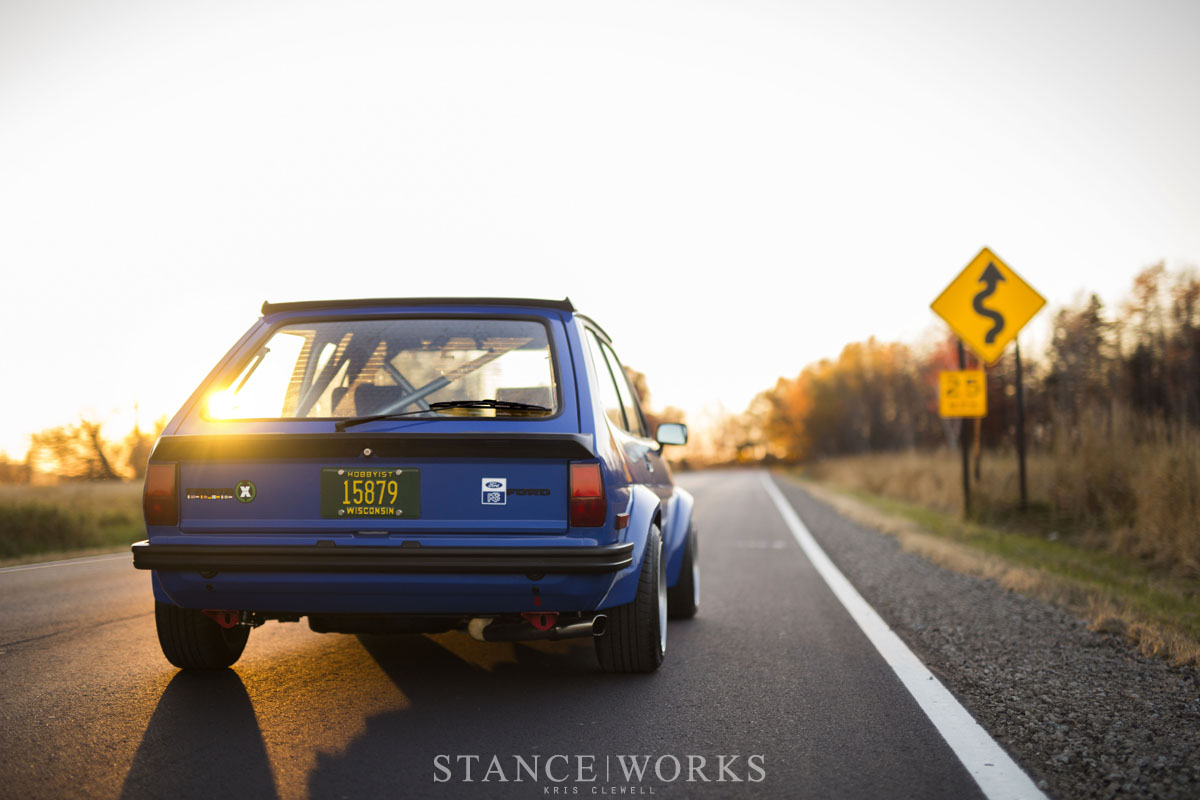 The cars had originally been a California cars, but were brought over to the north in the back of a pair of U-Haul trucks quite some time ago. The nearly rust-free baby blue rolling chassis cost Karl just $500. Karl recalls:  "So I bought the '78 for the grassroots challenge. And I got it home, I start tearing it apart, and I'm like, this thing is too clean to cut up and make into a race car." At that juncture, Karl decided to bail on the original plan and start building something a little more special. "At that point I was just going to put a Escort motor in it, a single overhead cam, 1.6, and just clean it up, make it nice."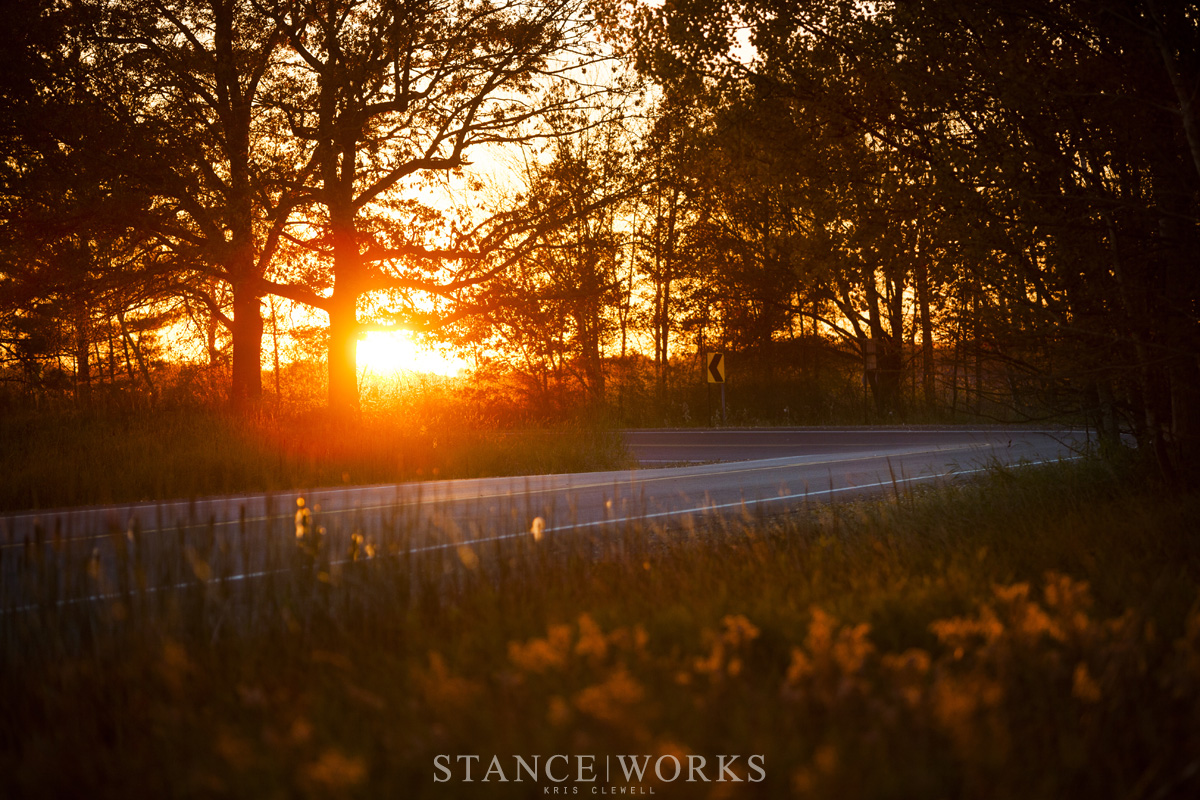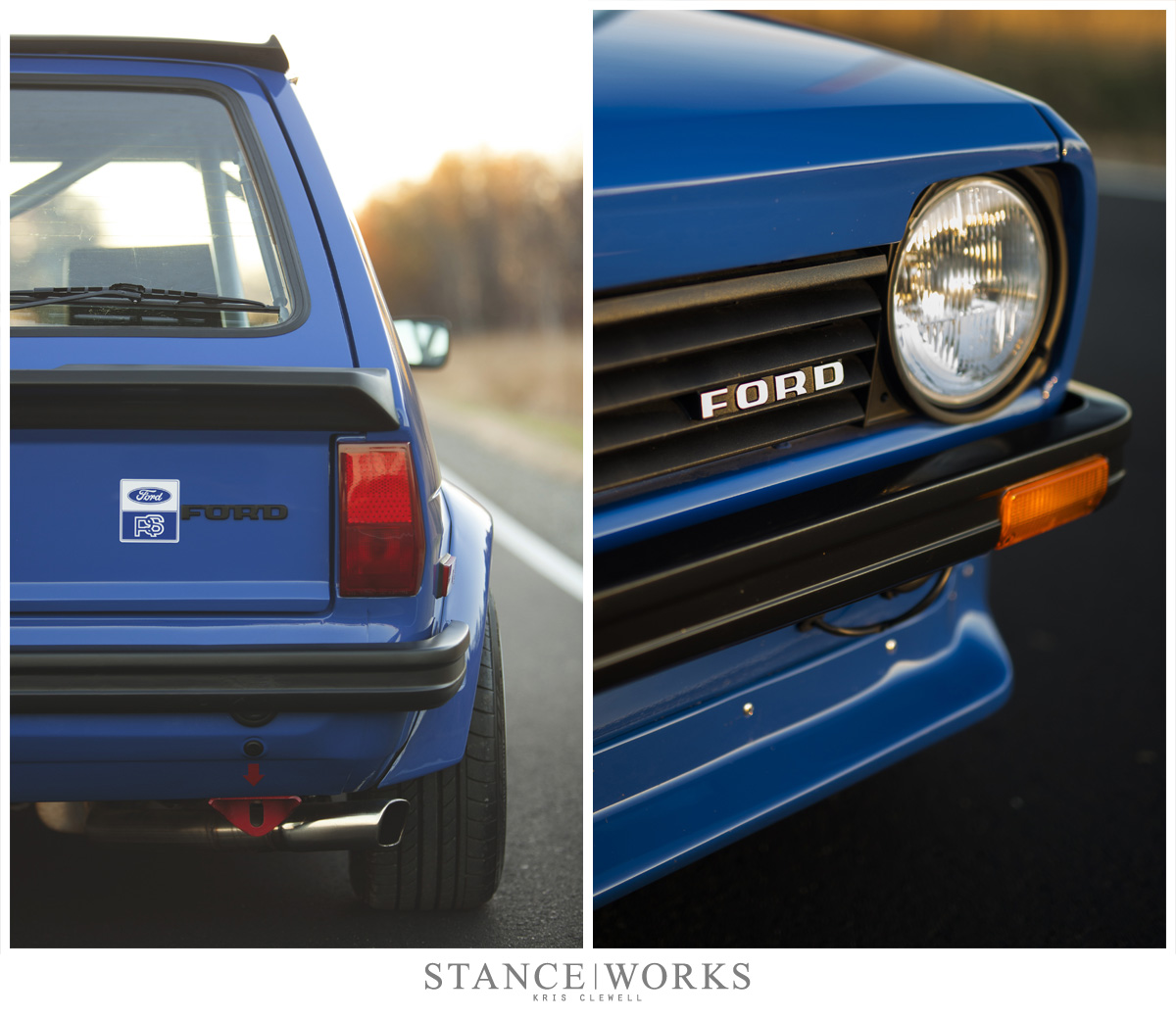 The car had the interior  painted, and was caged almost right away, but as with all of us, life got in the way. The car ended up tucked away while Karl was busy with his job, buying a house, and life in general. In the meantime, Karl had bought a much newer Focus SVT. Inspired by the drivetrain, he found a motor and transmission on ebay and bought it. Unfortunately the engine showed up in brutal condition. The bosses of the block were broken off at the mounts. Repairable, but once Karl looked into the trouble people were having with the 6 speed Getrag, the swap seemed less reasonable. He shelved the swap, eventually sold it,  and moved on. The spark to get back to work on his old Fiesta died once again.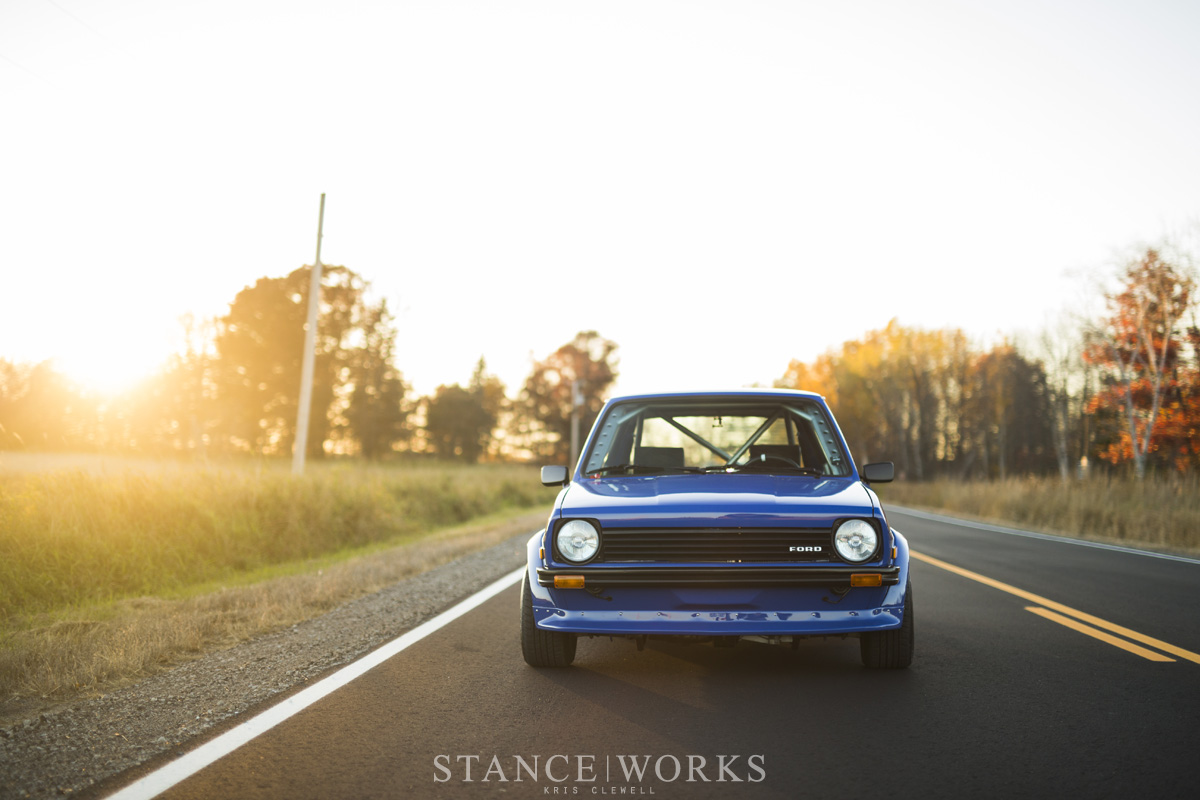 Karl eventually decided to go the Duratec route. He picked up a 2.0 from a 2008 Ford Focus. Not satisfied with a stock engine, he swapped out the cams, and built an airbox for the motor to house 100mm Cosworth individual throttle bodies. The entire motor is run with an MBE systems ECU. This turns a wheezing 130hp, into a 200hp monster. In an 1800lb car, the engine is a handful. Putting the power to the ground is a quaife limited slip equipped and built transmission from a 2008 Fiesta imported from Europe. Lucky for Karl, the transmission sits in just the right place, and the stock axles bolt right up. The frame rail on the transmission side needed some modification, and mounts needed to be built for the engine, but everything was pretty straight forward.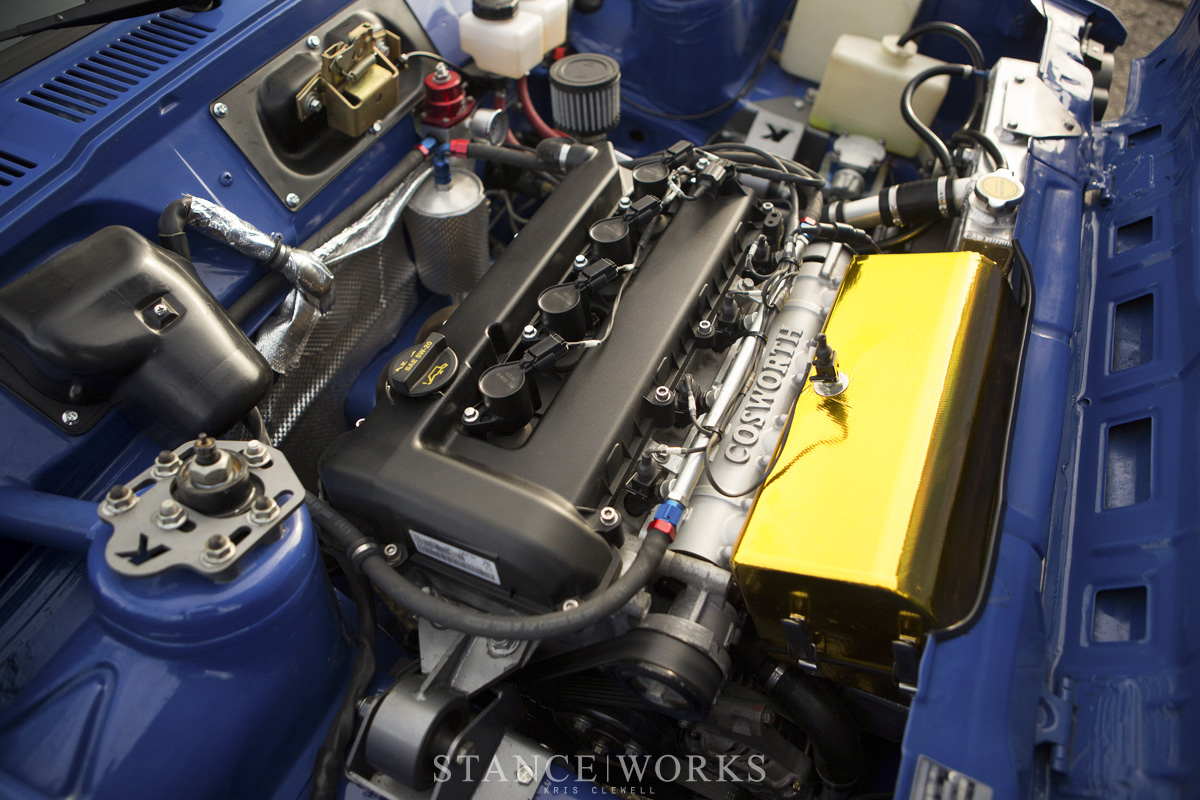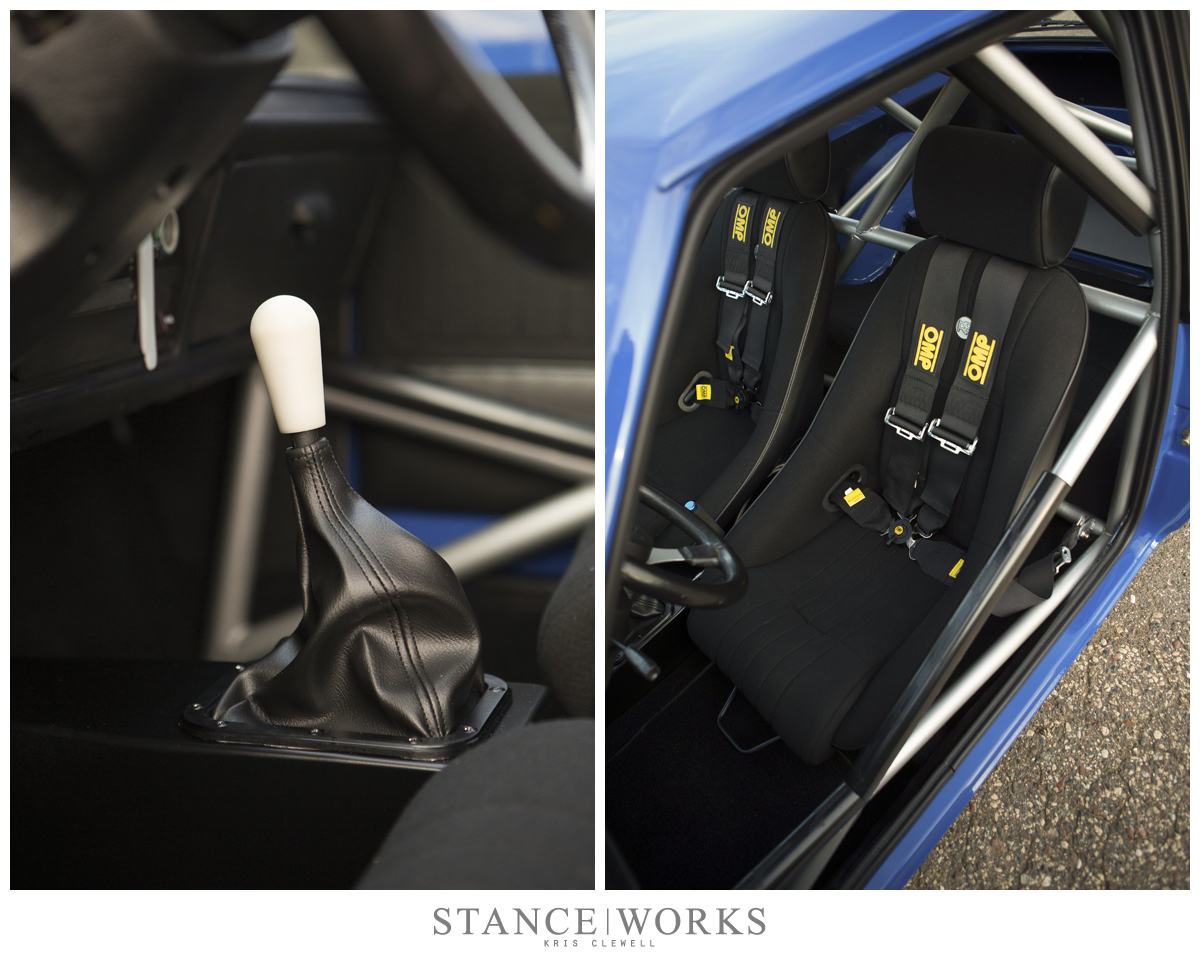 As a suspension designer for QA1, it was only natural Karl didn't want to leave the stock suspension as-is. "Suspension-wise, the stock stuff is pretty horrible." Karl mentioned. The stock setup is a standard Macpherson strut assembly in front, and a solid axle in the rear. When the car and suspension were being developed, Ford is known to have purchased cars from different manufacturers, and to have disassembled them. Being Fords first front wheel drive car, they needed input on engine and suspension design.  It was a risky venture, as Ford had no tooling or factories to build anything front wheel drive at the time.  It was a design by committee product and obviously was not going to live up to Karl's standards, so he redesigned the entire suspension.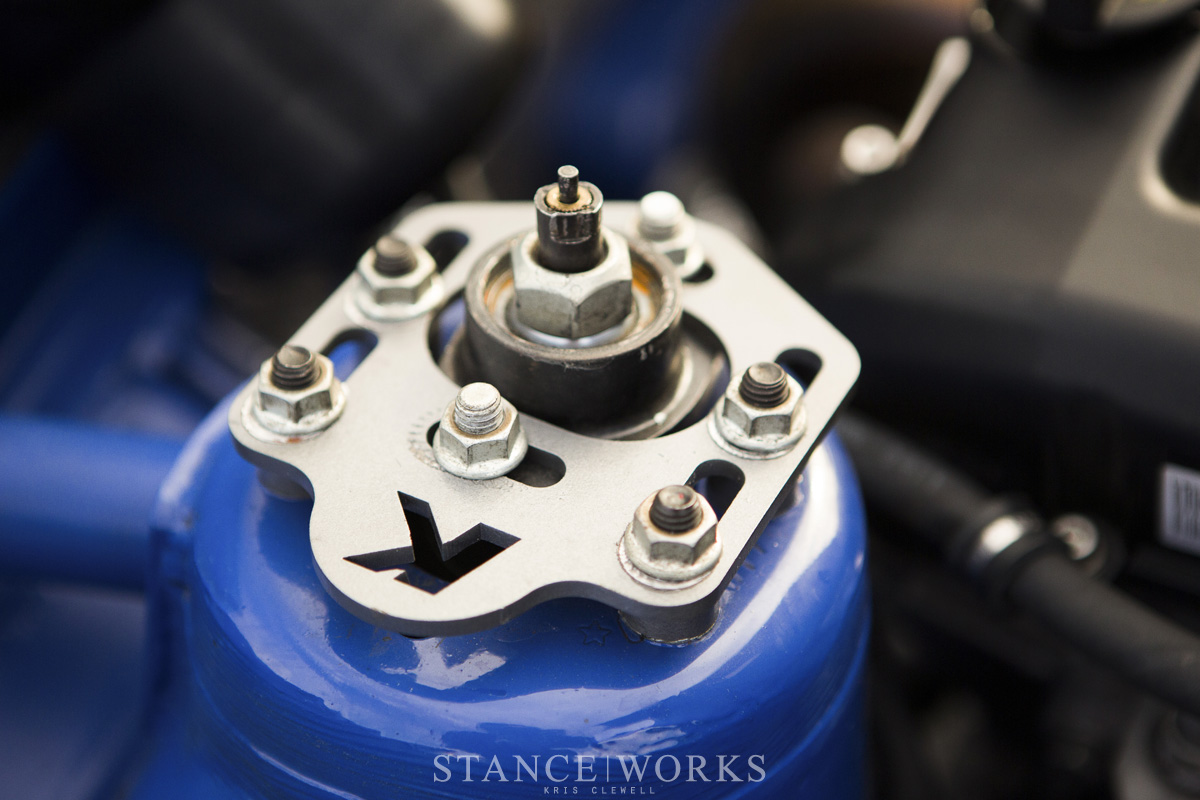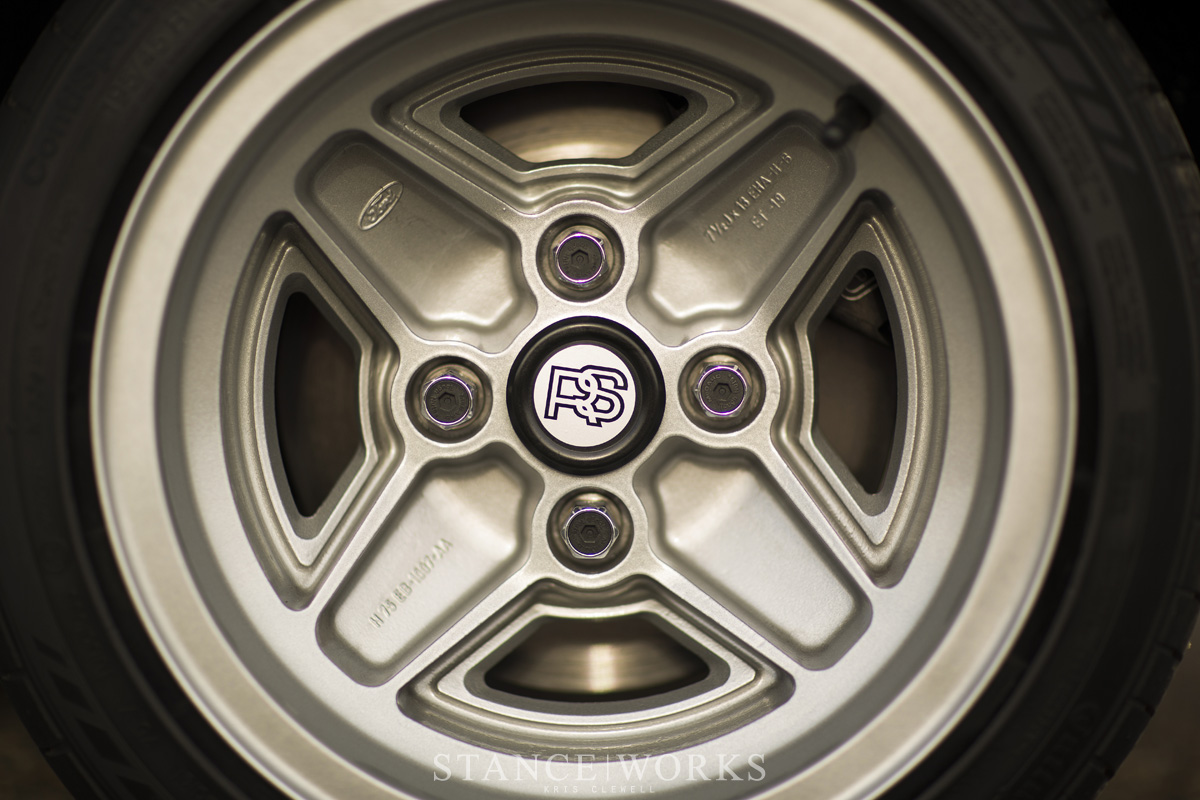 The front is now fully adjustable, and is built for the twisties with spherical bearings, QA1 coilover struts with titanium springs, custom built caster/camber plates, and the steering rack out of a Ford XR2. The rear is now an independent rear suspension. Aluminum trailing arms, custom sway bar,  and QA1 coilovers now replace the original design. The design was so good Karl was able to sell over 50 sets. There have been a few imitations of his design come along, but none of them have held water in comparison.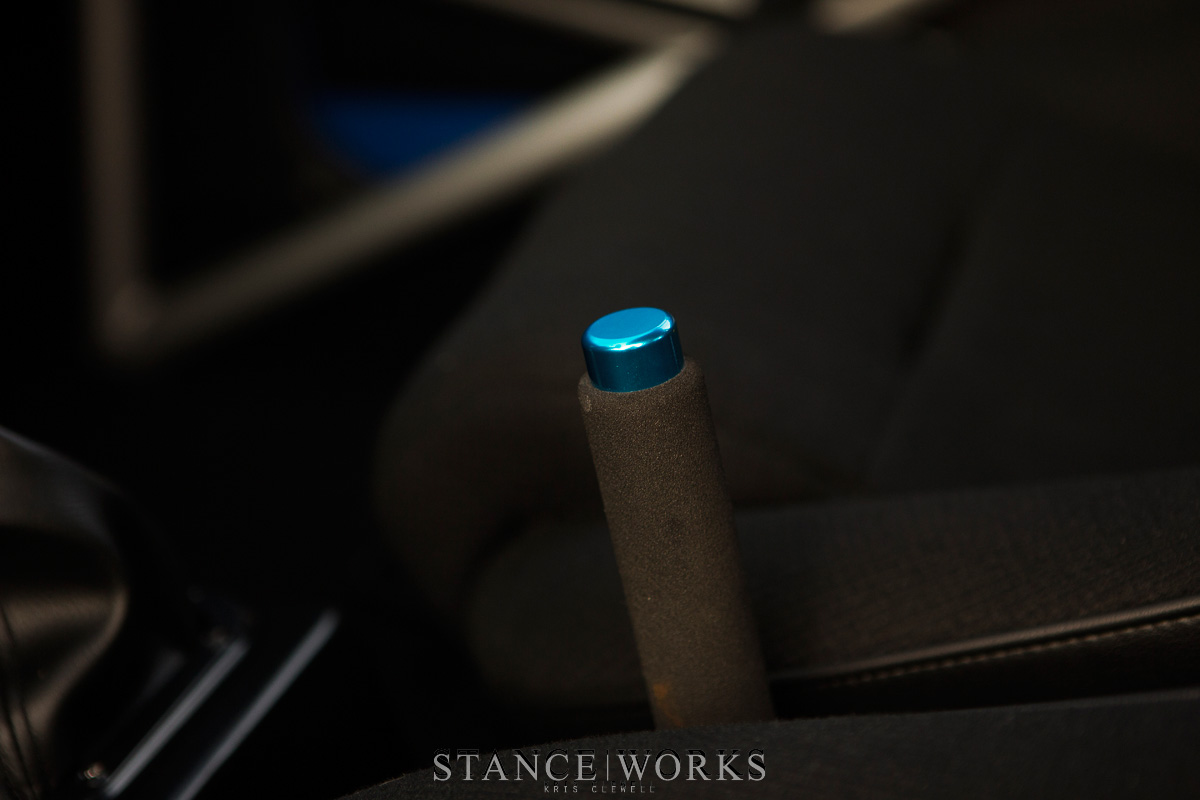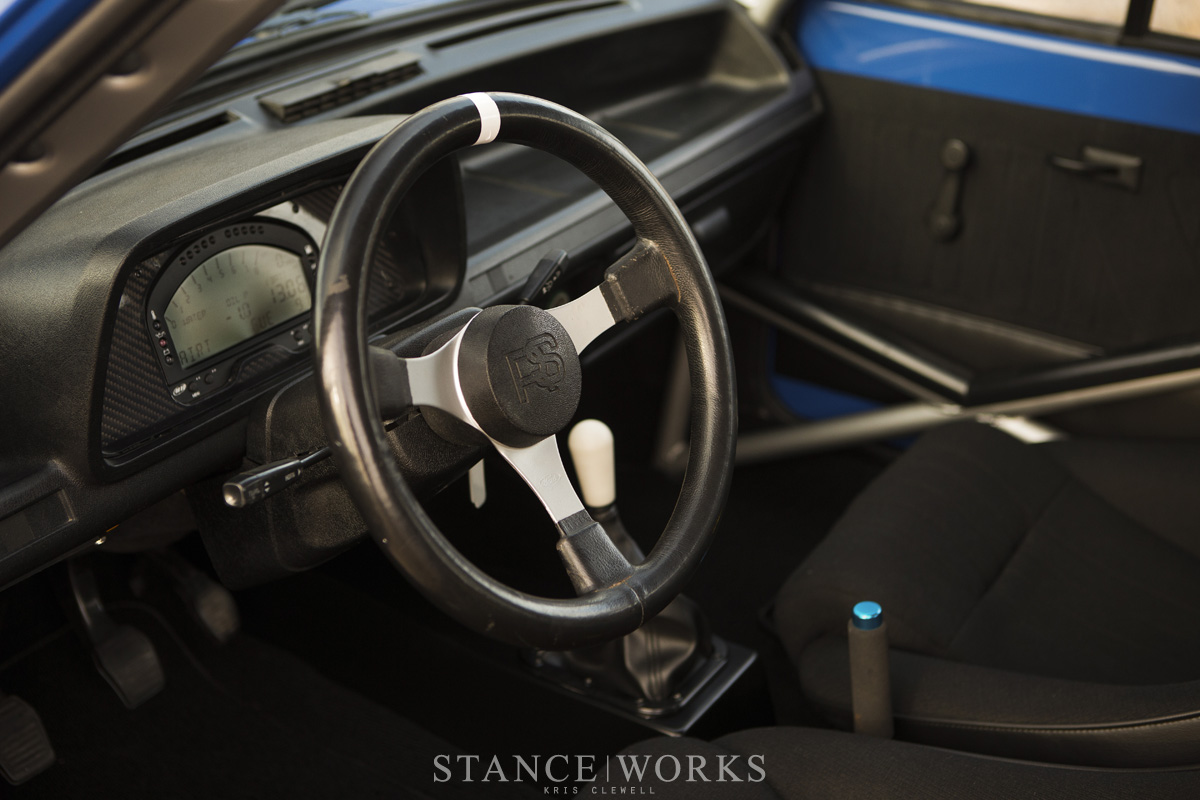 I had an opportunity to drive this car after Karl and I finished up the shoot. With roots in GTIs and MK1 Golfs, I welcomed the opportunity. Climbing in was tight. I felt like I was putting on a brand new shoe. It felt just right, and I knew once I started out, it would only get better with time. I was surrounded with RS badges inside and out, and in front of me was a digital display letting me know I was amongst the perfect mix of old school style with modern technology.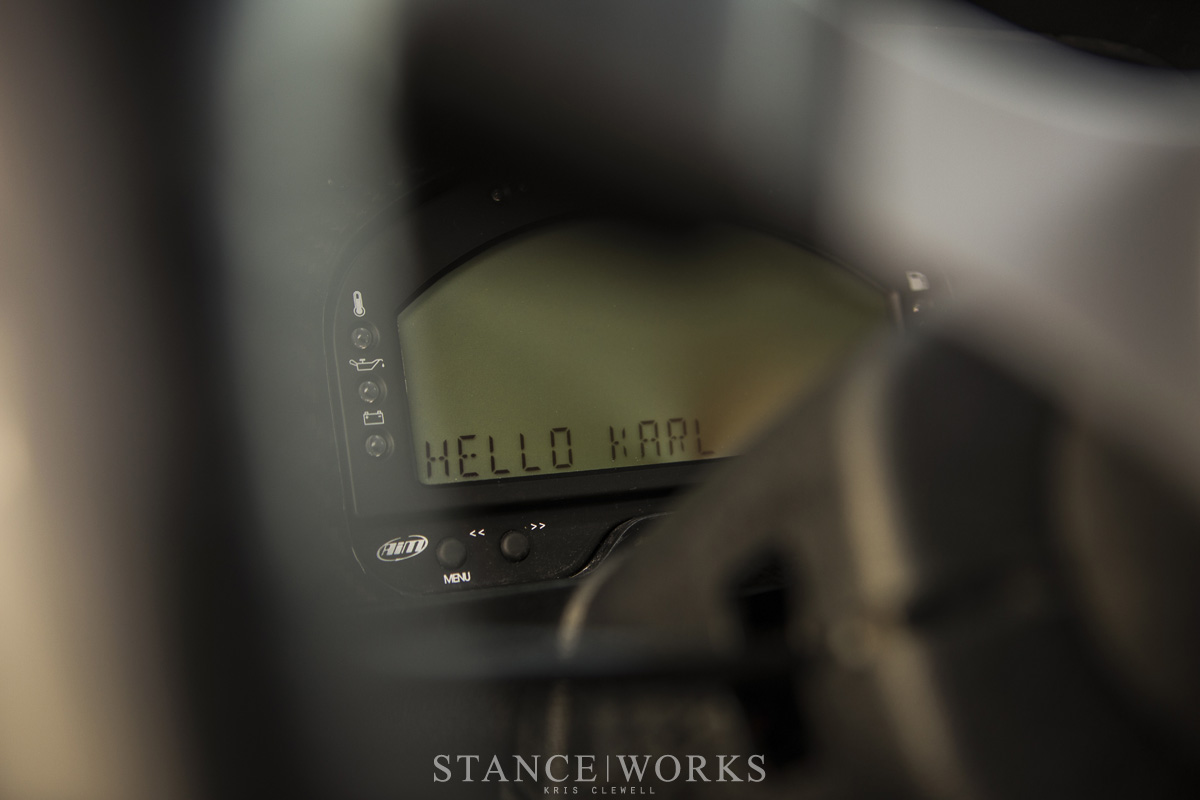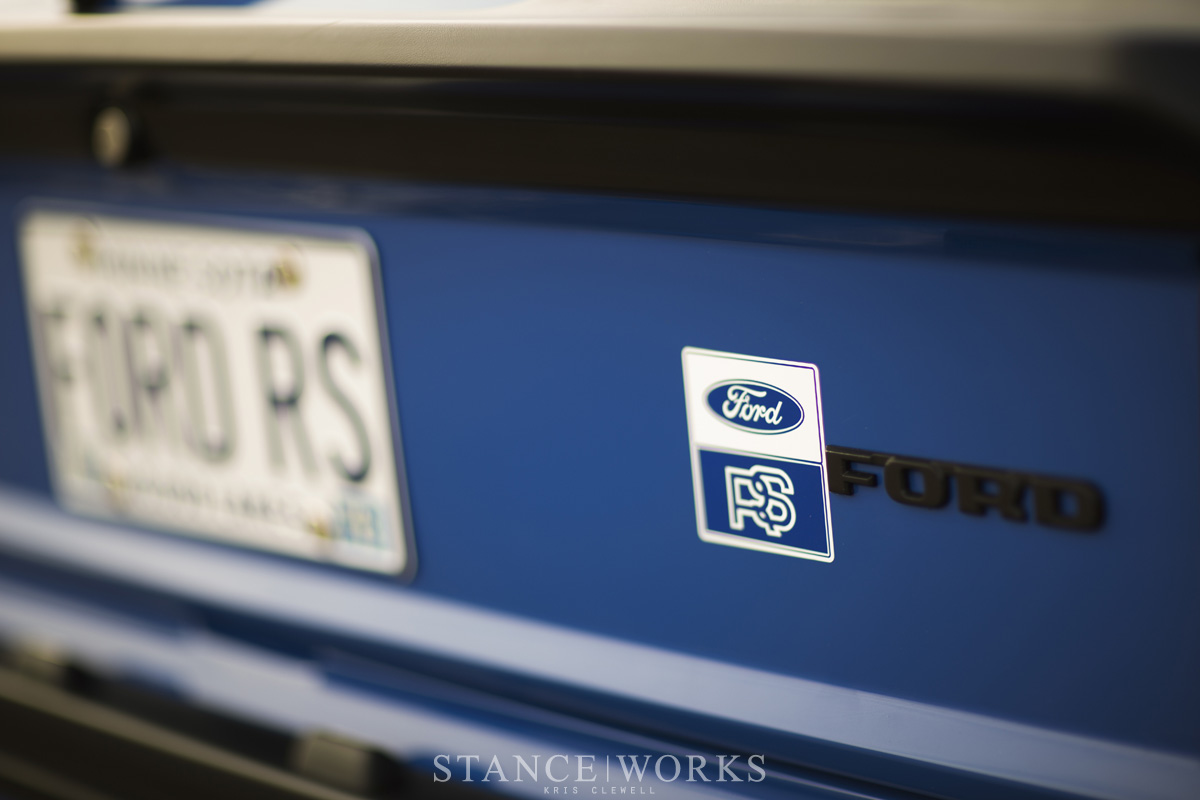 After startup, I made my way around the accoutrements of the interior. The derlin shifter felt comfortable in my hand as I tilted the shifter back and forth in the gates. I saw the manual e-brake lever, and knew I wasn't going anywhere near it. The RS steering wheel was a good size. The pedals were in the right spots. I started the car. The digital display jumped, and the motor came to life on it's stiff mounts. Pulling away the car felt immediately nimble. Under power I could feel the diff fighting for purchase even on the smooth tarmac. The throttle bodies sang loudly about all the power they were making. The gearbox shifted smooth, and rowing through the gears felt natural and intuitive. My senses were pleased, and I left the experience with a smile. I talked to Karl about the overall experience with the car. ""When I knew it was a rust-free one, I knew I wanted to build it into the nicest one." I think he succeeded.