The Alfa Romeo 105, host of the GT, GTA, and GTV, is soon to find itself beside the likes of the 911: a layman's car that is definitive of an era in sports coupes. Its lines are quintessentially Italian, its history is rich, and its soul captivates enthusiasts around the world. Alfa Romeo aficionados are of a certain breed, and it's easy to see why each of them is enamored with the classic coupe. However, that doesn't mean the Alfa 105's tenor isn't open to interpretation.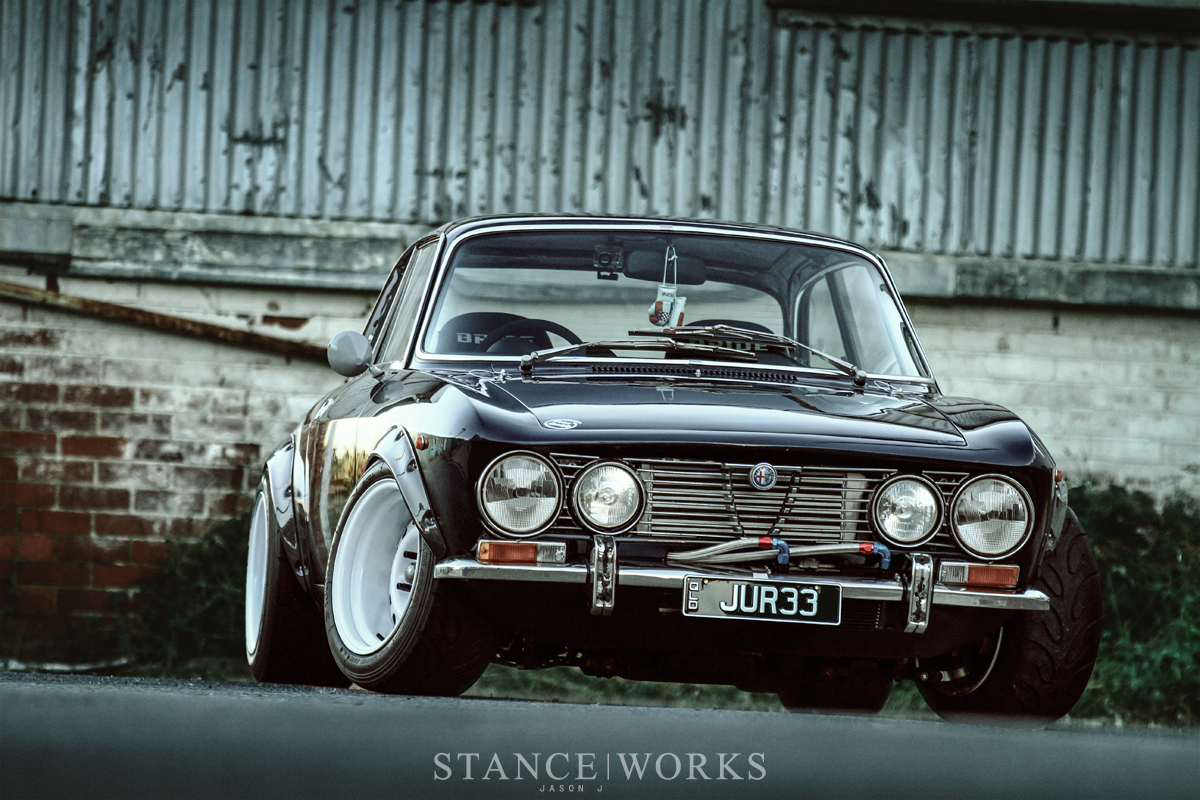 Given its age, the GTV is astoundingly less common to see in contrast to other comparable cars. Although BMW made four times as many '02s, they seem a dime-a-dozen in comparison. Conversely, half as many Triumph TR6s were produced, but instead of aging with grace, they've faded into obscurity and are left for "quirky old men who adore strange British cars and self-loathing." In spite of the GTA/V's rarity, it was hardly a deterrent for Jason J. After a stint with a Ducati motorcycle, his desire for a classic Italian sports car was unwavering, but his methods were a bit unorthodox.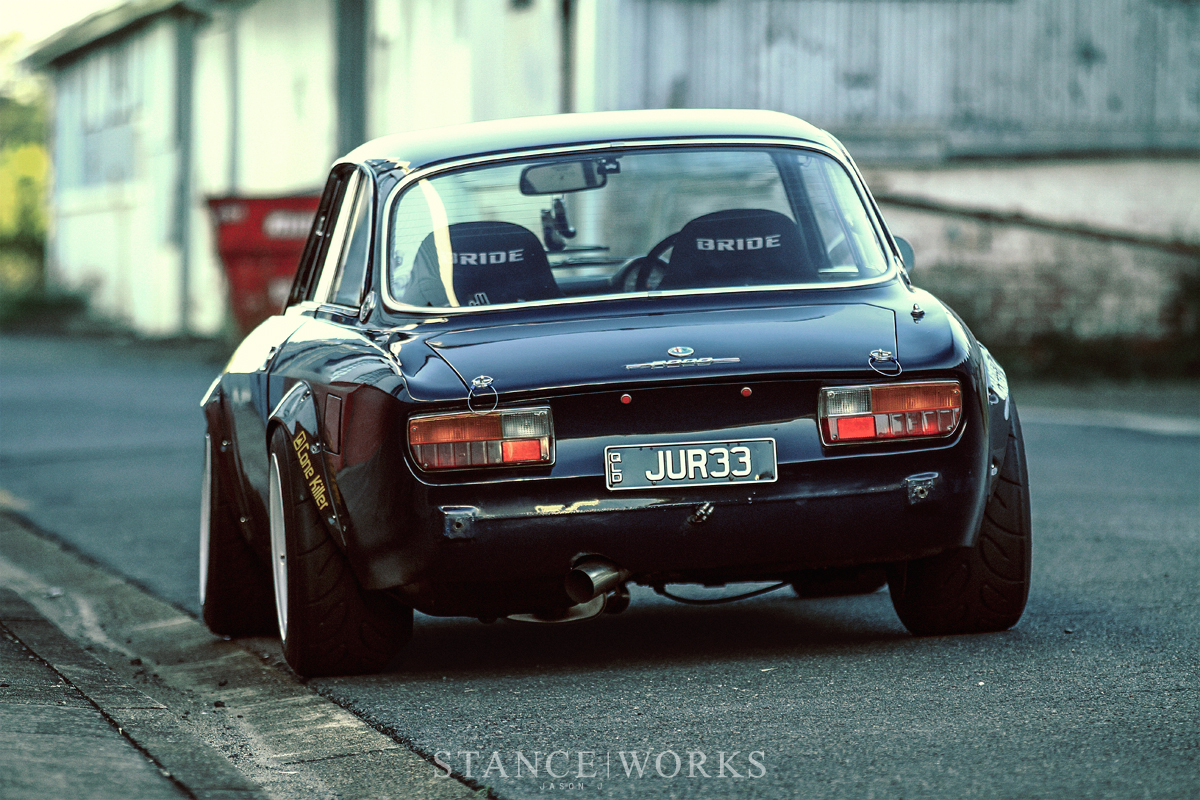 Jason's path to automotive enlightenment goes against the Alfa grain to some degree. As it turns out, Alfa fanatics are rather fond of their twin-cam naturally-aspirated inline-fours. Be that as it may, even with the largest engine in the Alfa 105 lineup, the 2000 GTV's 130 horsepower was never once expected to be enough output for Jason's plans. Hailing from Australia, he claims that Nissan's SR20 platform can be found on nearly any street corner, and by producing 200 horsepower in factory trim, and easily built to support 350-400 with similar reliability, the Nissan power plant fulfilled Jason's desires far more than the Alfa lump could.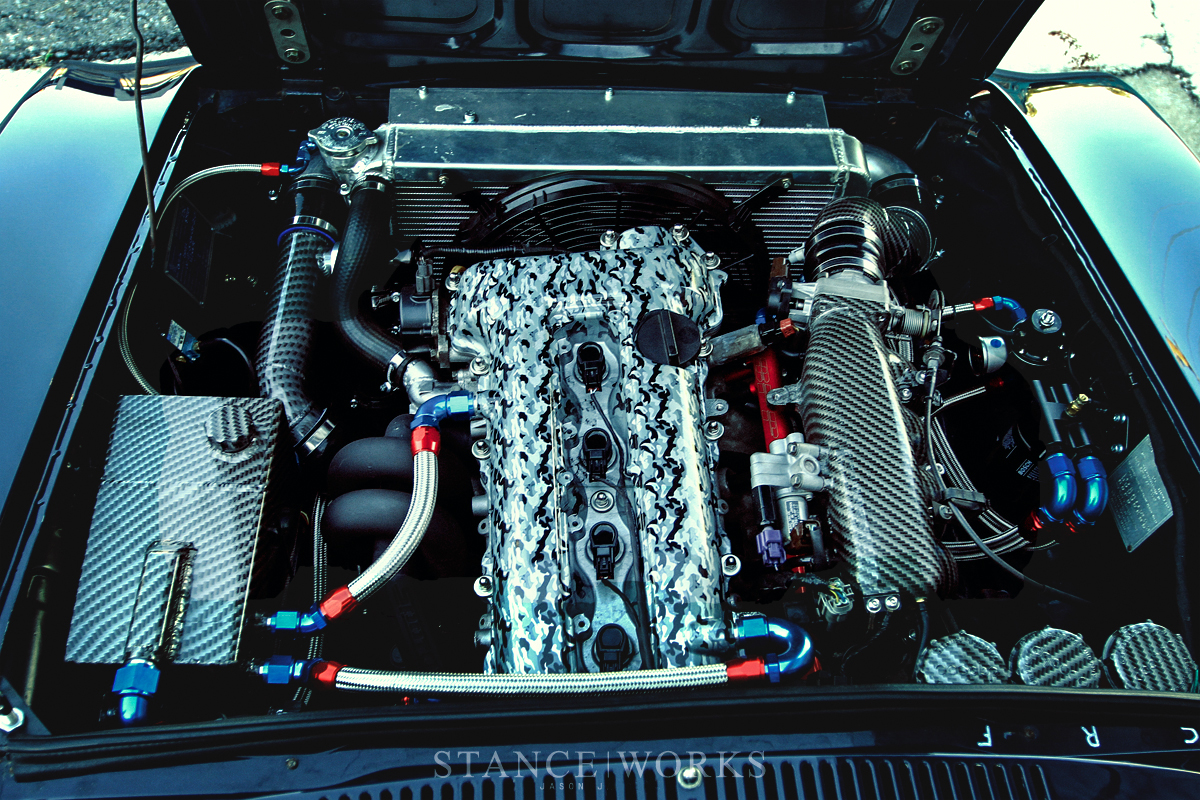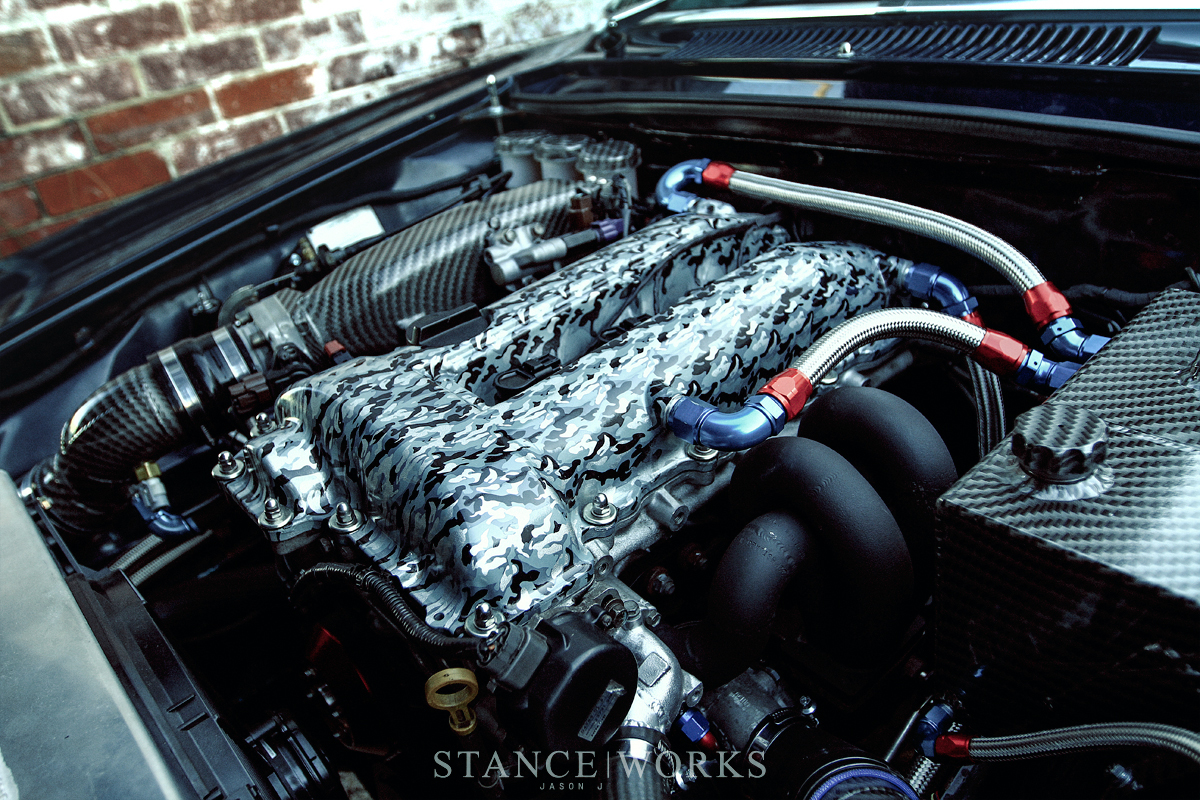 Within hours of purchasing the car, Jason had the build underway, and a slew of factory Alfa Romeo parts, including the original engine, hit the used market.  A suitable SR20 was sourced and lowered into the engine bay, and custom mounts were fabricated to mate the beast with its heart. The firewall and trans tunnel were cut out and rebuilt to make room, and the engine was moved back substantially from its original position, offering a better distribution of weight and allowing ample space for the required intercooler setup.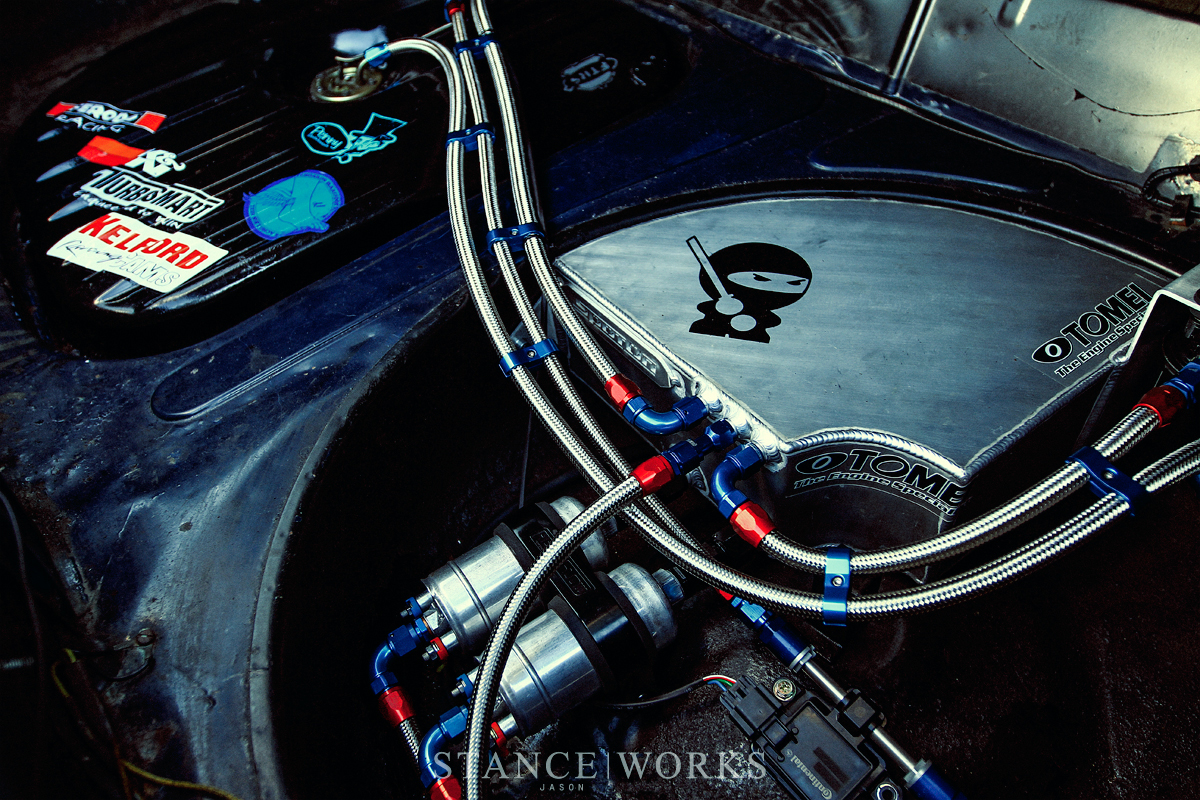 The engine itself was cracked open and fitted with rocker lockers, mild cams, and adjustable cam gears, giving the engine's top end a mild bump, but it's all that was needed. A custom exhaust manifold was fabricated to move the turbocharger forward, making room for the dump pipe within the Alfa's petite engine bay. Plenty of details further hint at the car's manner; a number of AN fittings and braided lines run throughout the engine bay, and even make an appearance at the nose of the car for the oil cooler. Underneath, a 3″ stainless exhaust pipes out the hot air, and at the tail of the car, a custom surge tank and Link computer help keep the 85% ethanol fuel mixture flowing.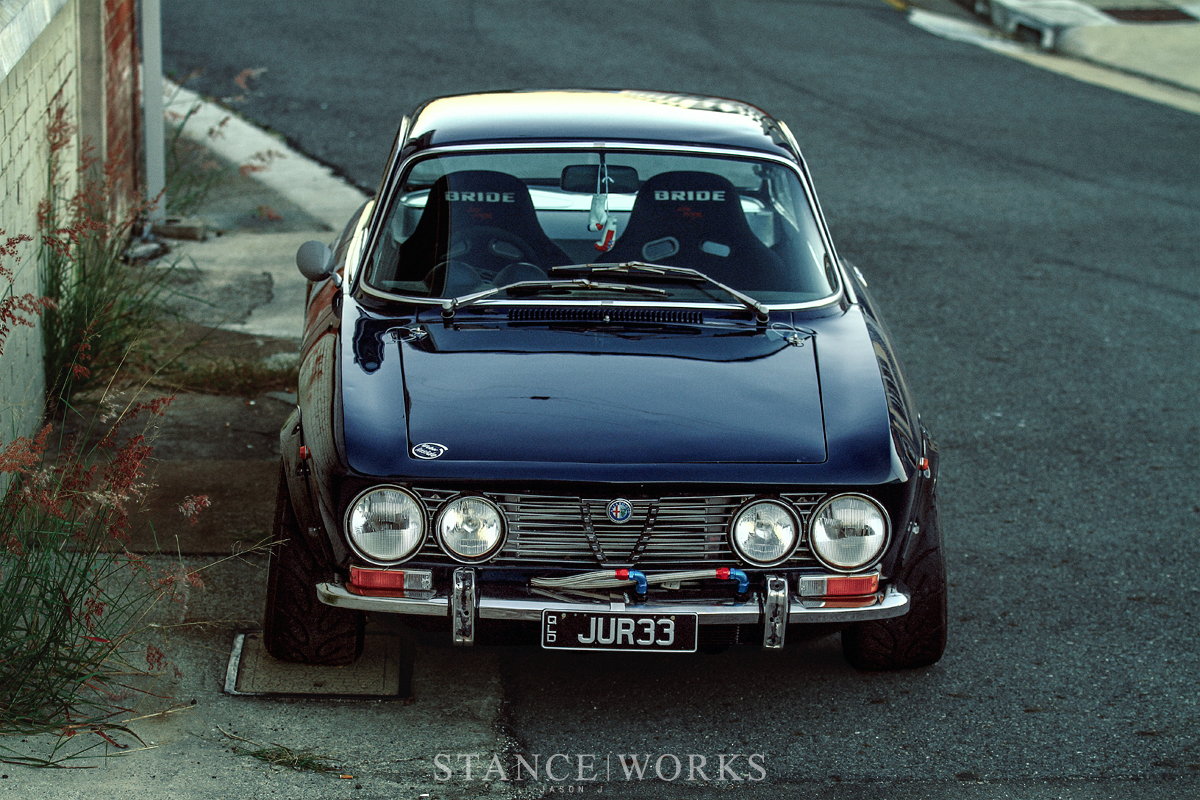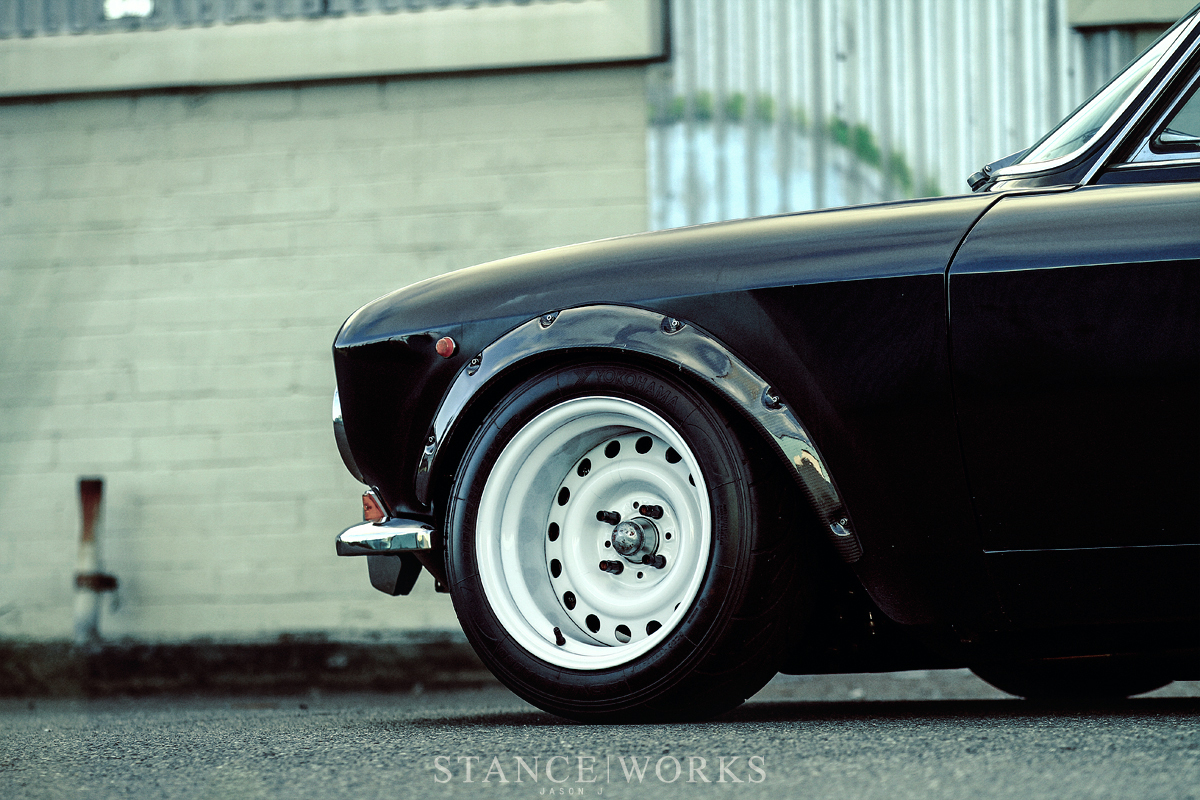 Jason's extensive modifications and the foreign heart were in lieu of his promises to the car's original owner. "The owner was passionate about keeping things period with the car.  I had to keep my mouth stitched well shut about my future plans, lest I offend.  I knew my plans wouldn't find too many ears keen to know about my build," Jason says. He had the man thoroughly convinced that his GTV was in a purist's hands, but it couldn't have been further from the truth.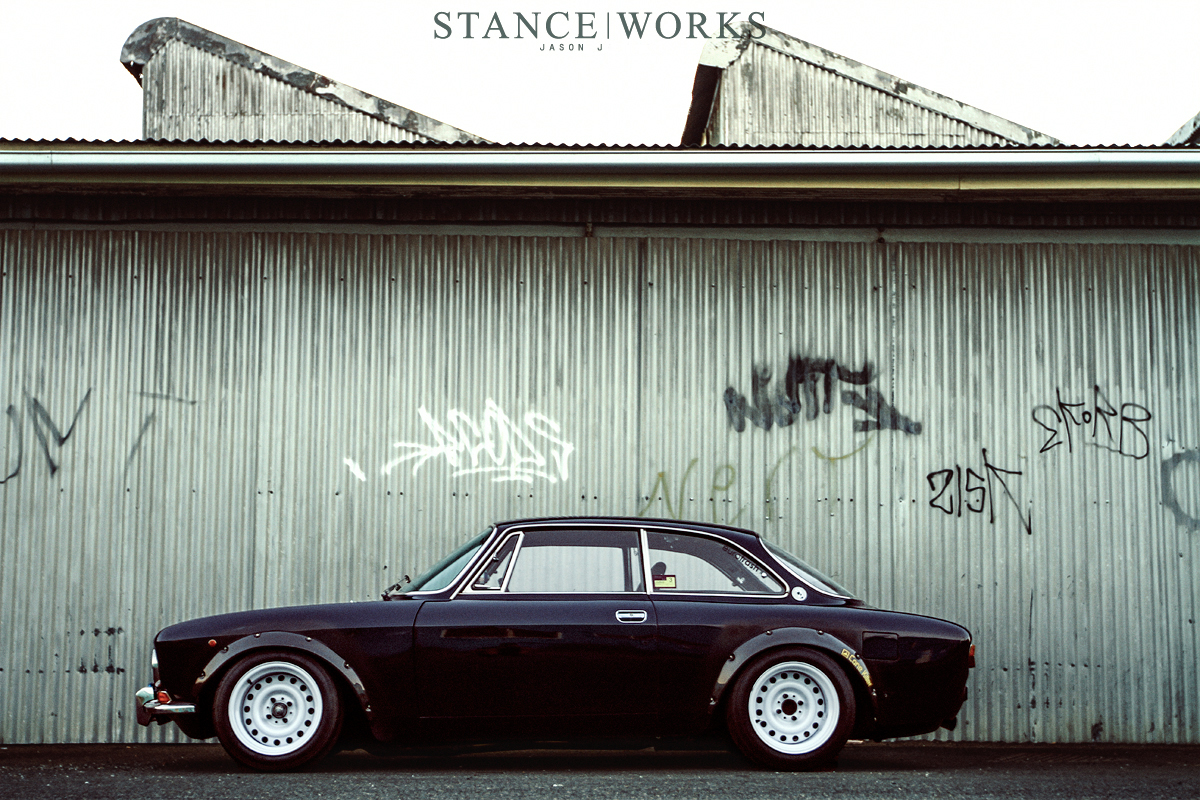 To be fair, the previous owner may have approved of some changes, such as the suspension, for example. For the car's running gear, Jason turned to Alfaholics, whom he insists provide the best suspension solutions, bar none. GTA-R spec suspension was fitted to the chassis, and for stopping power, GTA-R 6-pot billet calipers paired with big discs, braided lines, and an adjustable balance box were sourced.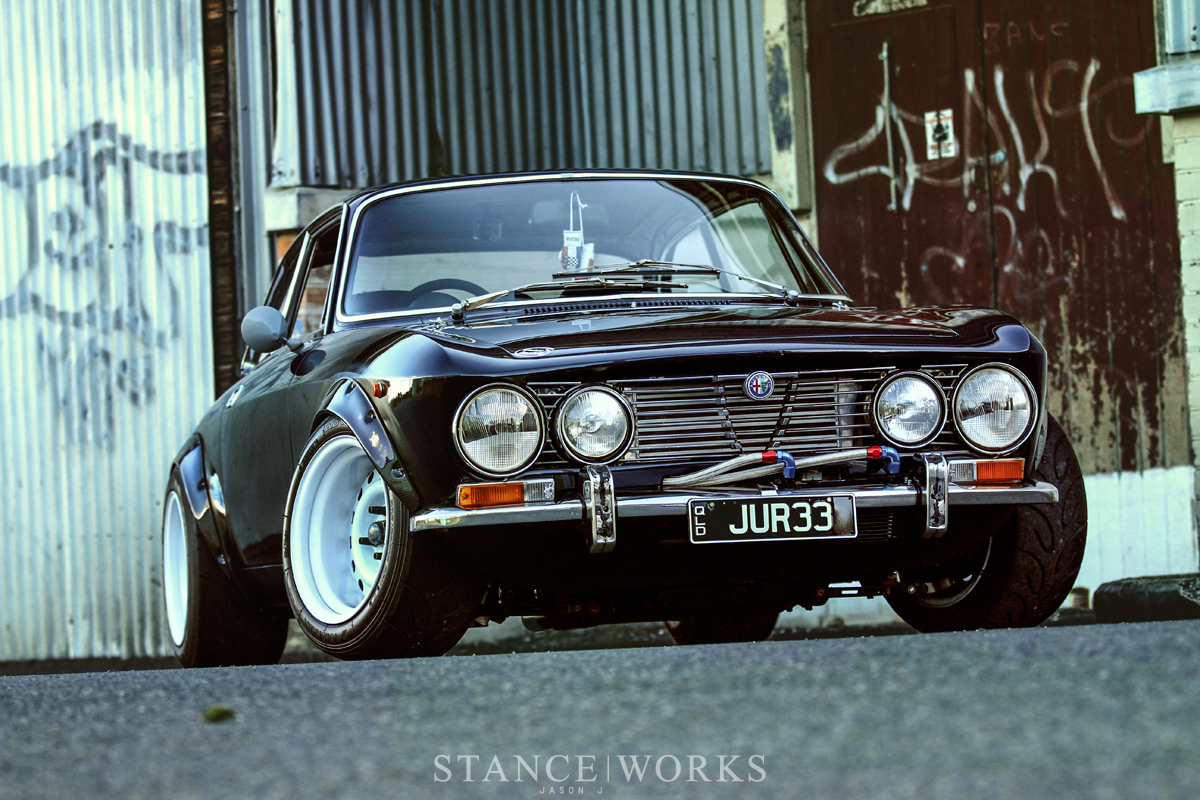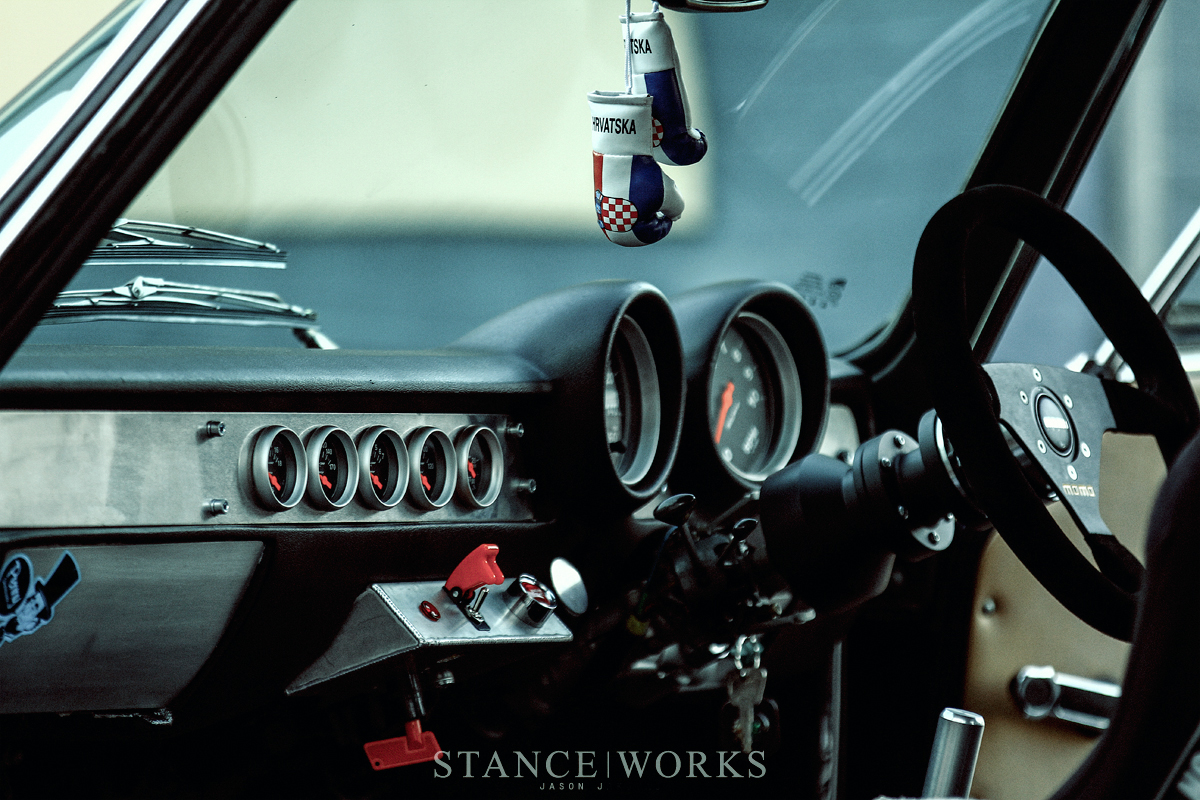 With Jason's power figures, the 15×8 GTA replica wheels many Alfa owners seek out wouldn't have been wide enough to keep contact with the tarmac. Instead, Jason searched near and far for a set of 15″ steel wheels with a "chaser" style pattern in the center and the elusive 4×108 bolt patter. Eventually, a set of Saab wheels fit his needs. The wheels were then welded into custom barrels, widening the fronts out to 15×9 and the rears out to an impressive 15×10 inches, enormous for such a tiny car.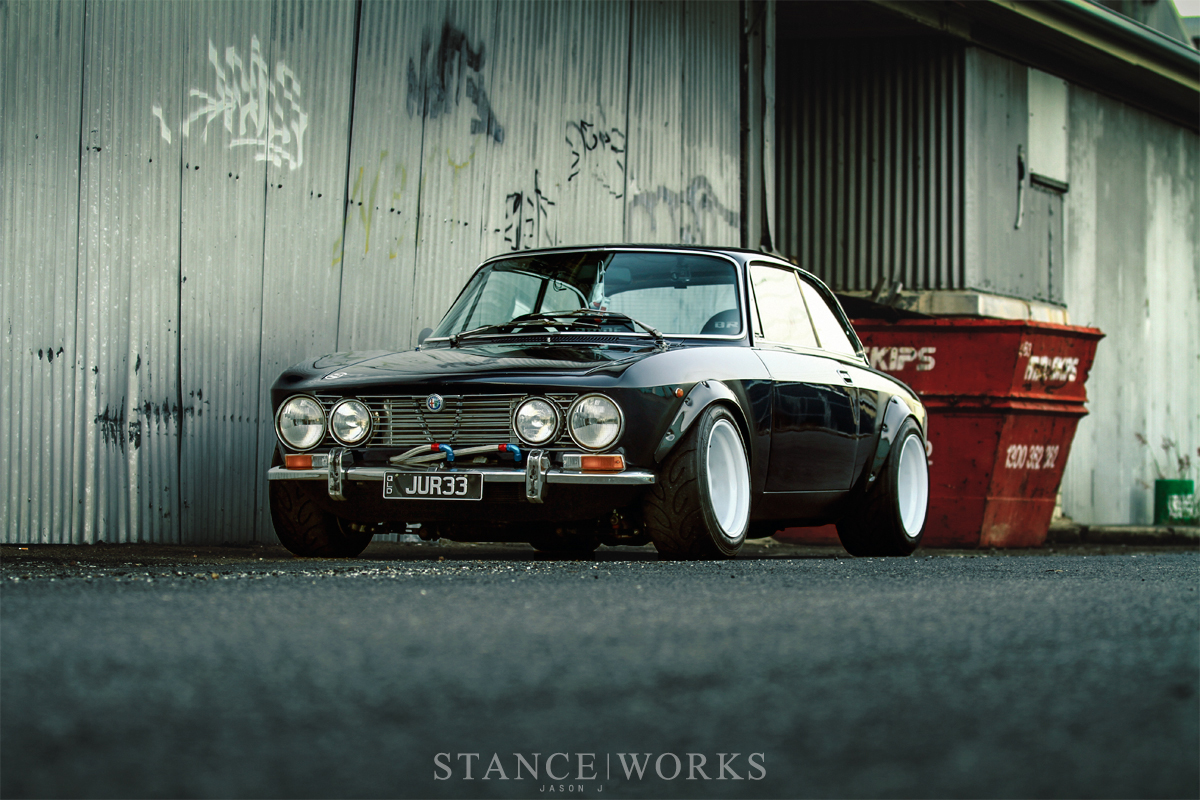 To fit the wheels, Jason passed on the go-to GTA-M rivet-on arches, deeming them "played out" as well as unacceptable on a step-nose car. Although unbefitting to most, the obvious answer of classic 240Z flares was perfectly suited to the irreverent spirit of the build. Furthermore, the minor clearance added from the arches was all that was needed to fit the Yokohama semi-slicks.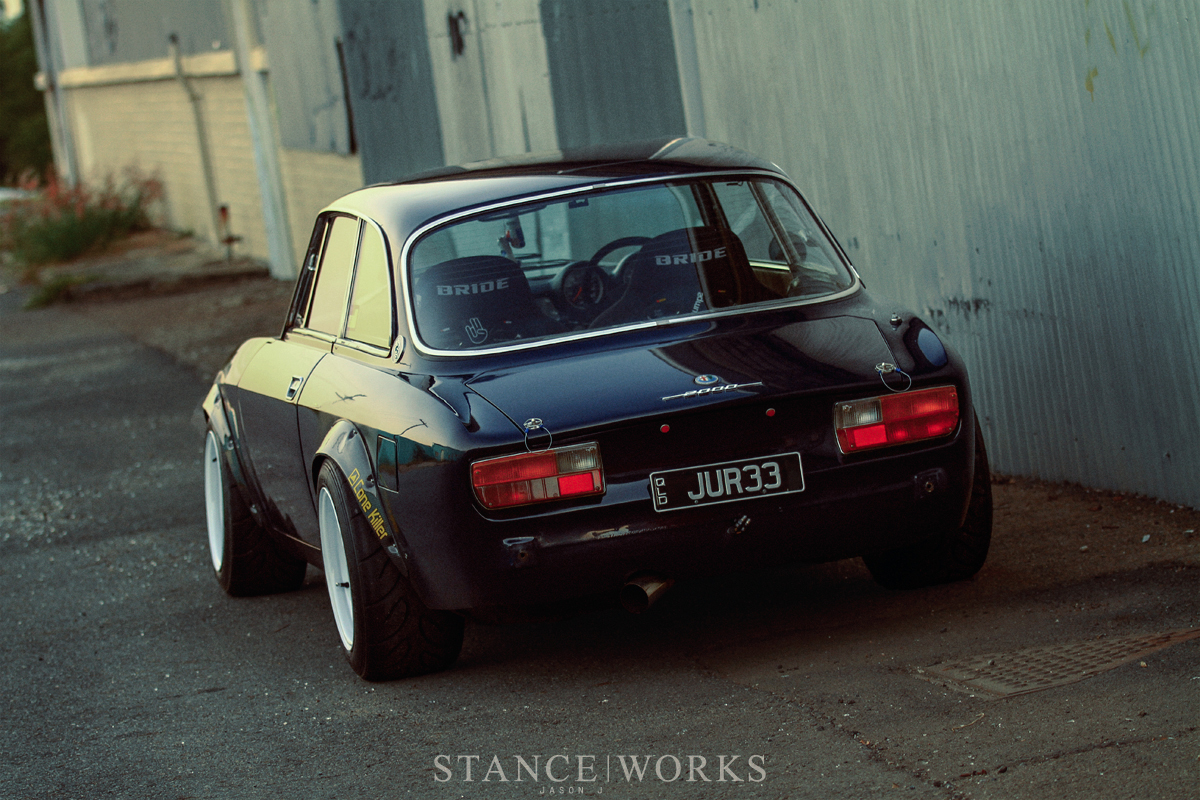 The result of his efforts is a car that mimics the karts he drove as a kid. "I grew up in a family where going to the race track, watching, and following the Aussie greats was the norm," Jason says, attributing his early years in karting to his love for speed as a whole. "Going fast was all I could ever think about." Now, fast is little more than the press of the pedal away. And, after selling a HG Bathurst Monaro he knows he shouldn't have, he insists the GTV will be sticking around for years to come. That's one we've heard before, but we're keen on believing it this time around.