At first glance, it's impossible to understand what makes Ollie Young's E36 one of the most impressive feats of perseverance and ambition I've yet to witness. Its first impressions insist upon justification, and moreover begs the question – what makes this truly torn-apart E36 different from any other drift missile out there? The answer, however, lies in the subtlety hiding behind the garish (skin? Damage?). Underneath the resin, gel coat, and dangling fiberglass strands are a set of overfenders that Ollie crafted himself – arches so subtle that they hark to an idea that embraces the way the E36 M3 should have been.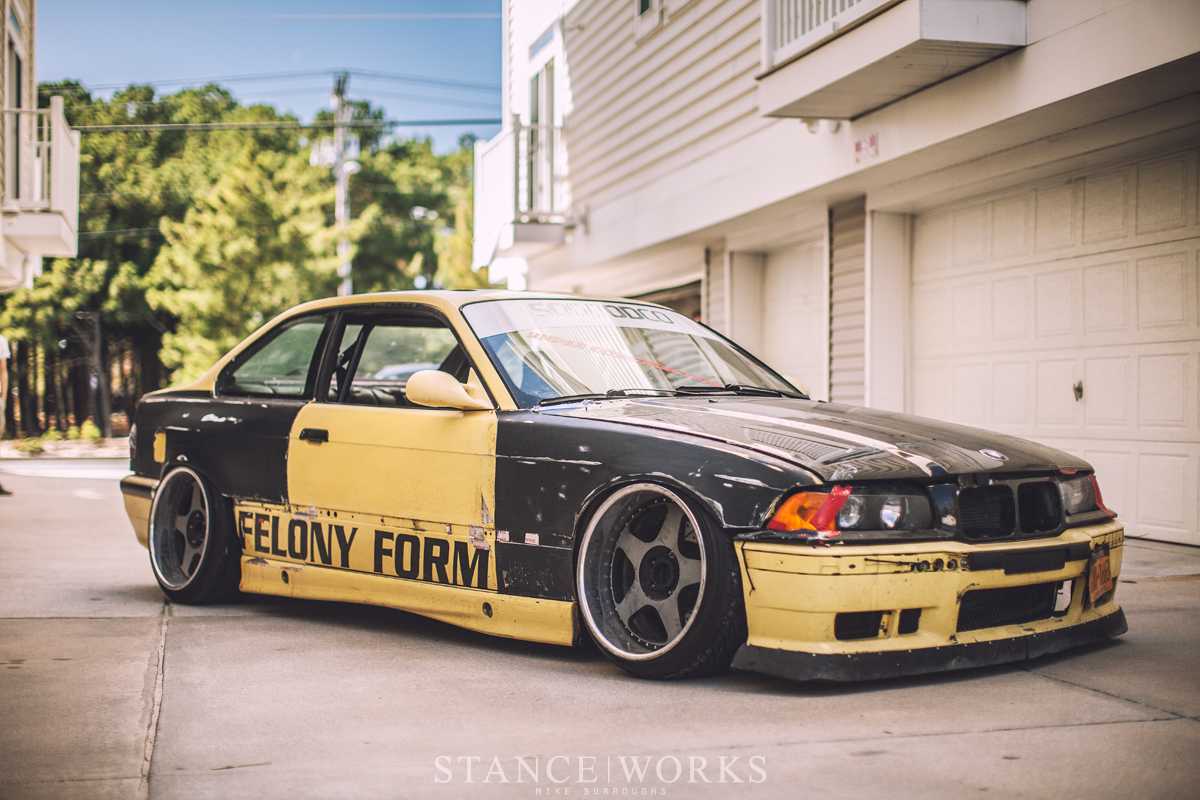 I've watched Ollie build E36s for years now – I remember seeing his Avus Blue M3 come to life back in 2008, which quickly established him as someone to expect big things from. I invited him to the StanceWorks forums in its infancy, hoping to watch him grow as a builder, and I looked to him for tidbits of inspiration along my own path. He served as a somewhat different style of inspiration from the others I looked to – frankly, Ollie was never afraid to drive his car. What went from a clean showpiece quickly deteriorated into a battered-and-bruised machine. Despite my disappointment in seeing cars lose any sense of importance for aesthetics, I could always walk away knowing Ollie was putting his car to work and enjoying every moment thoroughly. The same can be said for countless others, but Ollie was my go-to.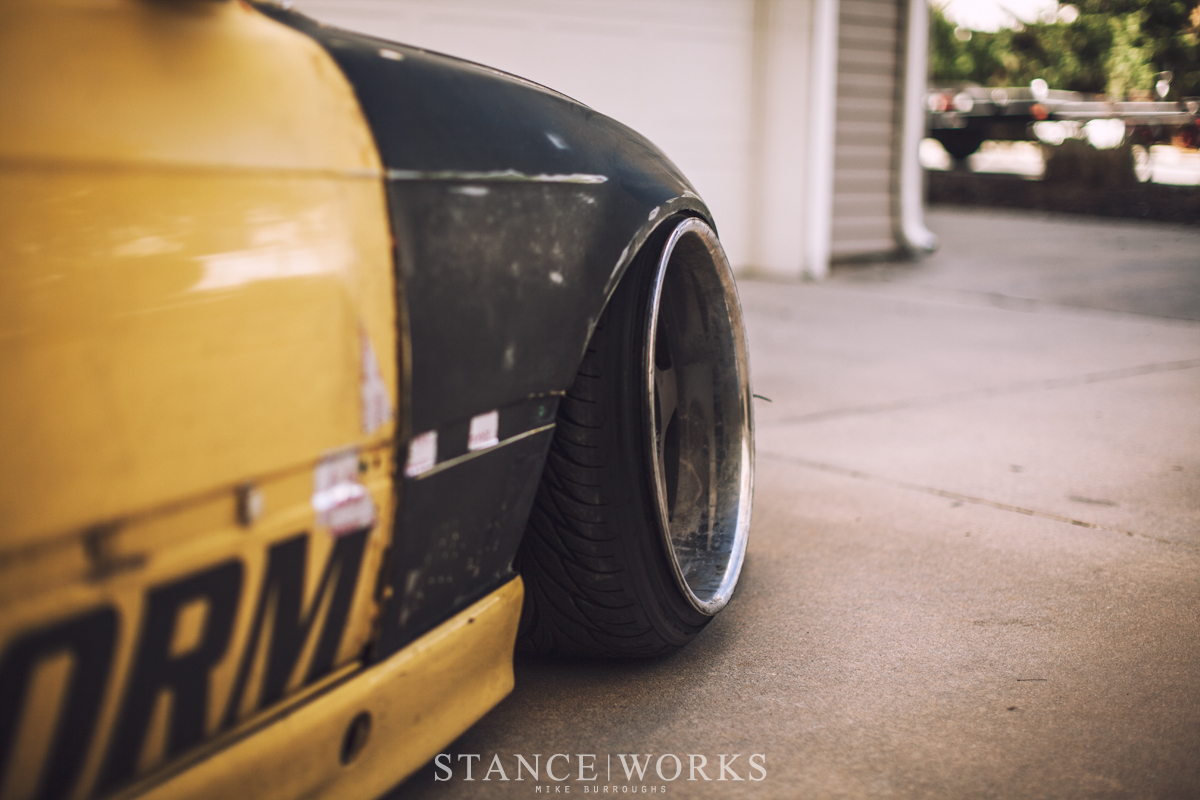 But in the midst of all things car-related that I'm bombarded with on a daily basis, Ollie's M3 went off the radar. He popped in on the forums from time to time, letting us know he was still around, dividing his time between his M3, his Y33, and his Civic, but only photos of the latter two made their way to the web. As such, I nearly forgot about Ollie's M3 entirely.
When his car pulled into the driveway in Maryland, I was awe-struck. I suddenly recalled the clips of conversation I had read about the project he was undertaking, and my doubts that accompanied them. Then and there, I ate my words – as an E36 owner and lover myself, seeing Ollie's accomplishment, and a truly organic and grassroots one at that, pushed me over the edge from excitement to elation. After taking it all in, I knew I'd be left with a very tough task: doing justice to such a build through words and photos – it was a kit I knew every E36 owner truly needed to see with their own eyes – not just to believe it, but because as E36 owners, they deserved it.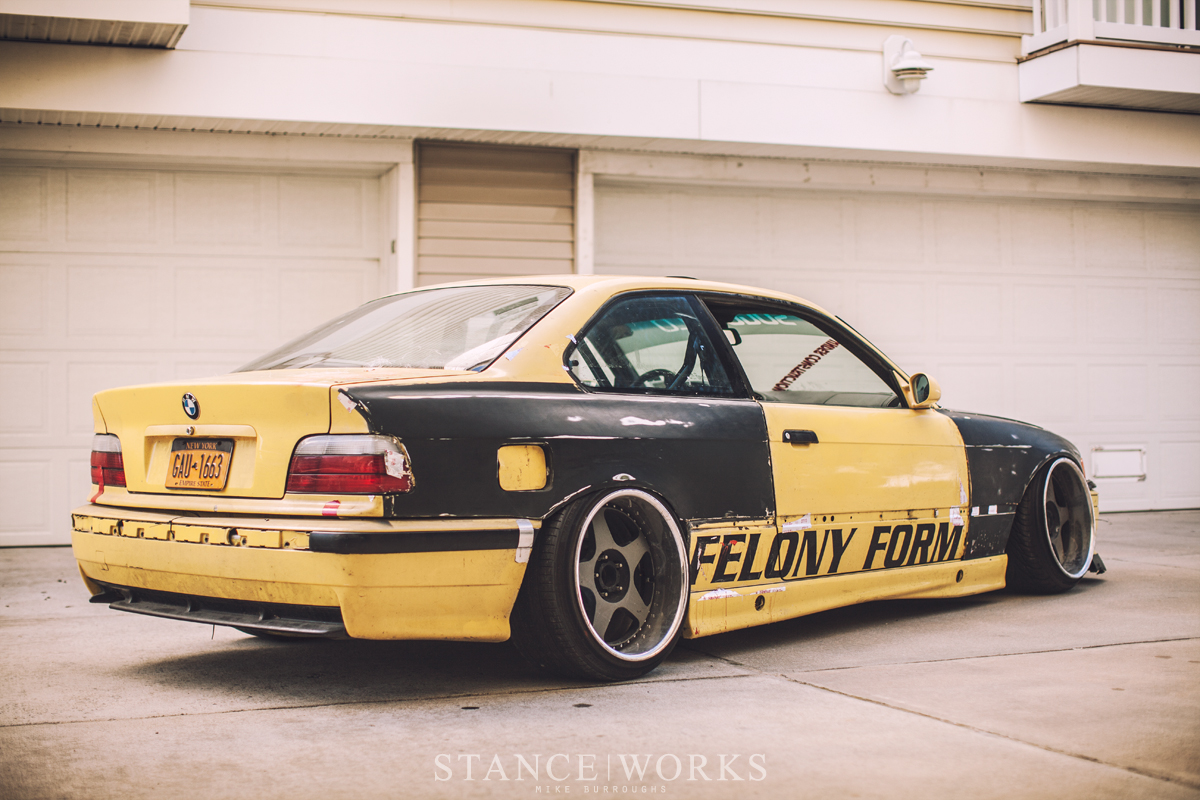 It's always best to start with a baseline, and for that, I'll tell you who Ollie is. Truthfully, there are two sides to the guy, and only one I've interacted with. On one side, there's a truly diehard car enthusiast whom finds passions in all things on four wheels, from VIP builds to track monsters. He's the kind of guy who will take criticism and doubt with a grain of salt and nothing more; he's always been on his own path, maintaining a respectable sense of independence. On the other hand he is a 23-year-old auditor for Ernst & Young, working above Times Square day in and day out, with a master's degree in accounting under his belt already.  That in and of itself should allude to the kind of dedication Ollie has – it should hint to the mindset, the diligence, and integrity he's afforded himself.
Delving into his automotive life, it's worthwhile to note the importance of the E36. A trip to Belgium to visit family during his childhood lead to a chance encounter with a beach-side E36 M3. At twelve years old, he found his first love. From the sharp, aggressive lines, to the eloquently put "simplistic and mature styling mated with a performance reputation" – it set Ollie's mind and heart in motion. "The car seemed like a toy to me. Something about it just felt right." Ever since, the E36 has been at the top of Ollie's list. Despite owning a number of other cars throughout the past several years, the E36 stands with the strongest hold on the New Yorker. "I always come back to these cars and I will probably own at least one E36 at any given time for the rest of my life."
His appreciation for the breed extends past his own creation, ranging from wild-and-crazy to the conservatively classic staple: Clears, LTWs, and a drop, as the saying goes. However, for the time being, his car suits him well – "At this point in my life though, I really enjoy having a car that I can drive hard and get silly with without worrying about the little things. It's liberating to have an imperfect car." It's a sentiment that is near and dear to myself – justification for builds such as Rusty and my Model A, and the reason for leaving my own E36 build locked away. I'm afraid of imperfection.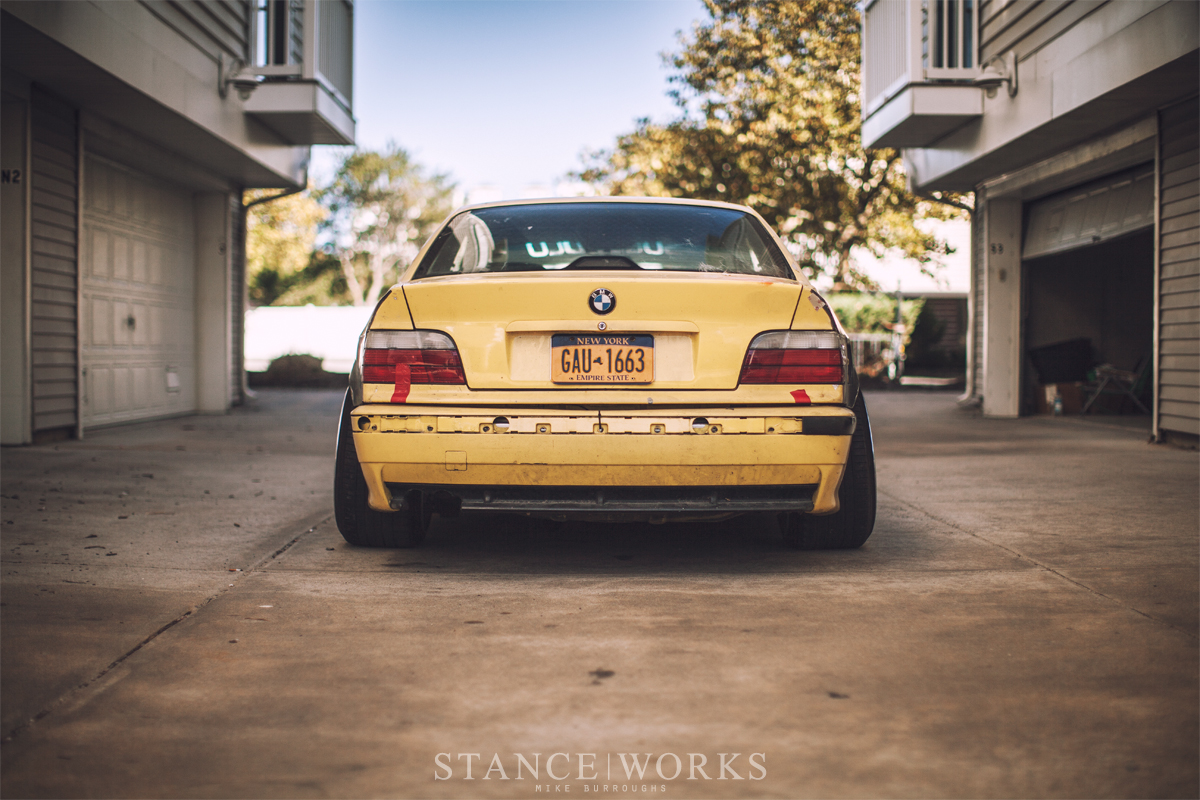 However, the imperfection Ollie touts is only skin-deep. Underneath has been a long-term goal of bringing a vision to fruition. The vision stemmed from a very simple desire: Ollie wanted a widebody kit for his car, but the simplicity of the desire was overshadowed by an insistence that form didn't have to follow function. "In my opinion, every available option for going wider kills the lines," he said – lines which Ollie had grown far too fond of to heavily alter. "Even the rare ACS widebody waters down the sharp lines of the car. E30 M3 style box flares don't translate to the E36 chassis. The inverted body line just doesn't work for me even though it's a beautiful thing on the E30 M3. I truly don't like box fenders without any sort of flare to them on E36s, and grafted E46 flares are too bubbly."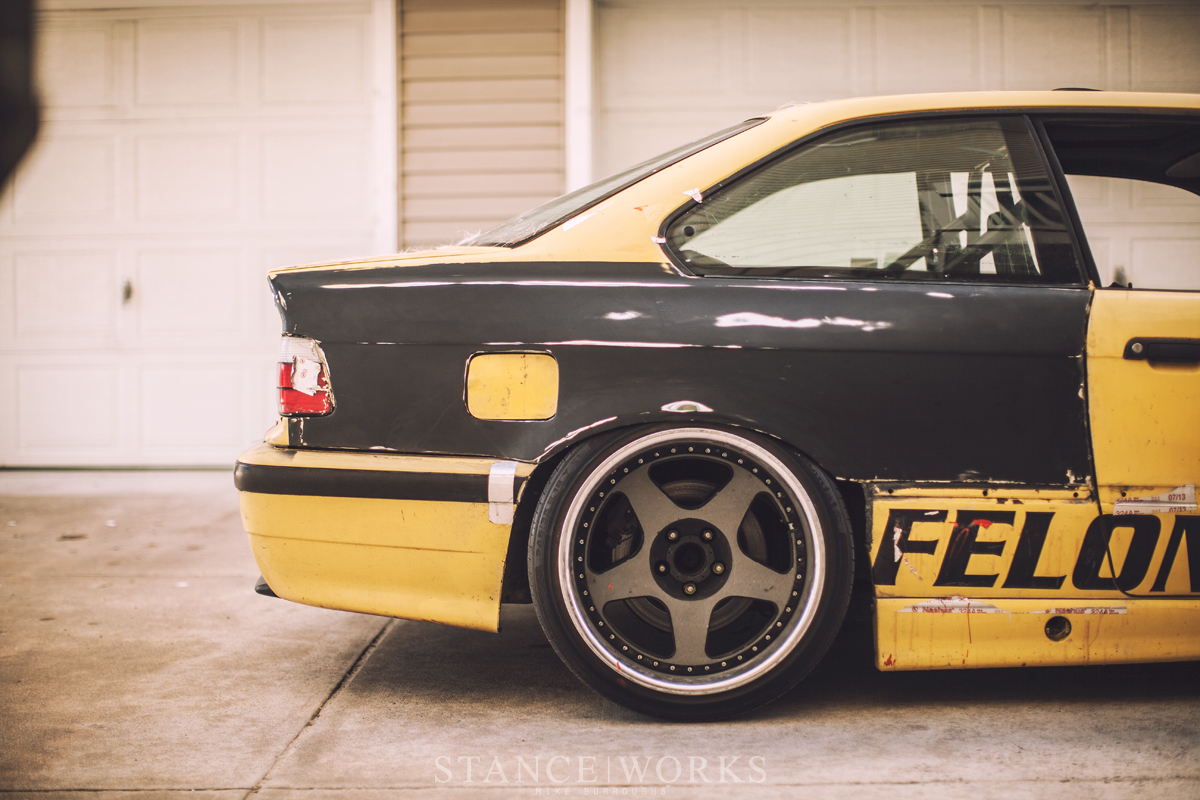 It's immediately obvious that Ollie thoroughly considered all options, but it's certainly understandable how he reached such a conclusion. What separates Ollie from most of us, however, is his reaction to such a predicament. Where most would admit defeat, and few would decide to fix the problem for themselves, Ollie took it one step further: in his mind, a plan flourished to fix the problem not only for himself, but for anyone who wanted in on the action. With no experience in fiberglass work, plug-making, or anything in between, Ollie set out to not only build overfenders for the car he had grown to love, he set out to make molds and to begin a company that could see his vision through, providing like-minded enthusiasts with the design he felt worthy.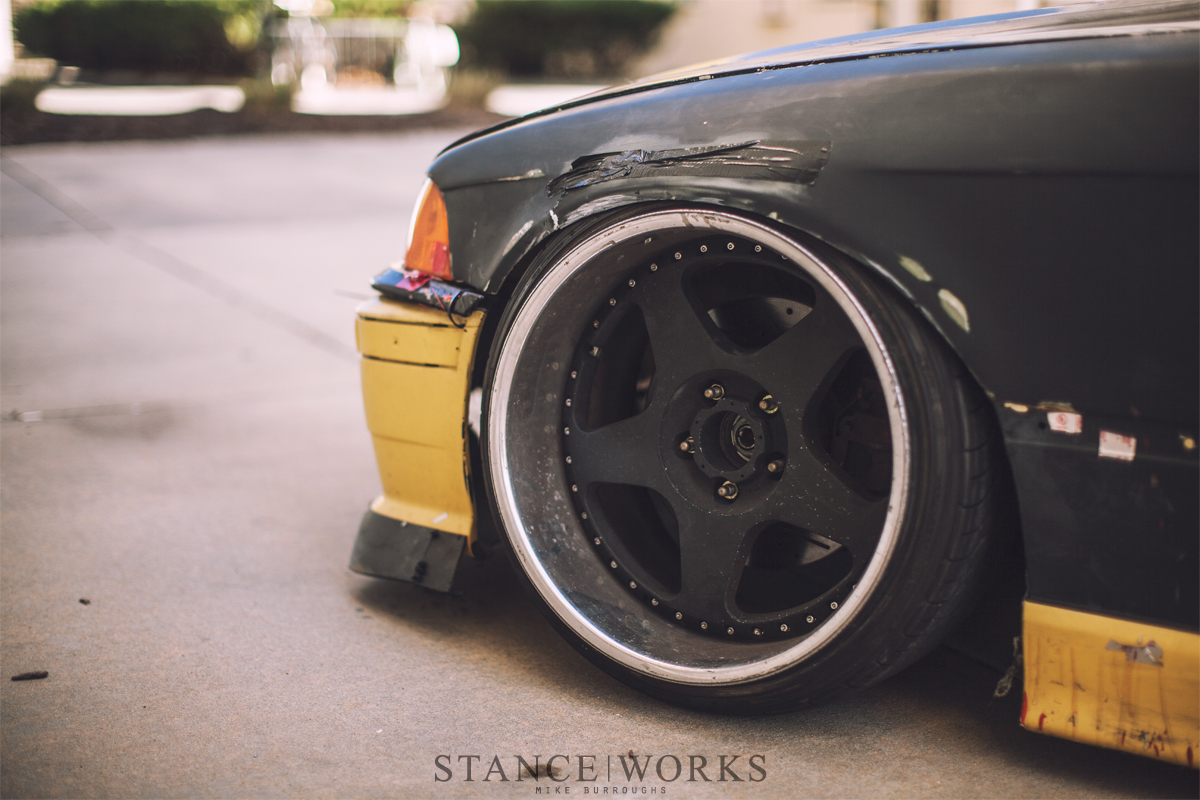 Ollie began from the ground up, scouring the internet for information to get the ball rolling. Phone calls to businesses in the industry helped point him in the right direction, but it was trial and error that carved the path. As he tells it, there's no one set way to create a "plug" – the original part which molds for future overfenders and arches are taken from. " It's a goal that can be reached in numerous ways, and finding the right one, one that fit within the budget and worked in unison with the project at hand, proved to be a challenge.  With an industry filled with a variety of products and materials that can be used to accomplish the job, Ollie quickly found that everyone seemed to be set in their ways, insisting their own method was the proper one. It was a long series of hurdles that made gaining headway an up-hill battle. "Research was difficult. I decided to just dive in and see what worked for me."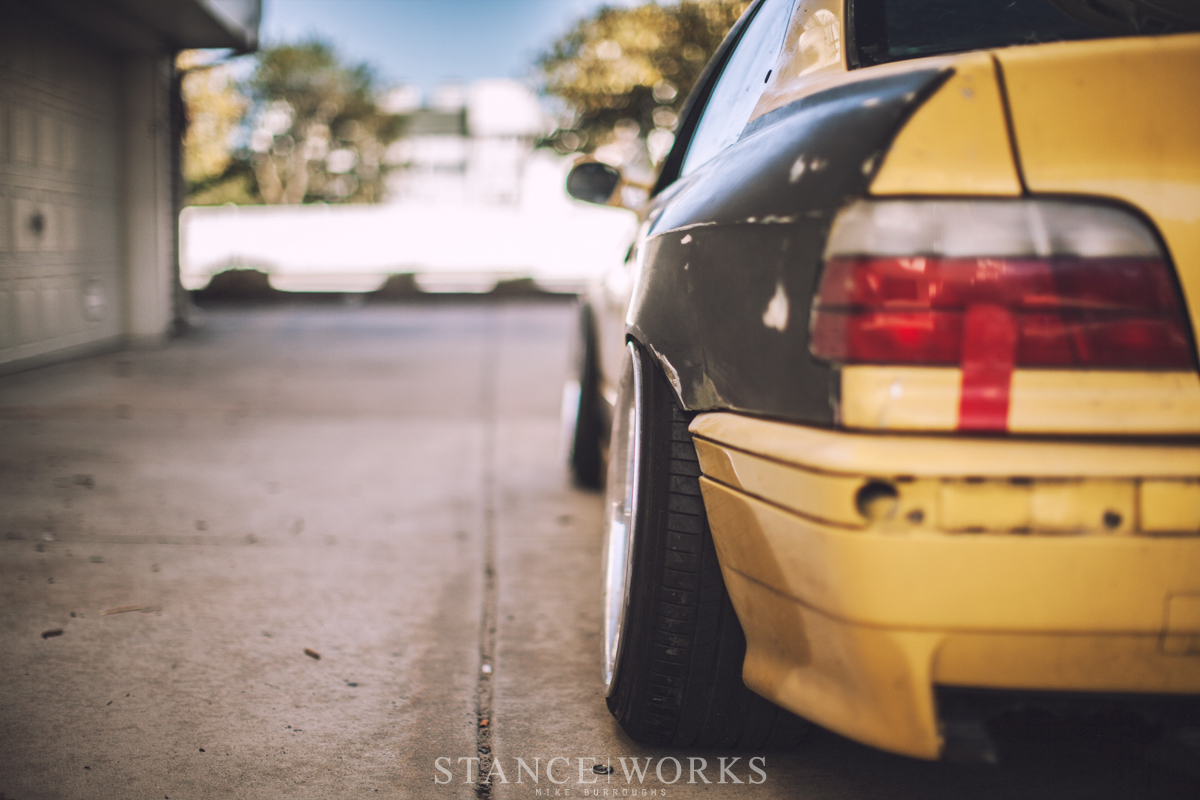 The project began in his mother's garage, which Ollie touts as more akin to a shed than anything else. Suspended tarps re-routed water that found its way in through the leaky roof, which as always absorbed into the gravel that made up the floor. The car stayed dry, but the workspace would become waterlogged any time inclement weather made an appearance. Nevertheless, Ollie made due, and began crafting the kit. "I made a few sets of flares before deciding to make the full quarter overfenders. By the time I started to make the fenders, I had a precise idea in my head."
The first step in making the kit was to build a "skeleton" on the car to the proportions he desired, keeping both sides completely even, using plexi-glass cut-outs that were affixed to the E36's factory sheet metal. Using a 2-part expanding foam, Ollie filled the gaps, which he shaved and sanded, adding foam and body filler as necessary to achieve the correct shape. His goal was straightforward: "I aimed to keep the same shape as the OEM arches to keep a very factory look." The differences were twofold – more obviously, he wanted wider arches for the widebody looks and the performance he was after. On the other hand, he wanted to raise the arch height, known by most as "radiusing", to allow for a larger wheel-and-tire diameter without a needed change in ride height. After perfecting the shape, which took more than a few revisions, he coated everything with fiberglass to create a solid, non-porous surface which he then smoothed out to a perfect finish using body filler, finishing putty, and a polishable polyester surface primer.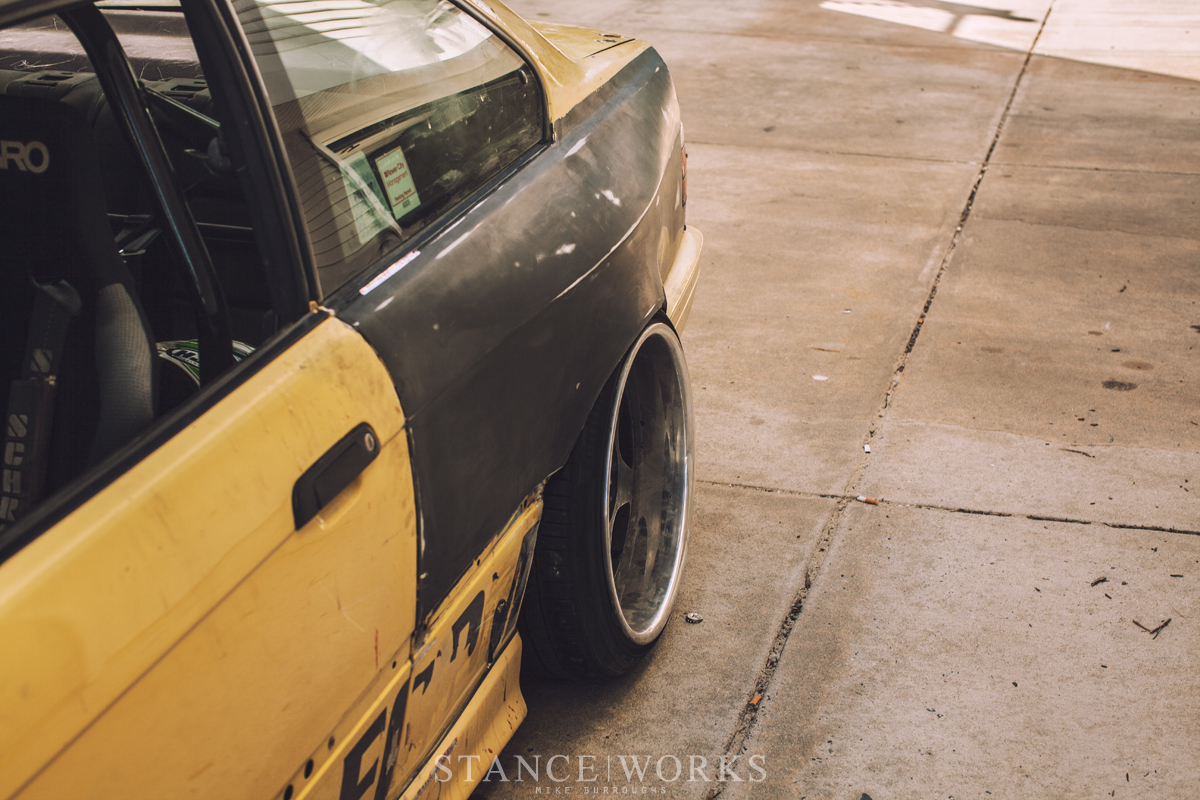 With that, creating the plugs was complete, and creating the molds began. Once Ollie had pulled a mold of each corner, he was finally able to start creating the final FRP (fiberglass reinforced plastic) overfenders, which mirrored the process of creating the molds themselves. "I'd lay down my exterior layer of gel coat, allowing it to tack up. That's then followed with multiple layers of 1.5oz chopped strand mat fiberglass, reinforcements, and resin."
The lack of insulation and HVAC in his mother's garage meant that Ollie was stuck fighting with temperatures and a steep learning curve to figure out and perfect his process. "In the cold, it would take days for the resin to cure. Then in the summer time, the garage would heat up and make the resin and gel coat kick within minutes." On more than one occasion, Ollie nearly called it quits when the gel-coat would "alligator," a result of the gel-coat kicking too quickly and wrinkling. The effect was caused by more than just varying temps; sometimes, the application would be too thin, other times, it'd be the result of too much catalyst. He even found that the gel-coat reacted negatively with the primer he was using. Each error meant the laborious removal of the cured gel-coat from the panels, refinishing and smoothing, and starting once more. It was a trial-and-error fight that only the truly dedicated would persevere through.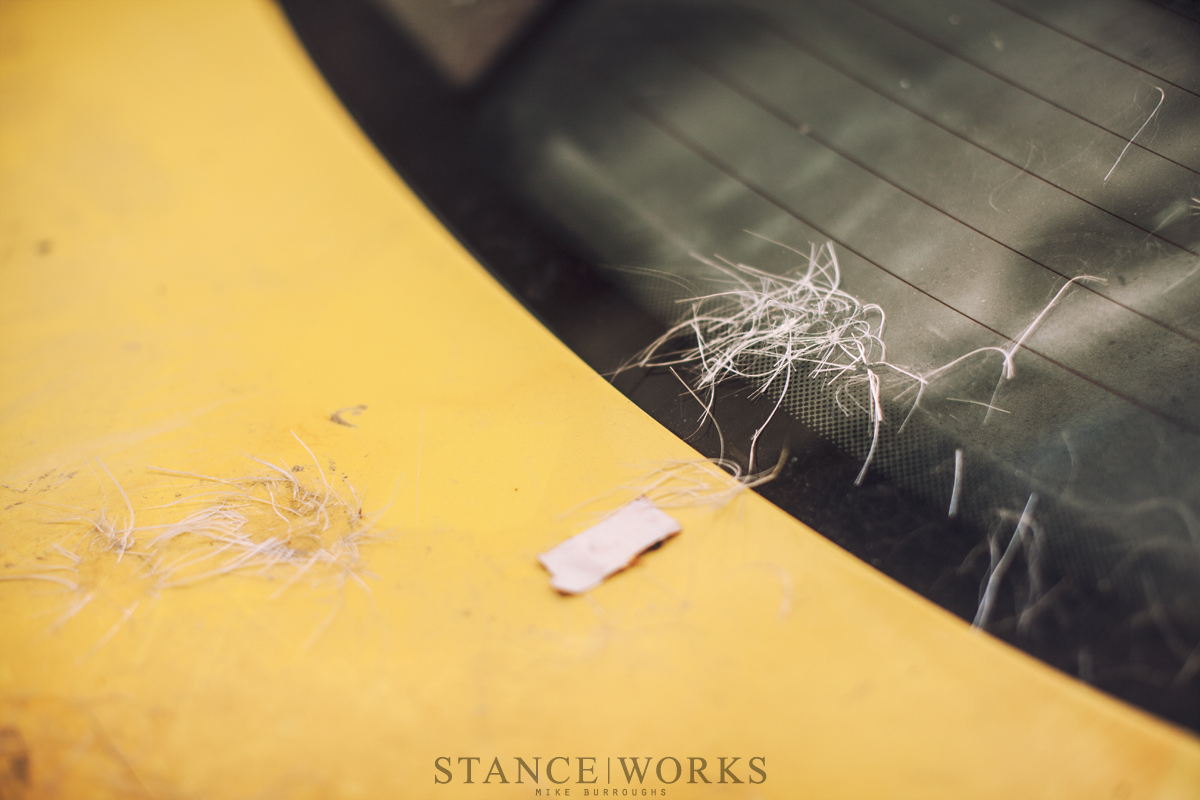 When summer rolled around, Ollie accepted a job offer in NYC, forcing him to pack up everything and move in to the city. Fortune was on his side, as he found a house just outside of Manhattan equipped with a garage. It was a requirement, understandably; Ollie refused to live in the city with no place to store his cars and to continue working on his project. His neighbors, whom lived directly above his garage, weren't quite as thrilled with the new arrangement. The powerful, chemical-based nostril-burning scent of fiberglass resin was unwelcomed. Ollie struggled to find a garage for rent that was willing to let him pour resin at an affordable price, leaving him high and dry.
Though he'd come this far without help, Ollie was forced to find an alternative, and his praises for Jaze at Broadway Static  couldn't be higher. "We pulled his 1JZ E36 out of his garage, and he let me use the space to fabricate the molds off of my car." He was back in business. "It turned out to be a very stressful task, and one of the most intense two weeks of my life. First, we had to take our time ensuring a flawless finish on the fenders. Then I had to flange the car so that the molds would pop off easily and produce quality parts. Every step of the process seemed to take days longer than expected," he says. Completely unhelpful to the situation was Ollie's new work schedule: Monday through Friday, 9:00am to 6:00pm. With an hour-long drive at best to Jaze's place every night, he was spreading himself thin. The two would work until the early hours of the morning, 1 or 2am, and often later, until Ollie would head home, where he'd sit in traffic for hours near the Goeroge Washington Bridge every night. He was scoring just a few precious hours of sleep each night, and would do it all again each following day.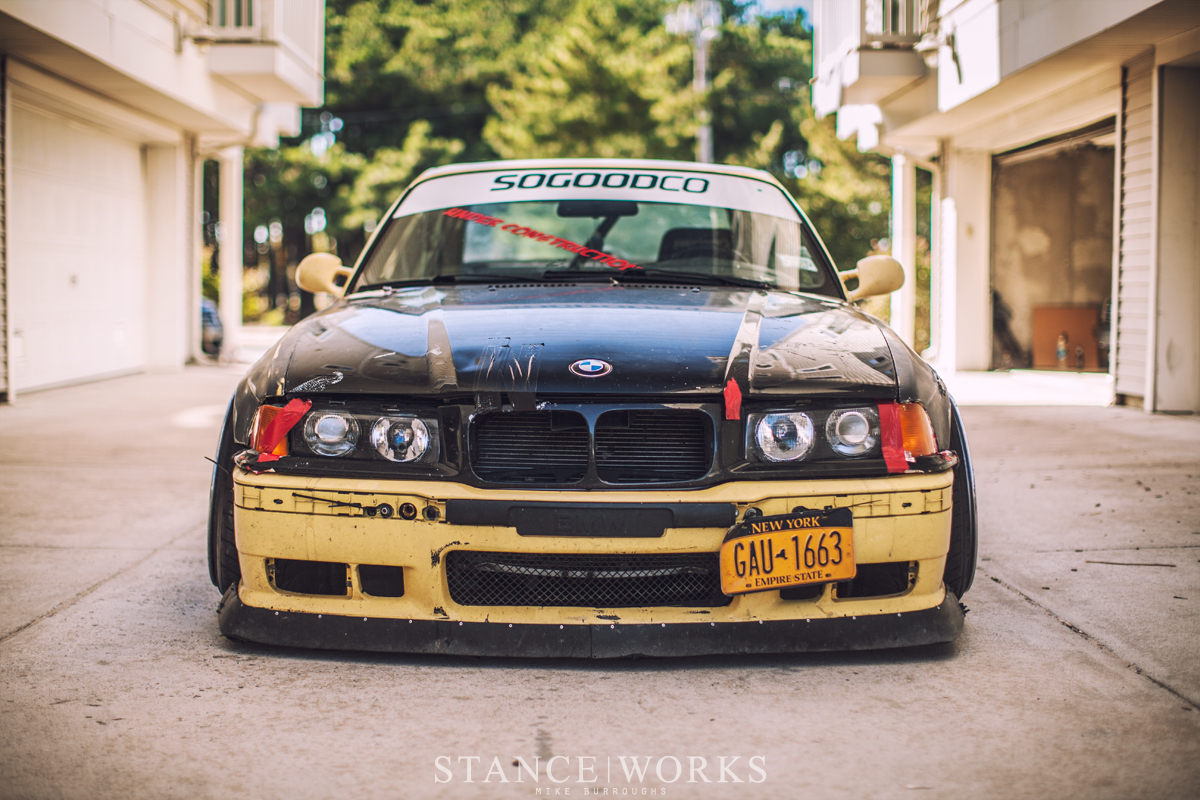 "Jaze learned quickly though, so I put him to work when I wasn't there," he tells me. Many of the steps involved in the process are time-sensitive. Moving too slowly or too quickly would result in expensive and lengthy setbacks, and that's where Jaze truly shined. Left with the task of adding the final layers of reinfocements late one evening, Jaze worked alone until 8:00am, long after Ollie had left, to ensure the project at hand was completed.  Ollie tells me "He's a real car enthusiast and a true friend in my book."
It wasn't long before Ollie pulled the first finished fenders from the molds, which marked a milestone he'll never forget. The car I was lucky enough to see in Maryland was truly a canvas – an oiled machine that represented hard work and a vision seen through. What many will pass off as a crunched up car is far, far more. It is the epitome of a work-in-progress, but one entirely worth celebrating. Best of all, Ollie is far from finished. Beyond the completion of his own car, he plans on tackling an even wider setup for E36 coupes, basing his next build around information supplied from a NASA GTS team he's working closely with. After that comes sedan arches, and then he'll be moving on to the E46 chassis, E92, and more. The first set of E36 fenders has just hit the market, and he's finally gaining momentum.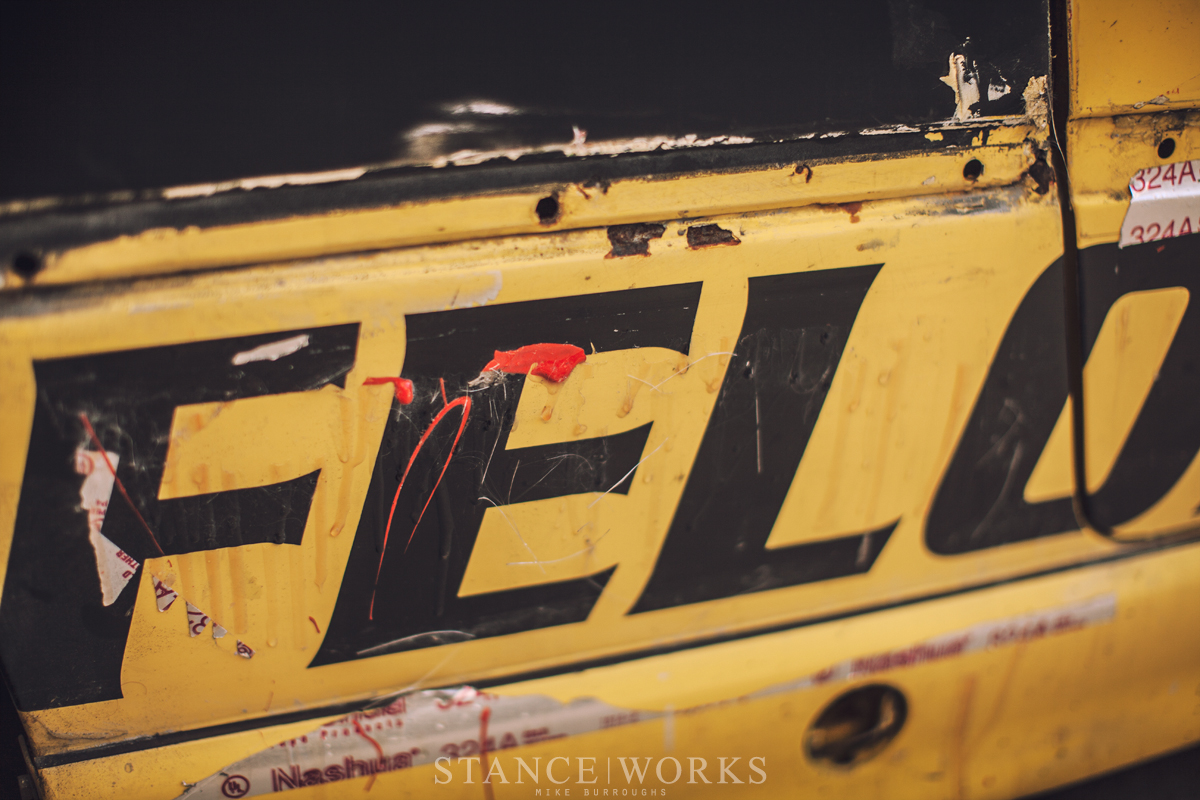 "I made the arches to suit my own needs and style. The feeling of seeing a vision come to fruition with my own two hands was amazing though. I really found something I was passionate about and the fact that others loved my work was just a plus…" Ollies words personified the E36 lover I've known for so long. "…but I kind of picture my car to be a "felon" in the conservative BMW world… taking a non-traditional path, doing what I really wanted instead of what I'm "supposed to do" without letting peoples' opinions discouraging me from going for it." Almost everyone insisted that the fenders Ollie invisioned would be impossible to make on his own, and at one point in time, he nearly bought in to the doubt. Thankfully, on all counts, he didn't. Even still, the car is surrounded by controversy, ranging from those who take the car at face value and shun the project completely, to those who have made it this far and now know the full story.
"…based on the fact that the kit and my car in general are somewhat unorthodox, from the radiusing of the fenders, to the rivet-on nature for a German car, and the fact the the factory arches needed to be chopped up… making 18s work on a car I've never loved 18s on, and driving the car hard without giving in and raising it to a more sensible ride height," Ollie tells me, "Felony Form just came to me one night and it stuck." It's a name that fits on all counts, and controversy is rarely a bad thing. We're dying to see what's next, and if you asked me what embodies the ideals of the StanceWorks community most, I'd tell you it's Felony Form.