Photos by Jeremy Whittle and Kielan Prince
In today's technology fueled society, it is becoming easier and easier to find people with interests in line with your own, and the saying "it's a small world" is becoming ever more prevalent. I first "met" Nick Nikolov in a Call of Duty Lobby nearly 4 years ago, through our mutual Xbox friend, and Nick's current roommate, Sean O' Connor who I had "known" for quite a while at that point. One day when we were all gaming together, the subject of cars came up, and we discussed what we had, which were all quite different to what eac hother drove. Nick at the time had a VW MKV on Air and BBS RS, Sean had a Honda Civic slammed on OZs, and I had an older slammed BMW. Typically, this would be the end of the conversation between car guys, or the start of an argument, but instead we all realized we were into the exact same thing, and just happened to drive different make vehicles. Rather than scoffing at each other upon hearing we ran stretched tires and drove our cars millimeters off the ground for no reason other than it looks cool, we found it was a mutual interest, and quickly became better friends. Southern Worthersee in Helen, Georgia, was just around the corner, and we all ended up finally meeting face to face,and of course, we got along without a hitch. I have been friends with Nick ever since, with multiple trips up and down the east coast to see each other. After spending enough time around my E28, and our other friends BMWs, Nick decided to take the plunge and pick up the very clean example of an E36 you see here.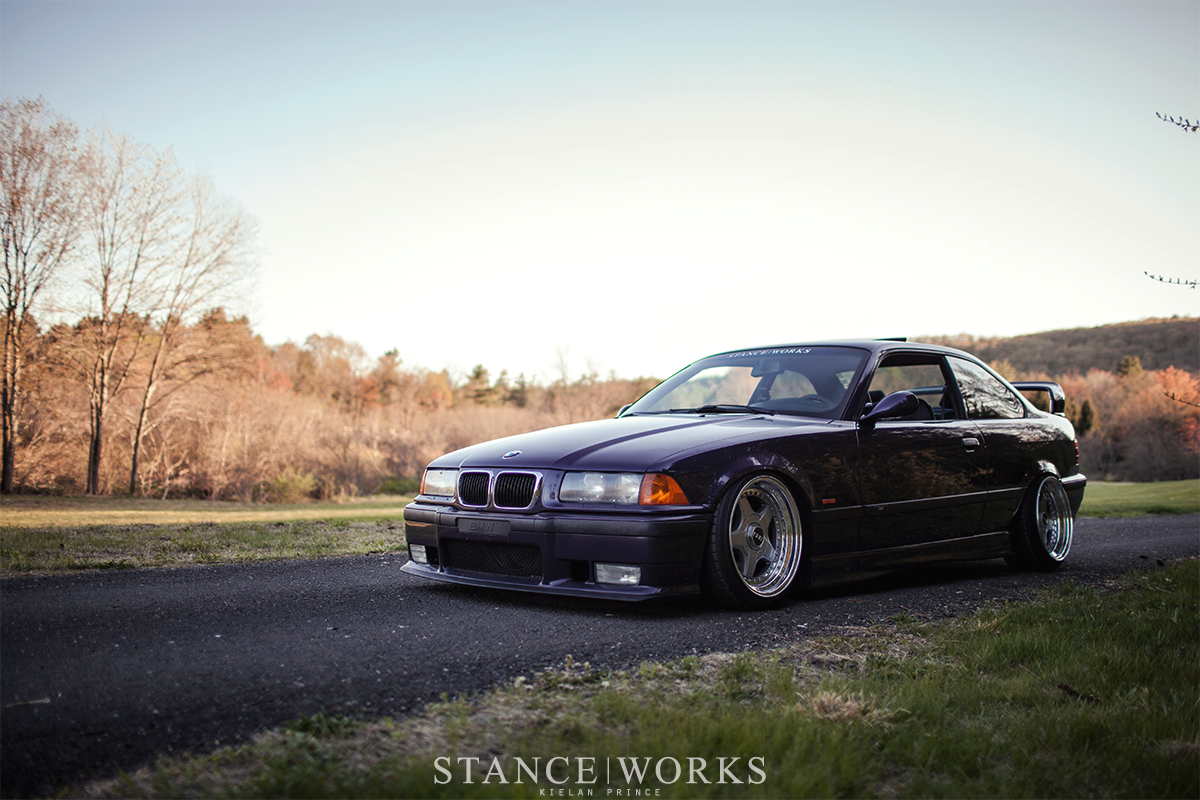 Nick found the car online, for sale down south, and I remember the excited messages back and forth about going to pick it up. Photos can always be deceiving, but a flight was booked and money was pulled out of the bank and Nick flew down to pick up the car. Thankfully, the car was every bit as clean as the seller had promised, money was exchanged, and Nick drove his new e36 up the coast back home without any issues to report. Not being one to just have the car sit in a garage, Nick even brought it down to Southern Worthersee last year only two weeks after acquiring the car, a 30+ hour round trip drive, for no reason other than to enjoy the car, and hang out with friends.
Naturally, upon arriving home from Southern Worthersee, no time was spared in planning out modifications, and it wasn't long before wheels and coilovers were en route. A set of Broadway Static coilovers were chosen, paired with a set of white centered 17×9" and 17×9.5" BBS RFs with 2" lips in the front, and 2.5" in the rear. Nick installed the wheels and coilovers on the car at a height where the underside of his chassis became very friendly with the pavement, and his wheels missed the rear fenders by mere millimeters. The car looked great, but Nick wasn't the type of guy to leave well enough alone.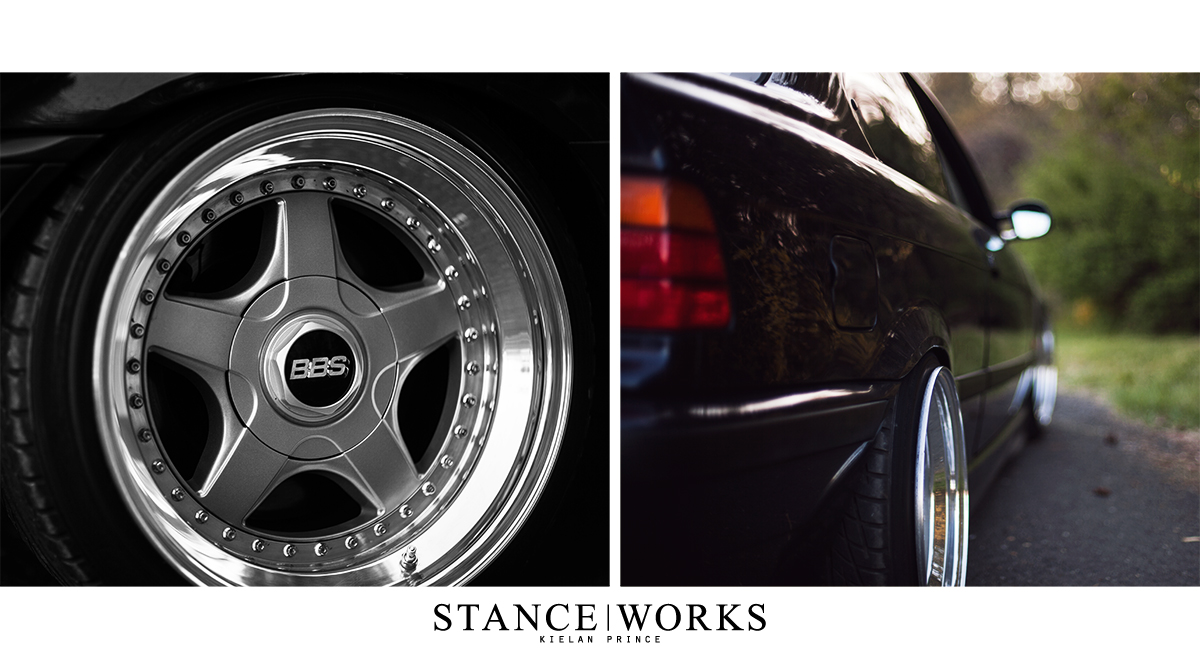 With such a clean car and show season coming to an end, Nick took the M3 off the road for the harsh Northeast winter, which meant spending some time working on the car with his good friends Bear and Sean in their little shop in Stafford, Connecticut. The wheel centers were pulled and sent out to his good friend Bill of Blastech Custom Coatings to be refinished in a more refined BBS silver, and Nick was able to trade a friend his 2" lips for a pair of 3" lips. Nick moved the 2.5" lips to the front wheels, and popped the 3" lips on the rears leaving him sitting much more aggressive, with a 17×9.5" wheel up front, and a 17×10" fitted very aggressively out back.
The car was set down on the new wheels, and looked much better, and damn aggressive, but Nick wanted just a little bit more out of the car. Now there are a few ways to do this, some people might put "aggressive" lighting on to the car, maybe spray the wheels a bright color, or perhaps even get a small front spoiler of some sort. None of those options quite fit what Nick was after, so he did what any other sane man would do, and got an absolutely enormous spoiler. All joking aside, for those of you not familiar with BMWs, or the E36 chassis in general, the wing you undoubtedly have already noticed installed on Nick's car is actually a OEM BMW design. It came on the factory LTW (Lightweight) edition E36, along with a big adjustable front splitter that would be subterranean on Nick's car, as well as a stripped down interior sans creature comforts such as AC or a radio.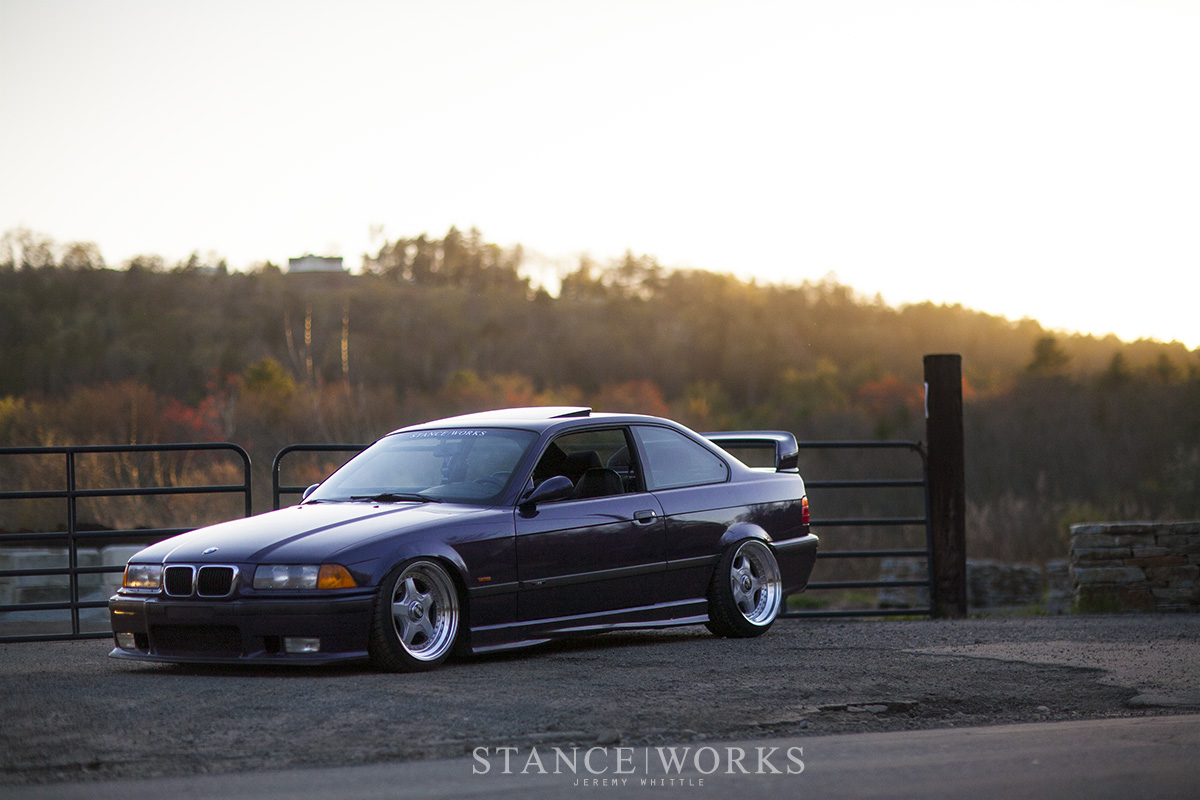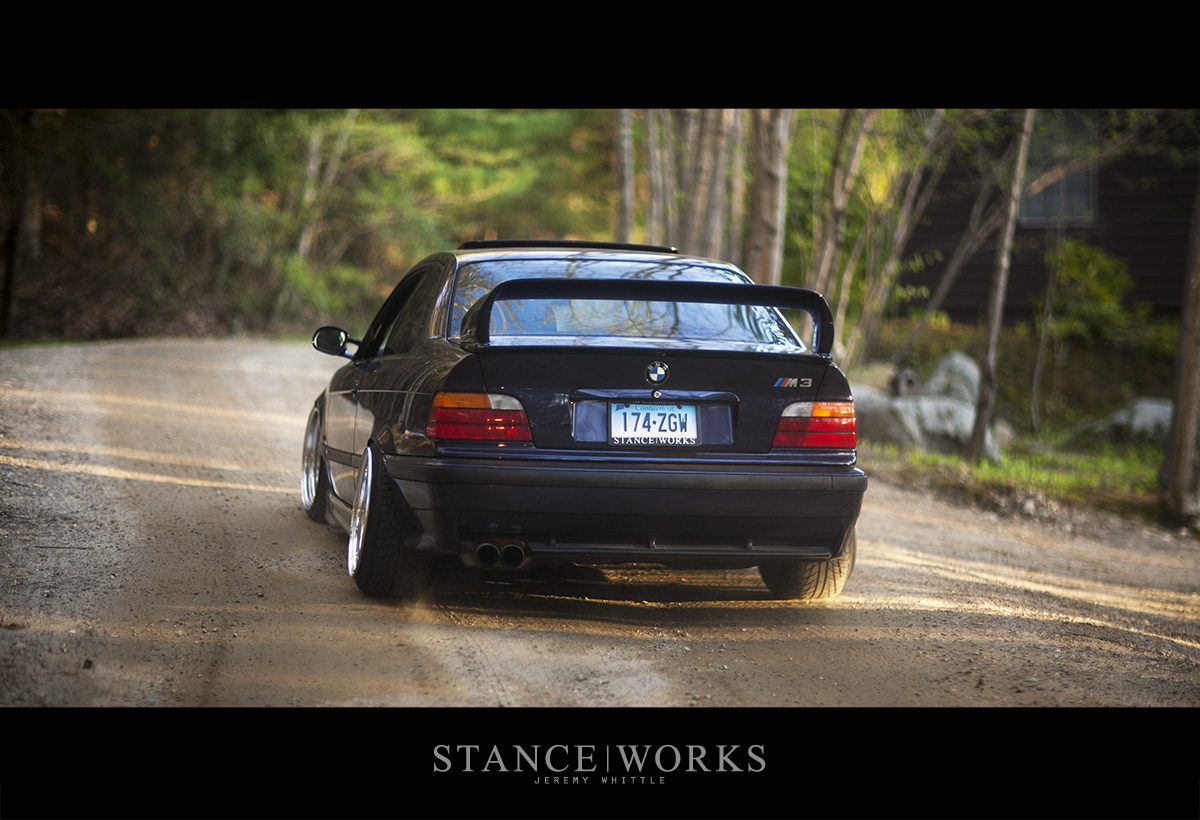 The car turned out stunning, mixing just the right amount of refinement with just enough aggressiveness to satisfy that little bit of tuner that resides inside of all of us. Its technoviolet paint still shines as if it were new, and the black leather interior is still as supple and stunning as ever contrasted against BMWs amber interior lighting. It is hands down one of the cleanest e36s I have seen, and it brings me no greater joy than seeing Nick beat on the car and still enjoy it daily despite this. The car is still an absolute blast to drive, with the coilovers allowing you to constantly forget just how low it sits, or how close the tires are to the fenders, looking fantastic while still retaining the qualities that make the E36 chassis such a popular choice. The day we shot Nick's car marked his one year of ownership, and he has made quite a bit of progress with it already, although as any car guy knows only the surface has been scratched at this point. Only time will tell what the future holds, but in the meantime, Nick has a big trip ahead of him again, where he will get to spend another 30 hours and countless miles in the car making the journey down to my turf in Helen, GA for Southern Worthersee 2013.