It's important to take a look back at content from the past, especially at those that have continued to grow larger than ever. In Hert's case, he's larger than life, and it's all deserved. But in 2013, within days of his move to Southern California, we pointed our lenses at his now iconic Twerkstallion, and did what we do best. Enjoy an important piece of our culture and history: Hert and his V8-Powered FC RX7
"Diehard rotary guys need to have a chill pill. People swap motors, deal with it." What better way than to start off with a bang? RX7 fans are sure to be divided by Hertrech's FC, with rotary purists fuming with distaste for the bow-tie V8 under the hood. However, Hert's got nothing against the old Wankel; in fact, he's a fan. Instead, he prefers to see people do as they wish with their cars – and that's how he's come up with such a gnarly Mazda.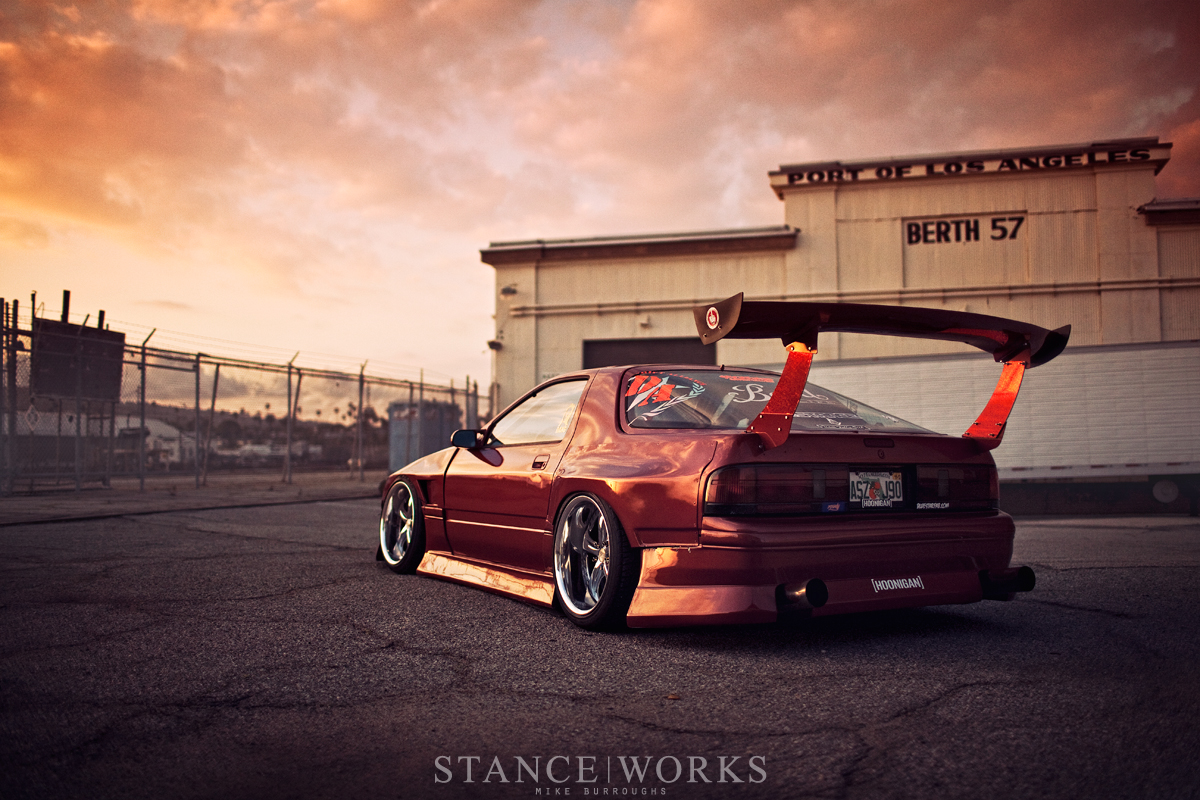 "I've got nothing negative to say about Rotary engines. If you know what you're doing, they are so damn rad. I, on the other hand, had no idea what I was doing." Hert has no problems with being brutally honest; a refreshing sense of humor and sarcasm fill his attitude. "People call V8 owners lazy. I don't know if thats true for everyone, but it is for me. I haven't had to do any maintenance on this thing. I've done 2 oil changes, and I guess its about time to do plugs, but I don't ever really have to work on this thing." His mindset is simple: he'd rather be driving his car than fixing it. While guys, like Jeremy Lowe, who shred asphalt in their fully-built rotaries still get Hert's heart pumping, he knew it wasn't the engine for him. "I can work on cars, but do I enjoy it? Not really. If I can get a good deal on some work, I'll gladly pay for it. Otherwise I'll just do it myself, preferably with the helping hand of a friend. But honestly, I'd rather be driving," he laughs.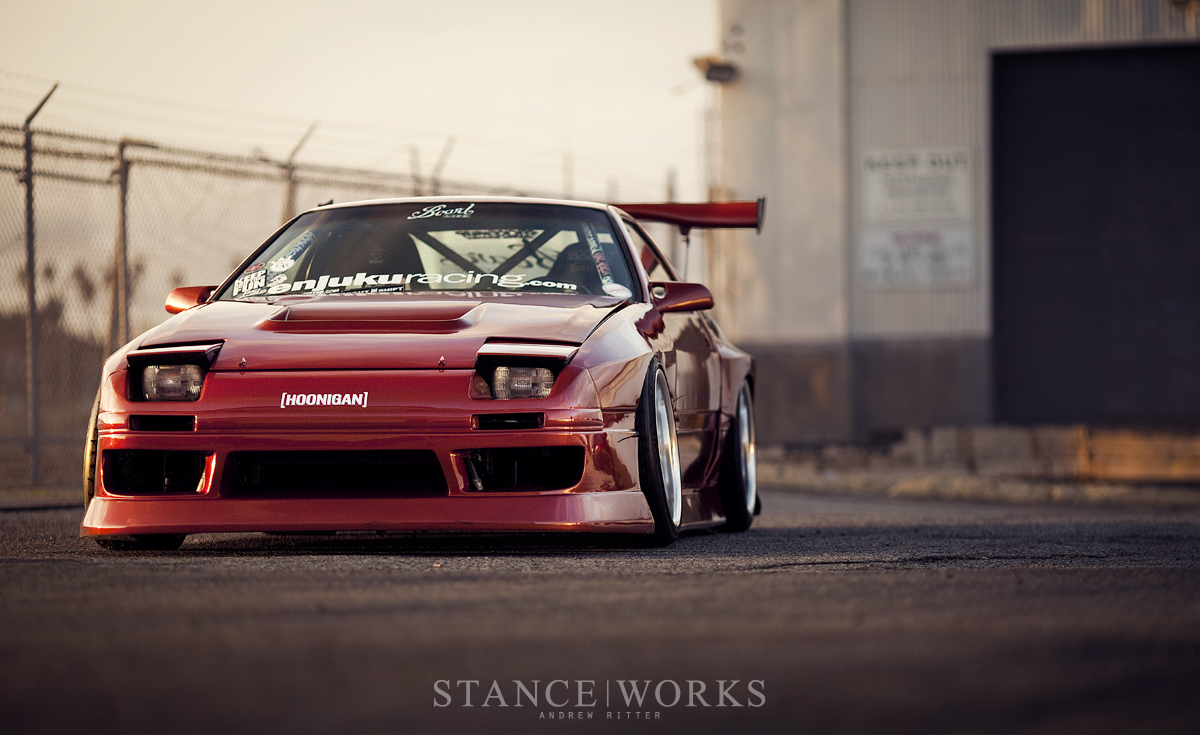 If it's not apparent by now, it should be: Hert not only drives his car – he absolutely abuses it. While he doesn't associate his connection to drifting with the show, for Hert, it all began years ago with the famed automotive and drifting anime series "Initial D." Subtitled sessions of animated drifting madness would ignite a passion that, years later, would manifest itself into an entire lifestyle. But Hert's automotive history didn't begin there. There's more to blame.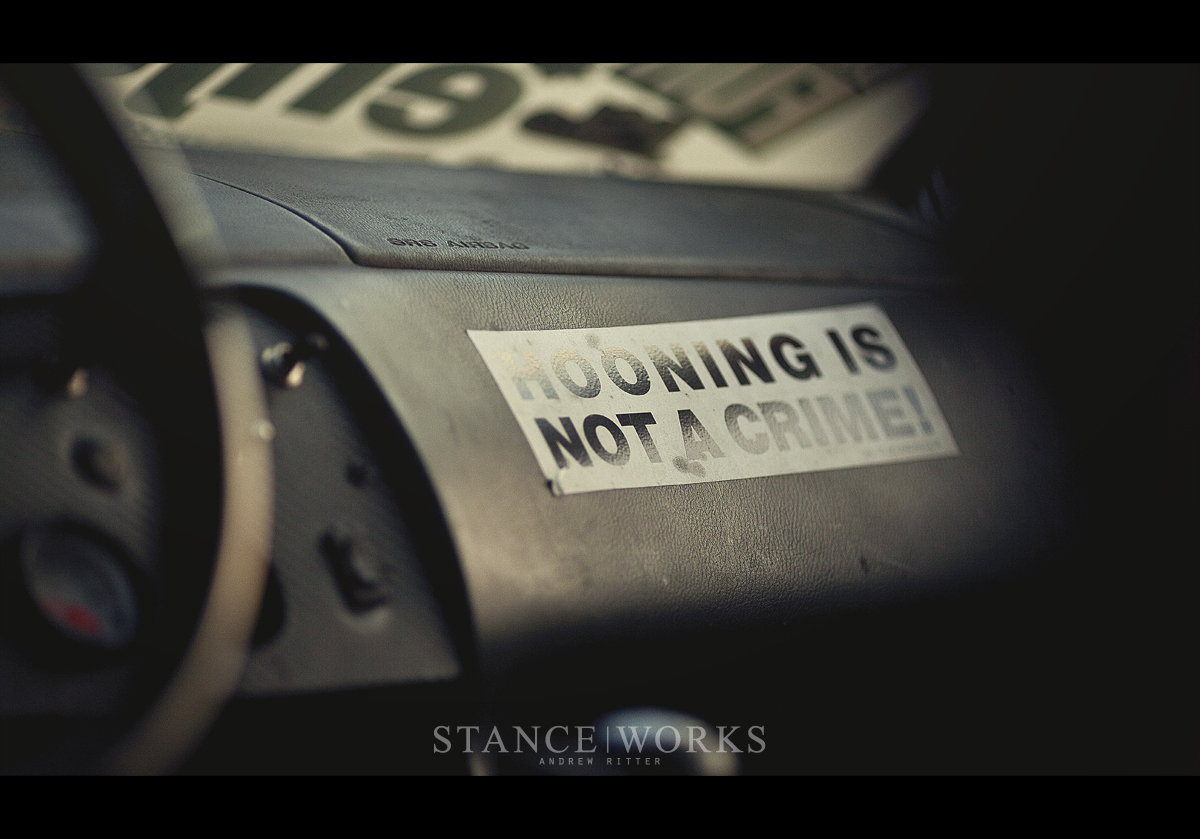 Unsurprisingly, it seems as though most guys can relate to the glory days of the early Gran Turismo games booting after that iconic and impossible-to-forget PlayStation One startup sound of syth lines and airy bells. If only it were possible to measure the effect those early driving games had on today's number of automotive enthusiasts. Hert is another mark in a long tally of life-long fans – we can all recall countless quarters wasted on San Francisco Rush arcade machines… and we can all thank them, if only slightly, for who we are today.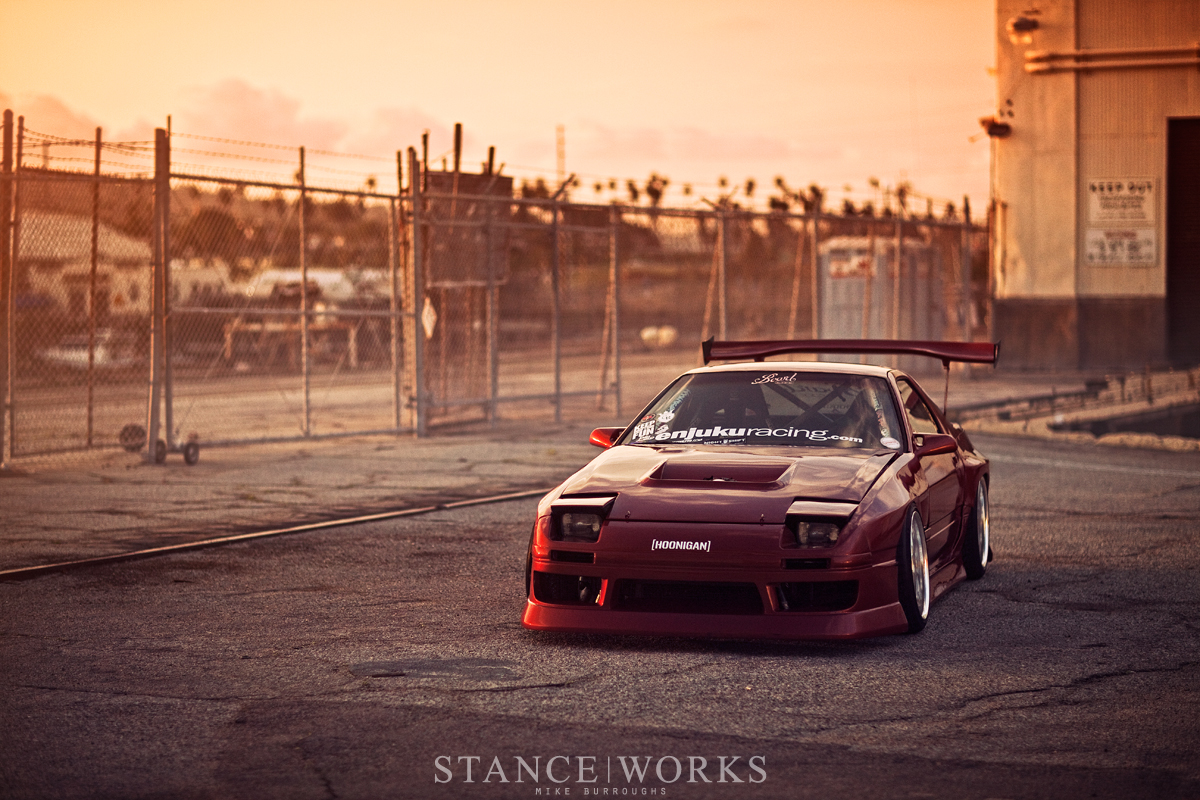 Hert's first car was a 1994 Honda Accord EX. "Vtec, son. As lame as it sounds, all I wanted was to make that car, and all the cars I owned after that, faster. I put an intake on that thing, exhaust, advanced the timing.  I probably picked up a solid… eight horsepower." After a short bout with a Mazda 626, Hert finally moved on to what he considers his first "tuner" car, a '92 Civic hatch. After making every modification he could, short of cracking open the single-cam non-vtec lump, a girl, distracted by texting and driving, managed to turn the hatchback into an insurance check. With that, Hert purchased his first FC RX7…  "And that's when I got bit by the drift bug."
"I remember learning that if I gave it more gas while making a u-turn, the ass end would slide out.  And well, thats just a sweet feeling."  Shortly after purchasing his first FC, Hert met Chris Olivares, whom introduced him to his circle of drift buddies. With access to a "secret" dusty patch of asphalt known only as "the sandlot," the crew taught Hert their ways, starting with a cone and donut lesons. "They weren't going to let me drift with them until I could do that effortlessly. Its kind of funny thinking about that now." Over the course of the next 3 years, Hert burned through another FC, two S13s, and an S14. While none of them were set up anywhere close to as well as his current Mazda, they all played a helping hand in teaching him the feel of the car and how it related to the pavement underneath it. From 2009 to 2012, Hert was without a car to beat on. With a need to get life in order, the funds for such a toy simply weren't available. So how did he keep his sliding skills at their peak? "I 100% believe if I didn't play Forza as much as I did, I wouldn't be able to drive as well as I do now after such a long break." And now we can all justify the hours we waste to girlfriends, parents, and roommates.
This, of course, brings us to the orange monster that can now be seen blasting through the streets of Southern California. In 2012, part way through building a 5-speed NA-T Lexus GS300, Hert's plans changed drastically, and he can thank his buddy Zach. "When I met him, he had a v8 swapped FC, made a bunch of horsepower, and was used for drag/street racing.  I'm pretty sure on a good day it made 6-700 rwhp.  I always poked fun at him to let me know if he ever wanted to sell it." Making such power is never easy, and thus the V8 heart of the FC went *pop*. Zach let the car sit for almost 3 years, but after seeing that Hert was selling his daily driver, a Police Interceptor, Zach saw an opportunity, and offered up his RX7 in trade. Without a hitch, Hert took the deal, and found himself with the sad, broken FC.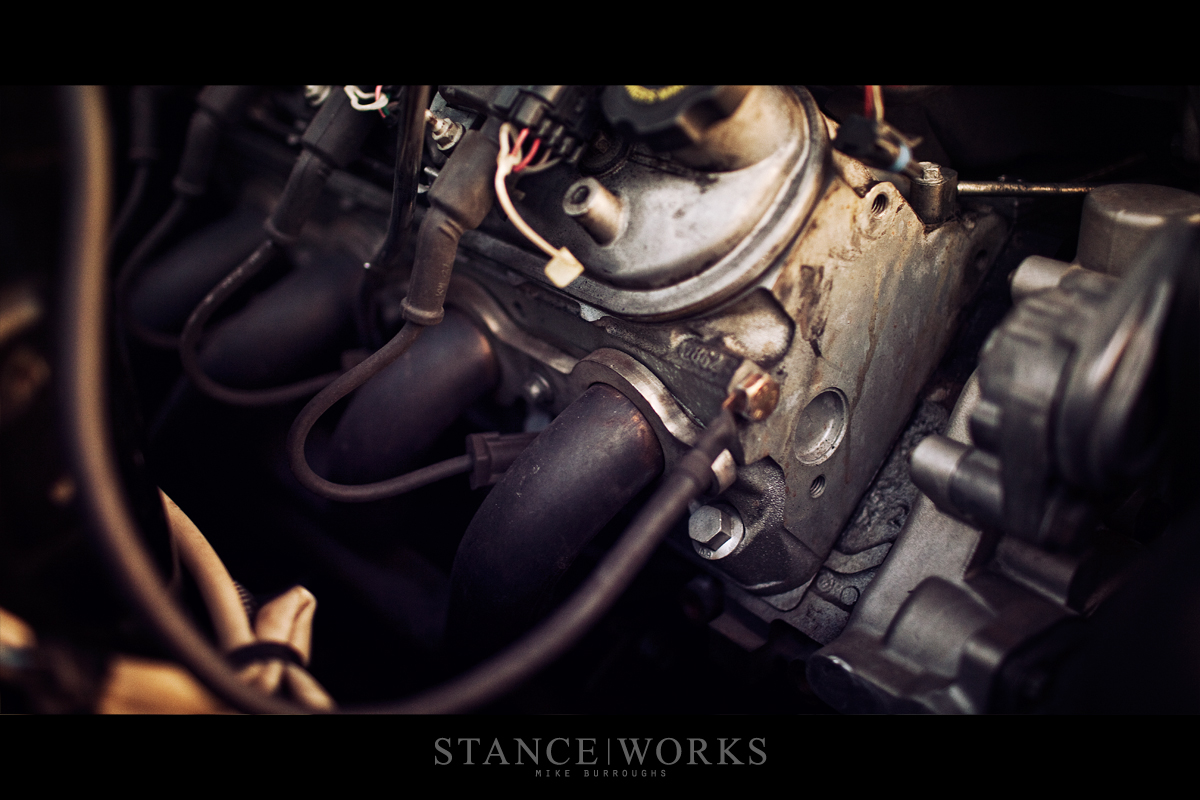 While the car had a V8 swapped in to it, along with an appropriate fuel system and an aftermarket clutch and flywheel, the car was otherwise as stock as they come. From the suspension, to the body, and even the interior – Zach's build kept the true meaning of sleeper status. The blank canvas was inviting, begging Hertrech to repurpose the car  – to put him back behind the wheel of something built to go sideways and roast tires. Hert sourced a 5.3L heart from a 2000 Chevy Silverado that found its way to a junkyard. To make everything function and to beef it up, the motor was fitted with the necessary LS accessories, a Fast 78 intake manifold, a Comp cam, and Beehive valve springs. A built T56 transmission routes the torque to a Tomei 2-way differential and out through a pair of Drive Shaft Shop 1000hp-rated axles.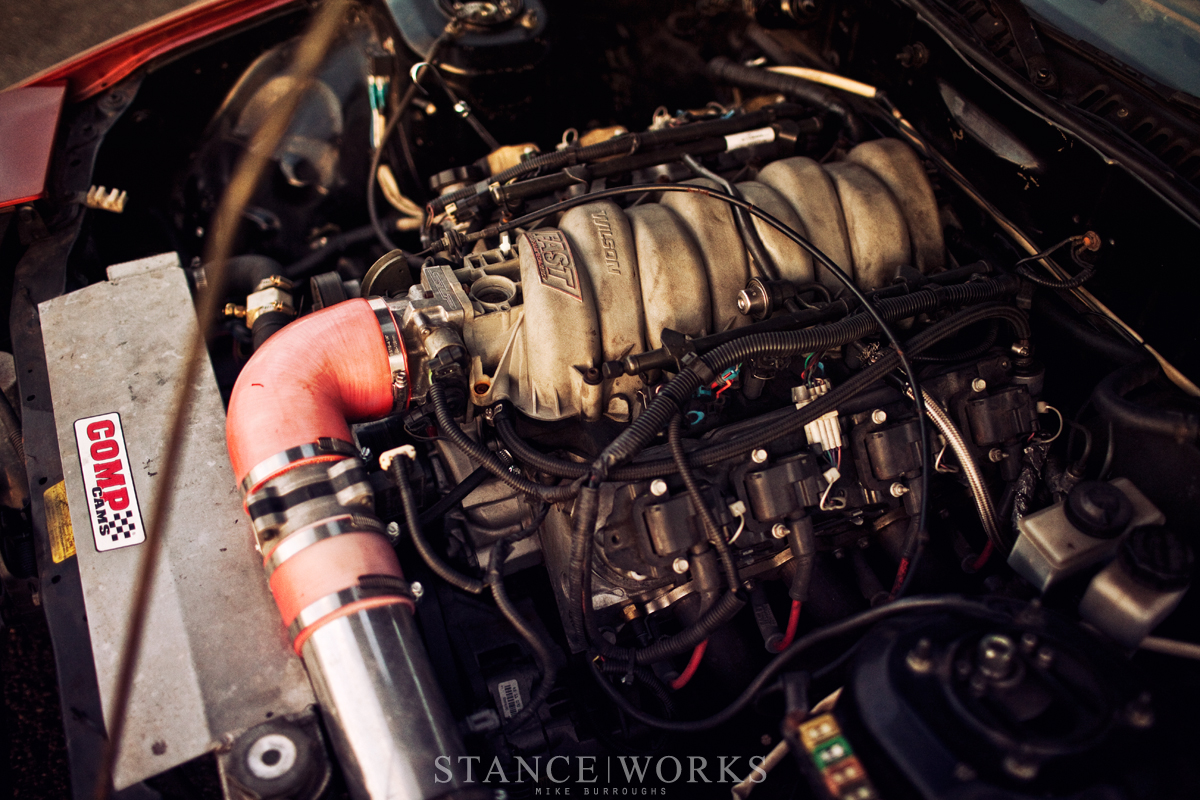 When it comes to Hert's choice of exterior styling, inspiration is the name of the game. "The biggest inspiration for my car is Haruguchi.  That dude is a style king…. 2nd to him is Justin Pawlak, I loved everything about his green car.  BN Style aero, sweet ass wheels, big ass wing.  It's pretty flawless as long as you execute it well.  I'm trying my best, but I still don't measure up to those guys!" If given the chance, Hert would have sent his money to the homeland to buy a real-deal BN kit, however, since he's one to destroy kit after kit, the freight and customs charges would drain his bank account in no time. Instead, he's gone with the VIS Racing counterpart – the B-Speed Racing kit. A Shine Auto carbon fiber hood and Origin Labs front fenders finish off the front end, while cheap "no name' overfenders bulk up the haunches of the Mazda. A Big Country Labs wing, wider than the table that served Jesus's last supper, towers over the tail of the car in the greatest love-it-or-hate-it fashion possible. Status Automotive gave the car a coating of Volvo's "Orange Flame" with extra flake for an overall in-your-face finish.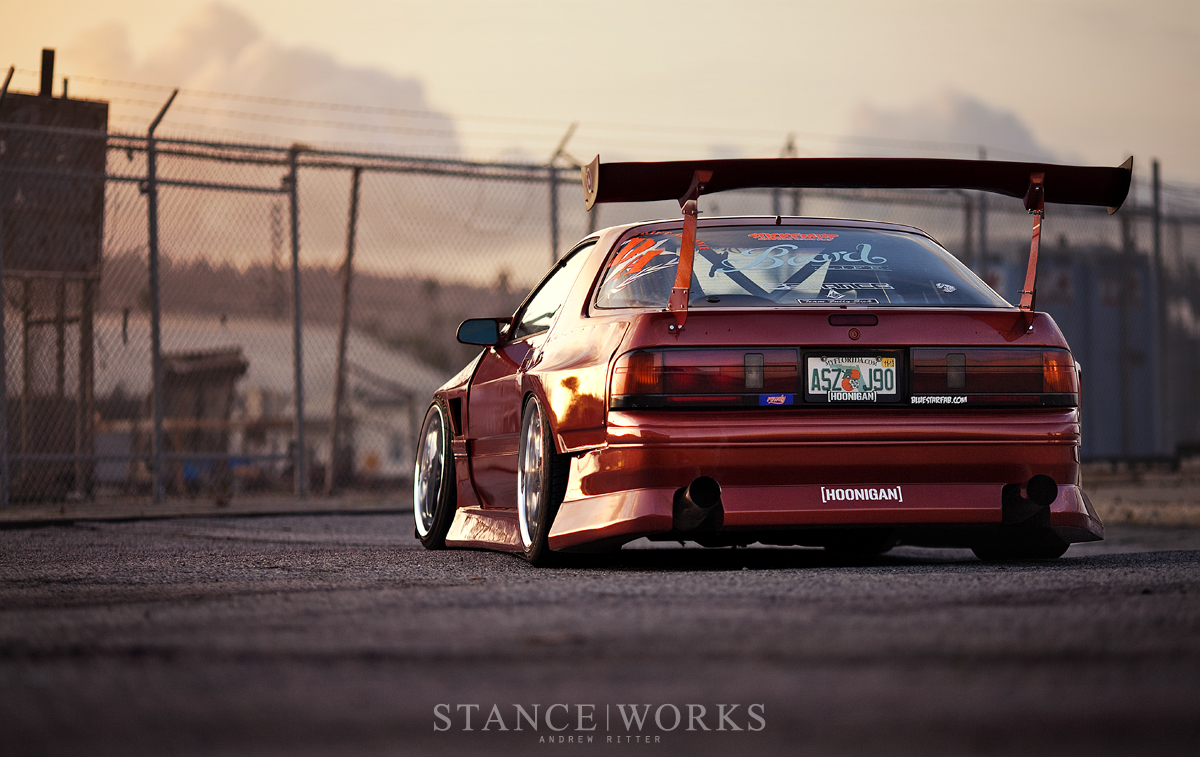 Inside the car, where Hert prefers to spend most of his time, is a Blue Star Fabrication roll cage built to Formula Drift spec. After all, if you want to run door-to-door, you're going to need a proper cage. A Grip Royal steering wheel mounted to an NRG Quick Release and Short hub allow Hert to feel the road… and get in and out of the car a bit easier. They rest in front of an S14 dashboard, opposed by a Sparco EVO2 driver's seat and a Sparco Sprint 5 for any willing passengers. But, when it comes to getting the car to perform, the most important part is arguably the suspension. Stance Pro-Comp coilovers with upgraded springs fit for the LS swap give the car its overall support. Blue Star Fabrication knuckles, rear toe links, and extended tie rod ends allow for some much needed suspension and handling adjustments, and lastly, an extensive solid bushing setup for the differential and subframes rounds out the setup.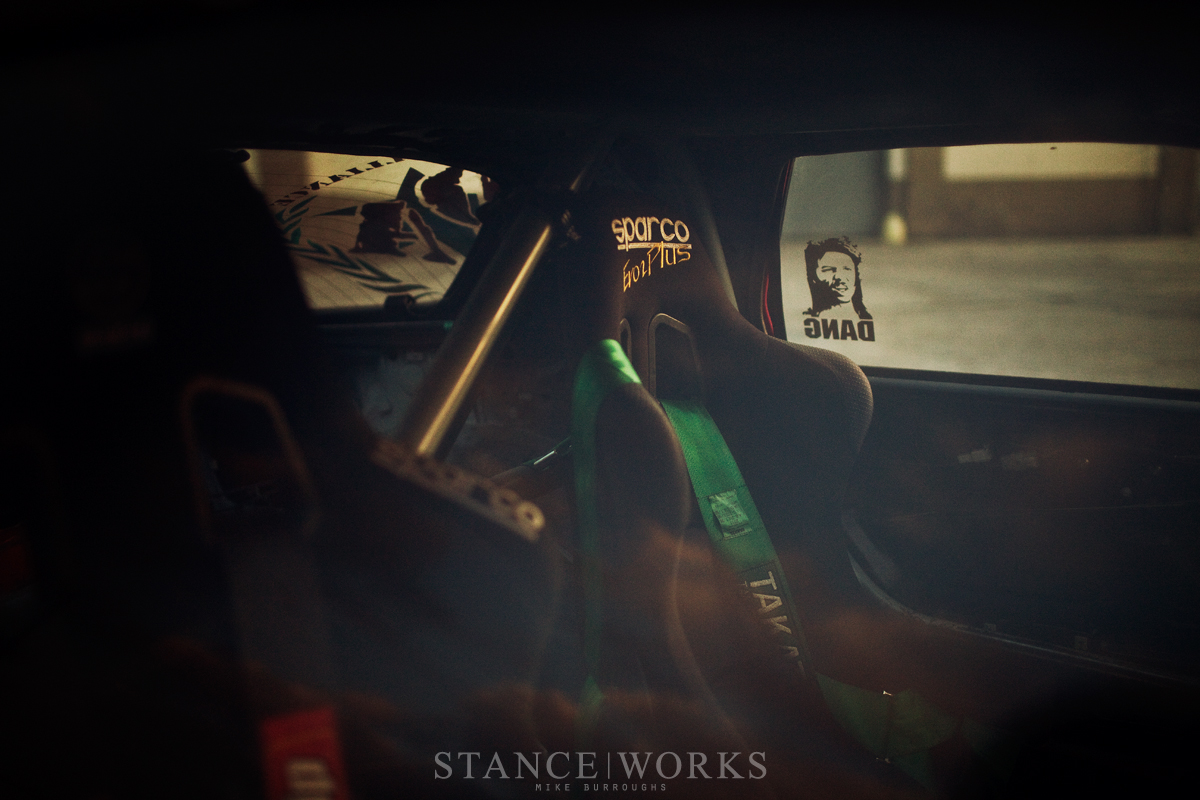 Between his day job as Hoonigan's Content & Athlete Manager, his spare time running Beard Life (that's for you, fellow bearded readers), and of course, driving the hell ouf of his RX7, Hert has been a wonderful addition fo the West Coast, having moved from his home town of Orlando, Florida, just a month ago. We can't wait to see more of his obnoxiously loud coupe blasting the streets.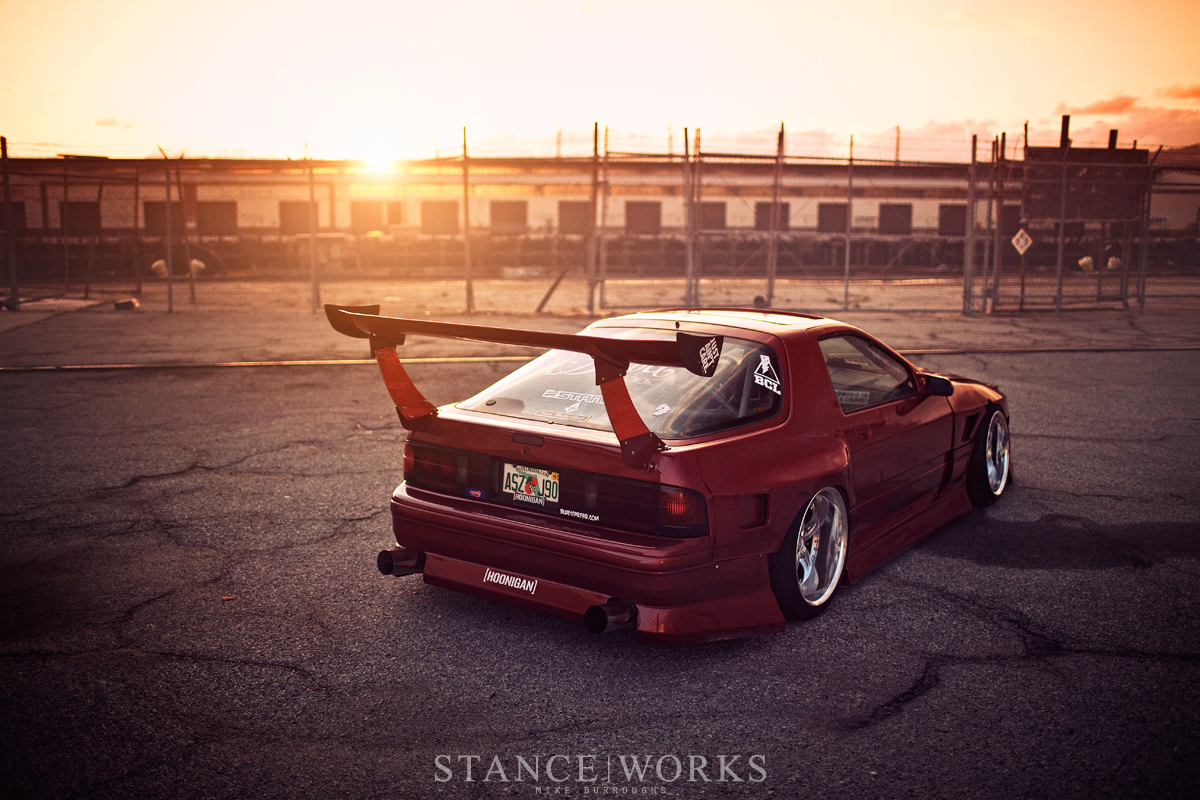 Video credit to Skylar Smith (S)Media