The design of the Mercedes Benz W108  line is one that has aged like a fine wine. As years go by, some car designs begin to look dated and they lose the charm they once had. Styling cues that followed the trends of the decade and spoke to the consumer market are replaced by the next hot thing and become less relevant. Amidst the flippant trends are designs that transcend and reach an iconic level and age with a certain elegance. These classic icons still speak to enthusiast and grab the eyes of pedestrians as they pass by. More than years later, the Mercedes Benz W108 body styles still emanate class and beauty. Their lines still evoke thoughts of yacht clubs and country clubs while the shiny brightwork is still fit for nights out on the town and black tie affairs.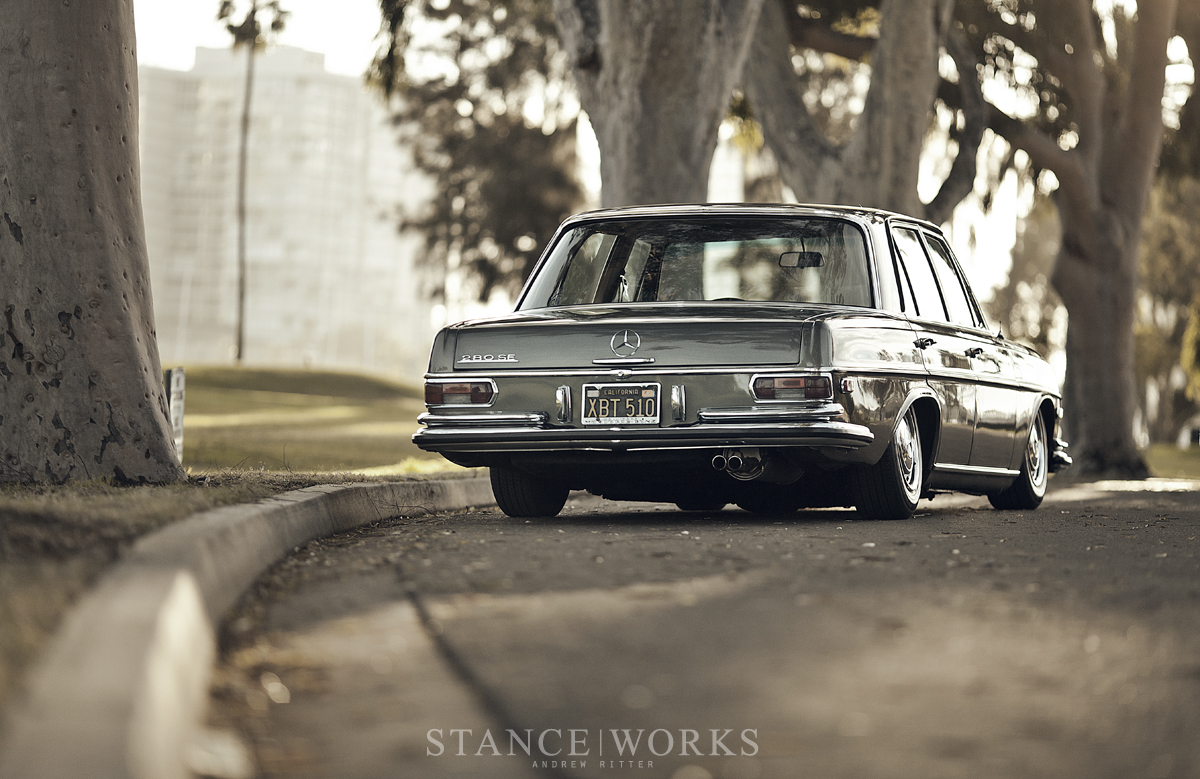 Ocean mist rose as the sun set on the marinas, and down the road, a 1968 Mercedes Benz 280SE cruised casually over the smooth pavement. It seemed fitting that we met with Ed Alderson for a photoshoot under the shade of trees lining one of San Diego's fine golf courses.  Ed's Benz had first garnered our attention on the StanceWorks forums and it left us gawking when we finally saw it in person at a local show. It has a simplicity that suggests a strong appreciation for its history and a respect for the original success of its design. Mike and I instantly knew that we had to shoot it.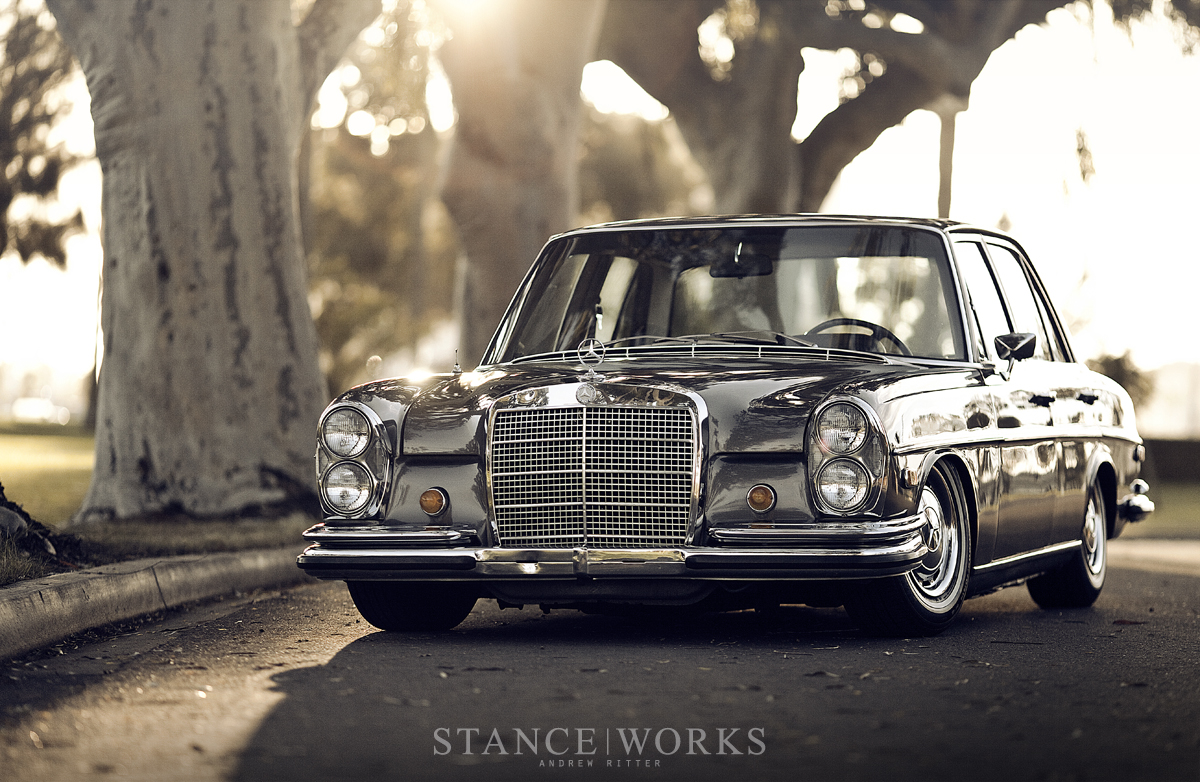 As camera shutters clicked away, we spoke with Ed about his pride and joy.  At age 14, he began noticing when a Mercedes would drive by and he was intrigued by the brand aesthetic and philosophy. As he grew older, he found himself behind the wheel of a Mercedes Benz, but he had to put it up for sale when he decided to leave his home in Melbourne, Australia, after 25 years. His job and dreams of living in America led him to pack up his things and move to California. Ed was greeted by the flourishing California car scene and was pleasantly surprised when he discovered all of the automotive treasures that awaited him.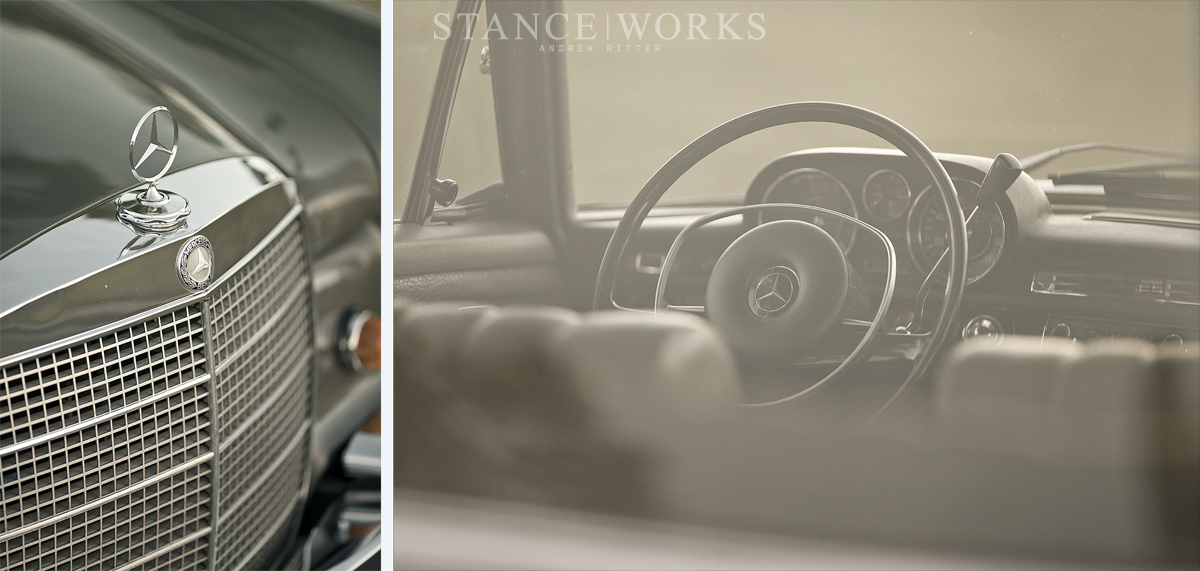 Tasked with finding a daily driver to get him around his new home state, Ed knew that he had to get behind the wheel of a Mercedes again. The search began with his sights on an E55 AMG but they were quickly diverted when a 1968 280SE appeared on Craigslist. The same model had left a permanent mark on him years ago as it drove by, and he knew that one day it would take up a spot in his garage. Eager to grasp the opportunity and not let it pass him by, Ed drove up to investigate the condition of the Craigslist find. He was greeted by the owner, the nephew of the original owner, and a Mercedes that sat in great shape. The car was originally purchased from the Mercedes Benz dealership in Hollywood and it was still adorned with the black and yellow license plate and original dealer frame. A week later, Ed was driving his new love home to begin its duty as his daily driver.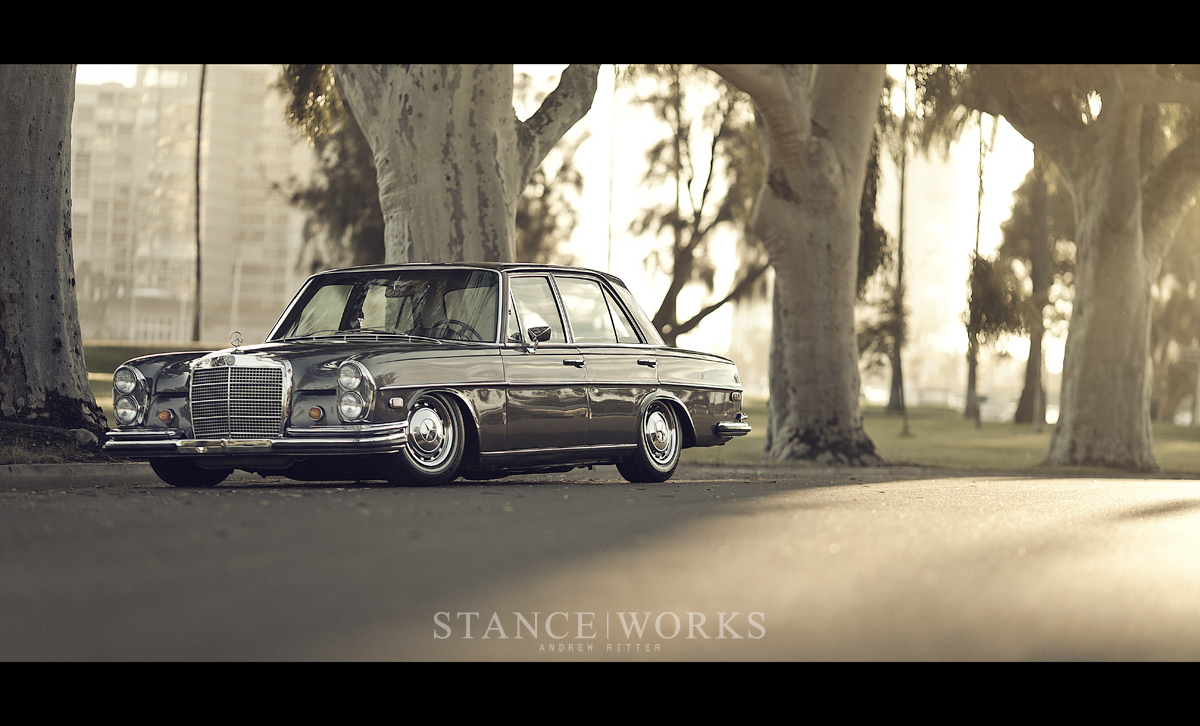 It takes a certain amount of courage to hop into a 44 year old car and rely on it as your only means of transportation, but it's been 15,000 miles and the German reliability still hasn't let him down (*knock on wood trim*).  When dealing with classics, maintenance becomes paramount, as they require a little more love and nurturing compared to their contemporary counterparts. Replacing aged trim and bushings, refreshing the brakes, repairing tired power windows, and addressing the old fuel lines have all kept this classic car out on the streets, offering the same amenities that it had while cruising the streets of Hollywood in the 70s.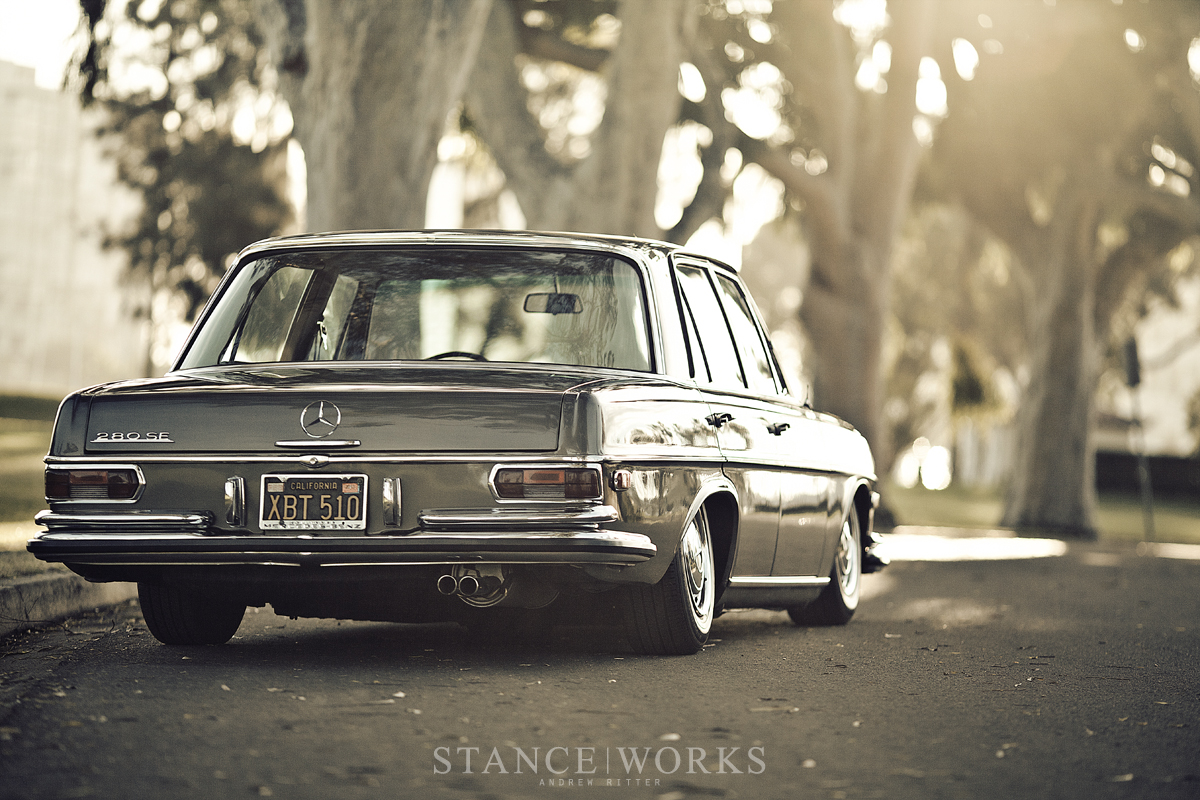 As a designer, Ed has a deep appreciation for the iconic lines and styling cues of the W108. He has been careful to preserve the original aesthetic; only making subtle changes where necessary. One thing he knew he had to do was address the stance. The W108 succeeded the W111 and with the update came a lower body line and a ride height that sat 60mm lower than its  predecessor. The designers sought to give the W108 a lower physique and Ed ran with their  intentions. He visited SoCal Suspension to install his airride and hunker the body lines closer to the ground. With further help from Dan Davis at Five Star Automotive, he was able to get the car a bit lower and sitting just right. The grounded height accents nicely against the otherwise subtle demeanor of the car. It garners attention without drawing away from the power behind the original design of the car. Ed has done a great job improving on an already beautiful automobile and it's a good lesson in simplicity.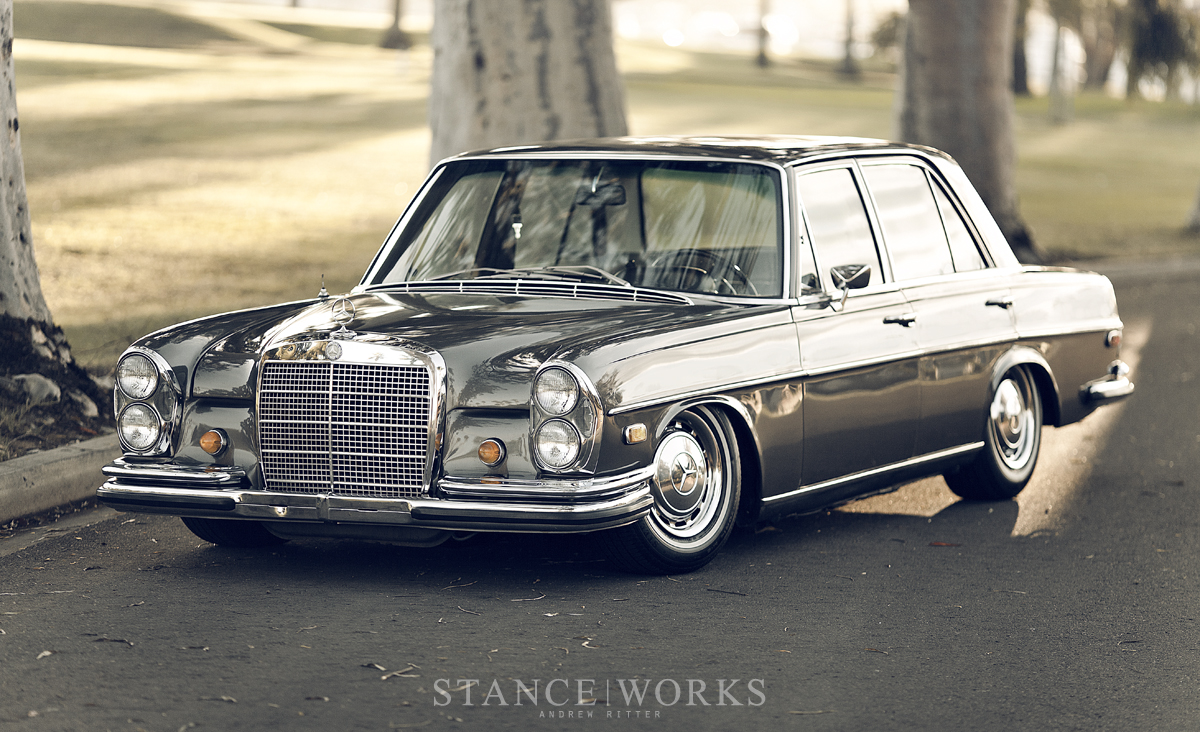 The W108 has lines and beauty that have traveled through the decades with a finesse that only select cars can. Ed has done his part in keeping another fine example of automotive history on today's roads. With a subtle contemporary twist, he has maintained the elegance of an iconic model in the Mercedes pedigree. At StanceWorks, we enjoy seeing owners put love and care into preserving these historical cars and allowing them to continue their lives out on the streets where they belong. Ed's 1968 Mercedes Benz 280SE lives on, projecting the same luxury and grace that it did 44 years ago, and we're sure it will for many more years to come.