The World Wide Web is constantly advancing with each passing day and it has had a massive effect on the way the automotive world interacts. The technological advancements have drastically changed the exposure that cars receive as they are shared throughout forum threads, blogs, and fan pages. Where cars were once unveiled at the long-awaited shows each year, we now enjoy the instant gratification that the internet offers. While this often means that things get lost in a sea of endless content, certain cars grab the world's attention. Jaycee's bagged Subaru WRX is a car that has made a an impressive and entirely unexpected splash. As soon as photos from his first official photo shoot found their way onto the web, they were being passed through the various social networks.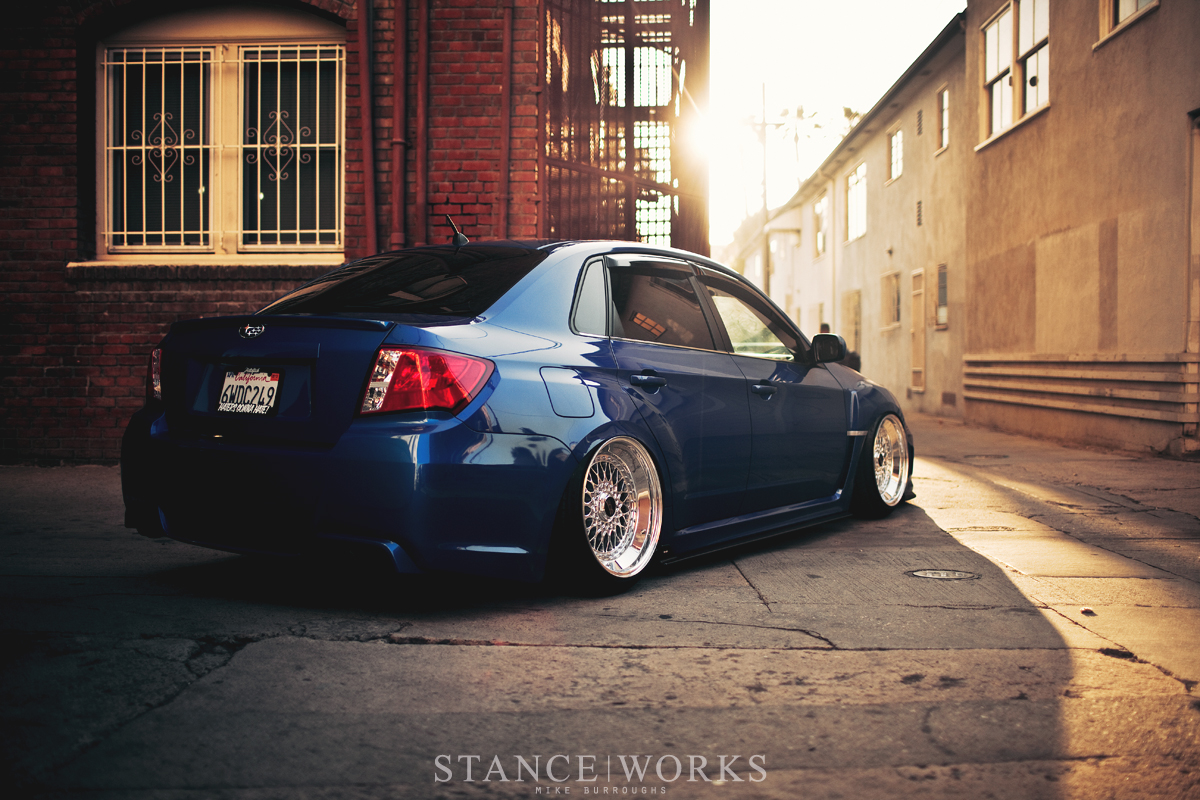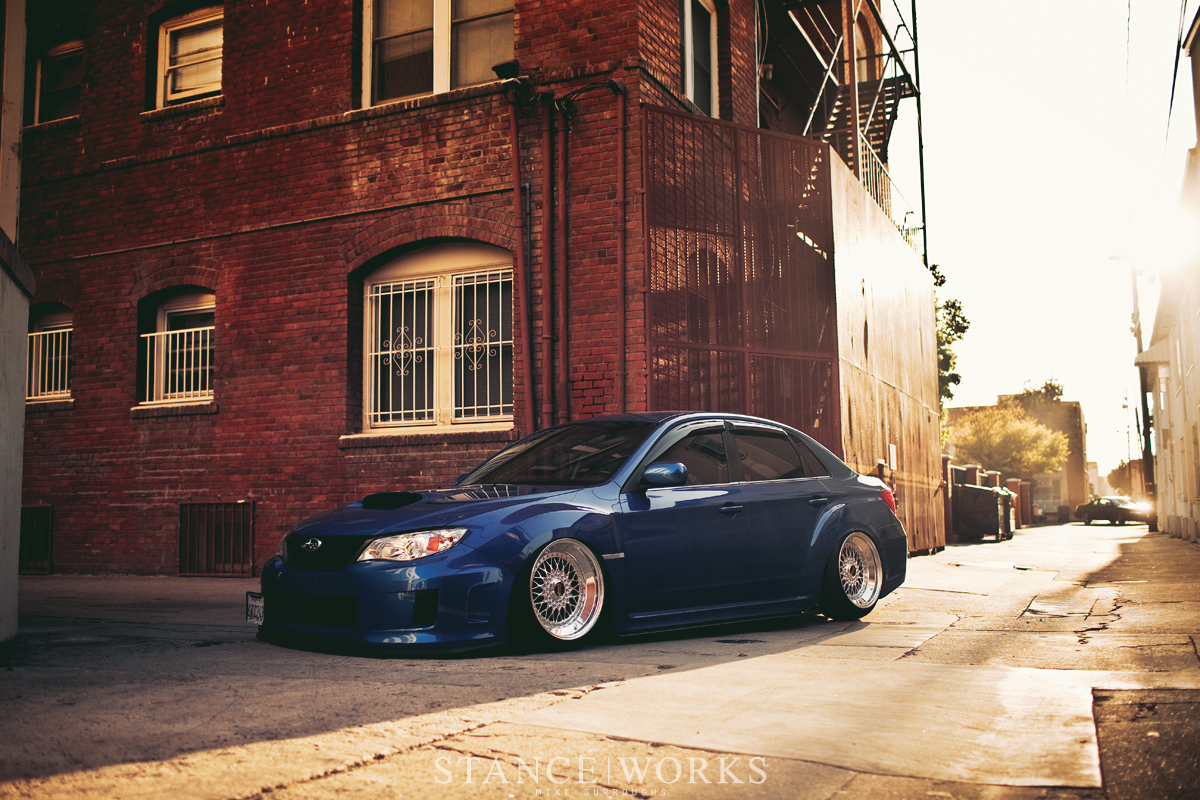 Numerous re-blogs, shares, likes, and comments were tallied as the automotive world took notice of the stunning Subaru that had seemingly emerged out of nowhere. There are cars that have something special that ignites the interest of the car community and gets people talking. It's hard to pinpoint exactly what it is, but Jaycee's stunning blue Subaru evokes a moment of reverence when you first see it sitting atop the flawlessly polished BBS RSs. The elements of the car all work together in unison to deliver a feeling of excitement for any enthusiast and that's exactly what we're after. Jaycee had made an impact on the internet car world and we were determined to get a hold of him.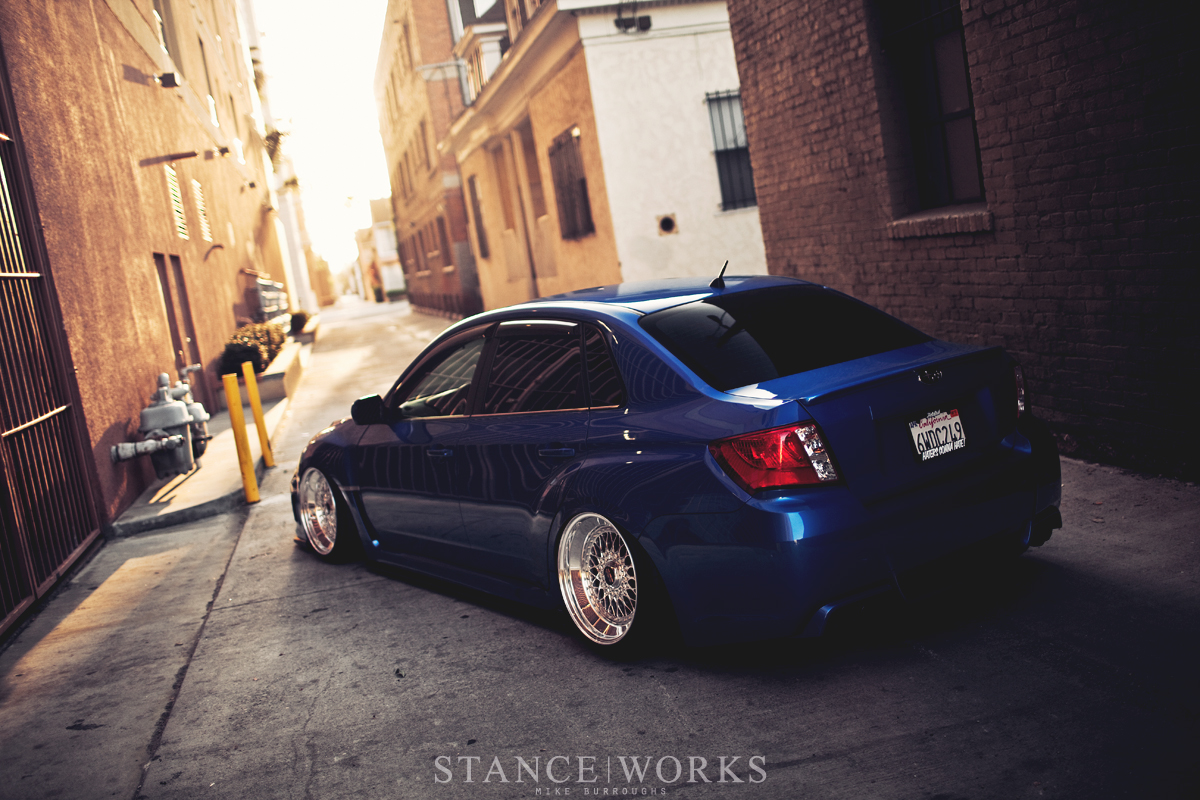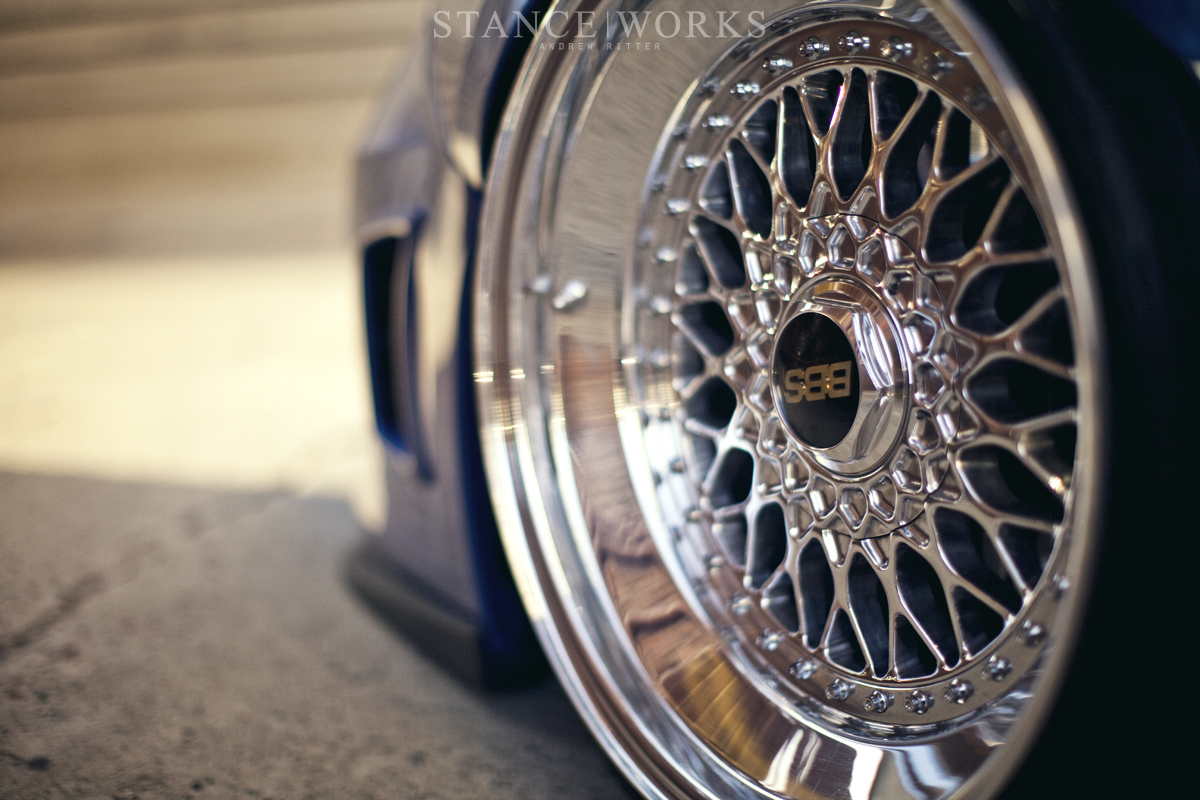 Fortunately for us, the internet has also brought the car community together and opened up a broad arena for discussion and communication. It was soon after we shared his WRX on our Facebook page that Jaycee reached out to us. As a longtime StanceWorks fan, he was excited to hear that we were so interested in his car and we were excited to have found the owner of the mysterious car that had suddenly appeared in the spotlight. Seeing it in person as we prepared for the photo shoot reaffirmed our decision. This car has something behind its "World Rally Blue" paint that simply strikes the right chord. Right off the showroom floor, the car began undergoing the tweaks and changes that we all eagerly plan as soon as a new project car is acquired. From the STI CS Type 1 front lip up front to the custom midpipe and Nameless Performance axle-back, Jaycee was determined to make the 2012 Subaru his own. Interior details were added, badges were removed, and tweaks were made to exterior accents, giving the car a subtle refinement over the OEM offering.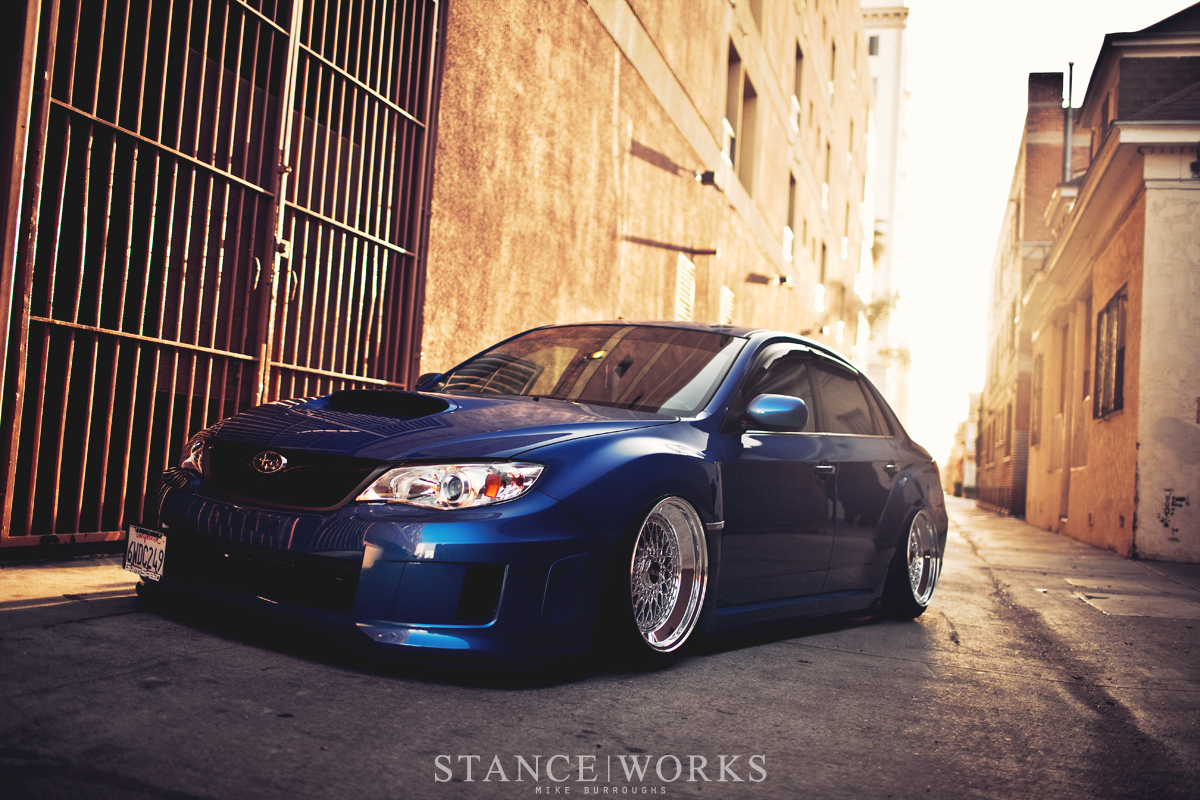 The less-than-subtle addition that is sure to capture attention and possibly drop your jaw is the set of polished BBS RSs that sit just below the arch of the fenders. I'm sure none of us can count the number of times that we've seen BBS RSs on a modified car, but this set is one that stands out from the rest. Featuring VR Wheels's newly released slant lips, these 17 inch BBS RSs have been stepped up to 18×10 all around. The 18-inch BBS RS is a long-sought-after "unicorn" for wheel enthusiasts, often relegated only to dreams. The 18-inch RS existed in four rare models, the RS285, RS286, RS289, and RS290. VR Wheels has been a go to source for wheel enthusiasts in search of old iconic wheels and they recently extended their offerings with lips and barrels designed to fit seamlessly with your standard 17-inch BBS RS centers. The slanted lips step up your run-of-the-mill 17-inch BBS into the 18-inch realm that was once only offered by the rare BBS models. Jaycee had always dreamed of one day owning classic BBS RSs, but it wasn't until VR Wheels's announced their new slant lips that he was able to build a set large enough to fit the larger body of his modern-day car. After 7 months of anticipation, the custom lips he had ordered arrived at his doorstep and it was time for him to finally assemble and install his dream set of wheels.
With the car world growing larger and larger and technology advancing with each new month, the manufacturers and vendors in our community constantly seek to offer the parts that our readers dream of. Things that were once deemed impossible 5 years ago are now a reality for car enthusiasts. Part selections have grown, product offerings have diversified, and more makes and models are being addressed by aftermarket companies. As wheel enthusiasts themselves, VR Wheels sought to answer the pleas for 18-inch RSs. Wheels that were once thought of as untouchable are now readily available to the public. The iconic BBS mesh centers can now fill the larger wheel wells of modern cars, sandwiched between the beautiful shine of new slant lips. While a few BBS purists are sure to turn white in the face over the loss of prestige that comes with owning an original set of "Eighteens," VR has stepped up to the plate to replace the previously less-than-appetizing offerings to upsize smaller RSs – a bitter-sweet solution to the purists and a godsend to the rest of the crowd. Giant bolt flanges and odd steps are a thing of the past, and these new rim halves are styled perfectly off of the original BBS parts. Good move, VR – the scene has needed it.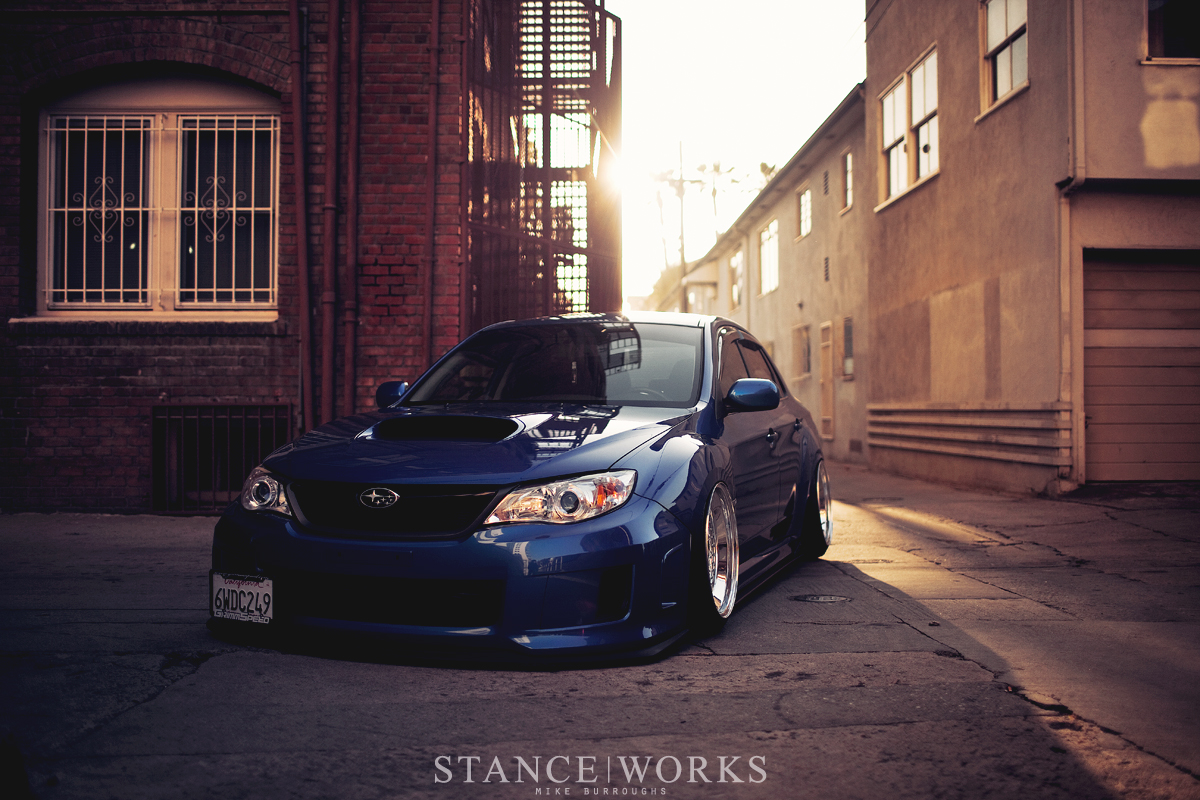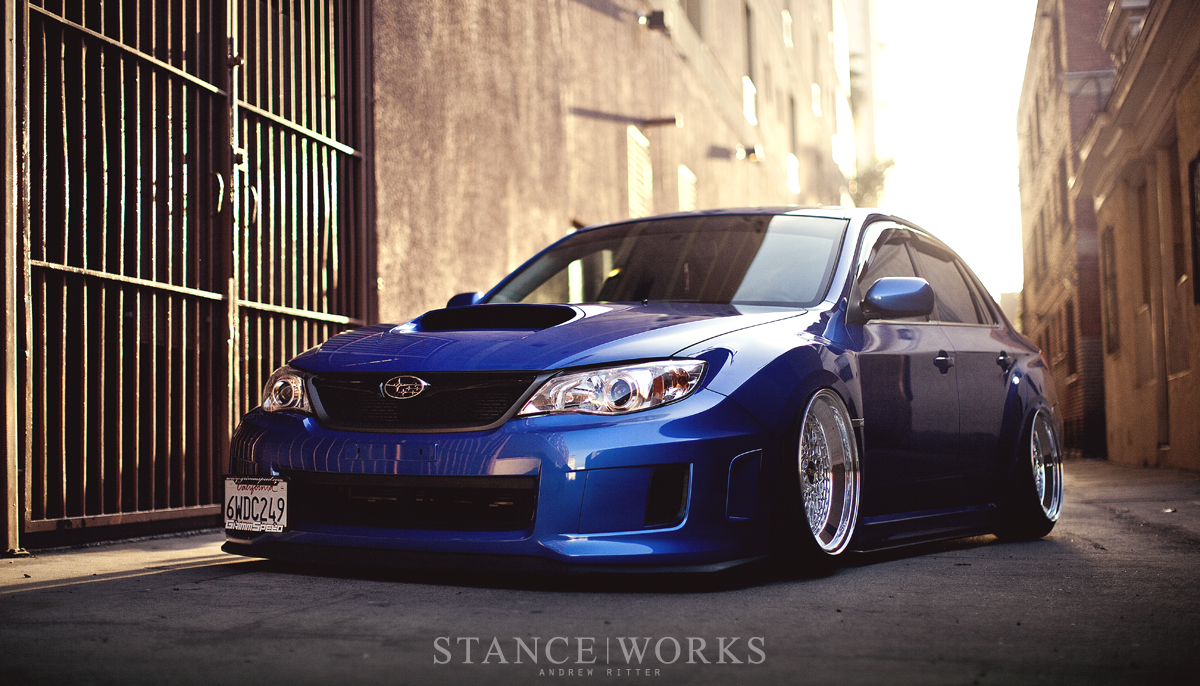 Underneath the car is a set of Air Lift air struts, which allow the arches to tuck between the wheel lips and tire. The fully-threaded strut bodies are paired with 30-level damping adjustable struts and pillowball-mount camber plates to keep the "rally bred" heritage of the car in tact when it's time to drive. Air Lift Autopilot V2 management acts as the system's brain to keep the car level and at a height Jaycee prefers. Or higher at the press of a button. In all, it's a package that accentuates the impact of the deep blue sedan, which still remains an inexplicable neck-breaker in a perfect example and execution of true style.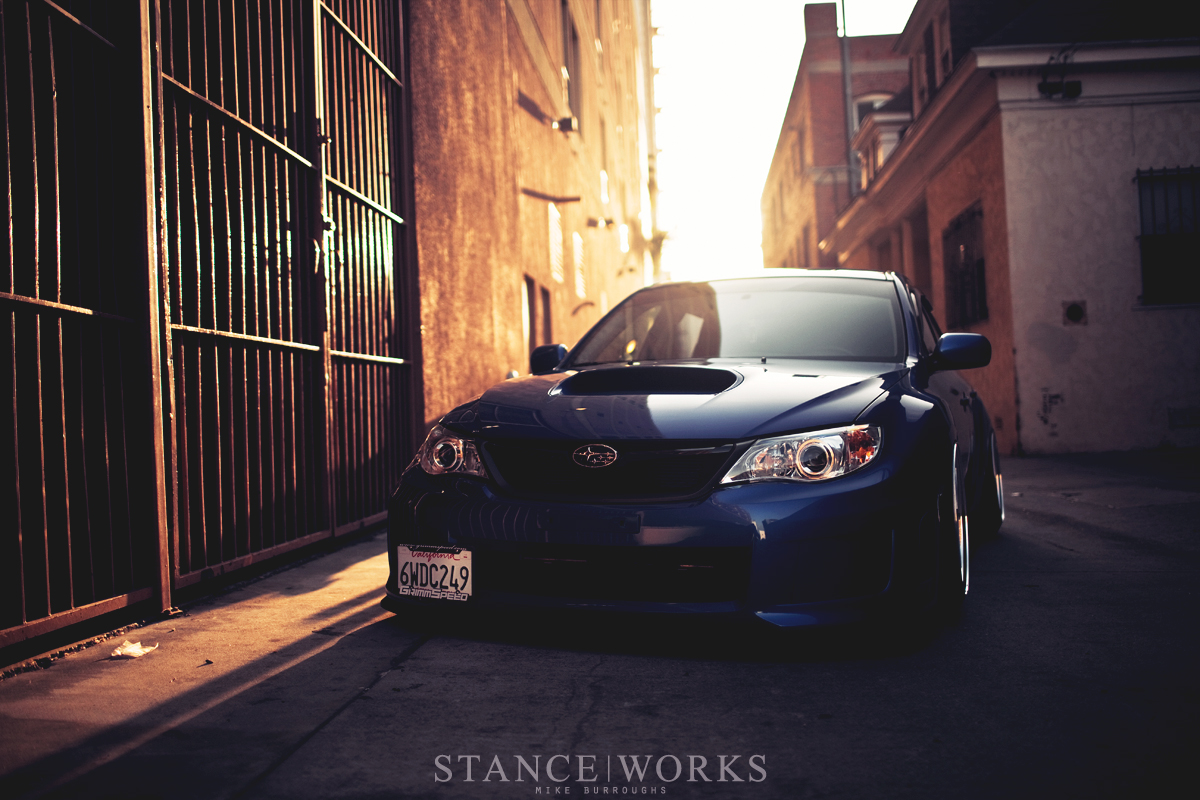 The car world and internet will continue on this path of growth and evolution. Companies will continue advancing the community forward and car builders will continue pushing the boundaries. It's these advancements that keep things interesting and continuing delivering cars that make you stop and think "wow" if even just for a second. That continued excitement is something that keeps me coming back for more and I'm anxious to see what the future has in store. Jaycee's WRX embodies the joy that can be found as new parts and new cars come to market. While BBS RSs have become so popular that they may not excite us as much as they once did, the refreshment that the new slant lips offer is one that has us excited yet again. In turn, the excitement encourages us to look towards the horizon and search for what's next. It's a cycle that keeps us all inspired here at StanceWorks, and Jaycee's WRX is one of those cars that keeps our gears turning.