Rivalries in the automotive world are unquestionably half the fun. From Ford vs. Chevy and BMW vs. Mercedes, to pistons vs. rotors and RWD vs. AWD, they each give us a side to support with our undying faith. However, for us car-guys-gone-geek, one of the greatest rivalries of all is Forza Motorsport vs. Gran Turismo. In just a couple of months, the Forza experience will make its way from the track to the streets in the form of Forza Horizon, an attempt to redefine the automotive gaming experience entirely, and we were lucky enough for an early preview and test session.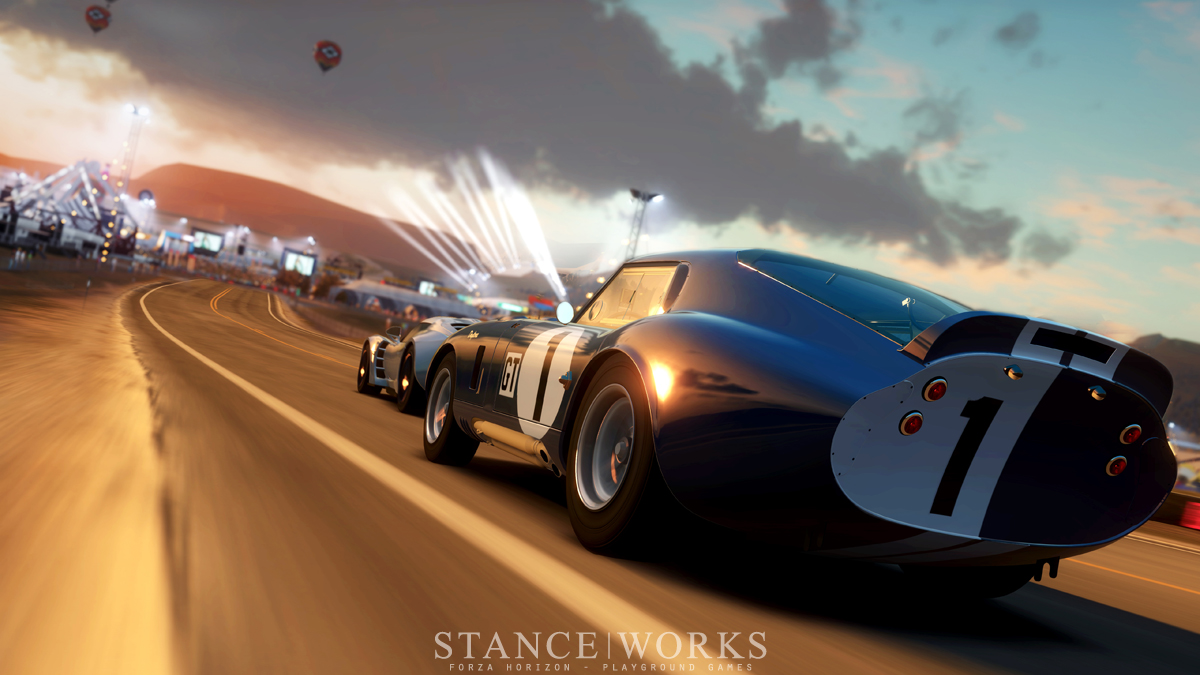 The Forza franchise, known amongst XBOX owners as the ultimate in racing simulation, has been delivering a one-of-a-kind racing experience to users for the better part of a decade. Known for its precision in physics and replication of cars in all aspects, it's the go-to game for car guys looking for something more than arcade gameplay. Cars handle and drive like their real life counterparts, and are modifiable to stay competitive in a series of races on real tracks throughout the world. The goal of Forza Horizon is to take the true-to-life mechanics from the Forza Motorsport world, and unleash it all on the streets of Colorado.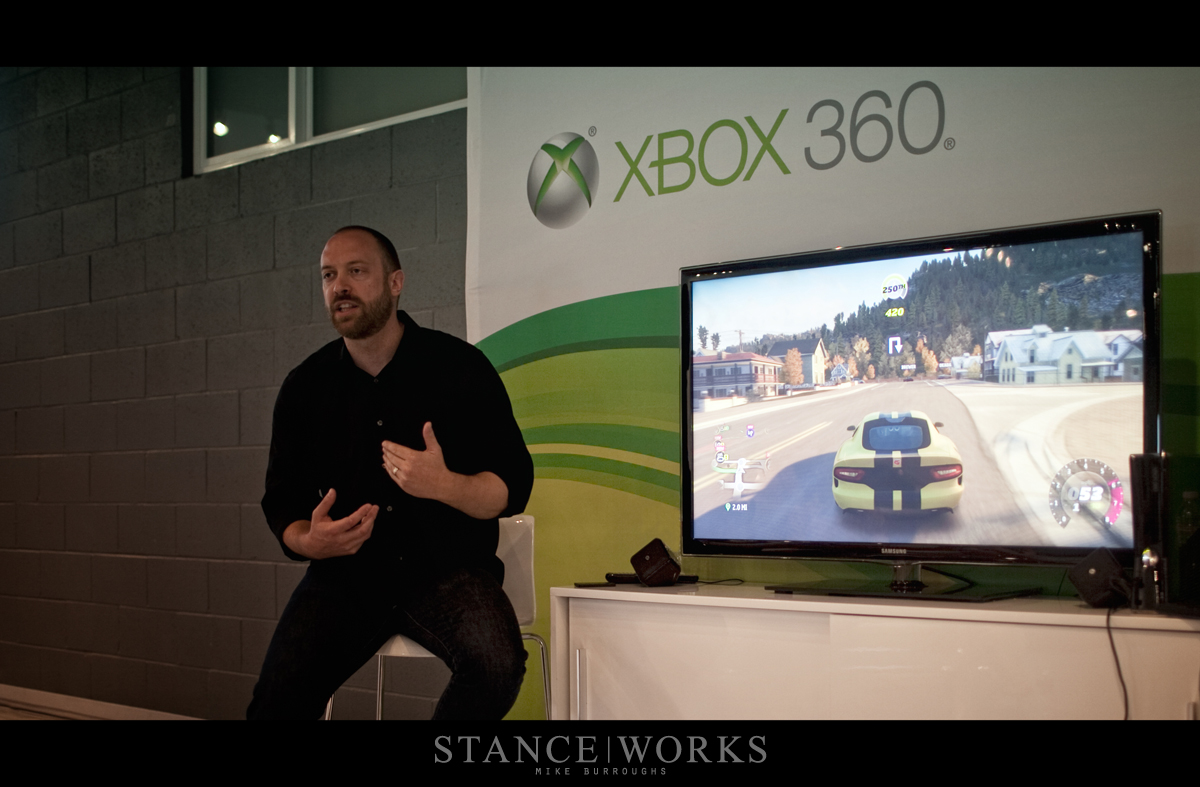 We were invited with a handful of other journalists to a small showroom in downtown Los Angeles where creative director Dan Greenwalt gave us a walkthrough of the Forza Horizon world. An entirely open and expansive Colorado environment lets users explore everything from curvy mountain back roads and gravel trails, to downtown city streets and stretches of interstate. All of this is located around the Horizon Festival, Forza's take on an automotive-based festival that feels akin to Coachella. Fireworks, lights, and stages ignite the night sky with color, giving the festival a true sense of size and realism. Horizon's Colorado landscape feels truly alive as the sun rises and falls giving the player the experiences of high-noon racing through the dirt, golden-hour drifts through the canyons, and midnight street racing through the back country roads. Life and activity are constantly submersing the player into the Horizon world; the game is focused around today's automotive lifestyle.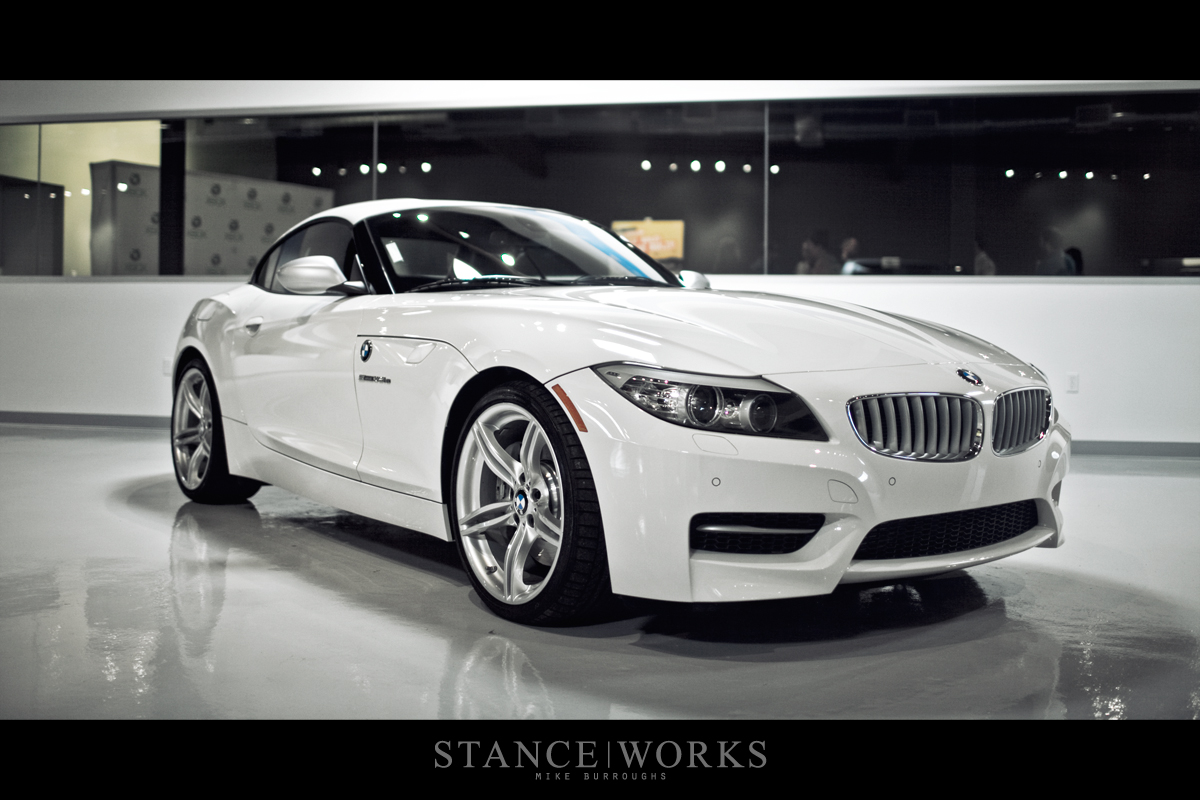 After the presentation, which took place amongst supercars such as the Mercedes SLS, McLaren MP4-12C, and R8 Spyder, we were finally allowed to get hands-on with the game. After an introductory sprint in a Dodge Viper, we were thrown into a VW Corrado VR6, a starter-level car that made us feel as though Forza was truly paying attention to their demographic. The experience was perfectly familiar; I turned off ABS, stability control, traction control, and set the transmission to manual. There I was, back in the driver's seat I've spent so much time in from previous Forza games. Power sliding turns and tossing the car around felt real, yet a new sense of excitement was present. We're not on a race track anymore.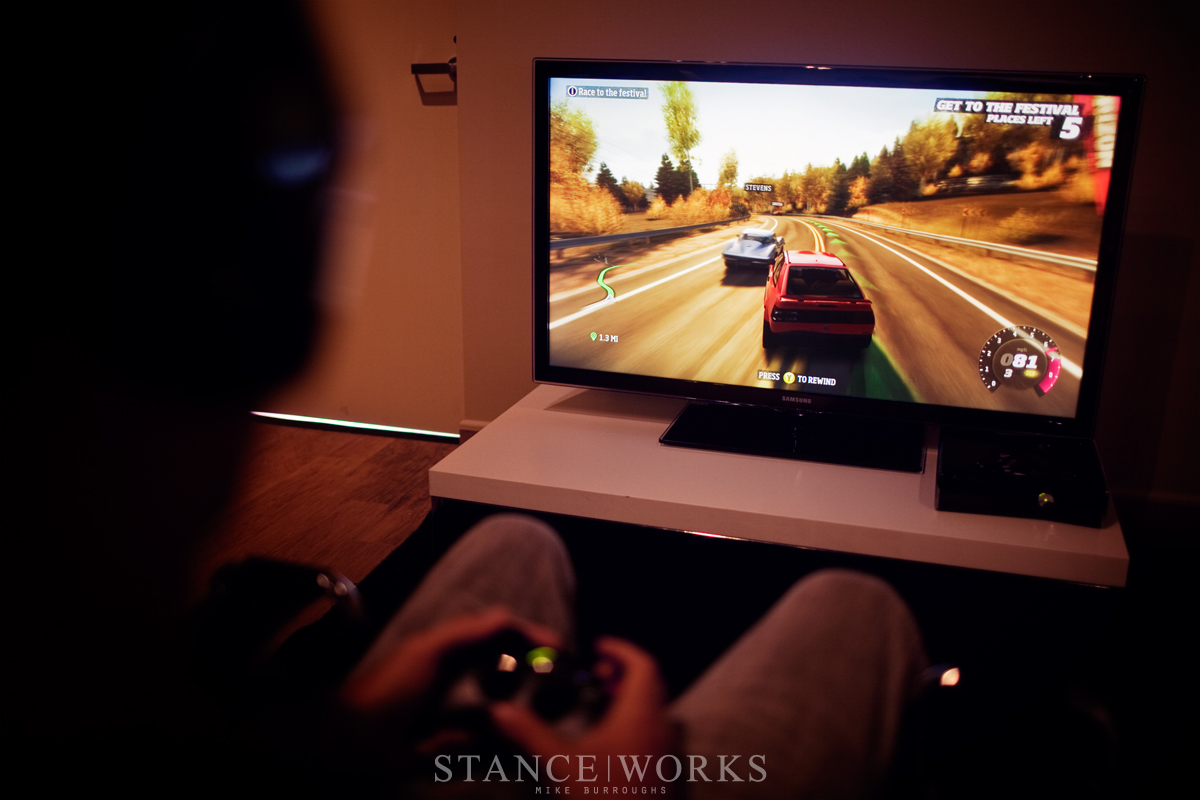 As a player of all four previous games, I was truly skeptical of what Horizon would do to the Forza name. I find myself turned off rather quickly by any racing game that doesn't exude realistic driving mechanics. Forza has held my attention for years, and while I'd love to race about in traffic and take to the streets, would Horizon really hold up? After all, it's a game meant more for the masses, something anyone can pick up and play. I know I wasn't alone in these feelings, but Forza enthusiasts, fear not! You're in for a real treat.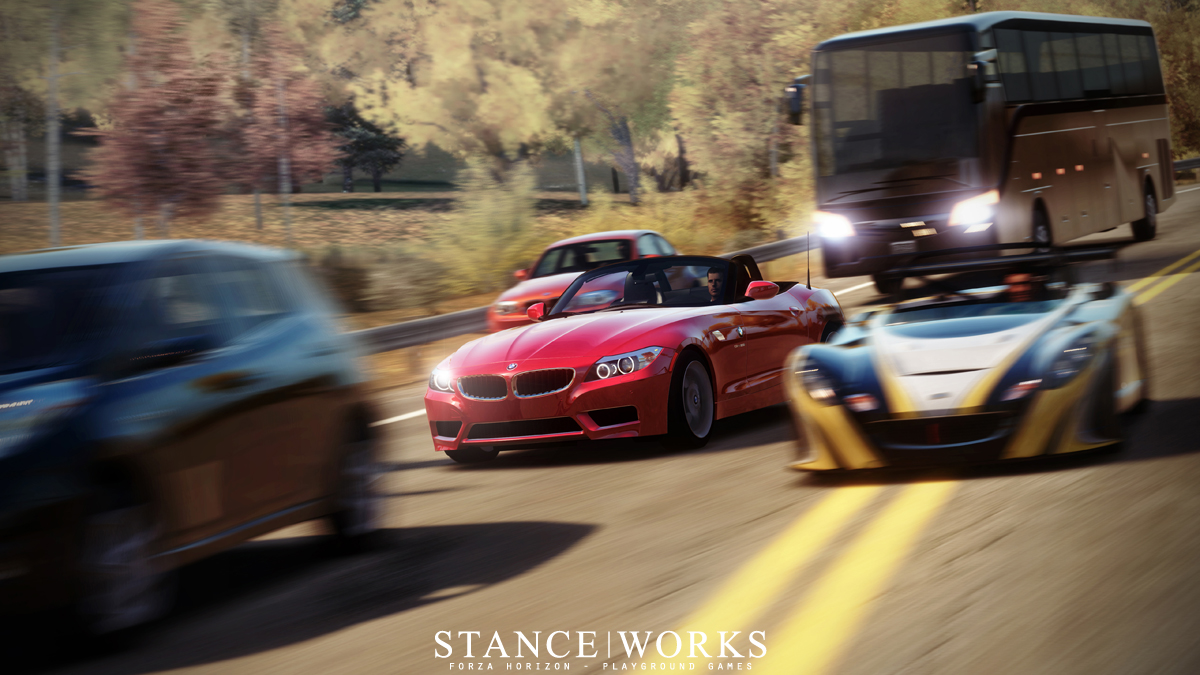 While the game has settings to allow the game to mimic most simple-to-play arcade racing classics, diehard fans will find that their favorite Forza machines will perform just as they always have. That's not to say your experience won't be absolutely action-packed, however. While we were only given about an hour with the game, I found myself in a race against an airplane through the mountains of Boulder. As I made my way down the hill, drifting through every turn (all that practice on Fujimi Kaido paid off!), the airplane kept up. It was an adrenaline rush as I crossed the finish line with less than a second to spare; my sense of satisfaction was unmatched. Forza Horizon opens up its racing simulation into a world full of top-gear style challenges, races, and hooning. Don't worry, there's still some serious racing action in there too.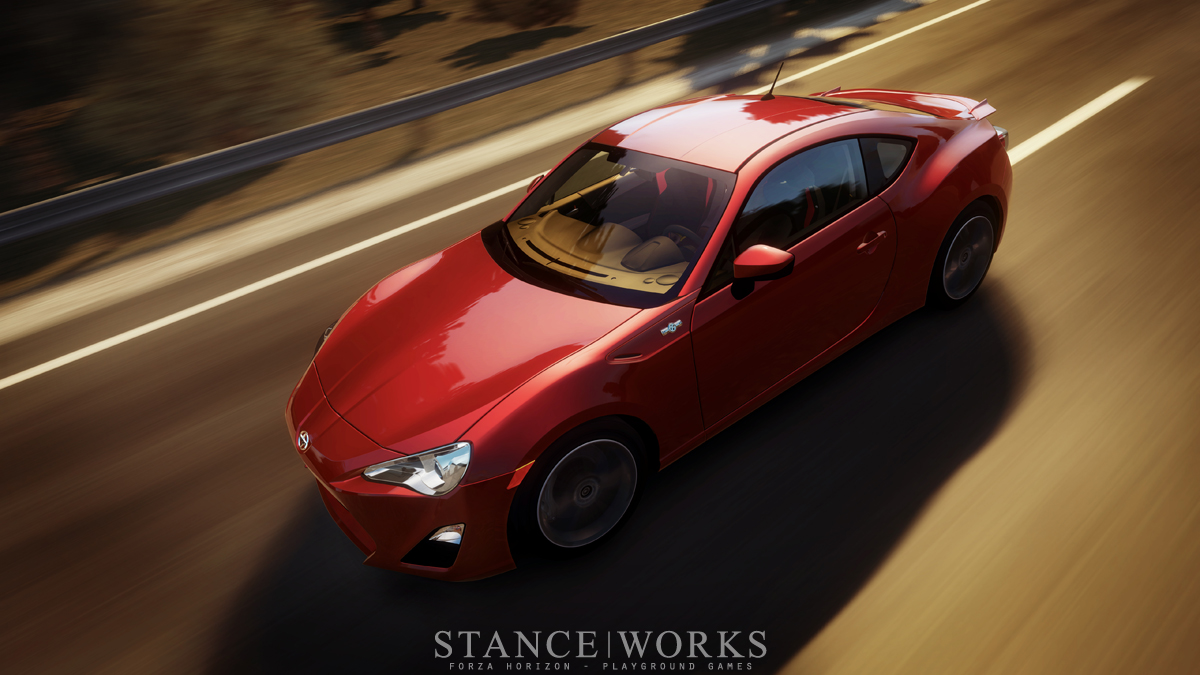 Immediately after my win against the Mustang fighter, I found myself battling it out against a Lancia Delta, STis, and even a Ford Raptor. However, unlike any Forza game before, we were kicking up dirt and bushes through the backwoods of Colorado. The realism of the cars on the new track types felt perfect and I welcomed it, an entirely new challenge in the Forza experience. Back at the Horizon Festival, users can modify car their cars exactly as they always have, with an assortment of aftermarket parts, and the infamous Forza paint booth. Working your way through races earns you new wrist bands for the Horizon Festival, unlocking new challenges, races, and overall antics.
The game hits every point it needs to. Classic Forza driving mechanics, a massive environment to explore, gameplay that perfectly blends arcade fun with the Forza realm, an outstanding list of cars, and even a kick-ass soundtrack from artists such as the Black Keys and Chromeo (and many more!) all bring Forza Horizon into relevance. But as soon as it had started, it was over; our hour was up. We're eager for more, and the teams at Turn 10 and Playground games have lived up to expectations. For any fans of the Forza franchise, you won't be let down. For anyone new to the series, if you enjoy cars and video games together, this game is for you, whether you want something simple to play, or if you want to know what it's really like to blast down the highway in a Ford GT, this game is for you. In fact, this is a must buy.