I found myself tracing the brand new Kugelfischer injection lines as they hovered over the infamous red Alpina velocity stacks. Engines like these don't come around often; their parts are rare; their components, valuable. Each nut and bolt is torqued to specs chosen decades ago, proven correct by an era of winning races, and ensured by time. To encounter an engine like this is, in the simplest of terms, truly special to any BMW fanatic. Even those with nothing more than a cultured taste for the history of performance as a whole will find some sort of intrinsic value when met with such an instrument of racing.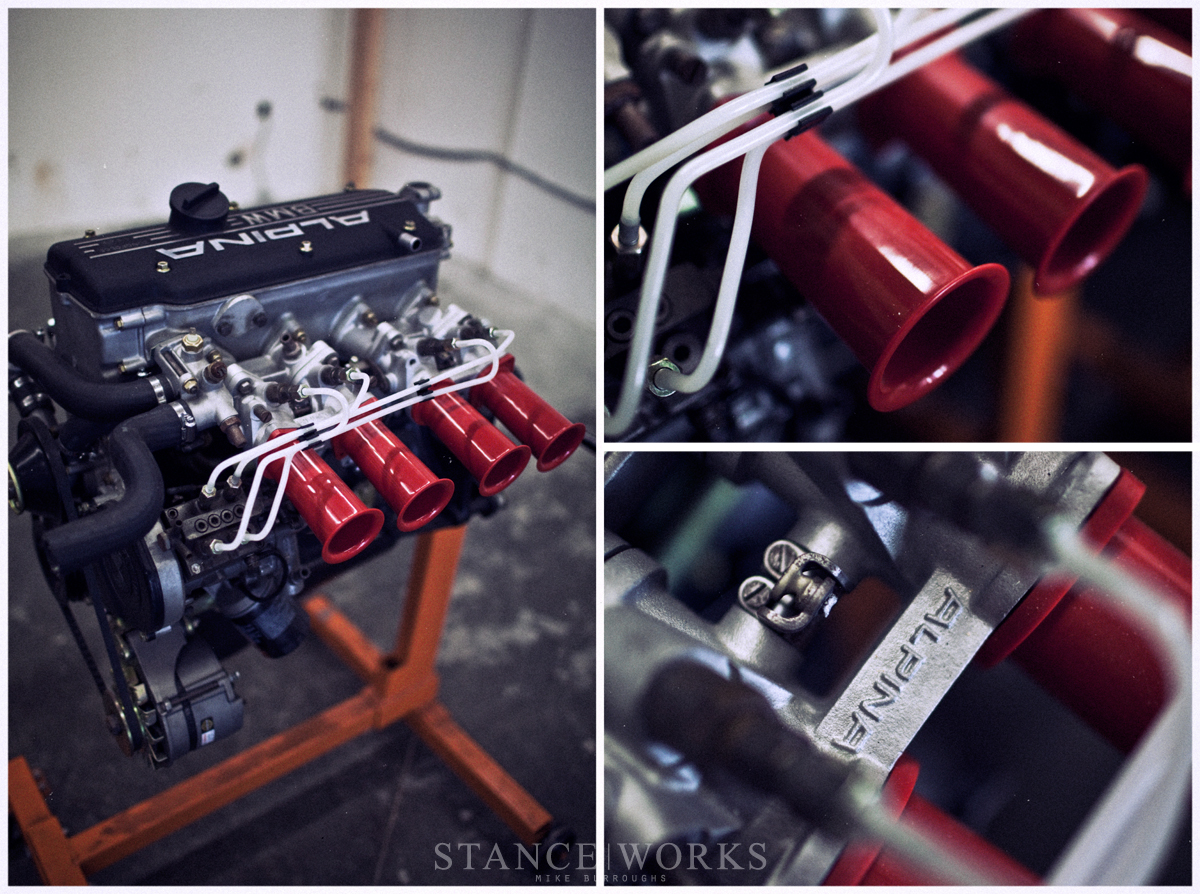 Yet my attention was only held for a moment. There I was, swimming in a sea of BMW history made up of cars I had never seen in person and engines I saved photos of every time I came across them on the internet… Which begs the question: where was I, and how did I find myself there?
As Cody drove my E9 down PCH on his way home from work late one evening, a silver ACS widebody 2002 passed going the other direction, only to pull a u-turn and pull up beside Cody at the next light. The driver asked Cody to pull over at the next gas station, and Cody obliged, both of them eager to admire each others' car.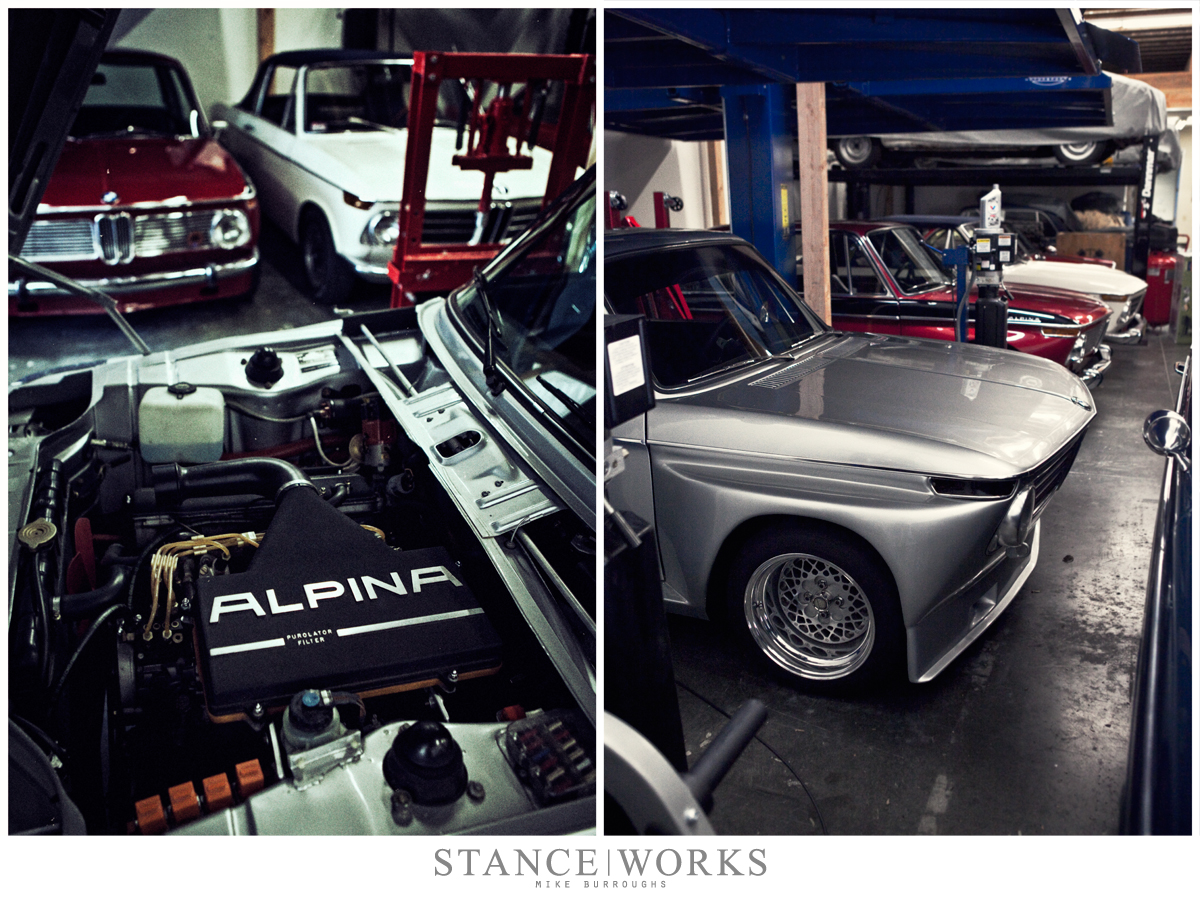 The 2002 was magnificent. A full AC-Schnitzer widebody kit stuffed astoundingly wide BBS E30s under the arches. Under the hood was an M30; the "big six" crammed in, taking up every spare millimeter the engine bay had to offer. Cody was sending pictures to my phone, exclaiming how I had to see this car.
It was then that the driver of the 2002 revealed that the car was only one part a rather large and impressive collection. The driver was simply the private mechanic to a slew of BMWs stored secretly in a warehouse somewhere in Southern California. He insisted we come by the following afternoon and check out what he and his boss did to keep busy on the weekends.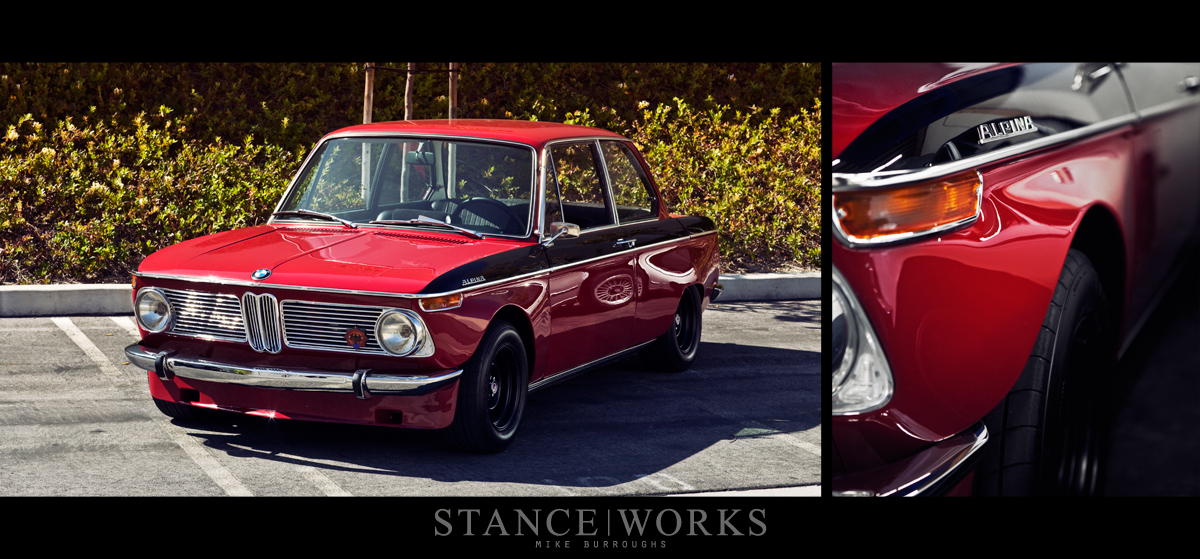 As Cody and I pulled in to the parking lot, it was as though we had arrived just in time for the monthly vintage get-together. A dozen or so cars sat in the parking lot, each one different from the next, and each one holding their own against the others. I stepped out of my car and was simply unable to wipe the grin off my face. Immediately, I was caught by a beautiful red and black Alpina widebody 1600. It was perfect from front to rear, and screamed vintage motorsport with every bump and curve the body possessed. The badge on the grille proved it had been pushed to the limit every day since the year it was built.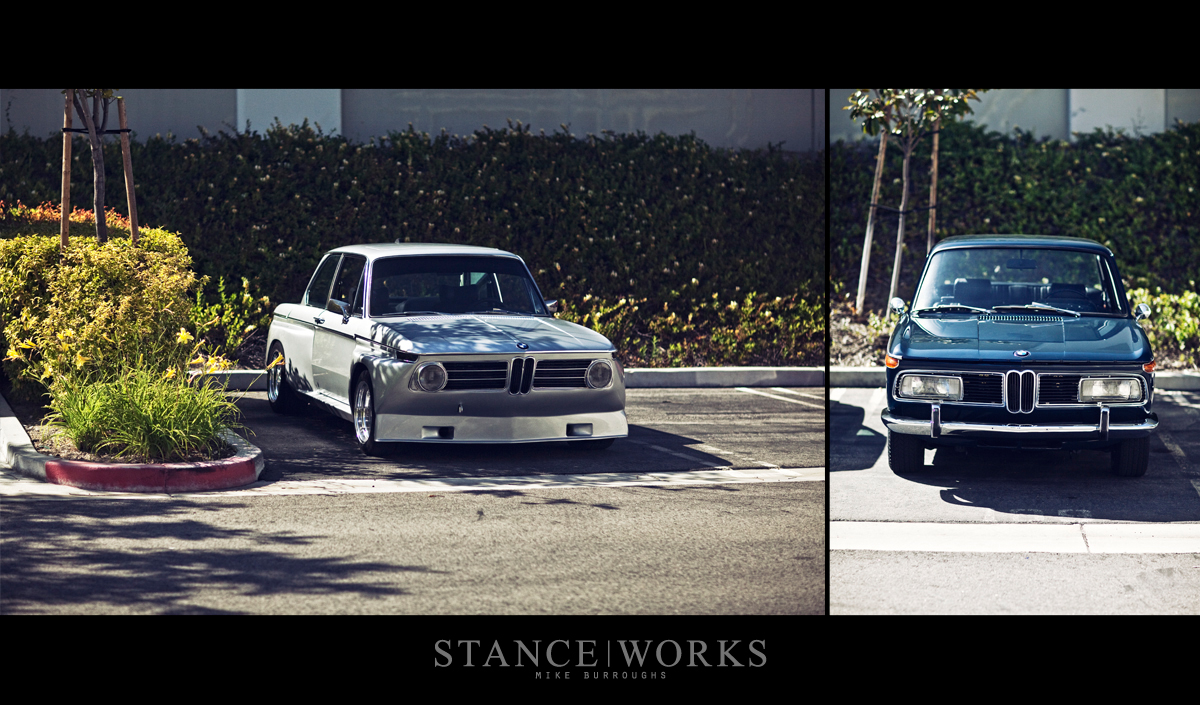 Sitting a spot over was the silver 02 Cody has seen the night before, and on the other side of the Alpina car were several more. A pair of 02s and a 2000 tilux, the four-door 2002 counterpart; the first time I've had the chance to see one in person.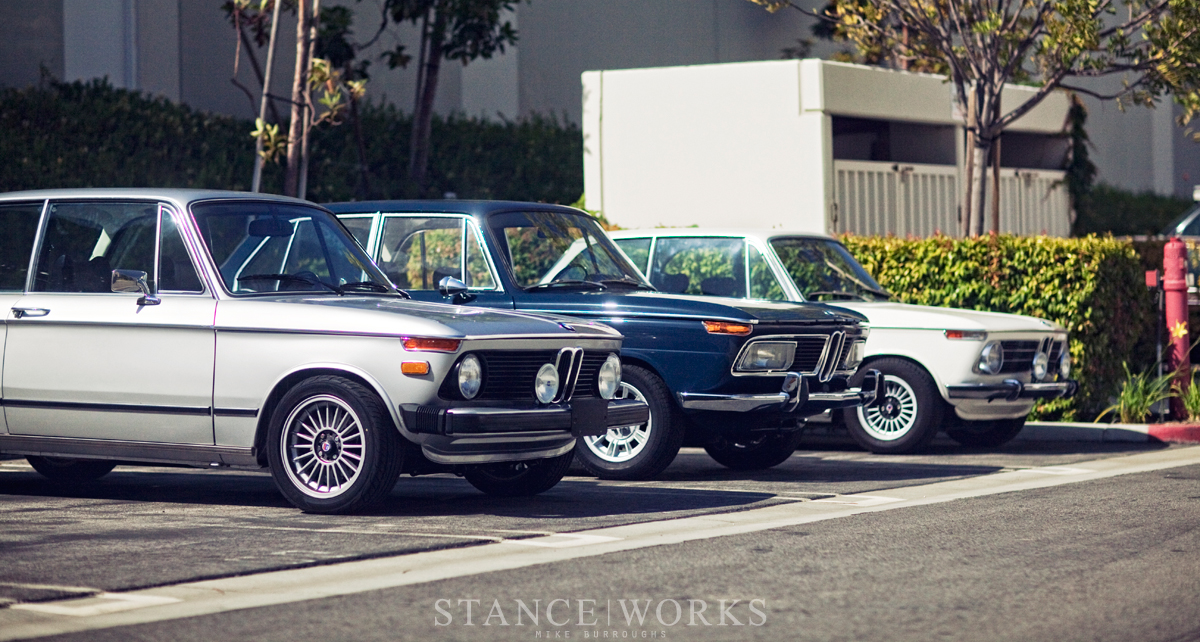 This assortment of cars, and many more, all belong to a single diehard BMW fan. This is not a job, but instead a hobby for him, and one he chooses to keep to himself. He asked to remain anonymous, but was both pleased and thrilled for us to share an inside look at the BMW wonderland he's hiding behind his shop door. Inside sat five lifts, each one with a BMW perched atop. Under each lift sat yet another car, and I struggled to comprehend how one man could own so many cars and have such good taste.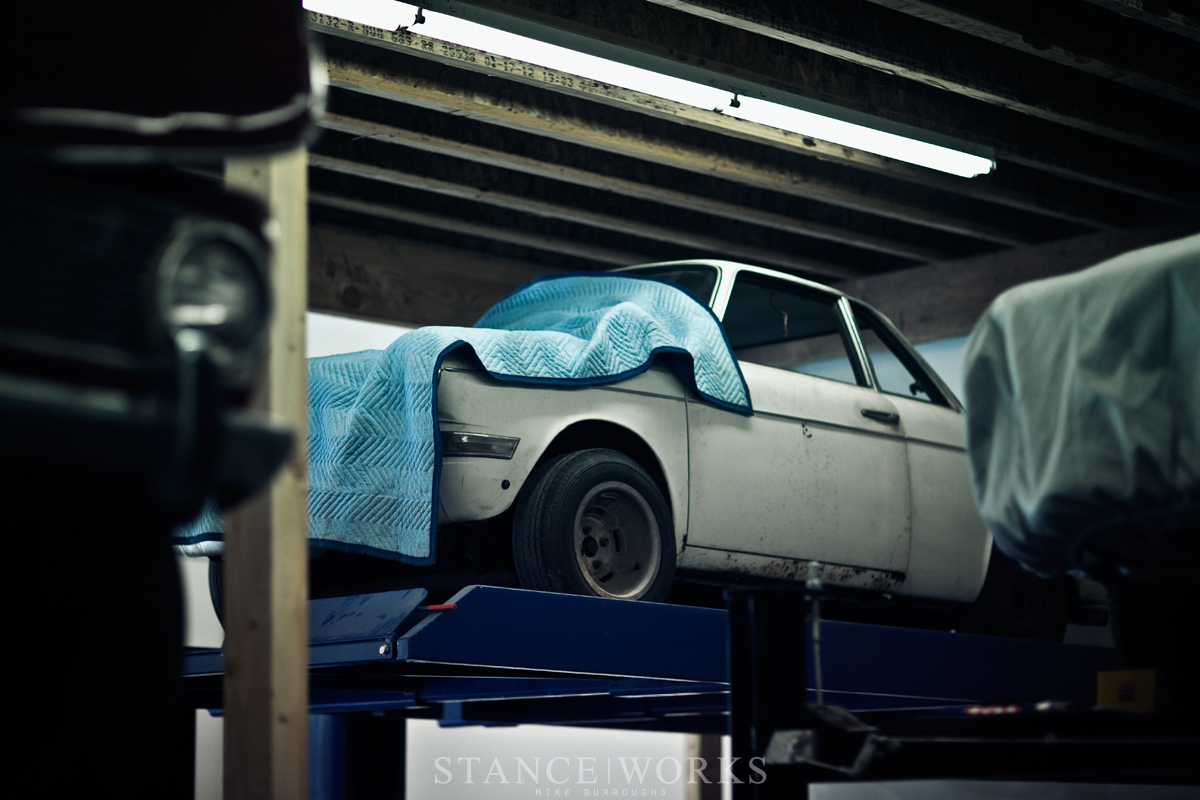 One hoist, and the spot underneath it, was dedicated to a pair of BMW 700s, one having undergone a perfect restoration, and the other patiently waiting for its own spin on the rotisserie. I couldn't help but fall in love with the little red coupe, yet another car I was seeing for the first time outside of classic ads and racing photos that I've collected from the web. I suppose that's what comes with growing up in the suburbs of Nashville, however, I never expected a treat like this when moving to the West coast.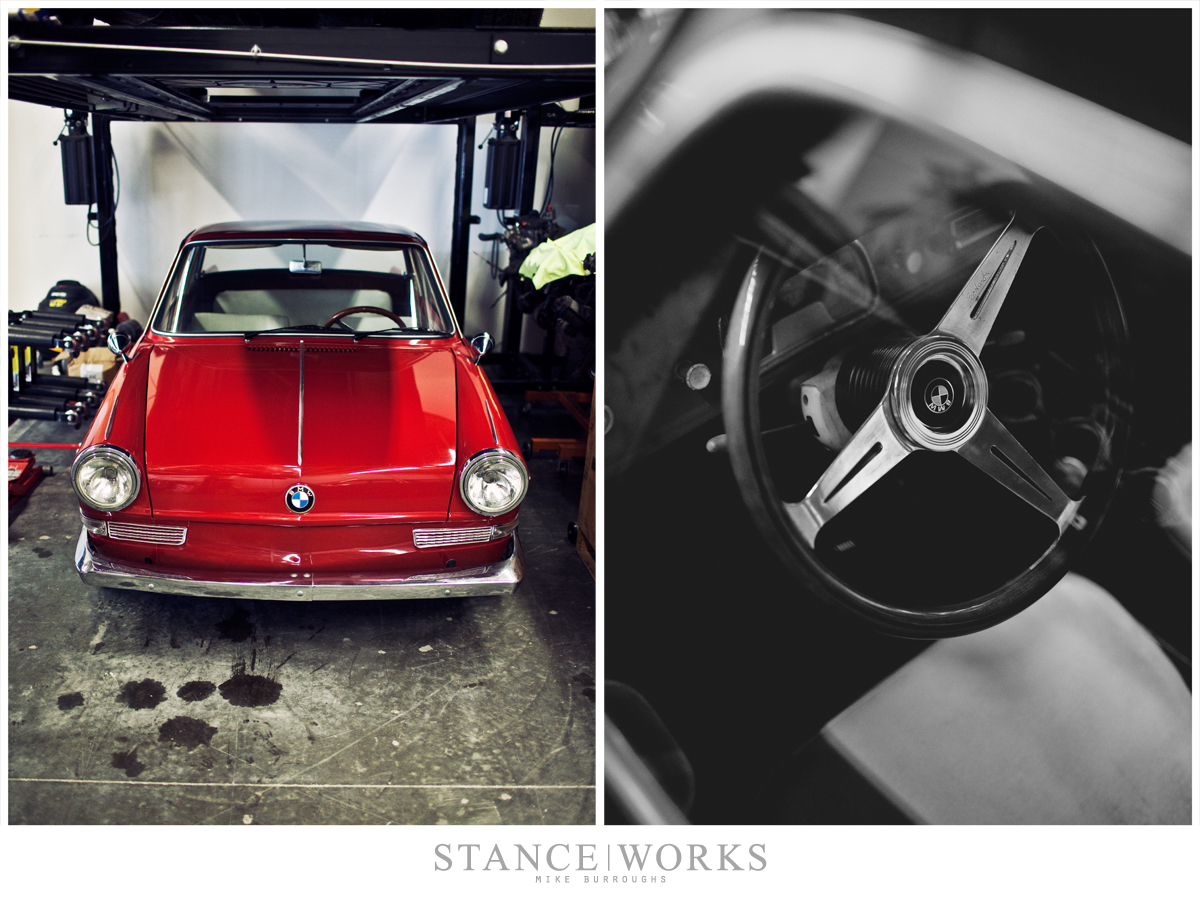 Between the cars that filled the shop sat several engines waiting for new homes. Next to the Alpina M10 sat a recently delivered and still crated S14, the world-famous 2.3l 4-cylinder, 197hp engine. Behind the S14 sat an S38, BMW's powerhouse dual-cam straight six that powered the E28 M5 into the top spot for the fastest production sedan in the world during its production. It was abundantly apparent to me that "the Collector" knew exactly what he was doing and spared no dollar on building his cars the right way.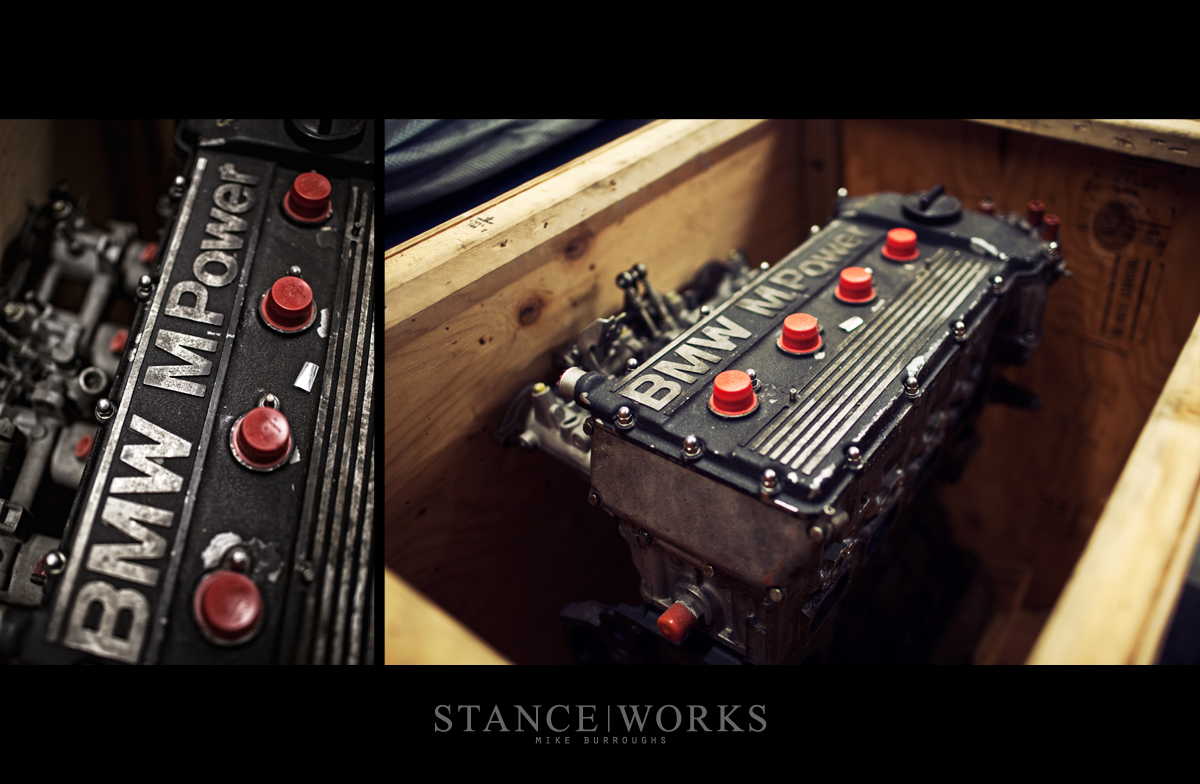 As I stood in admiration of the S-series motors, and the others tucked away in the nooks and crannies of the shop, the Collector told me I should follow him up stairs where he stored the bits and pieces he's managed to save over the years. It should have come as no surprise that his parts collection would take my breath away, yet somehow I wasn't prepared. The entire upstairs, several hundred square feet of space, was dedicated to shelving unit after shelving unit and boxes upon boxes of parts. Differentials of every style and transmissions of every variety cluttered the lower shelves while engine heads and headers filled the rest.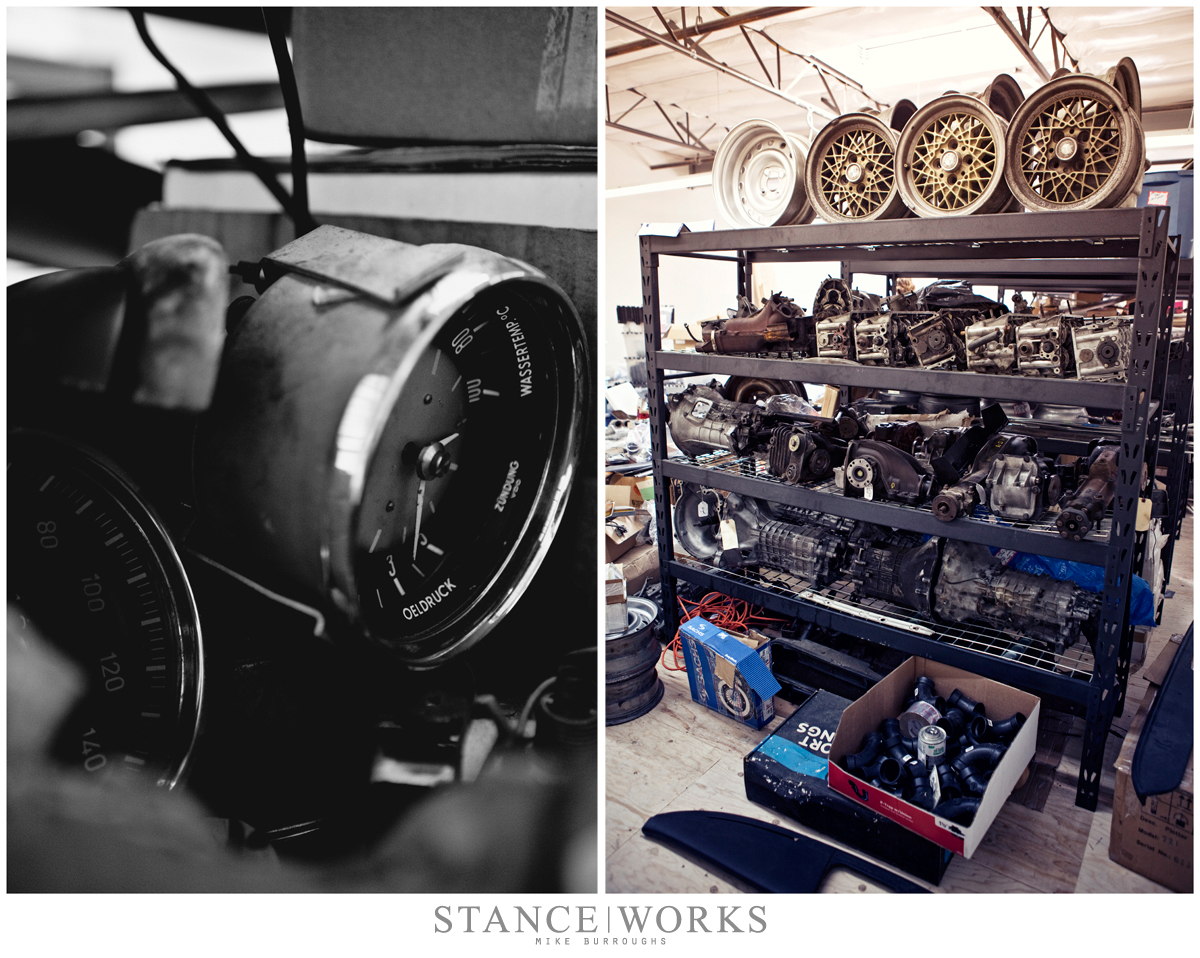 But while some of the parts kept were the kinds of things you may find in BMW-specific salvage yards or parts one may source from cars they've previously owned and parted out, it still left an impression. Each one held some sort of value: "This diff has a 3.35 ratio, this one a 4.08, and both are limited-slip. This gearbox is the dogleg pattern, as is this one, but it's the earlier version." It was hobbyism at its finest. But this is where the collection takes a turn. For me, it wasn't entirely about the cars that sat in the garage below.

As though it was some kind of BMW lover's Easter egg hunt, I kept stumbling upon parts that, in some round-about way, define much of what I love about the marque. From slide throttles to an entire Alpina M30 triple Weber kit, opening boxes led to riches only people like myself would value over pure gold. Every induction setup imaginable was somewhere to be found. Every sought-after airbox and plenum, brand new alpina crankshafts, racing headers, and parts unopened, still in their boxes from 30 years ago… it all had a home here in this place I can only refer to as heaven.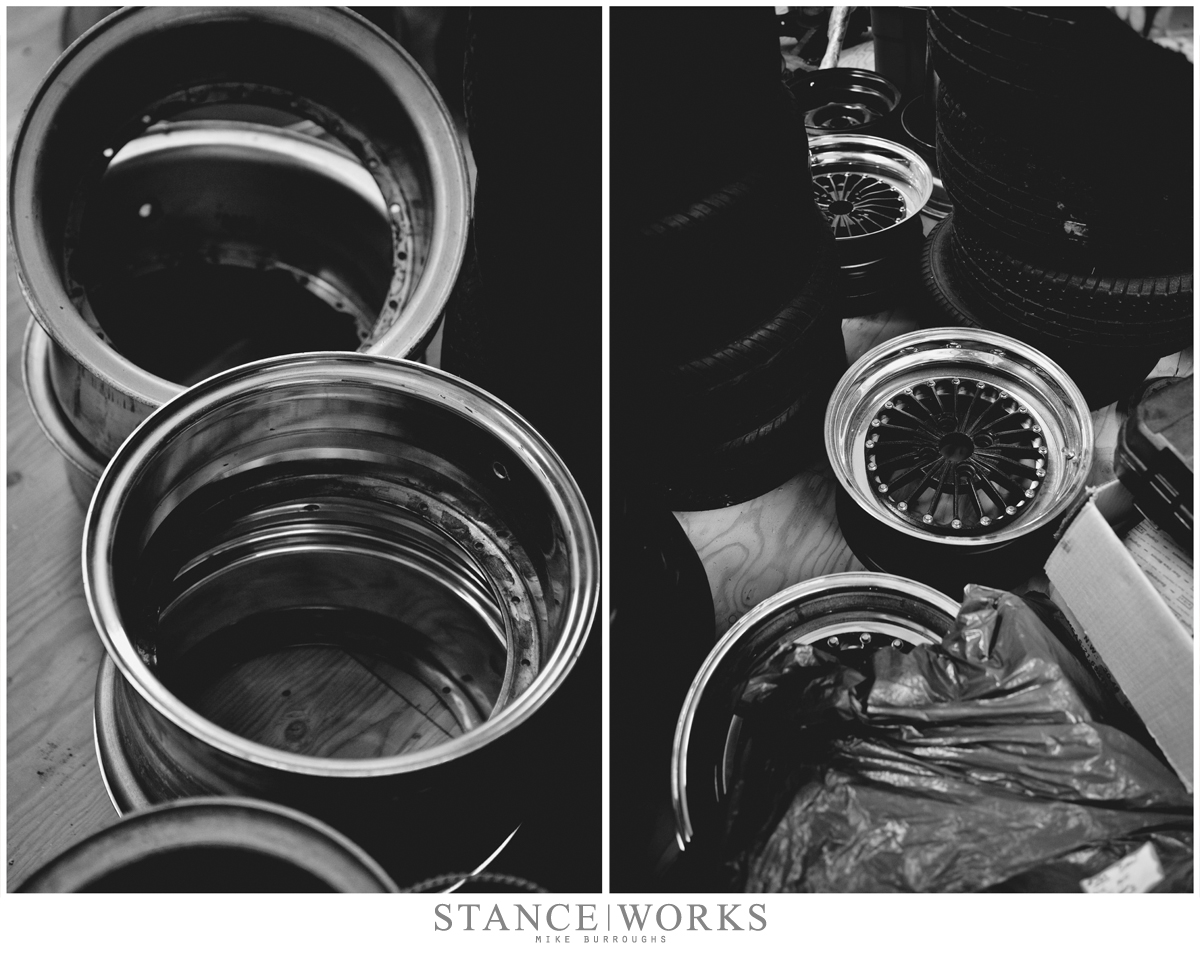 Opposite the shelves sat a few stacks of tires, and in and amongst them sat BBS rim halves in all shapes and sizes. 13s through 15s, begging for a chance to see the tarmac again. First generation Alpina splits sat waiting for the Collector's next project. On the wall hung dozens of vintage steering wheels, including Momos, Nardis, and of course, Alpinas of all types. He had any and every model steering wheel I've seen in a BMW built between '65 and '85, from wooden to suede to leather-wrapped.
But things didn't stop there either.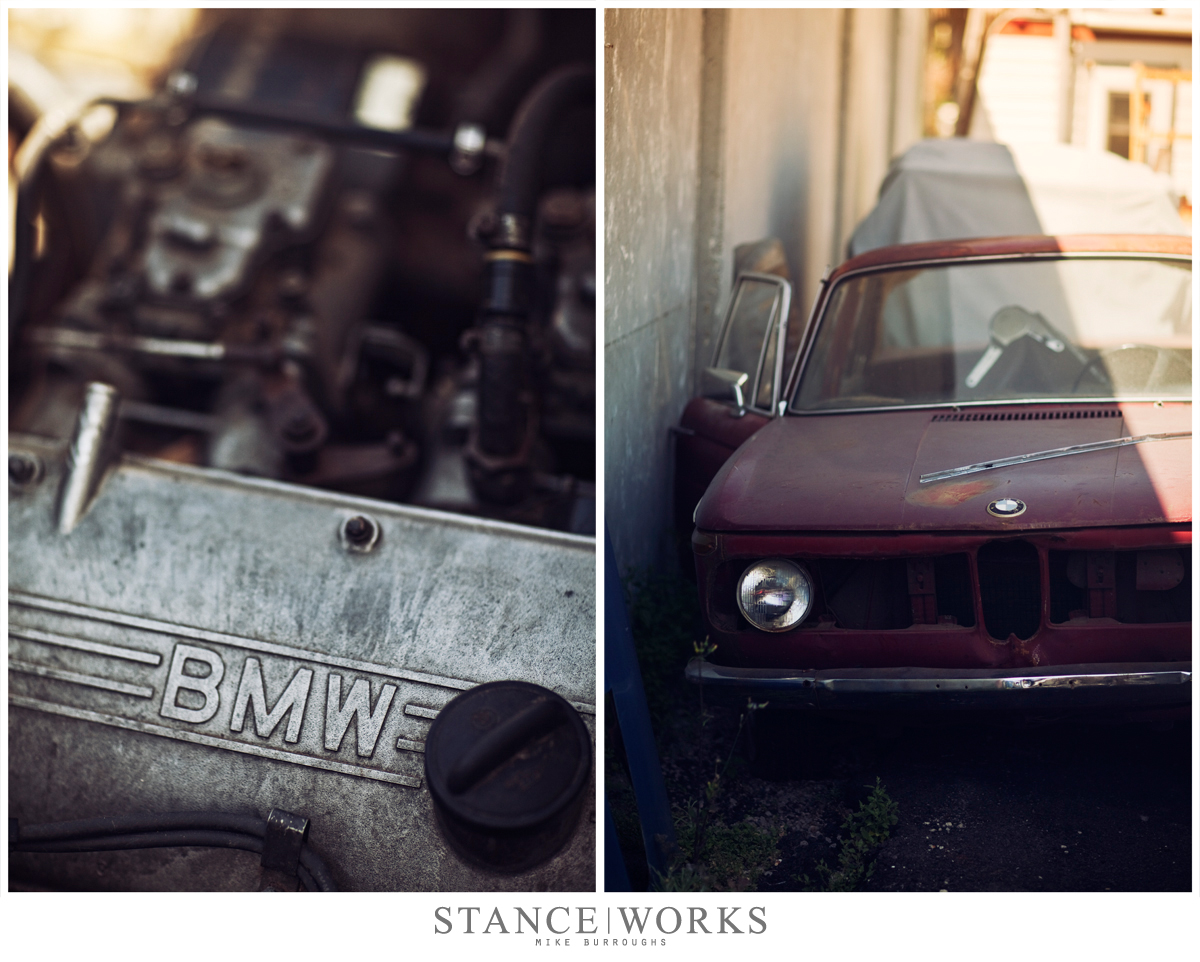 The Collector informed Cody and I that he had a lot just down the road where he kept cars as he acquired them. They'd lie in wait until he was ready for the next project; each car in a different stage of rot or completion, but each one destined to see the streets again in some form or another. He unlocked the gate to the lot, and pulling covers off. The cars were strewn about with no real method to the madness; simply jig-saw'd into place with enough room to access each one as needed.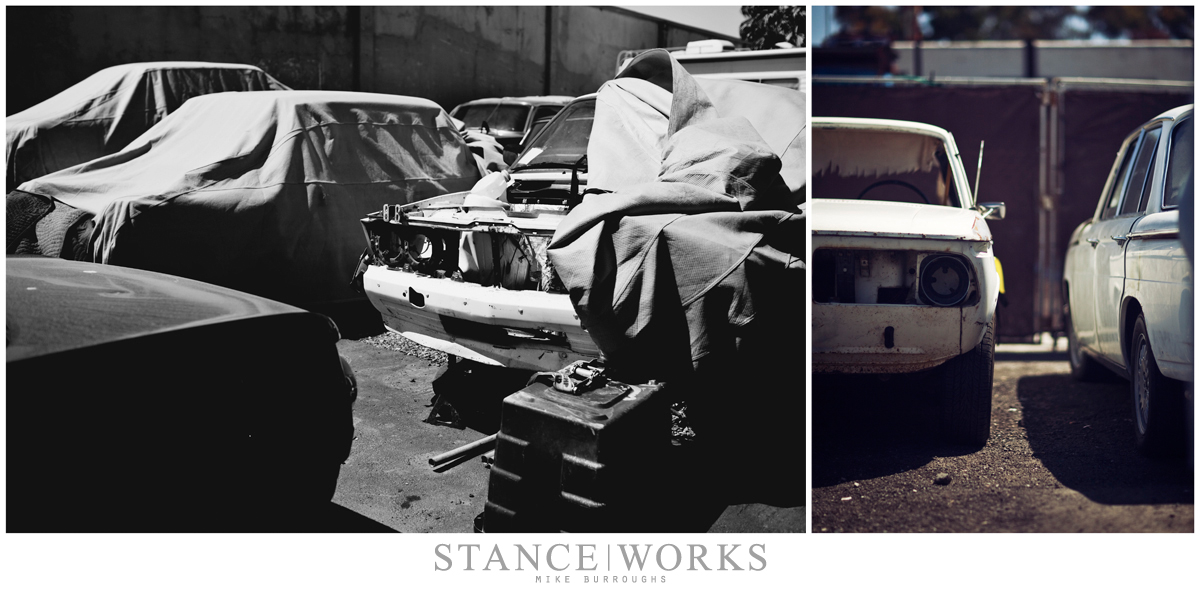 Most of the cars were 1800s and 2000s. Some were, tiluxs, some tis, each one an entirely new experience to me. In the back sat a single lonely E9, a 2000CS that was rotted beyond repair but with enough good parts to save another. He kept several 02s here as well, one of which he pointed out was one of the first to be produced and imported to America. Under one tarp was an original Alpina race car, which he tells me is the next restoration on the list. I'd bet it will be raced again, and I can say this based off of one thing…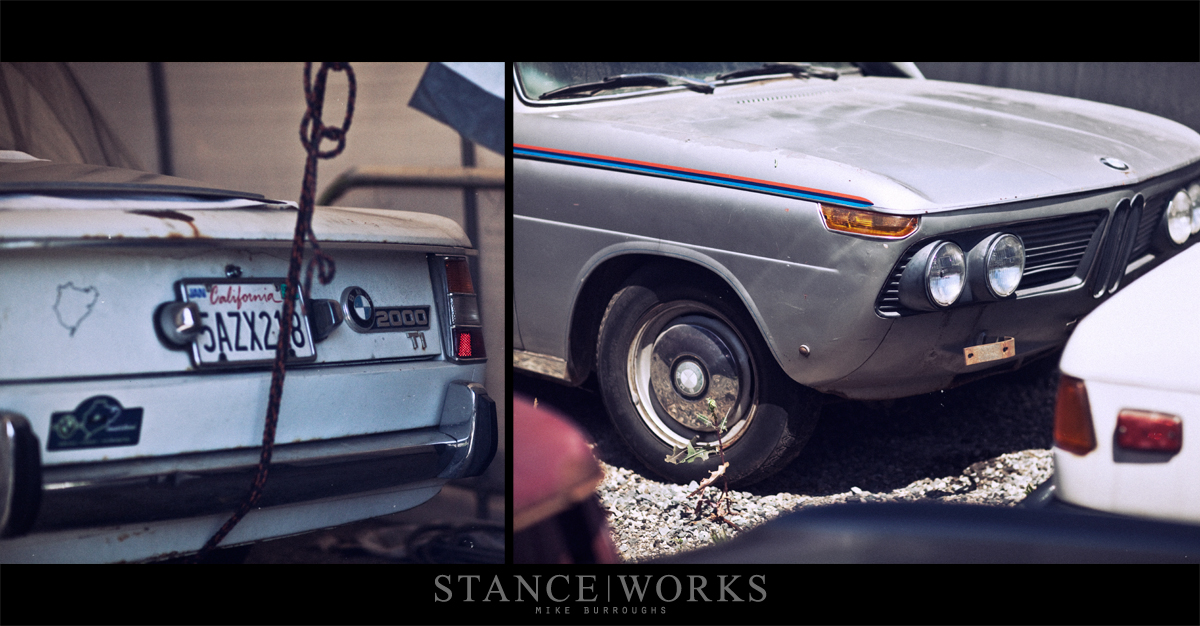 The Collector drives each and every one of these cars… They're not garage queens. They're not trophies. He doesn't drive them like they're worth $1,000,000. The Collector and his mechanic took Cody and I out to lunch: I rode along in the red-over-black Alpina 1600 while Cody and the mechanic piloted the silver M30'd monster. The two raced the cars through the backroads, driving like bats out of hell as if there was a finish line somewhere to be found. The dual-Weber M10-powered Alpina car I was in stormed past the M30'd ACS 02 on the straights, squealing the tires and putting the hefty arches to good use. Both of them possessed enough power to have fun yet not quite enough to get in trouble.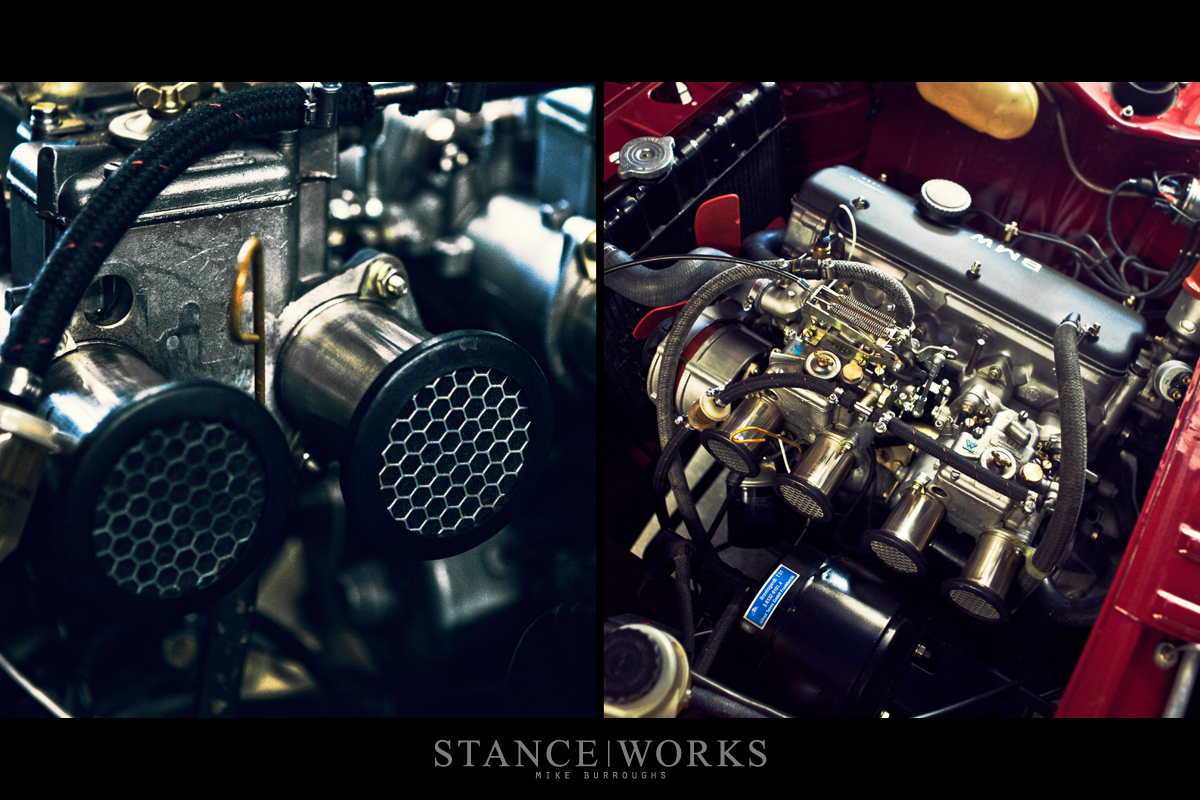 We returned to the shop where I continued to stare and appreciate everything that was in front of me. One by one, the cars were maneuvered back in to their spots in the shop, packed like sardines. I snapped photos of everything I could, not knowing the next time I may come across cars like these.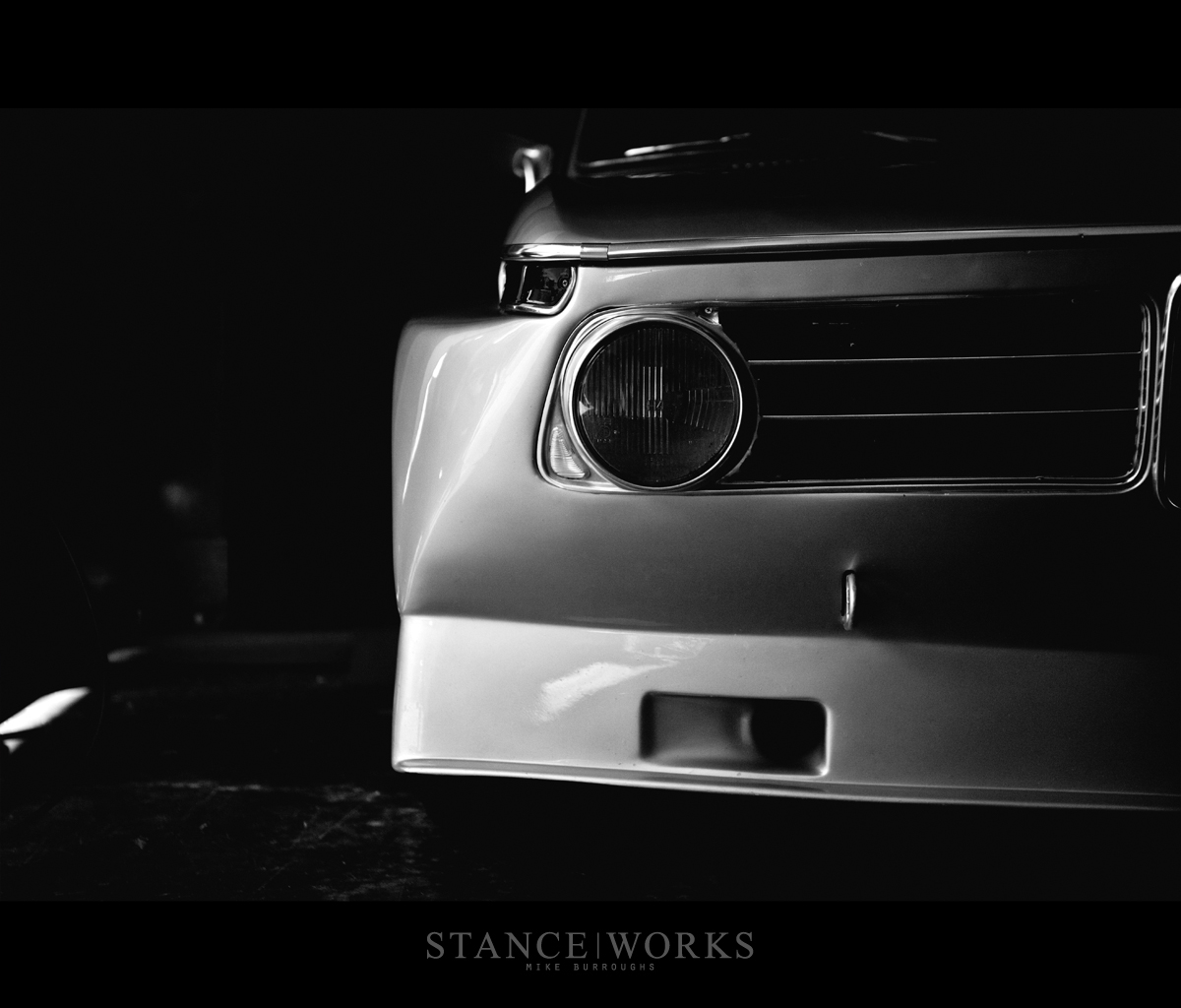 Squeezed in to place next to the little red 700 was a white-over-blue 2002 cabriolet, one of very few examples stateside. The collector tells me it's a "true convertible… not like the ones today with all of the extra reinforcement due to the lack of a roof. This thing sways and bends, and the door jambs clack when you go over joints in the freeway… how it's supposed to be!"  The cabrio, just like all of the others, was in astonishing condition, with the cleanest engine bay of all and a top that looked new when he closed it up.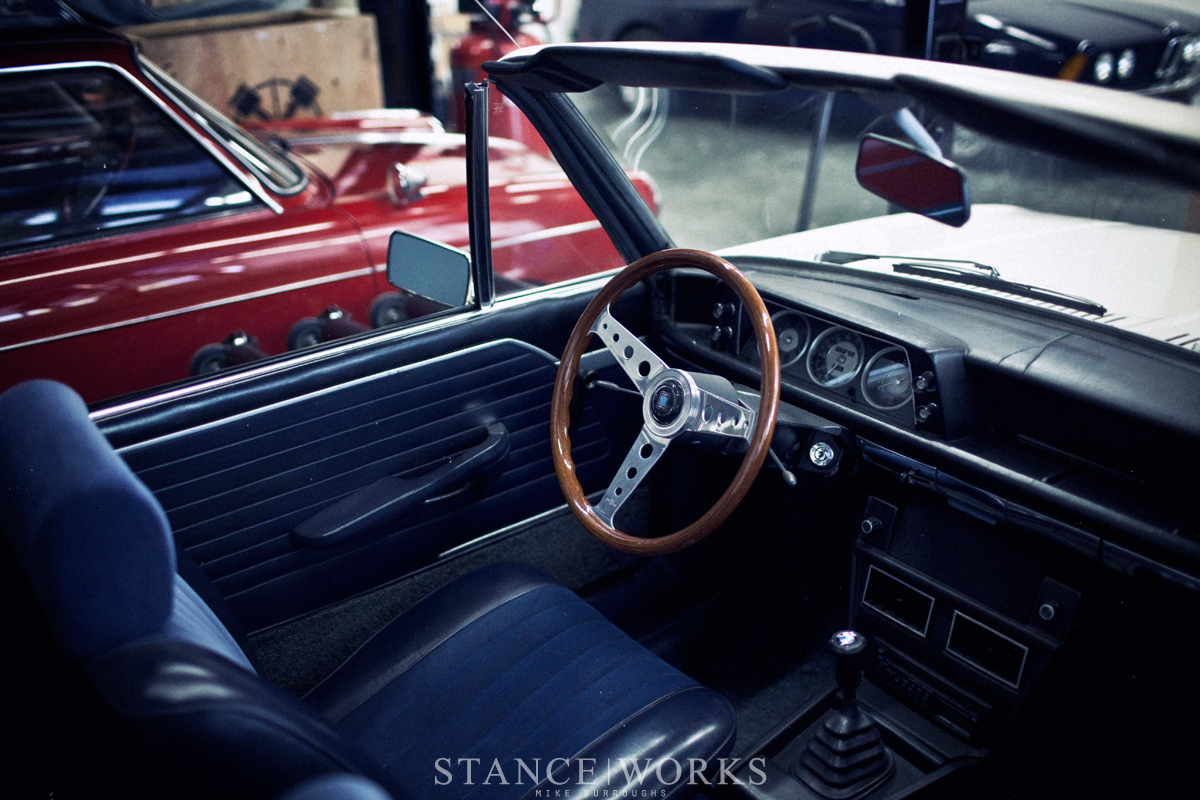 Tucked away in the corner might have been both Cody's and my favorite car there. An AC-Schnitzer widebody E21 tucked wide BBS E50s under its boxed flares. A look under the rear end showed all of the ACS goodies including a full dual exhaust and the always interesting driveshaft-powered differential cooler and pump. Under the hood sat an M106, the turbocharged M30 variant from a 745i. The Collector explained to me that the car itself was an ACS prototype car of sorts, one of the few set up this way. And of course, as you might hope, he tells me its the quickest in the shop.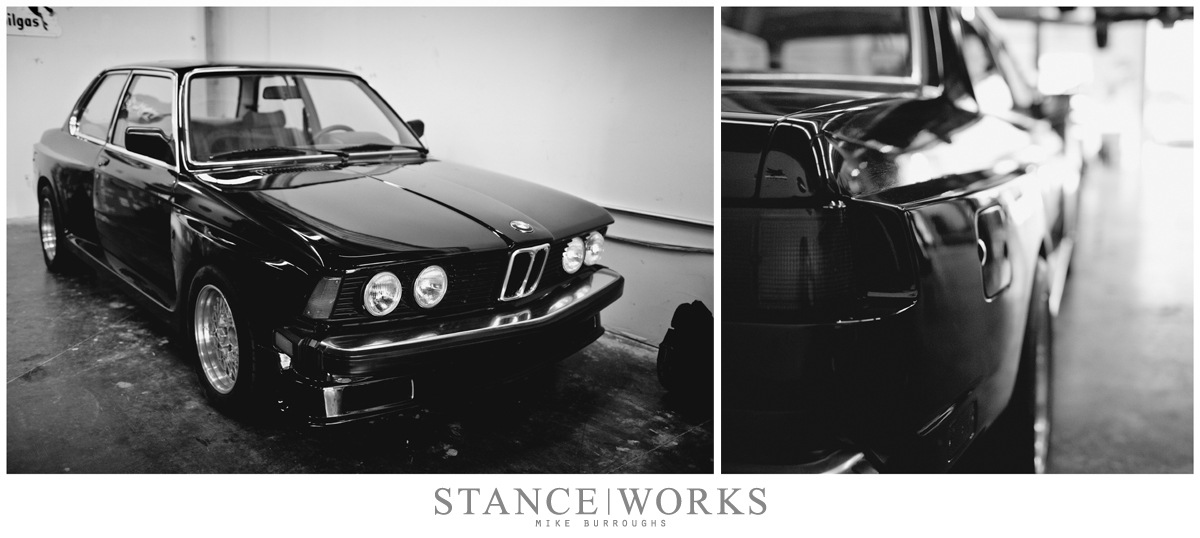 The sun continued to fall and space in the shop soon reduced to nil. Every conceivable square inch of the shop was stuffed with one type of BMW goodness or another. I struggled to comprehend how he managed to fit all of the cars inside. In came his E30 M3 with an unbelievably low 62,000 miles on it and only one prior owner. The last car weaseled into the shop was the beautiful blue euro tilux with perhaps my favorite interior of the bunch. All black and perfectly aged, preserving the essence of the luxury BMW is known for.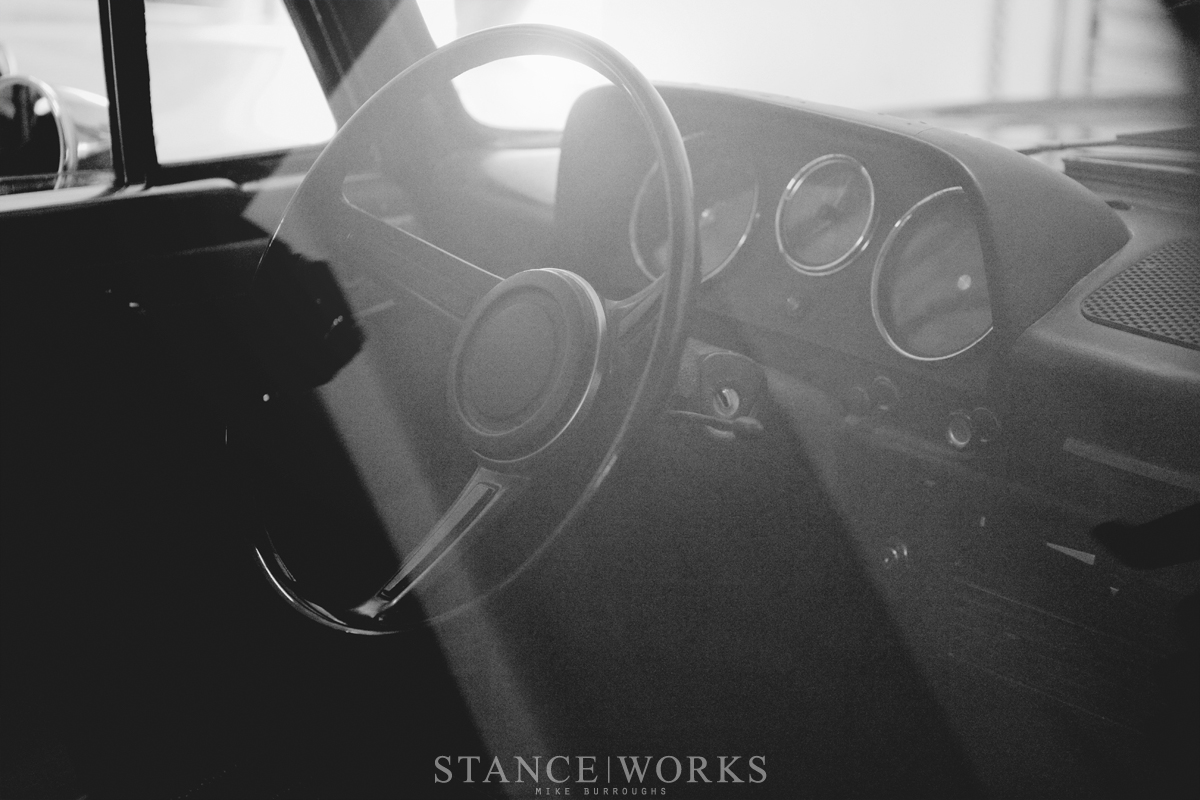 With the shop door finally closed, our play day in BMW heaven was unfortunately over. I took a final glance at his collection one more time before we all shook hands and parted ways. As Cody and I cruised in the E9 back to Costa Mesa, we realized one thing: There's absolutely no better way to spend a Sunday. I can only hope to find myself surrounded with the parts and knickknacks, let alone cars like these, some day in my distant future.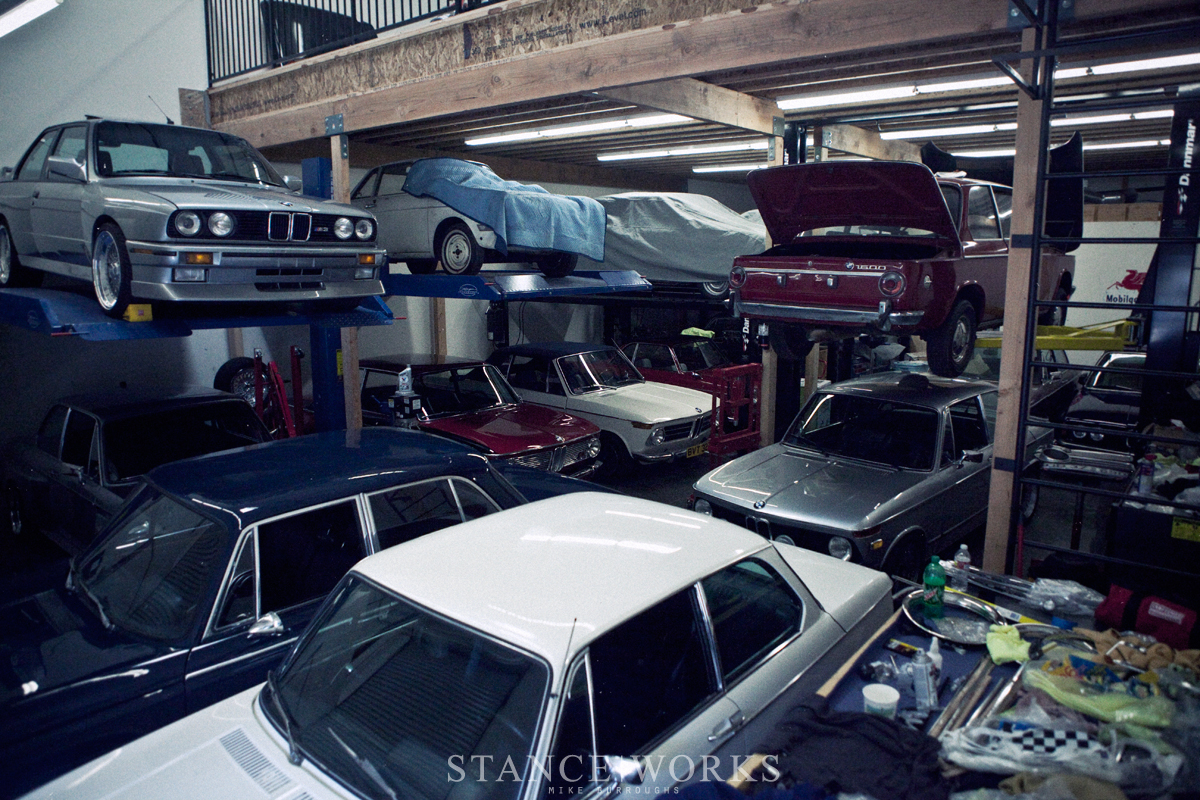 A special thank you to the Collector and his mechanic for inviting us out to enjoy the absolutely awesome collection you've put together, for the drives, lunch, and last but not least, the parting gift.