"An object in motion tends to stay in motion." At least, that's what I've been told. Here at the shop, we've built up some momentum and posses what feels like considerable inertia. As StanceWorks chugs along with the momentum it has built over the last ten years, Riley and I have found our groove with Protomachine: the shop is filled to the brim with projects, some we can share and others we cannot. Nevertheless, it's right where we want to be, with a newfound sense of excitement for what's to come and what's just over the horizon. With that, an update to the happenings at the StanceWorks HQ. Here's our daily grind.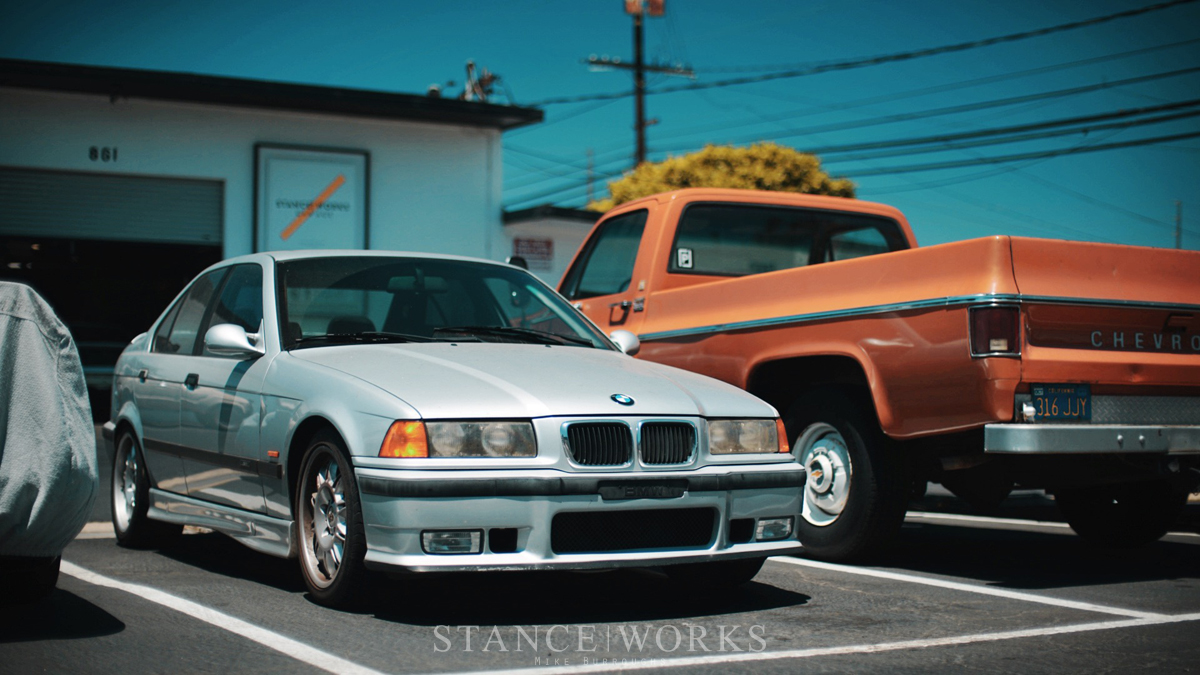 E36s seem to be the topic of the day and the subject of most of the projects at hand. Riley's most recent purchase, above, is a '98 M3 sedan, with a five-speed, of course. Hopes are high and dreams are big, with the end goal being a double-duty track car meets-daily driver. Riley's prepared to sacrifice any and all semblances of comfort in exchange for both style and performance, but is prepared to continue using it to commute to and from the shop. "It's a great dog hauler," he jokes. How much Ross, his American Bulldog, will like climbing through the tubes of a roll cage every morning is still up in the air. On a similar front, my own E36 has been under the knife, recently undergoing a complete paint job by the hands of Axis Paintworks in Phoenix, Arizona. Tomorrow afternoon, I depart to pick it up, and as my first-ever new paint experience, I'm over the moon about it. Upon its return to the SW Shop, its in store for a slew of goodies.
For months now, I've sat on a trove of parts. Every bushing, bearing, arm, and more are all due for replacement, and more important, are fit for an upgrade. I sprung for the extras, of course, aiming to treat my car the best I can, with no holds barred. Along with the running gear, I've got a freshly rebuilt 3.91 LSD to install, and a slew of reinforcement components so the car lasts for years and years to come. With 13 years of ownership under my belt, I like to imagine we have many more yet to come. For both E36s, Riley and I have sets of H&R's motorsport-line of coilovers, sent directly from Germany. With aluminum housings, weight jacks, and inverted dampers, we're excited to put these things to the test on track as both cars come together. Last but not least, we've got a stack of fresh Nitto rubber waiting to go on.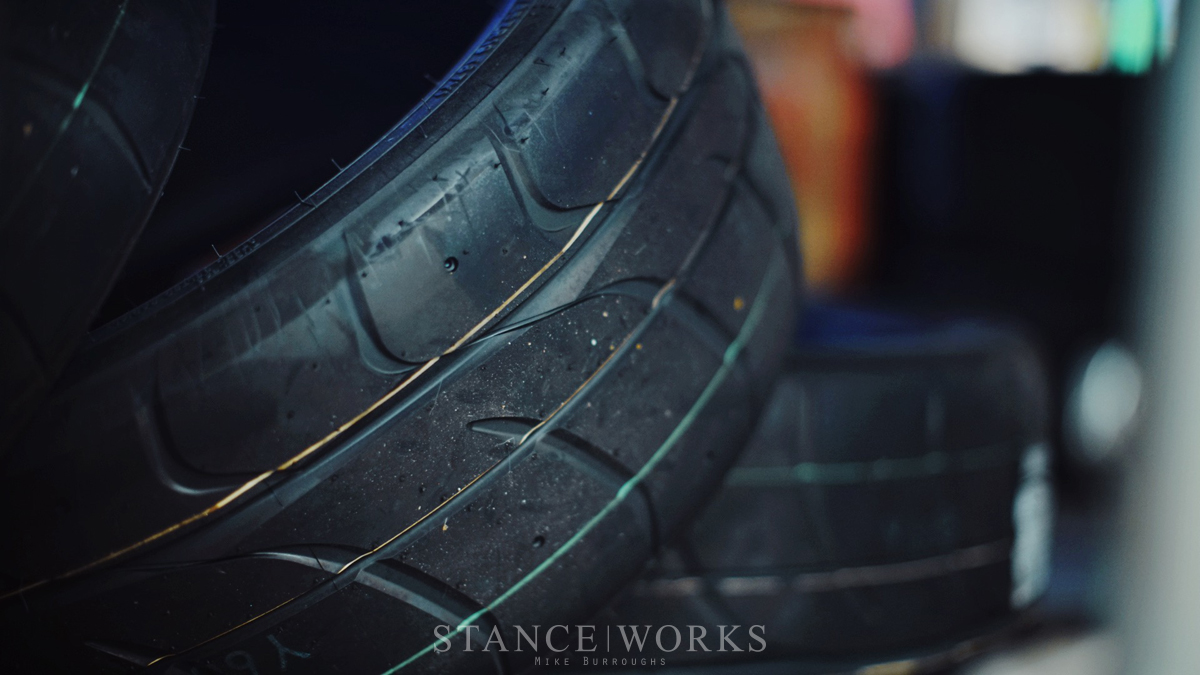 Our E36s aren't the only E36s at hand, though. We currently have Ryan Castro's (of Motorsport Hardware) LS E36 M3 race car in the shop as a long-term Protomachine project. Following a complete 8-point roll cage build, we're now stripping weight from the car's front end in an effort to lose some pounds. An aluminum trussed front end should shed some unneeded weight and make overall trackside maintenance a breeze if any major service is needed.
The E36 saga doesn't stop there. Not quite, at least. In and amongst the Protomachine happenings is an S50 header build, although this system is destined for an S50-swapped E9 coupe. Combining performance characteristics and our own aesthetic styles, its yielded a header setup we can confidently say is unlike anything else.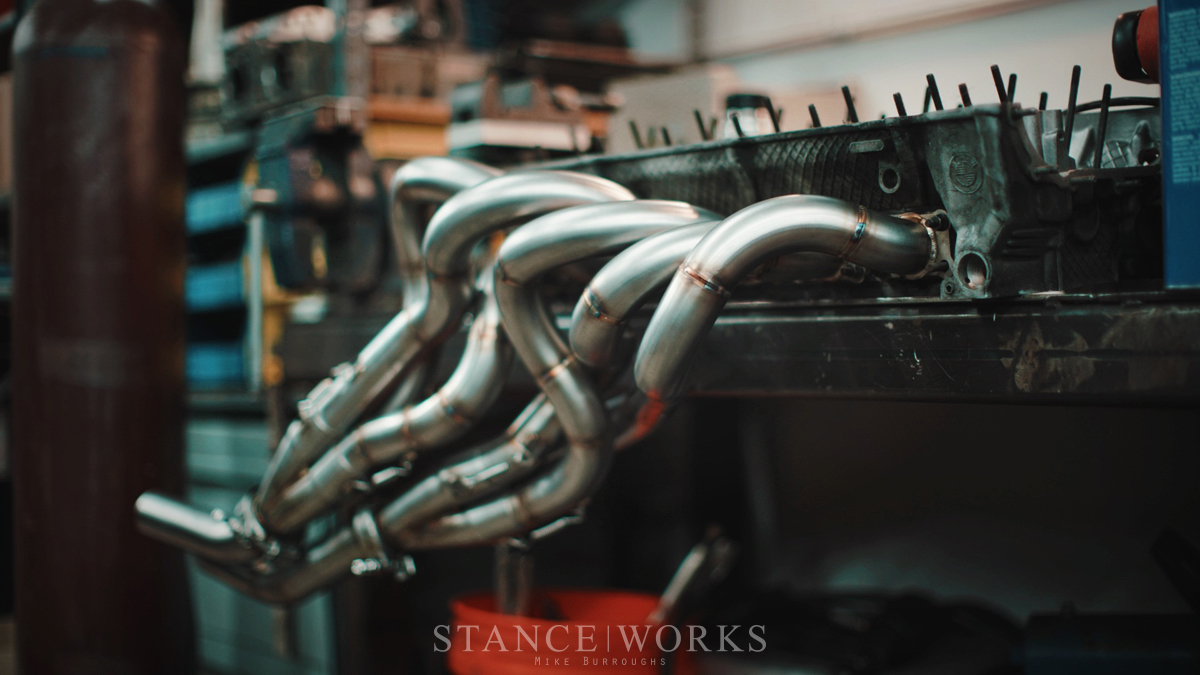 Following that lead, we've also been hard at work on Amir Bentatou's (of RS Future) K-swapped Turbo NSX. A schedule-10 turbo manifold has relocated most of the turbo system to the cavity below the car's trunk, lowering the center of gravity and significantly improving serviceability. We also shaved quite a few pounds from the car, having fabricated a custom titanium exhaust and waste gate dump.
The shop itself has seen some changes, with the addition of two new car stackers, which for better and worse, give us space to store quite a few more cars in our shop. The shop Model A and E30 M3 both sit perched high above. Riley's Trans Am currently lies in wait under its car cover, tucked out of the way of any present danger. And last but not least, an all-new absolutely massive project sits front and center. You'll have to use your imagination though, as we're not telling you what it is quite yet. In all, the shop is doing great, with more momentum than ever before. It's a car-lover's paradise and a fabricator's home… and thankfully, it's ours.