There's a special feeling some of us experience each year as red and orange leaves fall from the trees and clutter the black asphalt. There's no denying the absolute beauty that comes from the autumn months, but with the joy and the allure of the two weeks where the earth turns orange comes a sense of fear and distress. For those of us that own cars that are nearing a half-century in age, it means buckling down for the inevitably hard times, as these classics are bound to cause some trouble in the cold of winter.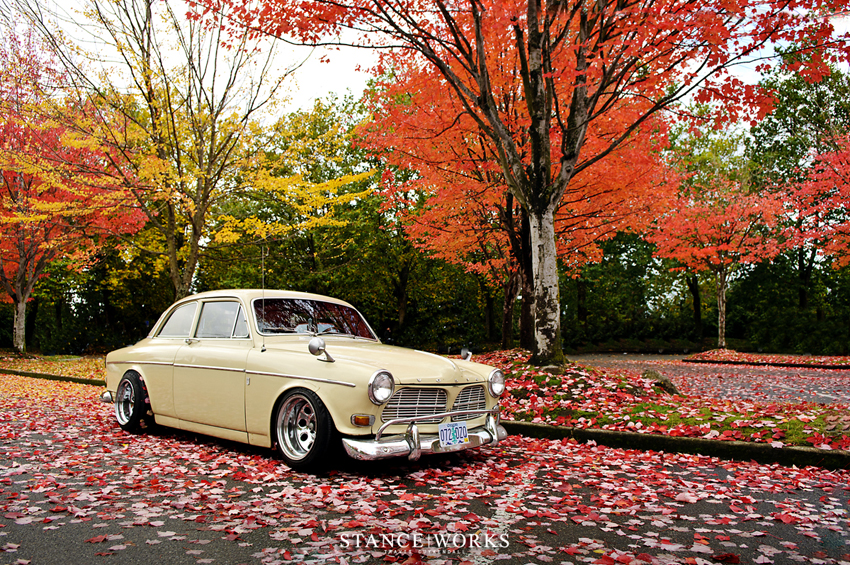 It takes a certain guy to own an old car. We've made that point before. The luxuries of today are rarely present, and time has taken its toll on every square inch of the car. With every cold winter and every hot summer, every part and piece of a classic car wears a bit more and gains a bit more character. Squeaks, rattles, and quirks all become something you grow fond of. They're things that remind you that your car is, well, yours. Andrew Hastings of Corvallis, Oregon knows exactly what I'm talking about.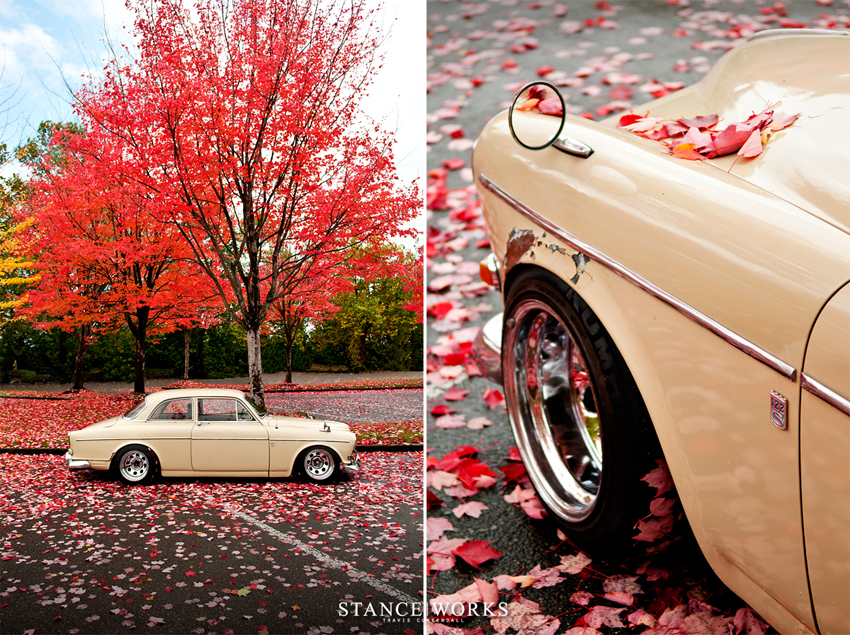 Andrew started his automotive "career" like most of us did. His interest in cars began with Japanese cars. Toyotas, to be exact, having owned a couple of old Supras, a Cressida, and a few others. It's a great and expected place to start; the aftermarket is huge, as is the community, and knowledge (and the lack thereof) is abundant. But after his tastes began to vary from the expected, he lost a bit of faith in the Supra community. He moved to the better other side of the equation and picked up an E36 M3. As all of the great love stories in history end, he found himself on StanceWorks. As his interests and tastes grew, he found himself hunting down a project; something old and unique.
Old and unique, however, did not necessarily mean a Volvo. His search was originally for a 1940s Dodge or Plymouth with the intention of bagging it. It wasn't until he listed his bike for sale that the plans changed a bit. An interested party offered this 1965 Volvo 122s Coupe in trade for the motorcycle, and since then, Andrew has been working that elbow-grease in to make his Amazon shine.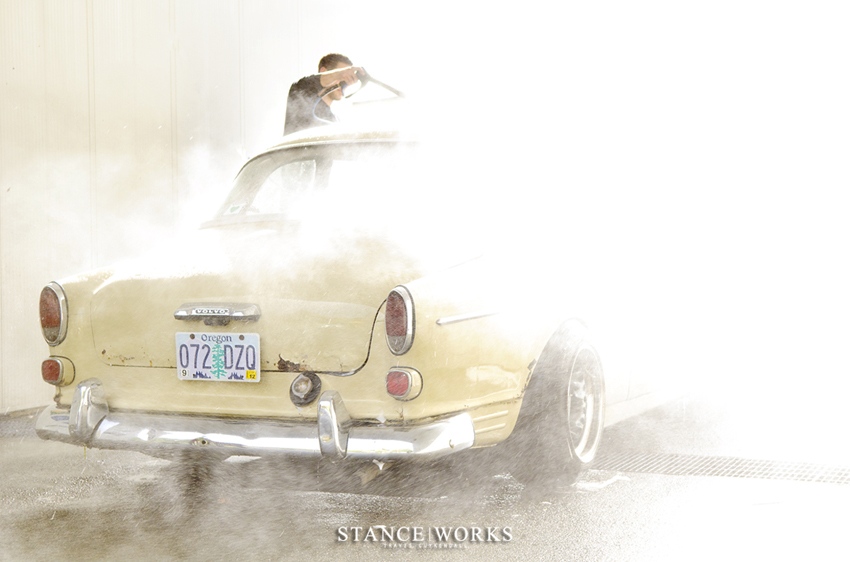 Facing the challenge of making the extremely deep steelies work, Andrew knew his original desire to bag the car just wasn't in the cards. He opted for a good ol' static setup. "I found that a standard Honda Civic adjustable coil spring set up would work perfectly. That paired with KYB AGXs and a little fab work made the car a blast to drive with a perfect stance." Andrew didn't let the obscureness of his chassis deter him from building something that worked, and worked well. After he had the car sitting the way he wanted, he began to focus on the almost 50-year-old exterior.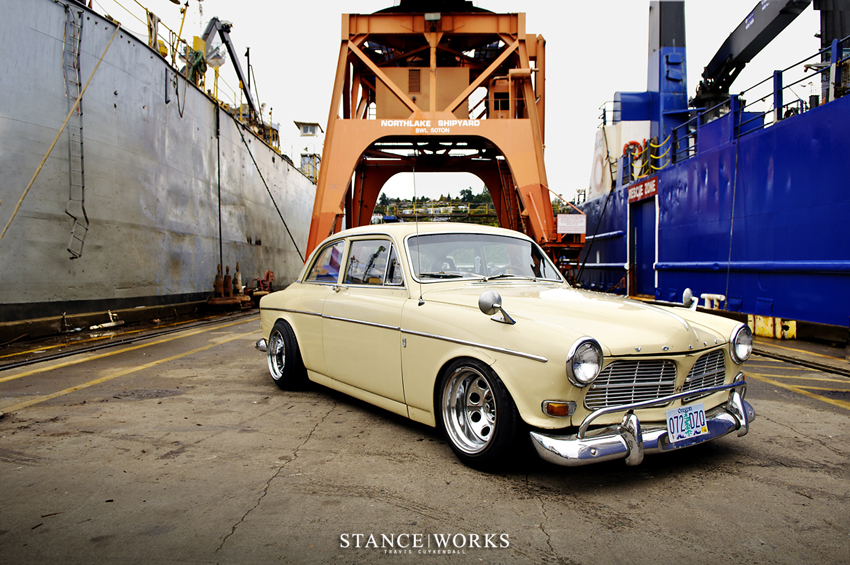 He wasn't concerned with doing a full-on restoration; he just wanted something he could cruise around in and truly enjoy. A lot of hard work paid off though, as even though this car is obviously not a prime example, its flaws only add a bit of grit and gut to it. "Character" doesn't quite do it justice. On the list of modifications-to-come was a VW TDi swap, and if that doesn't epitomize "cool", it's time to pack up and go home. Unfortunately, our plans as builders fall short sometimes. Andrew is moving and doesn't think he'll get to keep the car; a decision many of us are familiar with having to make, and an unfortunate one to face.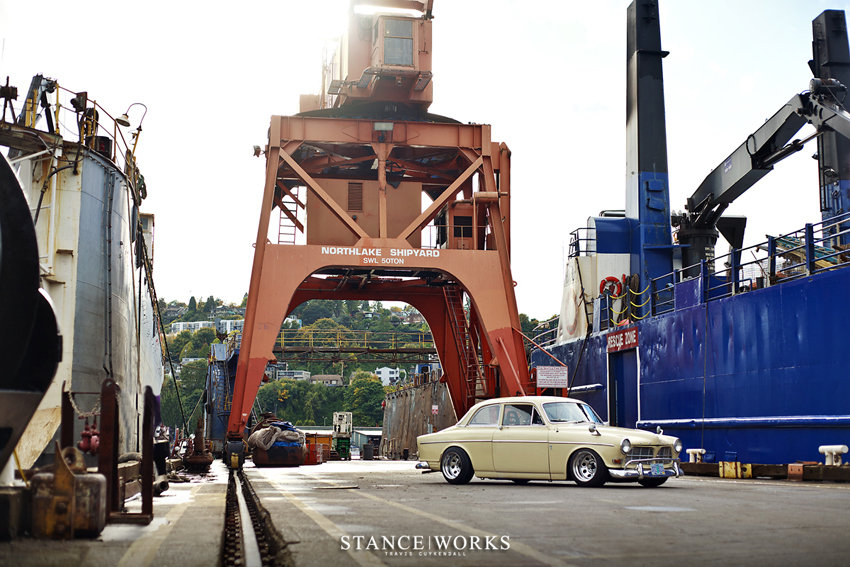 But Andrew knows he'll be back by the end of the cold season. The classic car bug has bit him, and it has bit hard. "I'll be back with another older project soon.  I'm not sure what it'll be but I've been looking at a possible Corvair project." Whatever it might be, we know it'll turn heads. One of the many joys of vintage automobile ownership is the respect that comes from even those who have no interest in cars. Soccer moms and business men alike always have to comment at gas stations when something with timeless lines pulls in. They're looks that just aren't quite the same as those you get when you pull up in something a bit more… modern.

As the scene grows and we all attempt to discover where the next 12 months will take us, there's just something about the old stuff that really hits home here at StanceWorks.