When it comes to SW feature cars, they all hold some type of value. Armand Pranadi's MR2, however, hits home for us in a rather different way. These days, an MR2 is not something I'd typically take a liking to, but there's something to be said about this one in particular. Between the oversized fenders, the bright red paint, the massive wheels, and the extravagant looks, it is exactly what would have been on my wall as a kid. It has all of the bits and pieces to remind me exactly what sparked my interest in modifying cars to begin with. It captures the imagination with its toy-like proportions and its race-car style. It's one of those cars you see pass the school bus on the ride home as a child, and it changes your world forever.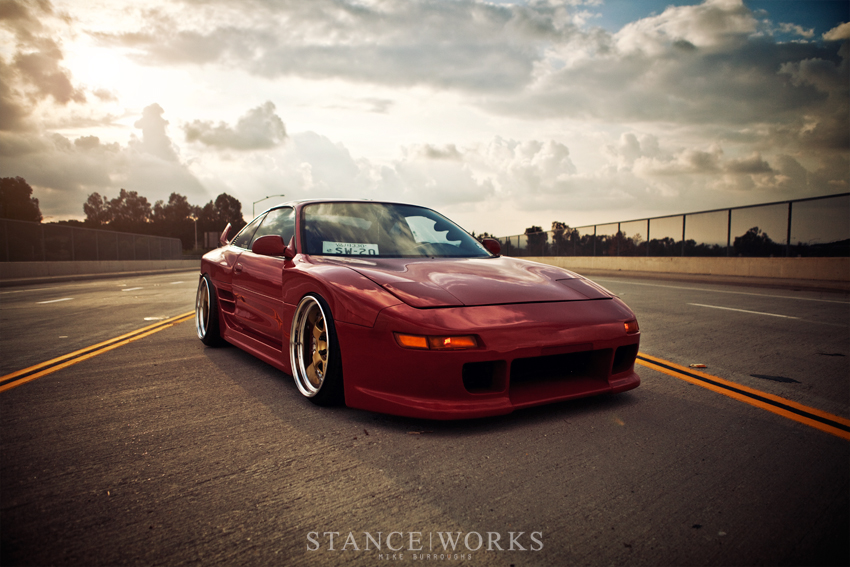 But to add to the thrill of the pseudo-exotic is something truly impressive: Armand's MR2 pushes the limits of wheel and tire fitment with some of the most gnarly clearances we've seen to date. The car's stance was impressive enough to take home our Best Static Stance award at AutoCon 2011, and if we needed any more reason to share this car, it's that Armand drives it every single day. It left us scratching our heads in confusion as we wondered how anyone could realistically pull that off. One small mistake and a dusty explosion of fiberglass wheel arch is bound to happen.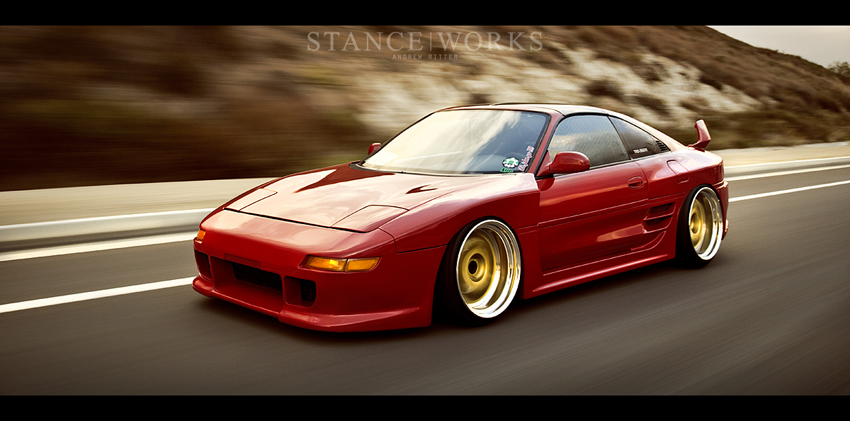 Armand's enthusiasm began as early as the best of them, growing up with a father who was a Toyota enthusiast himself. At the age of 12, he recalls piloting his father's car around the neighborhood as he steered and his father controlled the throttle and brake. When he was 16, he had saved his pennies and purchased a 1986 Toyota Corona. By 18, he had swapped out the 4A-FE head for one from a 4A-GE with TRD 280/288 degree high lift camshafts, 45mm Webber carbs, and oversized pistons. Its no surprise that today, he's enamoring us with his SW20.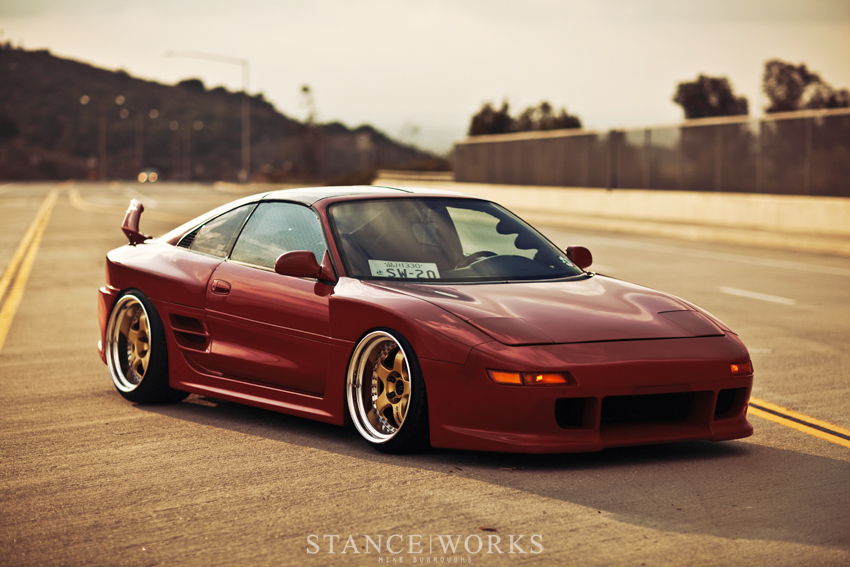 His path to his current car has been a long one. Armand moved to the United States after he turned 19, and facing heavy college tuition, he had to let cars fall by the wayside. However, through the years, he had managed to set his heart on the mid-engined MR2, and was constantly on the lookout for the right one. In 2004, he managed to pick one up and begin his modifying frenzy. Unfortunately, as we've come to learn, history always repeats itself, and Armand had to sell the car to afford his masters degree.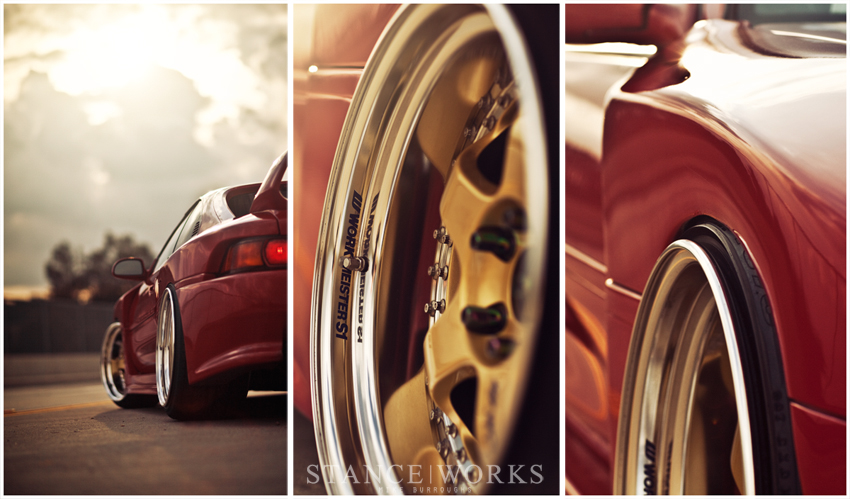 But true love always finds its way home, and in 2007, Armand bought the MR2 you see before you. After a year of owning it, he made things official. Armand sold his daily driver and committed to driving the MR2 day in and day out. He bought the car with 137,000 miles on the clock, and now, four years later, he has spun the odometer to a staggering 219,000 miles. I suppose it is important to add that throughout those miles he has cranked his boost up to 20PSI and lays down just shy of 300hp at the wheels. Impressive to say the least.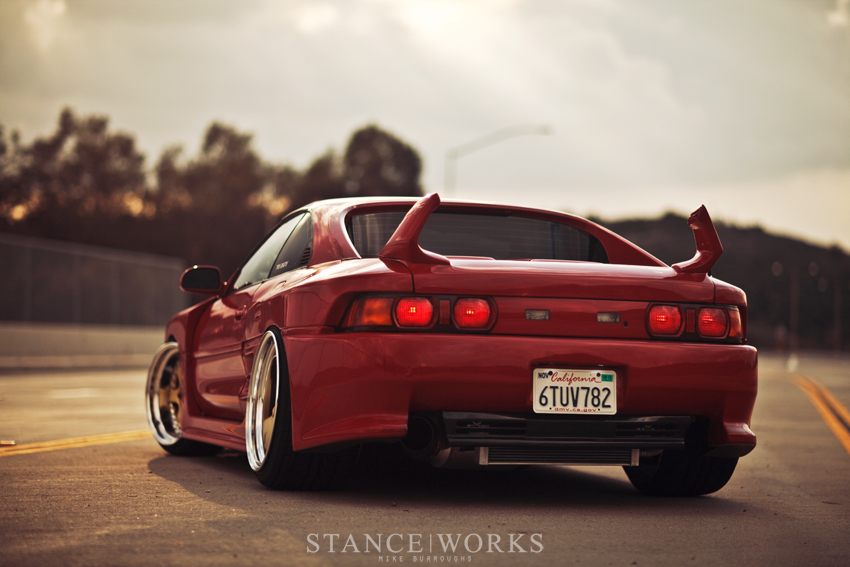 Throughout the years, Armand's interest in perfecting the way his car sits has lead to countless modifications, several of which are rather unique. Stacked roll-center adjusters, custom coil-overs, and modified camber plates only scratch the surface. He even radiused his rear arches himself to squat the rear of the car down. His absurdly wide (18×10 and 19×12.5) Meisters are measured to perfection, clearing the insides of the car by a mere paper's width, and the outside by seemingly the same amount.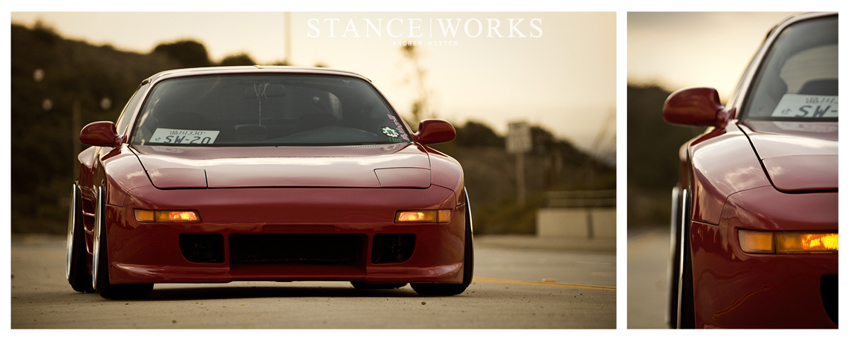 Armand has gone to great lengths to tailor his car to the way he envisions, from a color change from white to red, to the beyond-custom wheels, to every tidbit he has touched to make it "work." He has managed to fall in love with his car and truly make it his own; and best of all, he drives it. As he said to me, "It's like the Mercedez Benz commercial: 'Love what you drive, drive what you love'". That's his message. Ours? Just as simple: Be like Armand.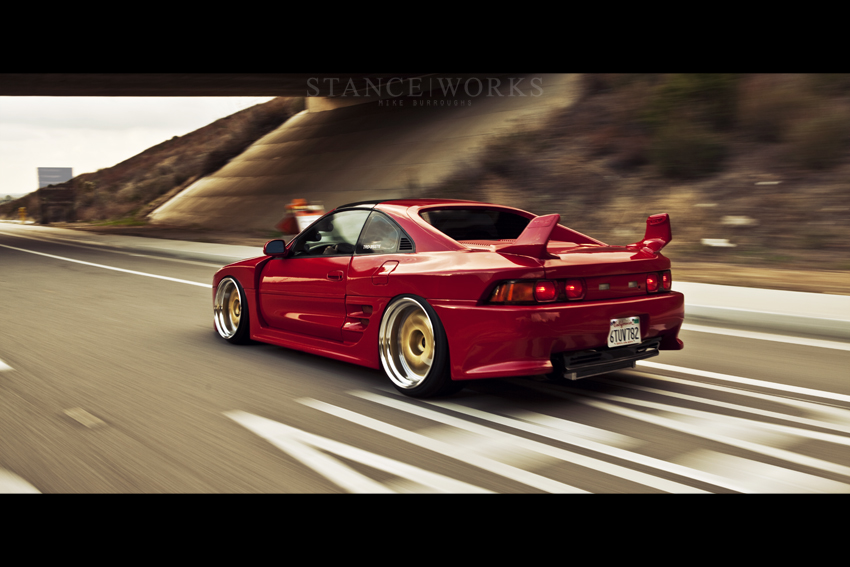 And because we know everyone is wondering what has happened to the spoiler on the car, Armand tells me the wing is a unique one-off modified Corolla TRD wing adapted to fit the MR2. Unfortunately, someone thought it looked like a great spot to lean against and snapped it right in half.
"I would like to give shout out to Steven Pan for his tremendous help and knowledge with my car's stance. Also shout out to Tee Giang for his knowledge and inspiration to get me where I'm at."