Words by Clay Hundley – Photos by Matt Dobre
"It's HIDEOUS! I want it " Most girls only care about pretty things and Carol Thelen is no exception. What makes Carol unique from most girls is that she immediately sees the potential and enjoys the adventure of building a beautiful car. While in Seattle on an internship I bought a clean, one grandmother owned, 1992 VW Golf GL for a daily. I had dirty thoughts of making into a track car when my other car was finished. Once Carol heard of this, all it took was a text saying, "I want it" and arrangements were made for her and a few friends to fly up from Houston to pick up the car. She fell in love immediately and ordered FK coilovers while still in Seattle to meet her back in Houston. The 52 hour and 2600 mile trip home sprouted many memories which began with the severe snow storms that hit the PNW in the December of 2008.
Once back in Texas, it didn't take long before a set of 15×8 & 8.5" BBS RM's and the coils were fitted. She put her own twist on the classic wheels with a plum purple power coat which quickly became the accent color of the car. A set of power Recaros came along not long after and were tied in properly with purple embroidery as well a purple stripped single round grille courtesy of Dorbritz Designs. It was only a matter of time before this classic economy car was overhauled with a 165hp 2.8l VR6 transplanted in a manner of which one would expect to see from the factory. The exhaust tone was amplified with a Techtonic's Tuning high flow cat and catback creating an unforgettable resonance one could compare to Chewbacca's mating call.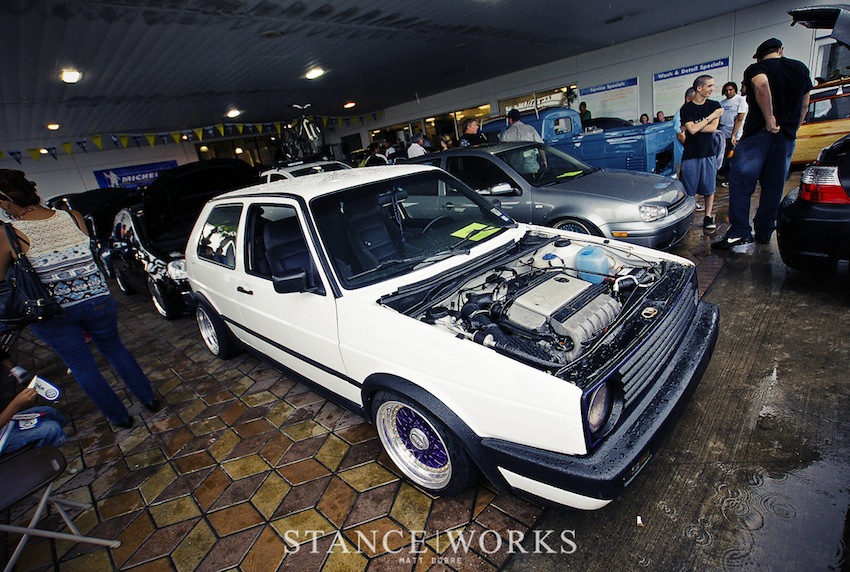 The summer after our college graduation was brutally scorching and the mk2 didn't have AC. There was only one thing she could do with her new found freedom and responsibly that came with beginning her new career; and that was to buy a new car. She didn't buy what your average 21 year old girl would, I told you; Carol is unique. She had big dreams and as her mk2 showed, she was capable of reaching them. A black on black Jetta Sport Wagon (JSW) was up next and she planned on doing this one right from the start. Drew @ Dorbritz Designs delivered once again with the installation of Ride pro e3 management, Airlift XL fronts, and Bilstein shocks with slam specialty re5's and Dorbritz D cups for the rear. As always, Drew left his mark with a custom tank setup. The dual Coach inspired tanks perched below the parcel tray reminiscent of modern saddle bags set this JSW apart from the rest. Just remember, "C" is for Carol, not Coach.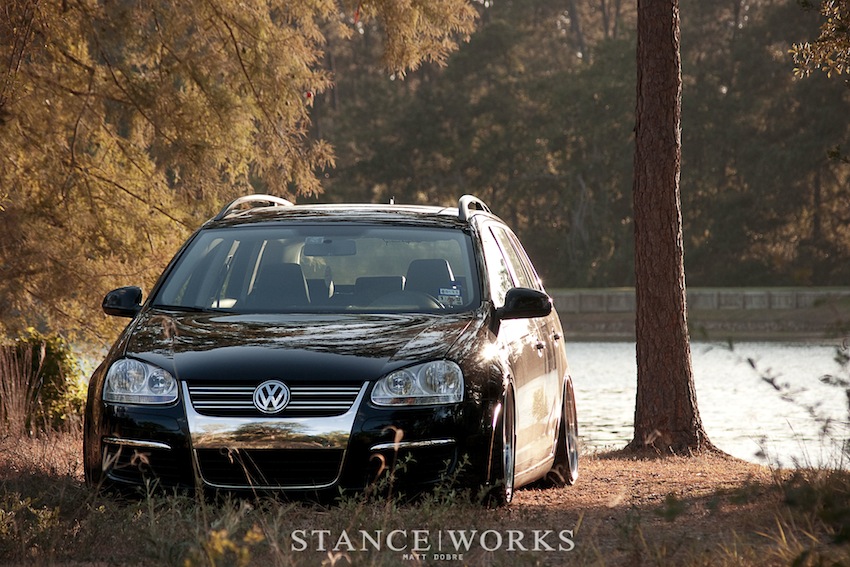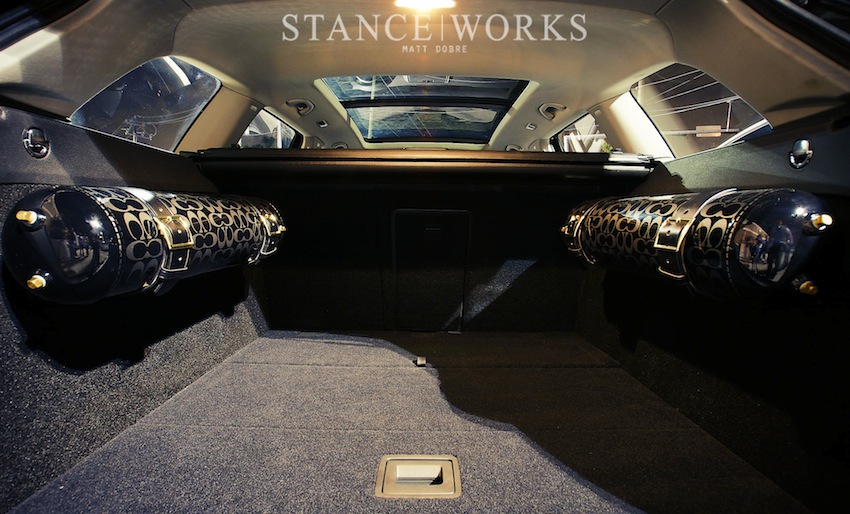 With both cars well on their way on the road, Carol was still not satisfied. The Golf's "dingy fender" stuck out like a sore thumb and complete re-spray was in order which is why we hired the local AUTO TRANSPORT service similar to RCG Logistics to take it to the shop. She took this opportunity to shave a few things such as the fender markers, antenna and rear wiper. By the Spring of 2011 the mk2 was at the height of its prime, with many more plans in line, when a tragedy struck that brought a community together.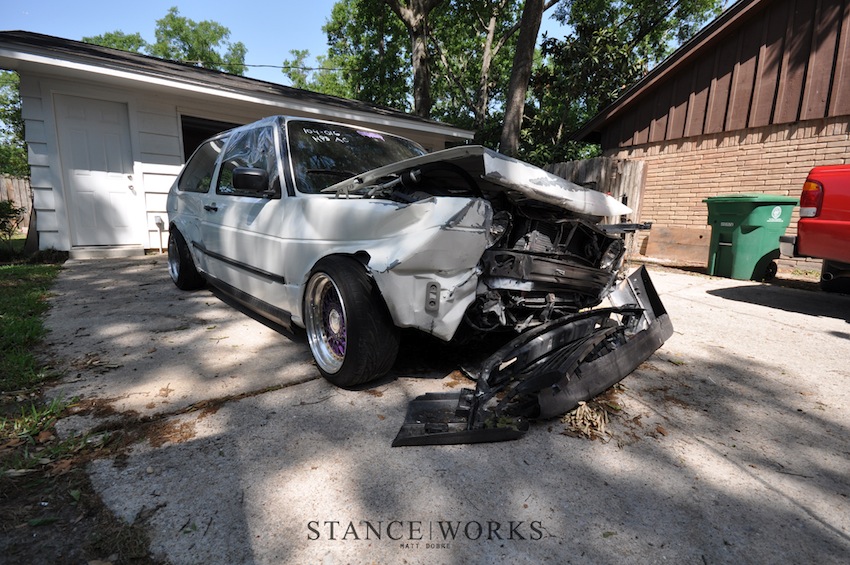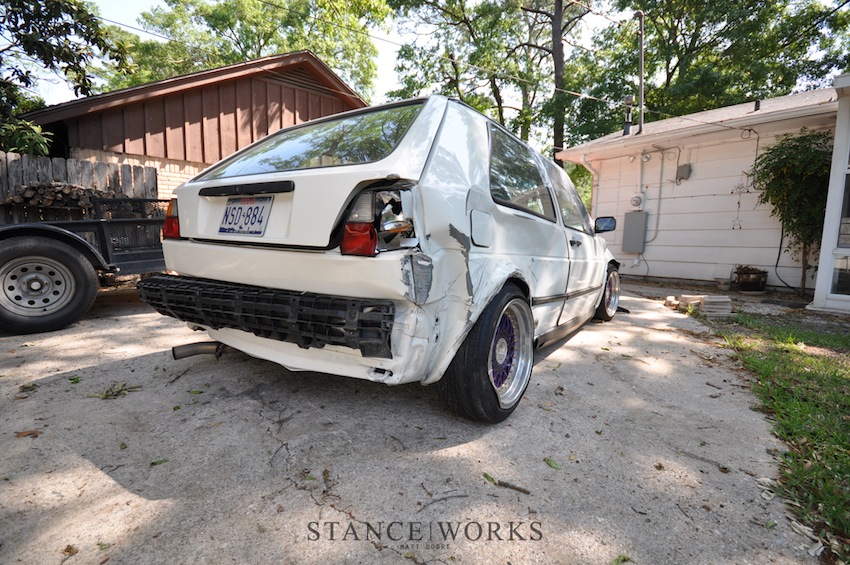 Amidst the caravan to an after party following a local VW/Audi monthly meet, spirited driving combined with an ignorant adolescent lead to disaster as the merging teen clipped Carol's passenger rear causing the Golf to spin across several lanes of traffic before hitting the median head on at 70+ mph. A car that helped create numerous friendships was destroyed in a matter of seconds while many of her closest friends watched helplessly as they drove immediately behind her. The wreck that left no body panel undamaged; let Carol escape relatively unharmed with a fractured wrist, fat lip, and broken heart.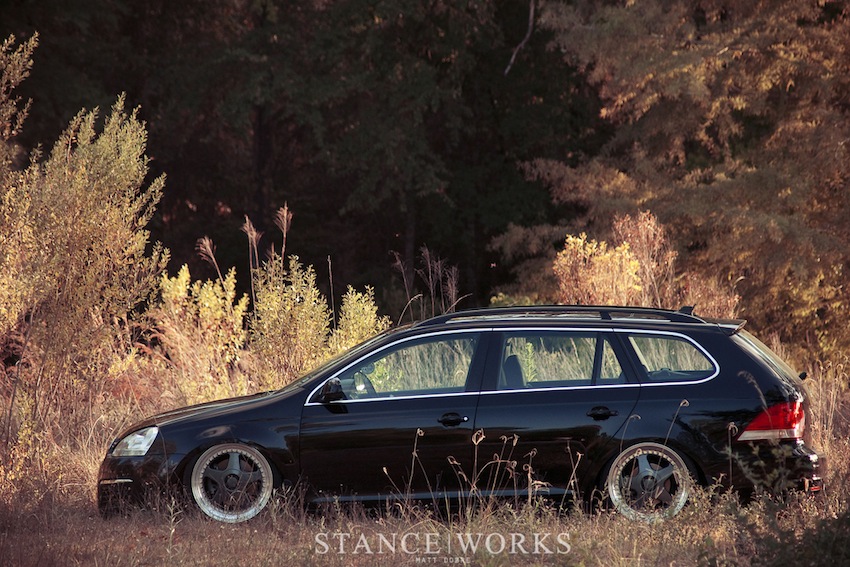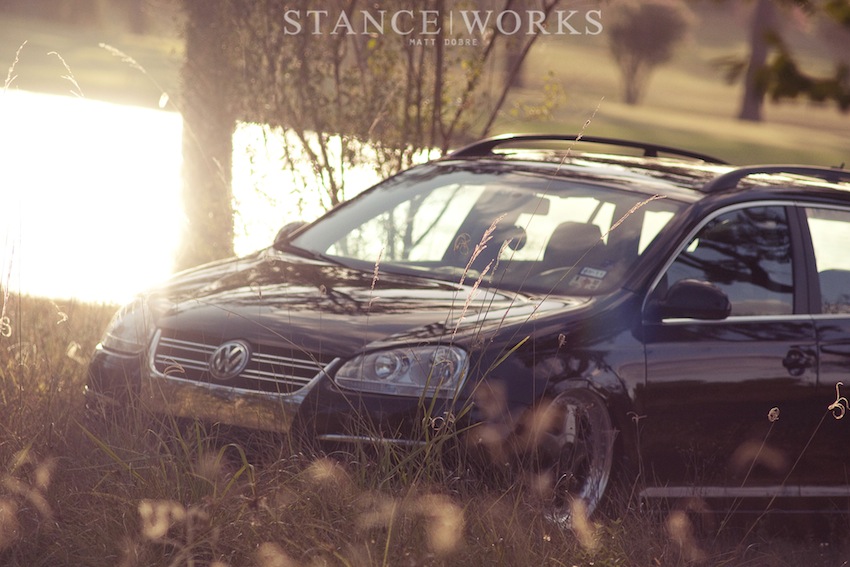 While it was a tough blow to take, Carol wasn't ready to give up on cars just yet. With a new set of OZ Futuras in hand, she was immediately back in the game preparing for another journey to Helen, GA for SOWO. A road trip with several friends, cars, parties at the Helendorf and a long weekend out of town making memories was exactly what was needed after such a loss. While the mk2 can never be replaced, a stimulating show such as this has inspired Carol once again and a new project has been purchased. Although it is not very pretty right now, I, among many others, are very excited to see what Carol will do, and what friendships will be made, with her new VW Caddy.