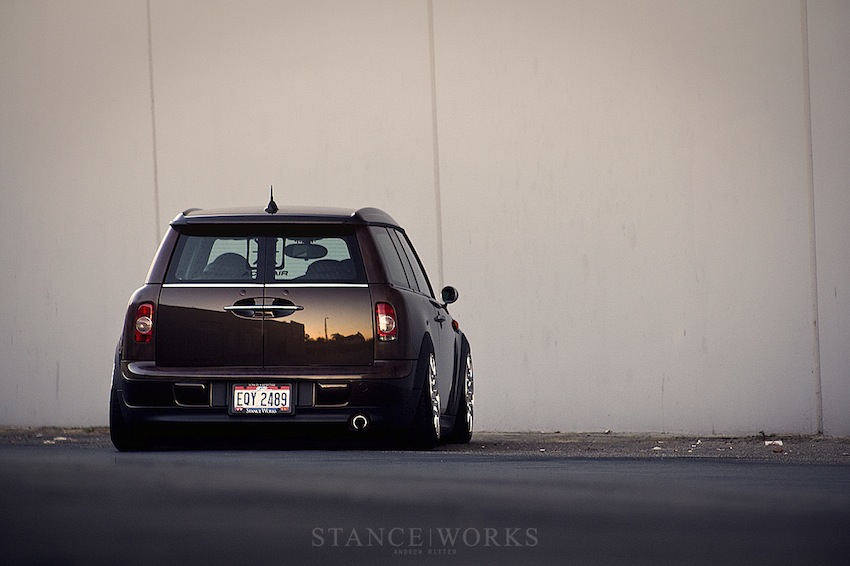 Two three gallon air tanks, a pair of Viair 444s, a VU4 valve manifold, the Accuair management ECU, two water traps, and a collection of 1/4″ airline all neatly packaged into the tight confines of the MINI Clubman hatch thanks to the AccuAir eXo-mount. The compressors hum quietly away atop their vibration damping mounts as you fill your tanks in anticipation of playing with the switches. The rocker switch and touch pad give off a soft glow in the driver's quarter. Everything about the AccuAir management gives the owner the feeling of a well refined interface and system.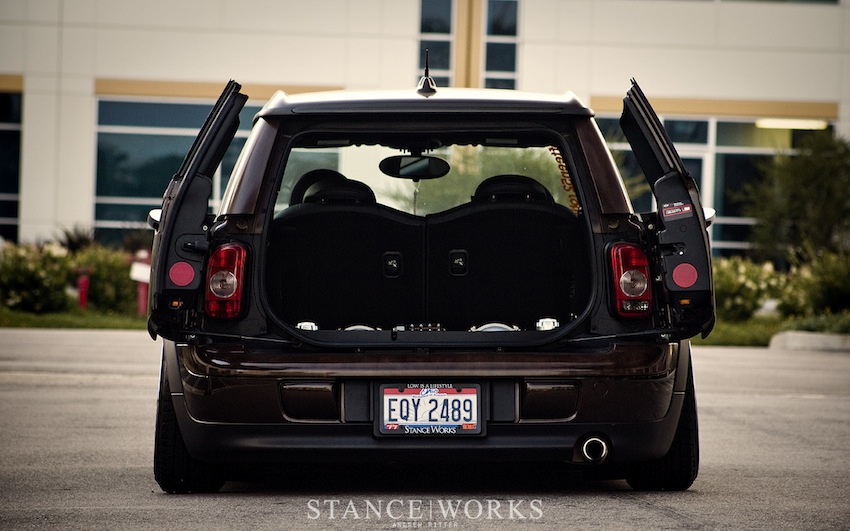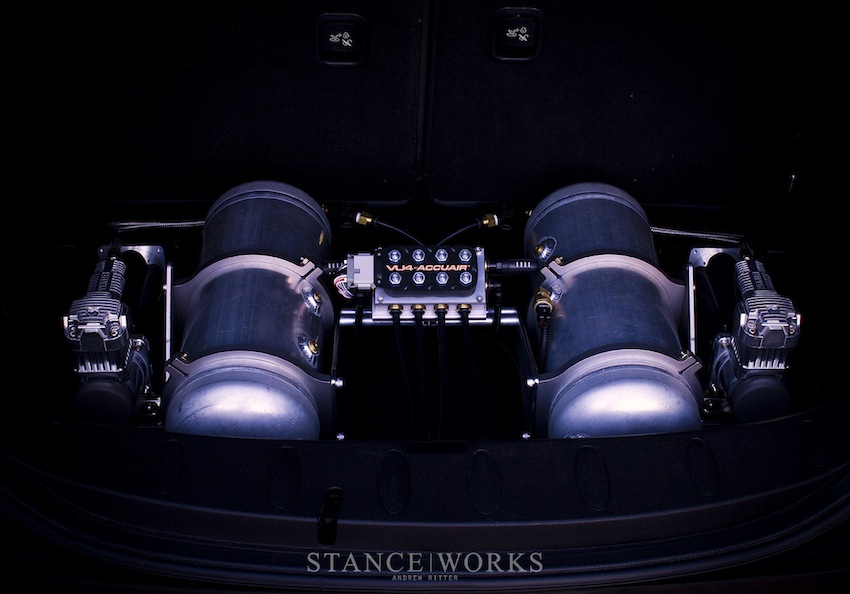 As you turn over the ignition, the AccuAir system rights itself up from it's dormant, laid-out state. You car pops up to the middle ride height preset and is ready to hit the streets without any thought or time wasted playing with the switches. There's no need to wonder or worry if your rear ride height is high enough to avoid rubbing or if the left side is level with the right. The E-Level assures that your car raises or lowers to the height you need, every time. Often a difficult task with other airride configurations, the height sensors allow the AccuAir system to consistently and accurately return to your presets. In other systems, when you're setting your height based on your pressure gauges, you're never quite sure where your car sits or how much clearance you've given yourself for the upcoming drive. Things like additional passengers and luggage will readily change that height and bring you to tapping the switches until you feel comfortable enough to drive off. On the AccuAir system the height sensors ensure that even additional weight is taken into consideration. In a community where our fenders and tire sidewalls threaten to make contact on a daily basis, having the confidence that your air management will ensure the proper ride height every time is comforting to say the least.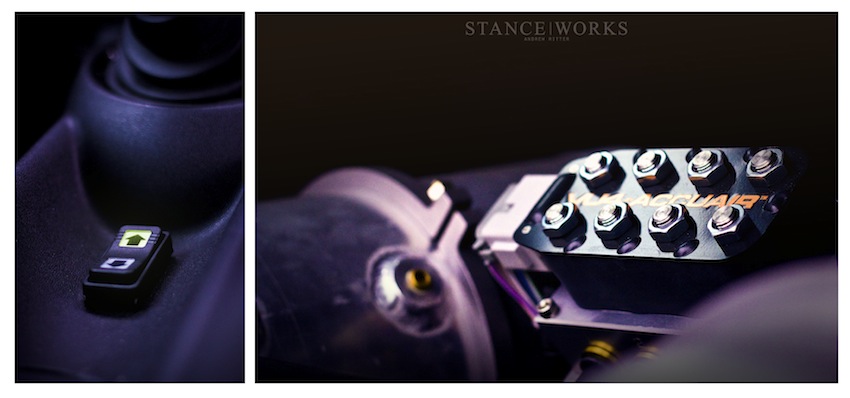 With the height presets set accordingly, you can quickly tap the rocker switch or touchpad to drop from your daily ride height to that show stopping cruise level where your subframe hovers dangerously close to the road. Conversely, a quick flick of your finger can have your car at preset 3, where you're ready to take on those menacing speedbumps and surprise construction sites. It makes these ride height changes so easy that you hardly have to think about it. When you've made it over that last speedbump or you're done cruising the strip, you just hit the switch and your car smoothly returns right back to preset 2, your daily ride height.
I've had the chance to put the AccuAir E-Level Management through a few thousand miles since the install. Its hauled the StanceWorks California crew through the California desert with luggage and photo gear stuffed in the back. Its allowed me to cruise the Vegas strip at preset 1, allowing my bumper and subframe to become intimately familiar with the pavement as pedestrians looked on. I've always loved my airride, but the ease and comfort that the AccuAir introduced has me excited about air suspension again. It has made it all painless and worry free. Whether I'm just hopping in for a quick grocery store run, or getting in the car for a long road trip, all it takes is a turn of the ignition and my suspension is ready to go wherever we need.  This performance matched with beautiful craftsmanship is what makes the AccuAir E-Level system so special.  AccuAir's attention to detail and their passion for suspension shines through every day when you get in and see that touchpad light up. It's truly a great system and it will change the way you think about airride management.