Edafe Omosowofa's name might not be synonymous with "Oh my lord, that's slammed", but if you've been a part of the 350Z community for very long, chances are "Royal_T" rings a bell. His Z has always been at the top of the food chain. It's unbelievably low and flawlessly executed. It's also driven. Hard.
It was almost a year ago that StanceWorks teamed up with AST to produce our own line of Zero Clearance coilovers engineered to sit cars lower than any other while maintaining a ride quality on part with the nicest systems money can buy. Our E36 systems raised the bar for BMW suspensions, and continuing in our own footsteps, our 350Z coils bring something groundbreaking to the market. A true coilover front and rear, our systems offer the lowest possible ride heights, the best possible ride quality, and best of all, no performance has been sacrificed. Did I mention Edafe drifts his 350 competitively?
Without further adieu, here's a review in Edafe's own words.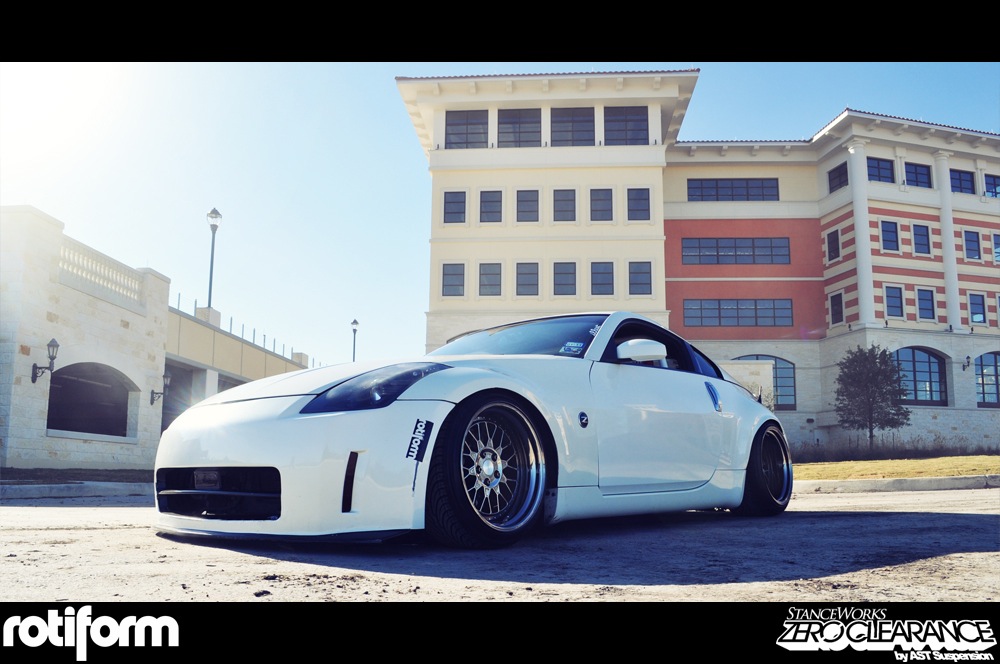 _______________________________________________________________________________________________
Truth be told, this will be the last time my ride will look like this. Winter is upon us and that spells "tear down and build." So let's get into it shall we…
StanceWorks teamed up with AST Suspension for a once and a life time collaboration like no other. SW would bring to the G/Z community the type of Suspension that should have been available a long time ago. AST has a history in itself with 35 years under their belt; they were the perfect company to work with. Where do I fall into this mix? Well, I was blessed with the opportunity to test their prototype "ZeroClearance" Suspension and help work out any kinks in the system. So with out any further delay I present to you the "ZeroClearance" Suspension.
Quality/Design
The Suspension itself is a mono-tube high-pressure coil-over shock absorber. Damping force on rebound and compression is adjusted 12 positions. The craftsmanship is exquisite compared to any other offerings for the Z33 chassis.
At first I was taken aback from the design aspect of the rear coil-over, thinking to my self "Why and how does that work?" But later found out that the way AST/SW designed the rear was entirely based on functionality. You see, most coil-over systems for the G/Z have the damping adjustments set at the top of the top hat. This became a problem if you did not purchase an extender for the damping adjustment, as this in turn causes you to remove the suspension every time you need to change damping settings.  AST/SW addressed this problem by placing the damping at the bottom of the coil-over, so all you have to do is remove your wheel to make adjustments as needed.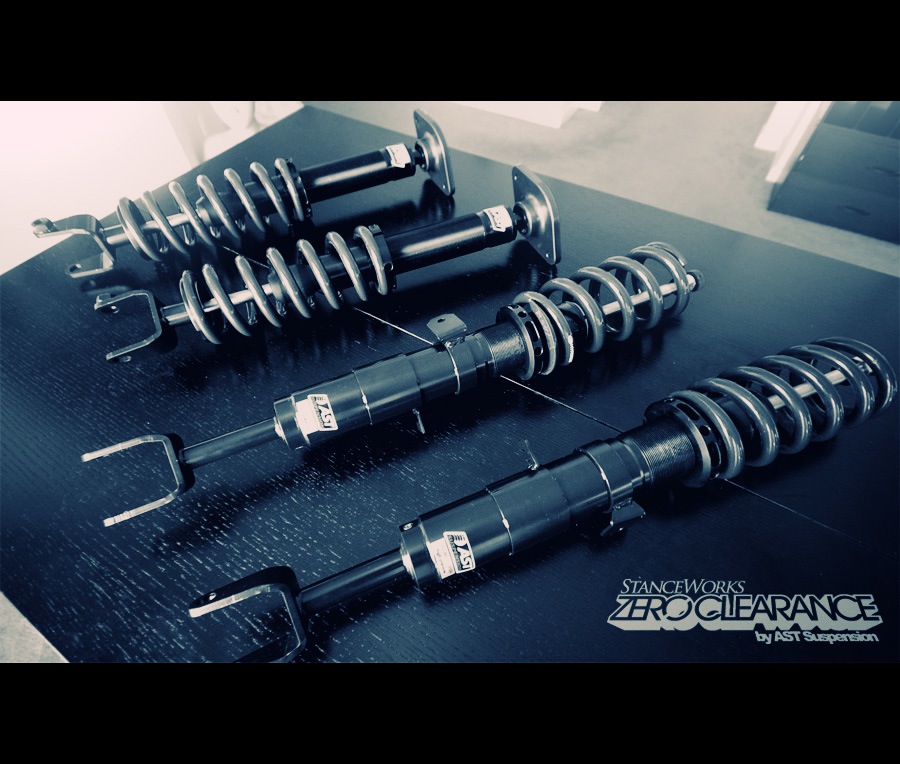 There are not as many collars to mess with. AST/SW saw no need for extra parts as we all tend to remove them any ways..lol. Along with removing the collars, the shock bodies have been shorten to accommodate those that wanted maximum droppage while not sacrificing ride quality.
Spring rates are set at 14k/13K and the shocks were valved properly to accommodate those rates. The end result is maximum lowness combined with a comfortable ride.
Ride Quality/Track testing
In my opinion 8 clicks towards hard in the front and 7 clicks towards hard in the rear gave me the best ride quality, but everyone is bound to have different tastes.
*Disclaimer     (When it comes to riding stanced, you will never get away from the control arms hitting the frame. Cutting out holes in the body so the arms have more travel is ideal)
After doing the above I drove the car around town for more than 5 months, doing my day to day routine. After dialing her in and working out some of the kinks I can tell you the car felt like I was driving at stock height, but in reality I was 1-1.5″ off the ground. Bumpy roads felt smooth instead of the constant knocking noise. You do feel the road more versus being at stock height, but that is due to being so close to the ground. No knocking or clicking noise from the coil-overs, unlike most manufactures out there.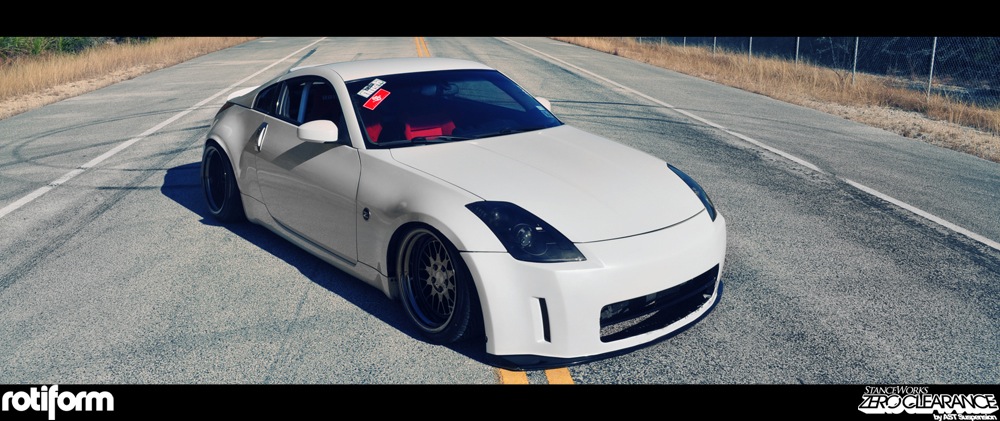 "Track Day!" for some drift action. My first impressions was "damn this thing sticks to the ground." The car moved where ever I told it to go. Success in my book; no noise from the suspension from the constant flicking of the wrist, and rear stayed planted to the ground.
Now you are asking yourself, "okay I have heard all this before, but how low can I really go?" Well, my friends, you will be able to tuck 18s with no problem, and trust me, I know. What other suspension you know can tuck a set of 18s? None.
So there you have it: a suspension that has it all, even where it matters most, "ride height." Thanks to Mike Burroughs, Ben Terry and the rest of the StanceWorks Fam for making all this possible, you guys continue to motivate us all.
_______________________________________________________________________________________________
Now, in case you missed it, Edafe is on new wheels. It's not uncommon for people in our community to switch wheels out left and right, but leave it to Edafe to keep the game slightly different. 18s. Keep in mind this car is on 18s, not 19's like every other Z out there. Edafe's words:
Now as you can tell I have switched shoes once again. I never thought I would be that person to switch wheels so often but was blessed once again to work with the heavyweights at Rotiform.
Brian and Jason are truly on another level when it come to the wheel manufacturing game. Their designs are so surreal it makes Alice and Wonder Land look like child's play. So when they offered me a sponsorship and to be the first import to rock their wheels; How could I say no?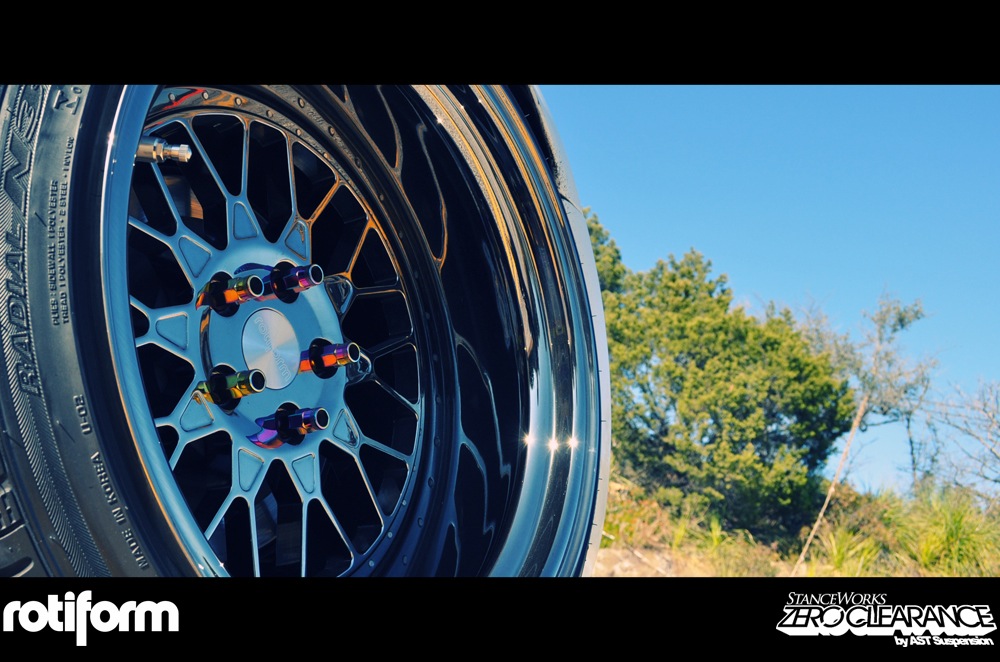 After sitting down with them we picked their SJC racing 3 piece wheel. I wanted to go back to black, but this time with a pop… So Brian suggested do the whole wheel in Black Chrome… BAM!! we have a winner.
The end result is what you see in-front of you now. Specs – F18x10-8 R18x12-13, giving me a 4.5″ front step lip and a mind blowing 6″ rear step lip. And that's not all folks, did I mention that these wheels only weigh in at 17.6LBS…. "Holy Shit!!" yup that sound about right to me.
To say "This is just the beginning" is an understatement as Brian and Jason are already working in their laboratory on my next set of wheels that will blow your minds…..Stay tuned.
If you would like pricing on these wheels or any other wheels Rotiform makes please contact Brian@Rotiform.com (tell him Edafe sent you).
Thanks to Mike Burroughs, Ben Terry, SW Fam, Brian and Jason for giving me the opportunity to work with you, I am truly honored to represent your company. Keep doing what you guys do best in the stance community as you inspire many.
_______________________________________________________________________________________________
And so we wrap this article up with a thanks to Edafe for helping us work out the kinks in our suspension system, and we're happy to announce that the 350Z/G35 Zero Clearance systems are officially for sale.
Email ben@stanceworks.com for more info on ordering the Zero Clearance coilovers.