It was two years ago that we were given the chance to showcase Daniel Schaefer's talents, put to use on what he dubbed the 911 GT: a 912-bodied race car that embraces everything we've come to love about the 911, from its heritage to its aesthetics. Today, Daniel is proud to unveil his latest build, a 1970 911T that harks back to the S/T FIA Group 4 racers of the era. With an aim to build a thorough tribute, Daniel set out with his research to find the information and the parts necessary to bring his dream to fruition.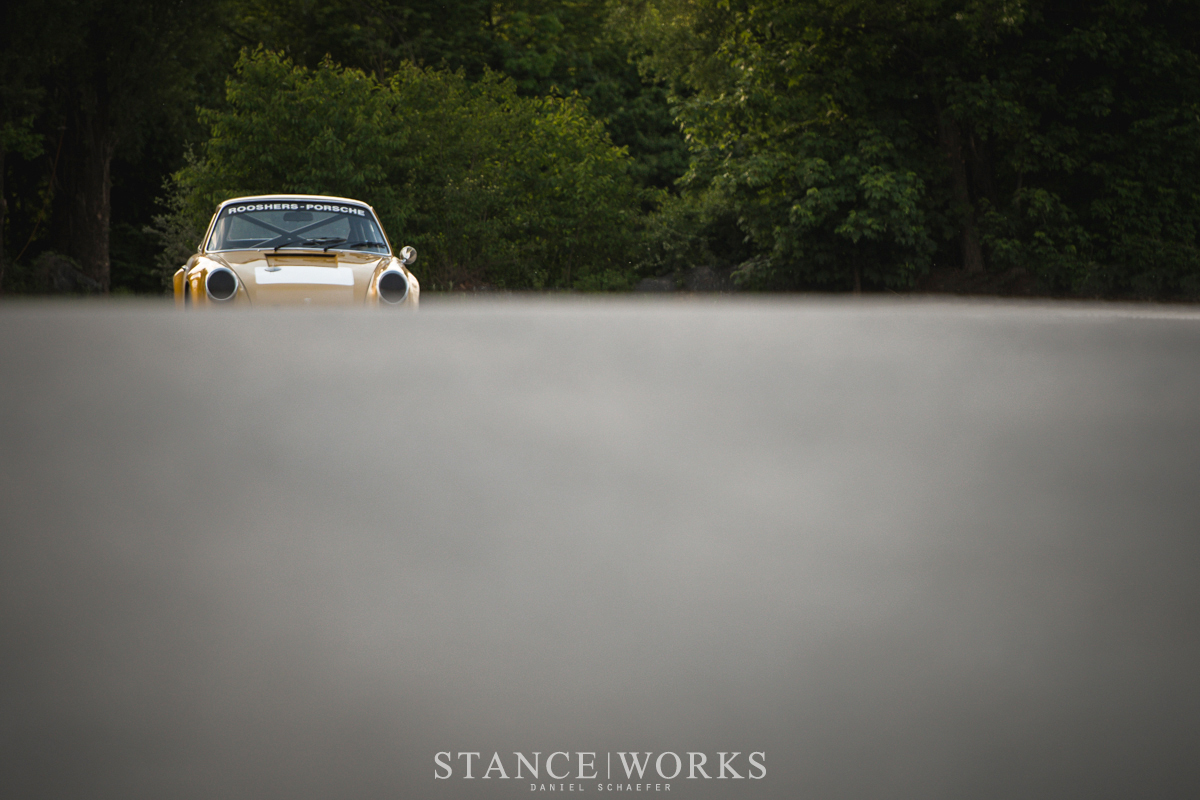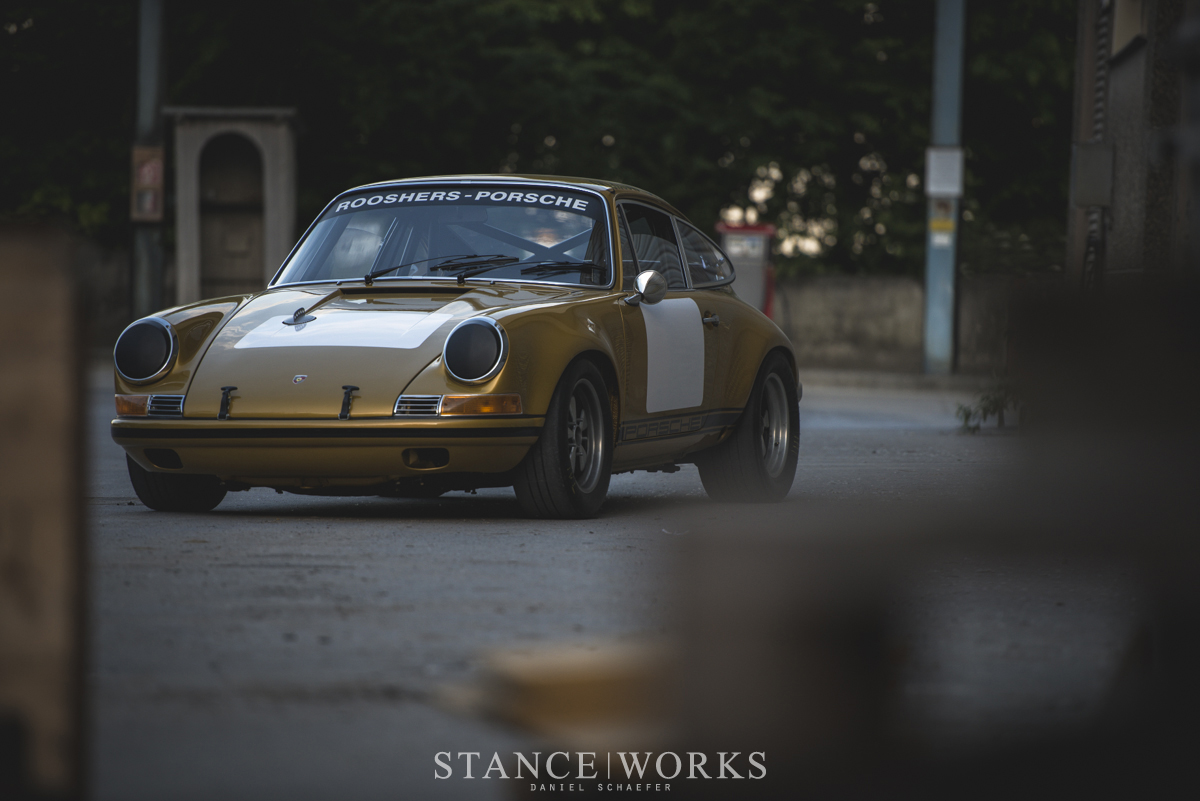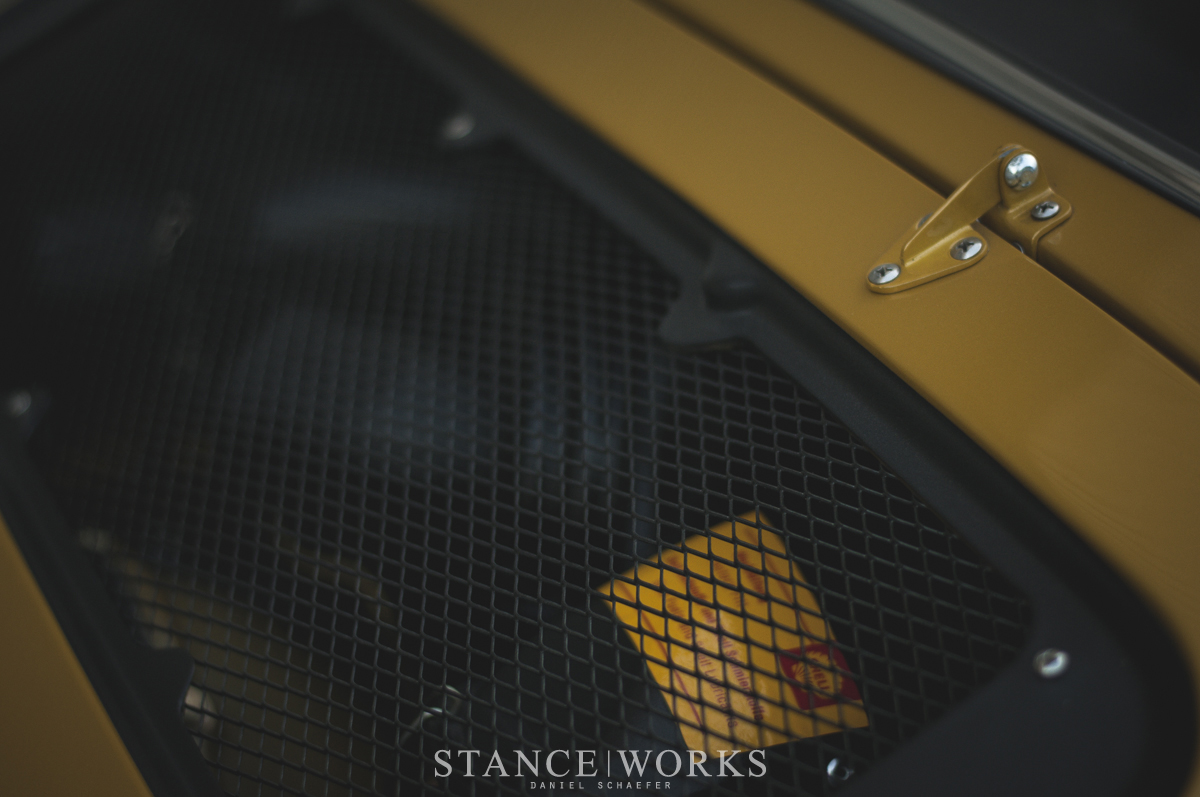 According to Daniel, the first 911 S/T factory race car was built in 1969. It was largely similar to a 911S with a 2.2-liter engine, but was built to be as light as possible. Every unnecessary component was stripped from the car, such as rear seats, electrical goodies, and sound deadeners. Body panels like the fenders, boot lid, and hood were all replaced with lighter units, and the glass was removed in favor of plexiglass windows. The arches, front and rear, were wider than its counterpart too.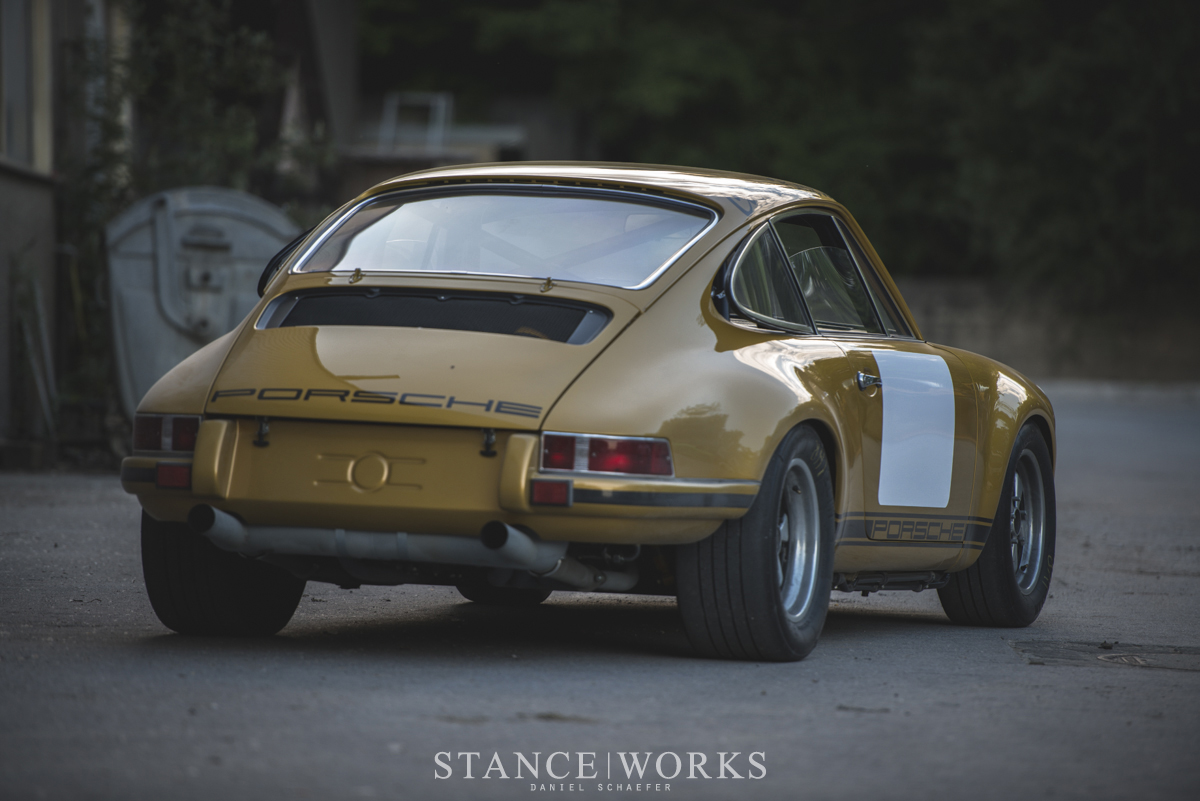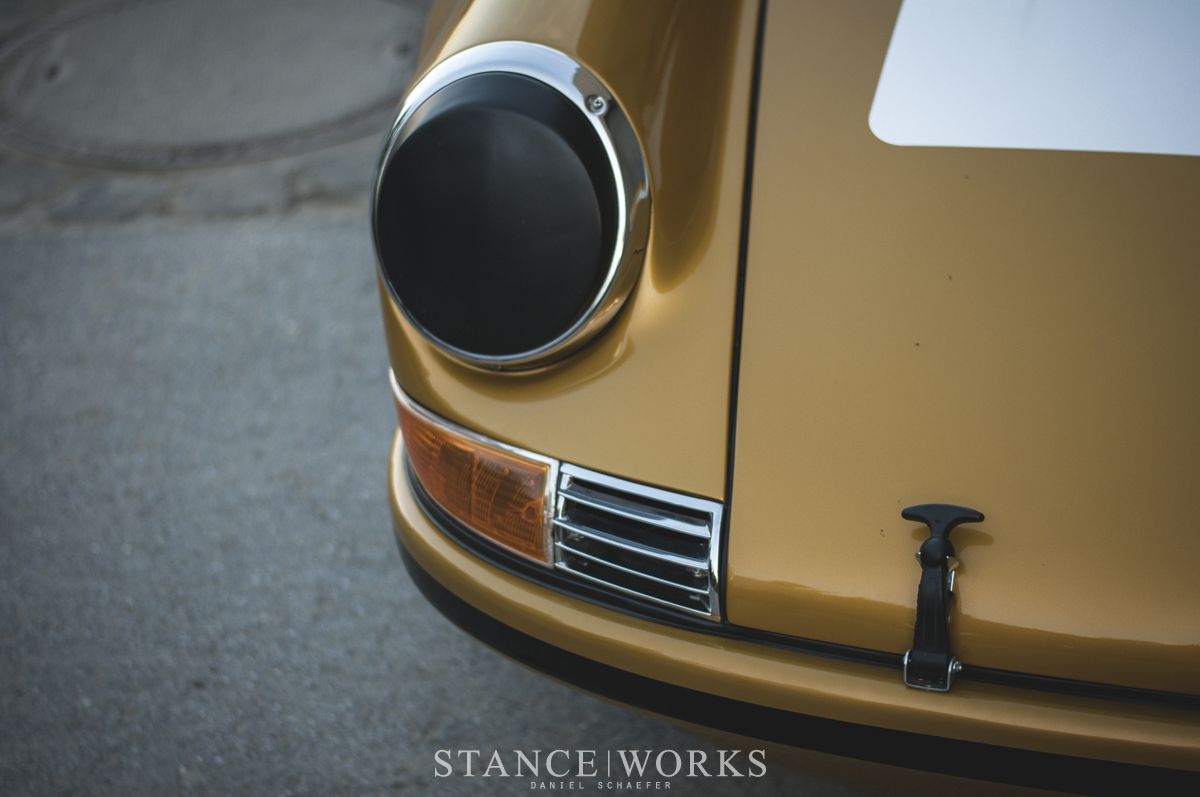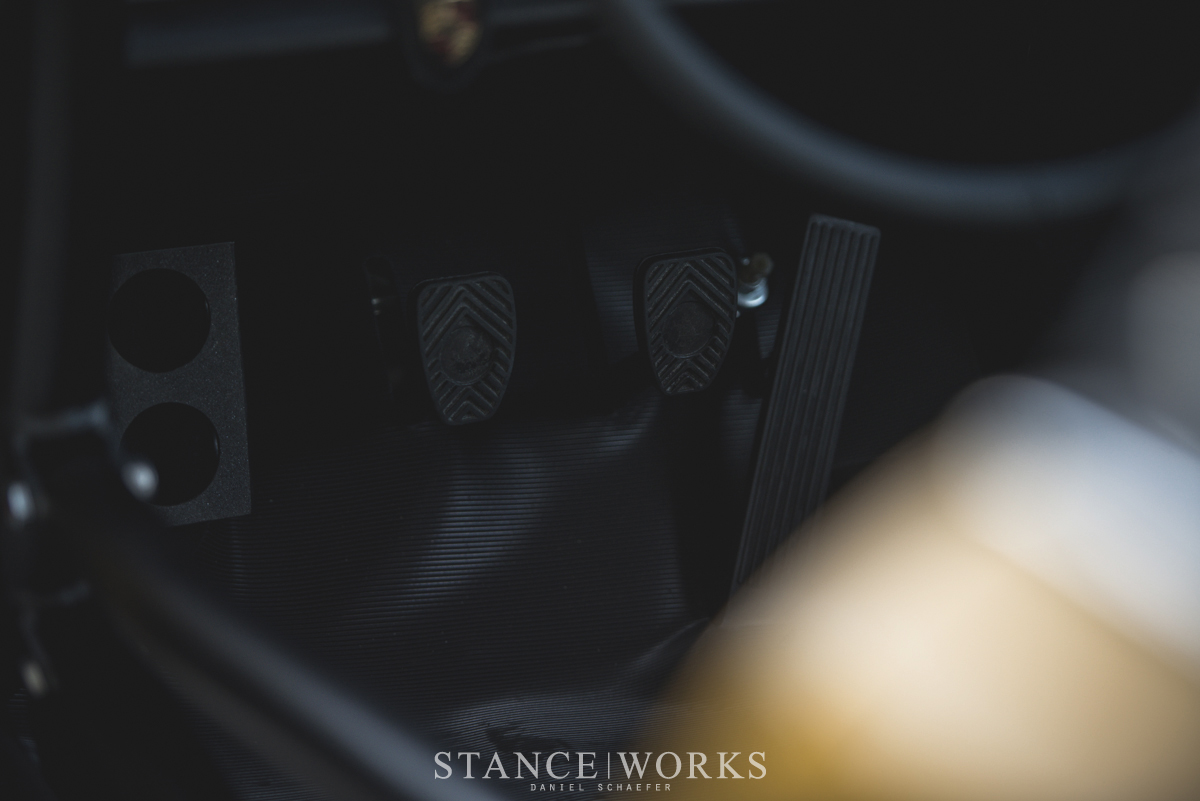 The cars received a fair amount of modification under the boot lid as well: the cubic capacity of the engine was upped to 2.3 liters, twin spark ignition was fitted, the engine sported higher compression numbers, and of course, a more free-flowing exhaust, which yielded a power output of around 240 horsepower. Suspension components were altered too, such as larger torsion and anti-roll bars, and widened wheels too. In short – the factory race cars we similar to their road-going counterparts, but only just.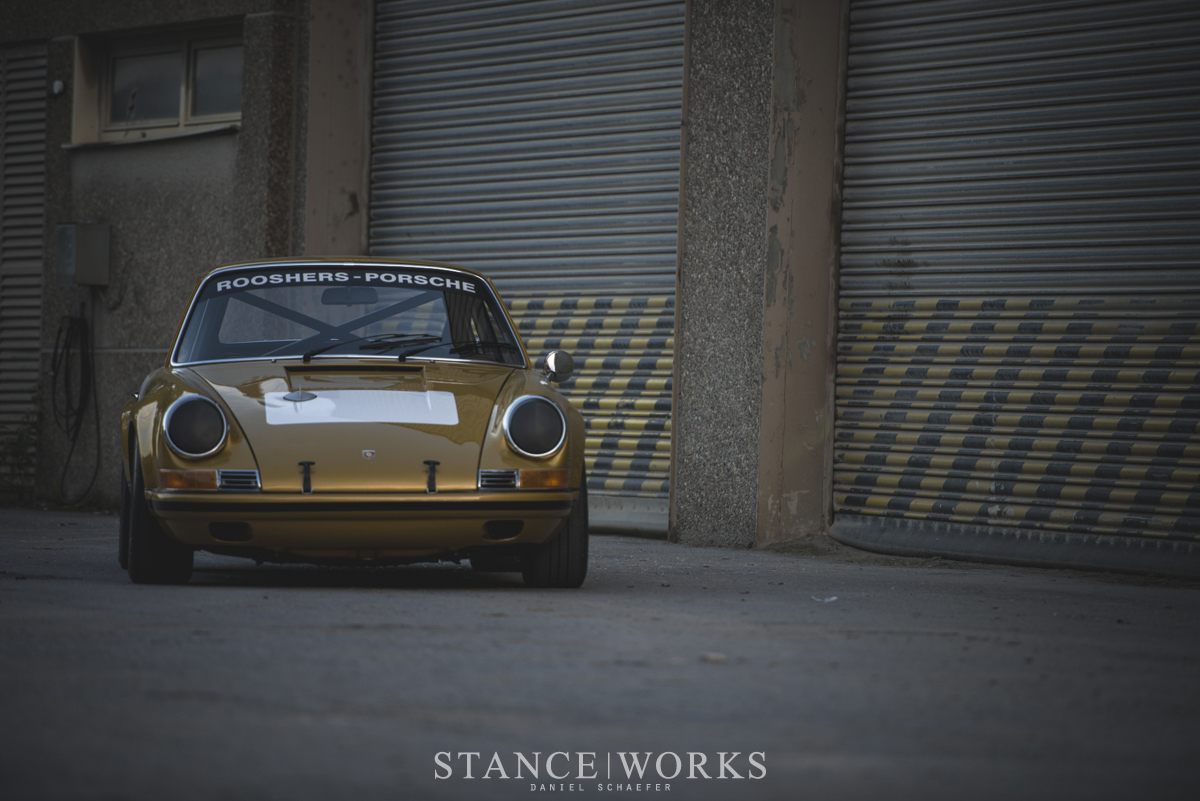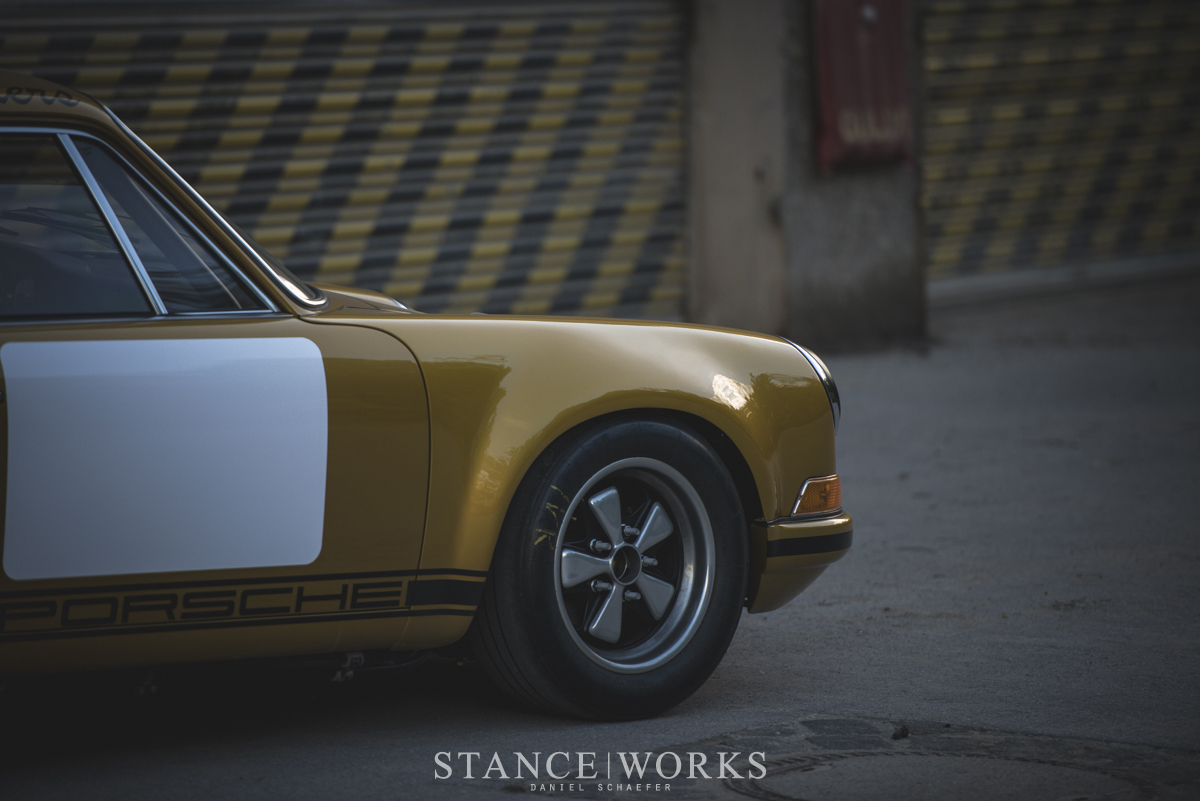 Armed with a heap of technical knowledge, Daniel sourced a chassis for the build. Located just one town over, a worn-out '70 911T sat waiting for a breath of fresh air. Imported from Florida to Germany in 2009, the car had been sitting ever since, riddled with the expected rust of a car that spent its former life near the ocean. Nevertheless, Daniel was unfazed and dove straight into rust repair, replacing the floors, skirts, fuel tank support, and other common rust-prone areas with fresh sheet metal.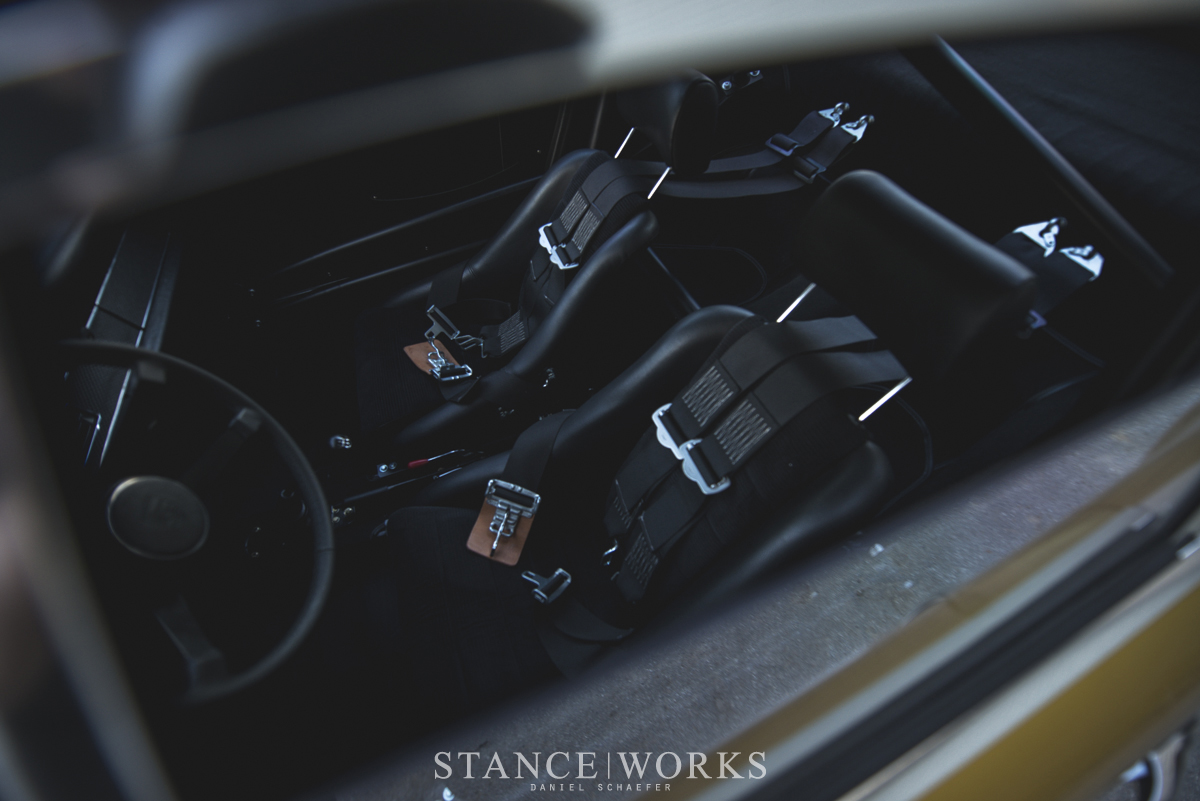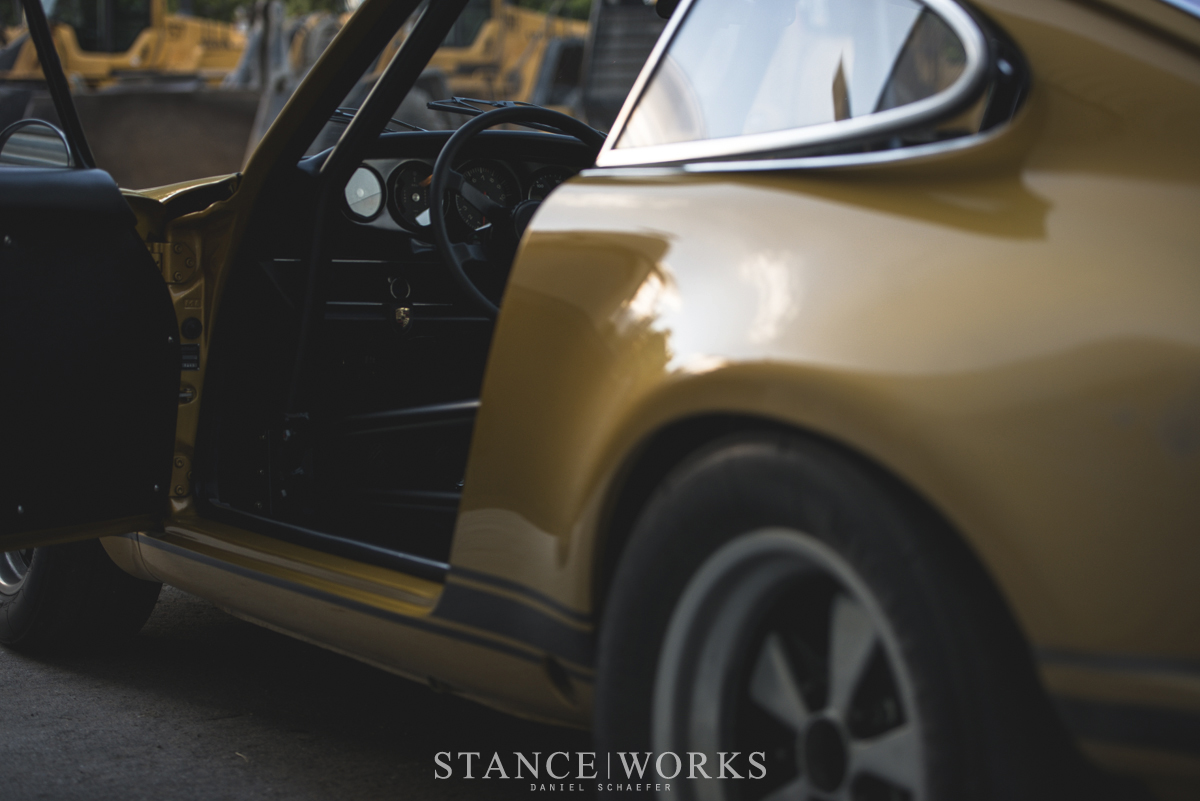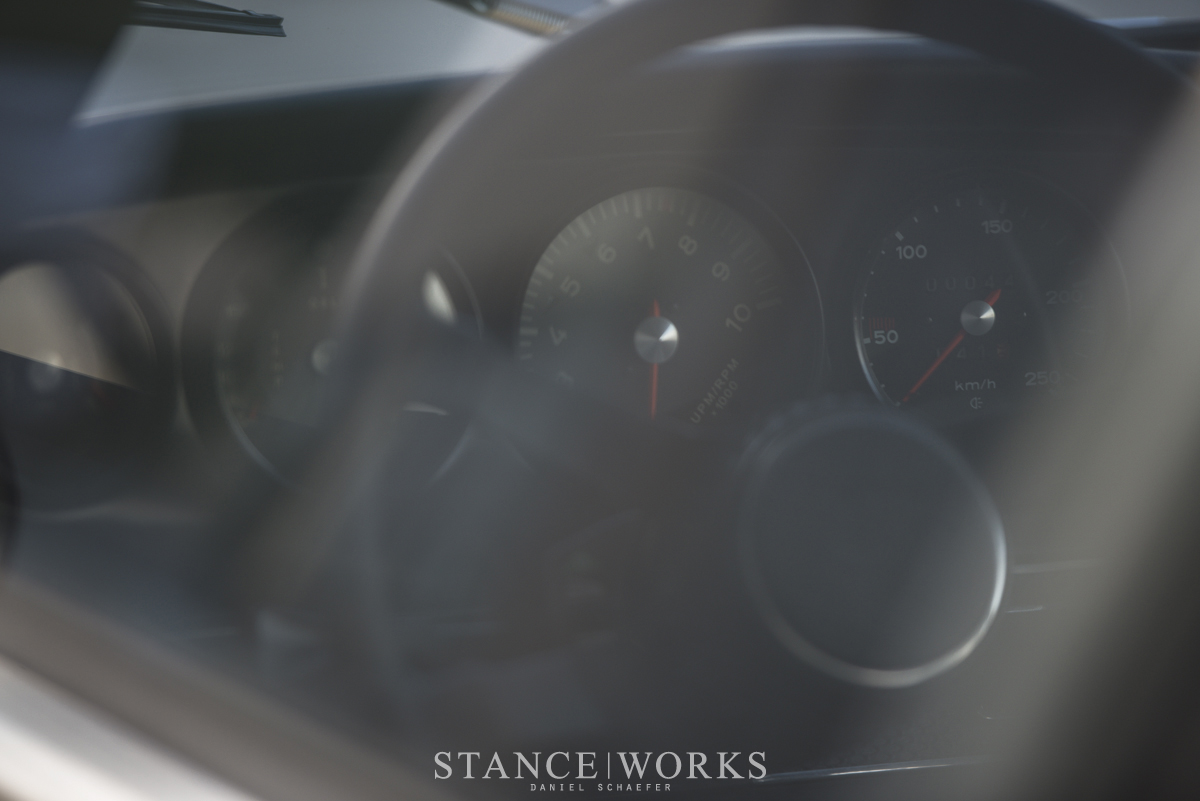 During the restoration portion of the build, Daniel sourced the correct Group 4 body components, and modified the chassis to match. A roll cage was fabricated and welded into place, new seat mounts were built to seat Daniel and his desired passenger lower in the cabin, and the battery boxes were removed for better air flow and oil cooling. For Daniel, it was small touches like this that he felt helped to improve the authenticity of his build.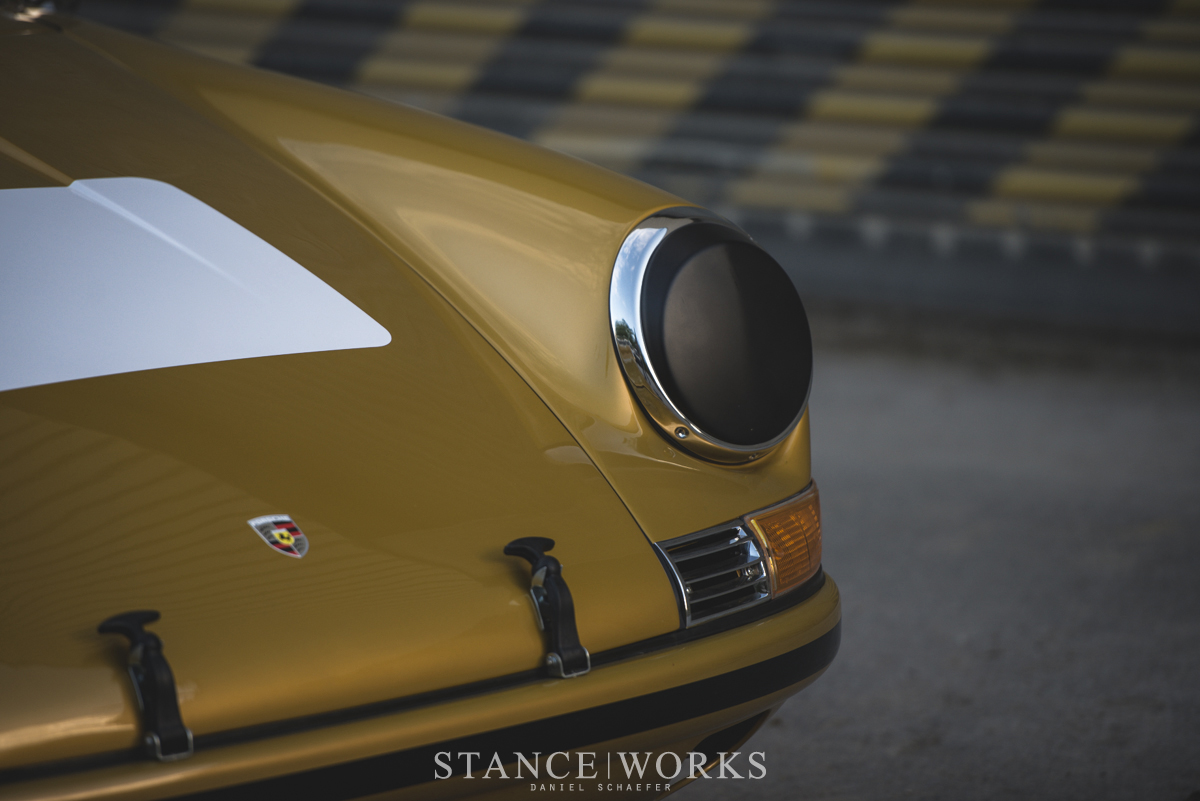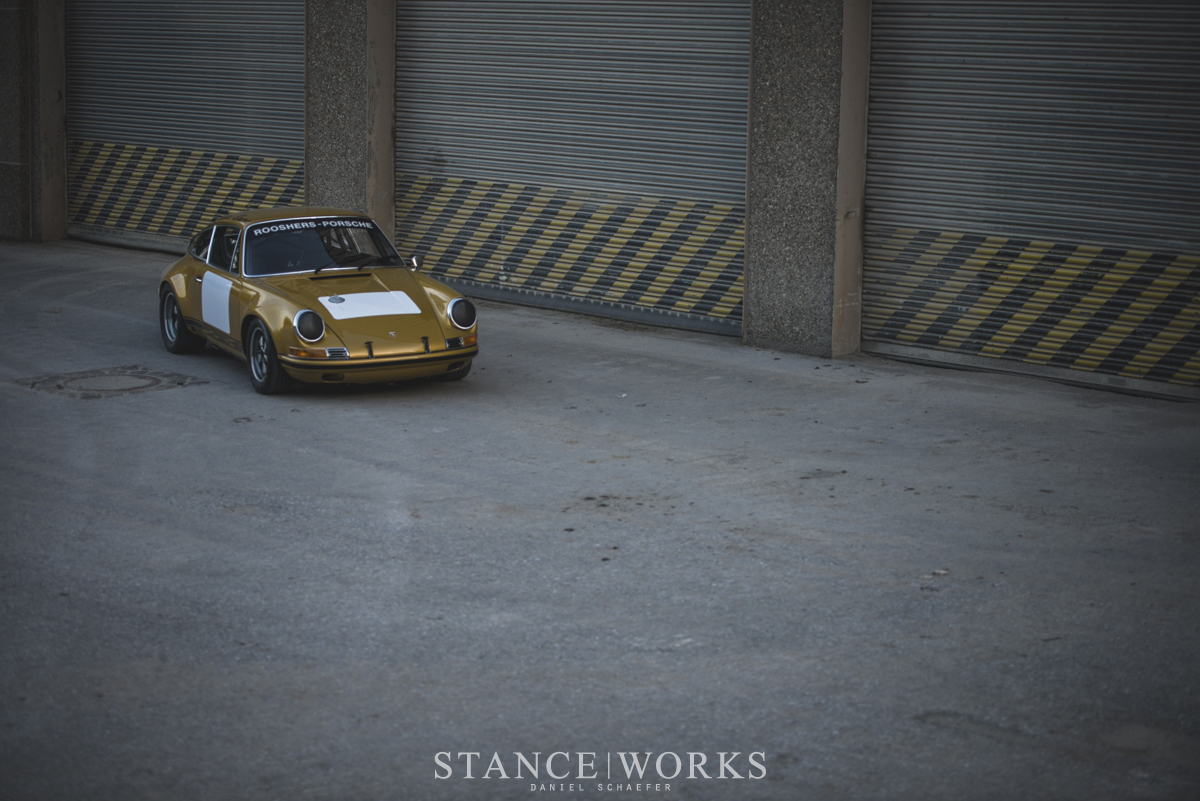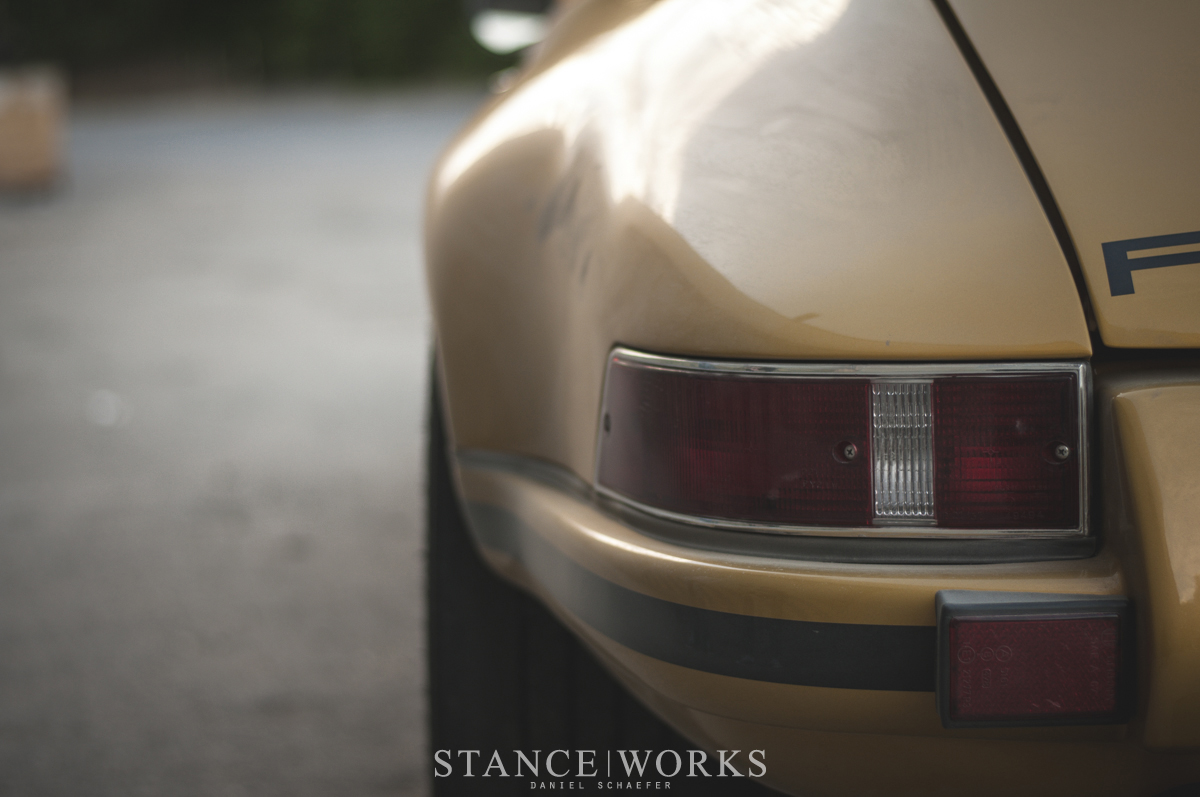 Choosing a color was perhaps the most difficult part. With a 1970s Porsche paint chart in hand, Daniel wanted something that was less common than the standard oranges and greens most people seem to opt for. It was within a 1970 special-colors brochure that he found the perfect hue: gold metallic, color code 8888. In retrospect, Daniel says the color is definitive of the build, separating it from a sea of counterparts, yet remaining accurate and period correct.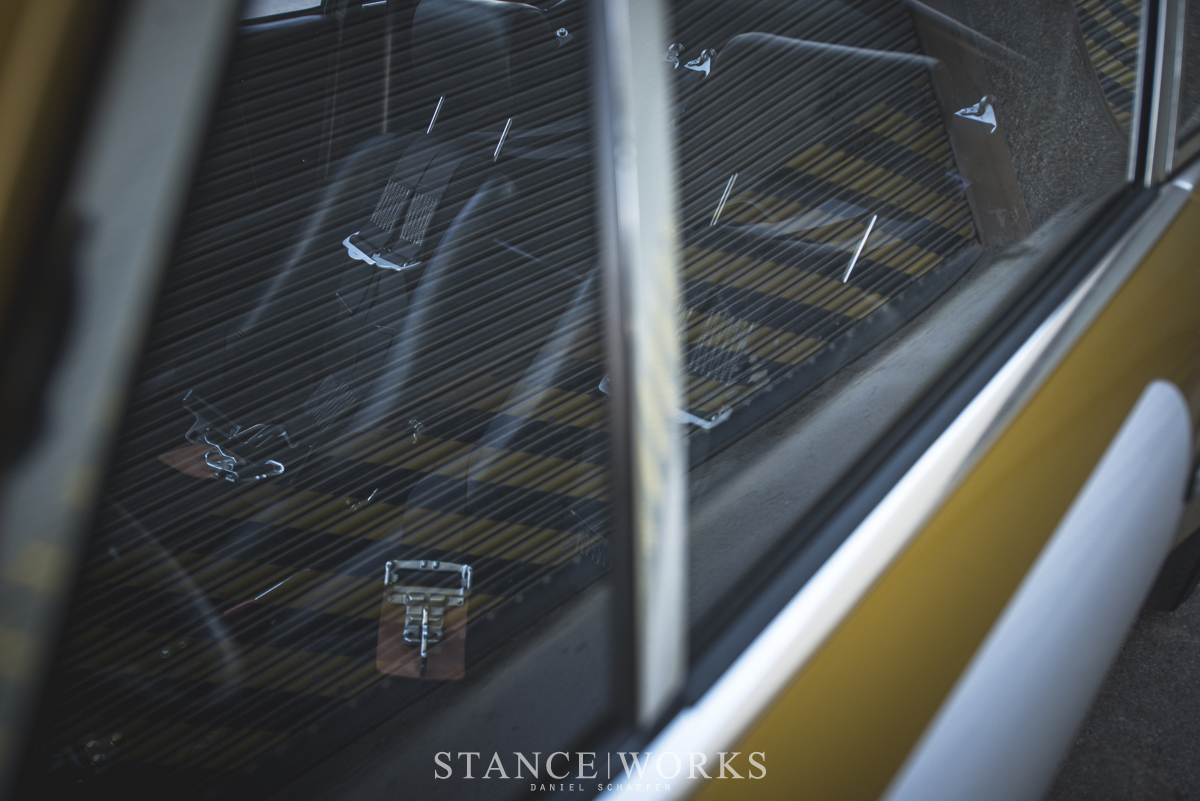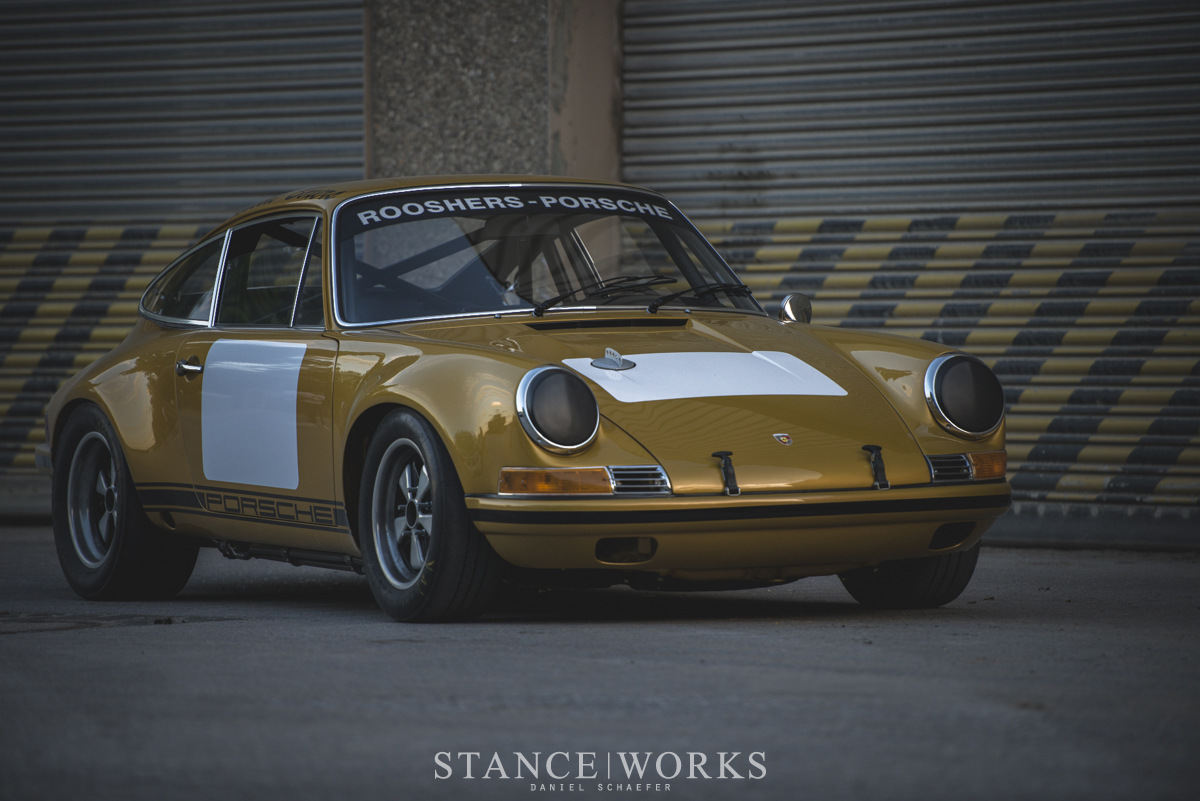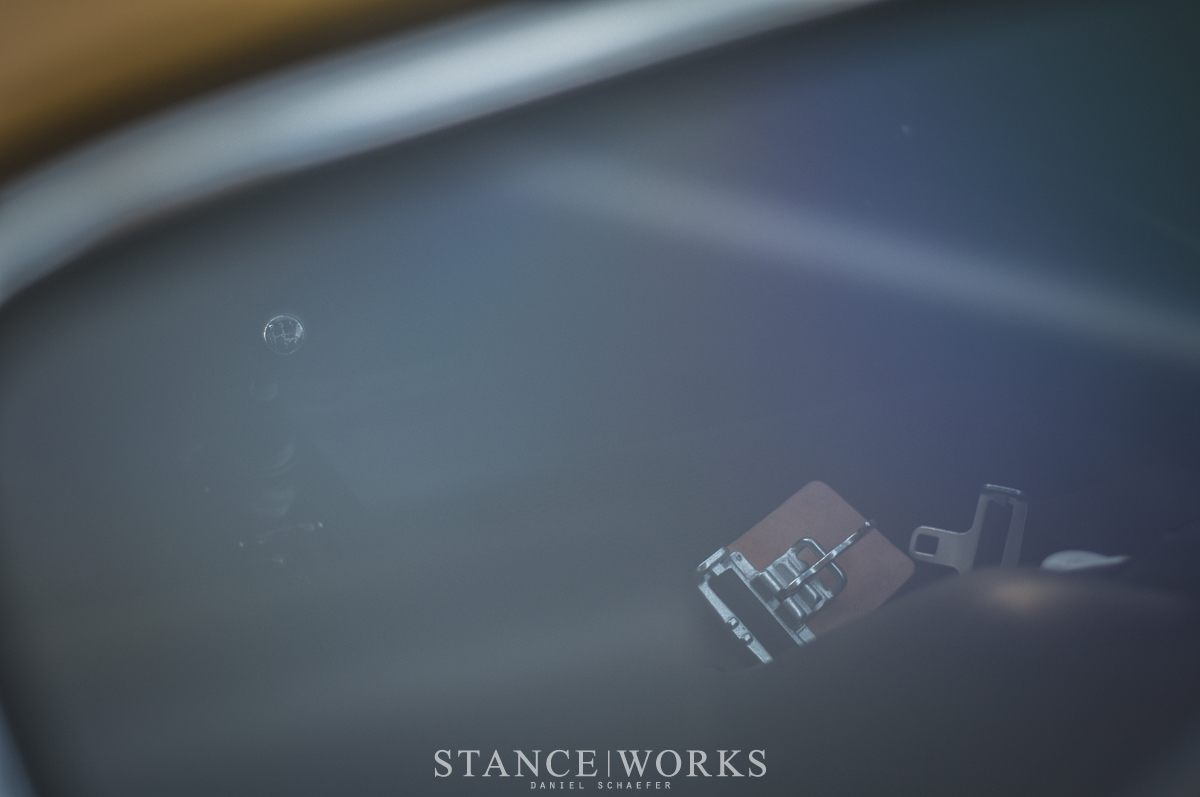 With intentions of racing the car in FIA spec races, changes to the car's undercarriage were once again limited to period-correct changes only. Thicker torsion and roll bars, without adjustments, were an obvious starting point. Polyurethane bushings were fitted everywhere that was deemed applicable, and original aluminum "S" brake calipers were installed on the front. The wheels measure 15×7 in the front and 15×8 in the rear, a serious improvement over the 911's original equipment.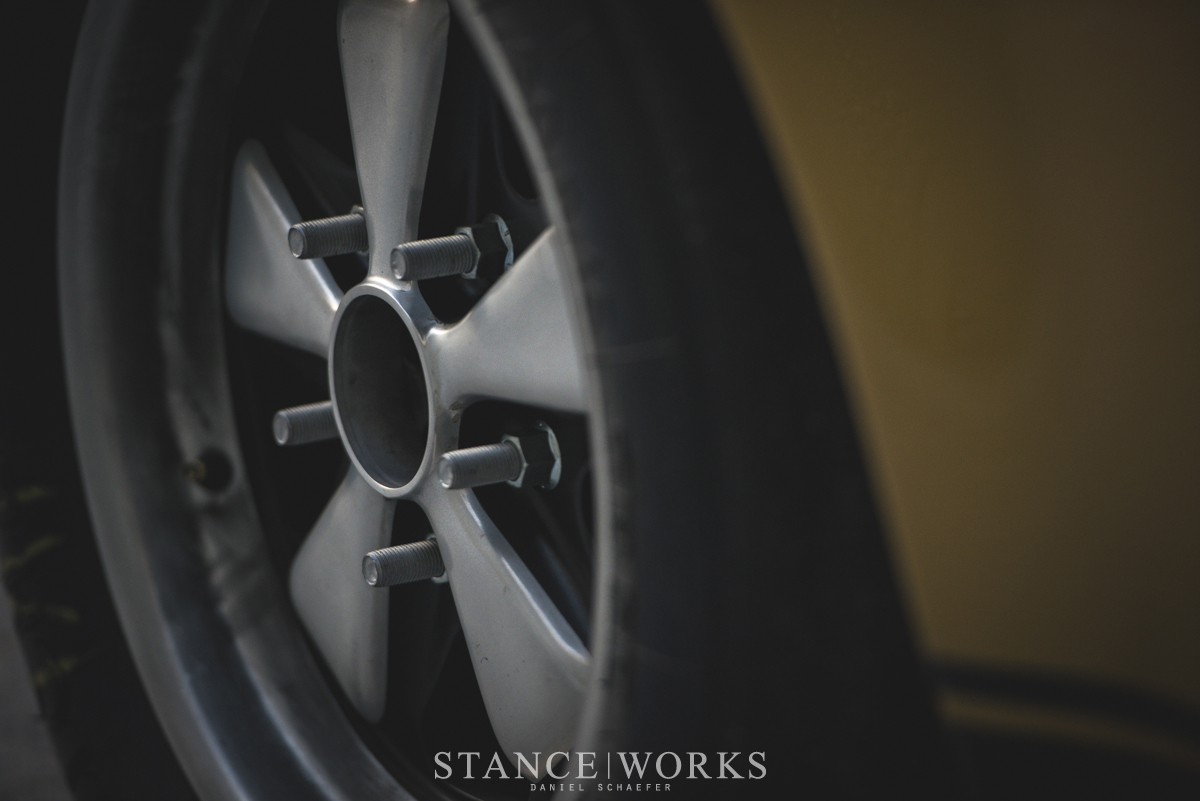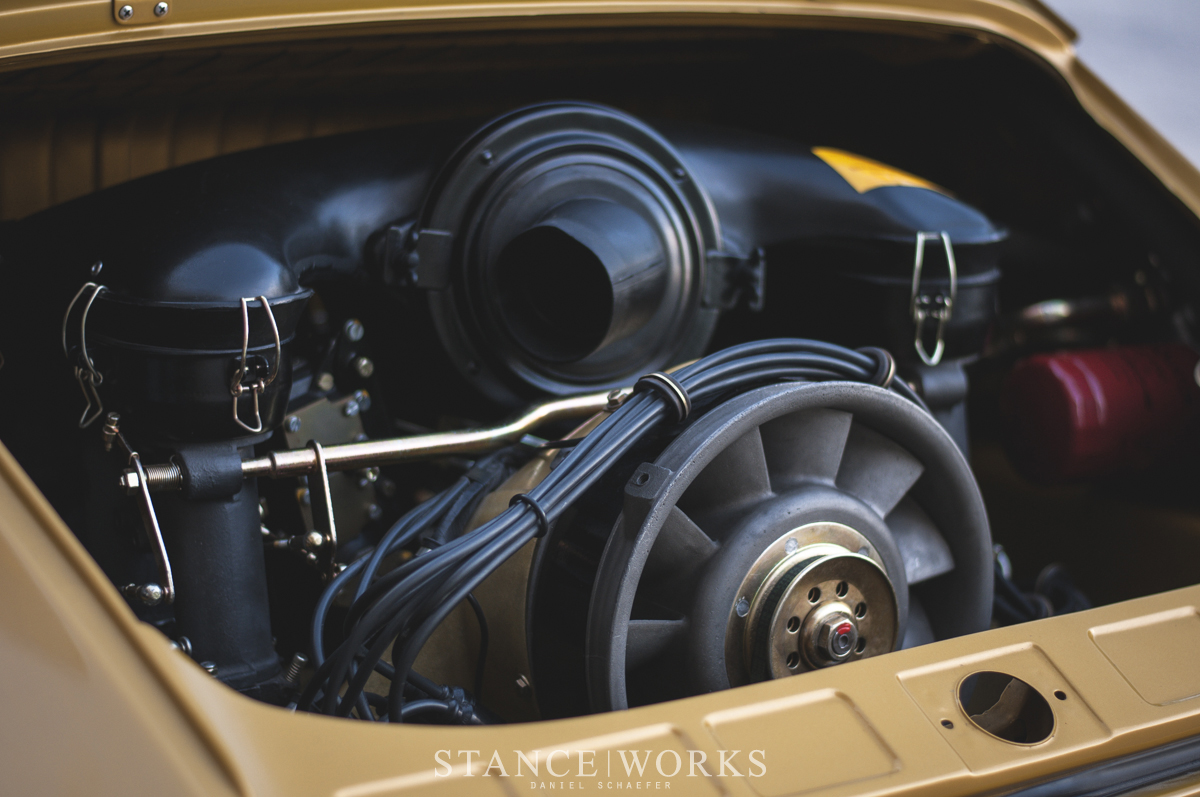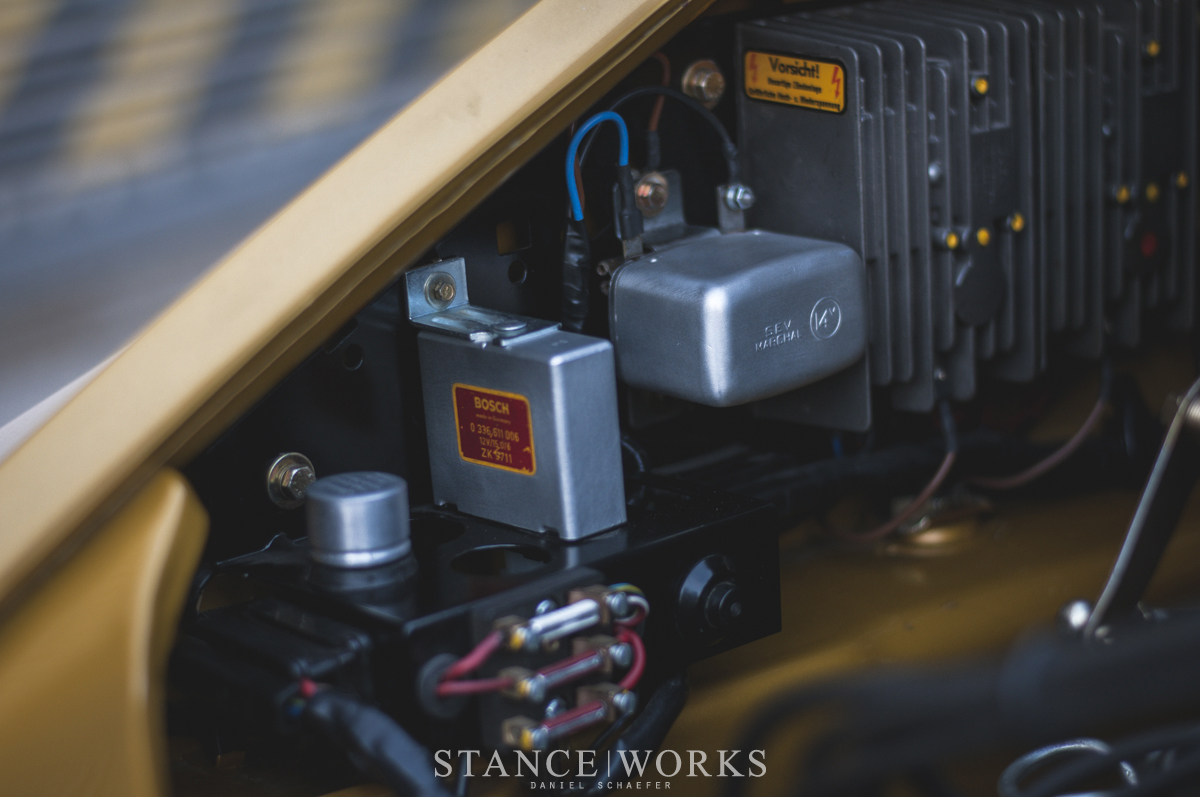 All paths of course lead to the Porsche's power plant of choice, which was built by Daniel's father, Karl Schaefer. The build began with an authentic 2.3-liter twin-plug 911 ST engine using a '71 crank case, high compression pistons, Carrera 6 cams, and the factory MFI system, which was further modified. The engine's channels were polished, and all of the wear components were replaced. The exhaust is a Porsche 2-pipe system used on the 911 RSR, and together with the engine's internals, the motor spits out about 230 horses, just shy of the original race cars. The engine routes its power out through the correct 911 gearbox and through an 80-percent lockup differential.
Under the bonnet is a 100-liter plastic fuel cell, two pumps, and a battery relocated to the "smuggler's box." The car still carries a spare, which is mounted to a 15×6 Fuch wheel for simplicity and functionality.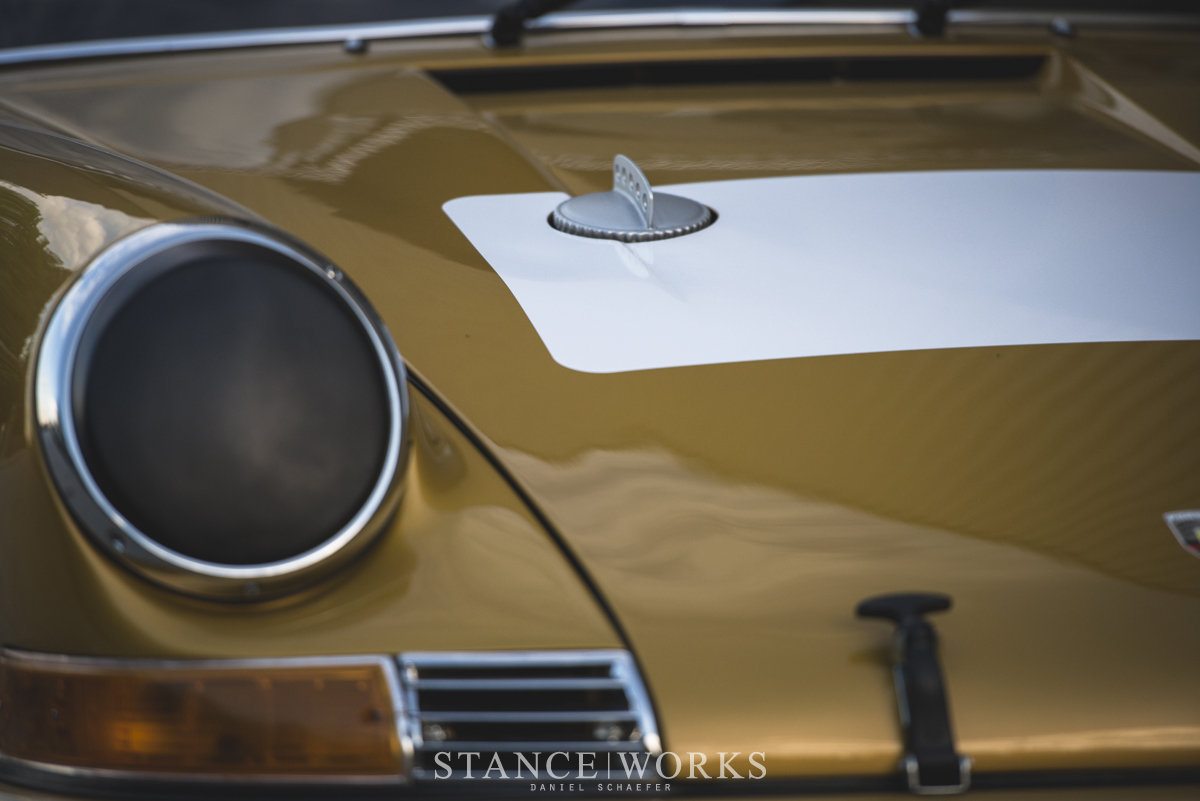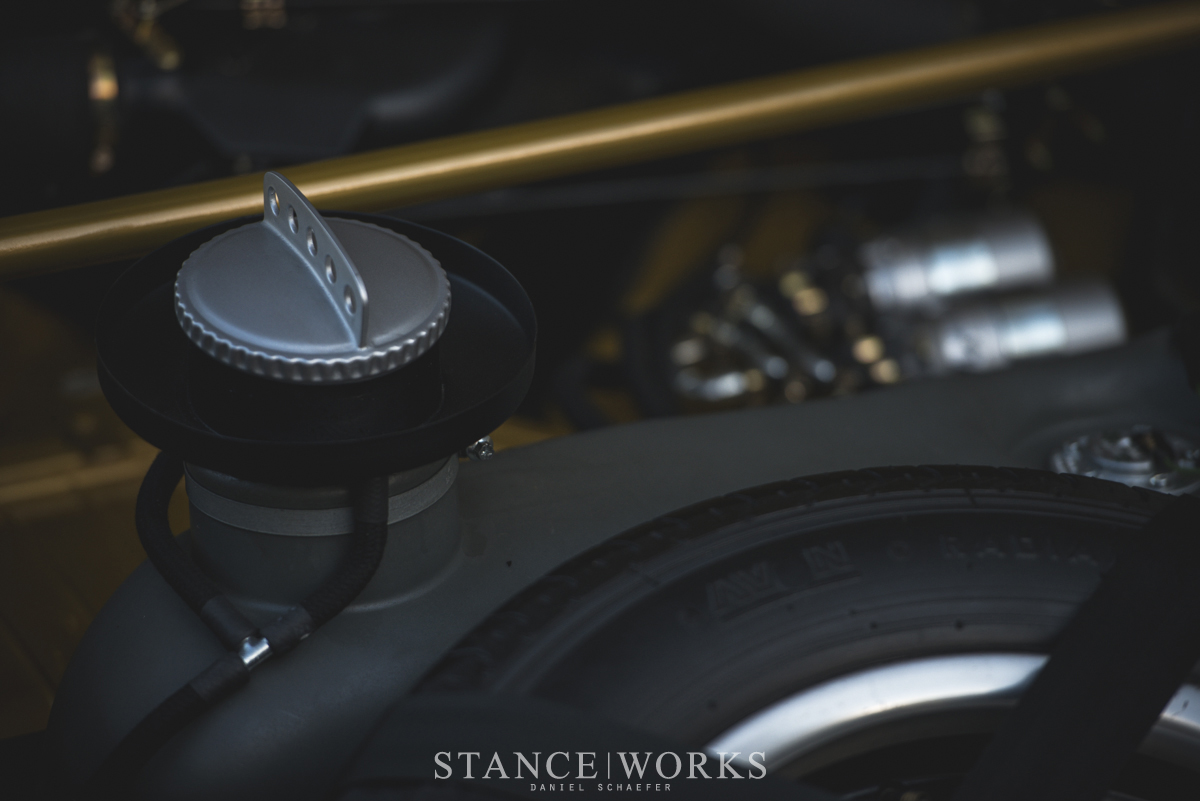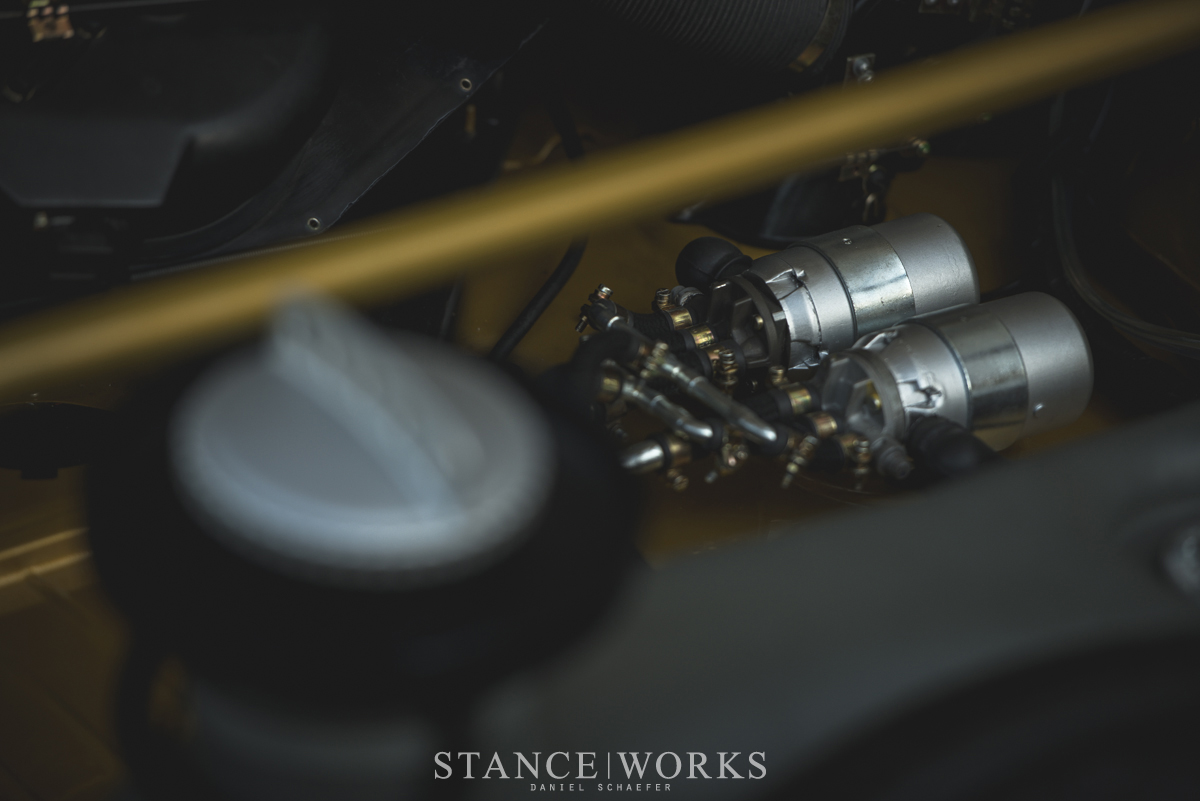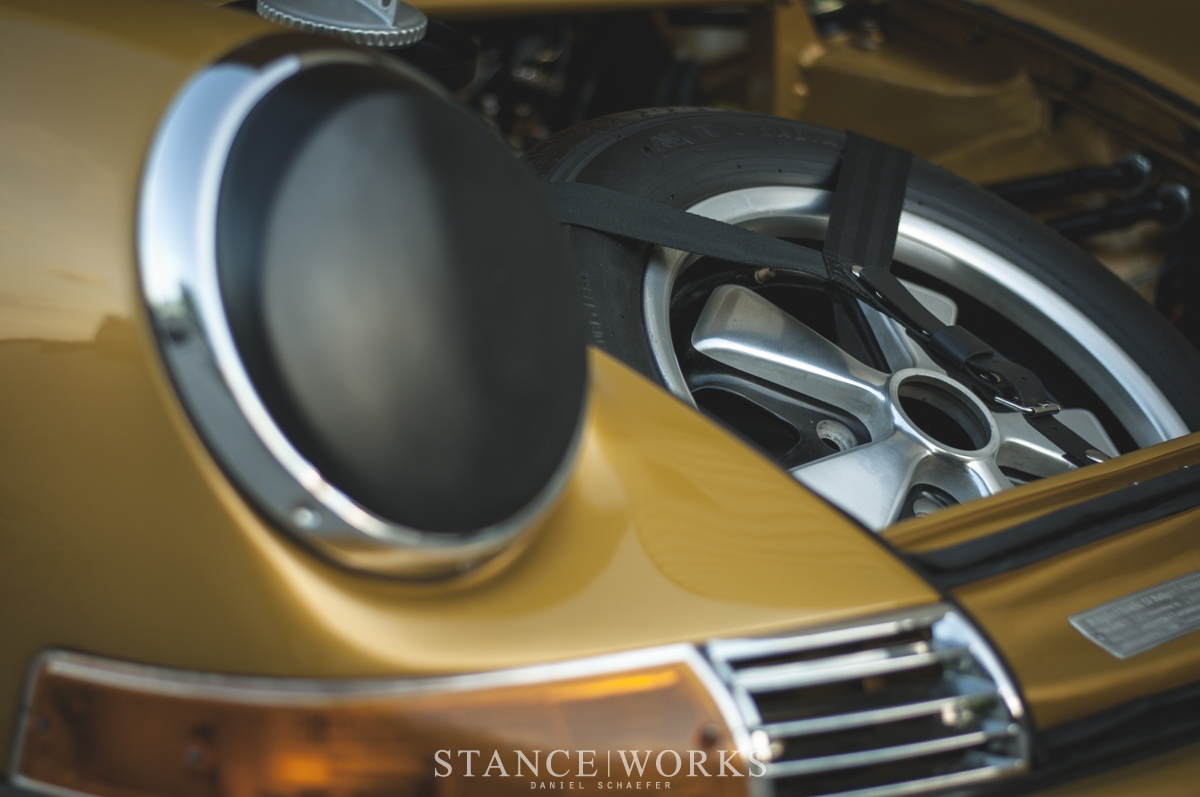 Inside the car, Daniel chose to keep things simple and functional as well, opting for a lightweight carpet, rubber floor mats, and simple door panels with leather pull straps. Early Recaro GRP sport seats, vintage seat belts, and a 5-gauge panel keep things correct to the era, and of course, all look phenomenal together.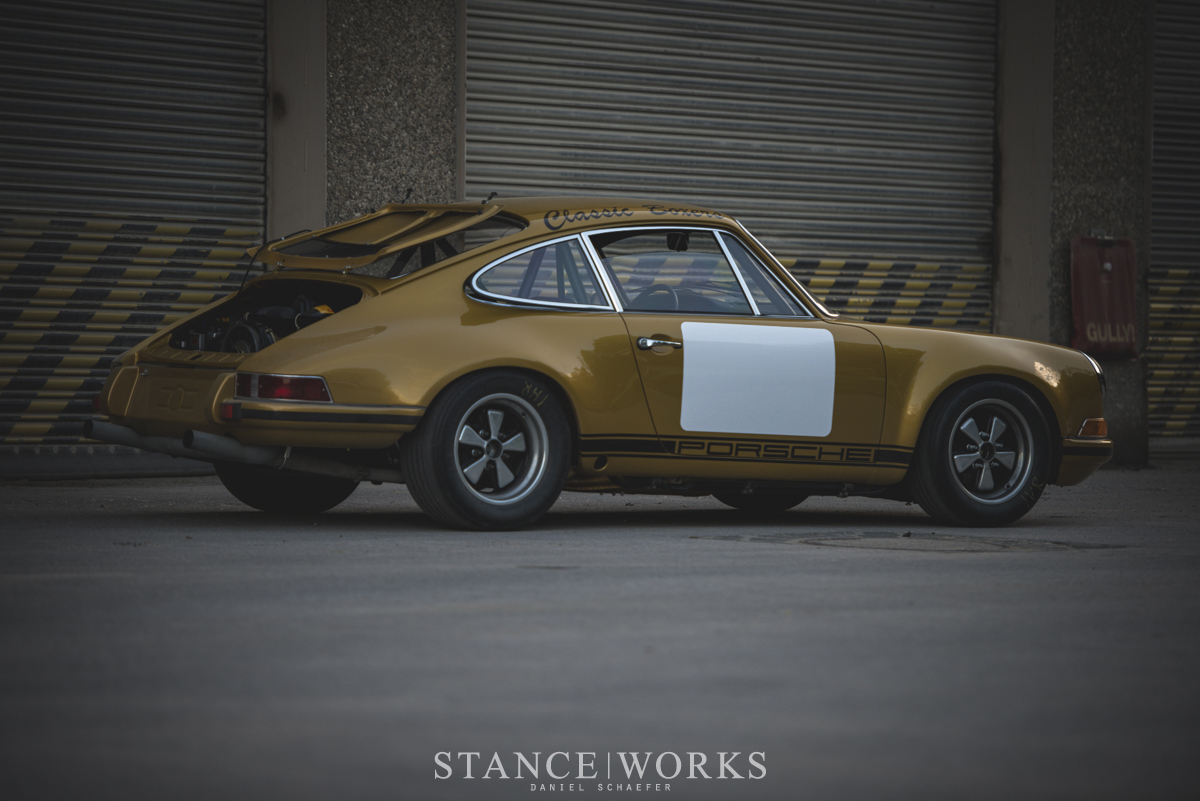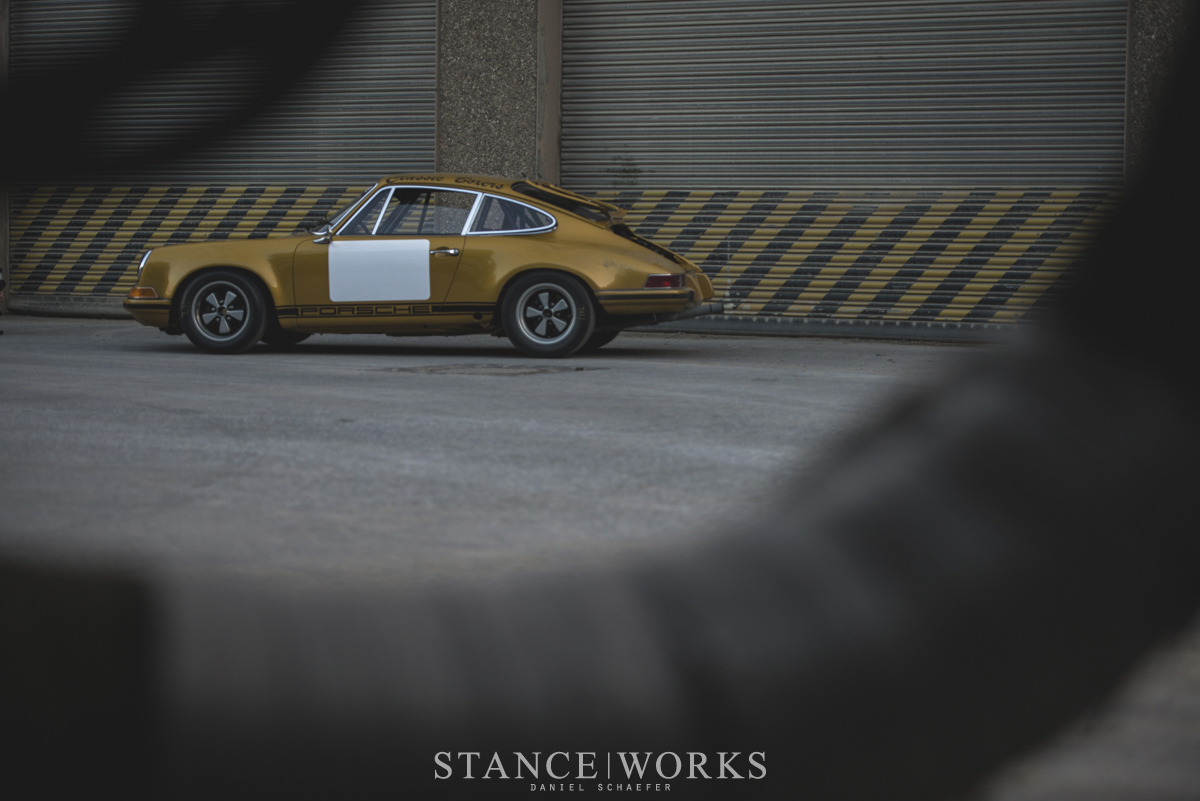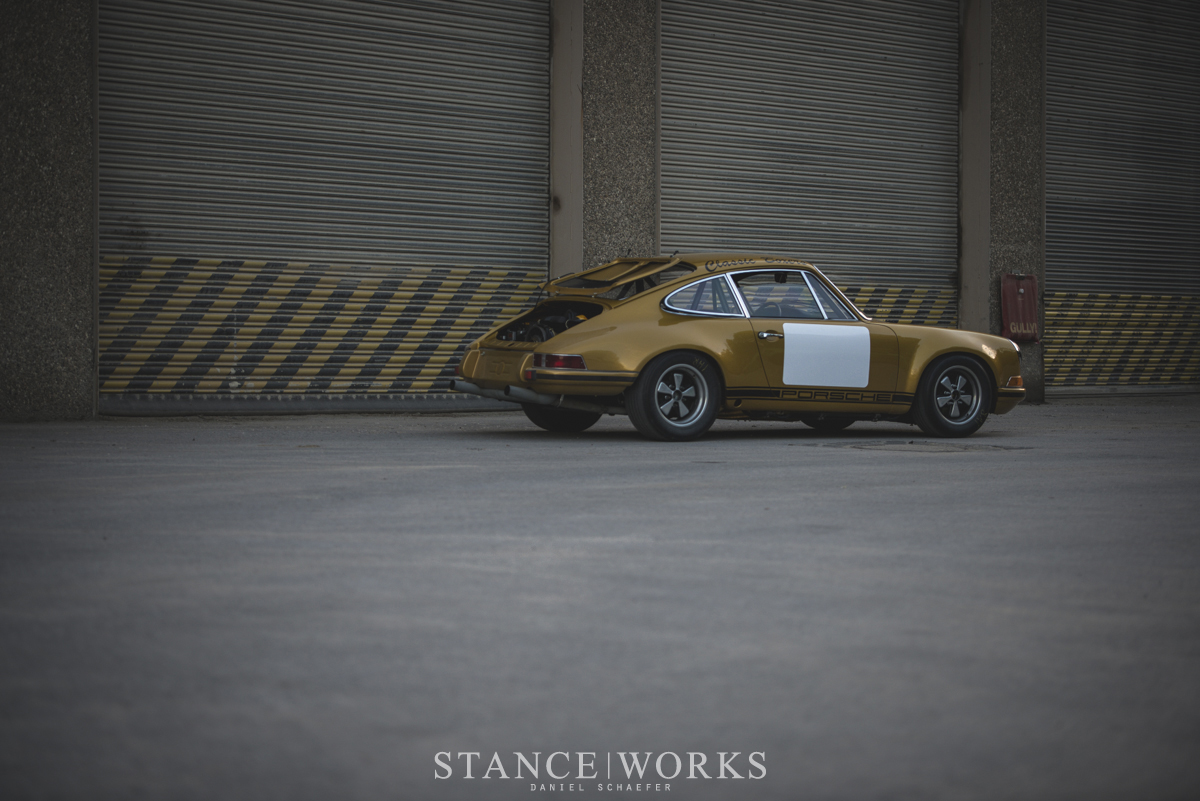 As mentioned before, believe it or not, Daniel plans on racing the car, and thus the car and all its details are conformed to the FIA Homologation 3025. When it comes to race day, the seats will need to be swapped out and a weight ballast will need to be installed, but nevertheless, it's just as impressive. It's rare to find folks willing to put years of hard work on the line for door-to-door racing, but that's what Daniel says the 5 years of hard work were for. So, simply put, we can't wait to see it on the track, and we hope to share it with our readers too.