Each and every project car tells a story of its own. Some, on one hand, tell a story of rapid ascent, fueled by deadlines, Red Bull, and overnight shipping. On the other hand, some tell the story of a slow, calculated burn only enriched my methodic, well-planned, and orderly execution.  Few cars, though, have a better story than those that have been with their owner for a decade or more: the builds that have been built and built again. Mike Johnson from West London has owned his MK1 Ford Fiesta for 17 years, through which the car has seen more than a revision or two. Getting the build to its current state is the result of nearly two decades: twenty years of experience, learning, and improvement. Today, it's a Fiesta to remember.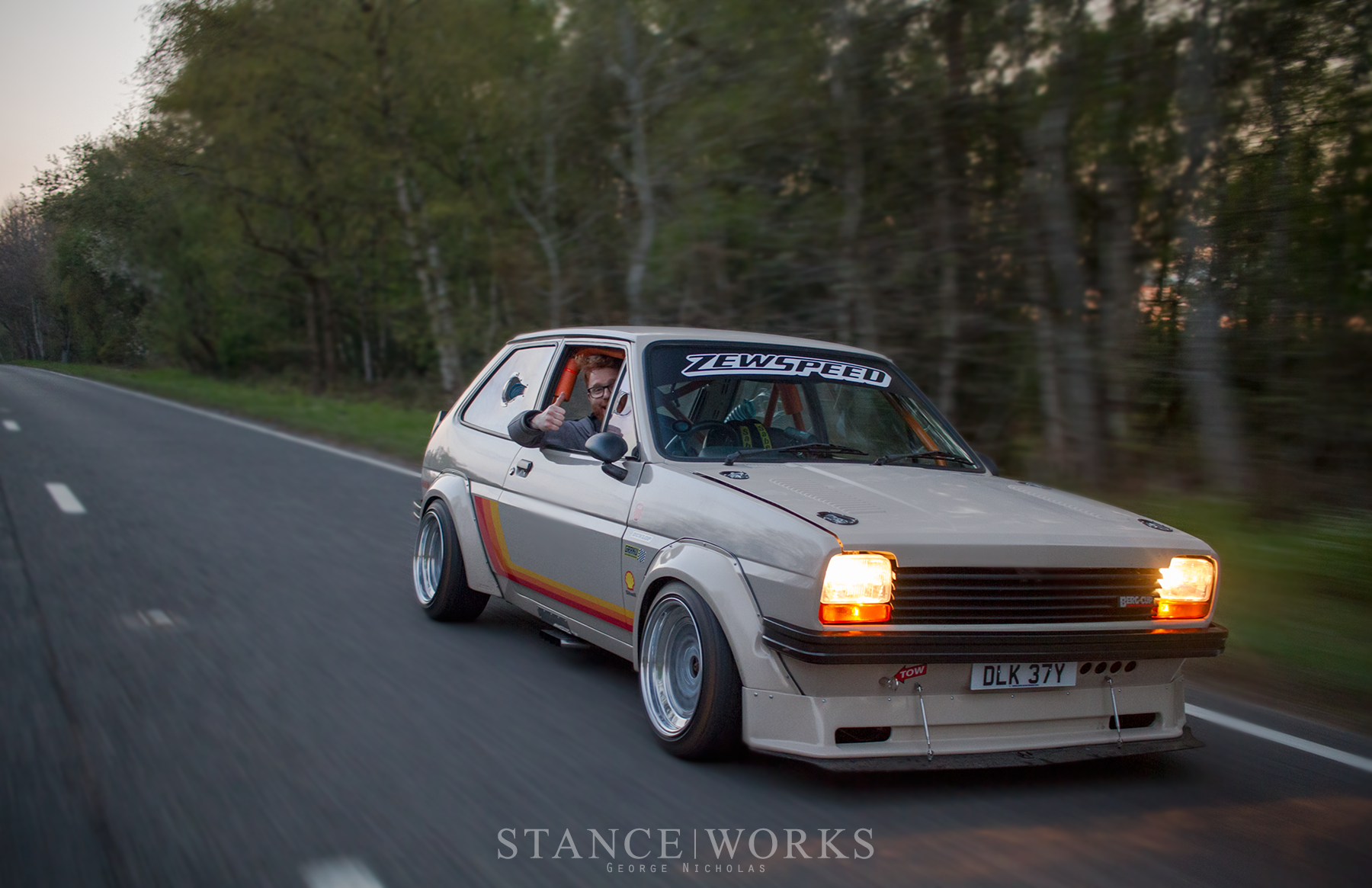 Mike acquired his MK1 Fiesta back at just 19 years old, part way through his stint at University: a cool, classic retro daily and something to tinker with during his free time. He refers to the car as "proper granny spec" upon acquisition. With a 950cc motor and just 40 horsepower on tap, it does seem rather suited for the geriatric driver, and as a stripped-out model with no fancy factory options such as a side mirror, radio, or parcel shelf, its clear this Fiesta was as simple as it gets. The car still wears its factory shade of Coral Beige, giving a hint of what this econobox looked like on the Ford showroom floor almost 40 years ago.
In the almost two decades that have followed, though, the car has seen its fair share of changes. First on the list, as one might expect, was rust repair, but with that out of the way, Mike turned his attention to power. The first improvement fitted to the car was a 1660cc crossflow engine with twin webers, which upped the power output significantly, requiring bigger brakes. On the quest for speed, the car was stripped out, and then was eventually fitted with a 2-liter Zetec engine paired with a Mercedes SLK supercharger. "That wasn't fast enough," says Mike, with which he went to fully forged internals and a Jaguar XJR blower. Belt slip issues and air leaks plagued the build, though, and thus another round of revisions were drawn up.
Fitting the 2-liter Zetec engine into the tiny engine bay of the Ford is a feat in and of itself. "You can get engine in there however, everything touches or needs cutting about, or notching or even persuading with a hammer to get it squeezed in the hole," Mike explains. Thus, you can imagine the complications of adding in a compound twin-turbo system from a MAN diesel truck. A glance inside the car, of all places, is what really gives way to the constraints Mike faced. "I really wanted to avoid any intercoolers or radiators hanging out the front panel," he clarifies. So, he did what any rational person would do and put the charge cooler inside the Fiesta. The unique driveline doesn't end there, though: the car has been converted to a six speed, with a hydraulic clutch conversion to match. Custom-length drive shafts were needed to make the system work with the Fiesta uprights, but the result is a car with heaps of power and an over-abundance of character. Then, of course, there's the interior. While a charge cooler in the footwell makes or an unusual centerpiece, its complimented by the addition of a 6-point bolt-in roll cage and Cobra seats.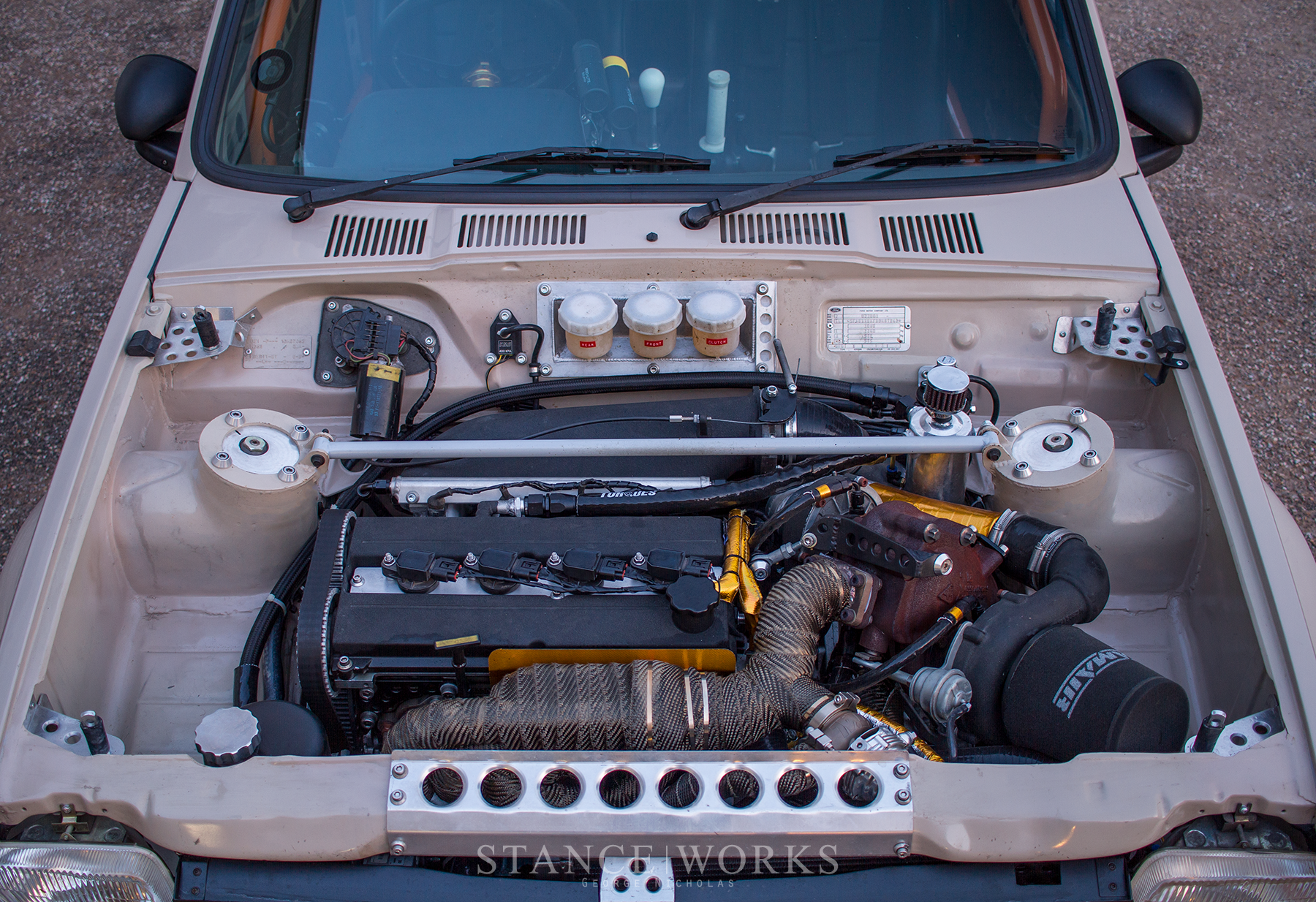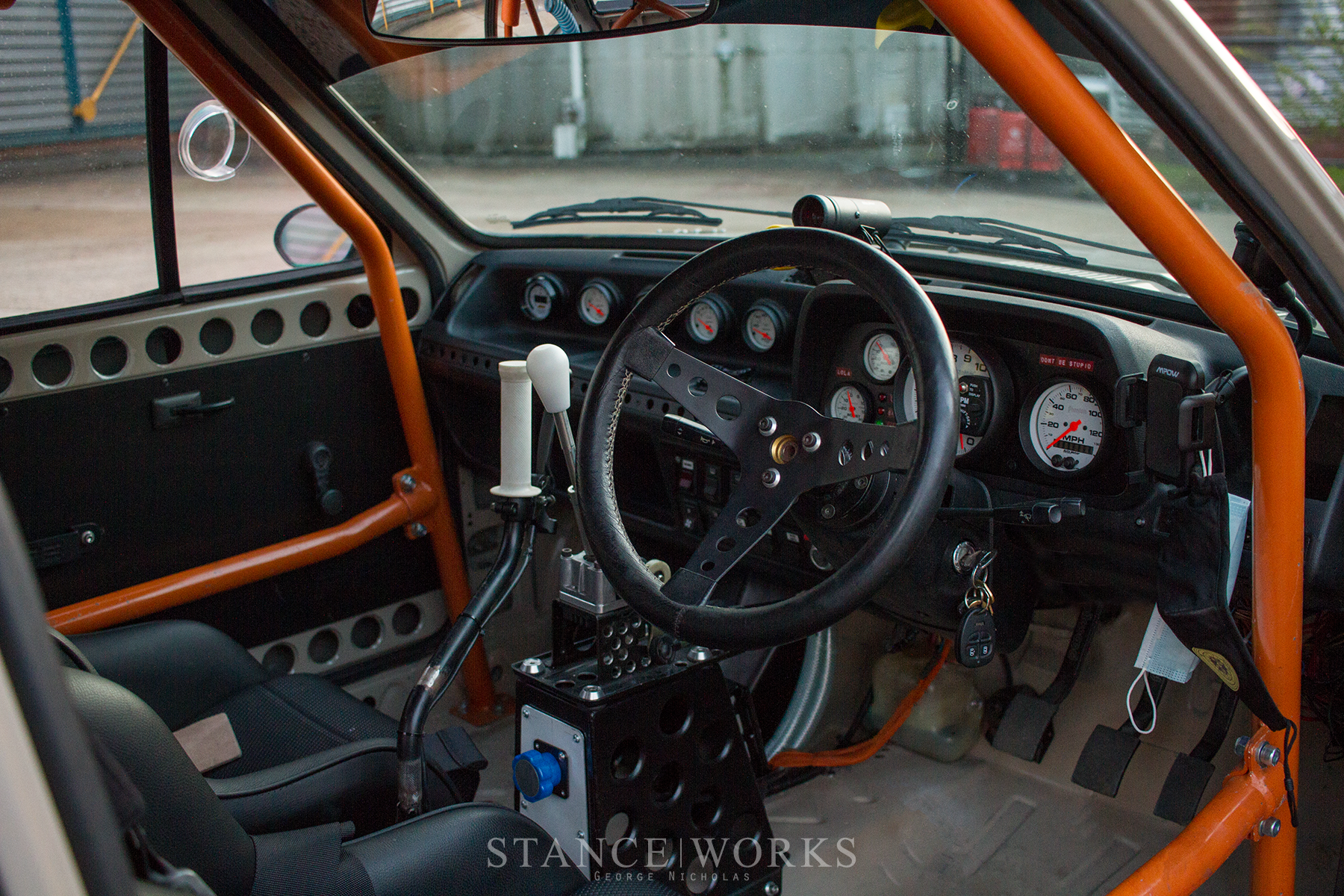 In terms of go-fast parts, the Fiesta has been fitted with more than just a few. The heart of the party on wheels is an Area Six 2.1-liter silvertop Zetec engine, with power sent through a retrofitted 6-speed ST170 gearbox, an AT Speed Racing billet flywheel and clutch package, and a Quaife limited-slip differential. The boost is provided by Borg Warner R2S turbos mounted to a homemade tubular manifold. A Tial wastegate controls the pressure while an Omex 600 ECU makes the whole system work in unison.
For suspension, the car has been fitted with a complete rose/heim-jointed front end from Kustom Karl Engineering in the United States. GAZ coilovers have been retrofitted to all four corners, with the fronts being modified to accept MK2 Escort adjustable top mounts. The track width up front was extended 2 inches to better fill the wider flares, and a MK2 XR2 steering rack has been installed to account for the changes.
The wide arches come courtesey of Kamei: fiberglass copies of the classic RS rally arches. To fill those arches, Mike sourced a unique set of Graku split wheels that measure out to 14×8 and 14×8.5, and have been wrapped in Toyo Proxes T1Rs. The wheel build comes thanks to Zak at Zewspeed, who lent a hand through much of the Fiesta's build process. Machining was required to change the offset of the wheels to work for a FWD car, and custom rim halves were made to step the Grakus from 13″ to 14″. The outcome, of course, is phenomenal. Further exterior aesthetic touches include a custom home-made boot spoiler, and stripe/decal work designed and printed by Mike himself. There is of course Mike's favorite part of the car as well: the boom tube exhaust pipe. In contrast though, he laments about his least favorite aspect of the build… "the boom tube side exit after 2 hours of driving as its obnoxiously loud and my neighbors hate me for it," he says, in what might be the most relatable complaint ever uttered.
Complaints aside, Mike Johnson has put together a Fiesta to be envied, and a Fiesta to be remembered. There's no question its unlike any other, and it fits the StanceWorks ethos to a T. We're simply thrilled give such a build a platform, and for the opportunity to share builds like these. However…. there is a "however." Mike says he's itching to rear-wheel-drive swap his pride and joy. Perhaps his build's story is only getting started. Stay tuned – maybe we'll be lucky enough for Part II.