With most of us being young men with cars averaging at least 10-20 years old, it's easy for us to write off cars such as the Ferrari 458 as nothing more than an automobile for playboys and sybarites. It's the ultimate form of self-indulgence for a man in his midlife crisis; the perfect way to rejuvenate his appearances. God forbid the accelerator pedal is mashed to the floor and the 32 valves are actually allowed to scream. It's simple to consider such a car as the pinnacle of garage ornaments and auction pieces; automobiles most of us will never acquire, reserved for those with more money than automotive enthusiasm.
It's also easy to forget that a car should never be judged by the portion of the ownership demographic that make themselves the loudest, but instead by those who craft it.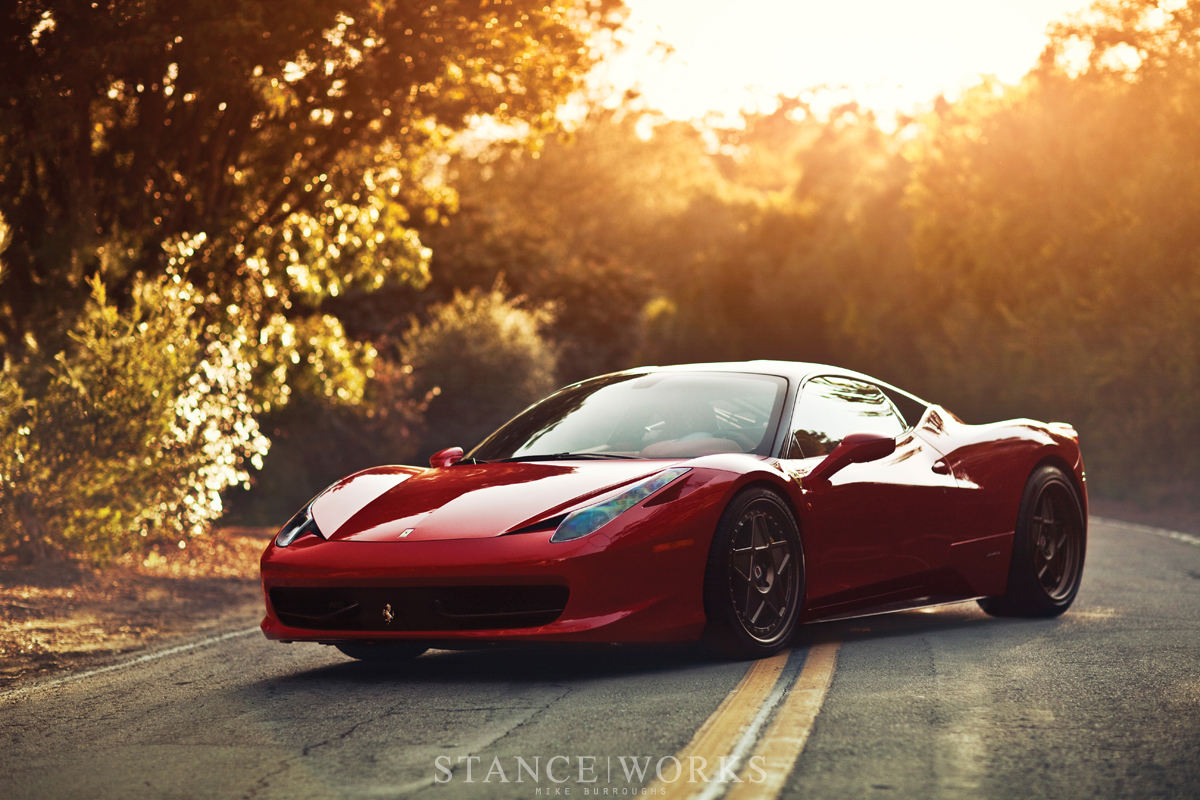 Founded in 1929 as Scuderia Ferrari, the company was born in the roots of automobile racing. 83 years of racing pedigree have culminated into the car before us, and while that may sound like a blanket statement, it carries more weight than its sales-pitch-like appearance may have you thinking. While social influences may lead you to believe that the Italia is destined for the valet spots in front of night clubs, in all reality it is a race car for the street.
Are you looking for valeting and detailing services? Car valeting in Brighton offers wash and wax to leave your car as new with the professional service they have.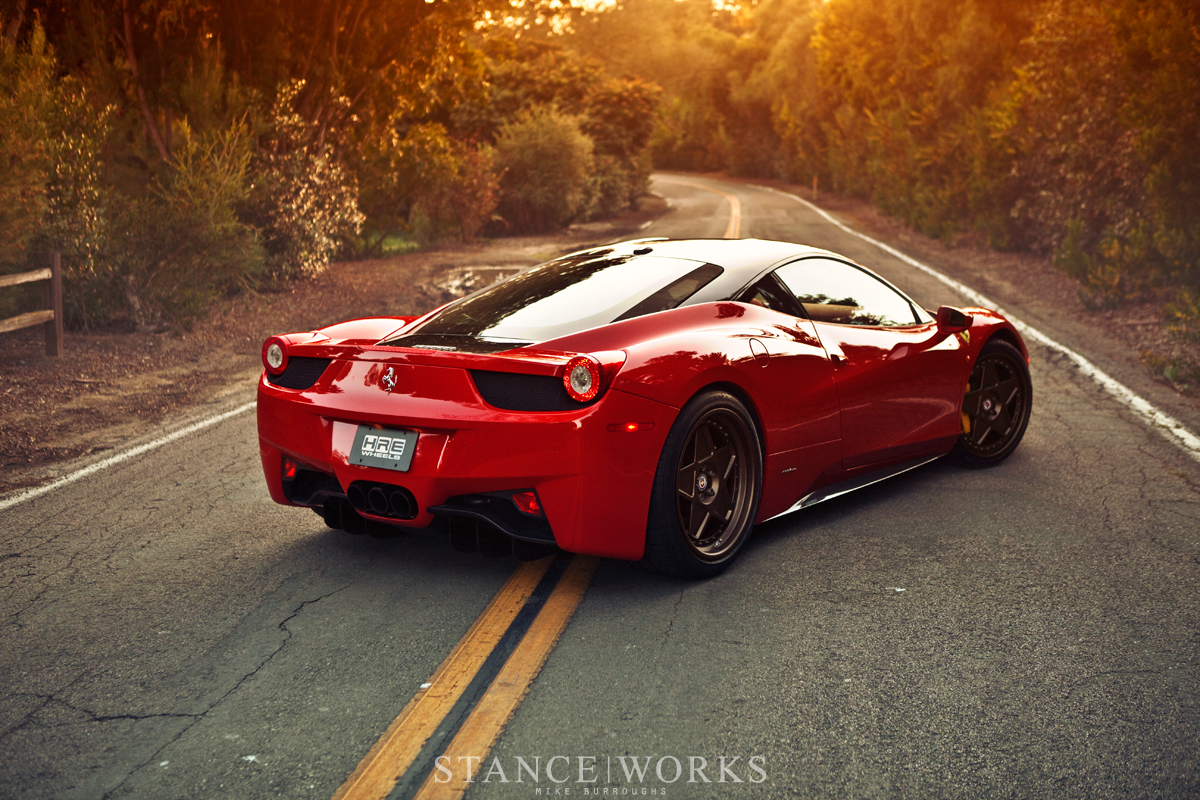 I've never been one to get excited about exotic cars. It's fairly evident that I'm quite guilty of judging the cars based on the people that own them. Little disappoints me more than those who own cars but refuse to drive them in some way, shape, or fashion. But when I stop and think about the car itself and what it really is, I find myself cracking a smile. There's something special about knowing that somewhere up the chain of command, there's a group of people still making automobiles for the sake of demonstrating what 83 years of work and race wins has taught them. In and amongst the millions of miles of wires, thousands of sensors, and dozens of computers that give life to the 458… between the layers of carbon fiber and aluminum alloys that make up its physical presence, in the micrometers between the pistons and cylinder walls; that space is filled with a passion to utilize everything Ferrari has ever learned.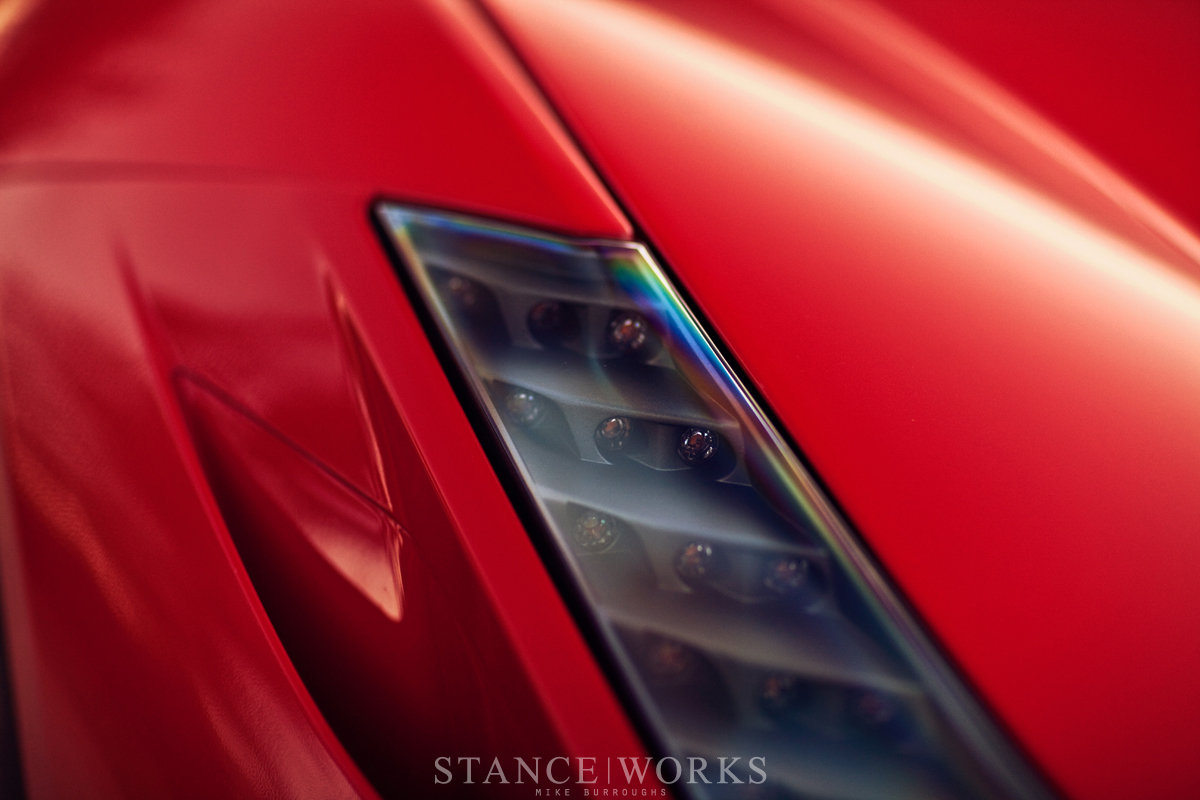 As a direct successor to the F430, the 458 falls in to the line of Ferrari's V8 cars, carrying forth a legacy onset by the infamous Ferrari Dino which was spawned by the desire to separate the six and eight cylinder cars from the notorious V12 monsters. The 458's territory is far from well marked though. The difference in capable lap times between Ferrari's previous "halo car", the Enzo (F60) are almost immeasurable. Ferrari's Formula One experience has come in to play as expected, with the car's updated suspension and differential/traction control alone adding up to a staggering 32% increase in the car's cornering and longitudinal acceleration over it's previous iteration. The car's 4.5-liter V8 produces a massive 562 horsepower, dividing down to 125hp-per-liter, setting the current world record for naturally aspirated engines.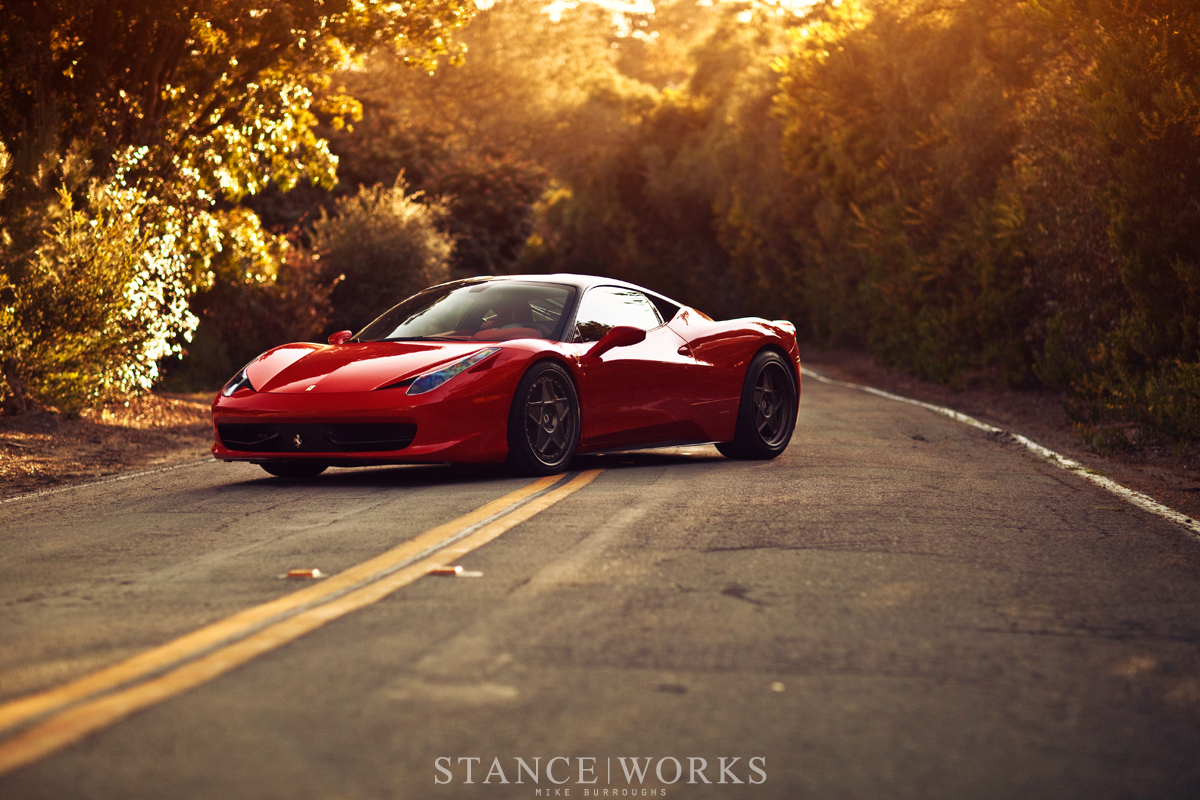 But aside from the impressive technical feats, there's more that makes up a car I'd have previously said does nothing for me. While the lines of the car scream "exotic" in a sometimes less-than-pleasing way (to me), they also hark back to many of the designs throughout Ferrari's history. Lines from the 1963 Ferrari 250LM have been modernized, with direct influence from Pininfarina's P4/5 shaping the car. In fact, it was the P4/5 that caused the decision for the finish of the wheels, calling to mind the red over matte bronze that fitted the car so well. HRE's 505s spotlight the modern yet classic styling of the car perfectly, as well as call to the performance of the car with no holds barred.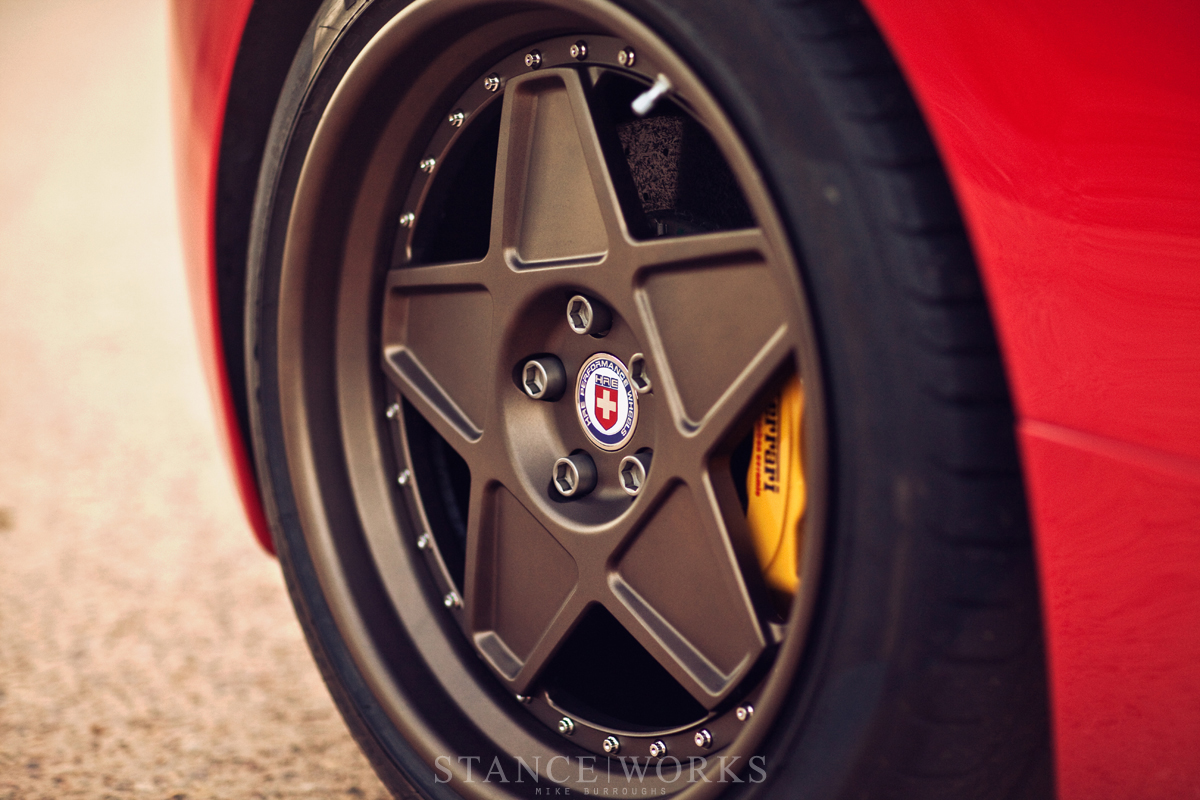 The 458 Italia is the embodiment of the company Enzo Ferrari started 83 years ago, and while it might seem like a frivolous machine in its entirety, it is built by people who haven't lost touch with what motoring and the crafting of an automobile is all about.
It still begs the question: why is this Ferrari on STANCE|WORKS? Simply put, it's our job to share more than the expected, and while the car may be higher than the average StanceWorks feature, it is always in our interest to expand upon the ideas we have here at SW. As we grow as an entity, it's important to open our minds to the audiences we reach and explore the vast realm of automotive enthusiasm and design.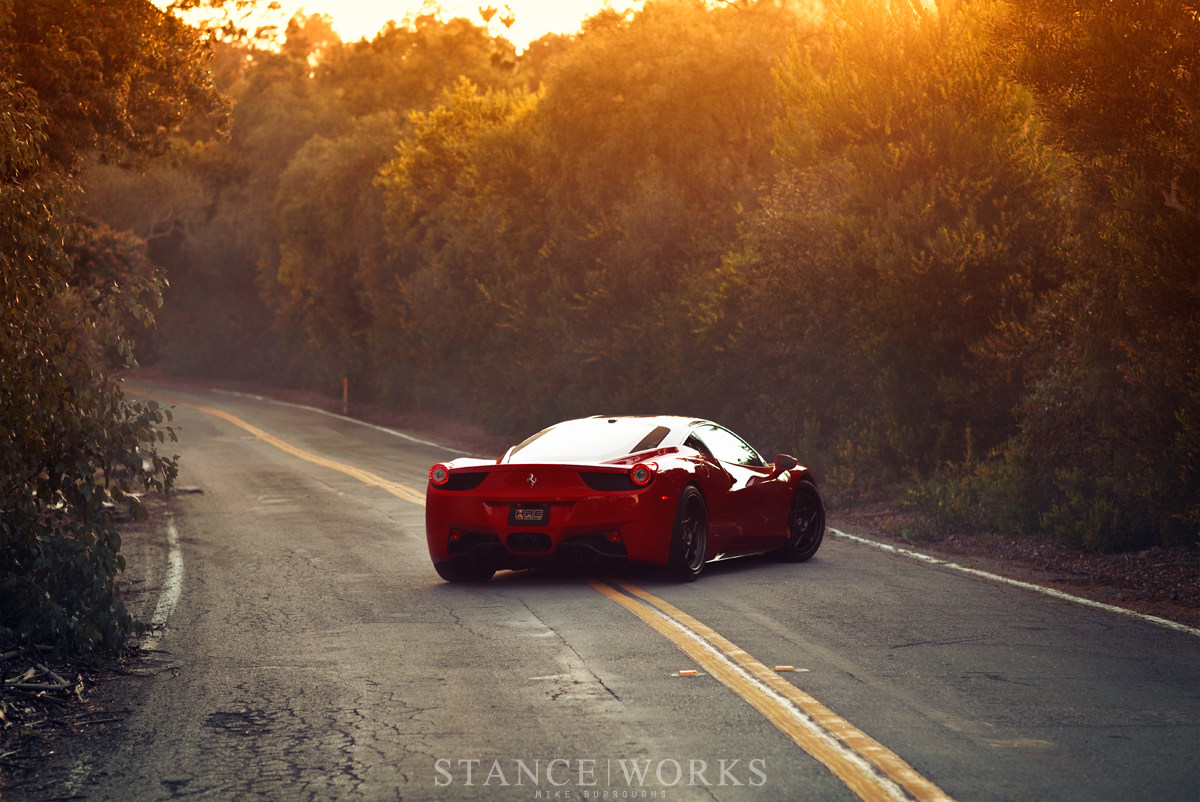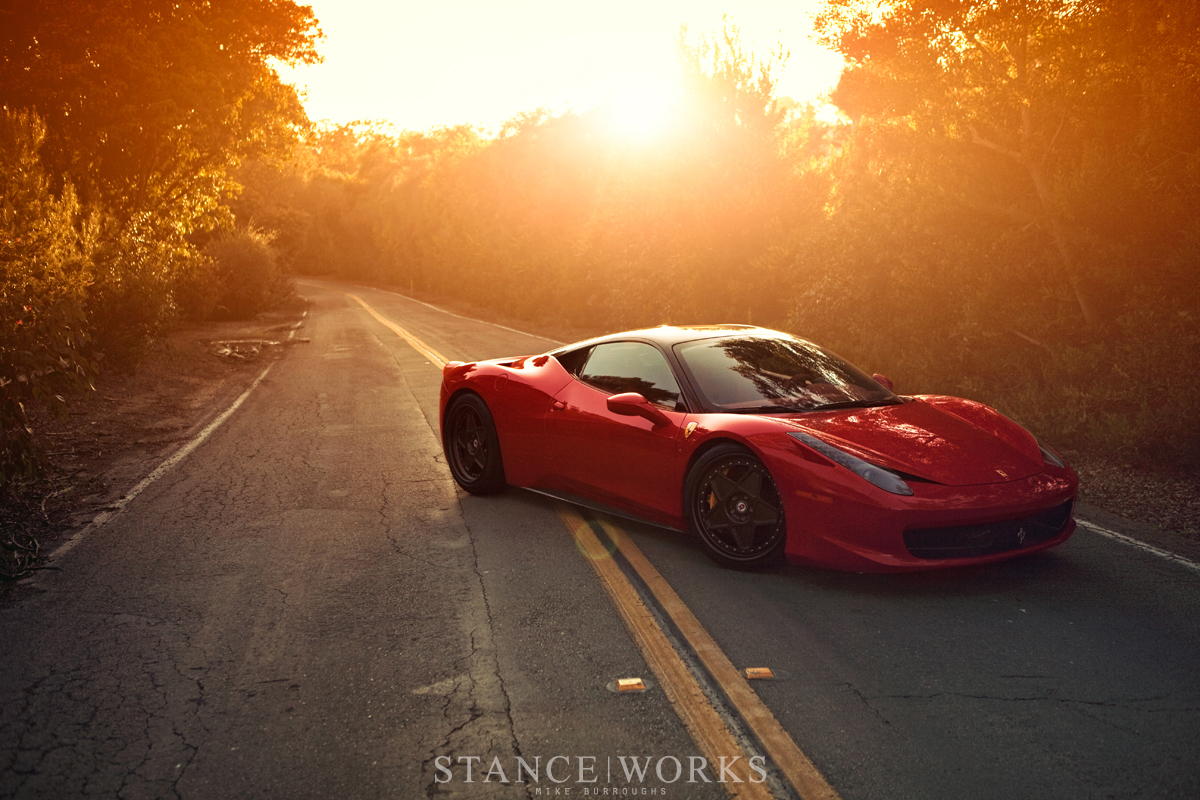 As always, the word "community" rings as true as ever. Believe it or not, this very Ferrari is owned by one of our own. A long time forum member, much more well known for his other builds, prefers to keep his car collection rather anonymous. He's into the same things as you and me, spending his spare time measuring offsets and weighing out tire options. That doesn't stop him from appreciating a well built car. In fact, since he bought it brand new just over 3 months ago, he's put more than 6,000 miles on it. And if he can enjoy a car the way it is meant to be, then so can we.

Special thanks to eGarage and Paul Nguyen for the video.