What is that one car that you can never, ever get out of your head? You know the type – maybe it's a car that you didn't expect to see modified, or a car with those dream wheels you've always wanted, or a car with paint so nice that you wonder what kind of wild magic the painter pulled off in the booth. It's fascinating how a car can demand your attention in ways you didn't expect, and that second look you take soon turns into a third look, then a fourth, fifth, and so on. Isn't it kind of fascinating how a car can make a lasting impression on you in that way?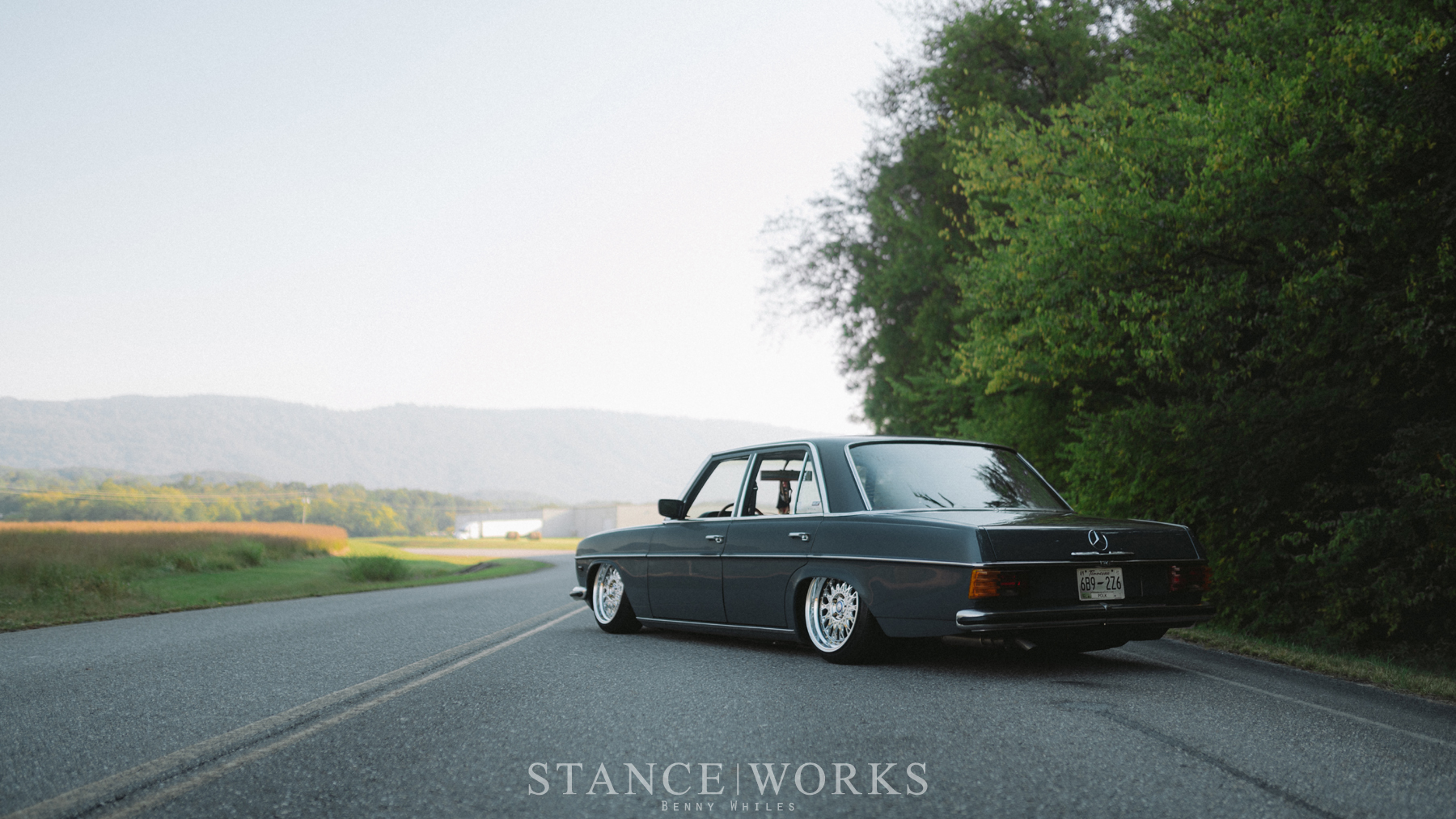 When Daulton Hodges' showed off his 1976 Mercedes-Benz 300D for the first time at Riverside Chattanooga back in October 2020, it was clear that he wanted this car to make an impression; he wanted something memorable to show off. Crowds continually came back to the car during the show to get a better look, and every time someone came back around, they found a new detail to appreciate.
It may be up for debate, but it's hard to disagree that the design language that Mercedes used in the 60's, 70's, and 80's forever speaks to the soul of automotive enthusiasts. It's timeless, elegant, and understated in so many ways. It's the very definition of "classic." Seeing these in stock form is a treat, but seeing one modified is like that dessert you know you shouldn't eat, but you do anyway. You look at it and you just KNOW it's made a Mercedes purist upset once or twice, and for good reason, too.
It's fairly common for these old Mercs to have a "mix & match" part list, and Daulton's W115 is no exception. This list includes Chevy cabover rear shocks, 2016 Tacoma hood shocks, a 1976 Datsun 280Z aluminum radiator, and a 1993 RX-7 oil cooler, among many other interesting parts. It begs the simple question of, "How did you figure THAT out?!" Perhaps the most notable part of the entire build is the massive amount of work Daulton did by himself. Custom adapters/hoses/CNC parts all over, a modern-day Bussman fuse box conversion, the shaved engine bay, body work & rust repair, the list goes on… and on… and on. Bringing out improvements in reliability and modernity was of great importance to Daulton, even going as far to convert a majority of the ever-so-finicky vacuum systems over to both manual and electric counterparts.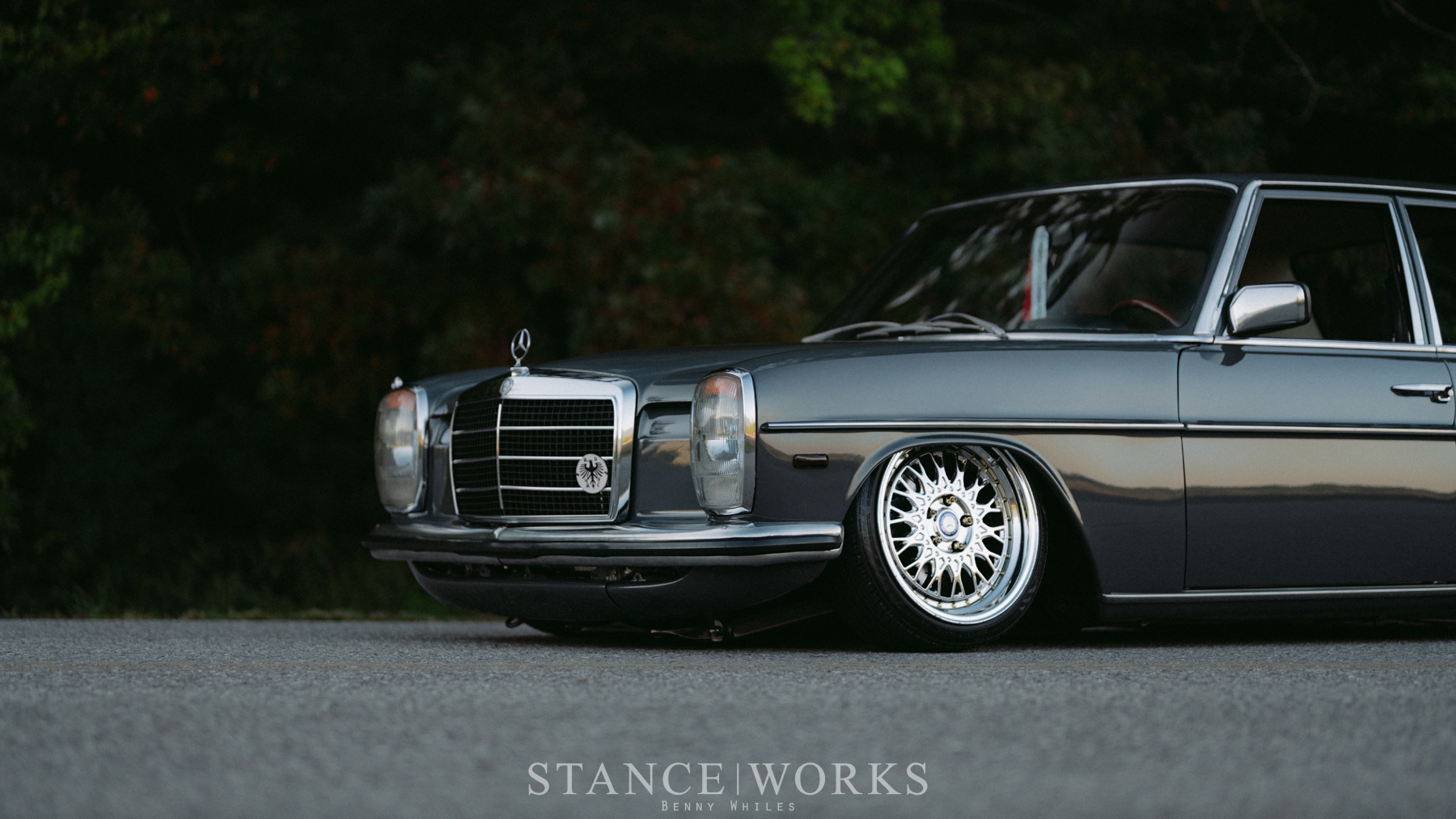 "It's all in the details," as the saying goes. Man, does this car live up to that saying and more. The engine, transmission, custom upholstered leather interior, and trunk setup are all matched a beautiful, rich caramel color. To complement, you'll find copper washers all around the shaved engine bay, as well as custom copper tubing lines coming from the air tank in the trunk. The wood grain dash, center console, and trunk finish keep that classic styling consistent through the interior, pairing perfectly with the mahogany Nardi steering wheel and shifter. An OEM Mercedes parking pole sits on the front bumper, something you typically see on classic Japanese vehicles. In the bay sits a newly rebuilt 5-cylinder diesel OM617, with a bottle of Chattanooga Whiskey 91 Proof used as a radiator overflow – a cool callback to Daulton's southeast Tennessee roots.
Sitting on a custom modified Airlift kit with Airlift's 3P management system, it allows the car to nearly lay frame while tucking a gorgeous set of ARC AR01 wheels into the wheel wells. Measuring out at 17×8.5 and 17×9.5 front & rear, the fully chrome finish retains that sense of elegance that you'd find in a stock variant of this car, but still keeps things fresh and modern. The car was finished in Lamborghini Grigio Telesto in three stages, with Sikkens Luma Coat Crushed Glass added in mid-coat, giving a beautiful touch and bringing a lot of depth to an already classy, neutral grey.
What I love most about this car, surprisingly enough, is where you'll typically see it driving around – Polk County, Tennessee. With a total population of 16k (less than 1% of the population of Los Angeles), a median age of 45, and agriculture being the main source of income, it isn't necessarily where you'd expect to find this car. Seeing a Mercedes in Polk County is a rarity in itself, so seeing THIS Mercedes there is akin to seeing a unicorn. These photos were shot there, as well – it only felt right to show off its home & surroundings along with the car itself.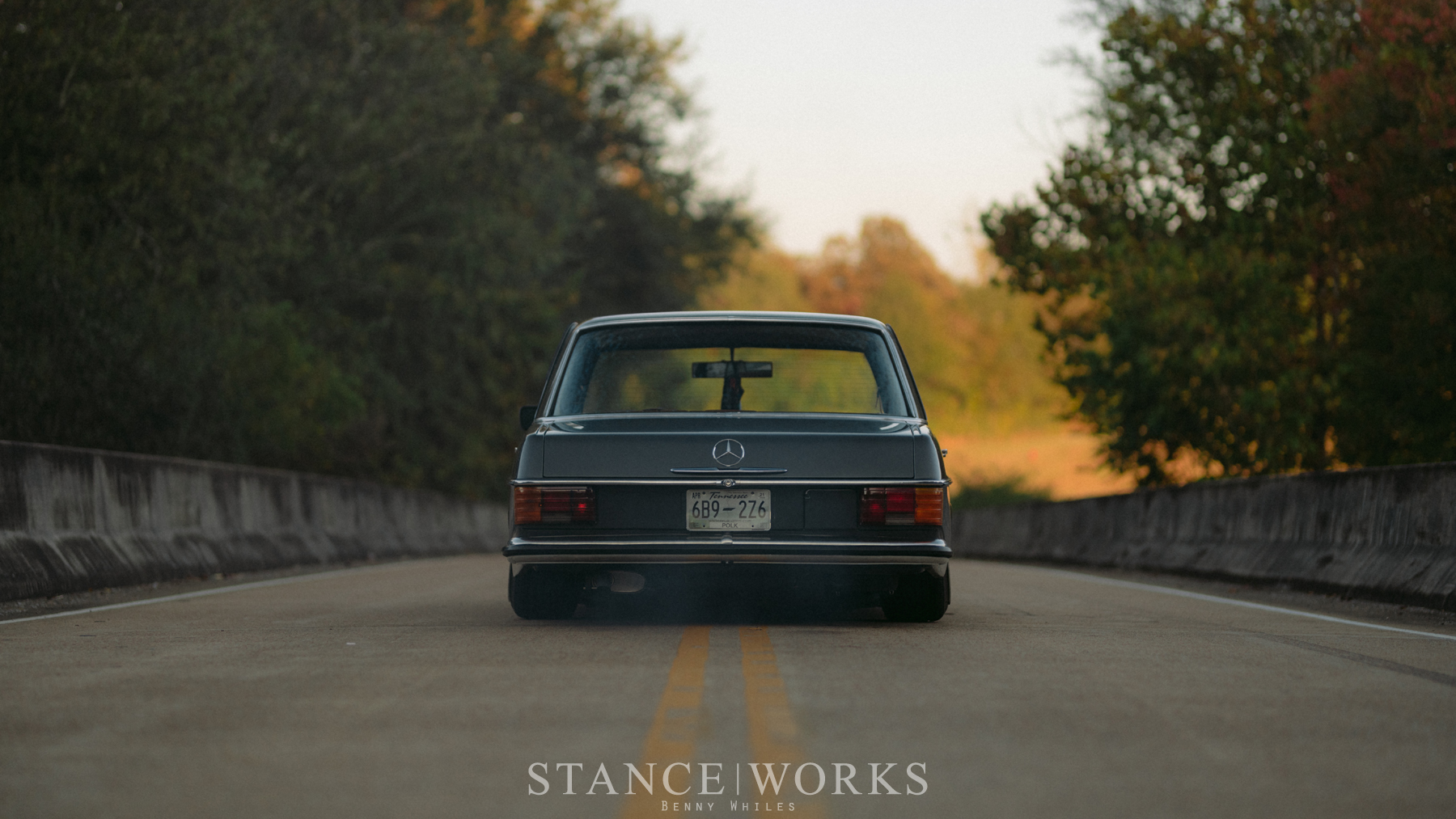 Driving through counties like Polk County, it's easy to wonder what daily life is like there. Maybe we should pay more attention to what's coming out of these small towns – who knows, there may be more builds just like Daulton's hiding in the woodwork.