"Race on Sunday, Sell on Monday." It's an iconic idiom in the automotive world, and it validates the link between brands and their justification for racing. The end justifies the means, and on occasion, it's the desire to sell that creates a desire to race. It's not fun to admit as racing fans, but let's be clear: everyone at the Mercedes-AMG Petronas F1 Team, for example, races out of love. The penny pinchers at Mercedes Benz, on the other hand, only justify it by the sales that follow. Winning races drives sales, whether it be for cars themselves or the parts that comprise them, and without that connection, the monumental costs of racing would be an even tougher pill to swallow for any brand-backed team. The same often rings true at any level of racing, down to the grassroots efforts that see privately-owned cars plastered with logos of companies that support them: those companies provide parts and funds because of the sales that result from winning. It's as simple as that, check The Car Finder Used Vehicle Dealership and find the car of your dreams at a very accessible price.
On occasion, though, the river flows the other way. Brands and brand owners with a diehard love for racing use their success to justify the monumental costs of racing, sales be damned. Sure, sales an added bonus, but its the pursuit of victory and evolution that propel the team forward, and it's situations like this that often yield something special. The CSF Mitsubishi EVO X, owned and fielded by CSF Race's owner Ravi Dolwani, fits that bill: it's born not from a desire to sell radiators, but from a desire to win, and to put his products through the ultimate tests. It's born from refinement: an effort to improve his products and his understanding of them in settings that can't be replicated in a laboratory or on a workbench. The result is a no-holds-barred take on an iconic Japanese platform: one Evo X to rule them all, and rule them all, it does.
The Evo's life as a race car began well before Ravi acquired it. The chassis itself was built by GMG and Swisher Racing for the 2011-2012 Pirelli World Challenge season, and was a backup car that never saw active duty. The season itself was cut short due to an accident, and eventually, Swisher abandoned the Evo platform, leaving the backup chassis to sit in slumber. It sat, along with 2-3 sets of spares of everything, in a state of half-assembly  for years before Ravi struck a deal to purchase it. The rest, as one might expect, is history.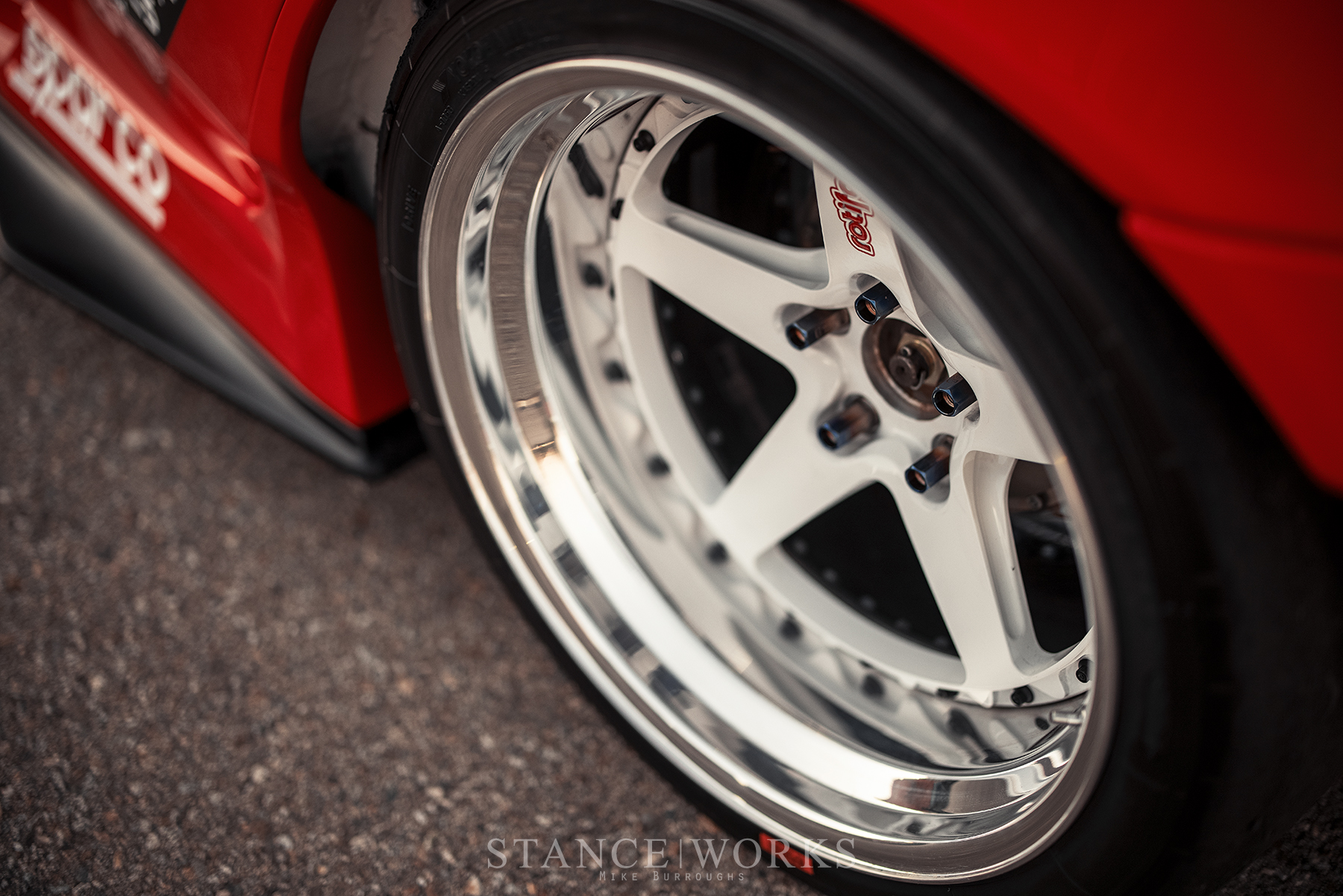 Today, the CSF Evo X finds itself on its third revision: Version 3.0. Built to the Unlimited Class rules for the Global Time Attack series, it's a car built to shave thousandths from lap times in the pursuit of laying down the fastest lap possible at Buttonwillow's 13CW layout. In pursuit of this, Ravi has assembled a rockstar team to aid in building the car, with involvement from Moto IQ, Rywire, Afterhours Composite Works, LTMW, Sheepey Race, 5150 Racing, and ISC Tuning.
Understanding the car intimately requires a thorough breakdown of its components, which begins with its engine. A 4Piston CNC-ported race-spec cylinder head features Kelford cams, springs, and retainers, along with Supertech valves and Beryllium valve seats. Below the head is a Manley 94mm stroker block, paired with Carillow rods and Mahle Motorsports pistons. Cosworth gaskets, ARB hardware, and King bearings finish out the spec sheet. A Sheepey Race custom tubular manifold has been paired with a Garrett GTX3582R turbo and twin Turbosmart Gen-V WG40M wastegates. A Sheepey Race titanium exhaust protrudes from the hood, and the complete result is an engine that boasts 662 AWHP and 461lb-ft of torque at all four wheels.
Power is delivered through a Tilton twin-disc clutch and a Tilton flywheel, out through a Sheptrans transfer case, and to the wheels. A Syvecs S8 ECU, an HP Electronik PDM, and an AIM MXS dash have all been joined through a Rywire milspec harness, allowing finite control of the engine's systems, as well as the ID 1700x Injectors, DW mini fuel pumps, and the AEM inline pumps for fuel delivery.
Producing such power builds considerable heat, and as one might expect, the CSF is built around a complete CSF cooling suite, most of which has been redesigned for this year. A custom cross-flow intercooler was built by Afterhours Composite Works, utilizing one of CSF's bar & plate intercooler cores. The radiator is, impressively, one of CSF's off-the-shelf all-aluminum Evo 7/8/9 radiators with a 12″ Spal fan. CSF bar & plate coolers provide cooling for the engine oil, power steering, and the differential, all of which have been plumbed with XRP HS-79 hosing for maximum flow and minimum weight.
For suspension, the car utilizes a slew of AK Motorsports components, such as tubular front and rear subframes, aluminum front control arms, front outriggers and ARB links, rear wishbones and ARB links, and custom camber/caster plates. A set of KW competition coilovers with external reservoirs provides the ride control, and a set of Stoptech Trophy 4-pot brakes provides the stopping power.
Inside the car, it's clear that this is a purpose built race car: things are spartan and utilitarian, although far from drab and barren. ASC custom interior paneling and door panels keep things looking clean, while Sparco seats, a Sparco wheel, and Sparco harnesses provide the necessary safety gear. The interior has been painted Alpine White, stark in contrast to the exterior's Ferrari Rosso Corsa Red paint. Last but not least is the Afterhours Composite Works touches, such as the 3-way adjustable steering column, the customized dash pod, the fire suppression system, and the cool suit, just to name a few.
The custom-molded Streetfighter LA bodykit sets the lines of the Evo X off, engulfing a set of 18×11 square Rotiform WGR 5-spoke wheels wrapped in Toyo Proxes RS1s like they're nothing. Afterhours Composite Works custom carbon aero, designed by Mike Kojima of MotoIQ, takes the car to another level while providing an immense amount of downforce to boot. A Verus Carbon wing and endplates balances out the massive splitter, helping to hold the car down to the tarmac at speed. All-Lexan windows help minimize the weight of the once-family sedan, while carbon parts and pieces elsewhere aid in the effort. Chasing Js titanium parts and pieces finish off both aesthetic touches and and some final weight loss efforts.
As a car built for competition, its most recent endeavor was Super Lap Battle, where the car was piloted by Formula Drift driver Michael Essa. The Evo saw stints of speed, but was plagued by the unforeseen challenges of racing: a faulty steering rack and the resulting loss of power steering kept the car from truly stretching its legs.
Clearly, Ravi's Evo is a force to be reckoned with; however, the pursuit of evolution means Version 4.0 is just around the corner. The trials and tribulations of racing yield improvements in future iterations…. Ravi and his team will refine the car once more. Ravi's goals of steam-rolling the Unlimited Class at the GTA Finals are worth celebrating, and are sure to yield another installment of an already-incredible story. Here's to 2021, where we'll be patiently waiting to see what Ravi and CSF cook up next.